"The Echo Show 5 is the latest in Amazon's range of Alexa-powered devices. Is it worth a buy?"
Amazon's Echo Show is all about making the Alexa experience more visual. Alexa, as you might know, is the smart voice assistant that can play music, give you weather updates, help you manage your schedule, control smart home devices and much, much more. A lot of this functionality can work via the Alexa app, but if you have one of Amazon's Echo smart speakers, you get the added benefit of an always-on assistant that's pretty much at your beck and call, waiting patently for you to utter the magic word and do its thing. The Echo Show is pretty much an all-in-one device that can deliver on almost all fronts, including the vital audio quality, apart from offering a built-in smart home hub. For an asking price of Rs 22,999 though, the Echo Show may not be everyone's cup of tea. Now, with the new Echo Show 5, you now have a smaller, more affordable option. However, Amazon also has another option in the form of the Echo Spot, which seems quite similar in terms of capabilities. So how does the Echo Show 5 compare to the Echo Spot, and more importantly, is it worth a buy?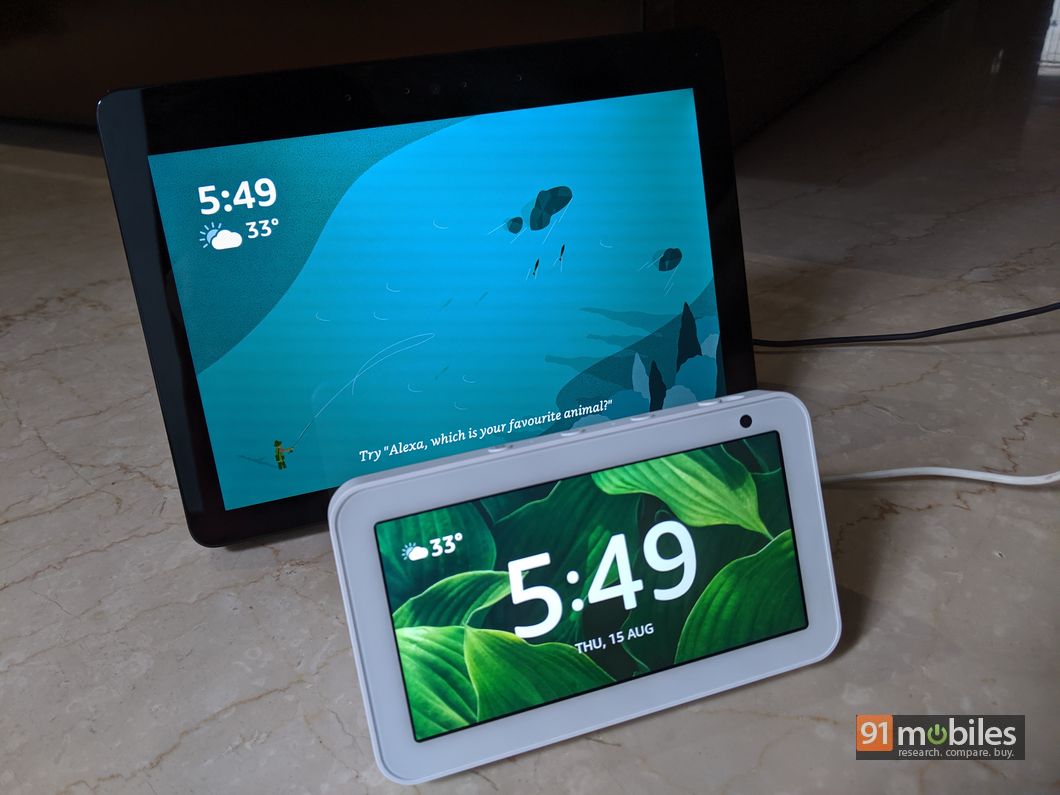 Take the Echo Show and shrink it down, and voila, you get the Echo Show 5. It's basically the same wedge-shaped design, with a screen in front and a fabric-covered speaker at the back. The 5.5-inch, 960 x 480 screen might not match up to the one on your smartphone (most modern phones offer larger displays and much higher screen resolution), but it's still pretty vibrant in terms of colour output, and capable enough to show the stuff it's meant to show.


Above the screen on the right corner, you'll find a 1MP camera for video calls, but the most interesting aspect of the device is actually on the very top of the device – a physical shutter that blocks the camera. This is something you don't get on the Echo Show or the Echo Spot, the other two screen-toting Alexa devices sold by Amazon. I think it's a useful addition, and one that should definitely help give peace of mind to those concerned about privacy. The top of the device also sports two volume control keys, two mics and a DND key. At the back, you'll find a power port, a micro-USB port and a 3.5mm audio out. Connectivity options include dual-band Wi-Fi and Bluetooth, as usual.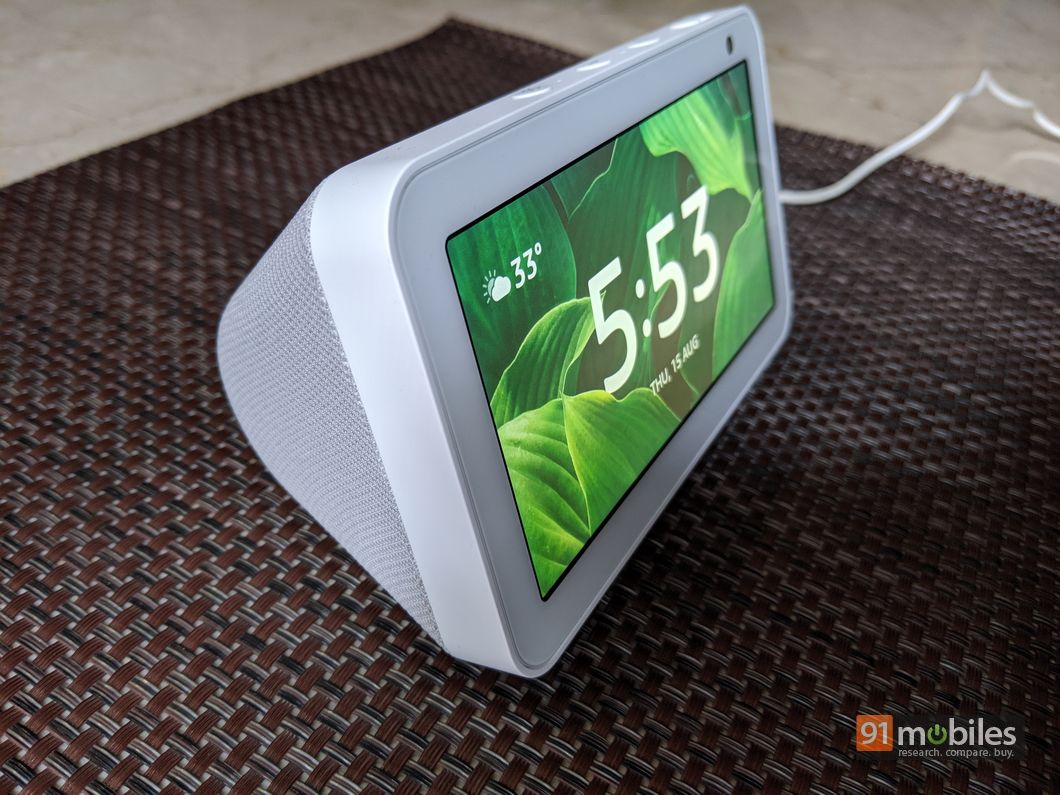 With its small footprint, the Echo Show 5 works well as a smart bedside clock (which, by the way, is a function served well by the Echo Spot too). In terms of capabilities, you get the same goodies delivered by any Amazon Echo speaker. You can play music by voice, perform web searches, view calendar updates, set alarms etc etc. You can enable any of the thousands of Alexa skills and enjoy the functionality offered by them too. Alexa skills, in case you didn't know, are similar to apps, and offer different capabilities. For example, you could enable the Uber skill, connect your account, and call a cab using just your voice. Similarly, you can control compatible smart home devices using your voice, after enabling the corresponding skills and linking your accounts. Worth mentioning that the Echo Show 5 doesn't have a built-in Zigbee hub (the one found inside the Echo Show and the Echo Plus), but can control compatible, Wi-Fi-based smart home devices. These include smart plugs, lights, security cameras, universal Wi-Fi remotes, and more. And since the Echo Show 5 has a screen, you can also use it to watch videos, handle video calls and display photos from your Facebook albums. In this aspect, the Echo Show 5 is much better than the Echo Spot, since the latter's circular screen isn't really ideal for watching videos.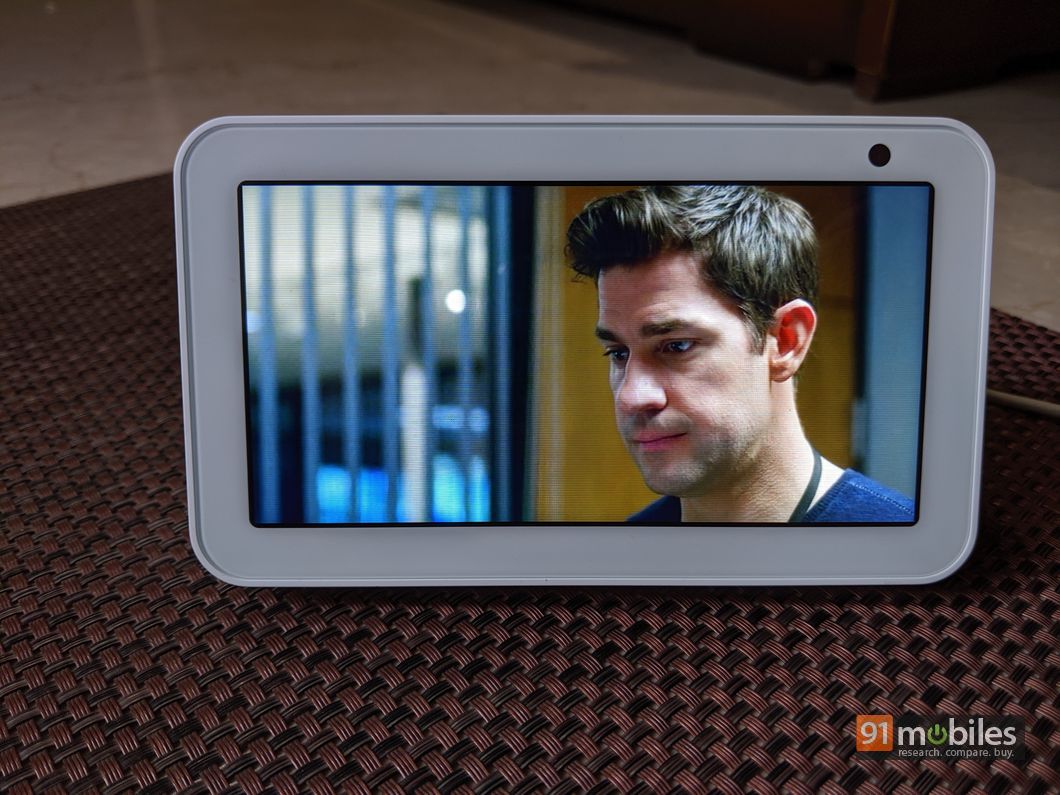 The 4-watt speaker inside the Echo Show 5 churns out decent sound, much better than the one on the Echo Spot. You can't really power a party with it though, not unless you use its Bluetooth or 3.5mm audio out to connect it to external speakers.
There's no doubt that the Echo Show 5 is a much better (not to mention cheaper) option as compared to the Echo Spot. But priced at Rs 8,999, it still involves a significant outlay. So let me try and help make the decision easier for you.
If it's an all-round Alexa experience you're looking for, the full-sized Amazon Echo (first impressions) is what you should be considering.
If video capabilities aren't a priority and music is what you're interested in, the Echo Plus (review) and the Echo fit the bill better.
If you're getting into this segment for the first time and want to get a taste before spending the big bucks, the Echo Dot (review) seems like a good choice.
If you already have a capable sound system at home, you can save some money and add Alexa smarts to it using the affordable Echo Input (review).
The Echo Show 5 should do the trick if the idea of a smart alarm clock appeals to you. Video may not be its forte because of the small screen, but the device can still serve that purpose if and when you need it, and gives you the flexibility of connecting external speakers for better sound output.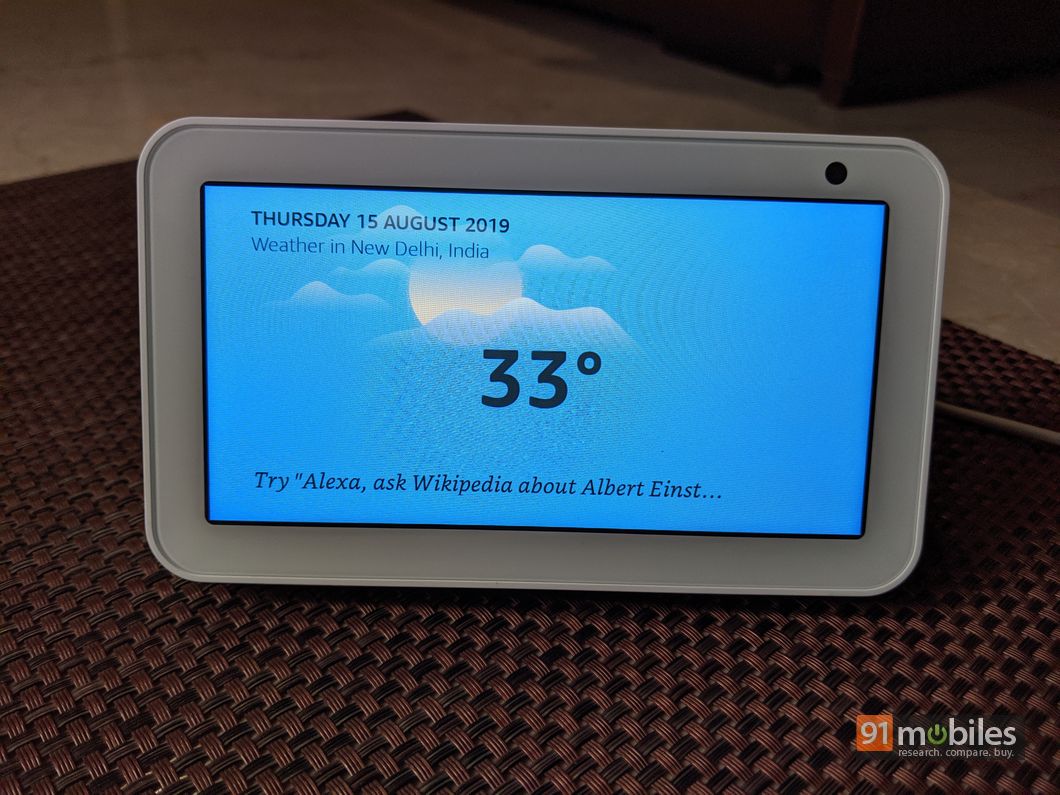 You should know that the Echo Show 5 was available to buy on Amazon India during the recent sales for significantly lower prices, and if you do find it listed lower than its Rs 9k tag, you should probably buy one right away. Google is expected to launch a rival device in India in the form of the Nest Hub very soon too, and that might just be worth a close look before you make your mind.
Editor's rating: 3.5 / 5
Pros
Works well as a smart alarm clock
Can be connected to external speakers via Bluetooth or 3.5mm audio out
Physical shutter to block the camera
Cons
Lacks a battery, so can't be used as a portable speaker
Doesn't come cheap