"The Echo Studio is Amazon's best sounding smart speaker"
For those of you who haven't been introduced to Alexa yet, let me tell you that she's pretty smart. Amazon's voice assistant can be quite handy to have at your beck and command, and the brand is leaving no stones unturned to make sure you do. There are a smorgasbord of Alexa-capable Echo devices available in different shapes and sizes, and to match every budget. If there's one 'skill' (pun intended) that Alexa lacks though, it has to be sound quality. Don't get me wrong, Echo devices such as the Echo Show and the Echo Plus can churn out good audio, and you even have the option of throwing in more bass by adding an Echo Sub and / or using two of these devices in a stereo pair, but premium sound is something a standalone Echo device can't churn out. But this changes with the Echo Studio.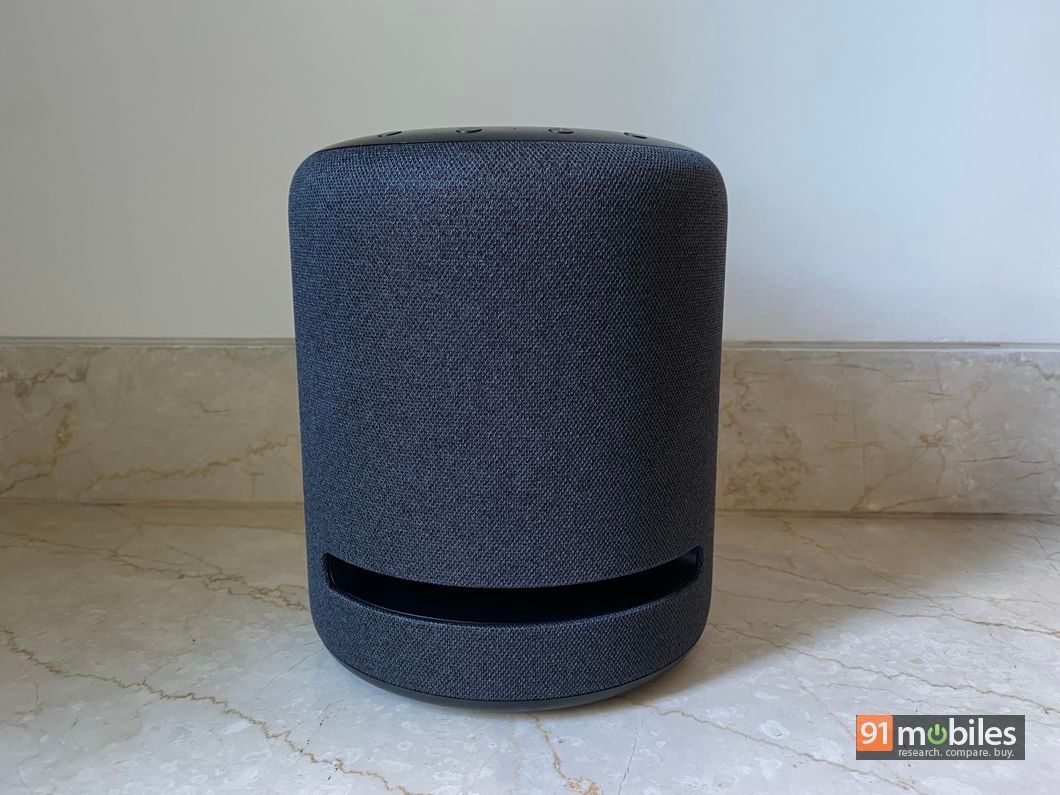 The Amazon Echo Studio is a smart speaker that boasts premium audio, and with its closest rivals being the Google Home Max and the Apple HomePod. Worth mentioning that while the former still hasn't made it to our shores, the HomePod has just landed, many eons after it was originally launched.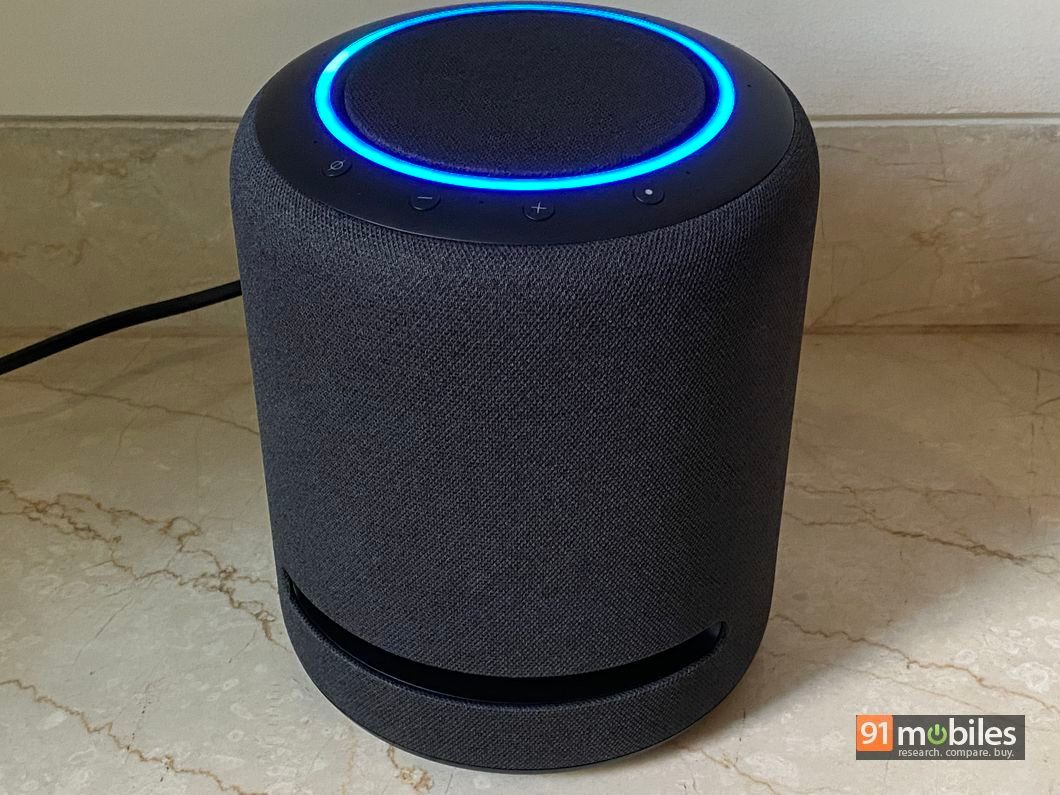 Design-wise, the Echo Studio is basically a fatter avatar of its sibling, the Echo Plus 2nd-gen smart speaker (review). The Echo Studio comes clad in fabric, and hides no fewer than five speakers inside. These comprise three midrange drivers, a tweeter and a downward-firing woofer. The very visible bass port at the front and the back of the speaker is a key element, standing out on an otherwise staid-looking package, and giving it a look that somehow resembles a human face. On top are seven far-field microphones, the signature colour ring and four hardware keys — two for adjusting volume, one for killing the mics and one for making it work its magic without saying the trigger word. At the back is a two-pin port for power, a micro-USB port and an optical / 3.5mm audio jack. As usual, Bluetooth is part of the connectivity options available.

Why pay in full when you get EMIs with 0% interest?
Buy the Amazon Echo Studio now and pay later in flexible EMIs!
No application fee
No down payment required
No pre-closure fee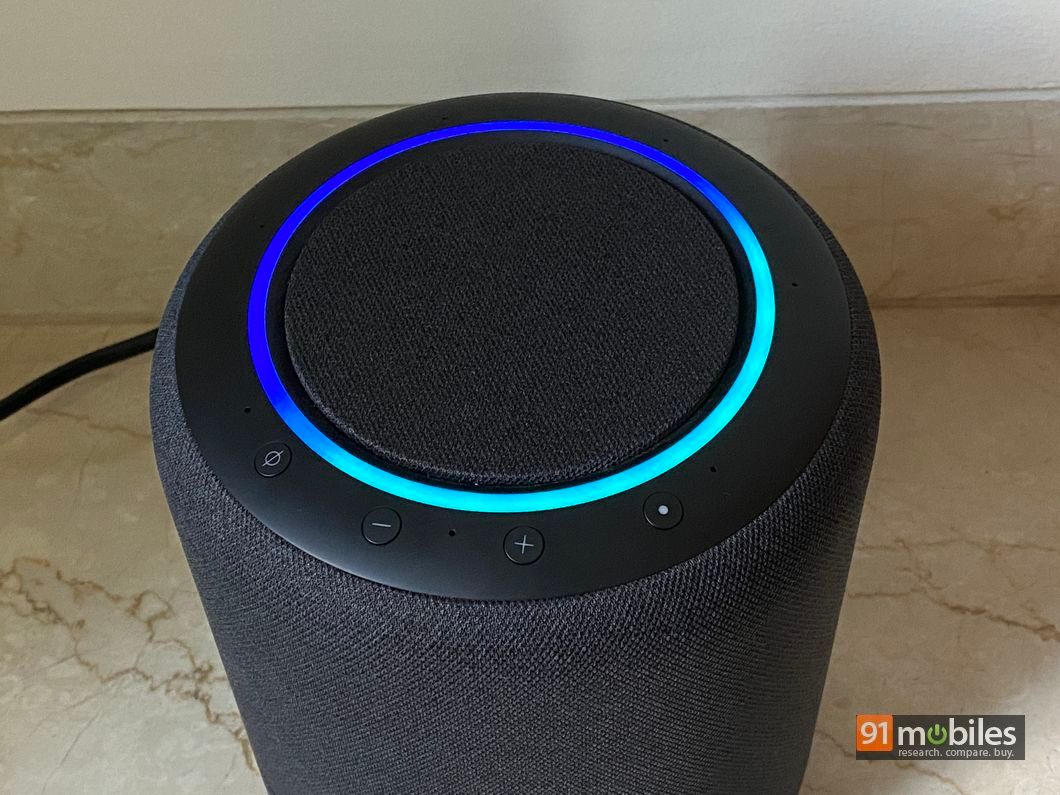 In terms of features, the Echo Studio is Dolby Atmos-capable, and also includes a built-in ZigBee smart home hub, the same one that's found inside the Echo Plus and the Echo Show. This lets you control compatible smart home devices like Philips Hue bulbs, but if I were you, I wouldn't put much weight into this. Not unless you have any specific use case or need to use some specific ZigBee-based gadgets. Otherwise, the Echo Studio can control the usual assortment of Alexa-compatible smart home devices like bulbs, plugs, what have you. Basically the same set of devices that can be controlled by any Echo device, regardless of whether it has a built-in hub or not. Thankfully, there are quite a few of those available.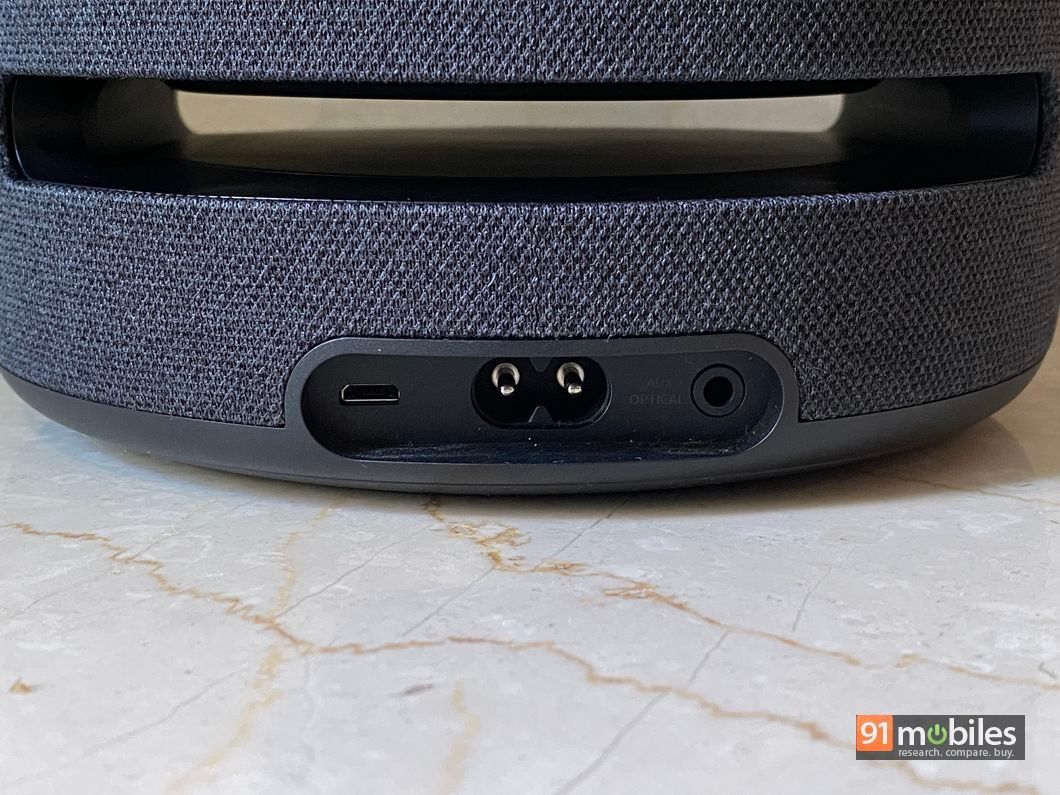 Setting up the Echo Studio is child's play, and involves using the Alexa app as usual. The first time it's set up, the speaker calibrates its audio spontaneously by emitting a test sound and bouncing it off the walls. Once that's done and dusted, you can go ahead and converse with Alexa to your heart's content, and have her play some music… which is the device's mainstay anyway. Supported music streaming services include Gaana, Hungama, Jio Saavn, TuneIn, and even Apple Music, apart from Amazon's own Prime Music. Worth mentioning is the fact that in the US, Amazon offers HD and 3D audio tiers that are supposed to work well on the Echo Studio, but unfortunately, those options aren't available in India yet. My first choice of song for playing on the Studio was my current favourite, Dino James' Dooriyan, before I moved on to others like Thunder by Imagine Dragons, Old Town Road by Lil Has X, Boom by X Ambassadors, and yes, even the trending Lehenga by Bass Manak. Suffice it to say that the Echo Studio can churn out big sound across all genres… audio that easily fills a large room without distorting at high volume levels. The mids are emphasised, treble response is good and there's reasonable stereo separation too, though you can't expect a similar level of separation as offered by dedicated stereo speakers. Speaking of, you do have the option of setting up the Echo Studio in a stereo setup, but I doubt many people will take that route. Bass output is where things don't bode that well for the Studio, with some muddiness evident. The speaker's sound isn't audiophile-grade, but I think most casual listeners would be quite pleased with what it churn out.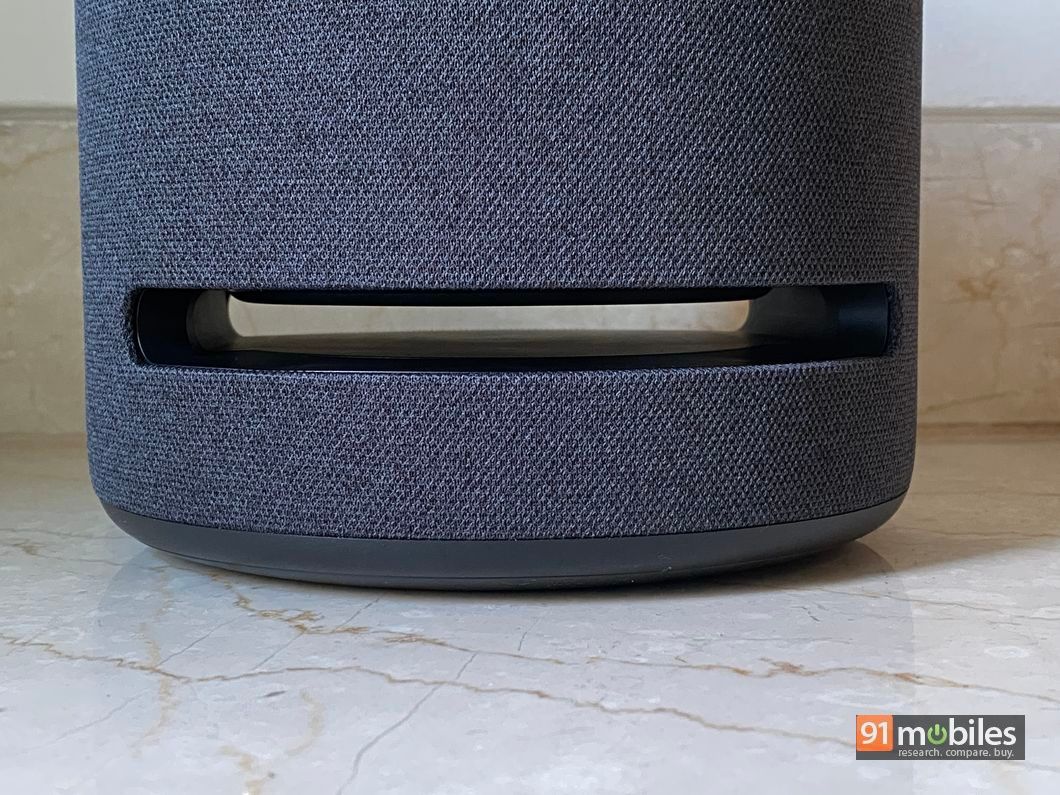 As a smart speaker, the Studio matches the 'skills' of its innumerable brethren from the Echo range. The AI smarts are on point, with access to a massive library of skills and services that Amazon's Alexa ecosystem offers in India. And the microphones do a swell job of being able to listen to voice commands belted out from across the room too.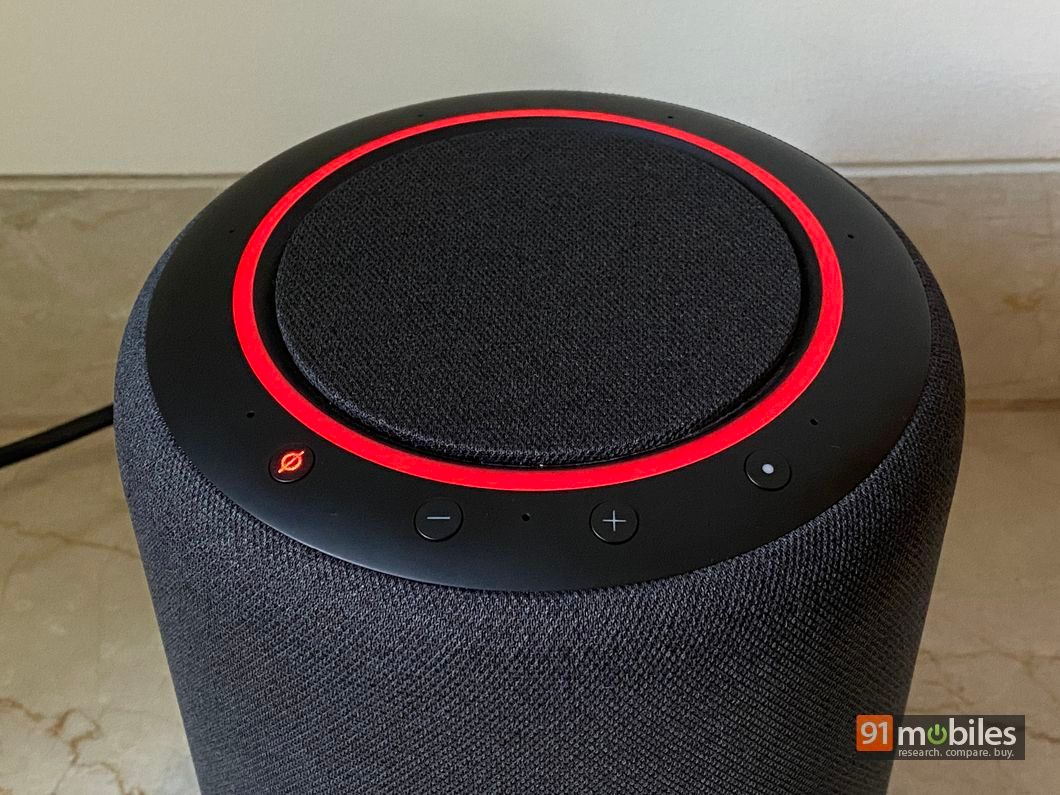 Priced at Rs 22,999, the Amazon Echo Studio isn't something you're likely to buy on impulse. Very clearly, the folks who'd be hitting the 'Buy now' button for this device would be those who're already convinced about Alexa's capabilities. And despite that price tag, I think the Echo Studio is a solid buy. The only potential confusion I think, would be whether to spend Rs 23K on it, or get a better sounding speaker without Alexa support and add smarts to it using a cheaper Echo device such as the Echo Input, Flex or Dot. I think your decision should be clear as night and day if you already own a great-sounding, yet dumb speaker. For others though, it could be a tough call. If you were to ask me, the Echo Studio is well worth a buy for those looking for an elegant solution that packs in useful smarts and very good sound quality too.
Editor's rating: 4 / 5
Pros
Rich, party-powering sound
Useful Alexa smarts
Simple setup
Cons
Staid design
Sound won't please audiophiles