"The Google Nexus 360 may look straight out of a sci-fi movie, but is possible with the tech available today, and just needs a manufacturer willing to take the plunge"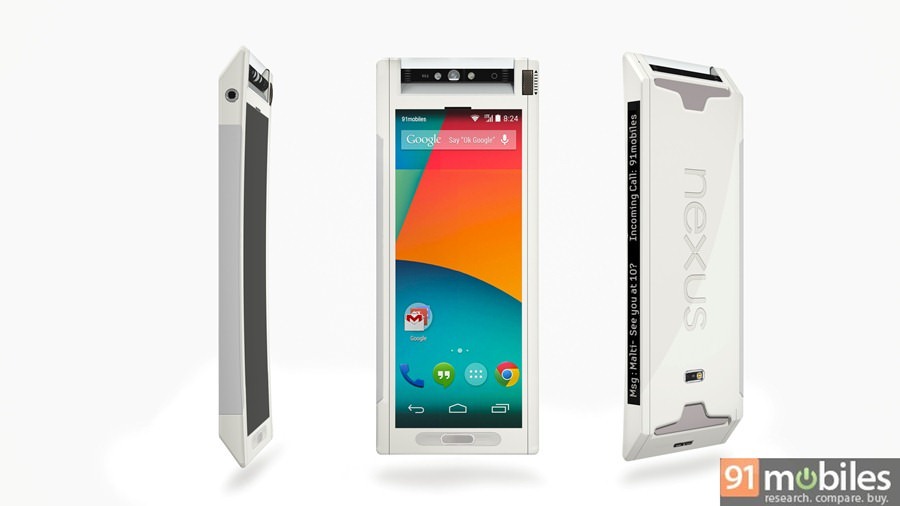 Although many might think that concept phones are just creative visualisations that are made to wow audiences, they still define a path to the future, no matter how difficult or impractical it may be. Not all concept phone ideas are achievable, and most of them stray away from reality significantly. After coming up with several popular concept smartphones like the Samsung Galaxy S5, Nexus 6, and the Apple iPhone 6 at 91mobiles, we've always striven to offer a concept which is a reflection of what can really be expected in the time to come, and not just some far-fetched futuristic idea that might or might not become a reality ever. Keeping this is mind, we present to you the Nexus 360 concept, a smartphone that aims at offering functionality above all, while keeping its feet planted firmly in reality by being viable using components and materials already available.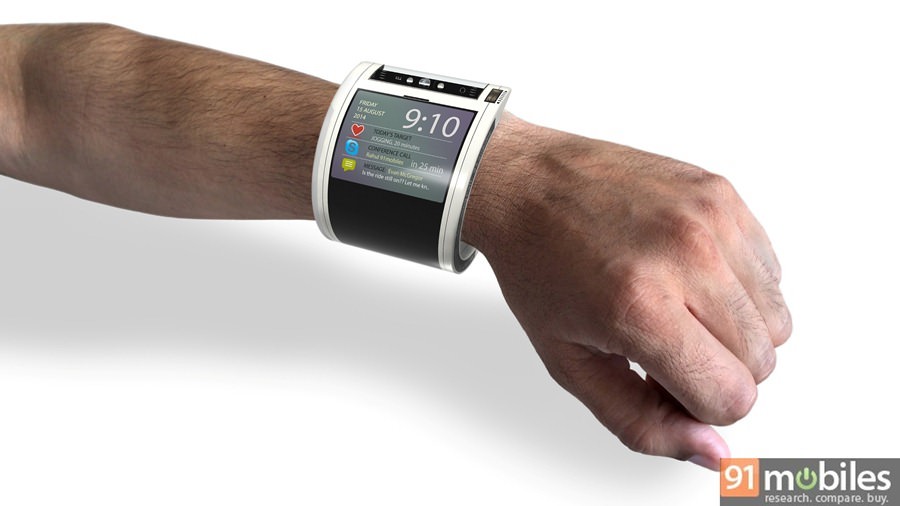 Smartphones are omnipresent, and there is a growing demand for wearable accessories such as smartwatches. Combining the two entirely different devices and form factors into one is what the Nexus 360 all about. The device offers the functionality of a full-fledged smartphone while being capable of transforming into a wearable – something that can be easily worn on the wrist much like a smartwatch.
With the flood of mobile computing devices, more and more users prefer carrying a single device that can take on multiple roles and adapt as per needs. The popularity of phablets is a good example. Yet another usability issue is that shooting impromptu and share-worthy images using their smartphones is still a hassle for many. It's said that the best camera is the one with you, but one on your wrist could be even better. Next, wearable technology is evolving rapidly, but compelling devices that appeal to the masses are few and far between. Health monitoring is a key aspect of wearables but the approach is still very fragmented since it requires the use of accessories that can't be used standalone. Their use is dependent upon paired smartphones and companion apps for setting up, capturing data and analysing it. The same issues plague smartwatches too. The idea then, is to come up with a single device that can tackle all these issues in one shot.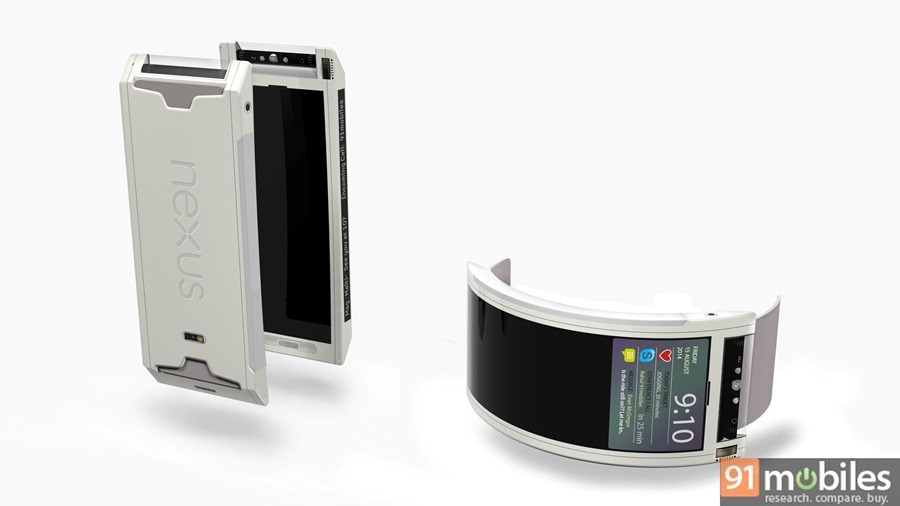 With the Google Nexus 360, 91mobiles is attempting to combine a full-fledged smartphone that transforms into a feature-rich smartwatch, without compromising on any aspect when it comes to usage. For this purpose, the 91mobiles team factored in user suggestions, and studied various prototypes and innovative technologies that are already in existence, so that an actual end-user product can be made available in the near future.
We chose the Google brand for this concept since the search titan has always been at the forefront of innovation, and isn't tied to a specific hardware manufacturer. The Nexus brand is related to the purest Android experience, and the Nexus 360 concept utilises the same platform. Google is most likely to push technological advances, and make its platform and search services ubiquitous.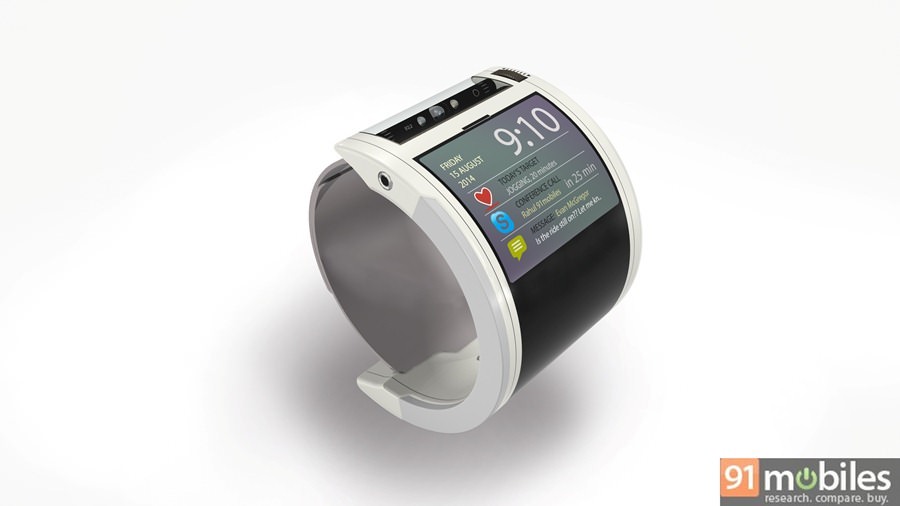 The Nexus 360 concept is based on a design that allows the device to be bent like a wristband on demand, but that does not take away any of the functionality. To achieve this, the device has been imagined to be manufactured with materials that are both bendable as well as resilient to scratches. Additionally, using polymers has its own advantage and allows the device to be made lightweight and at the same time, imparts water- and dust-proof qualities as well.
Similar material has been developed by Dai-Nippon Printing, which can be used even today for the construction of bendable device much like the LG G Flex, only more flexible. Taking this a step further, the Nexus 360 can be bent completely to fit the user's wrist. At the back of the device, there are retractable straps that emerge when it is flexed for the watch mode. The flexible straps tighten based on wrist size, allowing the device to be worn by anyone and everyone comfortably.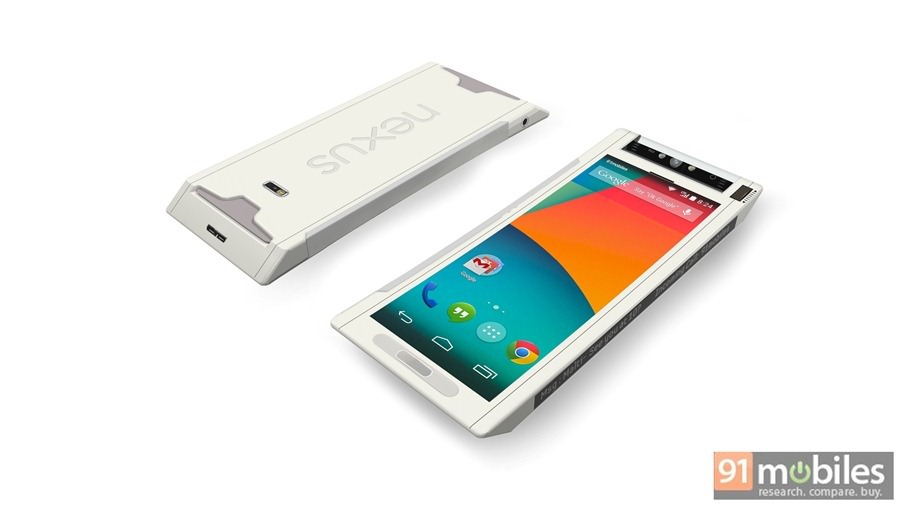 Combining the benefits of a smartwatch and a fitness tracker in one, the Nexus 360 features an integrated heart rate monitor at the back. Users can monitor their health on the fly, and since the smartphone itself is on their wrists, they no longer need to carry additional devices.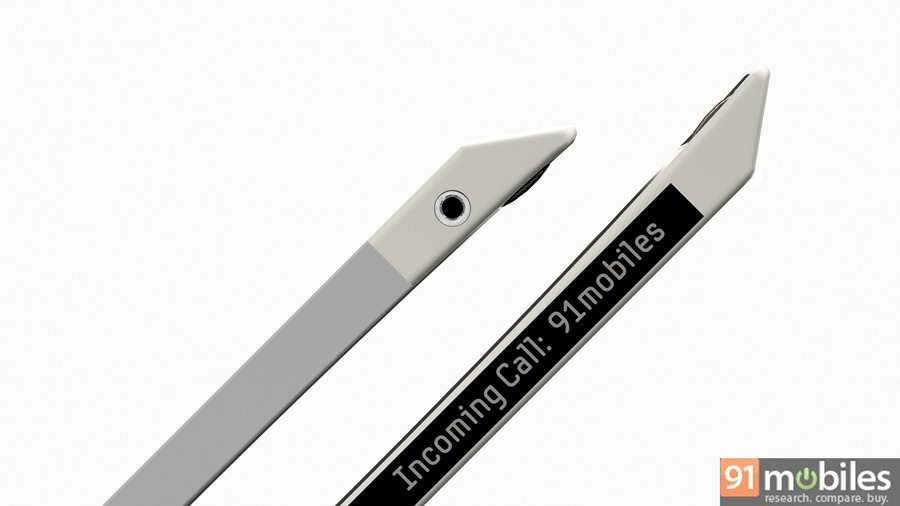 The display on the Nexus 360 is a 5-inch Polymer OLED-based unit featuring full HD resolution. Polymer OLED displays are manufactured without the use of glass, and that allows them to be bent, giving them the flexibility required. The Nexus 360 also features a secondary OLED display on the right, offering ready access to notifications and alerts, eliminating the need to power up the main display and therefore enhancing battery life.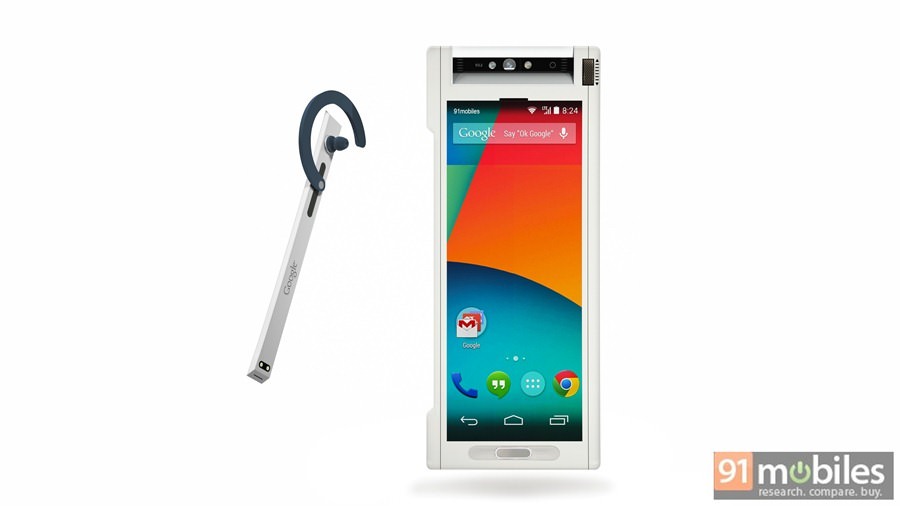 On the other side, there is a detachable Bluetooth headset that can be used for communications while the device is in watch mode. The Bluetooth headset also utilises a flexible design, and has a bendable ear hook which allows it to be worn more comfortably by the user. When not in use, it can be straightened out and docked inside the cavity, both for storage as well as for recharging.
As for the innards, the Nexus 360 runs on a quad-core processor clocked at 2.5GHz for smooth performance. Along with it, there is a healthy 3GB of RAM for multitasking and the device comes in different storage variants – 32GB, 64GB and 128GB. Unfortunately, the visualised design doesn't allow for a microSD card slot.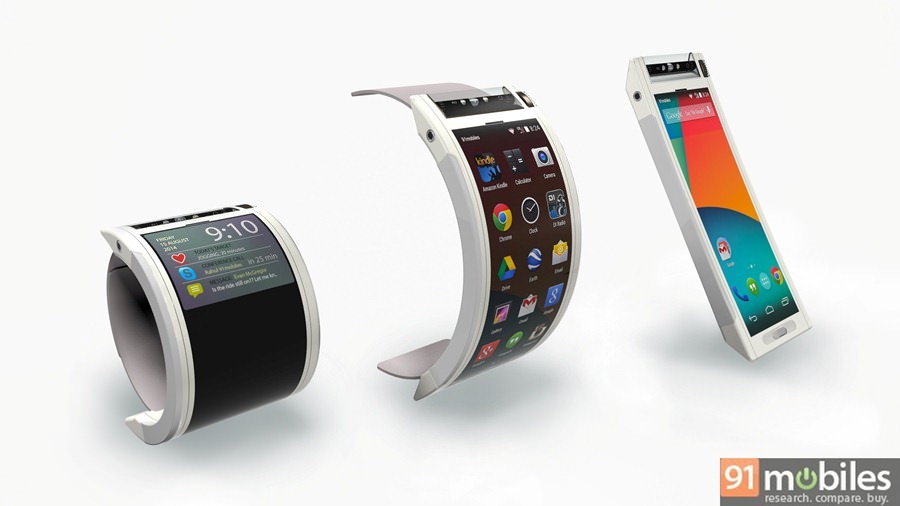 In terms of connectivity, Nexus 360 features single-SIM GSM connectivity with support for 4G/LTE networks. For wireless connectivity, there is Bluetooth 4.0 and dual-band Wi-Fi along with NFC for easy and seamless connectivity with compatible accessories and devices. In addition to this, the home button also doubles up as a biometric fingerprint scanner and allows the users to gain access to the device with just a single swipe of their thumbs. Users can also carry out financial transactions on compatible online stores.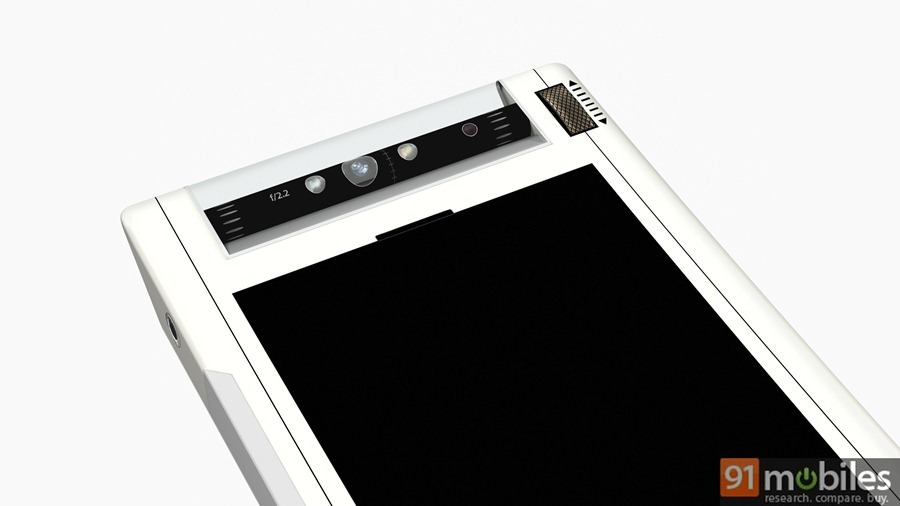 The 16-megapixel camera on the device comes in the form of a rotating tube encasing all the components like the camera module, flash and the autofocus assist light as well. The tube design allows the camera to be rotated to face the front, both for video calling and for capturing high-definition selfies . Additionally, the rotating camera also allows the angles to be adjusted according to the user's convenience when the device is being used in the wristband mode. There's support for 4K video recording as well.
This design is an amalgamation of several successful smartphones and technologies that prevail today and takes their use to the next level. The Google Nexus 360 concept device holds relevance to smartphone users, enthusiasts, device designers, device makers, and design Institutions as well as global smartphone brands. We'd like to reiterate that the device is just a creative visualisation, and has been designed to define a way ahead for designers and manufacturers who can draw inspiration from it to offer something that's truly path-breaking, yet highly usable.