The battle between laptops and tablets has been raging for a while now, with each device fitting into its own different use case scenario. The era we live in, however, needs devices that can take on different roles as required, covering various aspects of work and play to the extent possible. And given the flexibility and value for money it offers, I think Lenovo's IdeaPad Flex 5 does have what it takes to be a worthy partner.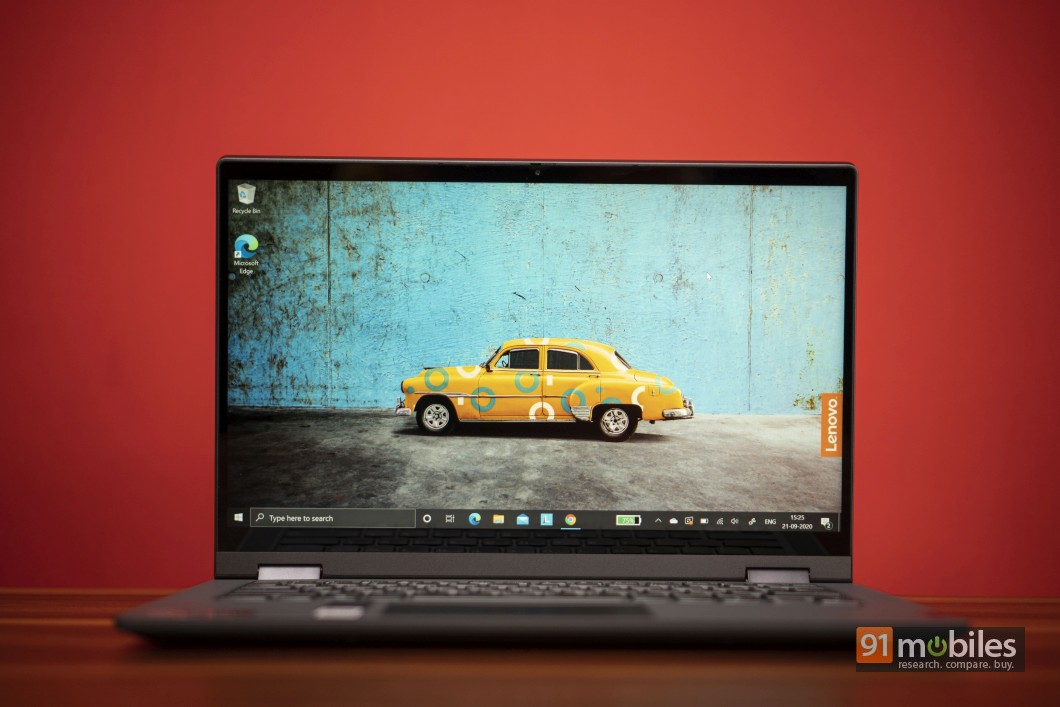 The Flex 5 is an affordable convertible laptop that comes with a touchscreen and an active pen and transforms from a laptop into a tablet at the drop of a hat. Or more accurately, at a twist of the screen. This particular model comes powered by the AMD Ryzen 5 4500U, offers 512GB SSD storage, and 8 gigs of RAM. Here's why I think it's worth a closer look.
Design and display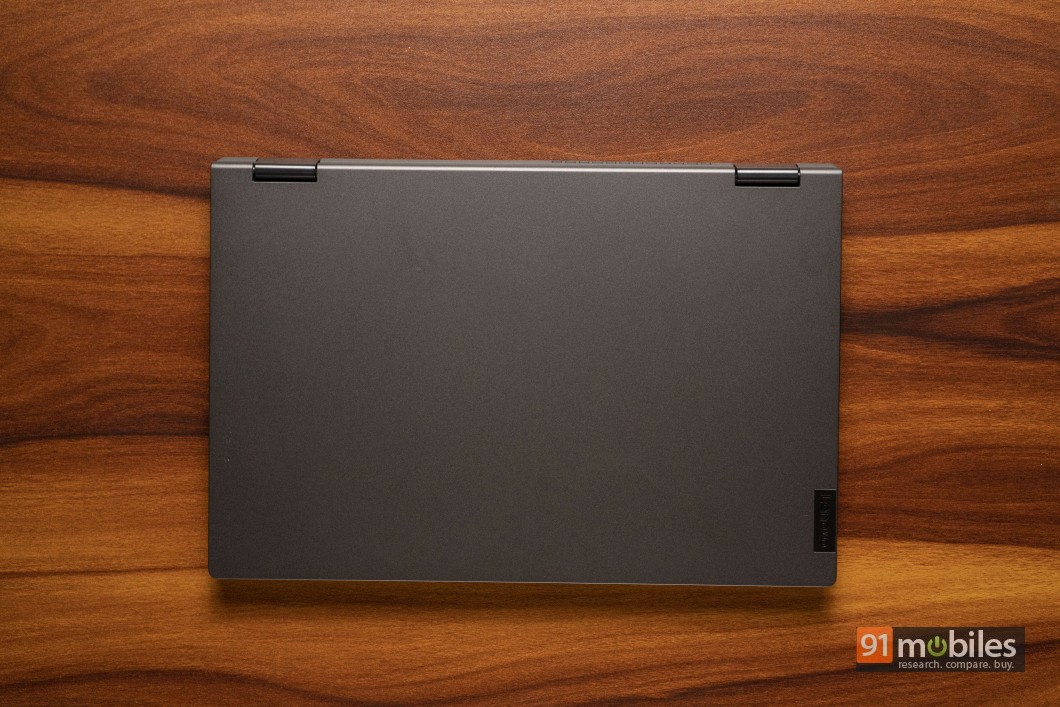 My review unit comes in Graphite Gray and has a soft touch feel to it. The device is encased in a plastic body and has a subtle, subdued design that looks classy and elegant. The dark grey hue does tend to gather some smudges over time, especially on the keyboard and trackpad area. The laptop weighs just 1.6kgs, and while it isn't extremely thin, it's not bulky either. The lid is plain, with a small metal Lenovo badge at one corner. Flipping it open reveals the 14-inch 1080p touchscreen, which has noticeable bezels on top and bottom. The bezels on the sides are quite slim though.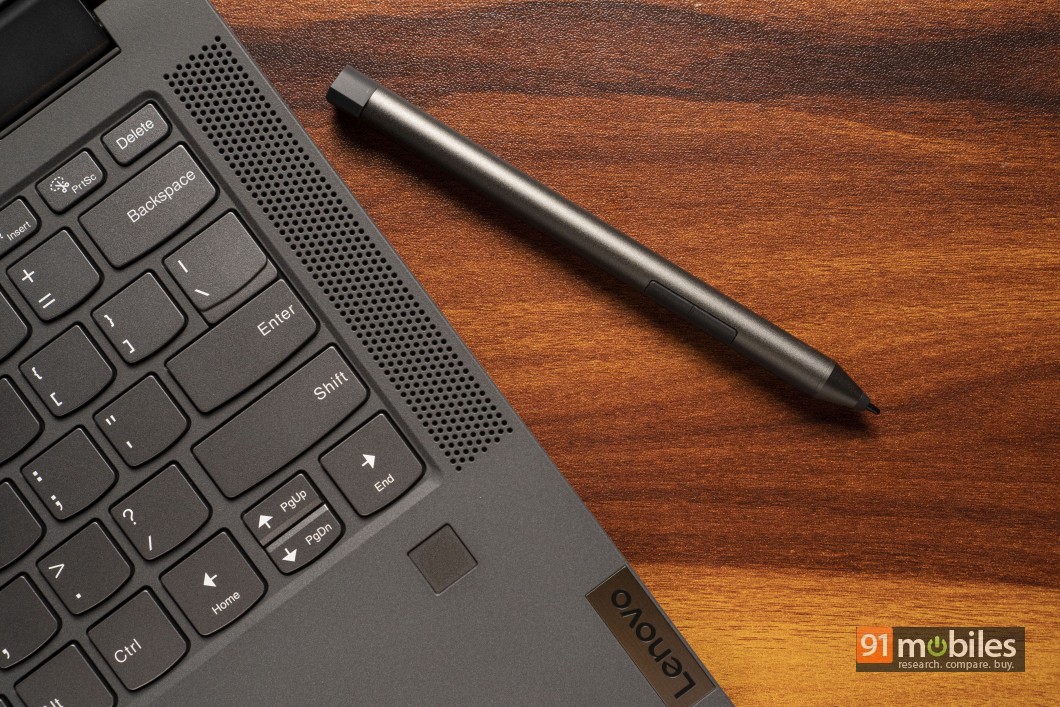 You'd also notice the full-sized chiclet keyboard, with keys that are rounded at the bottom in signature Lenovo style, and are well spaced out too. There's no dedicated numpad, which is par for the course for a laptop with a 14-inch screen. You'd notice two large speaker grilles on either side of the keyboard and a generously-proportioned trackpad below. A small, square-shaped fingerprint scanner is placed below the keyboard, towards the right.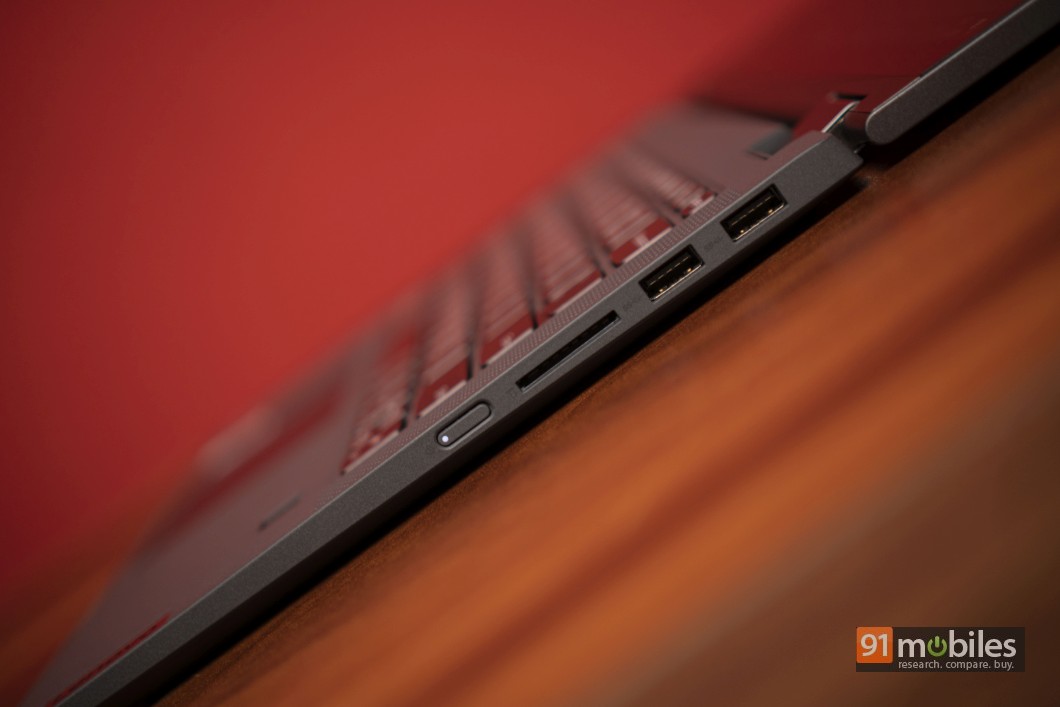 On the right, you'd find the power button, a card reader, and two USB Type-A ports, while the left side has the socket for the barrel-type charging connector, an HDMI port, a Type-C port, and a combo socket for connecting a 3.5mm headset. While I don't bemoan the lack of an Ethernet port, I do wish the device had another USB port. Interestingly though, the laptop can even be charged via the Type-C port.

The full HD screen outputs good colours and offers wide viewing angles, though it's a tad reflective and the brightness levels could have been slightly better. The touch response is excellent, and there are no complaints whatsoever when it comes to its usage as a tablet.
Keyboard, trackpad, pen, and overall usability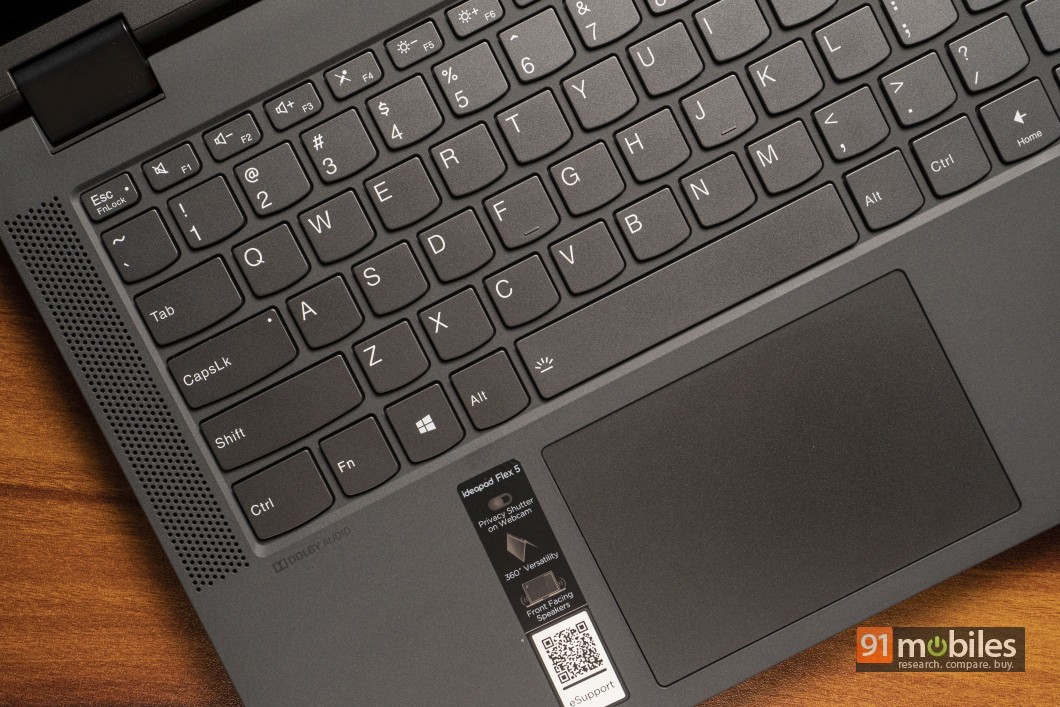 The keyboard on the Flex 5 is nice and spacious and hardly takes any time getting used to. The keys are spaced out well and offer decent travel and feedback. There's a two-step white backlight too… a handy and welcome feature that enables use in dim lighting conditions. As is typical for this category of laptops, the up and down arrow keys are half-sized, while the right and left keys match the rest of the keys. The function keys on top can be used directly for their respective tasks without pressing the Fn key. The trackpad is comfortable and quite smooth too and doesn't include dedicated hardware buttons for left and right click. The fingerprint scanner works extremely well, is super fast, and makes logging into the device a cinch.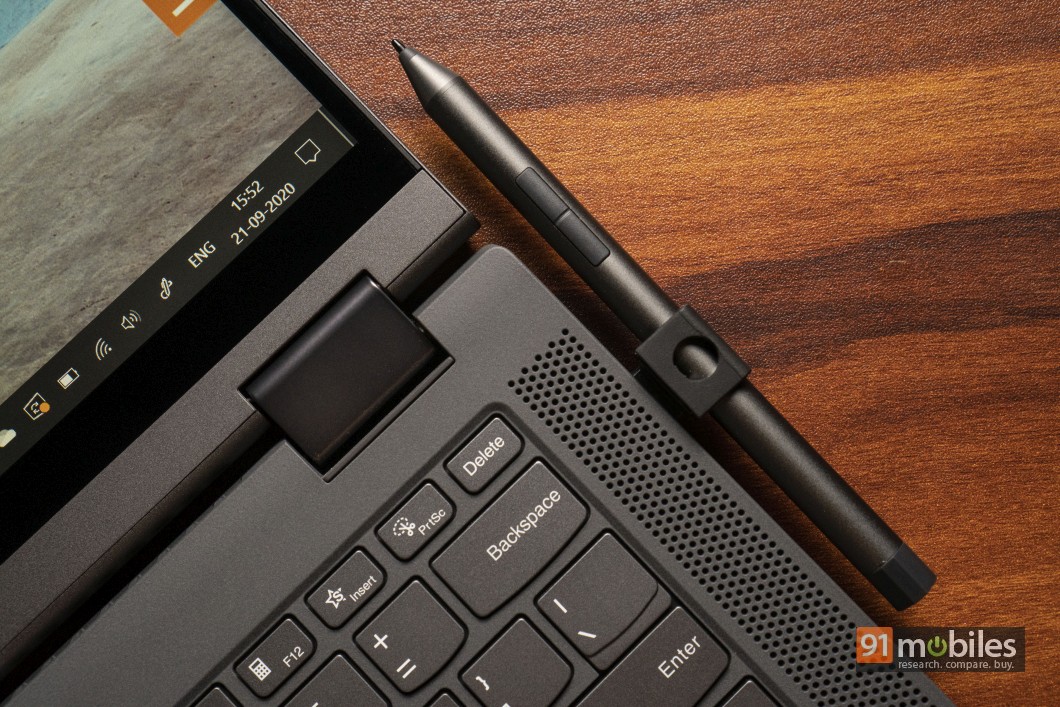 The included active pen supports 4096 levels of pressure and comes in handy not just for drawing and doodling, but also marking up documents. It's a welcome addition that would be appreciated by both students as well as professionals who can make use of this functionality. There's no place to house the pen though, so you'd need to keep it safely. You do get a small plastic holder that can be inserted into one of the USB ports to keep the pen handy.
The webcam on top is a standard 720p affair with fixed focus that does the job. However, the fact that it comes with a physical shutter is quite noteworthy and would be appreciated by those who have privacy concerns regarding their webcams being hacked. The front-facing stereo speakers are also quite useful, and since they offer rich, loud sound directed at the user, there's no need for you to use headphones while you're on video calls. And we all know how ubiquitous and frequent video calls are these days.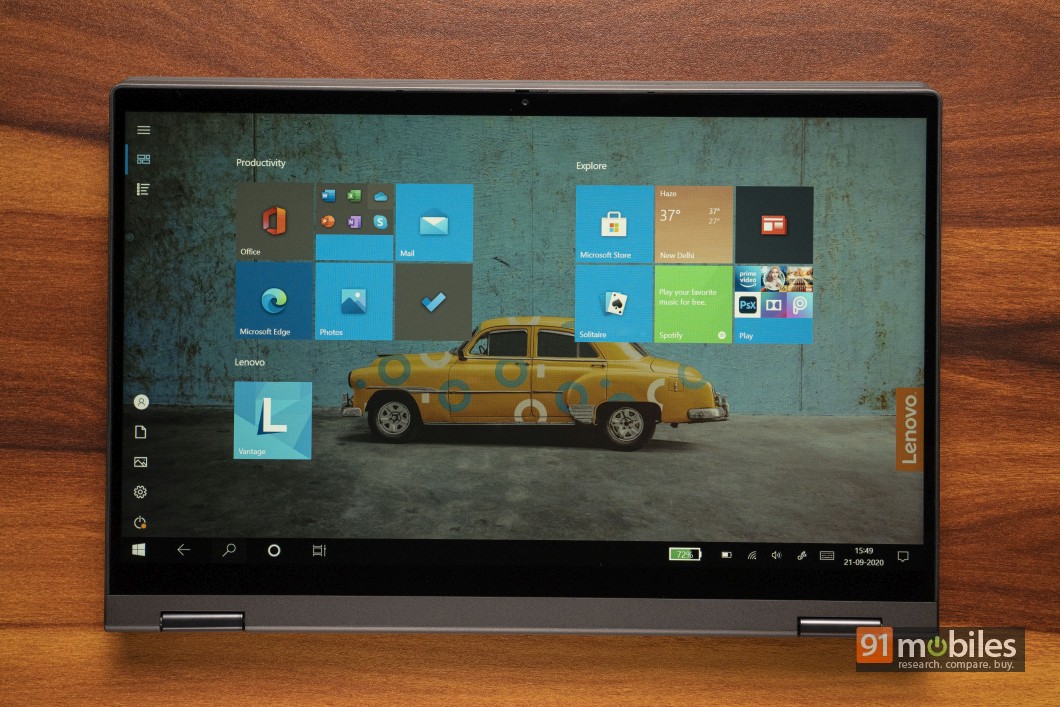 As a convertible, the Lenovo IdeaPad Flex 5 shines, allowing for a lot of flexibility in terms of how you can use it. Apart from using it as a laptop, you can fold the screen flat on top of the device's base, effectively converting the machine into a 14-inch Windows tablet that works well for content consumption. The two hinges seem quite sturdy, and allow the screen to be propped up at any angle. Laptop and tablet mode aside, you can prop up the device in tent mode or stand mode, which are ideal for streaming shows and movies, or for presentations. One caveat is that the front-facing speakers quickly turn into a disadvantage when the device is used in any of the non-conventional modes since they face the opposite direction or get covered when the device is in tablet mode.
Performance, battery, and software
With an AMD Ryzen 5 4500U processor and integrated Radeon graphics, the machine isn't made for gaming but manages to shine in other aspects related to performance. Also on board is 8GB of DDR4 RAM and 512 SSD storage. I've said it earlier, and I'll say it again – the inclusion of an SSD makes a world of a difference to a laptop's performance, translating to faster boot times and quick app launch times too. Overall, the Lenovo IdeaPad Flex 5 turns in smooth performance, and this includes everything from your basic document editing to web browsing using 15+ browser tabs, and the usual work coordination on Slack, batch resizing images, and a bunch of other usual day-to-day stuff. The laptop handles everything with aplomb, without displaying any stutter or lag. Heat is kept in check too.


The performance and number-crunching prowess of the Lenovo IdeaPad Flex 5 shows up in benchmark results, where the laptop shines. In PCMark 10, it logged a score of 4844, while Geekbench 5 displayed 1098 for single core and 4808 for multi core. CineBench R20 logged a score of 2445 points. The SSD is quite fast as well, showing 2056 MB/s and 1229 MB/s in sequential read and write respectively, benchmarked using CrystalDiskMark. In most cases, these scores rival those from laptops powered by Intel's 10th-gen Core i7 Comet Lake processors, so that should give you a good idea of the performance.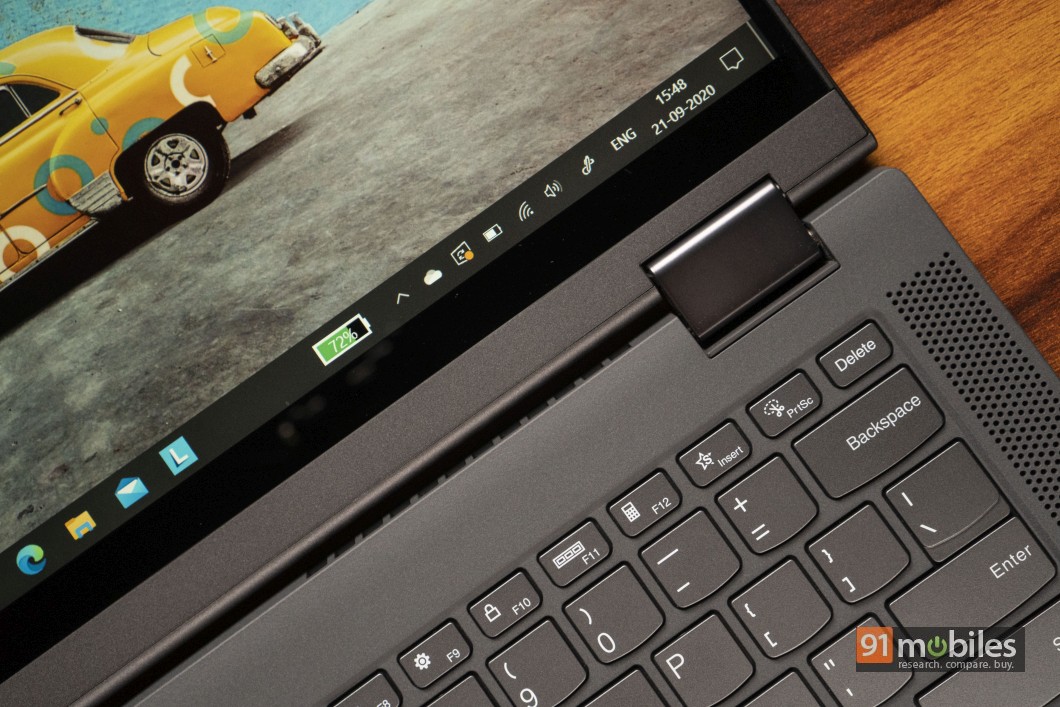 As far as the battery is concerned, the Flex 5 consistently lasted me for full working days, which is saying a lot since my working day typically extends into the night. So with my usage, as outlined above, I easily got around 9 to 10 hours on a daily basis. The included charging adapter can juice up the battery fully in about 1.5 hours or so, which is quite neat actually.
On the software side of things, you get Windows 10 Home preloaded. Also included is Lenovo Vantage, which is a system utility that lets you manage your laptop's settings, check warranty, check for driver updates, provides security options, and get service support if needed. More importantly, I think the deal is sweetened to a great extent with the inclusion of Microsoft Office Home and Student 2019 Edition. MS Office is such an integral part of daily usage for most laptop users, and getting a full version of the suite for free along with the laptop is such a boon.
Final verdict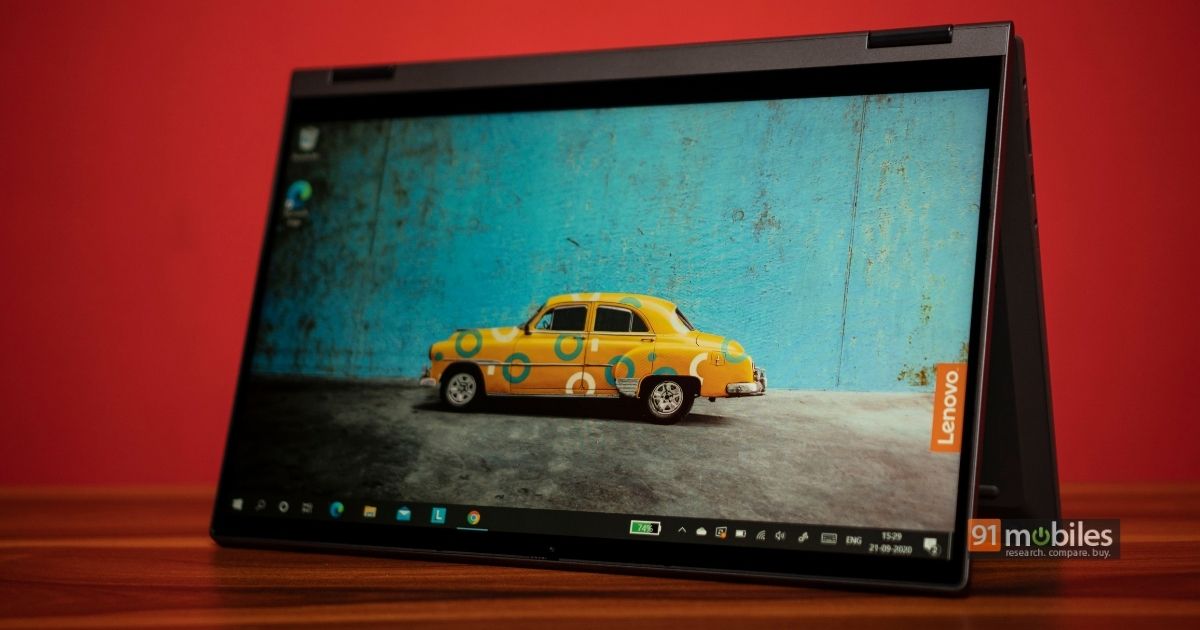 The Lenovo IdeaPad Flex 5 offers quite a bit for its asking price of Rs 58,990. It's far from perfect and isn't designed for heavy gaming, but the few niggles I have with it are quickly forgotten when I consider everything it brings to the table. The built-in fingerprint scanner, front-facing stereo speakers, and the physical shutter for the webcam are the icing on top of the proverbial cake, which is largely made up of smooth performance, good battery life, and good usability. Then there's the included Microsoft Office, and to top everything off, the flexibility offered by its convertible nature. As I said, it's a solid partner for both work and play, ideal not just for the new normal, but also when the new normal (hopefully) heads back to the old normal.
Editor's rating: 4 / 5
Pros
Convertible form factor can be handy
Smooth performance and good battery life
Physical shutter on webcam
Built-in fingerprint scanner
Cons
Screen brightness could have been better
Not designed for intensive gaming
Photos by Raj Rout