Lenovo's reputation in the PC world precedes itself. Whether it is for professional use or budget use or high-end gaming, Lenovo has a portfolio of products suited for every need. As a matter of fact, Lenovo was the largest PC maker in terms of shipments back in Q4 2019, as per a report by Gartner. The hugely popular Lenovo Thinkpad series is a big reason for the company's surge in popularity.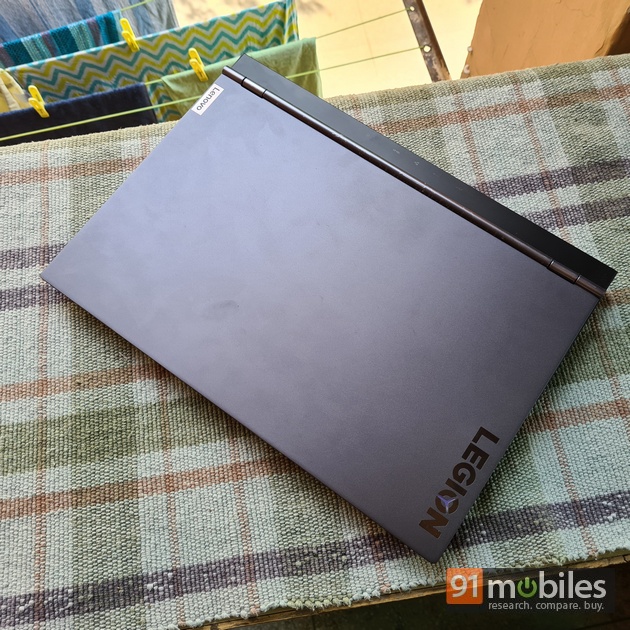 In the world of gaming, Lenovo's Legion lineup has been touted as serious competition to the likes of ASUS' ROG, Acer's Predator, Dell's Alienware, and MSI's Stealth lineups. However, with incredible specs, comes an incredible price tag. The Legion 7i is the culmination of the best specifications that Lenovo can muster in a single laptop and has a price to match. Starting at Rs 1,86,006, the Legion 7i isn't really an easy purchase to make, especially with ASUS and MSI making big strides with the latest NVIDIA RTX GPUs and Intel 10th-gen CPUs. Does the Legion 7i, Lenovo's priciest laptop, have the grit to stay at the top of the gaming pedestal? Let's find out in this full review.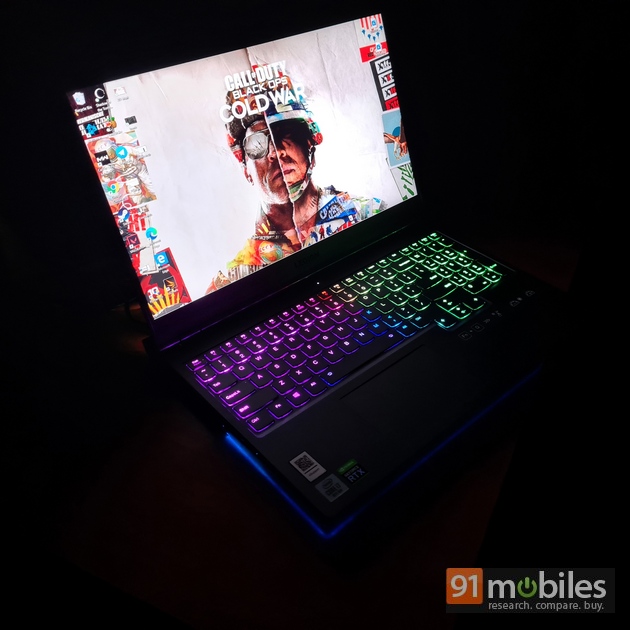 Design, build and display
The Legion 7i takes over from the quite popular Legion 5i in terms of design aesthetics and build quality. Packing in a lot of high-end hardware in a suitably thin body for portability isn't everyone's cup of tea but Lenovo has truly excelled here. A unibody metal body greets me when I open the laptop, and it covers everything from the lid to the palm rest to the hinge and the entire chassis. Even with so much metal, the device weighs in at 2.1kg, which may appear a bit heavy at first, but considering the internals, it is quite an achievement. The hinge for the lid is not at the back but is about an inch forward, giving room at the back for all sorts of thermal output and ports. Also, the hinge enables the lid to open 180 degrees, which lets you prop the display at an angle convenient to you. The lid does wobble a bit when opened fully, but I don't think it will be of any concerns on a flat surface. A little indentation where the lid meets the body means that I can slide in my fingernail and open the lid with just one hand. On the top is the webcam which has a plastic sliding cover for privacy.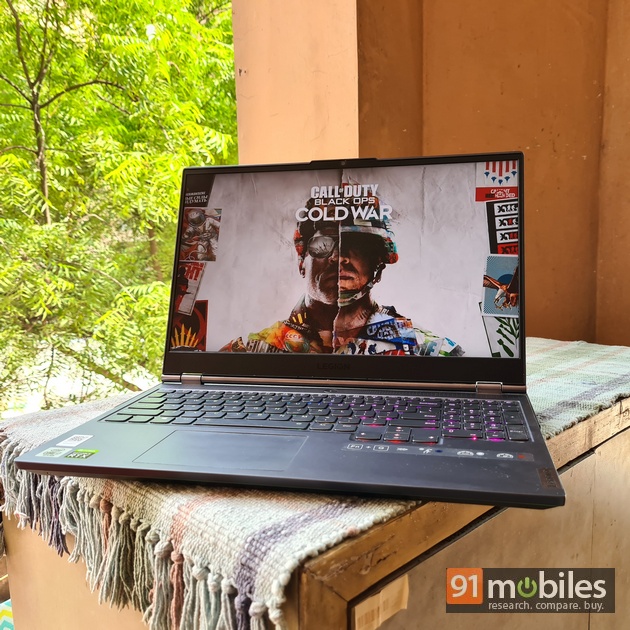 Flaunting a gaming laptop? What better way than to go with RGB lighting and there is no better embodiment of this than with the Legion 7i. The keyboard obviously has RBG backlighting, but there is a strip of LED lighting placed on the underside of the chassis and also on the back inside the heating vents. When turned on, the entire setup looks like a disco light on the table, something that might not be to everyone's taste… but I love it. Above the keyboard is the power button surrounded by little perforations along the chassis that could be mistaken for speakers. However, to my disappointment, the speakers are actually placed on the bottom, limiting the volume when the laptop is placed on a soft surface. In terms of colour options, the Legion 7i is only available in the single Charcoal Black variant, which is nice since it does not register smudges or dirt.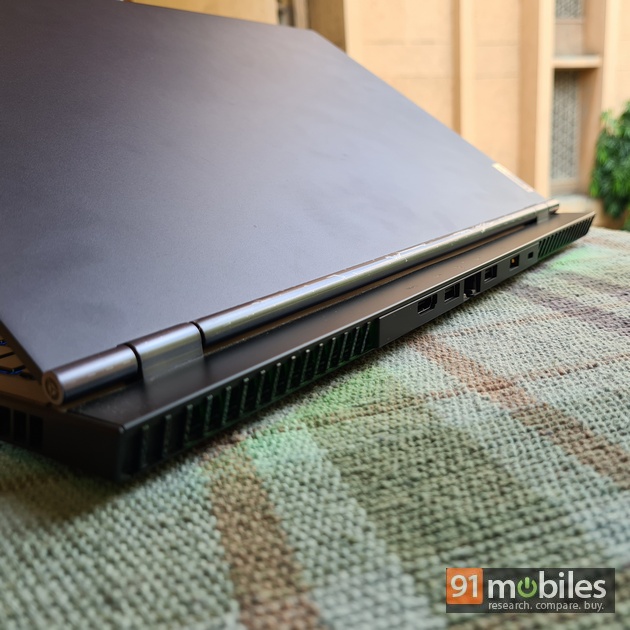 Talking about ports, you do get a lot of them. The majority of the ports are located at the back of the laptop wherein you get 2 X USB 3.1 Gen 2 ports, 1 X HDMI 2.0 port, 1 X Ethernet port, and the power slot. Apart from that you also get 2 X Thunderbolt 3 Type-C with USB 3.0 and DisplayPort support and 1 X 3.5mm headphone jack on the left while on the right you get a solitary USB 3.1 port. There are also vents on either side of the chassis and as mentioned before two big vents at the back.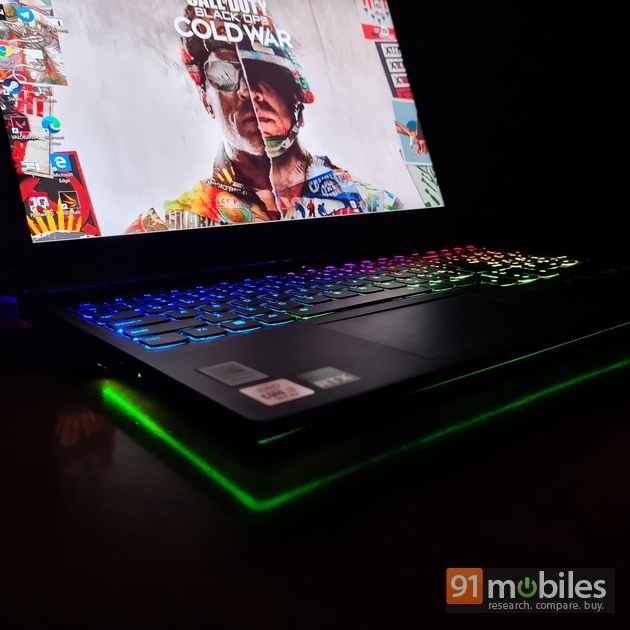 The Lenovo Legion 7i has three display variants but all of them have the same 15.6-inch FHD (1,920 x 1,080) LCD panel and have at least a 144Hz refresh rate. The highest-end model will get you a 240Hz refresh rate along with 100 percent sRGB color gamut coverage and Dolby Vision support. The review unit I've been sent happens to pack in all high-end features but maxes out at 144Hz. The display can get a peak brightness of about 500nits which is quite impressive and makes it easier to work outside in sunny conditions. Video or photo editing requirements should be met with the Adobe sRGB coverage. During my time with the Lenovo Legion 7i, the display had me reasonably impressed thanks to NVIDIA G-Sync capabilities although not all models will be privy to it. The response time for the display is less than 3ms which is on par with several ROG Strix models and higher than what MSI's lineup offers.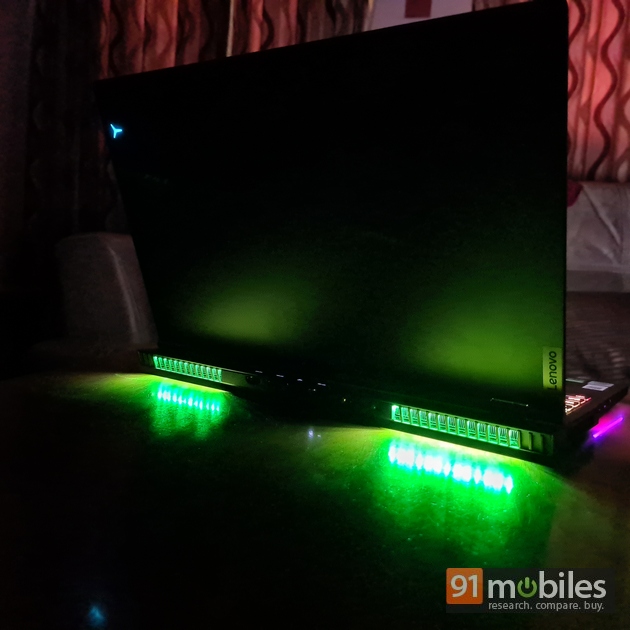 Keyboard and trackpad
Whether it is for office usage or intensive gaming, Lenovo's keyboards have stood the test of time. The Legion 7i is headed in the same direction with its full-sized, six-row keyboard complete with RBG backlighting and a numpad stashed to the right. By default, the RGB lights swirl around the keyboard which looks cool at first but might just make you feel slightly sick after a period of time. Thankfully you can switch this with just pressing Function + Space bar wherein you can cycle between three profiles, ie multi-colour, single colour and no backlighting. The backlighting can be adjusted and changed in Lenovo's Vantage app. The keys themselves are extremely tactile and the travel is excellent.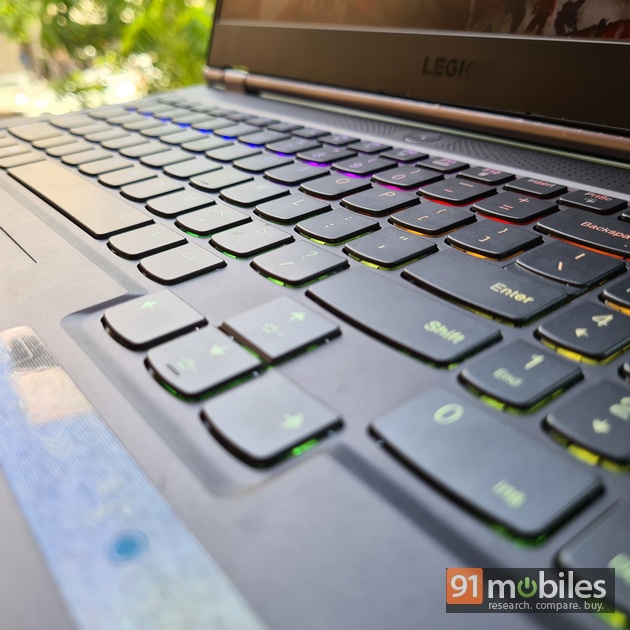 The trackpad isn't the largest but it is enough to get the job done. It has a polished matte finish with no physical buttons present. Instead, like many laptops, the trackpad registers a right-click when pressing the bottom right half or through a two-finger tap. The response was quite good and I could feel my fingers glide over it. Even so, whether it is for creative usage or for gaming, I'm quite sure an external mouse will be used with laptop.
Performance and battery
It is typical for a gaming laptop to pack in the maximum amount of processing prowess to stay one step ahead of the competition and boy is the Legion 7i packed to the core. For starters, my review unit has the 10th-gen Intel i7-10875H chipset which is part of Intel's Comet Lake lineup that has been seen on several high-end laptops. Of course, there are several configurations available and you can go down to an Intel i5, but all options include 10th-gen Comet Lake processors. Then there is the GPU and again my review unit has the absolute maximum you can get currently, thanks to the NVIDIA RTX 2080 which makes use of the MaxQ architecture and has 8GB of VRAM. Supporting it is a 1TB PCIe SSD with an expandable slot that can run in RAID 0 configuration and 16GB of DDR4 RAM with an option to expand by 32GB. In case it wasn't very clear looking at these specs, the Legion 7i brute forces through any task thrown its way, graphical or otherwise. The variant I have costs an eye-watering Rs 2,46,690 currently and its launch price stands at Rs 3,49,890.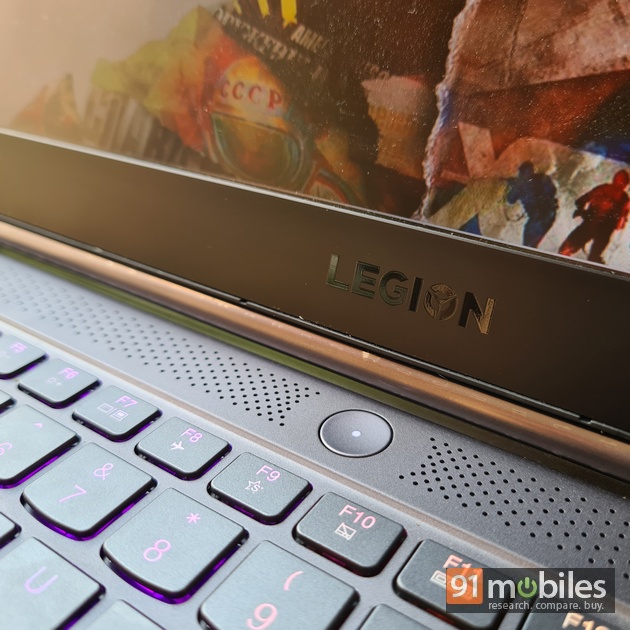 Gaming was a metaphorical breeze on the device and it was aided by the fact that the Legion 7i has a multitude of heating vents and a huge vapour chamber inside. Today's gaming consists of the massive multiplayer attractions that are Valorant, Call of Duty Warzone, Fortnite (to some extent), and Counter-Strike. There are games that can offer you a solid experience even with a normal NVIDIA GTX 1660ti or an equivalent AMD Radeon RX590 from last year. However, for significantly more intensive games such as Shadow of the Tomb Raider and the open worlds of Far Cry 5 you will need God-like 3D rendering to maintain reasonably high fps. To that end, both games run at the highest settings and deliver a peak of 105 fps and 111 fps respectively, which is more than standard for NVIDIA's RTX series. Lenovo brags about the Legion ColdFront 2.0 cooling technology which makes use of a 'six-point thermal sensor array' and it appears there has been put to good use. During my extended gaming periods, often exceeding beyond 2 hours, the laptop manages to run relatively cool although the keyboard does get warm near the GPU. The Legion 7i can also leverage one tap change in fan speeds by pressing the function and Q key. There are three modes to choose from which are Quiet, Balanced and Performance. On a side note, the fans rev up really loud so it might be best to use the Performance setting in a secluded environment.
Lenovo Vantage is a nifty little app installed in the laptop which lets you monitor, amongst other things, the CPU and GPU usage in real-time, maintain your catalog of games via the Legion Game store, and gives access to system tools. Benchmarks showed scores that are to be expected from Legion 7i's CPU/GPU configurations. For testing out the compute strength on the device I ran the Geekbench 5 benchmark and got scores of 1,387 for the single-core and 7,834 for the multi-core test. Cinebench R20, for checking how the device performs against sustained load, gave a score of 3,859 while the 3D Mark Time Spy test for the GPU yielded an impressive 8,653 score. The device also powers through for professional use which is demonstrated by the PCMark10 score of 6,664.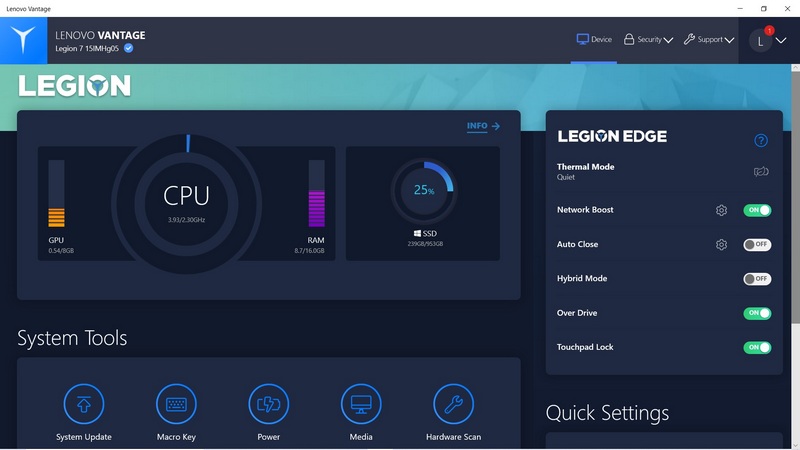 Other aspects of the Legion 7i include powerful stereo speakers present at the bottom which can get quite loud but deliver a crackling sound at times which lacks bass. There is Dolby Atmos support, but it is passable at best and is nowhere near the sound quality of a similarly-priced MacBook Pro 16-inch. The webcam supports 720p video quality and isn't compatible with Windows Hello Face for facial unlock. There is also no fingerprint sensor for faster authentication which is a bit sad to see.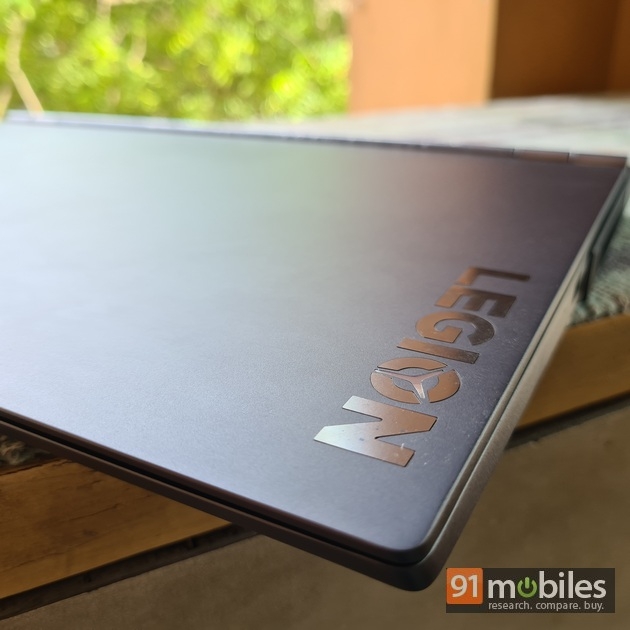 Coming to the final aspect of the Legion 7i experience is the battery and how long the device can last on a single charge. There is an 80 watt-hour cell housed inside the laptop and it comes with a massive 230W charging adapter that weighs 0.7kgs. In terms of charging speeds, the device is powered up fully in about 80 minutes with 50 percent charge being completed in about 30 minutes. Obviously for gaming, the best performance comes from the laptop being plugged into a power source so the battery life is not a point of concern.
Verdict
There is little doubt that the Lenovo Legion 7i is a power-packed gaming beast that will push through anything that you throw at it. It also commands a price tag that can certainly leave a big dent in your wallet and even more so if you buy the specced out review unit I have received. While the Legion 7i is aimed at gamers, the graphics capabilities can also be used for creators to harness. It just becomes a matter of preferring Windows to Mac OS, as at its price point you can get a decently-specced MacBook Pro 16-inch.
In my opinion, the extra Rs 50,000 for an RTX 2080 is not really a worthwhile option when you do get an RTX 2070 at Rs 1,96,690 and have nearly the same capabilities. As for the competition, the HP Omen is currently on offer with the maxed out Intel i7 10th-gen cum NVIDIA RTX 2070 Max-Q unit shipping for Rs 1,80,999 which is about Rs 16,000 less than the similarly-specced Legion 7i. For users who want an even more portable design and not compromise a bit on the specs, MSI's GS66 Stealth for Rs 2,54,990 is a very good option.
Editor's rating: 4 / 5
Pros
Hinge design and thin chassis are commendable
Extreme performance
Thermal management is top-notch
Excellent display
Cons
Fans can get too loud
Speakers sound tinny