As a woman, it's not easy finding a smartwatch that's both functional and feminine. The Apple Watch Series 4 (first impressions) is a personal favourite, both for its unisex design and its vast feature set. However, it's restricted to iPhones, and as a tech journalist, I find it limiting when using an Android device. Google's Wear OS platform has been around for a while now, and the interface has improved quite a bit since inception. Plus, Wear OS is cross platform, which means it can be used with both Android devices and iPhones. While LG, Huawei and Misfit make Wear OS smartwatches, the most prolific smartwatch brand among them all is Fossil. Not only does Fossil make Wear OS smartwatches under its own brand name, but it also has a bunch of high-fashion brands under its umbrella, including Emporio Armani, Skagen, Michael Kors and Diesel. Fossil recently launched a range of smartwatches in India, and among them is the Michael Kors Access Runway. Featuring signature Michael Kors design and loaded with fitness features, this is a smartwatch that combines style and function. To find out if it justifies the Rs 25,995 price tag, I fastened it on my wrist for a couple of weeks.
Design



If not for the display, the Michael Kors Access Runway could easily be mistaken for an analog watch. It features a classic design, with a round dial in a gold tone finish, matching stainless steel strap and rotating crown with engraved 'MK' branding. The 41mm dial is pretty chunky, but Michael Kors calls this an 'oversized' smartwatch, so it's meant to look deliberately larger on the wrist. The watch is also available in silver, rose gold and dual tone designs, with a choice of metal, silicone, ceramic and nylon straps. There's an extra buckle inside the retail box, which can be used with interchangeable silicone or fabric straps. The stainless steel strap was too large for my wrist, so I had to get a couple of links removed, which can be easily done at a local watch shop.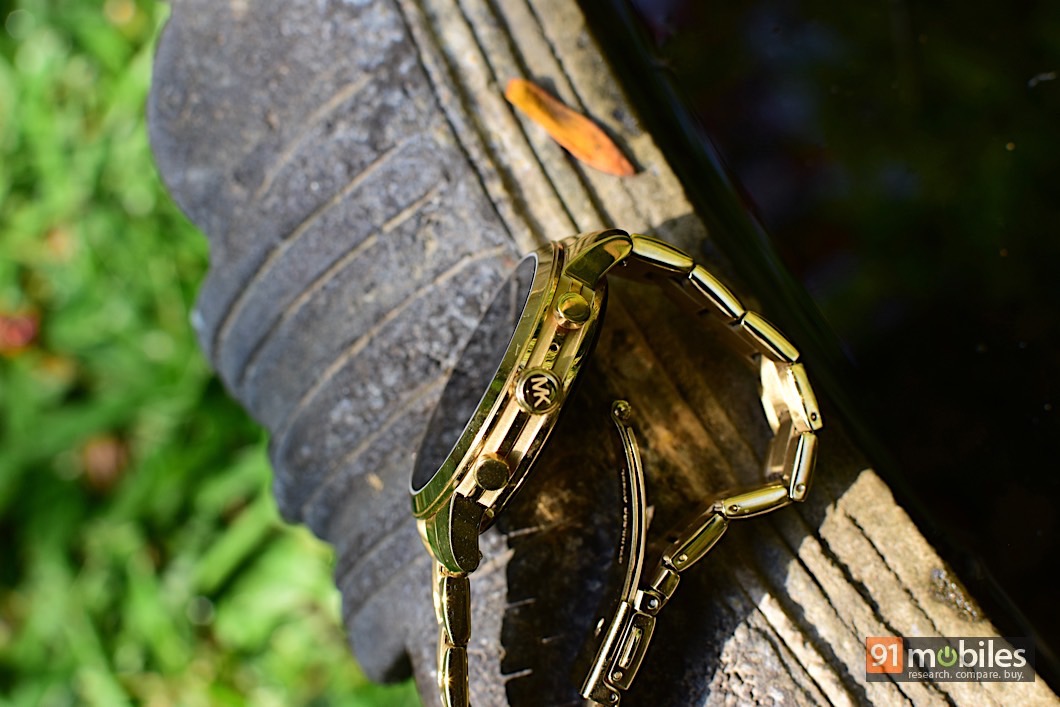 The crown is flanked by two buttons, which can be customised to bring up an app or function of your choice. I had the top button set to turn on the flashlight feature, and the bottom to open Google Fit. There's a microphone visible between the top button and crown, which can be used to summon Google Assistant. The base of the smartwatch features an optical heart rate sensor, and the entire watch is swimproof and water resistant up to 30 metres, which means you can safely take it for a dip in the pool. Unfortunately, the stainless steel strap isn't ideal for physical activity for any kind, so I'd recommend using a silicone strap with the watch. Even then, the large, flashy dial doesn't make it ideal for taking on a run or a swim – it's definitely more of a fashion smartwatch than a fitness one.

Display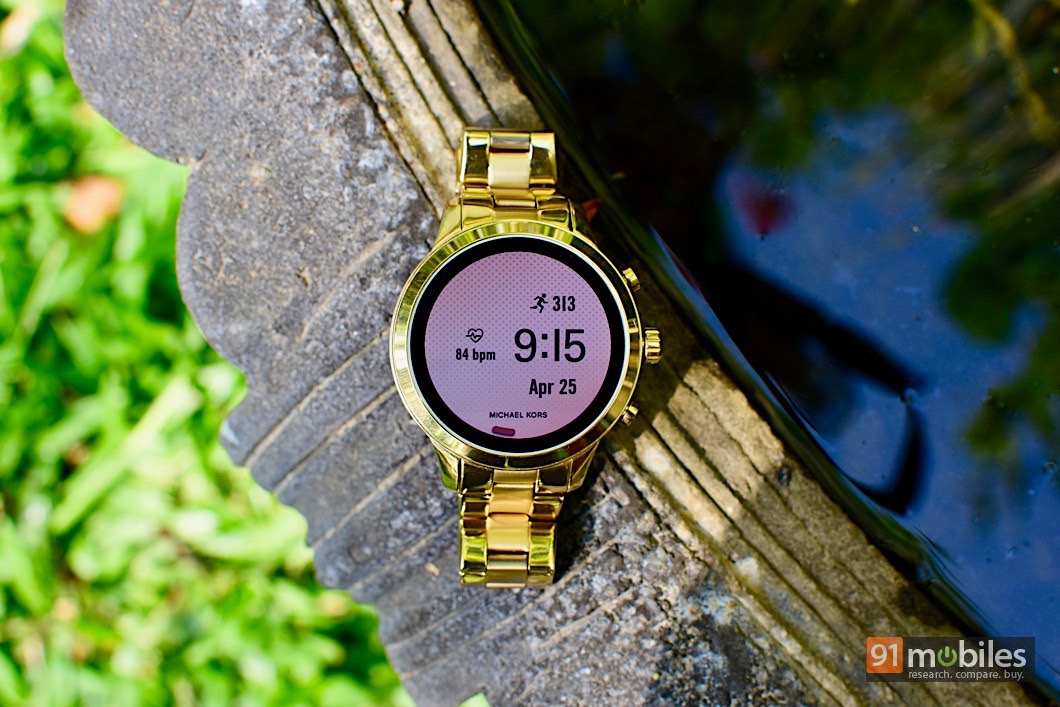 The Access Runway features an AMOLED display with rich colours and deep blacks – perfect for showing off different watch faces. The screen features a resolution of 390 x 390 pixels, with text and images appearing sharp and crisp. The smartwatch offers an entire range of watch faces, including traditional, modern and digital designs. For each watch face, you can customise what information you'd like to see – for instance you can choose to see weather instead of heart rate, or calendar instead of the battery indicator. You can also customise the dial and accent colour for each watch face, which is a nice touch. The watch screen automatically turns on when you tilt or raise your wrist, or tap the screen. There's also an always-on screen option, which changes to an ambient mode after a few seconds. This is certainly more useful to view the time at a glance, but will reduce battery life if enabled.


Apart from the myriad watch faces on offer, the Access Runway also comes with a set of features called Michael Kors Access. This includes My Social, My Looks, My Modes and My Next. My Social lets you select photos from Instagram or Facebook and apply them to a watch face, allowing you to give the watch a personal touch. The image above is actually a photo from my Instagram feed, and I was quite pleased with the final result. My Looks lets you pick a watch face according to a background colour, such as black, blue, purple, white, etc, so you can match it with your outfit. Saved watch faces from My Social also show up in My Looks. My Modes lets you pick and automatically apply watch faces for day and night looks. My Next lets you add an upcoming event, and displays the number of days left – for example, "15 days left until Goa trip". This shows up on select watch faces.
Software


The Access Runway runs Google's Wear OS, which is easy to navigate via gesture-based controls. Swiping down from the top will give you access to quick settings, including handy options like airplane mode and find my phone. Swiping up from the bottom displays your notifications, which you can tap on to expand fully. Swiping to the right brings up Google Assistant, and you can use your voice to ask basic questions from this screen. Swiping to the left will bring up Google Fit, which displays your active minutes and heart rate points.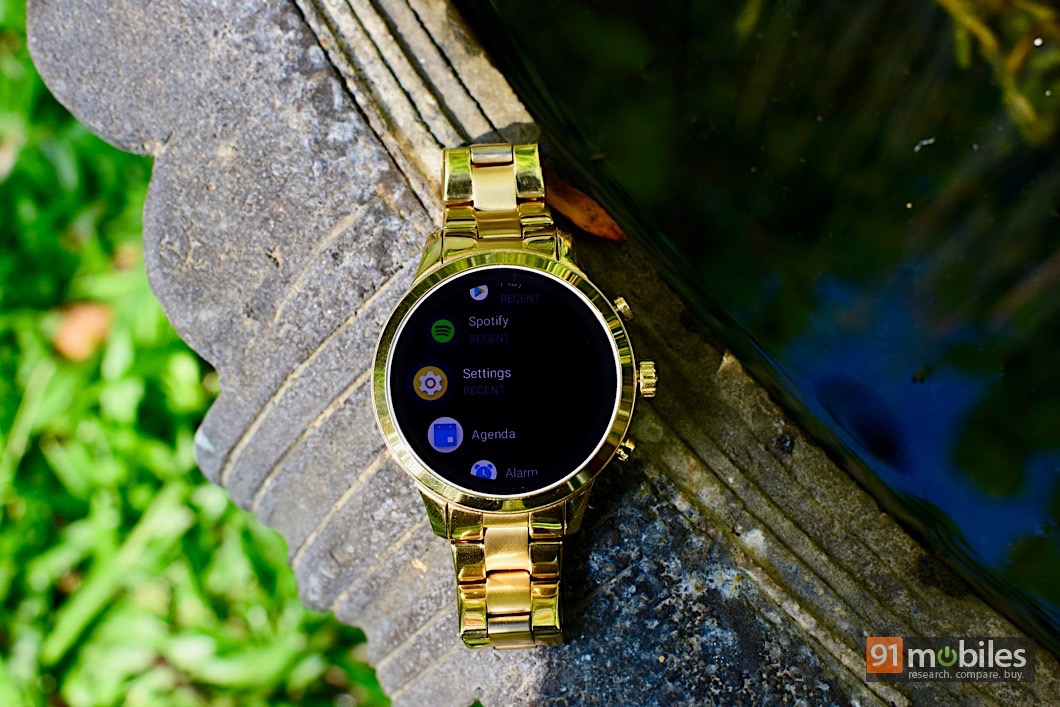 Thanks to Play Store access, you can download a range of apps, games and watch faces to further customise your watch. The inclusion of Spotify is an added bonus, and lets you control playback to a connected smartphone through the watch itself. The watch can be paired with both iOS and Android devices, and controlled via a dedicated app.
Hardware and usage


Powering the Access Runway is a Snapdragon Wear 2100 processor, and it's a bit disappointing that the brand didn't opt for the newer Snapdragon Wear 3100 chipset. There's also 4GB of storage on board, as well as a 300mAh battery. The watch features Bluetooth, Wi-Fi, GPS and NFC for connectivity, with the last meant to enable payments via Google Pay, a feature that's unfortunately not available in India. The optical heart rate sensor can be set to take readings every 20 minutes, or manually when you tap the heart rate icon on the watch face. The inclusion of GPS means you can take the watch for a run and track your route without needing to carry your smartphone. The built in pedometer tracks your step count, but I found it undercounting quite a bit, especially compared to the Mi Band 3.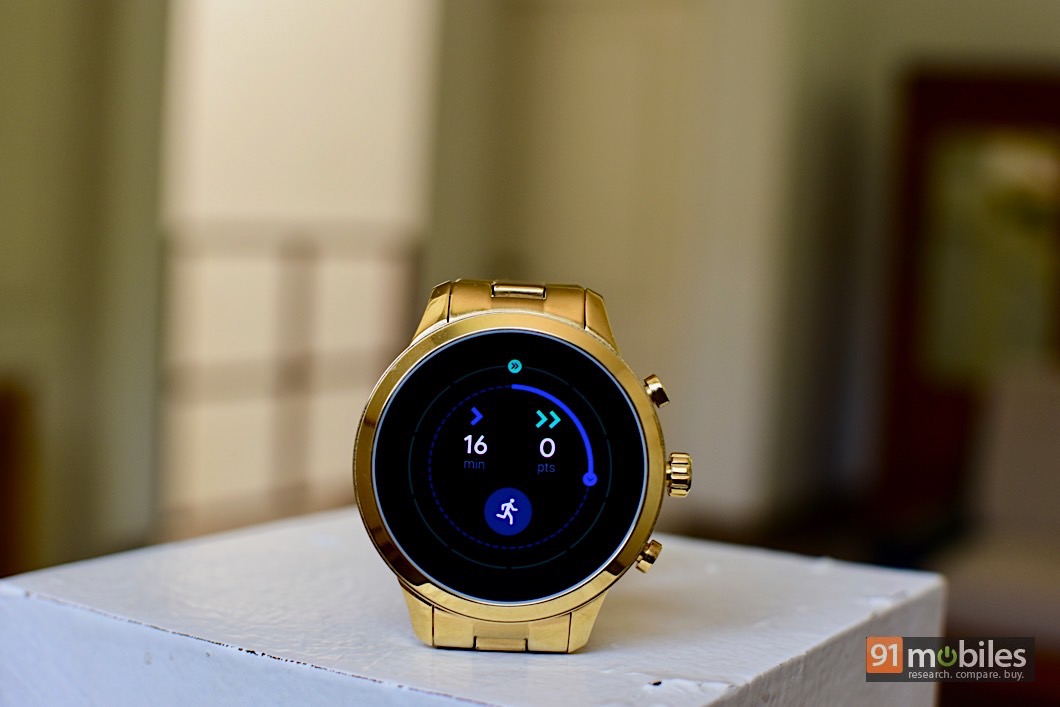 Unfortunately, despite its bevy of features, when it comes down to day to day usage, the Michael Kors Access Runway falters quite a bit. The interface is very sluggish, with screen freezes a routine occurrence, especially when navigating multiple screens. The screen often failed to register taps or swipes, and there were times I had to just let the watch be for a few minutes before it came back to life. It also gets noticeably hot when the screen freezes, which is worrying considering it's strapped on your wrist. The battery life was also below average, with the watch running out of juice by the evening. This means if you wear the watch for an entire day and head out for evening drinks or dinner, you'll have charge it again, or resign yourself to the limited low power mode. The only plus side is that the included magnetic charger can recharge it completely in just over an hour.
Verdict


If I were to recommend a women's smartwatch just on the basis of design and features, the Michael Kors Access Runway would be at the top of my list. However, the experience is let down by the freezes and lags, which is unfortunate given that the watch has so much else going for it. I'd be keen to see this smartwatch in a Snapdragon 3100 edition, which might improve the overall performance and battery life significantly.
Editor's rating: 3.5 / 5

Pros:

Contemporary, chic design
Built-in GPS
Swim proof
Wide range of watch faces
Cons:
Sluggish interface
Poor battery life
Design isn't ideal for workouts