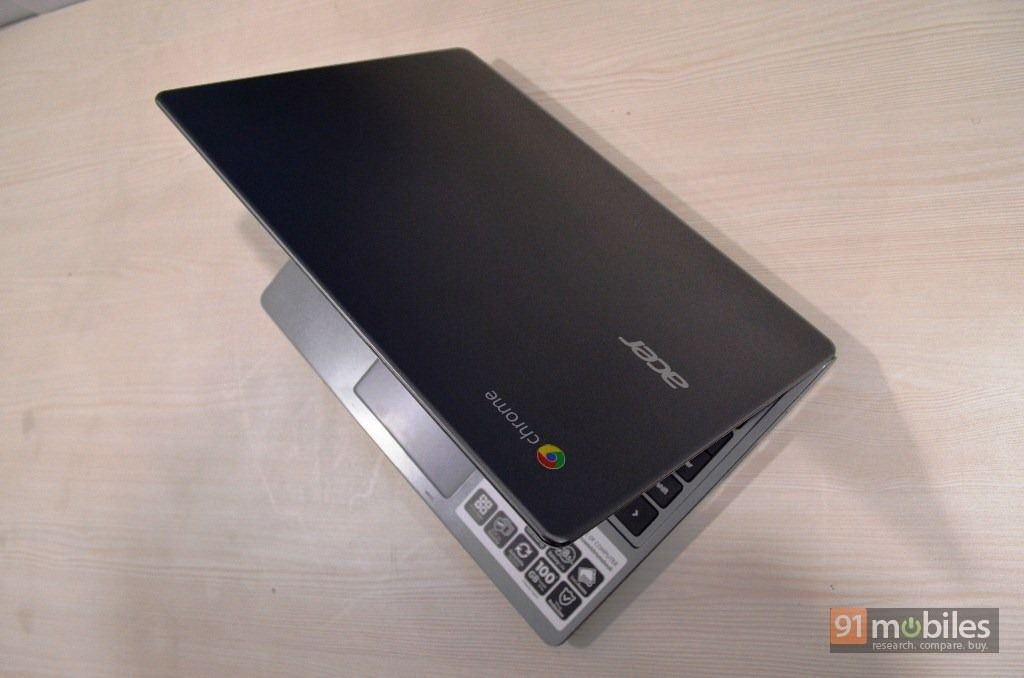 "A web browser with a sleek ultraportable notebook built around it"
In a world where computing devices are moving towards higher clock speeds and multi-core processors, Google came up with the idea of offering a notebook with bare minimum specs called the Chromebook. The device runs Chrome OS, a specially-engineered platform with the Chrome browser as its heart. But there's more to it than just the browser, and to get to the roots, we're reviewing the Acer Chromebook C720.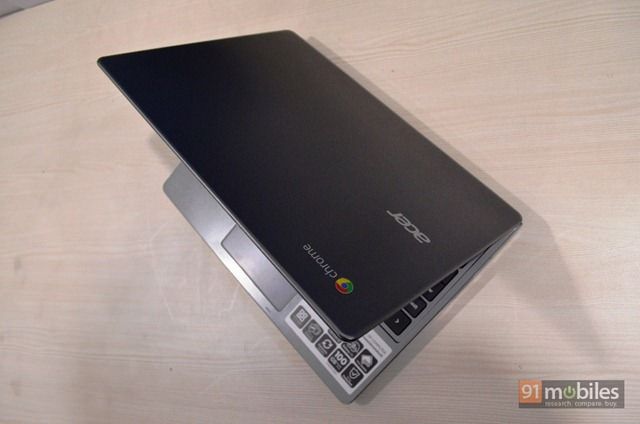 Plastic never looked so good
The Acer Chromebook C720 is a lightweight, compact device. Sporting an 11.6-inch display and tipping the scales at just under 1.25kg, it carries the looks of a premium ultraportable notebook. But to achieve that, the manufacturer has made use of plastics instead of metal, unlike many premium ultraportable notebooks these days. Having said so, the use of plastics doesn't affect the build quality of this product, and it looks and feels quite sturdy. The lid and the palm rest are dressed in metallic-toned plastic, in a grey-silver colour that looks elegant. The underside of the lid as well as the notebook are dressed in black. On the inside, the Chromebook gets a glossy finish, while there's a rugged textured finish at the back of the device which offers good grip.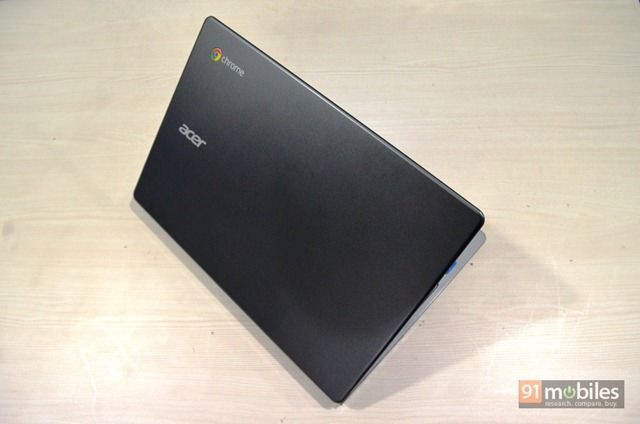 Although there is no special roll-cage used inside the Acer Chromebook C720, the shell of the device itself protects it during accidental falls. The hinges are rigid and should last a long time, thanks to the metal rollers upon which they move.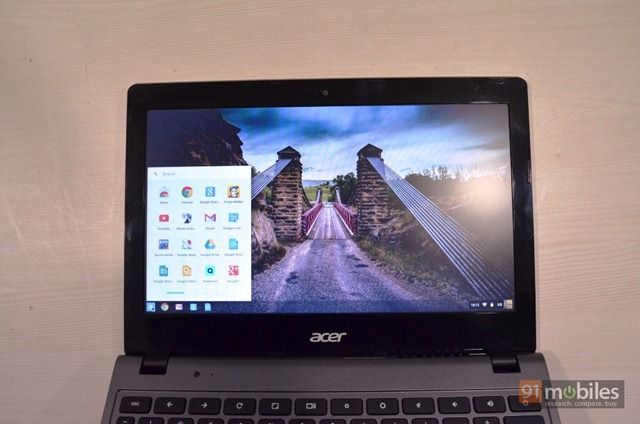 Low-end specs but high-end performance
For display, the Acer Chromebook C720 utilises an 11.6-inch LCD bearing a resolution of 1,366 x 768 pixels, which works well for most tasks from entertainment to productivity. The display has a 178 degree viewing angle and has ample brightness levels to offer. It gets a non-reflective surface, which is great for brightly-lit conditions and is also immune to smudges and fingerprints. If you have a big-screen TV or display, you can also extend the desktop to it using the available HDMI port. The latter supports a wide range of resolution options, while the Acer Chromebook lets you control the positioning of the display just the way more expensive notebooks do.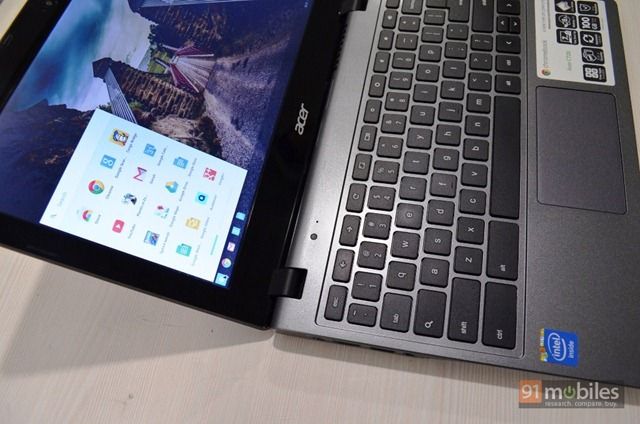 To run Chrome OS, the Acer C720 relies on an Intel Celeron processor featuring dual-core architecture and 1.4Ghz clock speed. It's supplemented with 2GB of RAM and 16GB of integrated SSD storage. While the storage of the device cannot be increased, there is a possibility of increasing the RAM by another 6GB. However, that may be overkill, since the device runs smoothly on the provided 2GB RAM and no further expansion is required. SSD storage has no moving parts, which means you can move around with the Chromebook without having to worry about any kind of damage or data loss due to bumps or shocks. For storage expansion, you can easily use a flash drive or even an SD card, available up to 128GB storage capacities. Plus, Google has bundled 100GB of free cloud storage on Google Drive with each Chromebook, valid for a period of 2 years. The extra storage gets added to your existing Google account, bringing it to about 115GB.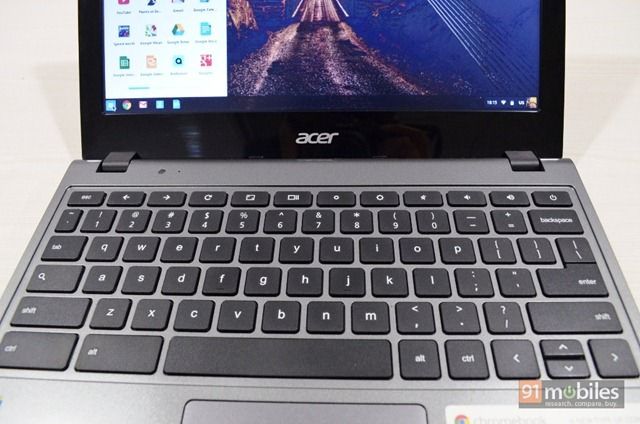 The Acer Chromebook C720 gets a non-standard keyboard, with special keys meant for maximising utility with the Chrome OS. There are no 'Function' keys, as they are not required. But at the same time, a couple of keys that otherwise offer speedy typing are also missing in action. For instance, there are no delete, end or home keys on this keyboard, and along with that the caps lock key has also been replaced with a dedicated search key. On the other hand, the keyboard offers perfect pitch for the keys making it easy to use for those with stubby fingers. But the travel on the keys has been kept very low, and new users may take some time to get up to speed as far as touch typing is concerned.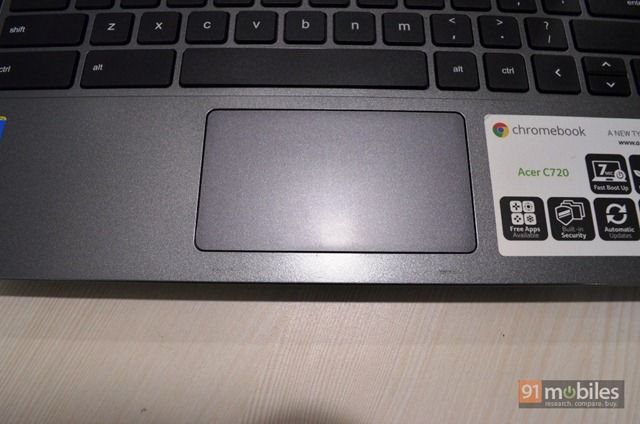 The touchpad is large and supports multi-touch gestures, making it extremely useful for web browsing. Do note however, that it does not feature a right-click. Users have to tap on the touchpad using two fingers to bring up the alternate menu or the pop-up menu. Having a single-click design for touchpad allows users to click anywhere and get the work done, while the same functionality is the reason why the touchpad makes a rattling sound when tapping on it.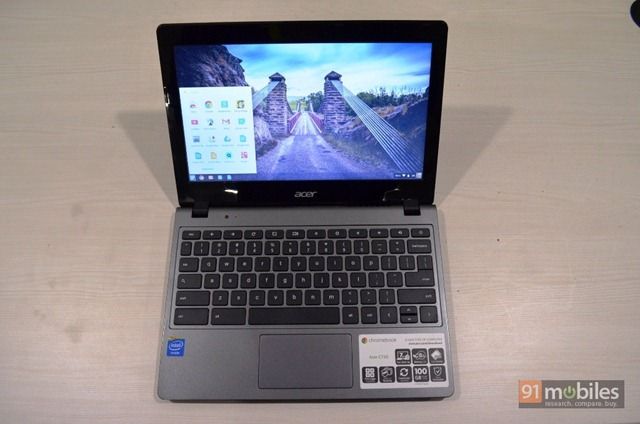 Light and zippy Chrome OS
Google's Chrome OS is what powers up this machine, being a lightweight operating system built around core Google web applications running on the Chrome browser. In terms of the user interface, Chrome OS offers basic functionality with an application drawer and a taskbar as its major components. The desktop is a novelty and unlike Windows or Mac OS, users are not allowed to place anything on it. Instead, quick access shortcuts to apps can be placed on the taskbar itself. The Acer Chromebook C720 has bare minimum system settings as well. Most of the settings can be accessed from the extreme lower right hand side of the display, including settings for display brightness, Wi-Fi networks, sound and Bluetooth. For security related settings, Chrome OS redirects to the browser, which also gives access to settings for the user's Google account as well.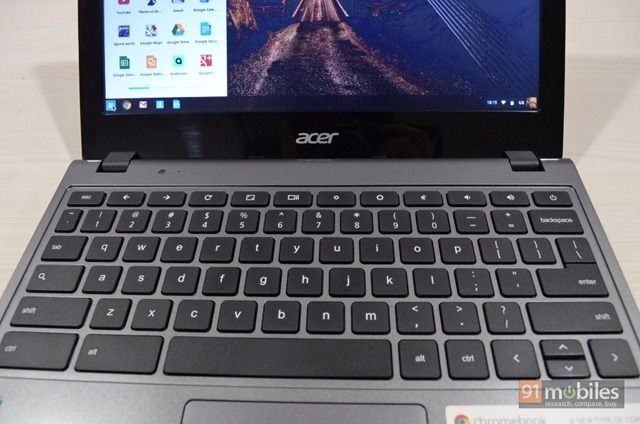 Google has preloaded all the essential applications including Google Docs for productivity, Chrome for web browsing and YouTube along with an integrated media player for entertainment. Additionally, games and specific applications like text editors for programming are also available as free downloads from the Chrome Web store. While most of the apps require active web connectivity, apps such like Google Keep, Core, Tank Hero – Laser Wars and the Fancy Pants Adventure and many more such apps can work without internet as well. There is no possibility of installing applications off-the-shelf, unlike a regular notebook. Apps such as 'Offline Gmail' extend the functionality of a Chromebook to an extent but that too is only limited to access of older emails and no further utility is possible. For multimedia, the Chrome OS has an inbuilt application that supports most commonly-used file formats, so if there is no internet connectivity you can still enjoy your music and movies.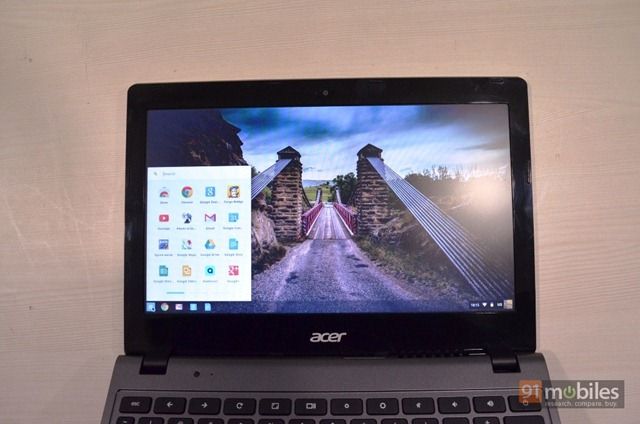 Google has tried making the Chrome OS simple and easy to use, and for any person shifting from a notebook to the Acer Chromebook C720, it shouldn't take more than a few days to get well acquainted. All-in-all, this lightweight OS imparts super quick boot-up time to this device and is one of the reasons for the great battery life of the Acer Chromebook C720.
Great for portability but not for offline computing
The Acer Chromebook C720 is a brilliant ultraportable computer that offers anywhere between seven to eight hours of battery life with Wi-Fi constantly on, making it extremely handy for those who travel. Unfortunately, Chrome OS which is one of its biggest advantages, is also its biggest disadvantage. First and foremost, Chrome OS is not very useful without any active internet connection. You can create documents on the Chromebook but cannot download to share it unless there is internet connectivity. There are a number of offline applications available for offline usage but those also are totally dependent on internet for functionality as Chrome OS, ultimately is web-oriented.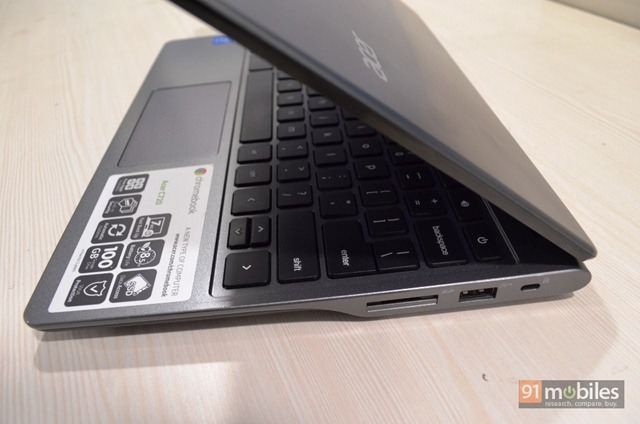 For internet connectivity you have Wi-Fi as well as the option of Bluetooth tethering with compatible devices. Sadly, no 3G or data dongles are compatible with the Chromebook. Even if you have wired internet at home or office, you will have to invest in Wi-Fi hardware as there is no ethernet port available.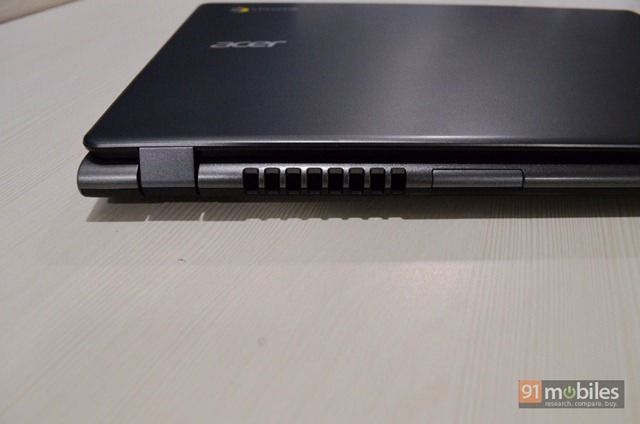 Why you should buy it
The Acer Chromebook (or any Chromebook) may be a tad limited in terms of utility because of its dependency on internet connectivity – a problem since wireless broadband and public hotspots are still not ubiquitous in India. However, it offers several advantages too. It's light, zippy, offers good battery life and is affordable to boot. You can browse the web, create and share documents, do basic image editing, play games and even entertain yourself with videos and music playback both online and offline.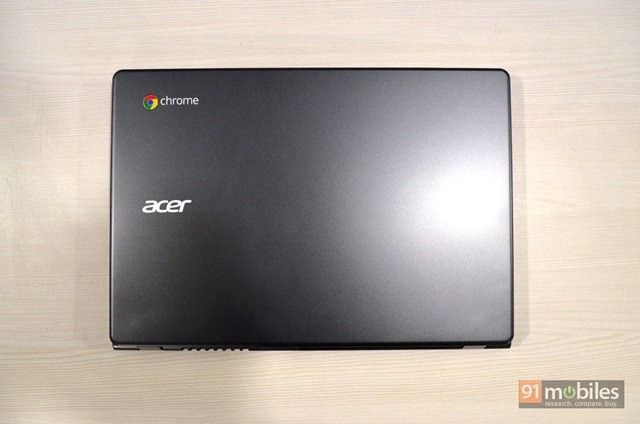 The Acer Chromebook C720 makes absolute sense for anyone looking at an ultraportable notebook for basic productivity and internet-related tasks, especially as a secondary computing device. All the apps are provided through Google which reduces chances of your computer getting infected, and also there is no support for .exe files so common viruses and trojans would not be able to affect this. So bottom-line is that if you are looking at an easy-to-use computing solution on the move, then you should go ahead and invest in the Acer Chromebook, provided you have internet connectivity at all time to reap the full benefits of a Chromebook.
Price :
Rs 22,000
Pros
Very lightweight
Easy to use
7-8 hours of battery life
2-year warranty
Cons
Very limited use without internet connectivity
Non-standard keyboard
Rackety touchpad
No support for LAN or 3G dongles