The Amazon Fire TV Stick (review) was one of my favourite tech products of 2017. In the months after I started using the media streaming player, I decided to cut the cord with my cable provider for good – a move I had been contemplating for several months. While the Fire TV Stick continues to be a capable streaming device, it can only stream up to 1080p resolution, at a time when you can find 4K content on Amazon Prime Video, Netflix and YouTube. To that end, Amazon launched the Fire TV Stick 4K in India last month. The ability to stream 4K isn't the only upgrade here – you also get a better processor, faster Wi-Fi and an all-new remote. If you've been contemplating picking up a Fire TV Stick and are torn between the standard and 4K versions, or if you're wondering whether you need to upgrade your existing Fire TV Stick, I've got all the details.
The basics


The Fire TV Stick 4K comes in a package identical to the standard version, and you can expect similar box contents as well – the Fire TV Stick 4K dongle, micro-USB cable, two-pin wall charger, HDMI extender, remote and two AAA batteries. The Fire TV Stick 4K is a rectangular black plastic device that plugs into your TV's HDMI port. It's wider and longer than the Fire TV Stick and replaces the Amazon branding with just the arrow logo, but the devices are otherwise identical. The included HDMI extender is useful if you've got a bunch of cables plugged into your TV. The Fire TV Stick 4K also needs to be plugged into a USB power source, and while some TVs can power it via their own USB ports, I've found the performance to be more stable if you use the wall charger. If you've ordered the Fire TV Stick 4K from Amazon, it should already be mapped to your account. If not, there are simple onscreen steps to set it up.

One important caveat to note is that the Fire TV Stick 4K won't work with just any 4K TV – your TV needs to have support for HDCP 2.2. This is a technology required by most streaming service providers including Netflix and Prime Video for content protection. So if you have a 4K TV at home, I'd advise you to check if it has an HDCP 2.2 compliant HDMI port before you spend your money. Most modern 4K TVs support HDCP 2.2, including Xiaomi's Mi TV 4 Pro (first impressions).

In order to stream in 4K, Amazon recommends a minimum internet speed of 15Mbps, while Netflix and YouTube recommend 20Mbps. While most broadband plans available in metros should easily cover this, if your router is in a different room your speeds might be lower. Internet connections in India also tend to fluctuate a fair bit, which might affect the ability to stream in 4K. Surprisingly, the Fire TV Stick 4K eliminates a popular feature of the previous model – the ability to mirror your smartphone's display. Many smart TVs these days offer a screen mirroring function though, so you might not miss it. Amazon says the Fire TV Stick 4K now has a faster processor. I found the overall experience of navigating menus and apps to be smooth and fluid, with a definite step up from the Fire TV Stick where I experienced a few lags in the interface.

The remote


The Fire TV Stick 4K's remote is one of its best features. Apart from Bluetooth, the new remote also features infrared, so you can control your TV with it. The new power, volume and mute buttons can not only be used to control your TV, but an attached soundbar as well. I couldn't test the latter, but the former worked flawlessly for me. Setting up the remote to work with your TV is simple – you just need to follow the steps which will involve pressing the power and volume buttons a few times and you're good to go. Amazon does a pretty good job detecting the TV you're using, but even if it picks the wrong brand, you can choose the correct one from the setup menu. I set up the remote on a Sony and TCL TV, and it worked perfectly for both. The good news is that the new remote also works with the regular Fire TV Stick, and can be purchased as a standalone product for Rs 1,999 if you want the added controls.
A frequent complaint I heard from Fire TV Stick users was how fast the remote's batteries drained. On the new remote, Amazon has upgraded Bluetooth to v5.0 (up from v4.0) and added Bluetooth LE (low energy) as well, which should reduce power consumption. In fact, Amazon says the new remote should last for up to 11 months with alkaline batteries, compared to around 4 months on the older remote.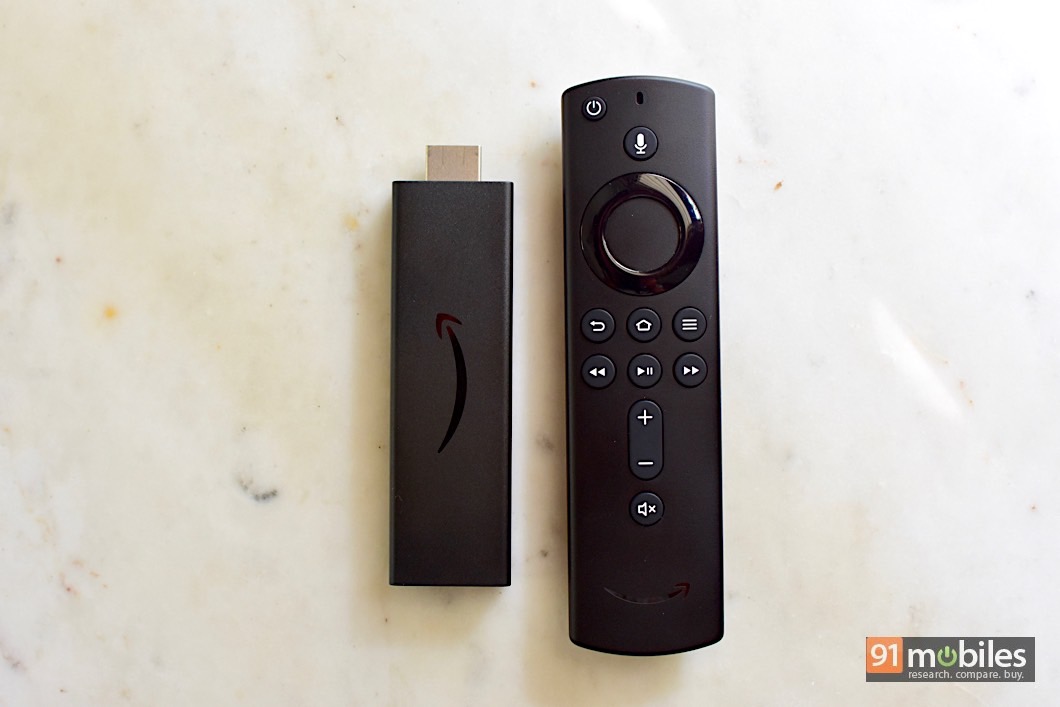 The voice search on the remote is now integrated with Alexa, and this feature is also available on the older Fire TV Stick remote following a software update. You can use the button to search for content within Prime Video, as well as search for specific apps on the app store. Unfortunately, it can't search for content within third-party apps like Netflix – a feature which is available in the US. Thanks to Alexa integration, you can also use the remote to ask any question you would on an Echo speaker, and you'll get results with corresponding visual interfaces. For instance, ask Alexa about the weather and you'll see the forecast on your TV. Booking a cab via Ola will show you available options for Micro, Mini, Prime, Lux, etc., and give you an additional degree of control by letting you select an option via the remote. You can also use Alexa to pause, rewind or fast-forward a video on Prime Video, and control volume too. If you have an Echo speaker, you can ask Alexa to play a particular movie or show on your Fire TV Stick 4K. Admittedly, I don't use many of these features very often, but the cross-product integration creates a nice ecosystem if you own other Alexa-enabled devices.
Playing 4K and HDR video


Not only can the Fire TV Stick 4K play Ultra HD content, but it also supports a bunch of other formats including, HDR10, HDR10+ and Dolby Vision. It also supports Dolby Atmos surround sound, provided you have compatible hardware. Here's a quick primer on the various terms:

HDR10: HDR stands for 'High Dynamic Range', and displays content with better detail in darker and brighter areas of a picture. HDR10 is an open HDR standard that's free for all manufacturers to use. HDR10 content is the easiest to find, with Prime Video, Netflix and YouTube offering various titles.

HDR10+: While HDR10 uses static metadata for an entire video, HDR10+ takes this a step further and adjusts dynamic range frame by frame. HDR10+ is a technology developed by Samsung, but is also free to license. As of now, only select Samsung 4K TVs support HDR10+ on a hardware level. HDR10+ comes with 4,000+ nits of brightness, an improvement over HDR10's 1,000 nits. HDR10+ content is available only on select Prime Video titles.

Dolby Vision: Dolby Vision is a similar technology to HDR10+, but adds up to 10,000 nits of brightness and 12-bit colour depth (compared to 10-bit colour depth on HDR10+). However, it comes with licensing fees, which means Dolby Vision hardware tends to cost more. Dolby Vision content is available on select Netflix and Prime Video titles.

By default, the Fire TV Stick has the display settings configured to always on HDR, which upscales non-HDR content to HDR, including the menus. I found this led to unnatural colours on the Fire TV Stick's homescreen and non-HDR content. If you face the same issue, you can enable Adaptive HDR like I did, which will display only native HDR content in the format.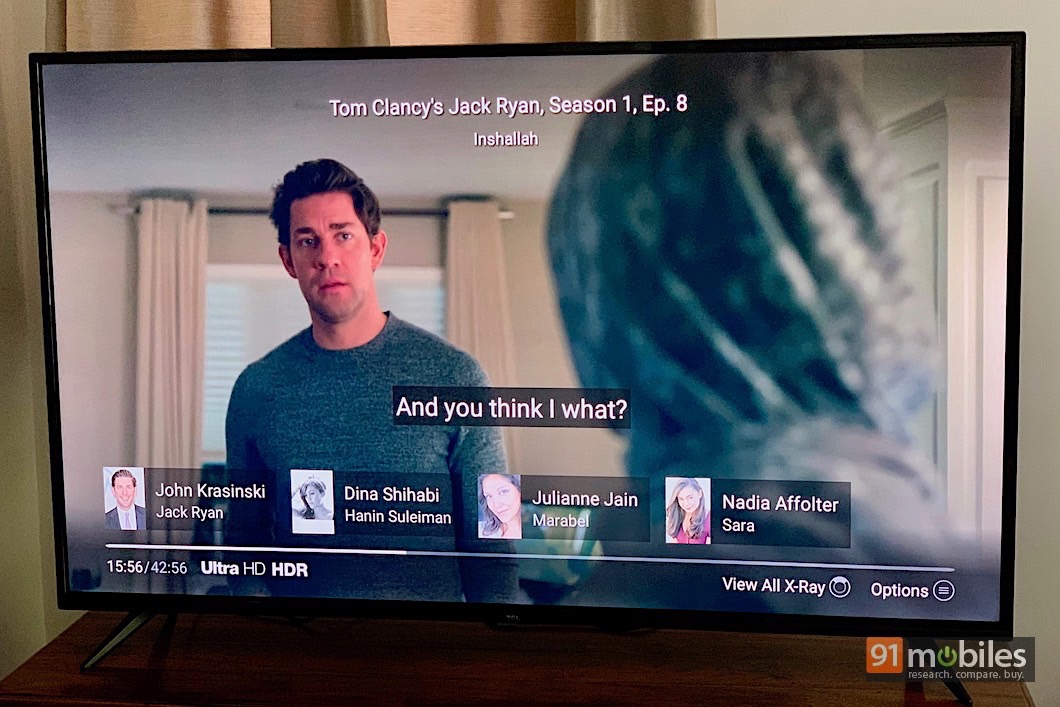 When it comes to 4K and HDR content, Amazon has a bunch of 4K titles which you can find under the UHD row on your homescreen. Finding HDR content though is not so easy. While UHD videos have an indicator on the TV show or movie's thumbnail, you won't find this for HDR. Prime Video's Android app does provide an HDR indicator for videos, but strangely doesn't for the iOS app. I can't get over how a company like Amazon can't streamline stuff like this across its native apps, and especially on a device like the Fire TV Stick 4K. You'll find plenty of lists online for Prime Video 4K and HDR titles, which include the likes of Jack Ryan, Homecoming and The Marvellous Mrs Maisel. Once you start playing a 4K HDR title, you'll see Ultra HD HDR mentioned in the playback menu.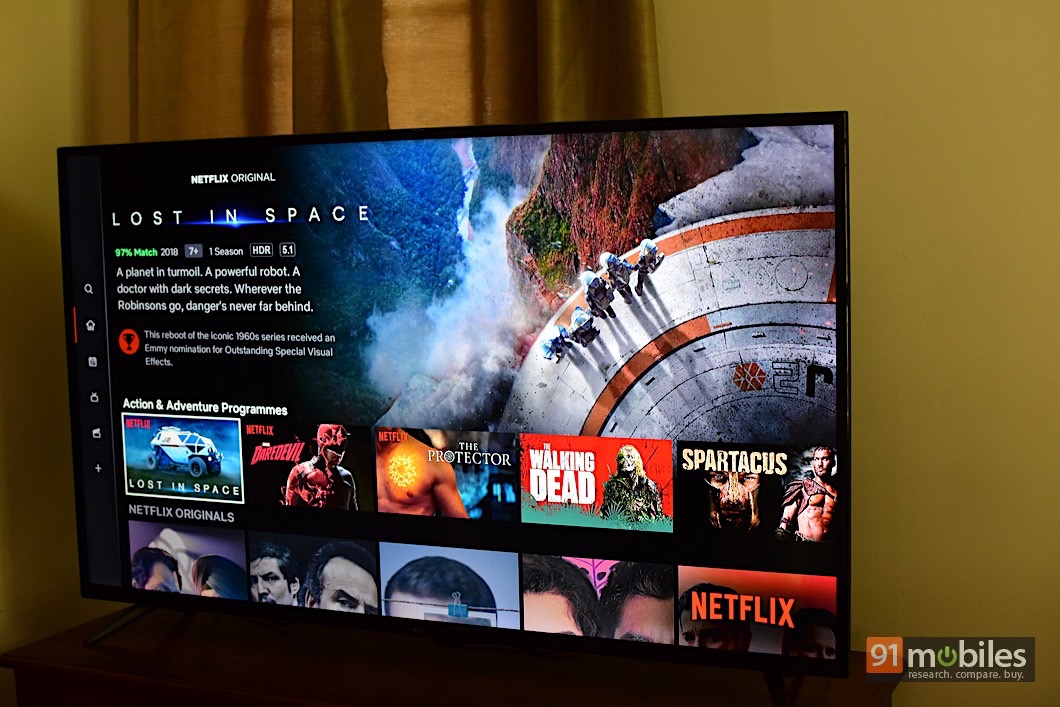 On Netflix, individual thumbnails of shows will tell you if it streams in 4K or HDR. If you have a Dolby Vision TV, you'll also see an indicator on shows where this is available. My TCL television was only HDR10 compliant so I couldn't test this. Unfortunately, Netflix doesn't tell you if a title is both 4K and HDR, but again, you'll find lists for these online.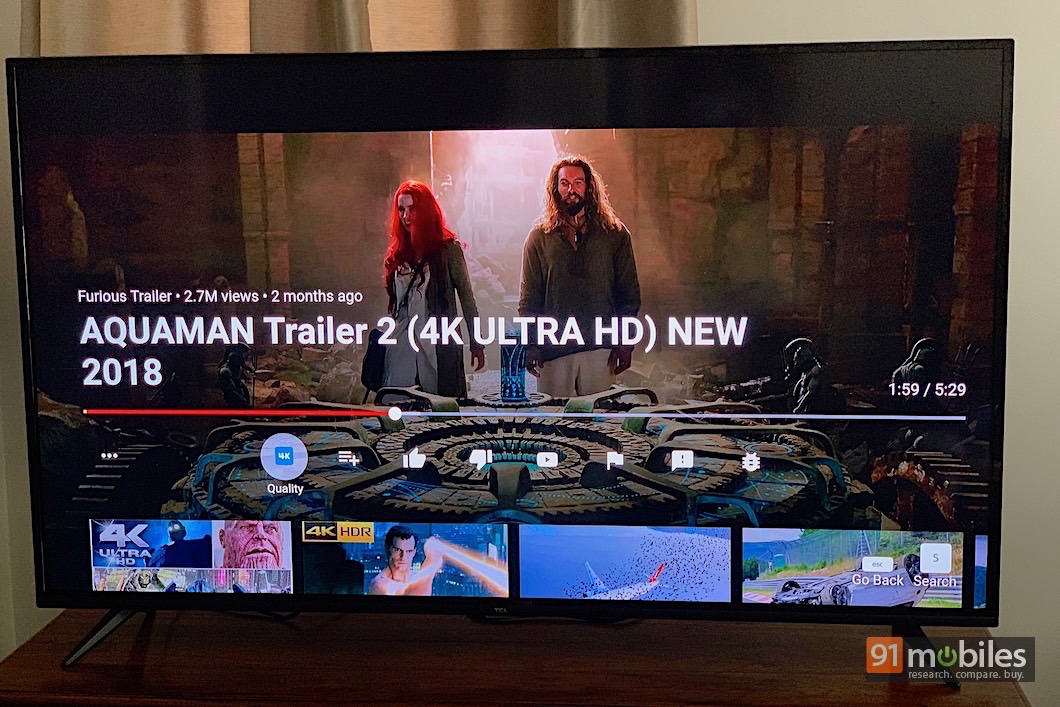 YouTube is another source for 4K and HDR10 content. While the YouTube app itself has been removed from the Fire TV App Store, you can watch YouTube via Silk or Firefox browsers just fine. The homescreen will even display a YouTube.com tile which launches the web version directly, so I didn't miss the app much.
Verdict


If you don't own a 4K or HDR TV, and don't plan on upgrading to one either, get the regular Fire TV Stick. At Rs 3,999, it's cheaper and works perfectly. Plus streaming in 1080p consumes less data too. If you already have a Fire TV Stick and are happy with your current 1080p TV, considering purchasing the new remote. The added power button and volume controls make it very convenient to use, although you'll have to decide whether it's worth the Rs 1,999 premium. There's not much competition for the Fire TV Stick 4K in India as of now – your other option for streaming in 4K and HDR would be the Apple TV, which will set you back by Rs 17,430. If you own a 4K TV, the Fire TV Stick 4K is one of the easiest and cheapest ways to access 4K content, and the support for formats like HDR10+ and Dolby Vision are the icing on the cake. At Rs 5,999, it's well worth the asking price.
Editor's Rating: 4 / 5

Pros:

Easy access to 4K content
Remote now controls your TV, supports Alexa
Also supports HDR10, HDR10+ and Dolby Vision
Cons:
No smartphone display mirroring
Voice search still doesn't work within Netflix and other apps
No native YouTube app