"The Amazon Fire TV Stick will change the way you stream content"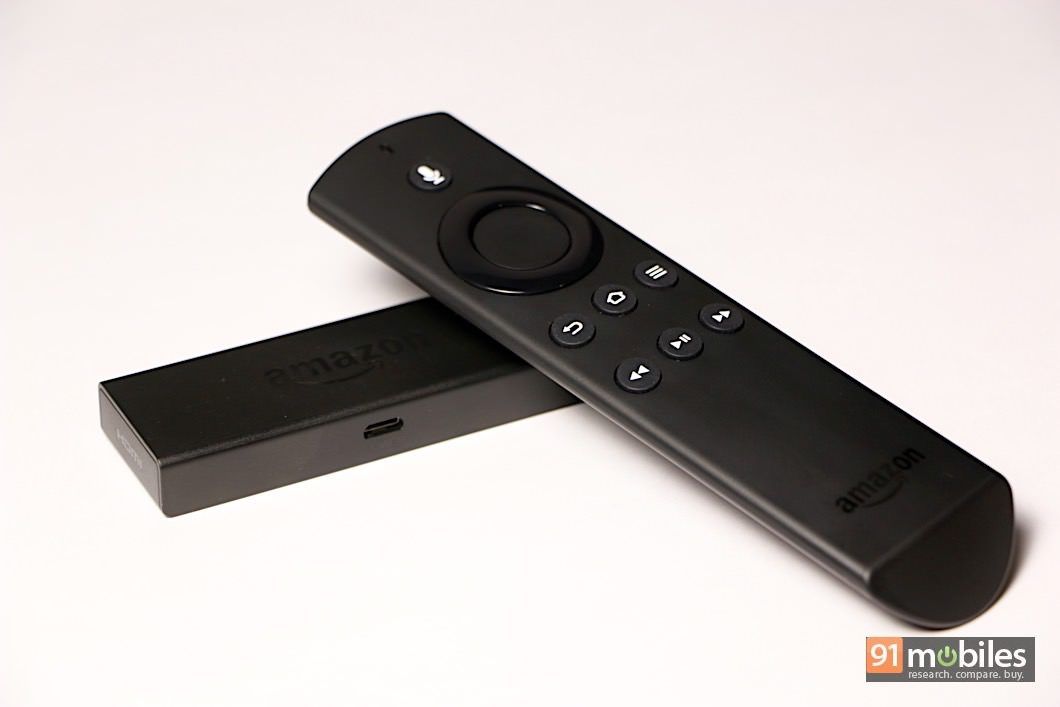 Amazon's decision to launch the Fire TV Stick in India could not have come at a better time. A couple of years ago, I would have straight up dismissed the idea of paid streaming services taking off in India. But a lot can change in two years – broadband and 4G data have become cheaper and more reliable, while streaming services like Netflix, Amazon Prime Video, Hotstar, Eros Now and more are becoming increasingly popular. For most people though, this means watching content on smartphones or laptops. That's a less than ideal situation, which is where devices like the Fire TV Stick, the Google Chromecast and Apple TV that let you stream content to your TV come in. A long-time Chromecast user, I've been using the Fire TV Stick for the last couple of weeks, and here's what you should know if you're interested in picking one up for yourself.
What's in the box


One of the most notable features of the Fire TV Stick is that it ships with its own voice-controlled remote – something that the Chromecast lacks. The international version of the Fire TV Stick comes with Alexa support, but unfortunately this isn't available in India as of now.
Inside the retail package, you'll find the Fire TV Stick dongle, remote, micro-USB cable and 2-pin adapter, HDMI extender and some documentation. Amazon has even included two AAA batteries for the remote in the box – the fact that they were Amazon Basics batteries did not go unnoticed. The remote itself is lightweight and compact, and features a circular dial for navigation, a voice command button, options to play / pause and rewind / forward and more.
Setting up


The Fire TV Stick is an HDMI dongle, so you'll begin by plugging it into your TV's HDMI port. In case you've got an inaccessible HDMI port, you can use the included HDMI extender. Since HDMI doesn't provide a power output, you'll need to attach the micro-USB cable to the Fire TV Stick, and plug the USB into the power adapter to turn it on. You can also try plugging the USB end directly into your TV. Do note that not all TVs will have enough USB power for this. After this you'll need to connect to your home Wi-Fi network (Amazon recommends a minimum speed of 4Mbps). If you purchased the Fire TV Stick from Amazon, it'll already be mapped to your account, saving you a step. If not, you can just log in. I did find that entering passwords using the remote was quite tedious, and a more efficient option is to download the Fire TV Stick Remote companion app on your phone so you get access to a full keyboard. Incidentally, you can also use the app in place of the remote – handy if you happen to damage or misplace it.
Interface


My favourite feature of the Fire TV Stick is the interface – it basically converts your regular TV into a smart TV. It's a gorgeous layout, with banners displaying featured movies and shows at the top, and several rows below displaying recently watched shows and movies, featured apps and games and curated content across categories. You don't need to be an Amazon Prime member to use the Fire TV, but I'd recommend signing up – a one-year membership inclusive of Prime delivery and Prime Video costs just Rs 499 right now. There are also several third-party services you can stream from, including Netflix, Hotstar, Airtel Movies, Gaana, Sony LIV, Eros Now, TED, YouTube and more. These are all available as apps, which you can download from the app store. The only notable service that's missing is Apple's iTunes.
At the top of the interface you'll find tabs for search, home, movies, TV shows, apps and settings. Search works either by keying in search terms through the remote, or by giving a voice command. We found the latter far easier – just press and hold the mic icon at the top of the remote and say the name of the TV show, movie or actor you want to search for. The remote is actually very good at recognising the Indian accent, and almost always interpreted what I said correctly. Unfortunately, search only works within Prime Video in India. You can also search for apps and games using voice search.


The app store has a range of categories like movies, education, games, music, utilities, etc. Only apps which have been optimised for TV are available here, but you can find pretty much all the basics.
In the settings menu, you'll find something called 'Data Monitoring', which Amazon has introduced specifically for the data-conscious Indian consumer. This lets you put a monthly cap on your data, and stops streaming when you've reached your limit (you can override this of course). Apart from this, you can also check data consumption on a per-app basis. Parental controls are available in settings, which let you restrict access to specific types of content and apps. The Fire TV Stick can also mirror your phone's display, ideal for viewing media such as photos and videos stored on the phone.
The Experience


As someone who's subscribed to Netflix, Hotstar and Amazon Prime Video, the Fire TV Stick is pretty much the package deal. Seeing the apps on the TV made a huge difference to how I discover content, and the remote makes it far easier to navigate as well. The remote itself is Bluetooth enabled, and because it doesn't rely on Infrared, it works no matter which direction you're pointing it in. And since the Fire TV Stick features Bluetooth, you can even pair other accessories like Bluetooth gamepads, keyboards and headphones with it. Navigating the Fire TV Stick's interface and its usage is pretty smooth and snappy – I didn't notice any lags or freezes even when switching between apps. The app store has a wide selection of games as well, but not all of them are optimised enough for TV. Riptide GP2 was slightly sluggish, but I had better luck with Crazy Goat. The remote serves as your controller for gaming, and is fine for basic games.
The Fire TV Stick actually has 8GB of inbuilt storage, but that's only for downloading apps. You can't store content on it like you would a USB drive – if you want to stream external media I'd suggest plugging a storage drive directly into your TV or using a media streaming app like Plex or Kodi. If an Android app you use isn't available on Amazon's app store, there are ways to sideload it. There are plenty of tutorials available online if you're so inclined.
One major issue I have with the Fire TV Stick is that there's no option to create different user profiles for the interface. Currently, the setup I have is catered to all my apps and my watching history, so anyone else using the device sees the same layout as well. Having separate profiles for different family members would be ideal – and would also be great for kids.
Verdict


Online streaming services in India are quite affordable – Prime Video and Hotstar are especially great value for money. Their advantages over DTH TV are outweighed significantly when you consider the ad-free experience, coupled with the ability to watch content anywhere, at any time and on any device. But the TV will always remain the ideal way to watch content. In India, the Chromecast has previously been the best streaming device for Android users, but now, I'm inclined towards the Fire TV Stick. It's a feature-packed option – especially when you consider the added inclusions like the remote, support for third-party apps and beautiful interface. For those invested in the Apple ecosystem, the Apple TV remains the best option, but it's a far more expensive device at a starting price of Rs 13,500. The Amazon Fire TV Stick then, at its price of Rs 3,999, emerges as a true VFM device irrespective of your chosen platform. It's safe to say that traditional DTH TV as we know it is facing its first true threat in India, and the Amazon Fire TV Stick is a big nail in its coffin.

Editor's rating: 4 / 5

Pros:

Beautiful, visual interface
Bundled remote makes navigation easy
Supports most third-party streaming apps
Cons:
No support for multiple accounts
Voice remote doesn't support Alexa, yet
Photos by Raj Rout