"The Apple Watch Series 5 is a near perfect smartwatch. Read on for more"
The new Apple Watch Series 5 (first impressions) might come across as an incremental update over its predecessor, but as far as I'm concerned, it's really the best all-round option out there if you're looking for a new smartwatch. Here's why.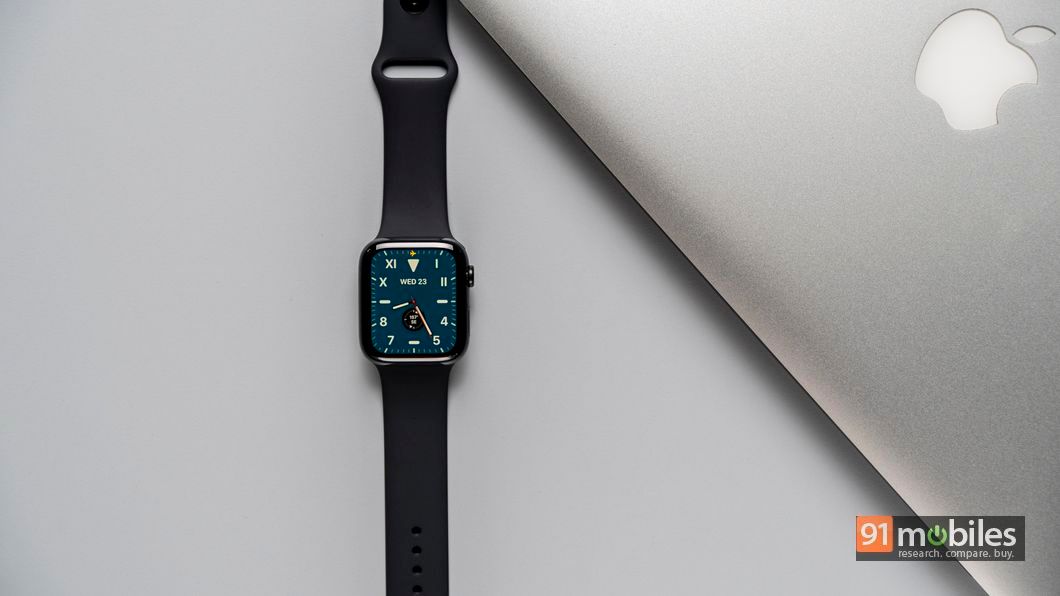 First things first. The Series 5 doesn't really have anything new to offer in terms of design, as it bears exactly the same look as the Series 4 that came last year. Apple had enhanced the design of its smartwatch with the Series 4 (for the very first time since the launch of the original), adding a near bezel-less screen to the offering, and that's the same look the new Series 5 carries. It's a design which is not only elegant and functional, it has become quite iconic over the years too. Sure, there are quite a few smartwatches that have since tried to mimic the style, but none that can offer the same fit and finish.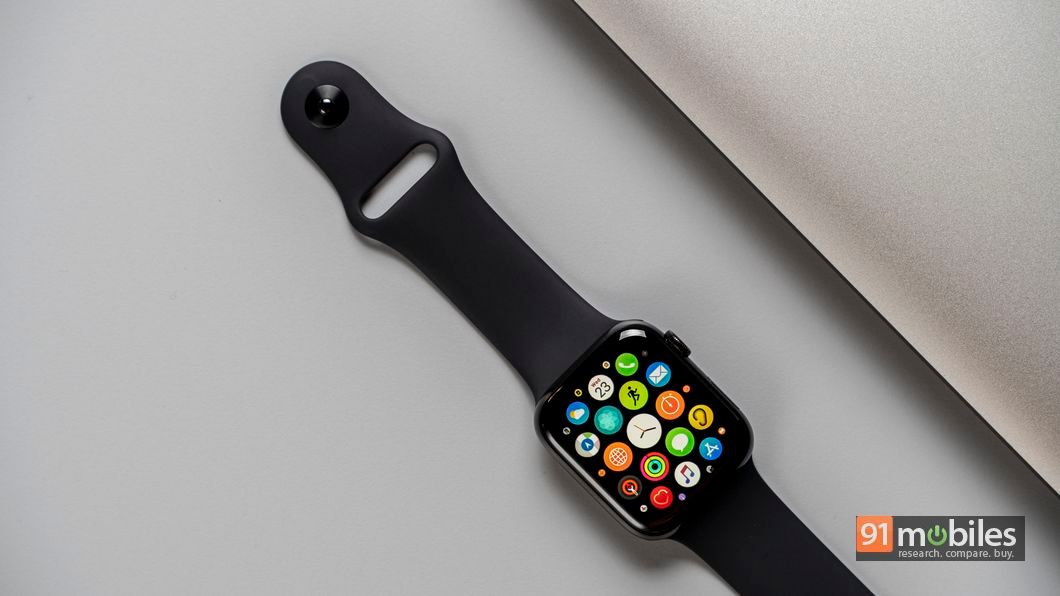 With the Watch Series 5, you get a Retina display (368 x 448 pixel on the 44mm model, smaller 324 x 394 pixel screen on the 40mm model), which is almost bezel less. My space grey review unit comes with an aluminium case and a black sport band, but the watch is also available in silver and rose gold options, and you can choose between aluminium and stainless steel cases. As usual, you can opt for GPS only or GPS + Cellular variants, with the latter offering a built in eSIM so it can work standalone for calls, music streaming and other supported apps.

In terms of overall capabilities, the Watch Series 5 can do everything its predecessor was capable of, and some more. So you get the same all-rounder of a smartwatch that can handle calls, lets you check notifications from a paired iPhone and respond to messages, WhatsApp chats etc. The fitness capabilities are loaded, and apart from step count, workout tracking and helping you relax (via the Breathe app), the Watch Series 5 can also monitor your heart rate. There are tons of options for Watch faces, and you can customise them to to your liking with different colours and complications. For those unaware, complications refer to tiny widgets that can be placed on certain watch faces, and provide additional info, such as date, weather, battery level etc, or just act as shortcuts for functions like stopwatch, phone etc. There's a healthy ecosystem of third-party apps too.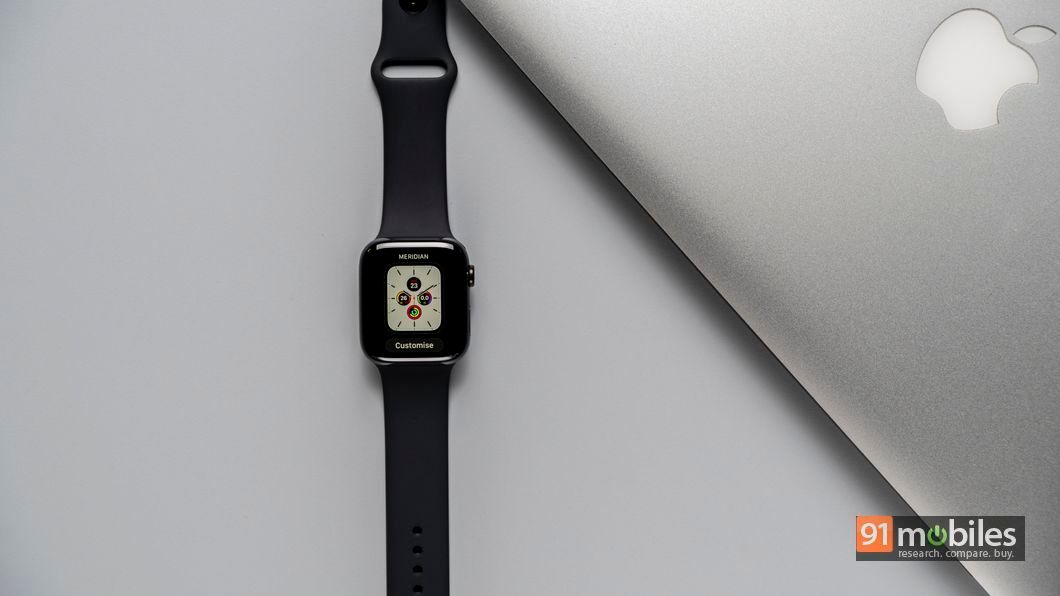 However, let me focus on the new goodies the Watch Series 5 brings with it. First up, the screen is now always on. Thanks to LTPO (Low Temperature Polysilicone and Oxide) tech, the screen refresh rate changes automatically, so it can save battery power when the display doesn't need to be updated. In real-life usage, this means it can continue to display the time and other info without drawing much power, and stay on all time… so you can peek discreetly at the time (say, at a meeting), without others noticing. You no longer have to raise your wrist to awaken the display. In my usage, this worked really well – each watch face seems to have its own low-power and dimmer version that the watch switches to when the device is on standby. And when you have notifications open on the watch, an overlay displaying the time comes up when you lower your hand, before the watch face changes to the original face set.
A compass is built in this time, which, apart from the direction, also indicates elevation and incline… info that should come in handy for hikers. It aids in navigation too, so you're kept aware of the direction you're facing.
Oh, and lest I forget, there's a newer processor too. A new 64-bit dual-core S5 chip makes the Watch Series 5 tick, but Apple isn't specifying how it's an improvement over the S4 chip that powered the Watch Series 4. That said, the new model is buttery smooth in terms of usage, and there are no jitters whatsoever.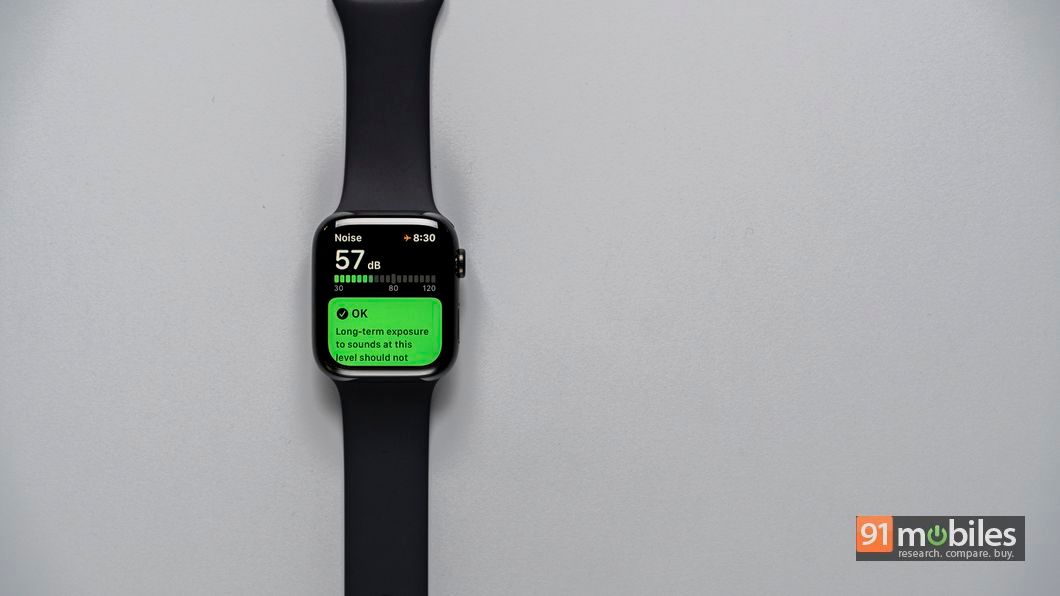 This is not all though. Watch OS 6, which is the latest refresh of Apple's smartwatch platform, brings with it some very useful features as well. These include a new calculator app, cycle tracking for women, direct access to the App Store via the watch, and a new noise monitoring app, among others.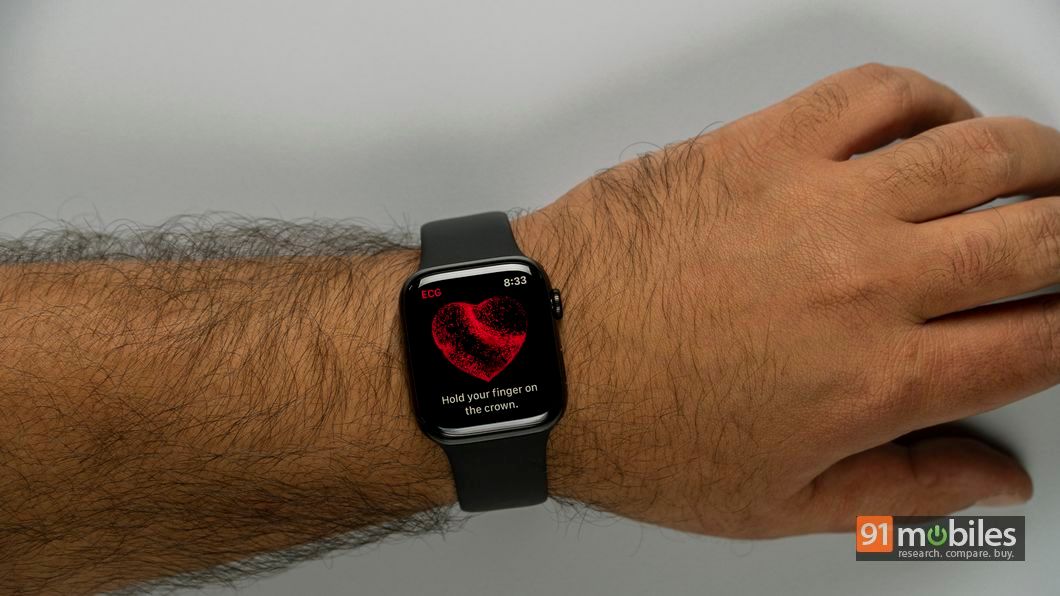 Notably, WatchOS 6, along with iOS 13, enables one of the most useful features that debuted with the Watch Series 4. I'm referring to ECG, a feature that raised a lot of user interest when it was introduced along with the Watch Series 4, but wasn't made available in India. Those who own Series 4 or 5 in India can finally made use of it, but since Watch Series 4 has been discontinued, Series 5 is pretty much the only option left if you're planning to board the Apple Watch bandwagon now.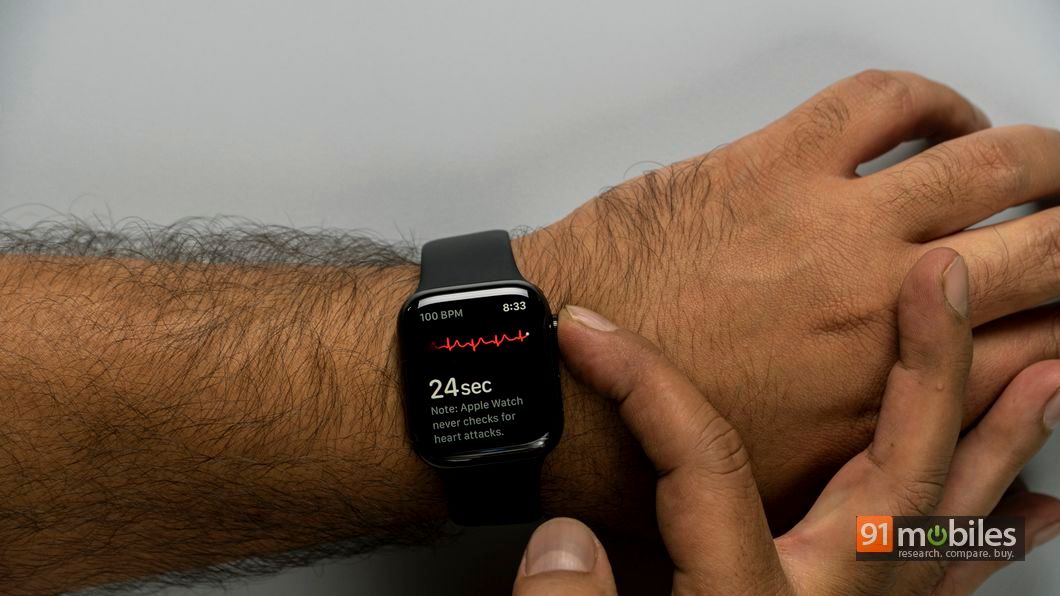 Getting an ECG reading is a cinch, and takes just about 30 seconds. Just open the ECG app on the watch and make use of the Health app on your iPhone to set it up for the very first time. After that, all you need to do is launch the ECG app on the watch, make sure the device is strapped tightly to your wrist, and hold the fingertip of the index finger of your free hand on the digital watch crown. The device will capture your ECG readings and display the detailed info in the Health app on the iPhone. The app even lets you export your ECG as a PDF document in case you want to share that with your doctor… which is a very nice touch. Apart from ECG, the Apple Watch Series 5 can detect abnormally high or low heart rate, and also offers the fall detection feature that debuted last year. The device is also capable of calling emergency services in case it detects a hard fall and the wearer is motionless for a while.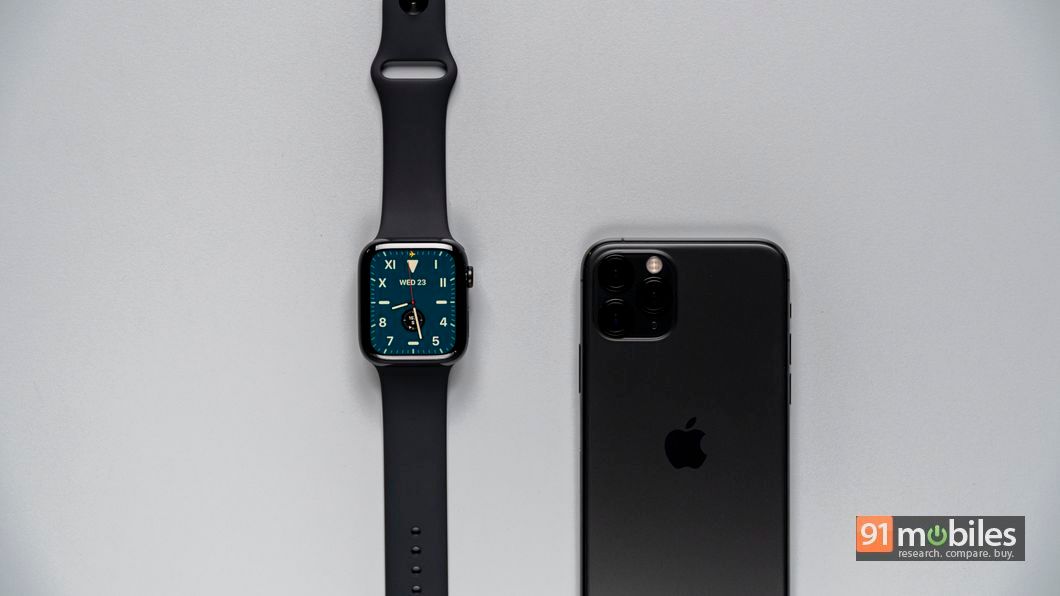 One thing is clear. The Watch Series 4 was already a very capable smartwatch, but the Series 5's always-on display, along with the health and wellness features that are now available, makes Apple's latest wearable a near perfect wrist companion. I say near perfect because there's still no native sleep monitoring function, which is a feature offered by even budget fitness bands. Secondly, while the battery life isn't too bad, you'd still need to juice up your Watch Series 5 on a nightly basis. Those apart, the Apple Watch Series 5 is pretty much an all rounder. Many would still consider it an accessory…. a purchase that's only justified if you're already an existing iPhone user. However, given how capable it is, I'd go as far as to say that if you're serious about your health, especially the health of your ticker, you should buy an iPhone just so you could use the Apple Watch Series 5. If you can afford it of course. Pricing starts at Rs 40,900.
Editor's rating: 4 / 5
Pros
Gorgeous, always on display
Smooth performance
Handy smartwatch features
Full range of health features, including ECG
Cons
Still no native sleep tracking
Needs to be charged every night
No official support for third-party watch faces
Pricey, but you already knew that
Photos by Raj Rout