"Our two cents on the ASUS ROG STRIX Scar III"
Glitz and Glam – those were my first thoughts when I got my hands on ASUS' latest gaming laptop, the STRIX Scar III. While most gaming rigs ship with RGB lighting and an aggressive design, none do it as elegantly as the Taiwanese tech giant's offerings do, and the Scar III is quite possibly the best gaming laptop from the company's stables yet. Coupled with its class-leading 240Hz display panel and oodles of horsepower under the hood, the Scar III is undoubtedly my favourite gaming laptop launched this year. To know more about the laptop and my experience using it as my daily driver, read on.
Design and Display
ASUS' sub-brand ROG partnered with BMW Designworks Group to mockup the chassis for the Scar III, and it shows. The Scar III is built like a tank, and the laptop's stiff, tight frame is reminiscent of quality German engineering. I've been using the machine for over two weeks and after opening and closing the lid numerous times, and scrummaging the machine out of my bag after bouncy Shuttl rides, the laptop still feels like brand new. What's more, the company has left no stone unturned to dress the Scar III up to the nines, and the laptop manages to strike the perfect balance between gamer-y and an elegant aesthetic.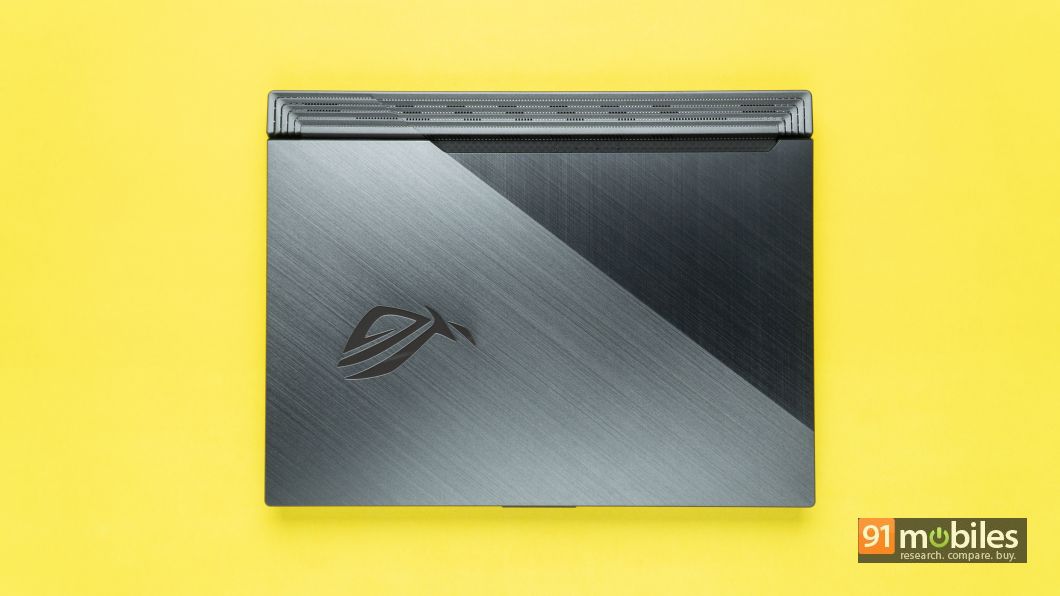 The top of the lid has been constructed using metal, and features a two-tone finish which is topped off with slanting lines etched into the unit's frame. There's a massive ROG logo positioned towards the right of the lid, which can exhibit infinite static colours, or showcase a glowing pattern of your liking. And, if that wasn't enough, the company has even added a wraparound RGB LED strip towards the bottom which canvases the entire base of the unit. Suffice it to say, you could spot the Scar III from the moon with the laptop's RGB lighting turned on.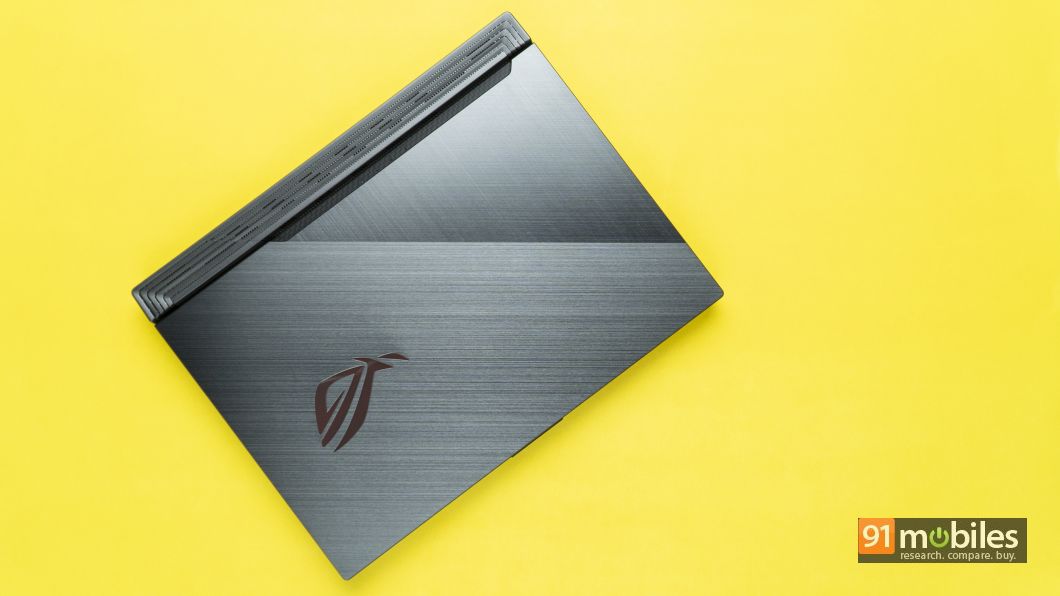 The Scar III ships with a treasure trove of ports and with the laptop, buyers will get three USB Type-A 3.2 ports, an RJ45 LAN Jack, a 3.5mm audio port, an HDMI 2.0 slot as well as a USB Type-C 3.2 port with a DP function, allowing you to connect a compatible monitor to the Scar 3 by means of a Type-C cable. Interestingly, the Scar III also ships with a cavity towards the right hand-side of the frame, which houses what the company calls a keystone.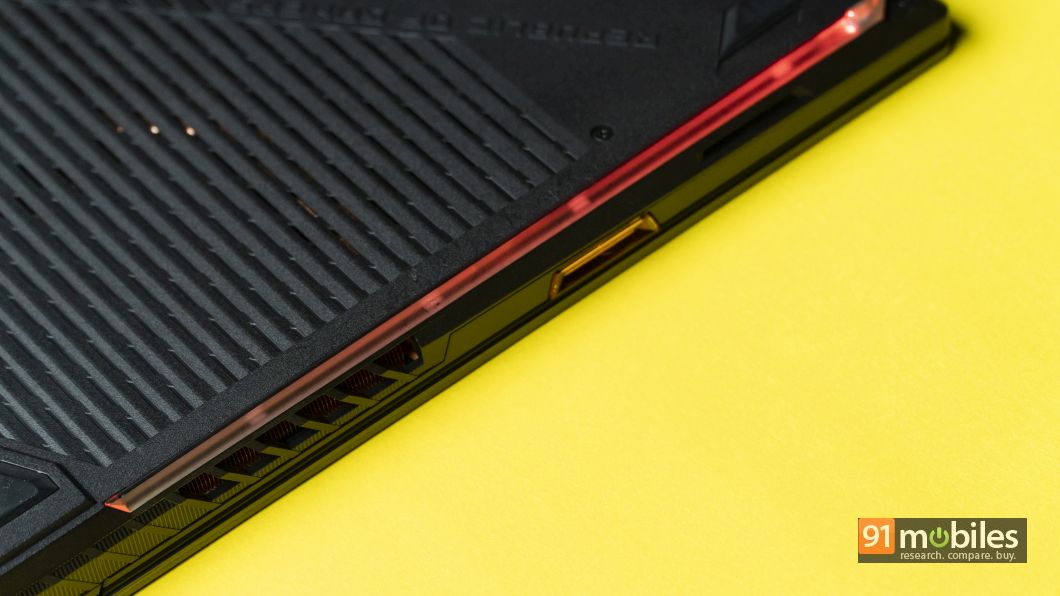 Now, the keystone comes bundled with the retail unit of the Scar III and it helps create custom game profiles and lets you access a shadow drive. As its name suggests, the shadow drive is a thing straight out of spy movies, and it can be used to store your personal data away from prying eyes. The only downside of using the keystone is that the laptop will bug you with a chime every few minutes and therefore, unless you're specifically using the shadow drive or any other keystone features, I'd recommend you keep it stowed away elsewhere.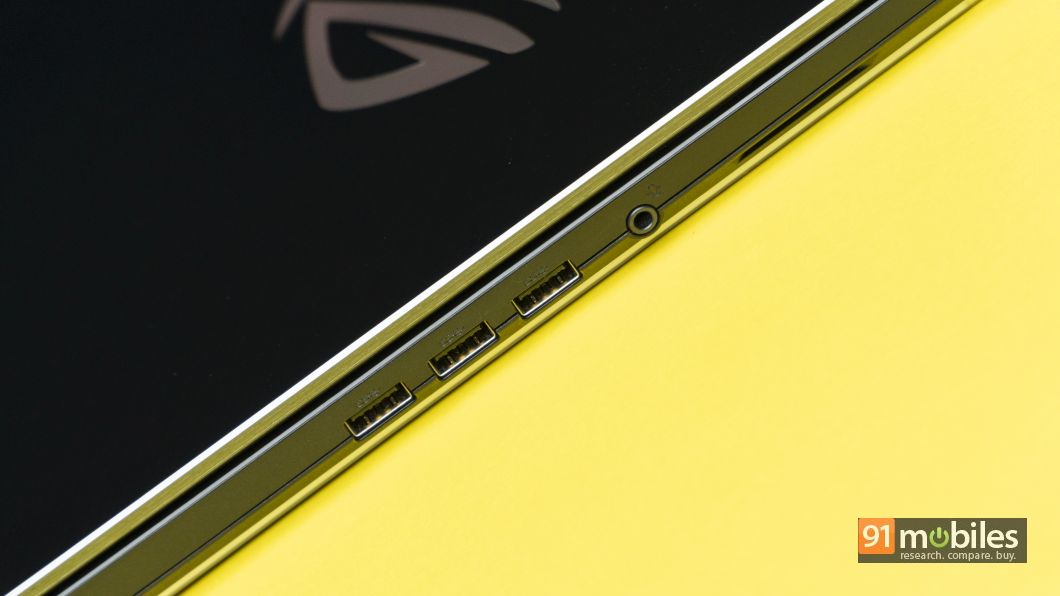 While all that's good and dandy, I would've liked to see a Thunderbolt port on board the Scar III, which would've prolonged the laptop's shelf life. What's more, despite the laptop's chunky chin, there's no sign of a webcam on the machine either. So, if you're into streaming content, you'll have to invest in a third-party alternative.
On the bright side, the ASUS ROG STRIX Scar III is quite compact, and despite shipping with a 15.6-inch panel, easily masks itself as a 14-inch outfit. The laptop doesn't weigh a whole lot too and at 2.9 kilos, I didn't have any issues carrying it around.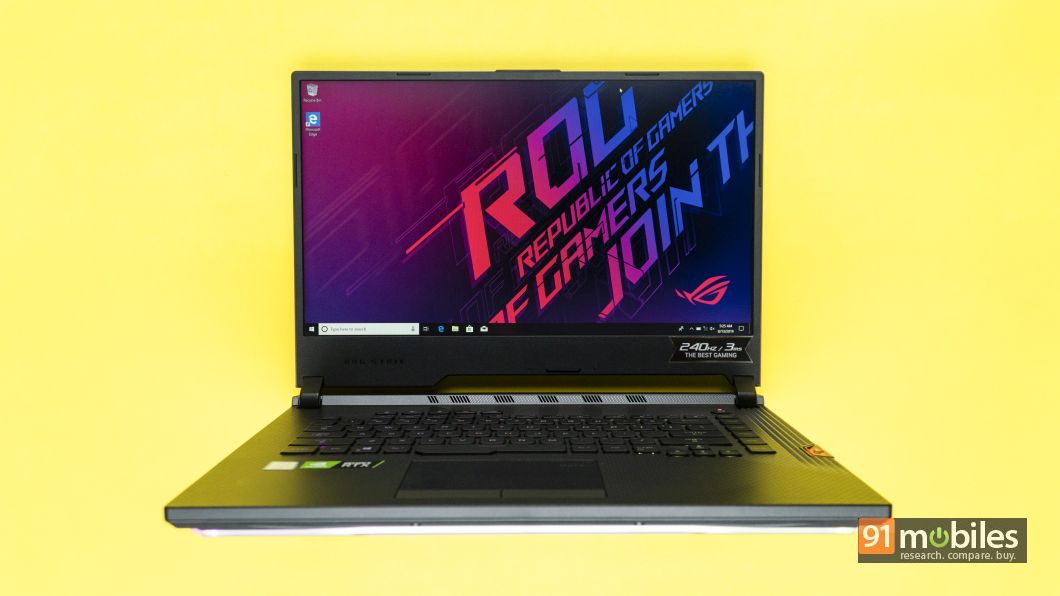 Coming to the display, the Scar III is backed by a 15.6-inch, full HD panel with an insanely high refresh rate of 240Hz. Therefore, you can expect little-to-no motion blur, along with slippery smooth windows animations. Furthermore, the panel offers a 3ms response time so there will be minimal input delay whilst gaming on the machine. Rest assured, you'll have a great time consuming content and playing games on the Scar IIIs screen.
Keyboard, trackpad, and Audio
The ASUS ROG STRIX Scar III ships with a spacious keyboard which too, features a four-zone RGB backlit. The keys offer satisfactory travel and aren't mushy either, so you will be able to type effortlessly after using the machine for a day or two. On the flip side, I would've preferred slightly bigger arrow keys as the ones on the keyboard are little too small for my pudgy fingers. Moreover, unlike the competition, the ROG STRIX Scar III's keyboard doesn't feature any customisable macro keys, which is a bit of a bummer.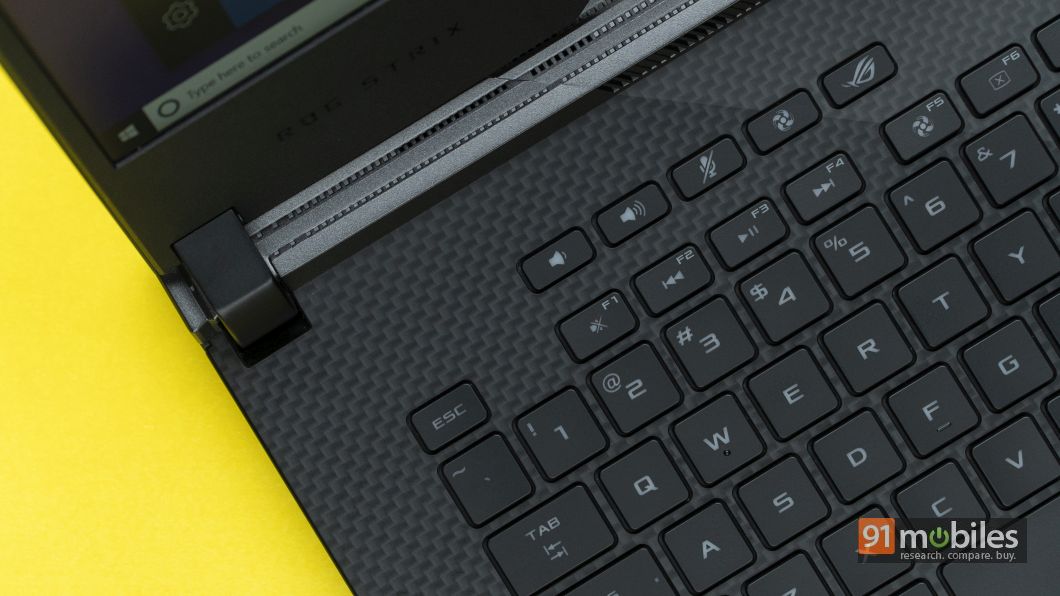 The trackpad is just as good too. The unit makes use of Windows Precision drivers and therefore, responds well to multi-finger gestures. What's more, you can even enable a built-in Numpad by pressing down on the top right-hand side of the unit. The Numpad features red backlighting and therefore, if you work on a lot of Excel sheets, then you'll undoubtedly find this utility handy.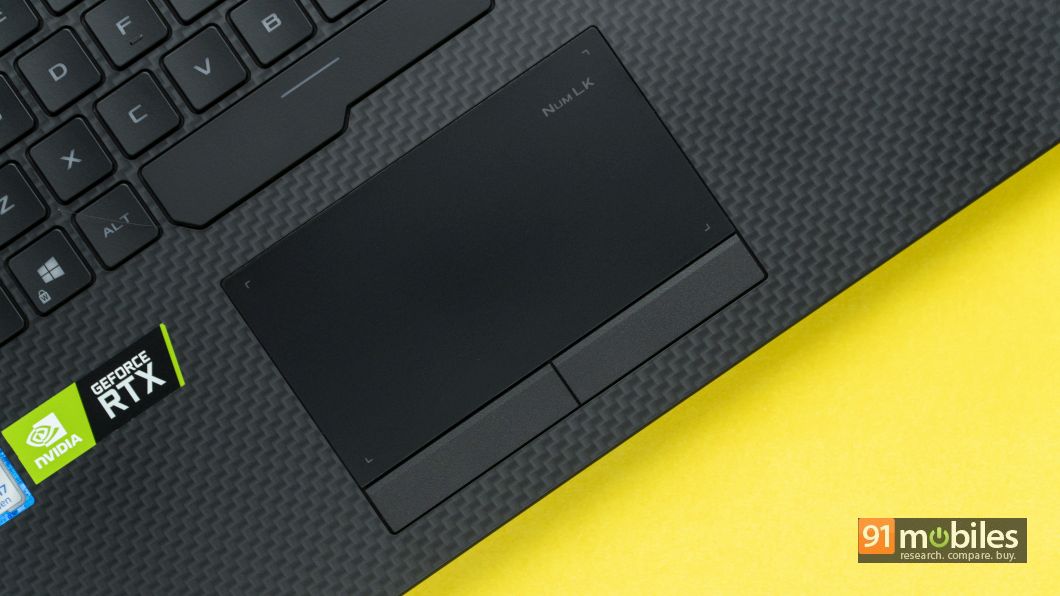 As for audio, the Scar III ships with two side-firing speakers which get satisfactorily loud. What's more, the speakers pack in a good amount of bass too, which is somewhat of a rarity in laptops. Therefore, you will spend the majority of time using a gaming headset with the machine, the Scar III has you covered for when you want to kick back and watch a movie with friends too.
Performance and Battery life
One look at the ASUS ROG STRIX Scar III's spec sheet and you'll know the laptop is no slouch when it comes to performance. As specced, my review unit of the Scar III came with Intel's Core i7-9750H hexa-core processor, 16GB of DDR4 memory and Nvidia's RTX 2070 GPU with eight gigs of VRAM. It goes without saying that the laptop didn't break a sweat performing everyday tasks – apps opened quickly and even with over a dozen Chrome tabs open along with a plethora of other applications like Word and Excel open, I didn't come across any instances of lag or stutter. Furthermore, the laptop put up impressive numbers in various synthetic benchmarks as well, and I managed to get scores of 2,372 and 5,405 in CineBench R20 and PCMark 10 tests respectively.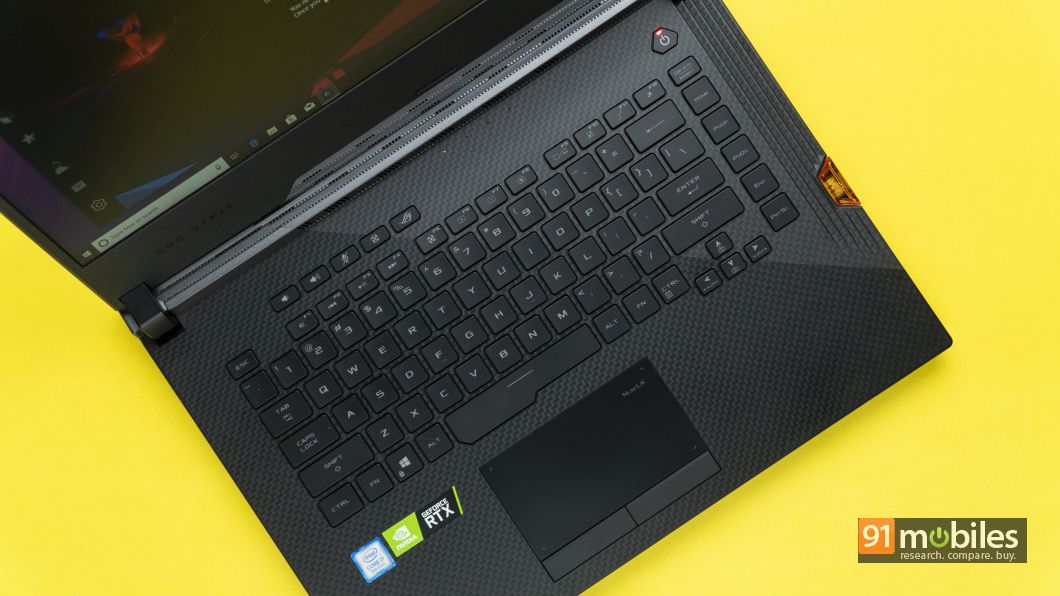 Moreover, the laptop packs in a speedy 1TB SSD, which put up impressive sequential read and write speeds of 1,868MB/s and 1,659.6MB/s in CystalDiskMark synthetic benchmark. As for gaming, I could max out Witcher 3, which to date is quite a demanding game on the laptop and was still able to get away with over 60fps comfortably. Furthermore, less demanding games like Brawlhalla and Counter Strike: Global Offensive maxed out at over a 100fps on the machine, which is fantastic.
That being said, while the Scar III leaves no stone unturned in the performance department, you'll have to wear headsets whilst gaming for long hours on the machine as the fans get quite loud. So much so, my colleagues all but asked me to stop gaming on my desk as the fan noise was too distracting. Thankfully, as loud as the fans are, they ensure the laptop's temperatures don't spike over extended usage and I could comfortably game on the machine for hours without noticing any thermal throttling issues.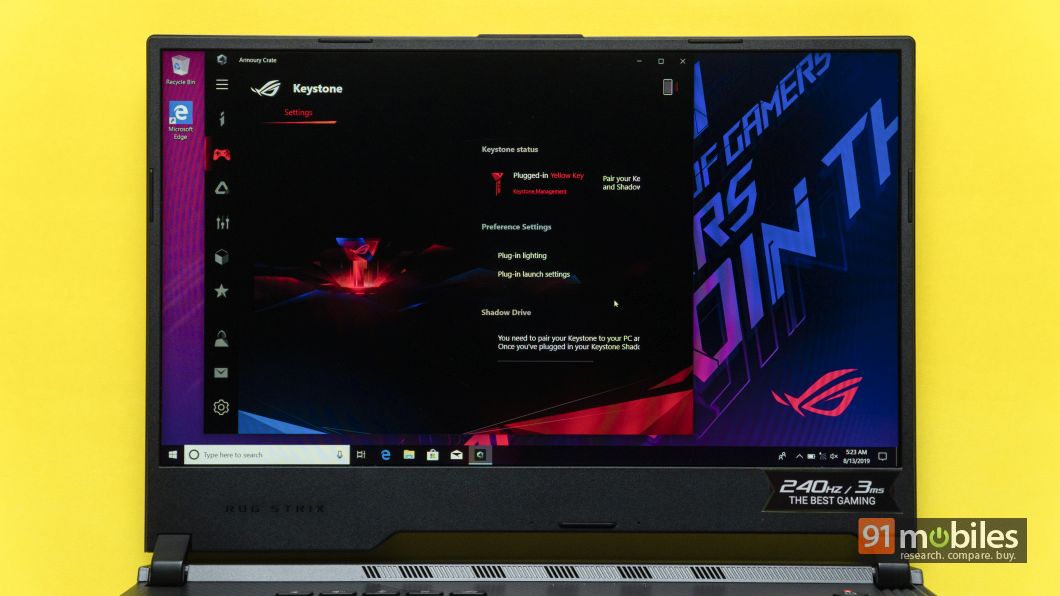 Battery life is the bane of all gaming laptops and the Scar III is no different. With the performance set to balanced mode, I managed to drain the laptop completely in under 2.5 hours with my usage comprising browsing the web, listening to some tunes on Apple Music and writing articles on Word. Suffice it to say, you'll have to make room in your backpack for the Scar III's ginormous power brick if you plan on taking a road trip with the machine.
Verdict
The ASUS ROG Strix Scar III starts at Rs 2 Lacs and for the price, is a great buy. The laptop offers a powerful portable gaming experience and cuts a handsome package too. It also helps that the unit is quite compact and is light on the shoulders as well.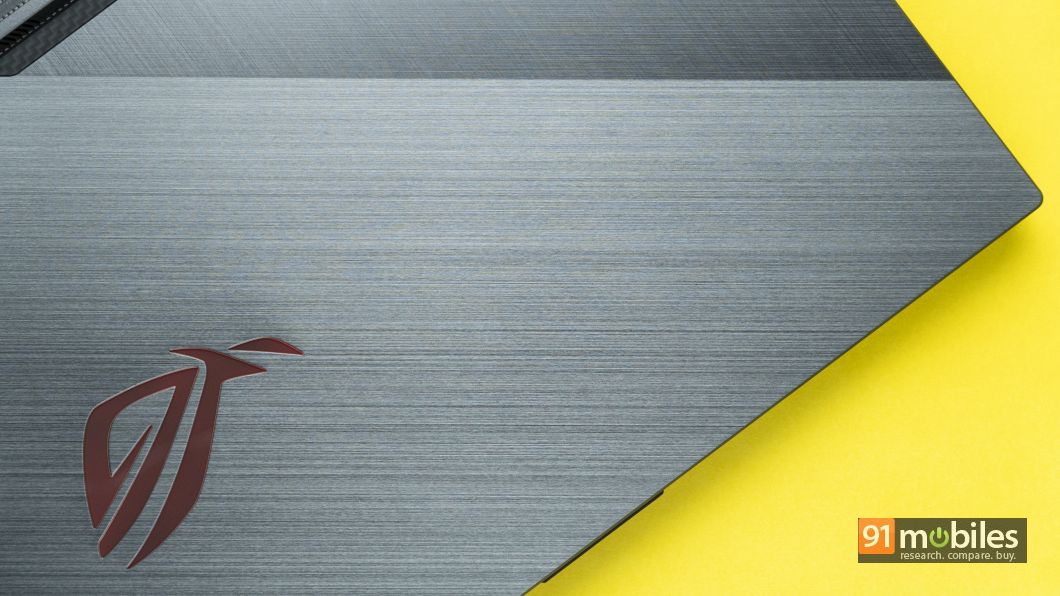 Now, it goes without saying that you could instead opt for a slightly cheaper alternative from vendors like Lenovo, or MSI. However, you'll have to compromise on the GPU or opt for an inferior display with such devices.
Consequently, I feel that the Scar III rightfully justifies its pricing, and buyers in the market for a top-notch gaming laptop cannot go wrong with the machine.
Editor's rating: 3.5 / 5
Pros:
Great performance
Class-leading display
RGB everything
Good-looking design
Cons:
No webcam
No macro keys
Fan noise is too loud
Photos by
Raj Rout