Honor's affordable MagicBook 15 laptop, which was originally unveiled in China late last year, and then saw a global unveiling in February 2020, has finally made its way to our shores. Starting at a price of Rs 42,990, the electronics giant is targeting the regular college/office goers who need a device to draft up emails, use Microsoft Office, and in general, need a portable comuting device to carry comfortably in a backpack. Has Honor managed to nail down the fundamentals of a budget laptop with the MagicBook 15 in this day and age? Let's find out in this detailed review.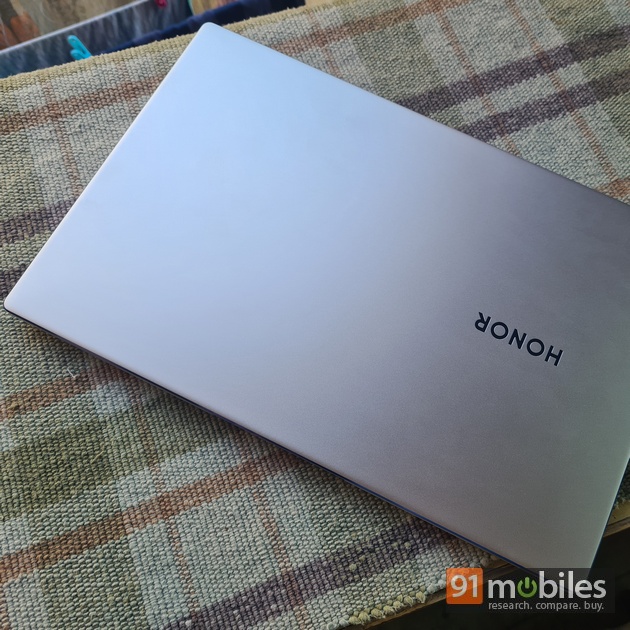 Design, Build and Display
Honor has really put effort into the overall aesthetics of the MagicBook, aspects that usually get swept under the rug on devices priced under the Rs 50,000 mark. Instead of a plastic build, the MagicBook has an all-aluminium chassis that extends to nearly every component on the outside, including the lid and the underside. The laptop is relatively thin and weighs in at a comfortable 1.5kgs while the thickness is also respectable at 17mm. It does make sense since there are no heavy-duty internals such as a dedicated GPU which takes up a lot of space. Even with the 15-inch design, normal bags should be able to fit the laptop in quite easily. The device is available in a single Mystic Gray variant and the colour scheme is carried over to every part except the keys on the keyboard. Overall the build quality feels incredibly sturdy with no flex either on any part of the laptop. The hinge is quite flexible and an indention below the trackpad allows for an easy one-handed operation to open the lid to about a maximum of 140-degrees.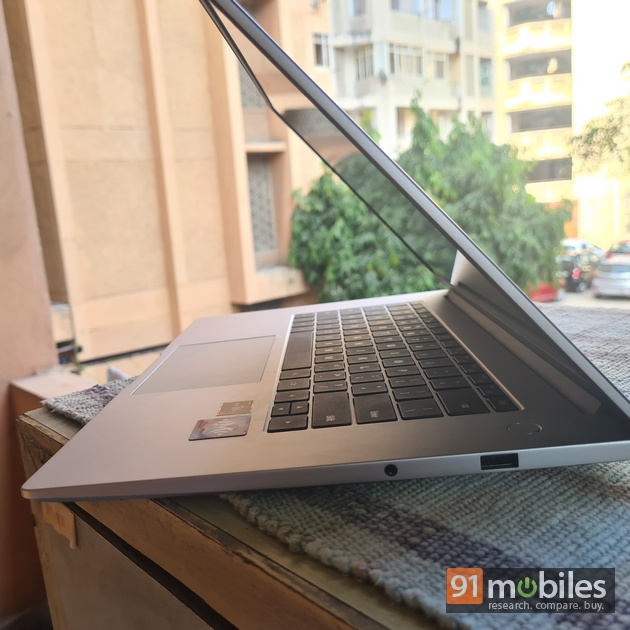 Talking about the ports, you get all the normal connectivity options as can be expected on a budget-oriented device. On the right, there is a USB Type-A port with USB 2.0 support and a 3.5mm headphone jack slot. The left of the device sports an HDMI port, plus a USB Type-A and a USB Type-C port, both of which come with USB 3.2 Gen 1 support.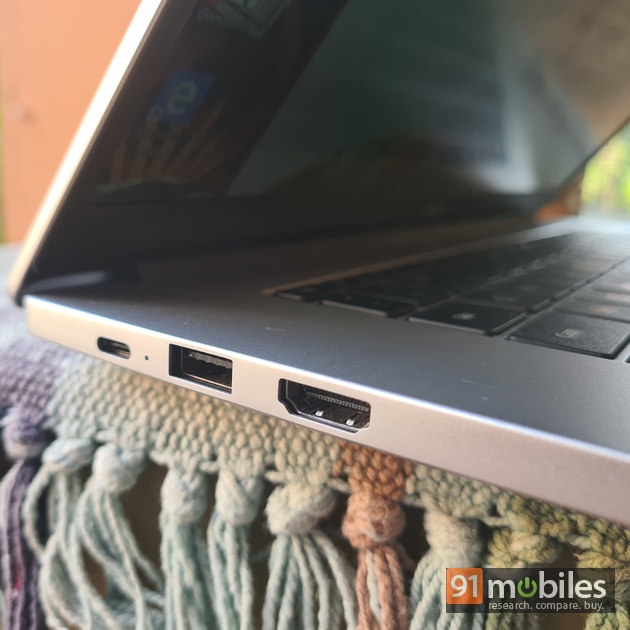 The USB C port does not have DisplayPort functionality which is expected, but it does function as a primary charging port for the device. This is one feature that Honor harps about as setting the MagicBook apart from the list of other budget laptops out there, and I have to agree. The ease of just carrying around one Type-C charger and cable that will power up your laptop and phone is an incredibly easy solution to the evergrowing cable problem. It would've been nice to see some additional ports such as a Kensington lock slot or another USB C slot on the right allowing the device to be charged from either side.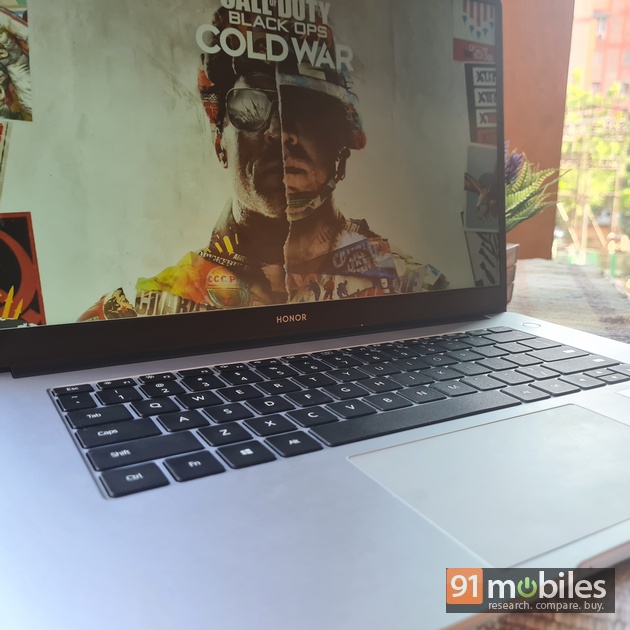 Another thing that is very useful indeed is the integration of the fingerprint sensor with the power button. This enables you to unlocked the device as soon as you press the power button. Quite a nifty little feature and again not something present on many laptops at this price point.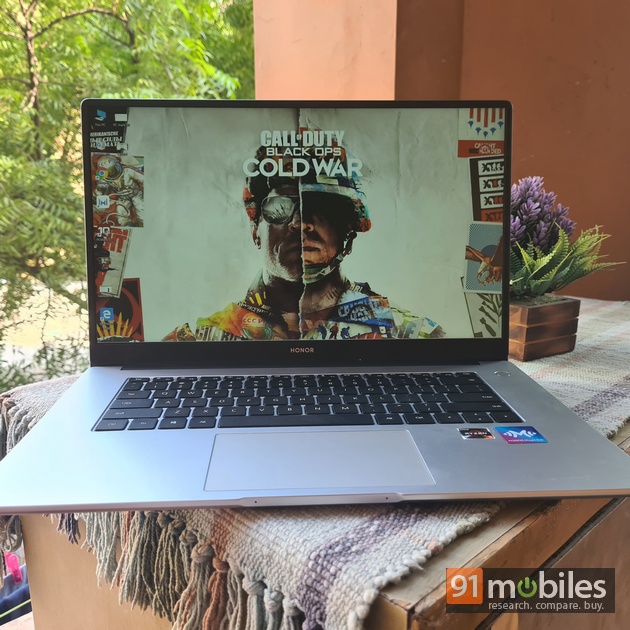 As for the display, there is a 15.6-inch LCD panel with FHD (1,920 x 1,080) resolution screen that is surrounded by thin bezels on three sides and a slightly bigger one at the bottom. There is an anti-glare coating on the panel which helps in reducing reflections that get in the way of your viewing experience. The screen achieves a respectable level of brightness for good indoor usage but legibility isn't great outside in sunny conditions. Contrast levels are decent and there is minimal colour shift when looked at from an off-angle. Overall you get a reliably colour accurate display with a healthy amount of brightness that should see through most of your intended work without problems.
Keyboard and mouse
Even for a 15-inch size, Honor has decided not to pack in a full-sized keyboard and a dedicated num pad is missing. However, this does make the keys a bit spaced out, and initially, it took some time to get a hang of the typing experience. Once I got it though, using the keyboard was a breeze. Travel was shallow and the keys were not the most tactile but they get the job done. I'm currently typing out this review on the MagicBook 15 and it has generally been a pleasurable experience. I am bummed about the missing backlighting though, something which could have been a major help during night time. One notable aspect is that the webcam has been positioned on the keyboard on the Function row, and can pop out just by pressing the key. Personally, I feel this to be a very bad positioning for the webcam as it is pointed up your nose. On the other hand, those who have privacy concerns would probably like this implementation.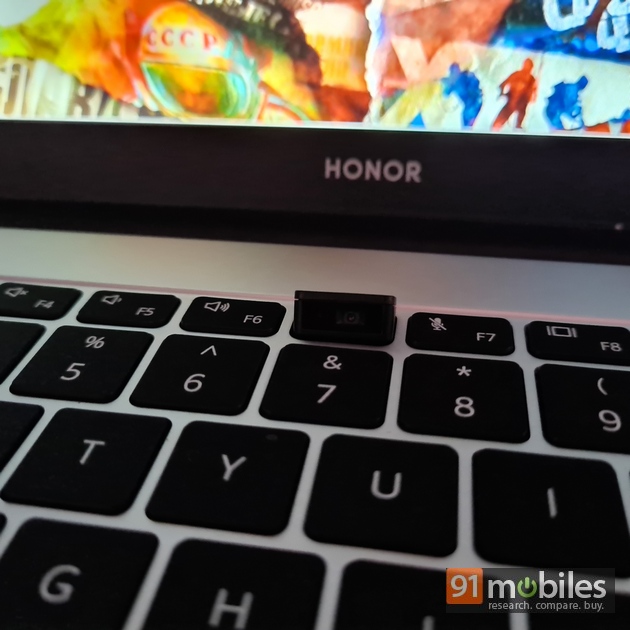 The trackpad is relatively large and has a big surface area allowing for my fingers to glide over. It also uses the same aluminum material but appears to have a glass layer on top for smooth scrolling. There are no physical buttons present for left and right clicks and instead, you will have to use a two-finger tap to register a right click. The response relayed from the trackpad to the computer is average at best so you would do good to use a mouse with the laptop.
Performance and battery
Armed with the new AMD Ryzen 5 3500U CPU from last year, the Honor MagicBook 15 does look to give Intel a run for its money. While that has been mostly true for the latest-gen 4000-series CPUs from AMD, the one being used in the MagicBook is closer to the 8th-gen Intel Kaby Lake lineup which at the time was a notch ahead of AMD. This is one of the main reasons for the cost being low for the MagicBook 15 as it uses AMD's GPU and CPU. That does necessarily make the laptop slow or cumbersome even while doing moderately processor-heavy tasks. If anything, normal day-to-day tasks run without any hiccups or lag. By this, I mean having 10 Chrome tabs open at once in two separate windows while editing a PowerPoint presentation and switching between a PDF. You know, a typical day at the office or college.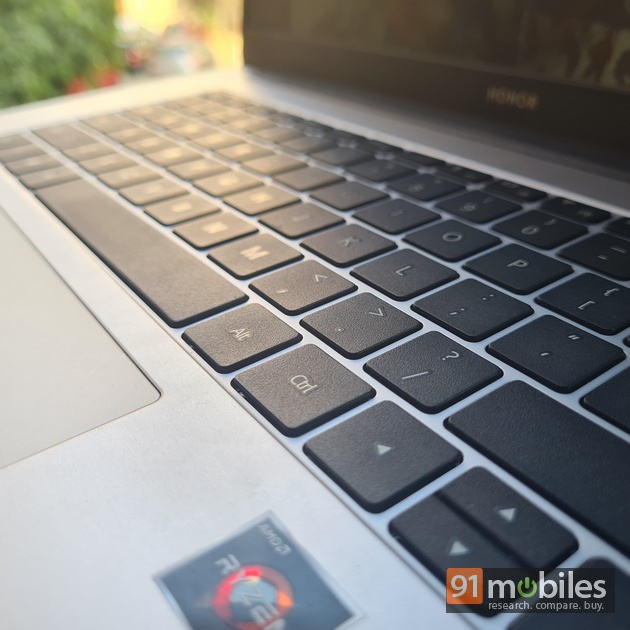 Moving on to benchmarks, I didn't have the highest of hopes for the MagicBook 15 considering the relatively low powered internals. Even so, the laptop did spew up respectable scores on the various tests I threw at it. Running PC Mark 10 on the device gave a score of 3,752 while the computing strength was showcased in Cinebench's score of 1,445. On Geekbench 5 the MagicBook 15 returned a single-core score of 767 and a multi-core score of 3,011. Basically any Intel i3 devices present in the same price range will be outperformed by the MagicBook 15.
Now the laptop also has 8GB of DDR4 RAM and 256GB PCIe NVMe SSD storage. I think this is one major drawback that there is no additional HDD storage but you can always attach an external drive into one of the USB Type-A slots. On CrytsalDiskMark, which assesses the read/write speeds on the SSD, the Honor MagicBook 15's scores were 1,854MB/s and 1,601MB/s for read and write respectively. Gaming is not a focus on the MagicBook 15 but you can run a couple of light titles like Valorant at low settings to get about 60fps sustained for about an hour. Audio quality is decent enough when the laptop is placed on a flat surface like a table but on anything softer, the sound becomes quite muffled.
Honor claims six hours of battery life on the MagicBook 15 and provides a 65W charger that juices up the device via the Type-C port. Now one prime requirement for a budget laptop is that should offer a strong battery backup and to some extent, the MagicBook does fulfill this requirement. I got about 4 hours and 30 minutes of usage on a single charge which is good but not unheard of in the budget space. However, charging via the Type-C port is very much one of the first in the segment and I'm a fan of this solution. Thee laptop gets about 50 percent of its charge in the first 40 minutes and after that, it is fully charged in another 45 minutes.
Verdict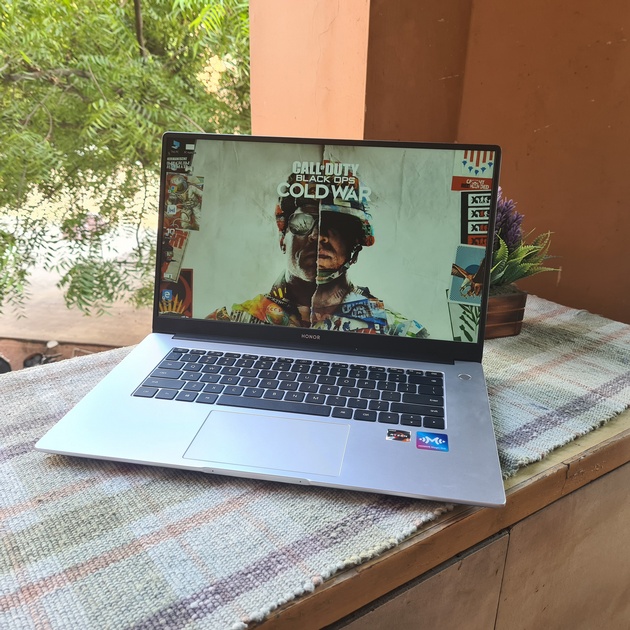 The Honor MagicBook 15 tries not to be your standard run of the mill laptop below Rs 50,000. It offers some features which can be considered innovative such as an edge-to-edge display, full aluminum design, and Type-C port for charging. Other aspects can be considered above average such as the performance, typing experience, and battery backup. I think that Honor has given out a solid laptop experience with some clinks here and there that could be brushed under the carpet. Basically, you won't get many better laptops than the MagicBook 15 under Rs 50,000.
Editor's rating: 4 / 5
Pros
Good, bezel-less display
Type C charging
Lightweight and portable
Cons
Strange placement of webcam
Needs more ports
Limited storage