If you've been following the laptop segment closely, then you'll notice that brands are opting for either of the following two approaches to make their offerings stand out from a sea of similar-looking notebooks:
a) trimming the size of the machines and cutting the flab to make them as thin and light as possible
b) loading up the laptop specs and giving desktops a run for their money
The example of the first category is Lenovo's Yoga S940, while the Dell Alienware Area-51M (review) is one of the shining examples of the latter. Now while I loved my time with the Area-51M, I concluded that it wasn't for everyone, so is the featherlight Yoga S940 THE laptop for those who're looking for a premium ultrabook experience? Well, here's what I found out after using it for almost two weeks.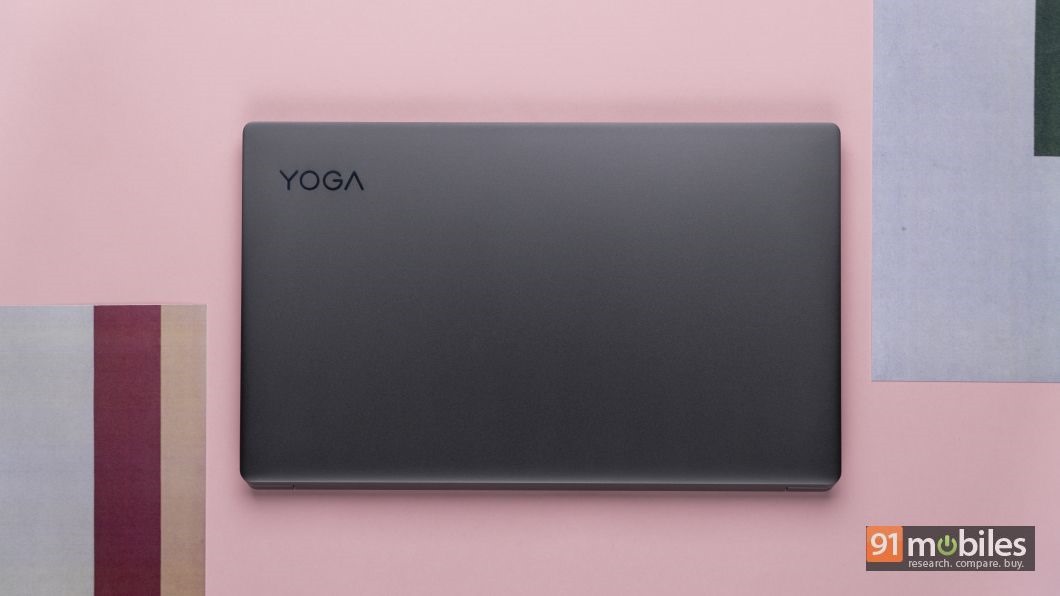 Specs at a glance
Measures 319.3 x 197.4 x 12.2mm
Weighs 1.2kg
14-inch display, FHD resolution
Intel Core i5-8265U
Intel HD Graphics 620
16GB DDR3 RAM
1TB SSD
3 x USB Type-C ports
Up to 15 hours battery life
Windows 10 Home
Design and display
Unsurprisingly, the first thing that will draw your attention to the Lenovo S940 is its incredible slimness. In fact with a thickness of 12.2mm, the notebook can put even some smartphones to shame. Tipping the scales at 1.2g, the device is really lightweight and not only was it a delight to carry around in my backpack, but I could also just as easily carry it in my hand too.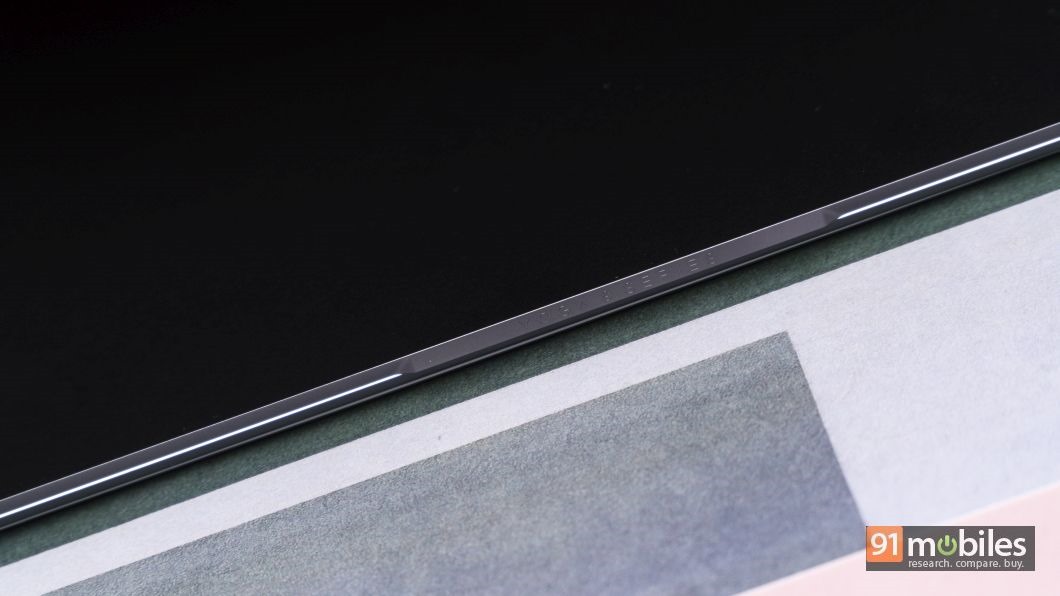 Now one must be wondering if the rig has cut any corners to achieve such compact dimensions. Well, you'd be glad to know that isn't the case. The Lenovo Yoga S940 features premium construction as it's built out of aluminium. Along with offering a classy appeal, it also means that the device is quite robust. With black hue, the laptop looks really attractive too.
Having said that, if you do apply some pressure, then both the screen and the palmrest area will show a little amount of flex. However, it isn't too bad, and can be expected from the machine that has such a footprint.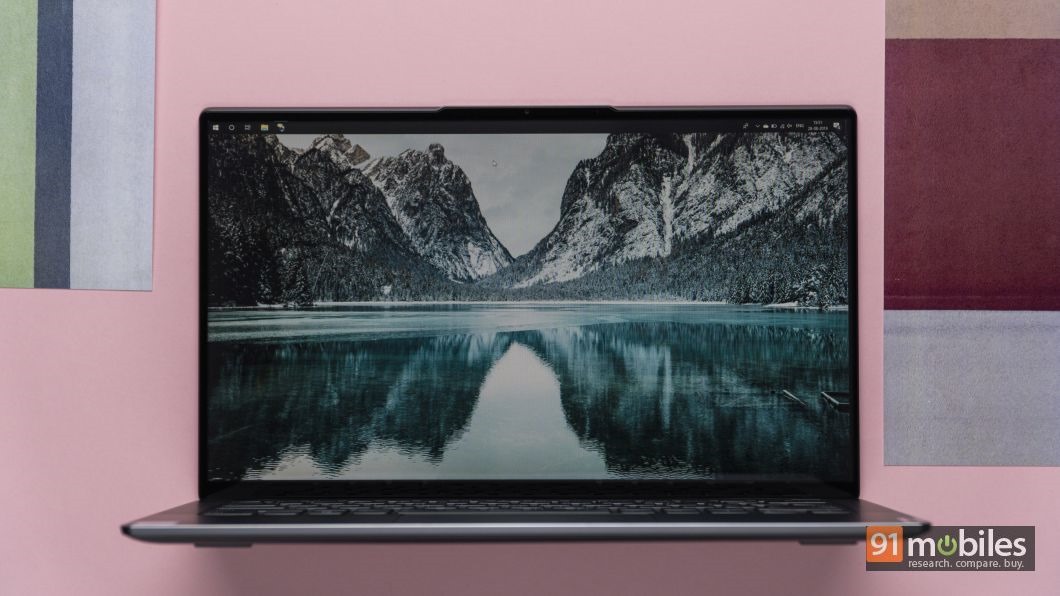 Getting into the design bit, the Lenovo Yoga S940 has taken the minimalism to the extreme, so much so that the outer lid doesn't have Lenovo branding. It only mentions Yoga, and that too towards the corner. Thanks to its size, you can easily open the lid with a single hand. The aesthetics continue inside too… there are no fancy patterns or multiple stickers in the keyboard and palmrest region. You'll only find the Lenovo logo in a metallic plate on the lower-right corner, and there's only one sticker highlighting the fact that the machine has Intel inside.
While there's no fingerprint scanner on the S940 for authenticating the user, it does come with support for face recognition that works in conjunction with Windows Hello. While it comes with an IR sensor for superior performance, in my experience, it was a hit-and-miss affair.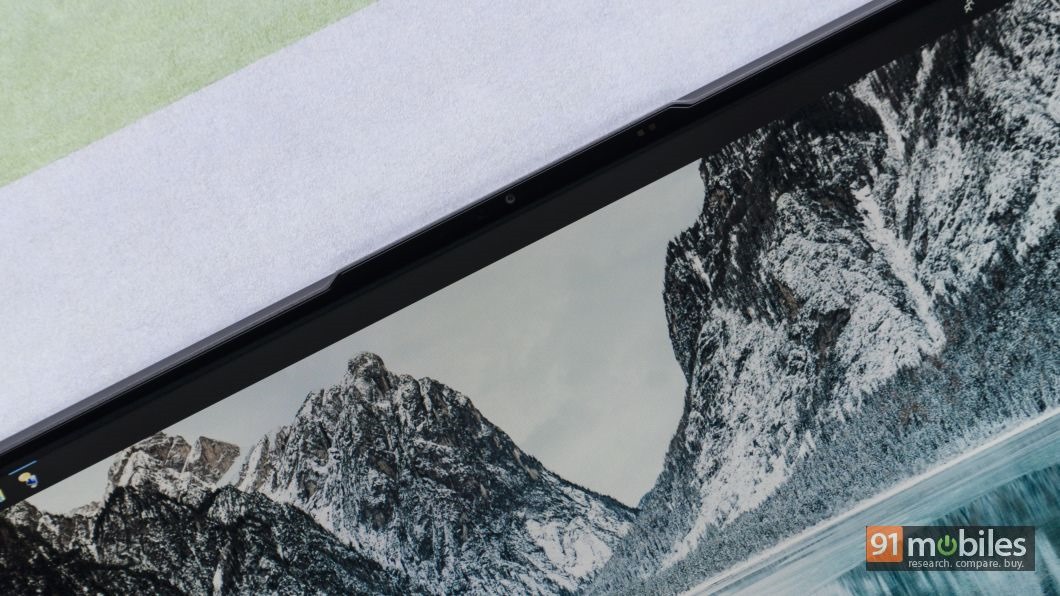 Towards the sides, Yoga S940 sports a Type-C port on the left along side a 3.5mm headphone socket, whereas the right edge offers two USB Type-C ports. Now I'd have liked more ports like a full-sized USB port or a microSD card slot, but it's appreciable that the company ships a dongle offering an HDMI port, a VGA port and a Type-A port along with the laptop.
Another USP of Lenovo's yoga S940 is its display. It comes with a 14-inch panel that bears FHD resolution, but that's not what makes it special. It's its curved edges – making it the world's first laptop with a contoured panel – ensuring an immersive experience and giving an impression that it has a high screen-to-body ratio. And that's not the only inspiration Lenovo has taken from modern smartphones… if you notice closely, then the webcam is located slightly above the top panel – call it a reverse notch, if you will. Thankfully, it doesn't look distracting.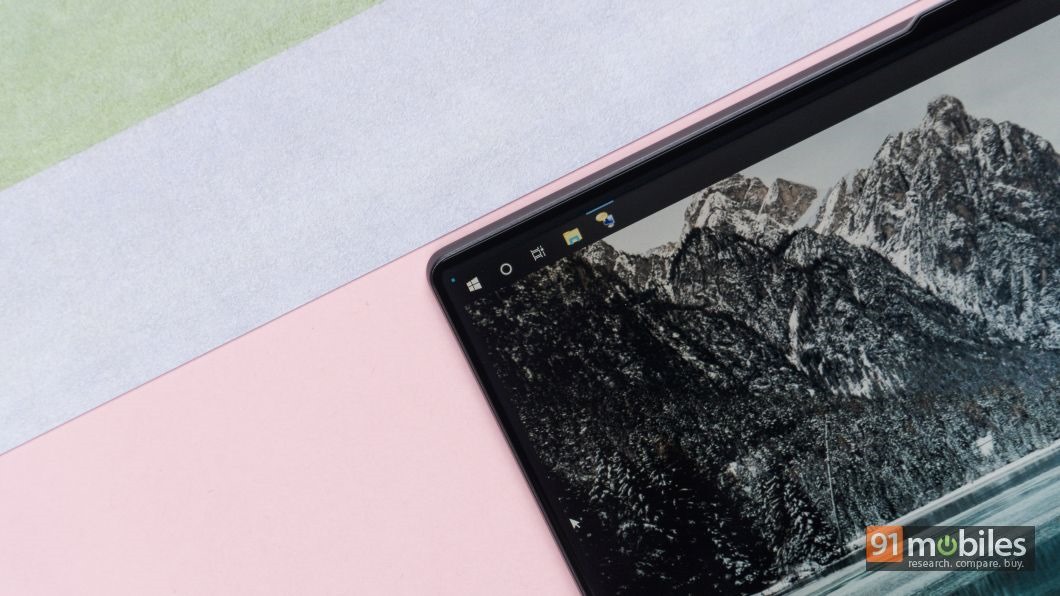 Sadly, even though the S940 flaunts the Yoga logo, it doesn't offer the same features as its brethren. Yes, the device can't flip 360-degree or in any other manner to offer multiple modes, and there isn't any touchscreen either. Yet, there's no denying that the Lenovo yoga S940 pushes the boundaries of how slim and lightweight a laptop can be. It sets a high benchmark for others who want to stake a claim in the ultraportables category.
Keyboard and trackpad
While I loved the design and build of the Yoga S940, I couldn't get to like its keyboard even after spending so much time with it. And mind you, it's not because the keys don't have enough gap or don't offer tactile feedback. They do, and while the travel isn't bad, it can't match regular laptops. In fact, the keyboard is backlit and offers three levels of light intensities. So what exactly was my issue, you may ask… well, it's the significant input lag. Even when there wasn't any app open and power mode was set to best performance, the letters that I typed on the keyboard took a while to appear on the screen. I also found that the keyboard wasn't as responsive and hence words styped together sometimes appeared as a string together. I hope this was an issue with this particular review unit laptop and not with all units as this hasn't been brought up by other critics.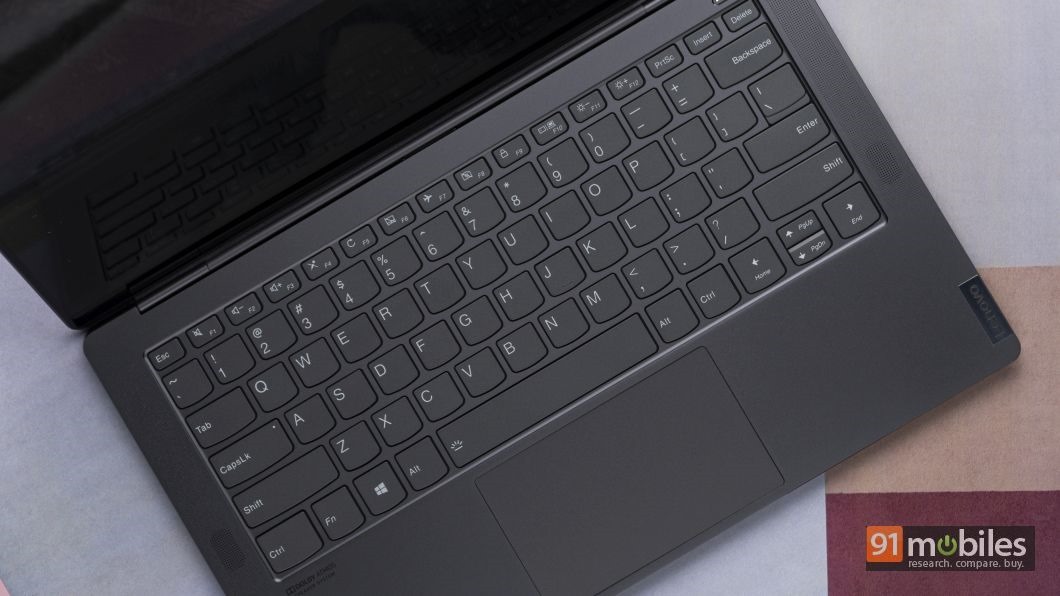 The trackpad on the S940 is an absolute delight, on the other hand. Despite having a small area to play around with, Lenovo has ensured that the trackpad isn't tiny. It's extremely responsive too and supports multi-touch gestures as well.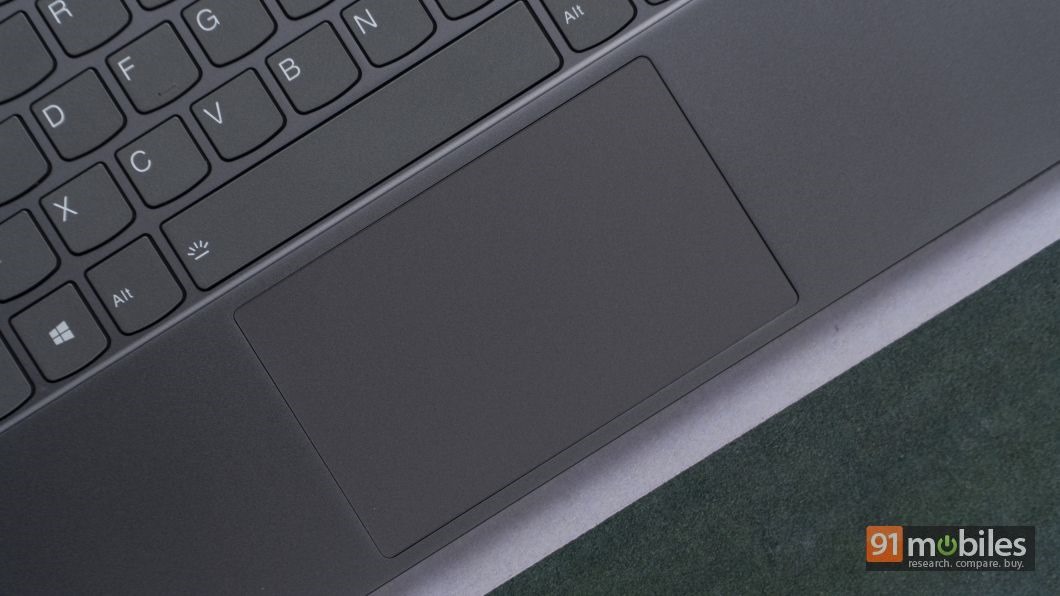 Hardware and software
Now part of the problem with the keyboard could be tied to Yoga S940's internals. While it does pack an 8th-generation Core i7 chipset, it must be noted that it's the U variant which is a low-power processor meant for fan-less ultrabooks. With a clock speed of 1.6Ghz, the CPU has eight cores and you can turbo it up to 3.9GHz. It's paired with 16 gigs of RAM, which does ensure a smooth multitasking experience. But you can't expect it to offer a lag-free performance while intensive tasks are running. This is evident with the benchmark scores too. On PCMark10, the Lenovo laptop got 3,118, whereas in Cinebench R20, it received 1,217. Both of these scores aren't very inspiring if you compare them to regular laptops.
Lenovo Yoga S940 benchmarks
Taking care of graphics requirements is Intel's integrated Graphics 620. It's clear that this hardware isn't for gaming, and 3D Mark scores also show that. I did try my hands on titles like Rocket League and the device barely manage to run them. There were noticeable frame drops, not to mention that gaming experience itself wasn't all that delightful either.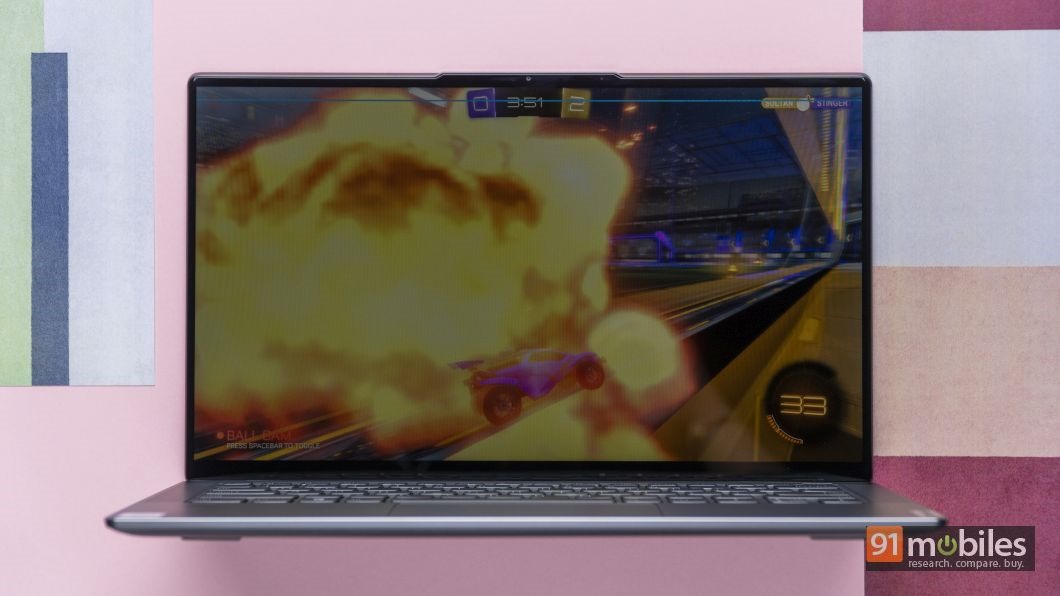 My biggest gripe however in this department is Lenovo Yoga S940's thermal management. Of course, what else could you expect when you pair a fan-less design with such a thin chassis? However, the area above the keyboard gets quite hot even while doing normal tasks. This region gets warm even when you're juicing up the machine, and the issue becomes aggravated when the palm rest area gets hot, affecting the typing experience.
For storage, the S940 is available with up to 1TB SSD, which should meet one's requirements quite well. In CrystalDiskMark, the laptop scored 2,850MB/s and 2,215.5MB/s for read and write speeds, respectively.
What makes the Yoga S940 a great way to enjoy multimedia content is its support for Dolby Atmos. In fact, I didn't even need to pair the device to sound better.
The Lenovo Yoga S940 also boasts AI capabilities, but instead of being gimmicky, they're quite useful. While using the device for video conferencing, it can also blur your background via software, which is really interesting. That said, the webcam also comes accompanied by IR sensors, which are tuned by a company called Mirametrix, giving you the capability to switch displays by simply moving your eyes, lock the device when you're not using it and so on. But for some reason, I couldn't make it work flawlessly. That said, there are certain features that come in handy, such as the ability to blur the background during video calls.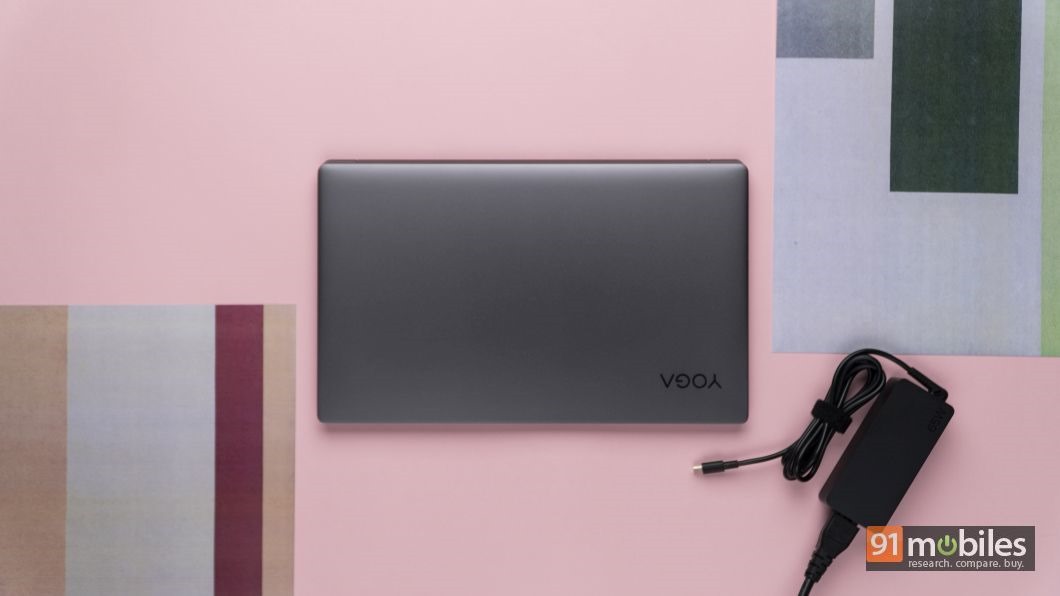 Even though the laptop is compact, it manages to offer decent battery life. Charged at 100 percent in the morning, I didn't need to look for the adapter before the lunchtime and that's when I had connected the laptop to an external monitor and was running two browsers simultaneously (~30 tabs between them), Franz, iTunes and Sublime Text. In BatteryEaterPro, the machine managed to run for almost two hours and a half before draining completely. Juicing up the rig from 10 to 100 percent levels takes about two hours.
Verdict
The Lenovo Yoga S940 is an interesting laptop. Anyone who's looking for a slim and powerful option simply can't ignore it. And yet, it isn't for the faint-hearted as it's price tag is set at Rs 1,39,990. However, if you want to customise it as per your requirements on Lenovo's website, then the Core i5 variant with 8GB RAM and 256GB SSD storage will set you back by Rs 1,22,133.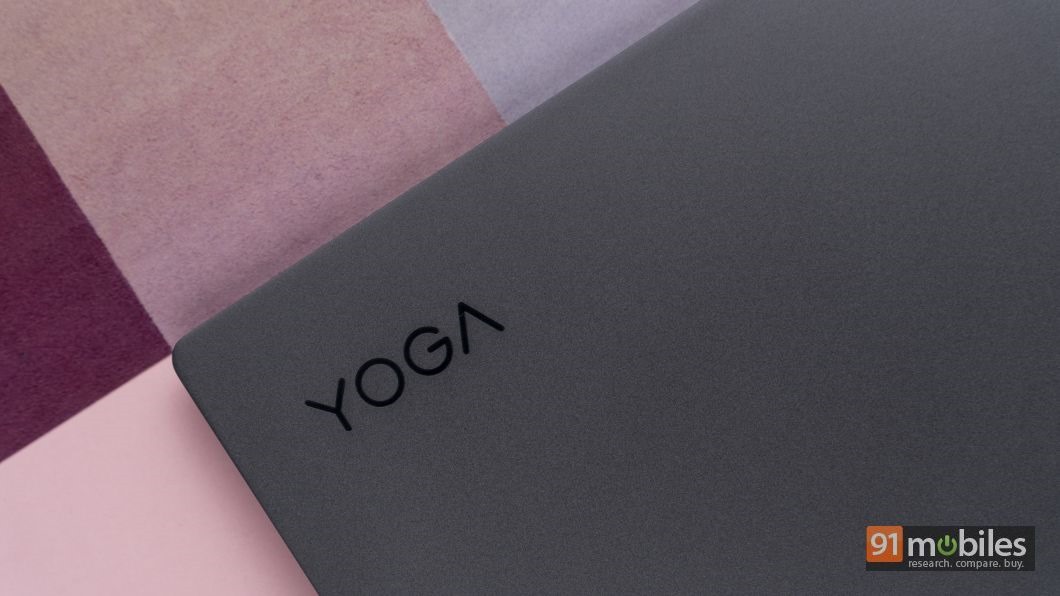 Now, it totally depends upon what you're looking for. If performance is what you're after, then you can get quite a few options out there. And if compactness is more important, then the Yoga S940 goes up against the likes of the Dell XPS 13 – which is the benchmark for ultrabooks. Other devices to consider in this category are ASUS ZenBook 13 and HP Spectre 13. The Yoga S940 is definitely slimmer than these, but it also involves a few compromises that aren't there on its rivals.
Editor's rating: 3.5 / 5
Pros
Minimalistic and compact design
Immersive display
Decent performance
Great battery life
Cons
The keyboard doesn't offer the best typing experience
Face unlock fails to work well
Poor thermal management
Photos by Raj Rout