"The Alienware Area-51m marks several firsts in the otherwise non-exciting category of laptops. Find out what makes it so special"
Launched way back in 1996, Alienware is the longest-standing gaming-centric brand of PCs and laptops. The brand is known for its bold designs and the ethos remained the same even after its acquisition by Dell. And the Area-51m is perhaps the boldest (and most ambitious) offering yet from the laptop maker's stables. In fact, Alienware's VP and GM Frank Azor believes that this device will light the way for Dell's gaming lineup for the next five years. While only time will tell if that turns out to be true, I can certainly tell you that the Alienware Area-51m (first impressions) is the most feature-packed gaming laptop I've ever come across. Don't believe me? Read on ahead to find out why I'm making such a tall claim.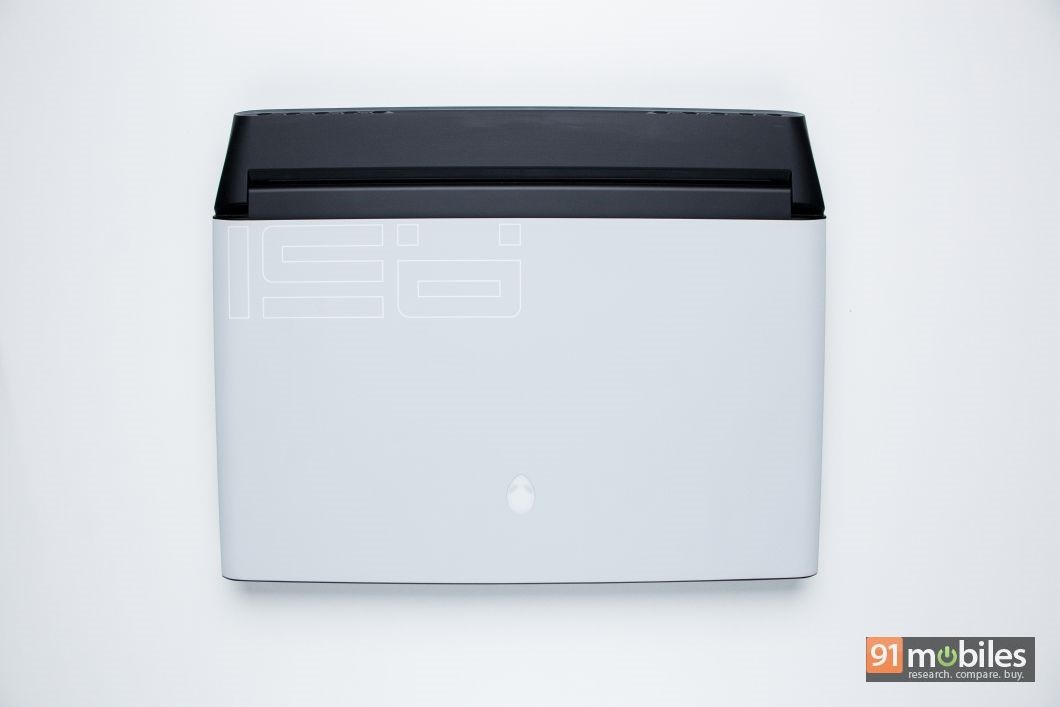 Specs at a glance
Measures 402.6 x 42 x 319.14mm
Weighs 3.87kg
17.3-inch display, FHD resolution
Intel 9th-gen Core i9 9900K
NVIDIA GeForce RTX 2080
512GB SSD + 1TB SSHD
1 x Thunderbolt 3 port, 3 x USB 3.1 Gen 1 ports, 1 x HDMI 2.0 port, 1HDMI port, 1 Ethernet Port
1 x Alienware Graphics Amplifier Port
90WHr battery, 330W + 330W AC adapters
Windows 10 home
Design and display: It's a desktop… it's a laptop… it's Alienware Area-51m
Ask any gamer about the first name that comes to their mind when you talk about a gaming laptop, and the answer would most probably be Alienware. And the Area-51m wears that logo proudly, albeit in a smaller size, on its upper lid. What will get your attention however, is the uniquely-written model name. Dell believes that its previous design language, dubbed Epic, is now getting copied by rivals, and hence it has adopted a new design ethos with its latest gaming laptop, referred to as Legend. Inspired by space-like design vibes, the brand has named two hues of the device as Lunar Light and Dark Side of the Moon, with the white colourway that I have with me looking quite appealing as it clearly stands out from the crowd.
The laptop has been constructed quite well with the use of magnesium alloy, and doesn't show any sign of flex either. Open the lid, and you'll be greeted by a decked-out keyboard which along with the usual set of keys, also gets a number of customisable keys. Above it, you'll find another Alienware logo that doubles up as a power button. The LED-illuminated trackpad draws your attention whenever you start using it.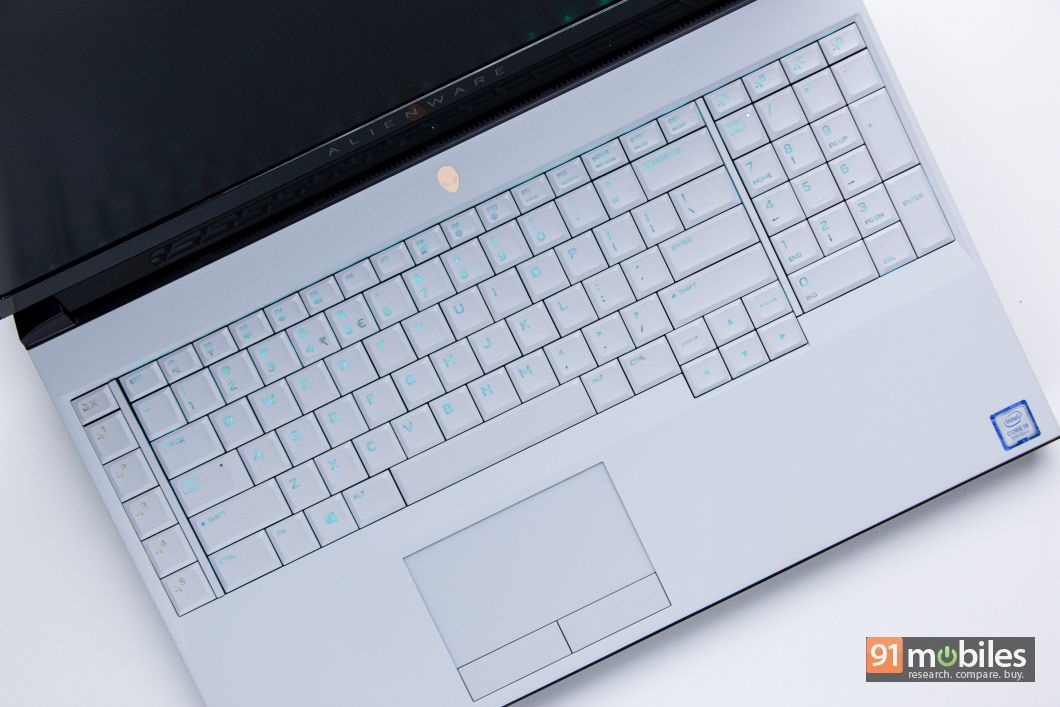 If you think these are only places where Dell has made use of LED lighting, then you need to take a look at the back of the Alienware Area-51m. Christened Infinite Loop, the pattern adds a distinct character to the machine.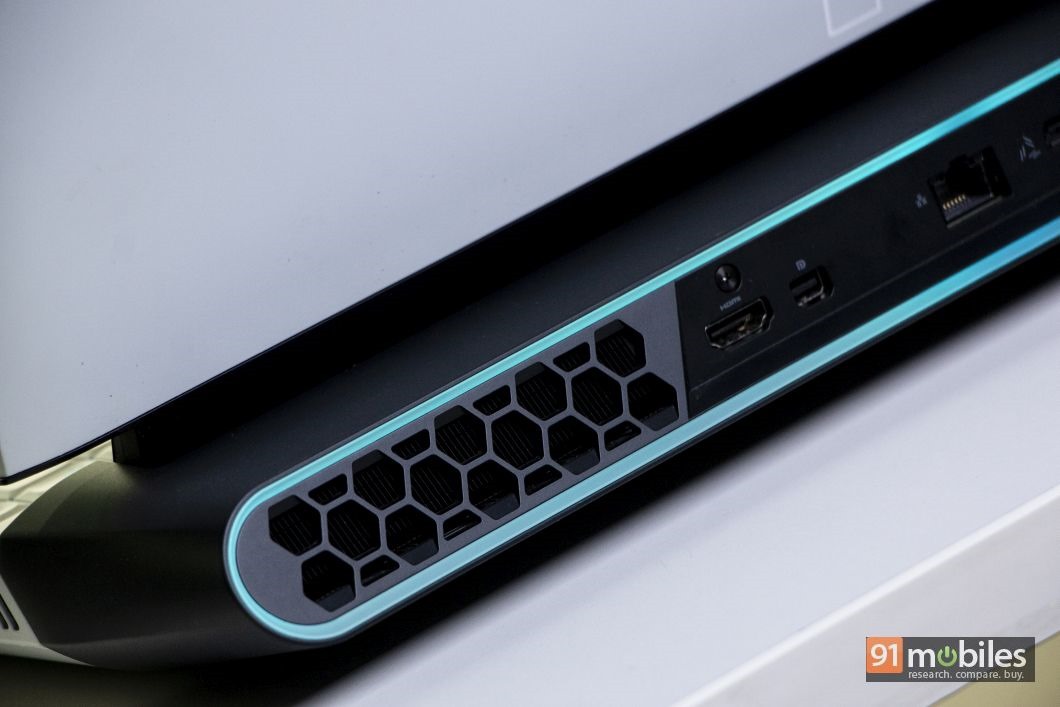 The Dell Alienware Area-51m isn't your traditional laptop, and that becomes evident as soon as you look at the port selection on offer. Towards the left, you'll get a Thunderbolt 3 port, a USB 3.1 Type-A port, a Type-C port, a microphone socket, and a 3.5mm audio interface. On the right edge, there are two Type-A ports. But it's at the back that the laptop sports the most number of ports. There are two proprietary barrel-type charging sockets beside an HDMI socket, an Ethernet Port and Alienware Graphics Amplifier Port. Sadly, the device misses out on an SD / microSD card slot, which is strange considering it does have enough space for the same.
Dell Alienware Area-51m design gallery
The display on the Area-51m is a 17.3-inch affair. The IPS panel bears FHD resolution with a refresh rate of 144Hz. The screen offers great visuals, be it while working on documents, watching movies or playing games. The brightness levels are also more than enough, and I don't have any complaints in terms of viewing angles either. Considering the kind of hardware the machine packs, I'd have believed that a 4k panel might have made more sense, but as per Dell's spokesperson, most gamers still prefer playing at 1080p resolution. What you do get is support for Tobii Eye tracking, which makes use of IR cameras placed in the bar below the Alienware branding at the bottom. The feature lets the device follow your head movements not just while playing compatible games, but for instances like dimming the screen when you aren't looking at it and bringing it to full brightness levels whenever you are.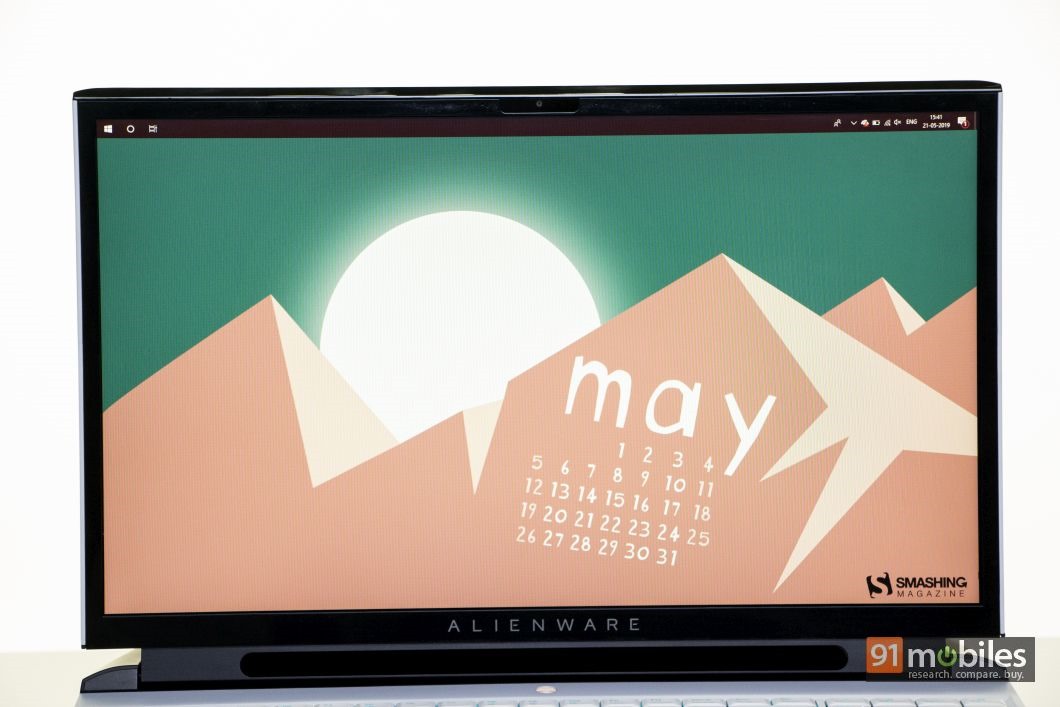 One of the biggest highlights of the Alienware Area-51m is that it lets you upgrade the CPU and GPU, which we'll be discussing in the performance section. But you can guess that this feature, combined with the large screen, means that the Dell laptop has a massive footprint. Weighing almost 4kg (which becomes ~6kg, when you include the charging adapters), the device isn't meant to be carried around every day. In fact, Dell's spokesperson suggests that the rig is meant to replace desktops, with the added advantage of being portable enough to be carried to a friend's place every now and then. With a thickness of 42mm, the device is quite thick too. But interestingly, if you compare the Area-51m with its predecessor – the Alienware 17 – then the newer offering is actually lighter and thinner.
Keyboard and trackpad: work as advertised
As aforementioned, the Dell Alienware Area-51m offers a full-fledged keyboard, complete with a number pad. The RGB-illuminated keys are quite easy to get used to and thanks to good travel of 2.2mm, typing is a good experience too. Sadly, the non-chiclet-style keys are tightly packed together, leaving no space between them, and this could result into a lot of typos while inputting text. However, you might be able to overcome them once you get used to the Area 51m's keyboard layout. Another interesting thing is that you get a dedicated row of macro keys (five on the extreme left and four above the numpad) which can be customised as per the game you're playing. The matte texture around the keyboard area aids in typing.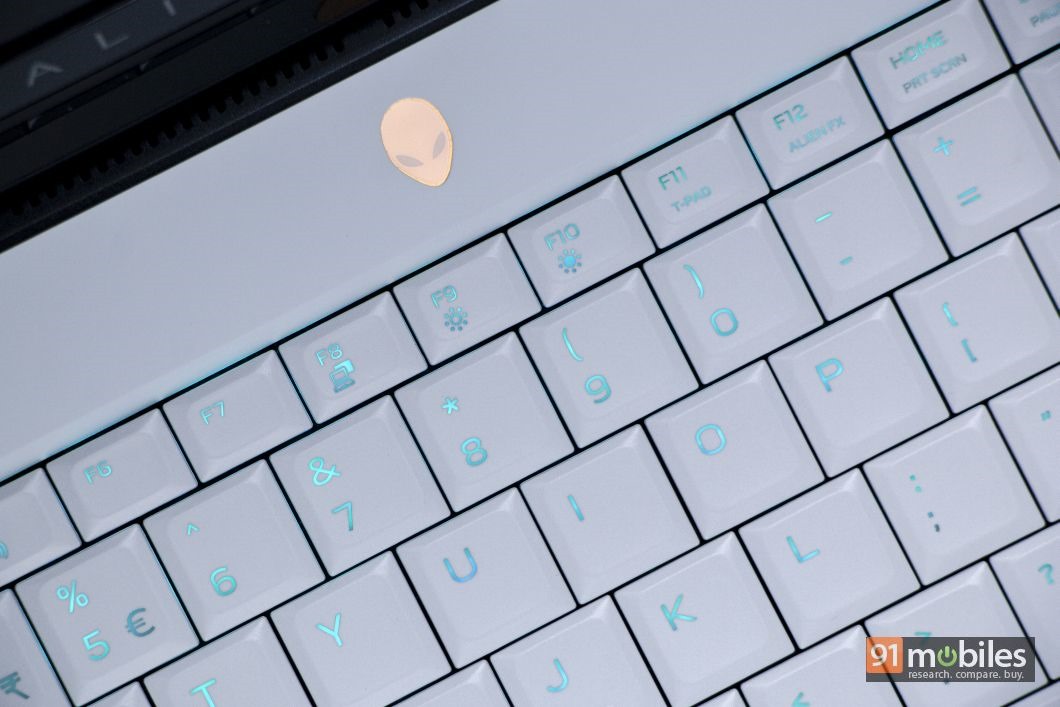 The trackpad is quite smooth and is able to support multi-touch gestures as well. The physical left- and right-click keys are a welcome addition too. Sadly however, the area is quite small and the trackpad lacks Microsoft's precision drivers. While Synaptics drivers ain't bad, the navigation isn't as accurate as I'd have liked.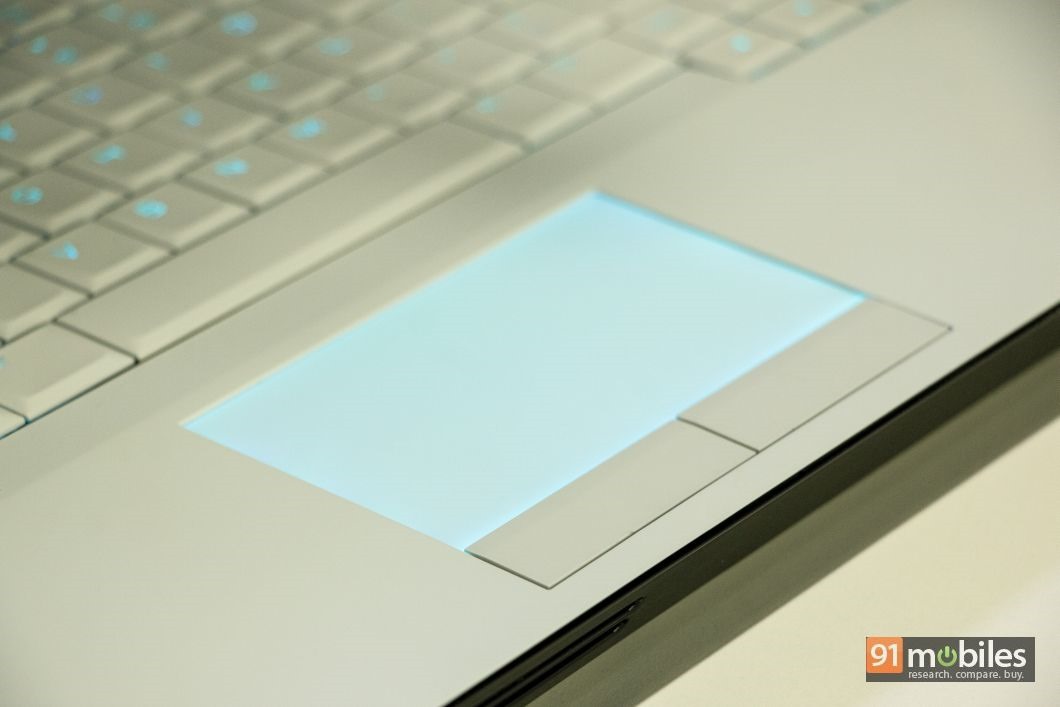 Hardware and software: a spec sheet that can put desktops to shame
Now, this is an aspect that makes the Area 51m worthy of Alienware branding. As can be seen from the specs above, the device comes with top-of-the-line configuration. Not only do you get Intel's latest 9th-gen offering, you get the high-end i9 processor which comes with eight cores running at 3.6GHz. Furthermore, it's the desktop-grade Intel Z390 chip with a TDP of 95W, letting you get the turbo clock speed of up to 5GHz. Then there's 32GB RAM, and the combination makes sure that the laptop doesn't slow down no matter what you throw at it. The sheer power reflects in benchmarks as well, as the rig scored an impressive 7,113 on PCMark 10. It also managed to get 4475cb on Cinebench R20, which is perhaps the highest among laptops.
Dell Alienware Area-51m benchmarks
On the graphics side of things, the Alienware-Area 51m gets the non-Max-Q variant of the NVIDIA RTX 2080 graphics card, which is the best GPU out there currently. Part of the Turing architecture, the chip runs at 215W and comes with 8GB DDR6 RAM. We ran the machine through a flurry of 3DMark tests, and unsurprisingly, it managed to deliver chart-bursting results.
All that means is that the Dell Alienware Area 51m can play all sorts of games with ease. I ran a slew of games on the machine, and came away impressed each time. Starting the test with the ray tracing-enabled Metro Exodus, the graphics were extremely smooth and the device offered sustained frame rates of 60fps.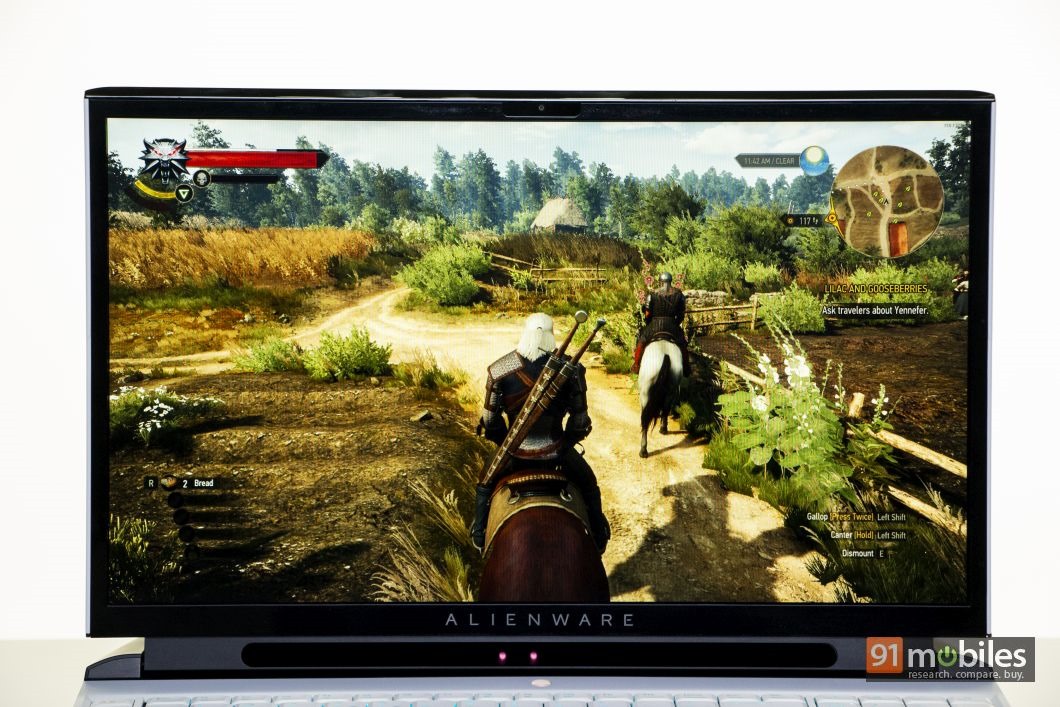 In The Shadow of the Tomb Raider, I got frame rates between 120 to 130fps. Playing open world titles like The Witcher 3 and Middle-Earth: Shadow of War was a delightful affair too with frame rates of around 130fps. And if you're among those who've been bitten by Fortnite or Apex Legends bug, then those would prove to be a cakewalk for the Area 51m. The system was able to constantly churn frame rates of as high as 144fps.
Ensuring that the Area-51m keeps its cool, the brand is utilising Alienware Cryo-Tech v2.0. The tech makes use of honeycomb-shaped dual exhaust vents at the back, along with a high-voltage driving fan, heat pipes, and copper fins. All this makes sure that the laptop doesn't make too much noise while you're using it for regular tasks, though there are times when the fans become quite loud. While playing games however, the sound of fans becomes noticeable and hence it's recommended to use headphones in such cases. Thankfully, the device doesn't heat up considerably even after playing for more than an hour.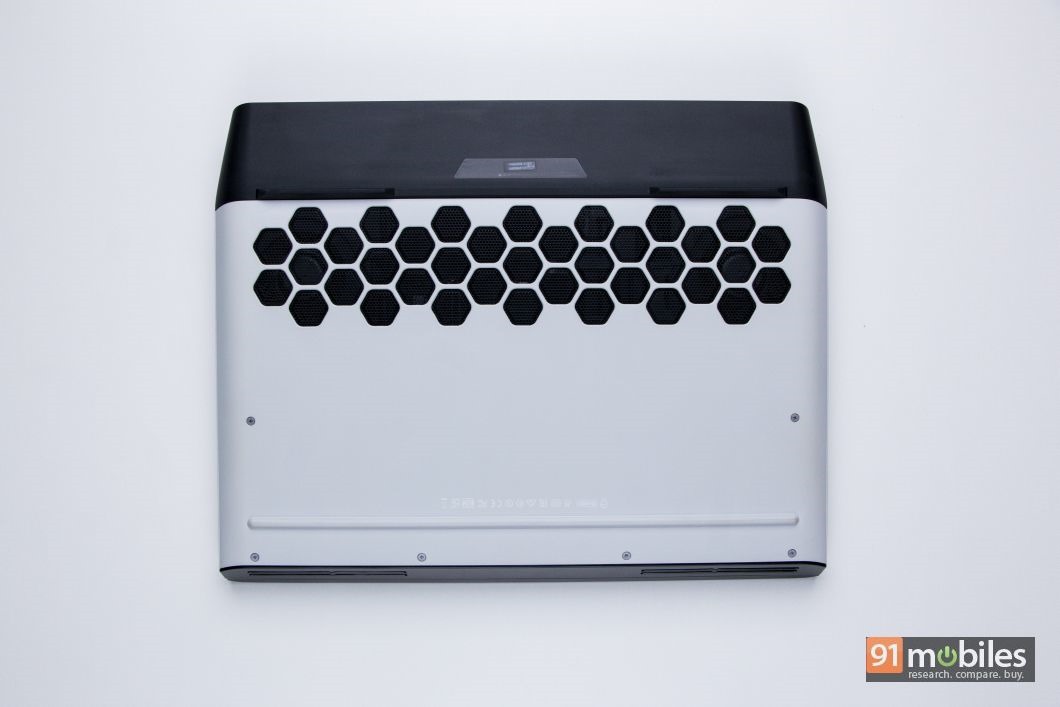 Dell has ensured that the Alienware-Area 51m doesn't fall behind in any of the factors, so it isn't a surprise to see the brand taking care of storage requirements too. The device ships with a 512GB m.2 SSD, and if that's not enough, there's a 1TB SSHD as well. In CrystalDiskMark, the SSD managed to achieve read and write speeds of 3,039.0MB/s and 1,364.8MB/s, respectively, whereas the SSHD got significantly lower speeds of 150.4MB/s and 123.9MB/s.
The Dell Alienware Area-51m ships with 64-bit Windows 10 Home. The brand has tried to keep the bloatware to the minimum, which is a good thing. The one app that you'd frequently be using however, is the Alienware Command Center, which lets you customise various settings for different games. That means for each game you play, you can define thermal management, sound, and lighting among other things. You can, of course, manage performance-oriented features such as CPU, GPU, RAM and more as well.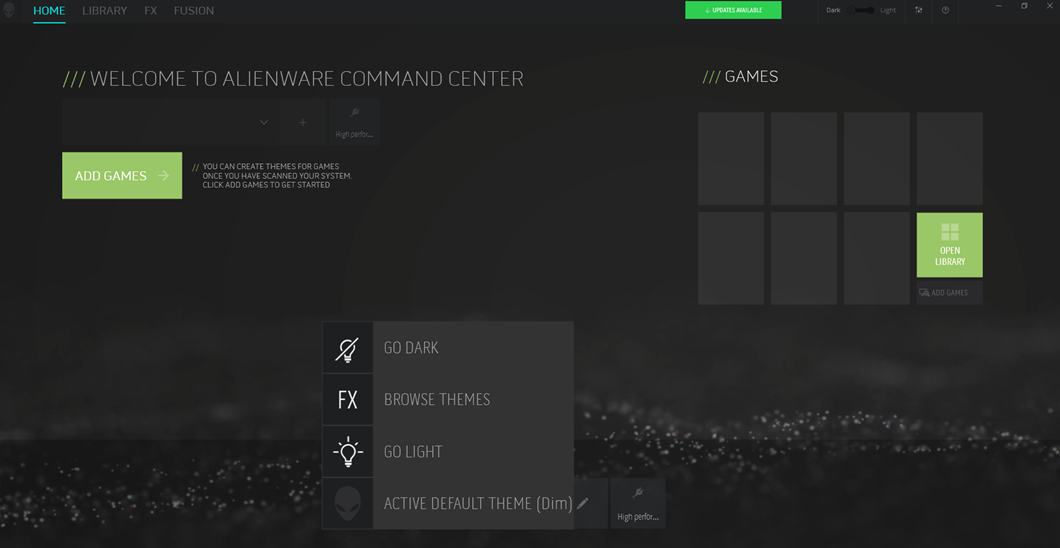 The upgradeability quotient, battery and more
There's no doubt that the Area 51m's calling card is the fact that it's future-proof. Per Dell's spokesperson, the brand wants to ensure that this machine can serve the purposes of a gamer for the next five years or more, and that's why it's offering the ability to swap the CPU and GPU. That also means that it's not difficult to open the machine yourself with a regular screwdriver. The brand has made it quite easy with proper labelling of components, though I wouldn't say that it's the easiest.
Dell Alienware Area-51m teardown
Worth noting however, is the fact that at this point Dell itself isn't sure what kind of upgrades would exist for the Alienware Area 51m, for the chipset and graphics card need to be of the same size. Additionally, the GPU doesn't use the standard MXM standard, and uses the proprietary Dell Graphics Form Factor (DGFF), which means that you'd need to buy these components from the company itself if and when you decide to upgrade – which means that the cost to upgrade would be higher versus buying an off-the-shelf GPU. To enhance your gaming experience, you can also opt for an external graphics card, which can be connected to Alienware Graphics Amplifier Port. Having said that, this won't be an affordable affair as you'd need to splurge Rs 25k on the Amplifier itself, and then the cost of the graphics card that you'd be opting for. Of course, thanks to the availability of four SoDIMM slots, you can theoretically go up to 128GB of RAM (the brand states that maximum that's supported is 64GB, however). Then there are two m.2 slots, letting you increase the storage as well.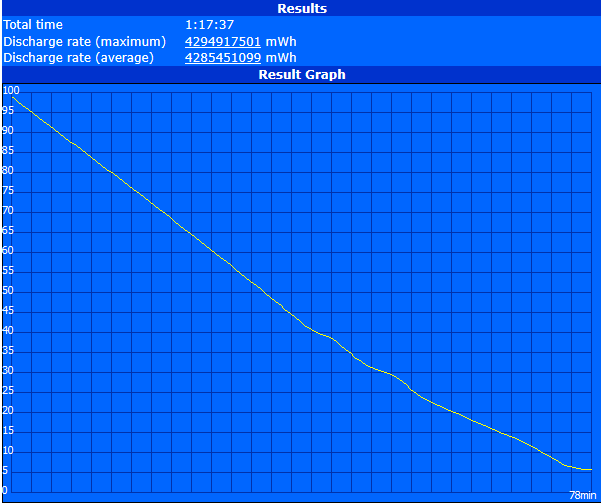 To keep the Dell Alienware Area-51m running, a 90WHr battery is packed inside. It does a decent job of ensuring that the laptop can let you work while you're away from the charging socket. However, you won't be able to stay away for more than two hours even if you're using the device for web browsing and working on documents. Upon running BatteryEaterPro, the device was able to go on for about 78 minutes, which is below average even for a gaming-centric machine.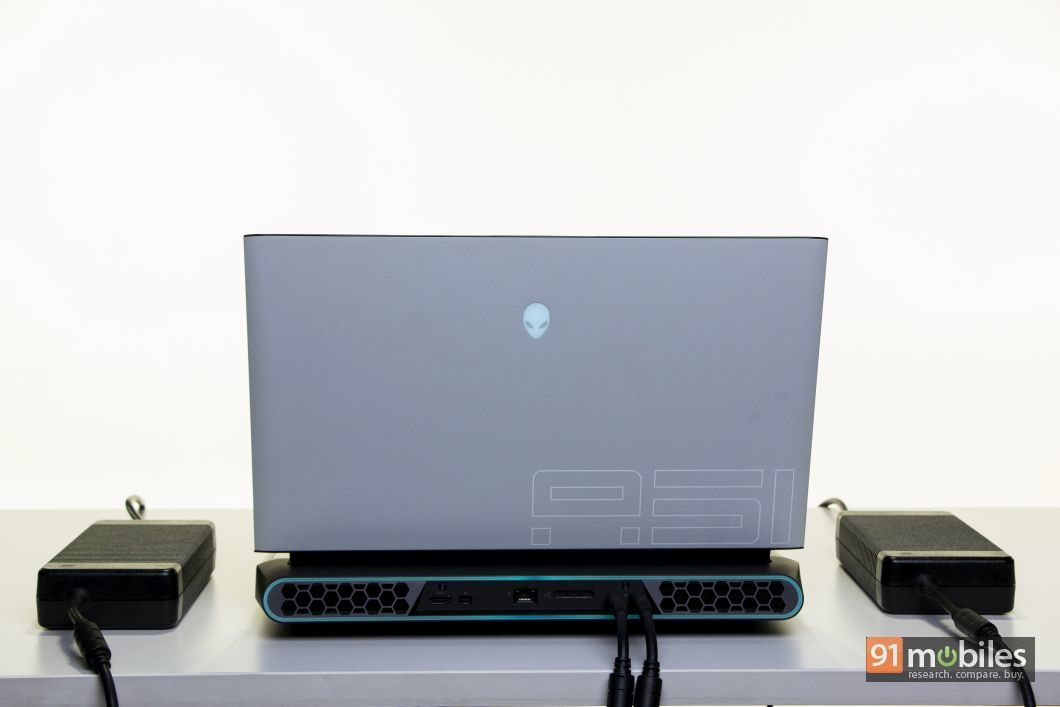 As mentioned earlier, the Alienware Area 51m requires two adapters to power the desktop-grade internals. With each of them offering 330W of power, they are quite bulky (2kg+). Thankfully though, you don't necessarily need to keep both the adapters plugged in if you aren't planning to game on the machine. In fact, the interesting thing is that you could even play with just a single adapter powering the machine, though the frame rates would be far lower… ~60fps in titles like The Witcher 3. Together, they can juice up Dell's gaming-centric rig from 10 to 100 percent in about two hours.
One factor that the Area 51m lacks however, is the audio output. It's not that it's not loud enough, it surely is with two speakers. But what it lacks is the richness and in some instances, the volume does seem quite shrill too at 100 percent levels.
Verdict
The Dell Alienware Area 51m price in India starts at Rs 2,98,990 for the variant with the 9th-gen i7 processor and NVIDIA RTX 2070 graphics card. The unit that I'm reviewing is the higher-end one, and that will set you back by Rs 3,58,990. I have no doubts that these are heart-stopping prices, but if you're the one which gets an adrenaline rush by playing first-person shooters or racing in Forza Horizon 4 or simply exploring open world games, then the Area 51m might just be for you. Unlike most gaming laptops in this price segment, including the Acer Predator Helios 500 (review), ASUS ROG Zephyrus S GX701GX (review), and the newly-launched MSI GT76 Titan, what makes the Alienware machine stand out is the fact that you are getting desktop components in a laptop-like form factor. And that's not all, after two to three years, if you feel like the system isn't able to keep up with the modern games, then you can upgrade to a newer, more powerful CPU and GPU to ensure that you can use the machine for another couple of years. That upgradeability aspect is easily its biggest selling point, though at this point we have to see how much you'll need to spend on these upgrades.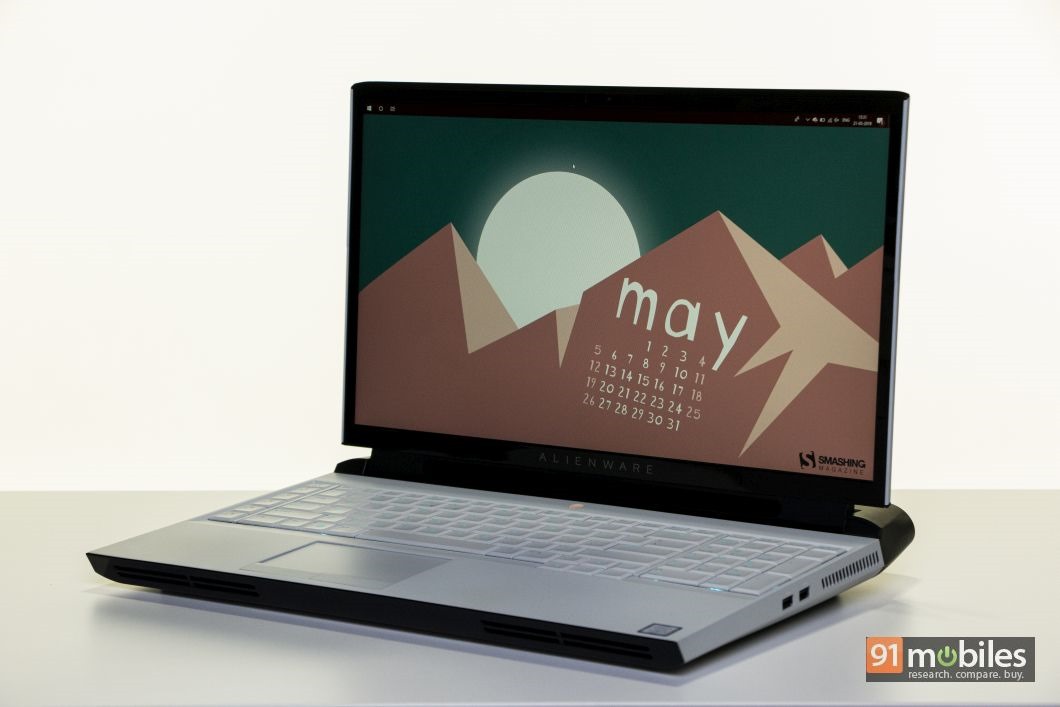 On the flipside, if you are looking for a more portable gaming machine, then perhaps it'd be better for you to opt for one of the new-age slimmer gaming laptops such as Dell's own Alienware m15 (first impressions). Of course, you can't expect the same level of performance as the Area-51m.
To conclude, Dell's Alienware Area-51m is easily one of the boldest and most powerful gaming laptops we've come across, and would serve the needs of even most hard-core gamers without breaking a sweat. And the fact that both the configurations of the laptop are sold out on the brand's official website goes on to suggest that buyers are lapping (pun intended) it up…
Editor's rating: 4 / 5
Pros
Attention-catching design
Gorgeous display
Powerful desktop-class innards
Ability to upgrade CPU and GPU
Cons
The rig's size makes it difficult to carry around
Sub-par battery life and the need to have two charging adapters
Steep pricing
Photos by Raj Rout