The competition in the smartphone segment in India is brutal, and if a brand doesn't change with the times, it's hard for it to be among the top choices. Don't believe me? Take a look at the downfall of BlackBerry or Sony, or even indigenous brands like Micromax. LG however, hopes that it doesn't meet the same fate and has been hard at work for the same. The fact that it recently launched an India-centric range in the form of the W series is a big testament to the fact. But of course, LG also has a presence in the flagship genre, and months after introducing the LG G8s ThinQ at MWC Barcelona, the Korean giant has now brought it to our shores. I've been playing with it for a few days, and here's how I'll sum up my experience.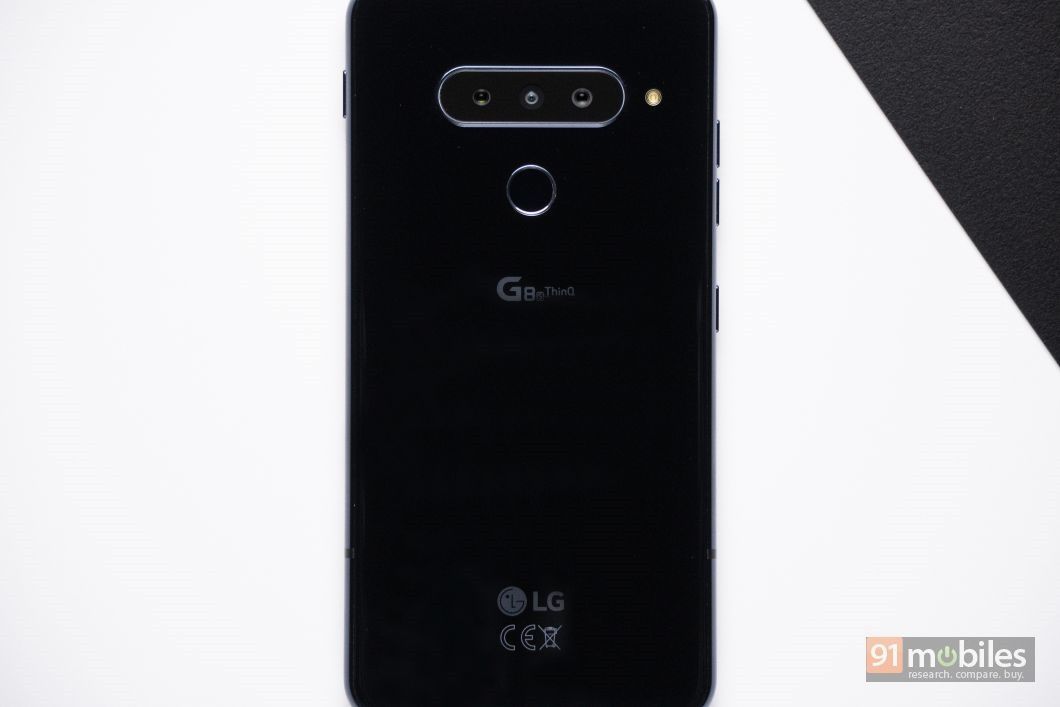 Specs at a glance
Display
Size
6.2 Inch
Resolution
1080 x 2248 pixels
Performance
CPU
Single core, 2.84 GHz + Tri core, 2.42 GHz, Snapdragon 855
RAM
6 GB
Storage
Internal memory
128 GB
External memory
Up to 2 TB
Battery
Capacity
3550 mAH, Li-Polymer, Non removable
Camera
Primary camera
12 MP
Secondary camera
8 MP
Connectivity
Network support
Dual SIM 4G
Other options
Wi-Fi, Bluetooth 5.0, GPS
Others
Battery Capacity
3550
Operating system
Android 9.0 Pie
Design and display
Dimensions
: 155.3 x 76.6 x 7.9 mm
LG doesn't believe in going with the herd, and that's not necessarily a good thing always. At a time when phonemakers are getting rid of notches to enable a full-screen experience, the G8s ThinQ continues with a wide cut-out atop its fascia. Now it does have some tech packed in, as it holds a ToG sensor and an IR illuminator – dubbed Z Camera – for enabling interesting features such as the ability to unlock the device with the wave of your hand and being able to trigger certain actions without even touching the phone.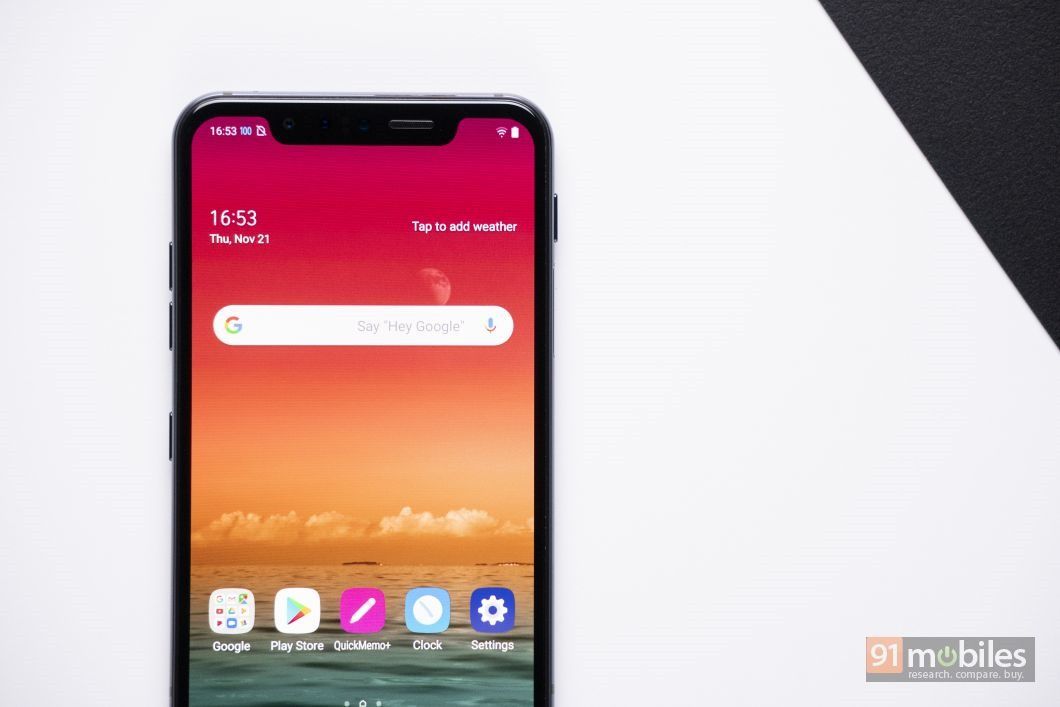 In theory, this seems like an excellent idea. But the fact is that no company has been able to execute it perfectly, including LG. Remember Samsung Galaxy S4's Eye Scroll feature, or most recently Google Pixel 4's Motion Sense? The LG G8s ThinQ also offers a similar capability with a feature christened Air Motion that lets you switch songs, and change volume, among other things. However, it takes quite a few tries to get it right and even then, it always seems easier to just reach for the device to execute a certain action. Hand ID also comes across as a neat idea as it authenticates you by scanning the veins in your hand, though it might be easier for you to just unlock the device with your face or fingers – both of which are plenty fast.
Due to the notch, the 6.2-inch display doesn't seem as immersive as the rivals. And while the cut-out can be ignored, I'd have certainly liked thinner bezels at the bottom which simply sport the LG logo. Apart from that however, the panel is a delight to look at. On the flip side, even though the brand has opted for an AMOLED screen, the display doesn't match up to its rival from its home country, and it's odd for the brand to lower the resolution to full HD+ (unlike its predecessor). But if you don't consider the specs, the visuals are crisp and with brightness levels of up to 1,000 nits, there are no issues in using the device outdoors as well. The phone is also one-hand friendly in terms of use, as you can easily reach the corners or even type without resorting to using the other hand.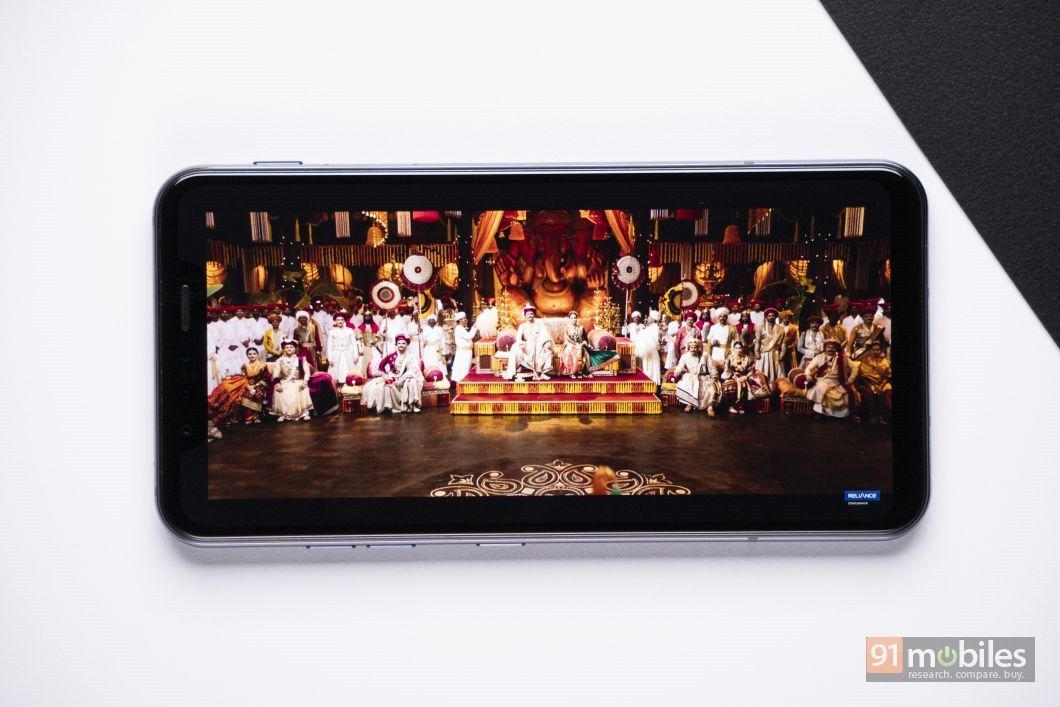 Flip to the rear, and you'll find the triple-camera setup and a fingerprint scanner. The good thing is that the camera module sits flush with the body, and hence doesn't make the device wobble when it's placed on a flat surface. You probably don't need to fret about that, as most often than not, you'd be using LG's G8s ThinQ with the bundled case to keep smudges at bay. Yes, as with any glass-back phone, the back panel on this phone attracts fingerprints rather easily. That said, the 2.5D glass does make the device ergonomic to hold and isn't prone to slippage either. Moreover, the device touts IP68 protection for dust- and water-resistance.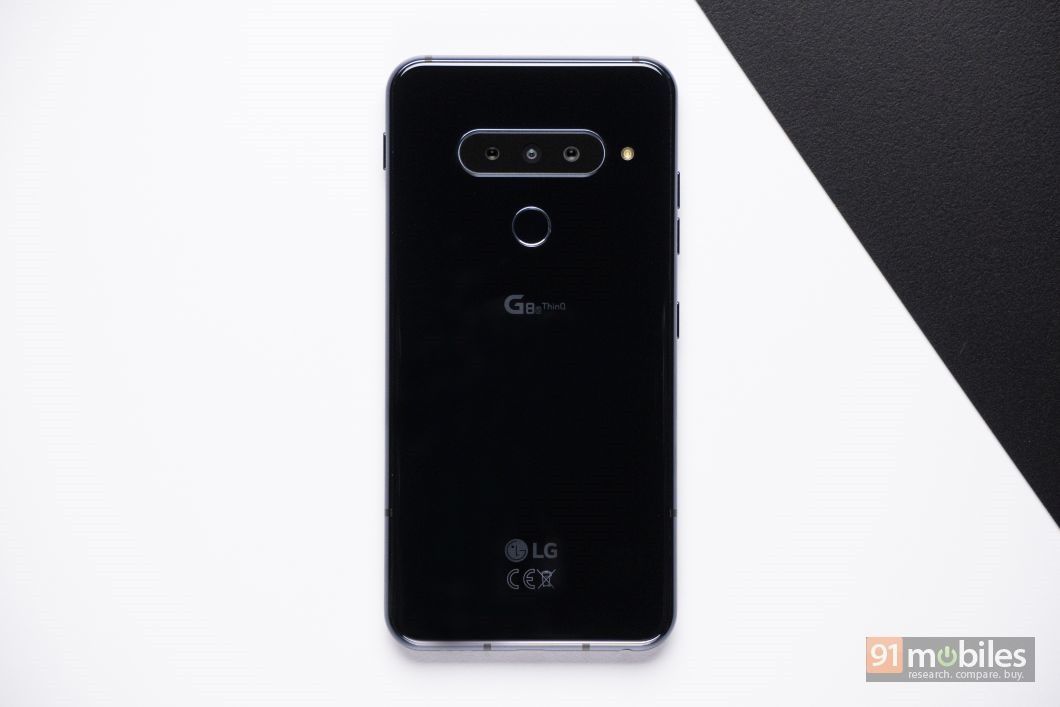 The aluminium frame does give the LG G8s ThinQ a solid feel. It houses the usual ports and buttons, including the 3.5mm headphone interface which is increasingly becoming rare day by day.
Along with the inclusion of the good ol' analogue port, the handset also offers stereo speakers, making it a great option for multimedia aficionados. Then there's support for the 32-bit Hi-Fi DAC, which add a lot more colour (pun intended) to your listening experience when paired with the compatible pair of earphones or headphones.
Cameras
LG's mantra of carving its own path continues in this department as well. The brand is resolute in not going with trends like high-res cameras or quad rear cameras. The G8s ThinQ features a 12-megapixel primary camera with an f/1.8 aperture and PDAF support. It's paired with a 16MP f/2.4 wide-angle camera and a 12MP f/2.6 telephoto shooter for 2x optical zoom. For selfies, the handset sports an 8-megapixel snapper with f/1.9 aperture.
The G8s ThinQ's camera interface follows a minimalistic ethos almost to a fault. You do get the usual options up front, with the shutter button sandwiched between the video recording button and preview gallery. Above it, you'll find modes such as Auto, AI CAM, Manual Camera, Portrait, etc. And then there's the icon for letting you switch between telephoto, wide-angle and normal modes. Beside it, you'll also the option to activate the Google Lens, helping you identify what object or monument (among other things) the camera is pointing at. Up top, you'll find the settings key, real-time filters and stickers, a toggle for the selfie camera as well as flash. You must be wondering if the LG phone misses out on a night mode; it doesn't, but it's hidden away in the More option. Similarly, it's odd that the recording starts as soon as you press the video button, which makes it difficult to frame the scene properly (since the video mode crops the scene).
But all that can be excused if the quality is impressive. And it most definitely is. The shots captured by the LG G8s ThinQ offer plenty of details and reproduce accurate colours too. While you wouldn't find oversaturated output that could be more pleasing to the eyes, the natural colours certainly retain the scene's authenticity. The landscape shots are good with the wide-angle camera letting you get a wider field of view. The use of the secondary shooter means that the quality takes a hit, but the good thing is that LG has been offering such a camera for the longest time, so it has used its learnings to make sure that there's no distortion. The telephoto snapper also works well, though it only gives the ability to get 2x closer. Close-ups and indoor images also turn out well with a faux-bokeh effect adding to the charm when you capture up close. The device does struggle in low light though keeps the noise minimum. And while the Night View mode intends to make the shot better by elongating the shutter speed, it doesn't improve the scenario as drastically as other flagships. The AI Cam however, is a hit-and-miss affair as it's not as powerful as rivals, though it does come in handy in certain situations.
LG G8s ThinQ camera samples
The G8s ThinQ can shoot videos at up to 4k resolution at 60fps, and the footage is quite good. While you do miss the hardware-based stabilisation, EIS works quite well. Selfies however, continue to be a pain point for LG's offerings. At a time, when devices are offering better, higher-res sensors at the fascia, the 8MP snapper simply doesn't cut it. Not that the output is bad, it just doesn't impress. You do get various studio-like effects akin to the iPhone.
Hardware and software
CPU
: Single core, 2.84 GHz + Tri core, 2.42 GHz, Snapdragon 855
Memory
: 128 GB + Up to 2 TB
SIM Slots
: Dual SIM , GSM+GSM
In this department, the LG G8s ThinQ uses the winning formula for flagships of 2019: Qualcomm's Snapdragon 855 chipset. The octa-core SoC is mated with 6 gigs of RAM, and unsurprisingly, the result is that the smartphone flies through anything thrown at it. Gaming is also a non-issue for this hardware combo. PUBG Mobile can be played in high settings and even after more than 30 minutes of gaming, the experience doesn't deteriorate. That said, the device does start heating up, which is more evident at the upper half portion of the back panel.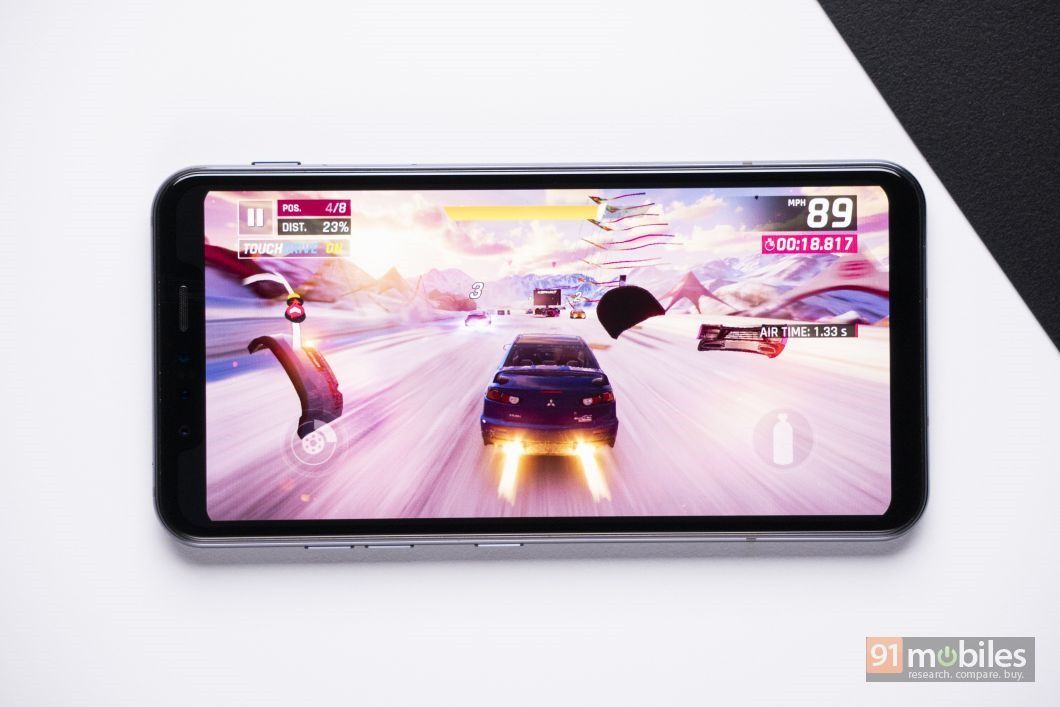 On the storage side of things, the LG G8s ThinQ comes with 128GB memory onboard. After accounting for the operating system and other resources, users will be able to utilise 105GB space. And if that ain't enough, then one can slide in a microSD card of up to 2TB. You would need to compromise on the dual-SIM functionality, however.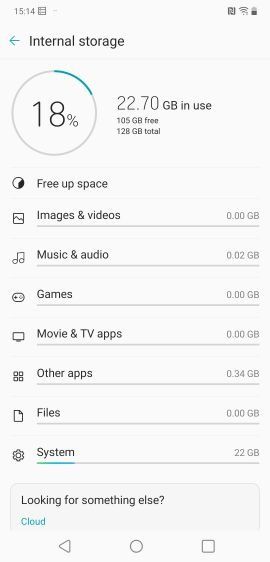 Over the years, LG has taken a step back in dressing up the base layer of Android, and that means that you'll get a refined experience on the G8s ThinQ. The handset boots Android 9.0 Pie, and has just a couple of preloaded apps such as Facebook. While it does have custom icons and features such as a dedicated page on the left of the homescreen, they don't necessarily mar the experience.
LG has also given consideration to the battery backup as it has opted for a 3,550mAh cell for powering the G8s ThinQ. It's higher than the one on the G7 ThinQ and it does manage to ensure that the smartphone can last more than a day even while using battery-draining tasks such as tethering and GPS. While it's not comparable to many other devices in its price bracket that come with 5,000mAh or even 6,000mAh packs, it's quite good as rated by PCMark's test where it achieved a runtime of 13 hours and 46 minutes. Thanks to the fast charging support, the handset can go from 10 to 100 percent levels in an hour and 53 minutes.

Why pay in full when you get EMIs with 0% interest?
Buy LG G8s ThinQ now and pay later in flexible EMIs!
No application fee
No down payment required
No pre-closure fee
Verdict
The LG G8s ThinQ isn't a regular phone. At a time when brands like Samsung and OnePlus are continuing to churn out powerful flagships one after the other, and companies like ASUS and Redmi (and most recently, Realme) trying to break into this segment, the Korean giant's offering is unique in many ways.
That means it's up against some compelling options, with the OnePlus 7T (review) easily being the preferred choice for anyone looking for an all-round offering south of Rs 40k. Then there's ASUS ROG Phone II (review) and nubia Red Magic 3s (first impressions), which will entice gamers. And if you consider more options, you'll find the Realme X2 Pro (review) and ASUS 6Z (review) also being powerful devices, available at more affordable price points.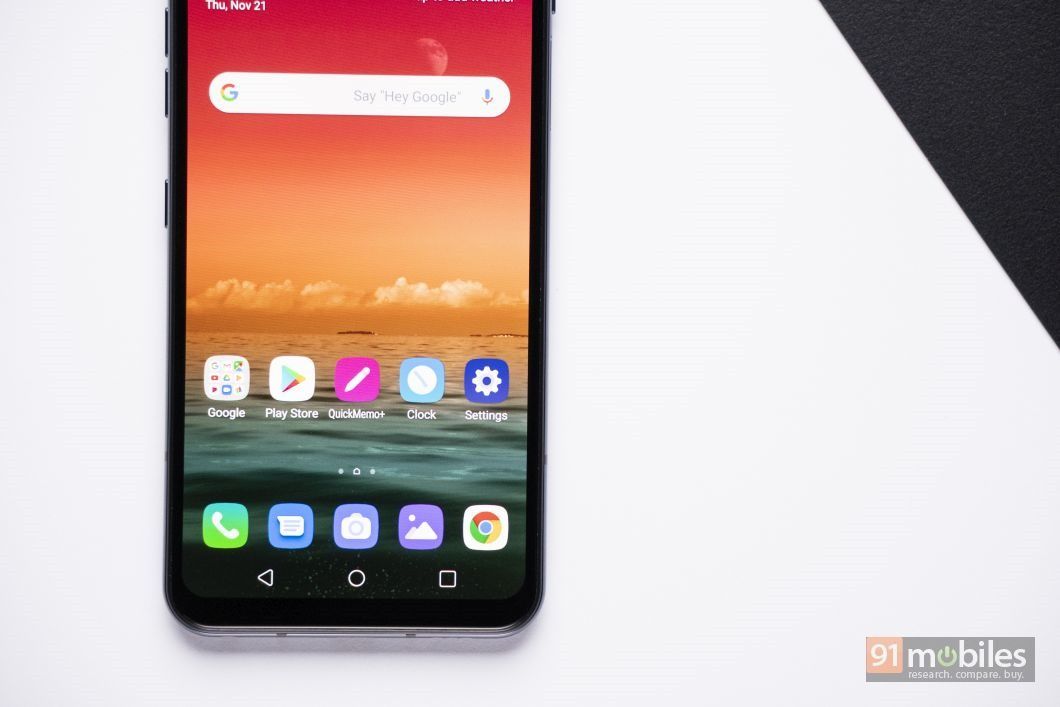 All said and done, LG's G8s ThinQ may not be for everyone, but if you do want to stand out from the crowd, and are an audiophile, then you do need to keep the handset in your shortlist. More importantly, if you find a good deal on it or if there's a price cut, then it would definitely be worth a close look.
Editor's rating: 3.5 / 5
Pros
Great display
3.5mm audio interface and powerful speakers
Reliable performance
A day's worth of battery backup
Cons
The presence of notch
Hand ID and motion gestures are gimmicky
Camera quality doesn't match the competition
Photos by Raj Rout
Competitors for LG G8s ThinQ
| | | |
| --- | --- | --- |
| LG G8s ThinQ | vs | LG G8 ThinQ |
| | | |
| --- | --- | --- |
| LG G8s ThinQ | vs | LG V40 ThinQ |