Review Summary
Expert Rating
OnePlus 8 Pro is the company's most premium OnePlus flagship phone yet. It was launched alongside the vanilla OnePlus 8 in April, both globally and in India. While the affordable model has been available through a few flash sales, the OnePlus 8 Pro will see its first sale on June 15th owing to delays in production. The Pro model gets the best hardware you can find in 2020, with its specifications including the Snapdragon 865 5G chipset, 12GB of RAM, 120Hz refresh rate, QHD+ resolution, 48MP quad cameras, and 30W fast charging support, among others.
In our OnePlus 8 Pro review, we will look into every aspect about the phone, from its display quality and battery life to its gaming and camera performance, to find out whether it is worth its high-end price tag that starts at Rs 54,999.
Verdict
With the OnePlus 8 Pro, the company has finally made a phone that is worthy of the 'Pro' moniker. With goodies like wireless charging support (and a fast one at that) and IP68 rating for water resistance, both features being firsts for the brand, you won't mind spending a premium to buy the best from OnePlus.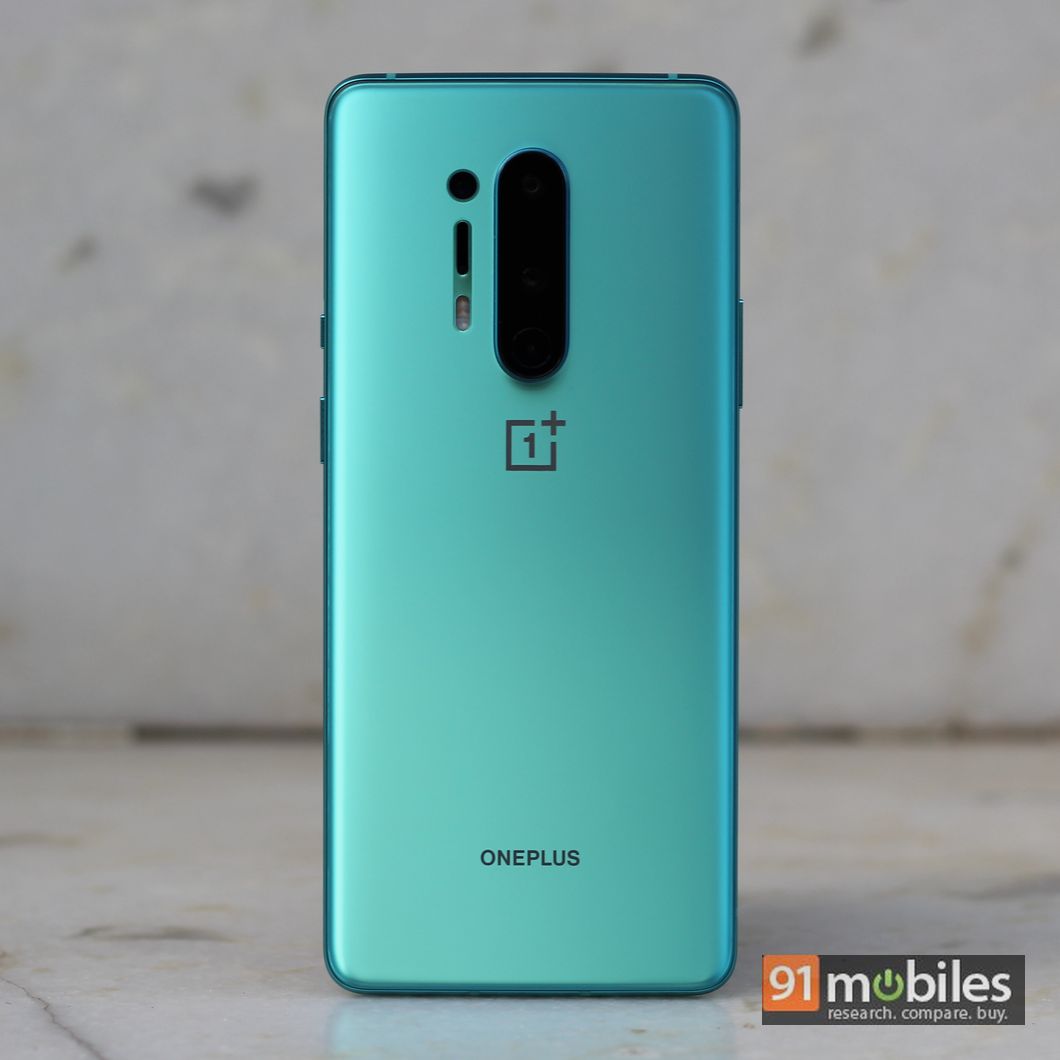 Design
OnePlus flagships are attractive. This holds true for pretty much every phone the company has launched in the past and it holds true for the OnePlus 8 Pro as well. You get a stunning AMOLED display protected by Gorilla Glass 5 on the front and back. We're a little disappointed OnePlus did not go with the latest-gen Gorilla Glass 6 seeing has how it's used on the Galaxy S20 series. OnePlus 8 Pro comes in Onyx Black, Glacial Green and Ultramarine Blue. We received the Glacial Green unit for review and it's a great colour on a phone. It offers an aqua green gradience that can look blue at certain angles under light.
The OnePlus 8 Pro gets a curved display on the front, providing an edge-to-edge look with text and images flowing down the sides. This is mostly an aesthetic choice as utility-wise the curved glass doesn't really have much to offer. It can actually be more of a nuisance as your palm registers ghost touches often. Even Samsung is slowly moving away from curved displays, which should tell you something.

The OnePlus 8 is a large phone, so reaching the top of the screen with one hand won't be easy. The matte finish on the Glacial Green variant is great for not registering fingerprints and smudges, but it also makes the phone quite slippery to hold. Luckily, the box comes with a silicone case for butterfingers out there. The phone weighs 199 grams, so it's not really lightweight. That said, we found the balance of the phone to be really good. The vertical camera setup on the middle of the back protrudes quite a bit. This means the phone will wobble if kept on a flat desk.
The power button button on the right side is easy enough to reach and you get the beloved alert slider that offers a satisfying tactile feel as you slide back and forth to mute or unmute the phone. The OnePlus 8 Pro is equipped with stereo speakers and supports dual nano SIM cards. Unfortunately, the phone does not support storage expansion and it also misses out on a 3.5mm headphone jack.
OnePlus decided to go with a punch-hole cutout instead of a pop-up camera. On one hand, this can be slightly distracting when viewing content, but the advantage with this move is that the phone can finally get an IP68 rating for water resistance, which is something OnePlus fans have been asking for a long time.
Display
There is a lot to love about the OnePlus 8 Pro's display. It's a tall 6.78-inch Fluid AMOLED display with a QHD+ resolution (3,168 x 1,440), 19.8:9 aspect ratio and 513 ppi. On top of that, you get a high 120Hz refresh rate, HDR10+, and a record peak brightness of 1,444 nits. That's a mighty impressive specs sheet for the display and it is easily one of the best you will find on a flagship phone in 2020. No surprises here that the screen gets really bright, offers excellent viewing angles and really deep blacks. Colours on screen look rich and vibrant and everything appears really sharp. And unlike other flagships, the OnePlus 8 Pro lets you set 120Hz at QHD+ resolution.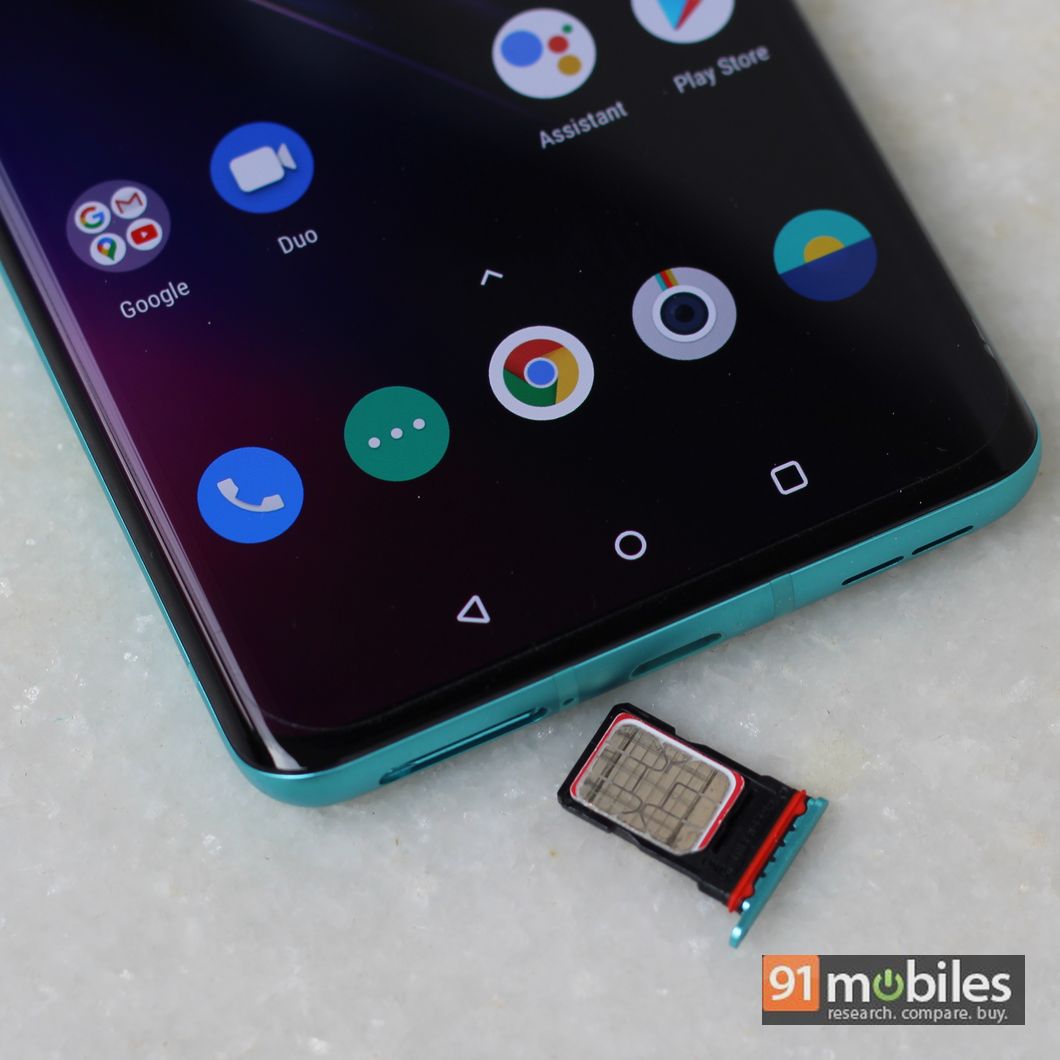 The OnePlus 8 Pro display is great for watching videos. We streamed 'Interstellar' on Amazon Prime Video and the experience was simply fantastic. Space scenes looked stunning with deep blacks, crisp imagery, and we found the colour accuracy and contrast to be really good as well. The video experience was made even better thanks to the Dolby Atmos-enhanced stereo speakers that delivered Hans Zimmer's pulsating soundtrack clearly and loudly.
Cameras
OnePlus has typically struggled in the camera department compared to its rivals, but things are different this time around. The OnePlus 8 Pro's cameras are really good. The quad camera setup on the back includes a 48MP Sony IMX689 primary sensor, a 48MP Sony IMX586 wide-angle lens with 120-degree field-of-view, an 8MP telephoto lens with 3x lossless zoom support, and a 5MP colour filter lens. The camera app is crowded with different modes and options, but it is easy enough to work with once you know your way around.
The main 48MP camera takes some excellent daylight photos that look sharp, bright and colourful. Photos offer good dynamic range and colour accuracy is also on point. Thanks to OIS, we never captured any blurry shots. Simply put, you'll be happy with daylight photography with the OnePlus 8 Pro. The high-res wide-angle lens also captures detailed wide-angle photos, but we noticed a definite change in colour tone to a cooler temperature compared to images from the main camera.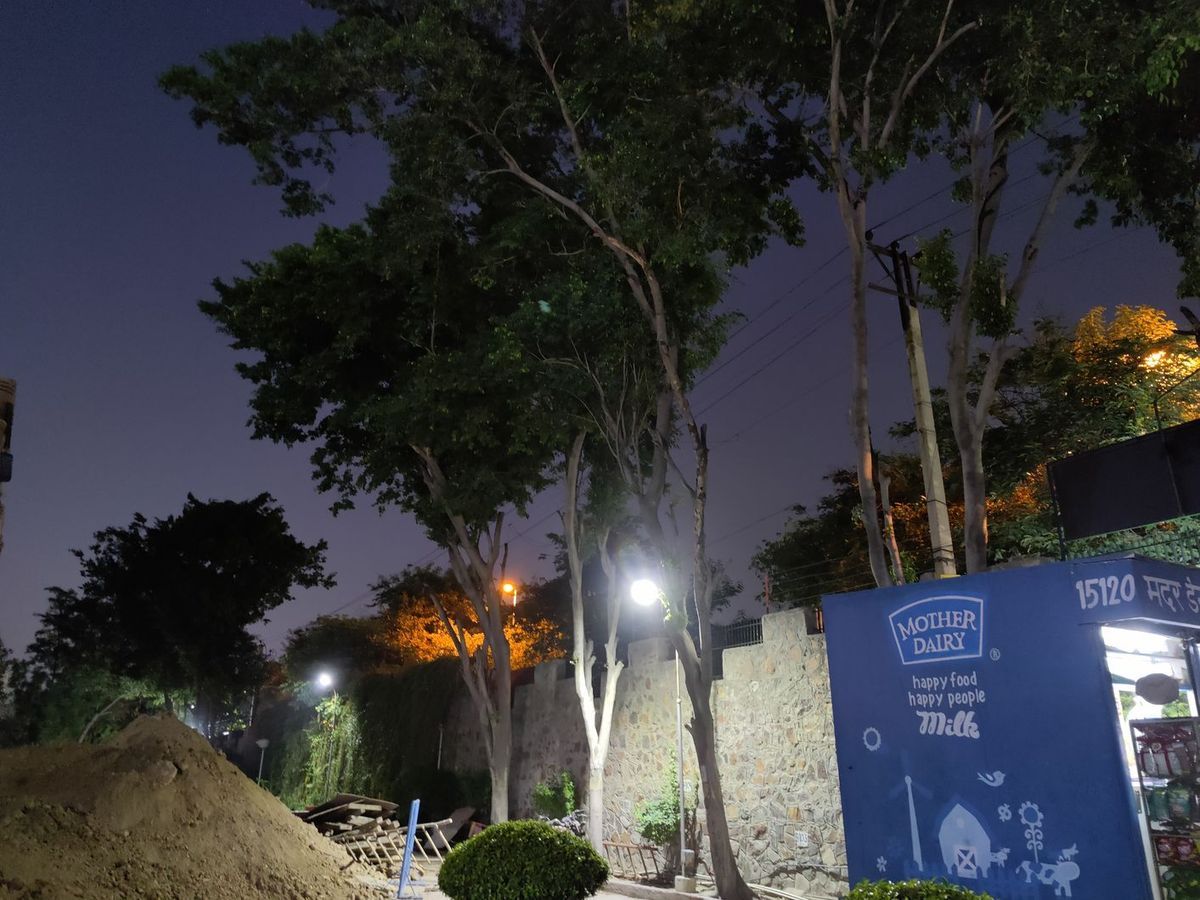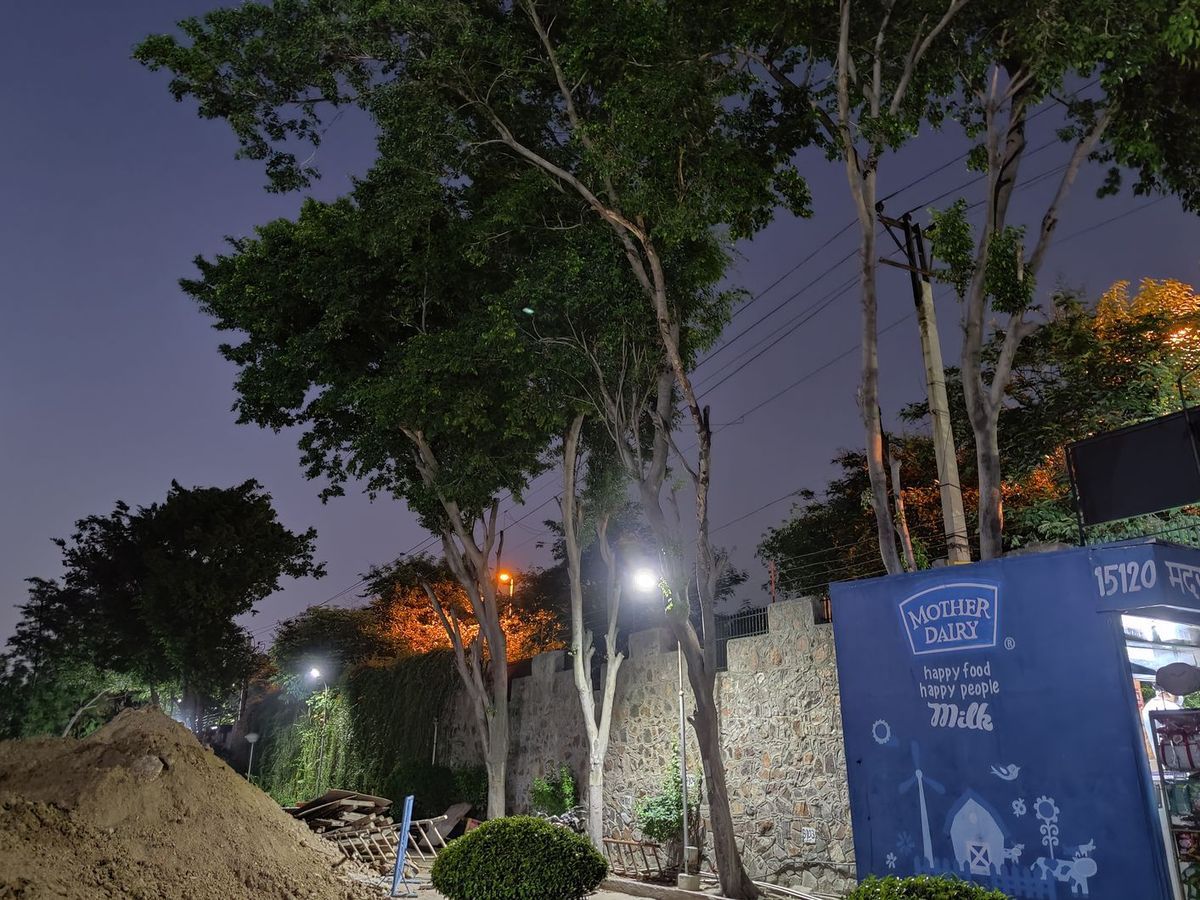 OnePlus 8 Pro main camera also performs well in low-light conditions, but it's not the best we've seen on a flagship phone. The dedicated Nightscape mode does a fair job at reducing noise levels and improving contrast and detail. In the shot above, you can see the detailing in the wall and the colour of the trees better with Nightscape mode. However, Nightscape only slows the shutter by a couple of seconds, whereas phones like the iPhone 11 can slow down the shutter for much longer, offering even better results in low light. The primary camera does well enough when shooting indoors, but we noticed some softness and lack in detailing.

By default, the 48MP primary camera shoots 12MP images and uses pixel binning to make the images look brighter and sharper. You can easily shoot to the raw 48MP mode, which will get you more detailing if you plan to zoom in on photos or blow them up as a poster. While the 48MP mode does support HDR, the images won't look as vibrant compared the default binned images.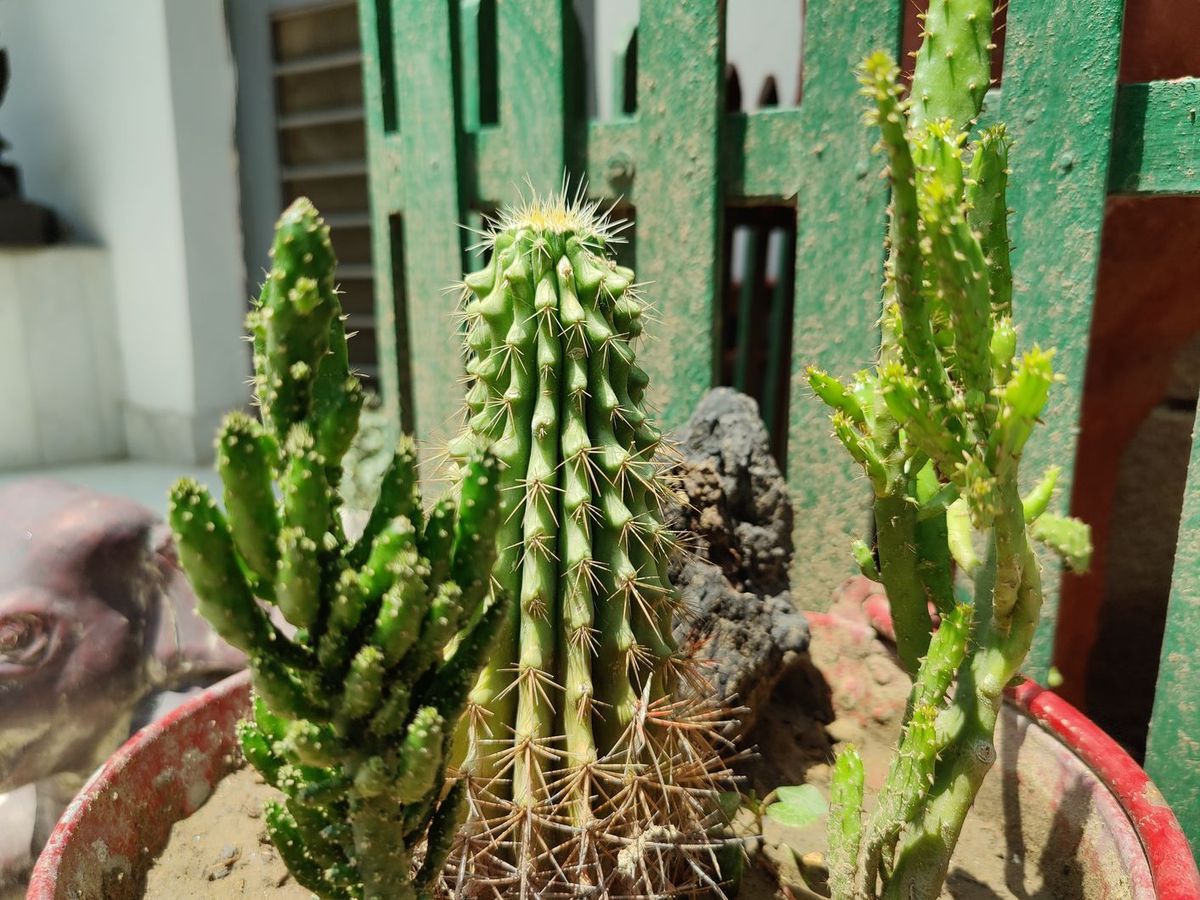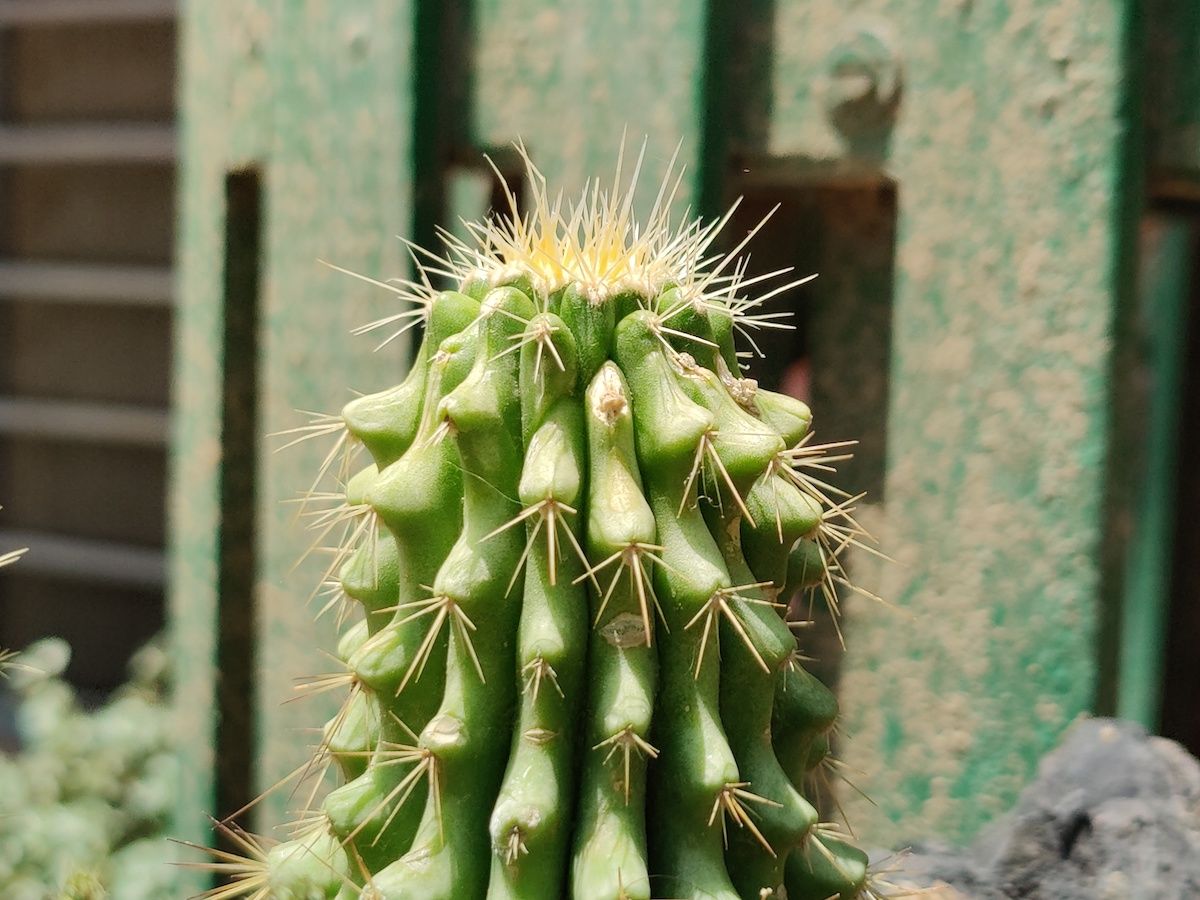 The 8MP telephoto lens can capture 3x hybrid-optical lossless zoom photos, which is not to be confused with true optical zoom. This means that 3x zoomed shots will include some amount of software processing. Images taken in 3x zoom look pretty good outdoors with a natural background blur of close-up subjects, although we did notice some over-sharpening as you can see in the cactus shot above. Anything beyond 3x and up to 30x, the quality gradually starts taking a hit.
The camera setup includes a 5MP colour filter, which is only useful if you're looking for some artsy filters to make your photos Instagram-worthy. Now, you may have heard about the 'X-Ray' filter that has been in the news as it could seemingly see through thin black plastic and clothing. The filter will not be available on Indian units out of the box, but OnePlus has reportedly said it will bring it back via a future OTA update once it fixes the privacy issues.
We also liked the 16MP front camera on the OnePlus 8 Pro. We were able to capture some crisp selfies in daylight with natural colours and skin tones and plenty of detail. The phone is also good at video recording at up to 4K resolution, and we were able to record some stable videos with the help of OIS. All in all, you get a fairly impressive set of cameras on the OnePlus 8 Pro that should satisfy the photographer in you.
Performance and software
OnePlus phones have never disappointed in the performance department and neither does the OnePlus 8 Pro. The phone is powered by the Snapdragon 865 chipset that is paired with up to 12GB LPDDR5 RAM and 256GB UFS 3.0 storage. Unfortunately there is no support for storage expansion. As for performance, the OnePlus 8 Pro is nothing short of a beast. The phone flies through whatever task you throw at it. The raw power combined with a fluid 120Hz refresh rate means you won't see any lag whatsoever.
The OnePlus 8 Pro delivers top-notch benchmark scores. In Geekbench 5, the phone scored 889 in single-core and 3199 in multi-core, which comfortably beat the OnePlus 7T Pro and Samsung Galaxy S20 Plus. We also ran the PCMark Work 2.0 performance test where it scored 11573. On GFXBench, the phone delivered 3,733 frames and 3,372 frames at 60 fps in Manhattan and T-Rex.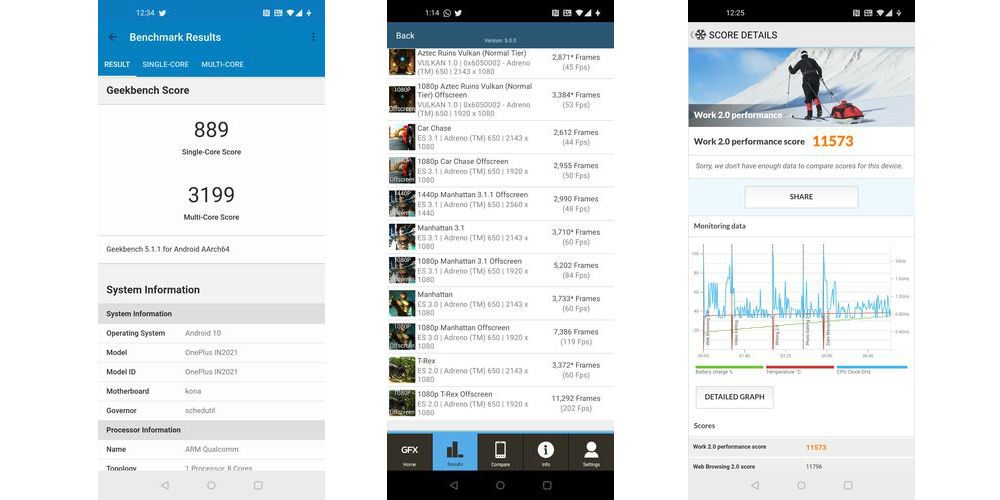 When it came to real-world performance, we had nothing to complain about. Scrolling through social media platforms felt buttery smooth on 120Hz refresh rate. We were also able to switch between apps quickly without any stutters and we were happy to see that the phone doesn't aggressively kill off a lot of apps in the background. Now, the OnePlus 8 Pro does support 5G connectivity, but you won't be able to make use of that in India for the foreseeable future.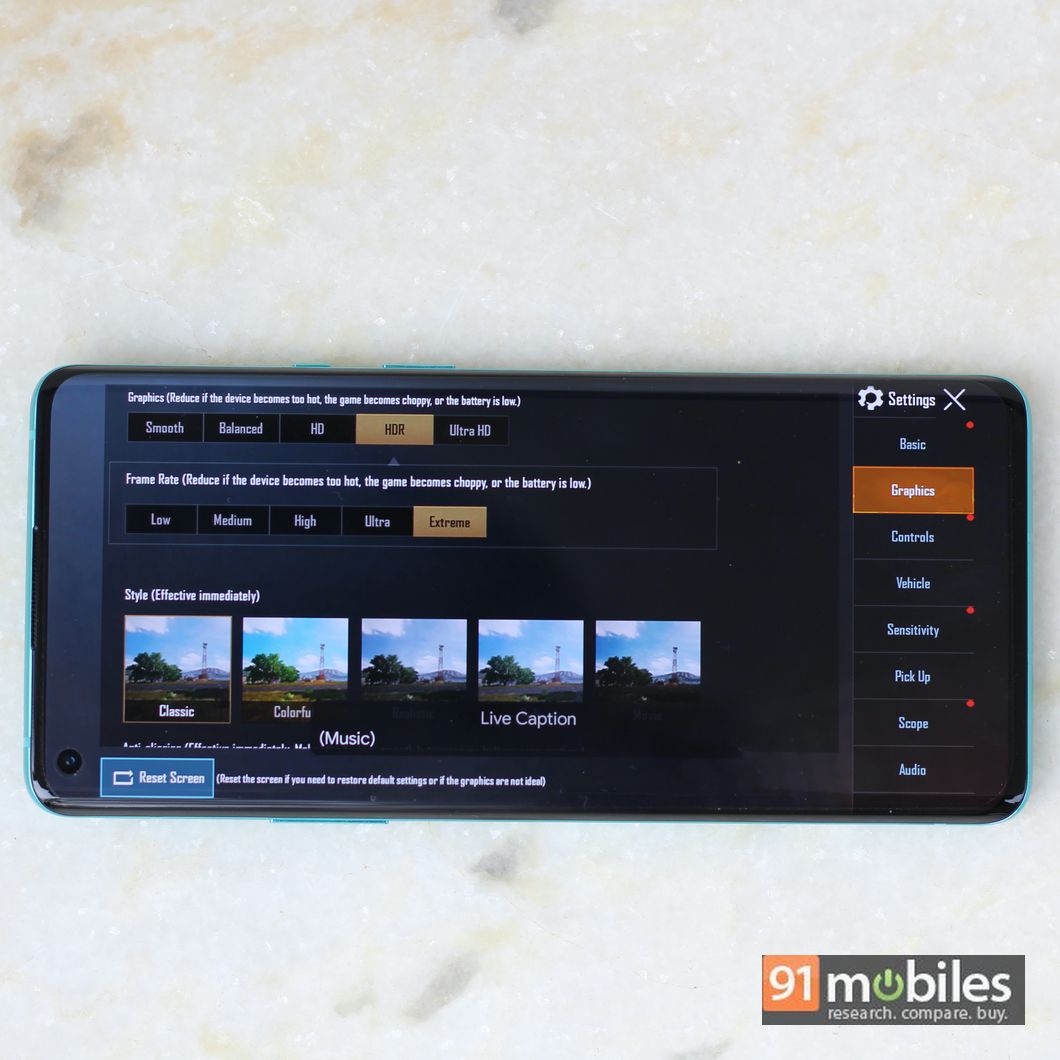 The flagship also delivers an excellent gaming performance. Graphics-intensive games like PUBG, CoD Mobile and Asphalt 9 run on the highest graphics settings. In HDR + Extreme graphics on PUBG, the gameplay experience was absolutely smooth and lag-free. The phone did get warm by a few notches, but you can lower the graphics to fix that. At max graphics settings, a 30-minute session of PUBG drained the battery by around 12-13 percent.
OnePlus 8 Pro runs Android 10 with the latest Oxygen OS. OnePlus' custom skin provides a fairly clean UI, so you won't find any unnecessary third-party apps. It is well optimised so every command feels fast and smooth, especially thanks to a high touch response rate. The company is also very quick and consistent when it comes to delivering software updates. During the review period, the phone received an update that brought a host of improvements and optimisations to the cameras and general UI. OxygenOS is a light skin with some useful customisation options like changing the font, adding quick gestures like 'flip to mute' and 'three-finger screenshot', system-wide dark mode, and the ability to hide the punch-hole cutout by adding a black bar on top. You also get some useful features like reading mode, zen mode, gaming mode, digital wellbeing, among others.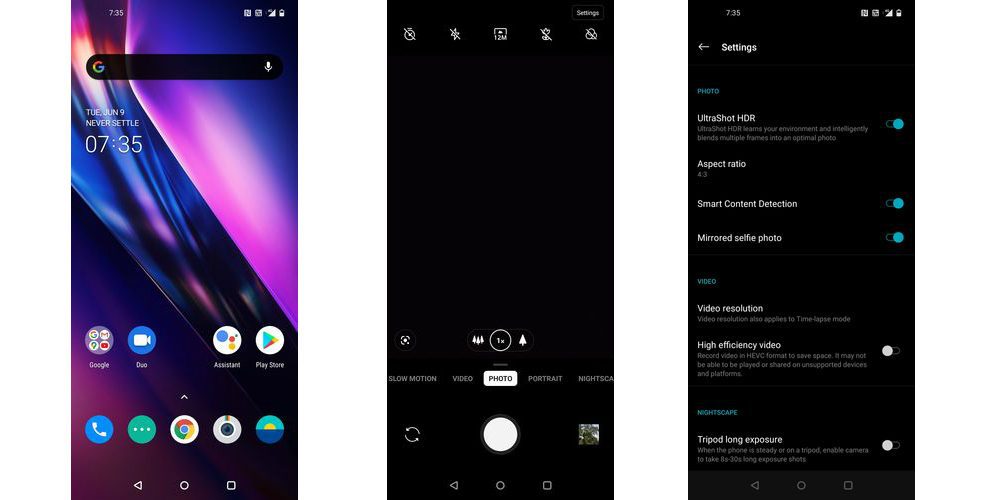 Oxygen OS is a very clean and streamlined software, but it's not without its problems and annoyances. It still misses the Always-On display feature, which is surprising considering the number of OLED phones the OEM has released over the years. But you won't have to wait much longer as OnePlus did confirm that it will bring the feature soon.
The OnePlus 8 Pro gets an in-display fingerprint sensor and face unlock, both of which are fast and mostly accurate. The one issue that we had with the fingerprint sensor is that you need to wake the screen for it to work. It does not respond if it's lying on the table or even if you pick it up, which can make the unlocking process slower than it has to be.
Battery life
The OnePlus 8 Pro comes with a 4,510mAh battery capacity and the battery life has been quite impressive during our review period. On the first day, we intensively used the phone on max display settings (120Hz in QHD+) by watching a few hours of videos on Netflix, an hour of PUBG, lots of WhatsApp and social media browsing. We got around 6 and 40 minutes of Screen-on-Time and the phone needed to be charged by nighttime. The next day, our usage was more natural and the phone lasted a little over a full day with roughly 5 and 30 minutes of SoT.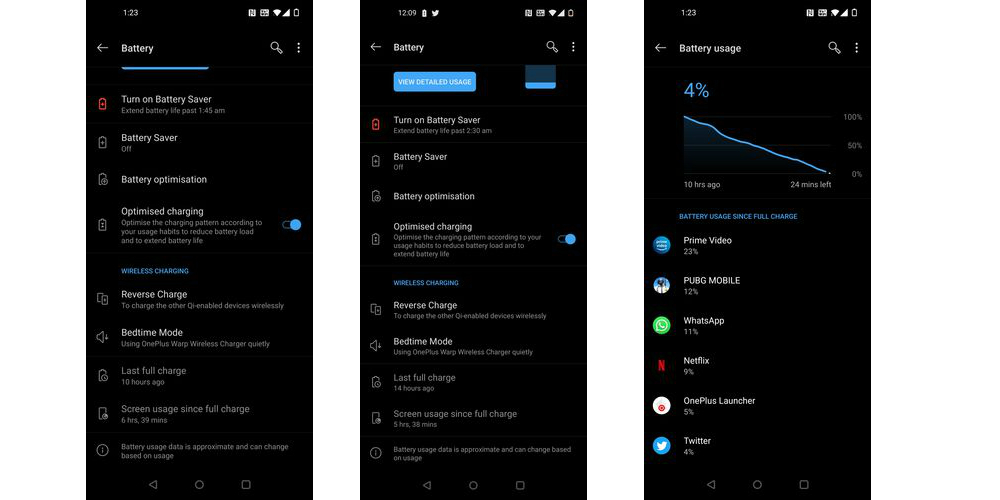 The OnePlus 8 Pro supports Warp Charge 30T fast charging and you get a charger in the box that takes around 62-63 minutes to fully charge the phone from zero to 100 percent. Another talking point is that the phone supports an equally fast wireless charging as well. We did not have the OnePlus wireless charger with us, so we couldn't test this feature out unfortunately.
Final verdict
The OnePlus 8 Pro looks and feels like a 'Pro' smartphone, more so than the OnePlus 7T Pro did. It goes all out as a flagship, giving you one of the best displays you'll find on a 2020 phone, a smooth 120Hz refresh rate, a blazing fast performance with plenty of RAM, a useful set of cameras, and a solid all-long battery life. To top it off, OnePlus has also included IP68 water resistance, wireless charging, and 5G support, so you get your money's worth.
There are a few obvious rivals to the OnePlus 8 Pro such as the Xiaomi Mi 10. We are yet to review the Mi 10, but the smartphone does look compelling as a flagship phone with a 108MP camera. However, the Xiaomi phone lacks a few flagship features that the OnePlus 8 Pro offers such as a 120Hz QHD+ display and IP rating. Additionally, if you're looking for a flagship phone but your budget is constrained, the Realme X50 Pro 5G (review) and iQOO 3 (review) are worth considering since they are also powered by the Snapdragon 865 SoC, although they miss some flagship features too.
There are a few things we feel OnePlus could have offered such as an optical zoom lens, better low-light camera performance and expandable storage. We would have also loved to see always-on display feature out of the box and a smaller camera bump. But these are minor gripes about what is otherwise a complete flagship smartphone.
Editor's rating: 4 / 5
Pros
Stunning 120Hz QHD+ display
Blazing fast performance
Solid all-day battery life
Cons
Lacks true optical zoom
Low-light photography could be better
No expandable storage
Competitors for OnePlus 8 Pro
| | | |
| --- | --- | --- |
| OnePlus 8 Pro | vs | Samsung Galaxy S20 Plus |
| | | |
| --- | --- | --- |
| OnePlus 8 Pro | vs | Apple iPhone 11 Pro |