"This Philips Smart Wi-Fi LED bulb doesn't require a separate a bridge or hub"
Philips was among the first brands to come up with smart bulbs in the form of its Hue smart lighting range. However, these require users to purchase a separate bridge or hub, which was anything but affordable. All that has now been changed with the Philips Smart Wi-Fi LED bulb, which comes with built-in Wi-Fi connectivity and support for WiZ Connected app that was acquired by Philips' parent company Signify back in April 2019.
That said, should you invest in the Philips Smart Wi-Fi LED bulb over similar products from rival brands such as Xiaomi and Syska? Read on to find out in our review.
Verdict
We find the Philips Smart Wi-Fi LED bulb an impressive value for its asking price. While the bulb ticks almost all the boxes required from a smart bulb, the WiZ app for this product need some polishing.
Installation and setup
The Philips Smart Wi-Fi LED bulb looks just like a regular LED bulb, and that's where the similarities end. The bulb comes with both screw ridges and standard twist-and-turn caps for E27 and B22 holders respectively – we got the former for our review. Thanks to the fact that the Philips Smart Wi-Fi LED bulb doesn't require a separate hub or a bridge, the installation and setup process is fairly simple. The bulb is compatible with WiZ app, which basically acts as a control hub for the Philips Smart bulb. To begin with, fit the Philips Smart Wi-Fi LED bulb into the socket and download the app via Google Play Store or Apple's App Store.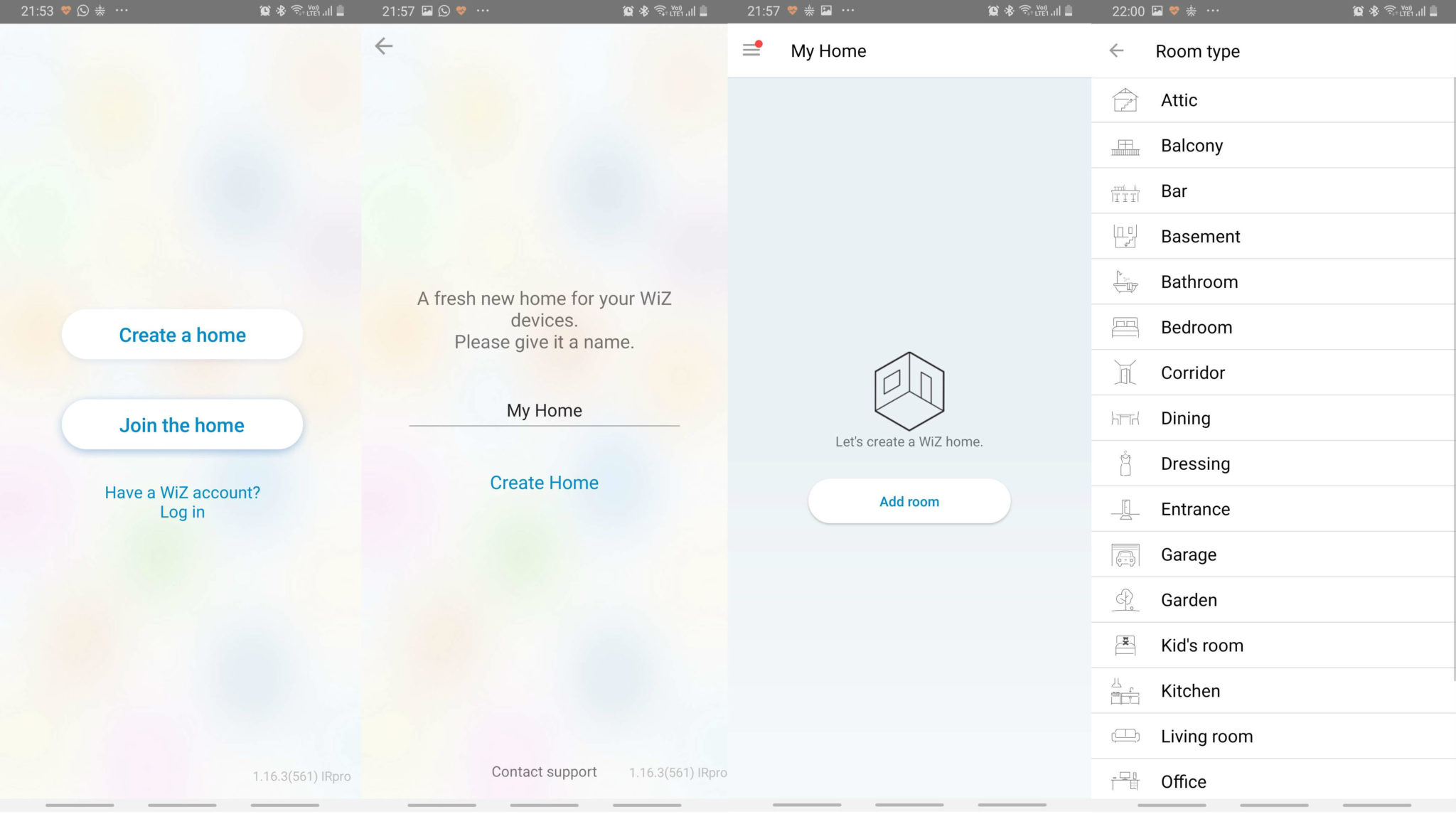 Now, switch on the bulb, launch the WiZ app, and sign in, if you wish to do so, otherwise, select 'Create Home'. The option will allow you to assign a name for your virtual home, 'Add room', and 'Room type'. Once you're done with that, tap on 'Add a device' on the home page and type your Wi-Fi password to connect with the Philips Smart Wi-Fi LED bulb. You can pair the bulb manually or automatically using the 'Smart pairing' option. The phone will use Wi-Fi to search for the bulb, and once discovered, the two devices will sync. The installation and setup process usually takes a couple of minutes.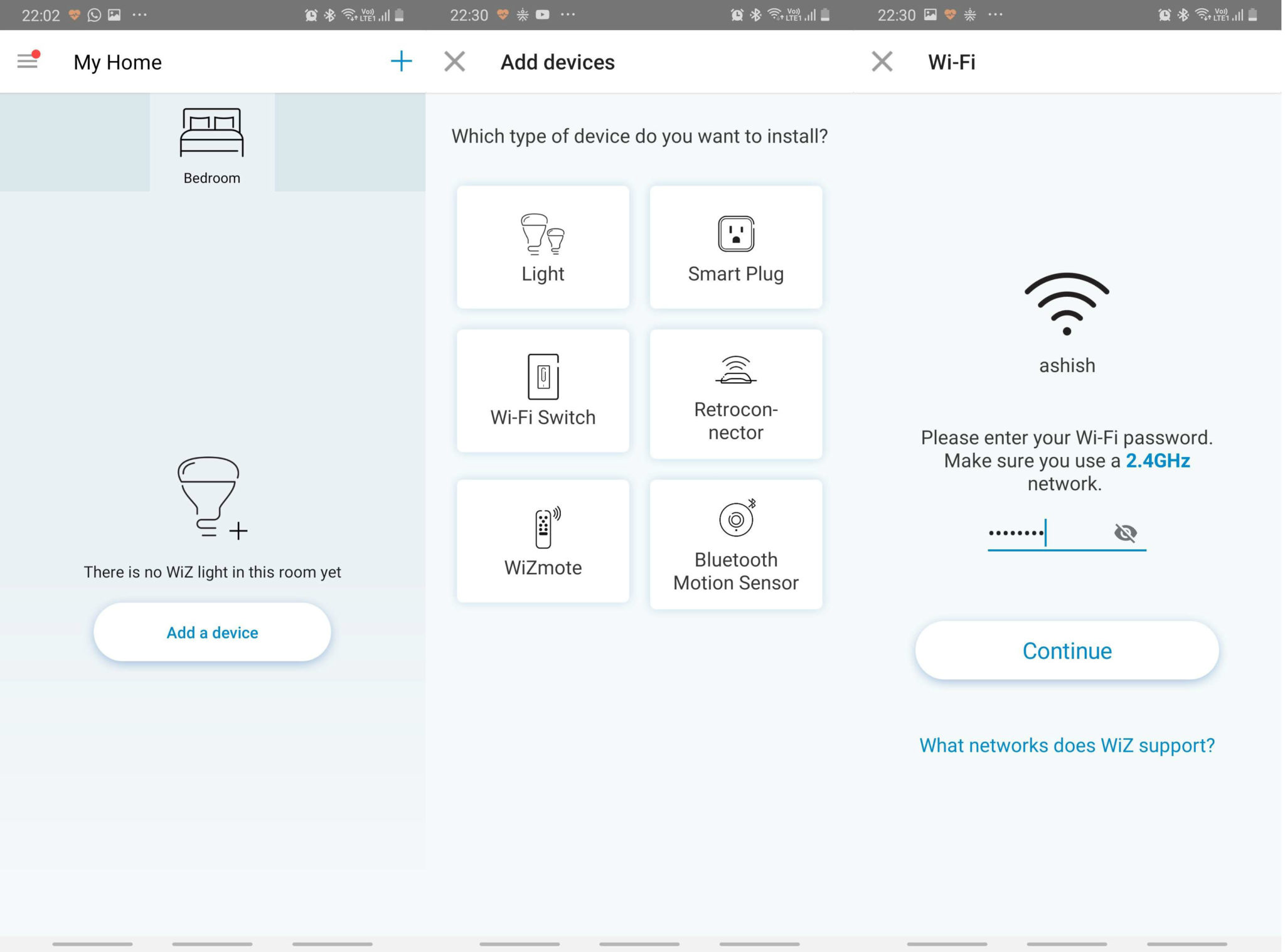 The WiZ app has all the features that you need to interact with the bulb, but to control it via voice commands you will require help from Amazon's Alexa, Google Assistant, and Apple's Siri voice assistants. To link your bulb with an AI assistant, you'll need Google Home or Alexa app installed on your phone. Once that is done, within the WiZ app tap on the 'hamburger' menu at the top right corner of the screen, go to 'Settings', select Google or Alexa in the 'Integration' option, and give 'Access to My Home'. Once that is done, you can control the device using voice commands, create routines, and do a lot more.
Features and experience
The Philips Smart Wi-Fi LED is a 9W multi-coloured bulb that is said to emit 825 lumens of light, which is more than the 10W Mi LED Wi-Fi Smart Bulb, and produce 16 million colours. The Philips bulb offers a colour temperature range of 6,500K and is rated to last up to 10,000 hours or 10 years, assuming usage of meagre 2.5 hours per day on average. The bulb, however, comes with a two-year manufacturing warranty.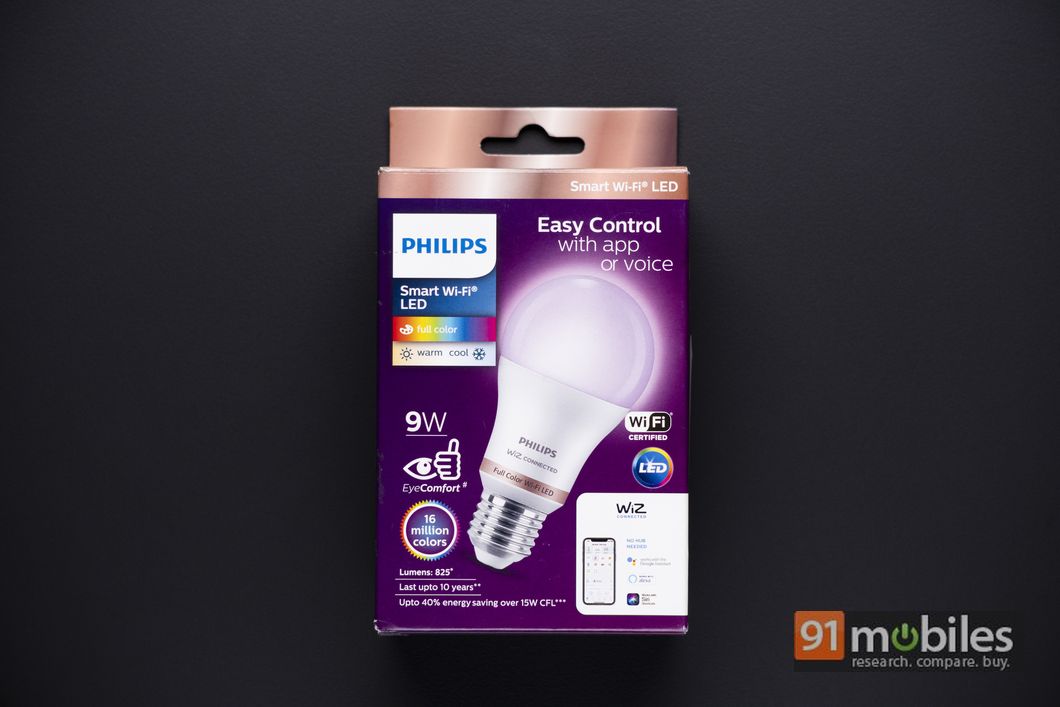 The Philips Smart Wi-Fi LED bulb, when switched on from the mains, has a yellow colour. This can be changed using the WiZ app, which has on/off buttons along with sliders for brightness levels and colours, night mode and light mode options within the home screen. You can slide through the colour slider to switch from 'White' to 'Cold White' or go to the 'Light mode' to choose from its thousands of colour options or use dynamic preset themes or create special customised light settings. There are handsful of preset modes including cosy, relax, focus, fireplace, fall, club, sunset, spring, summer, forest and many more within the mode.
The night mode reduces the brightness of the Philips Smart W-Fi LED bulb to its lowest level. Having said that, there is a dedicated mode for body's natural 'circadian rhythm' mode that switches the light between cool and warm temperatures suiting different parts of the day, aiding for a natural and cosy experience.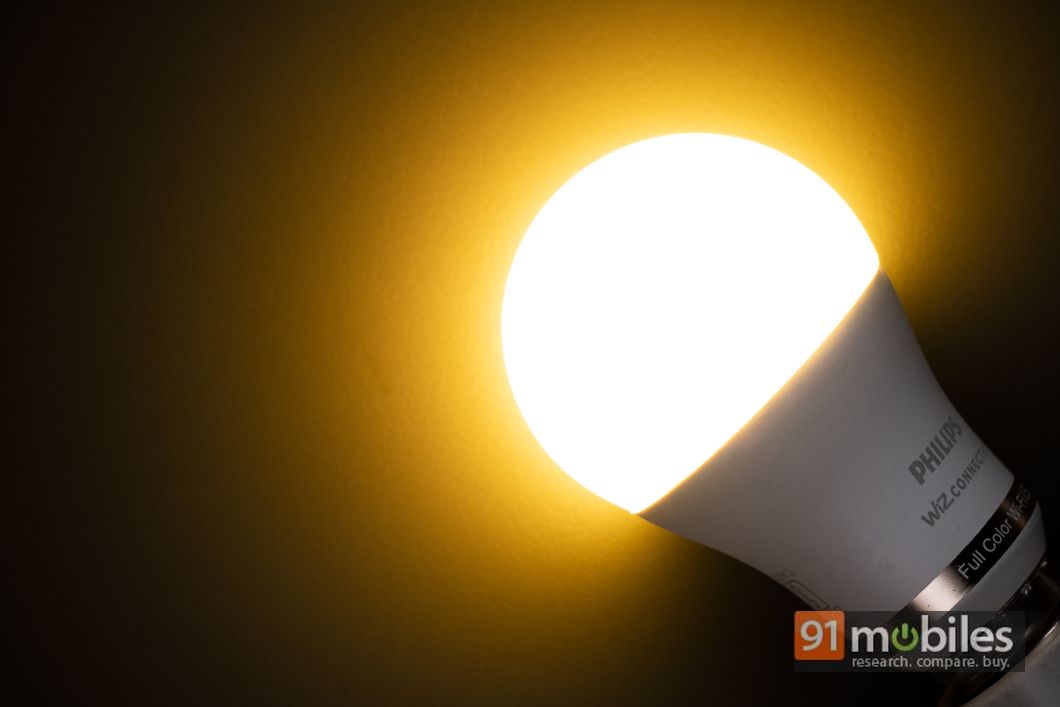 Additionally, the Philips Smart Wi-Fi LED bulb can be automated, using its timer and scheduling functions like switch on automatically as you reach home. The app also lets users view the bulb's energy consumption, promises privacy protection, multi-user support, and ability to remotely control the lights – provided the bulb is connected to Wi-Fi.
All these functions can be reached out through voice commands like "Hey Google, turn the light in my room to blue". Or, "hey Google, set the brightness to 50 percent." As stated above, the bulb supports both Alexa and Google Assistant and works with Siri shortcuts. We can vouch for the Philips Smart Wi-Fi LED bulb's voice commands efficacy as it was both effective and convenient during our review.
Unfortunately, the bulb doesn't support IFTTT, which is an online tool that can help extend functionality, and lets users connect various services and smart home devices with each other.
Final verdict
The Philips Smart Wi-Fi LED should be among your top preferences if you're exploring the idea of setting up a smart home. The smart bulb, though launched at Rs 999, is currently selling at just Rs 899. Unlike the Mi Wi-Fi Smart LED Bulb – which costs Rs 1,299, the Philips Smart Wi-Fi LED comes with both B22 and E27 base options. The 9W bulb has enough brightness to light up your bedroom and offers features such as dynamic light modes and support for AI voice assistants.
The only drawback of the Philips Smart Wi-Fi LED bulb is the WiZ connected app. The app worked well for the most part during our review, but we faced a few hiccups while connecting to the smart bulb using an Android device. While it can be fixed with a software update, we're not sure when. If you don't mind waiting for the company to iron out its software quirks, you should go for the Philips Smart Wi-Fi LED bulb.
Editors rating: 3.5 / 5
Pros
Value for money

Hassle-free installation and setup

Built-in Wi-Fi

AI voice command support
Cons
Lacks IFTTT support

WiZ app could have been better