Review Summary
Expert Rating
4/5
Realme has been steamrolling ahead with smartphone launches this year as the company looks eager to increase its market share in India. Recently, the brand launched the Realme X3 and X3 SuperZoom in the country, which take up the premium mid-range segment in India between Rs 25,000 to Rs 35,000. This is an interesting space as it doesn't see as much competition as the affordable segment, but the few options that are available can offer a tough challenge to the Realme X3 series. Today, we're reviewing the Realme X3 SuperZoom, which is the more accomplished model between the two phones thanks to its 60x zoom lens.
Realme X3 SuperZoom is a more economical flagship smartphone compared to the Realme X50 Pro. Priced starting at Rs 27,999, the Realme X3 SuperZoom touts specifications like the Snapdragon 855+ SoC, 120Hz display, 64MP quad cameras and 30W fast charging support, among other things. But is the Realme X3 SuperZoom worth buying over the stellar Realme X2 Pro?
Verdict
The Realme X3 SuperZoom is a fast and smooth performer with a capable LCD display, an excellent battery life, and fast charging support. While the highlight of the smartphone is its 64MP quad camera setup that includes a 60x zoom lens, it may be the only aspect about the phone that is not as spectacular as the rest of the features.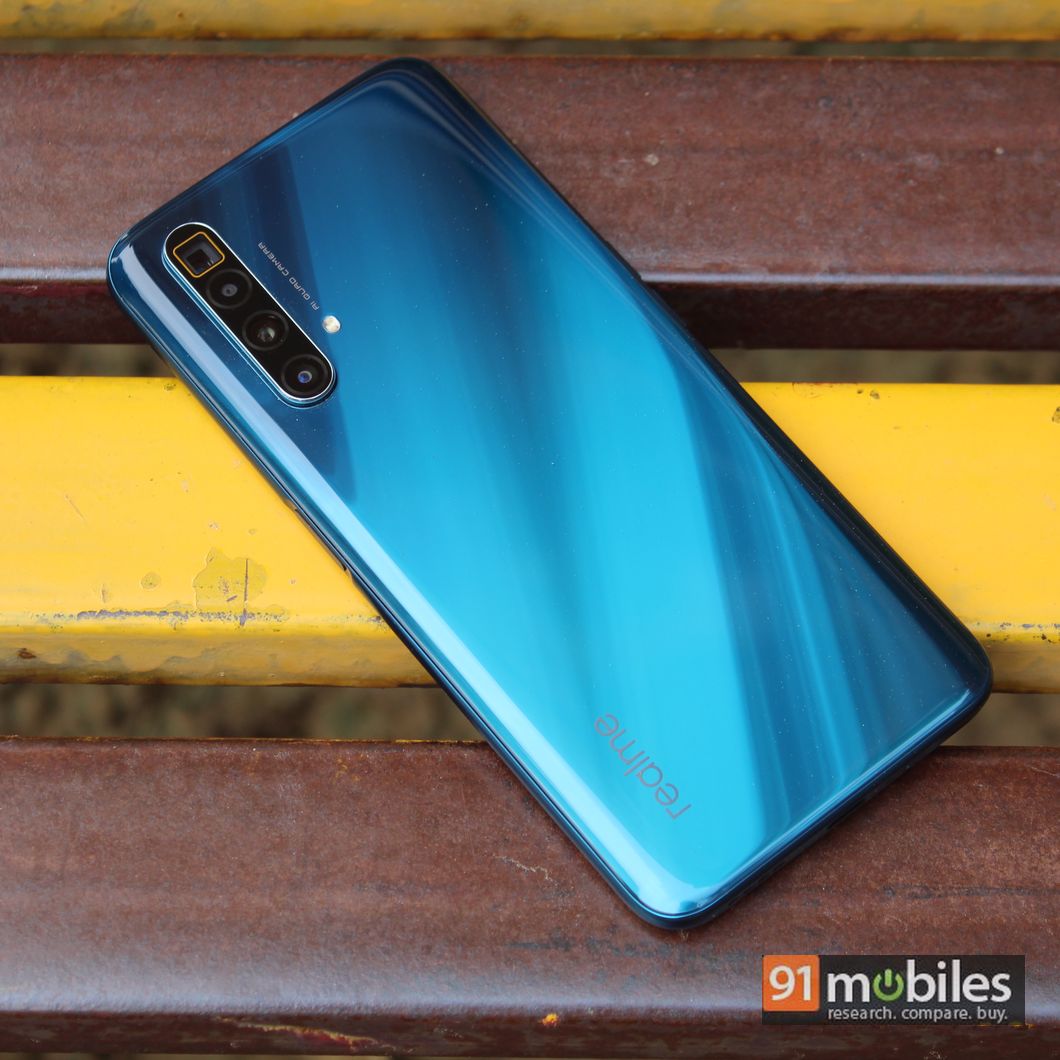 Design and display
Display: 6.6-inch FHD+ LCD
Refresh rate: 120Hz
Glass: Gorilla Glass 5 front and back
SIM tray: 2 nano SIM cards
Connectivity: USB Type-C
Realme X3 SuperZoom looks really attractive thanks to its glass design and colour options. It won't win any points in terms of uniqueness as it looks similar to previous Realme phones like the Realme X50 Pro and Realme 6 Pro. However, the smartphone makes up for that by offering a flagship-grade premium look and feel. The 3D curved Gorilla Glass 5 back offers a good grip in hand and is smooth to the touch. It's a glossy, reflective rear panel that comes in Arctic White and Glacier Blue colours. Our review unit was in Glacier Blue and we loved the gradient hues of dark blue shimmering again the light. The white colour option looks more subtle and elegant based on the pictures we've seen.
The Realme X3 SuperZoom comes with a side-mounted fingerprint sensor, which is perfectly located near the middle so your thumb naturally rests on it to unlock the phone. The new linear motor Tactile Engine gives a great haptic feedback while unlocking the phone. The bottom of the X3 SuperZoom has a Type-C port, a single speaker grille, and a SIM tray that can hold two nano SIM cards. Unfortunately, there is no support for a microSD card.
The handset weighs around 202 grams, so it is on the heavier side. That being said, we found the weight to be quite balanced and using it in one hand never felt difficult. However, the phone is fairly large and will require two hands to perform certain tasks.
The Realme X3 SuperZoom doesn't offer an OLED display, which is a little disappointing to see from a phone under Rs 30,000. However, the 6.6-inch FHD+ (2,400 x 1,080) LCD screen on the phone is excellent. The display has a 20:9 aspect ratio and 90.5 percent screen-to-body ratio. It also supports 120Hz refresh rate and 480 nits peak brightness. We were quite pleased with the display quality, which offers a sharp 1080p resolution and good brightness levels. For an LCD panel, we found the colours vibrant and the blacks pretty deep. We loved watching movies and playing games on this display.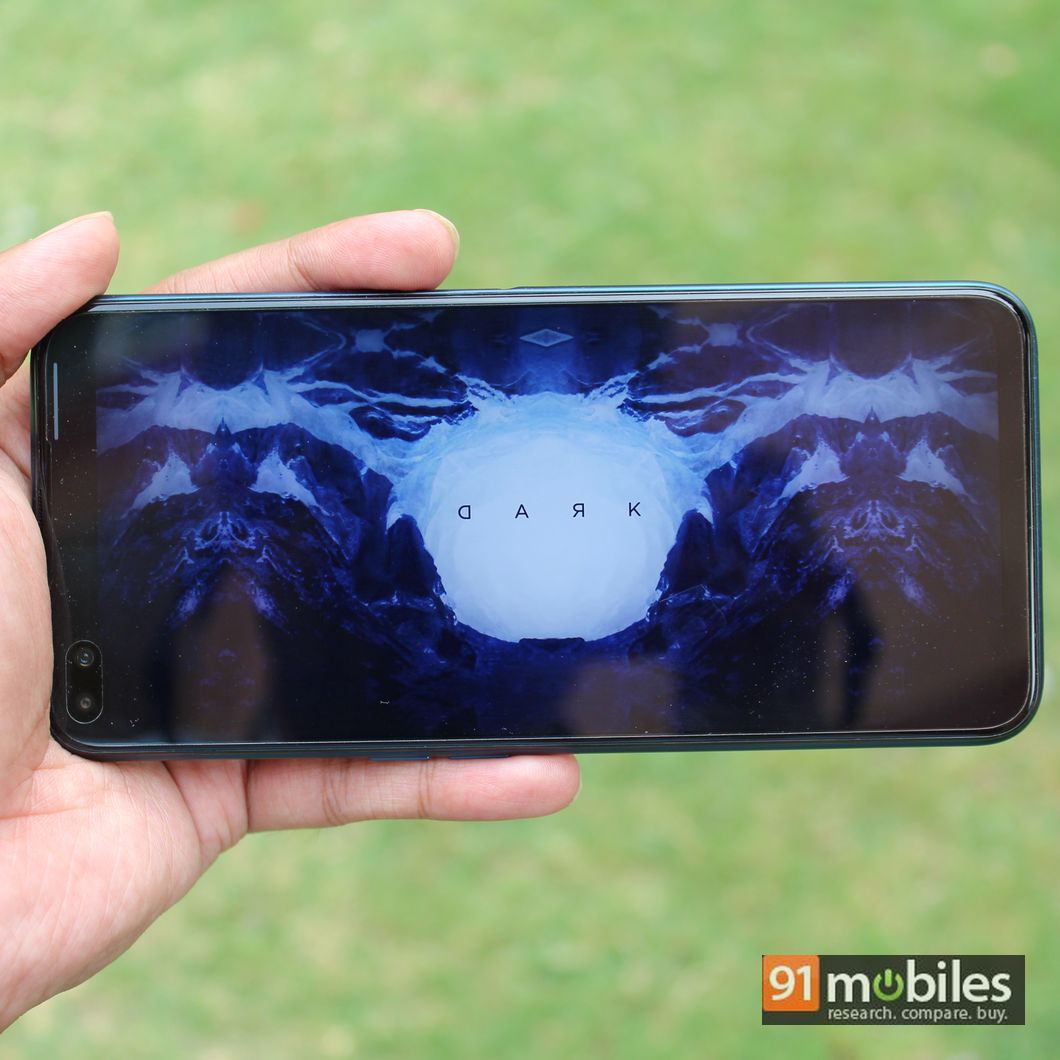 You have the option to choose between Vivid and Gentle Color Mode, the latter offering less saturated colours with a warmer tone. You can also choose to have the refresh rate constantly set to 120Hz, 60Hz or have it automatically switch between the two when required. 120Hz refresh rate on an LCD screen looks almost as good as what you'd see on an OLED display, and it makes for a smooth and fluid scrolling experience on most apps. Overall, we feel that this is one of the best LCD displays you will find in this segment.
Cameras
Rear cameras: 64MP main, 8MP periscope, 8MP wide-angle, 2MP macro
Front camera: 32MP main, 8MP wide-angle
The Realme X3 SuperZoom is being marketed for its quad cameras, particularly the periscope lens that can support up to 60x zoom. While we got some good-looking photos using the main cameras, our experience with the other sensors was not as consistent. The primary 64MP Samsung GW1 sensor captures crisp photos in daylight and HDR worked surprisingly well in tricky backlit scenarios. The AI Dazzle colour option ca sometimes oversaturate colours to the point that it can look unnatural, so you should use it wisely.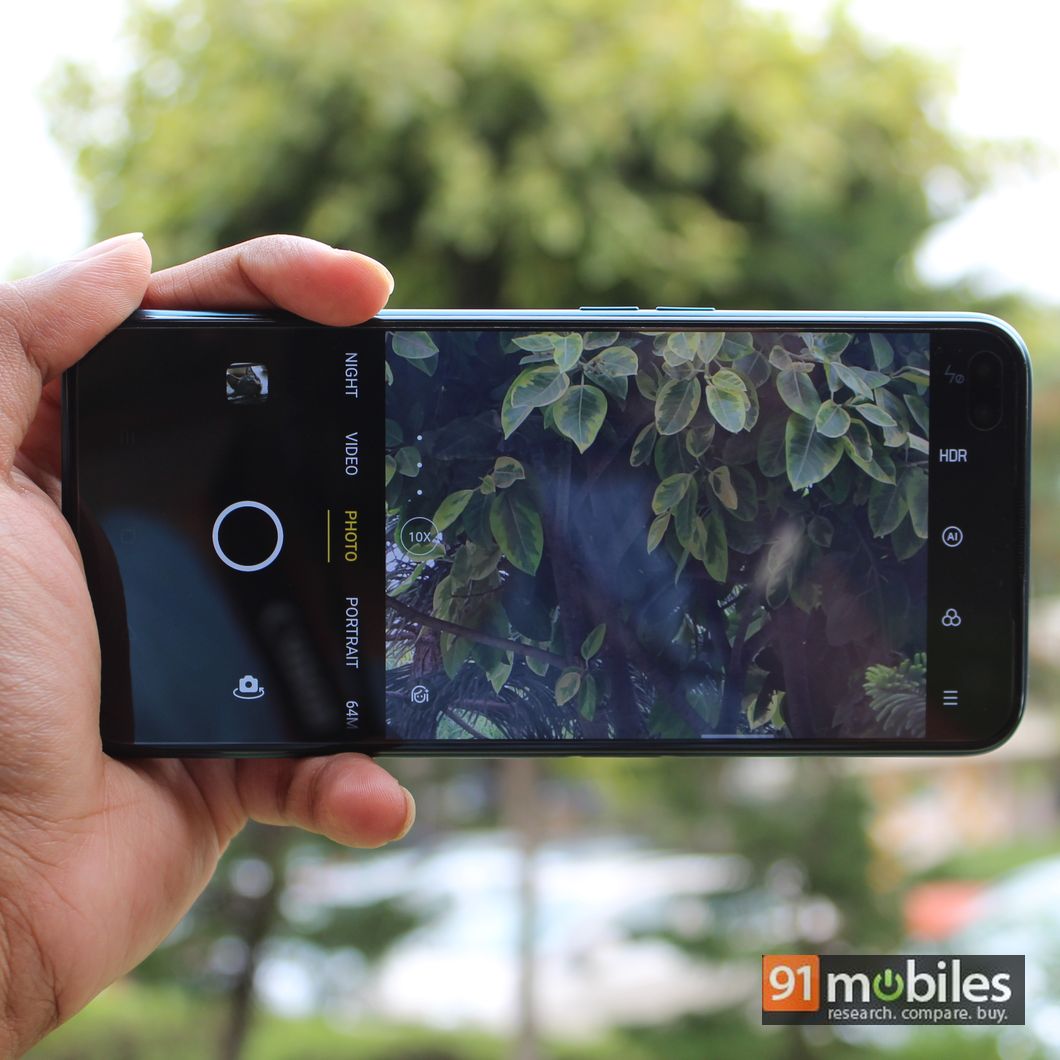 The 8MP ultra-wide angle lens will get you decent wide photos, but they won't look sharp and we also noticed a change in colour temperature compared to a photo captured using the main camera. The macro camera is fun to play with in daylight as you can get some really attractive close up shots of flowers, insects or whatever your creative mind can think of. However, macros lack clarity and will require a lot of patience from your side to get an absolutely still close-up subject.

The Periscope lens is what sets the phone apart from the regular Realme X3 and the Realme X2 Pro. You can shoot up to 60x digital zoom, much like the OPPO Find X2 Pro, but you won't get the same results. As you can see in the comparison shot below, the OPPO flagship captures sharper zoom photos compared to the Realme phone. But the OPPO Find X2 Pro is much more premium and is not even available in India yet. For its price, the Realme X3 SuperZoom does a decent job at zoomed photos, but we found ourselves shooting only up to 5x zoom in most cases as anything beyond that took a toll on clarity and detail. Moreover, shooting at 30x and beyond will require very steady hands to capture a clean shot.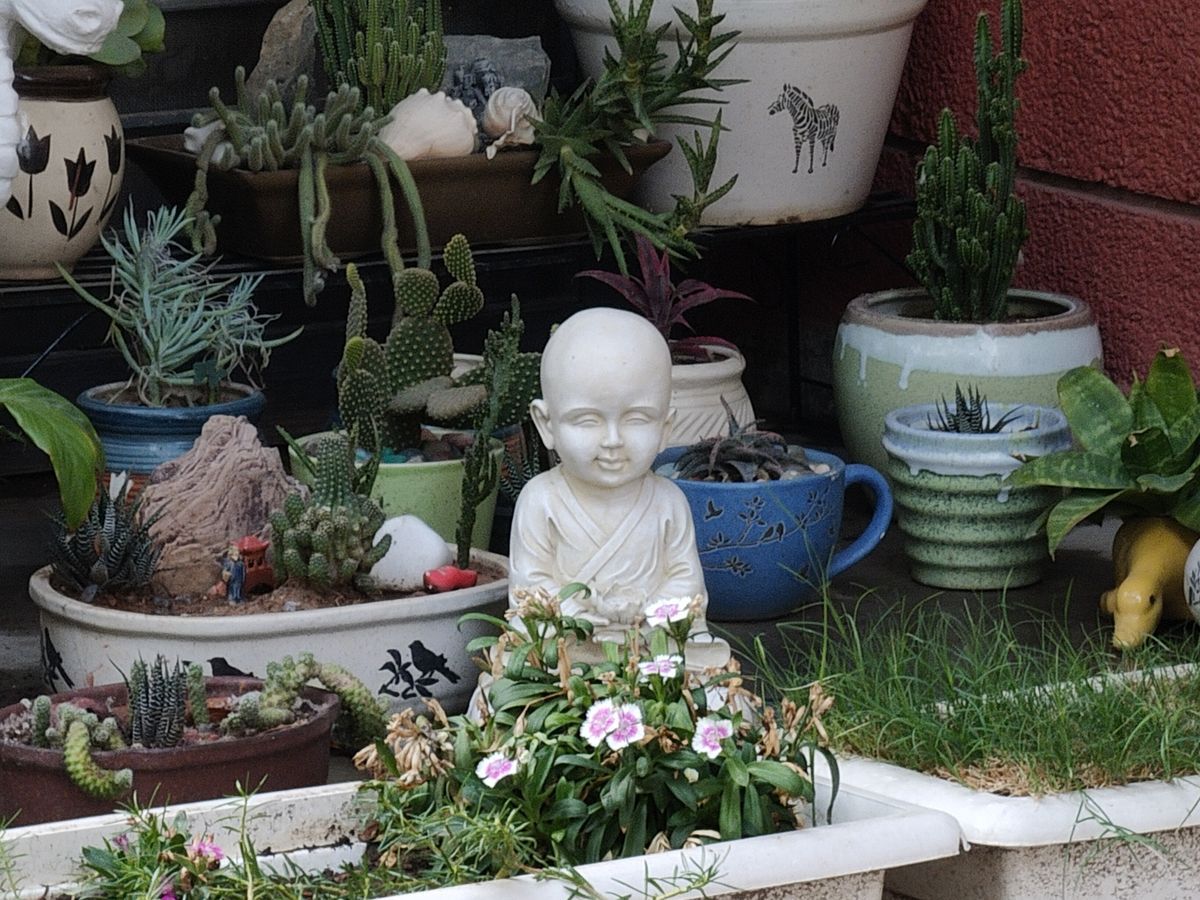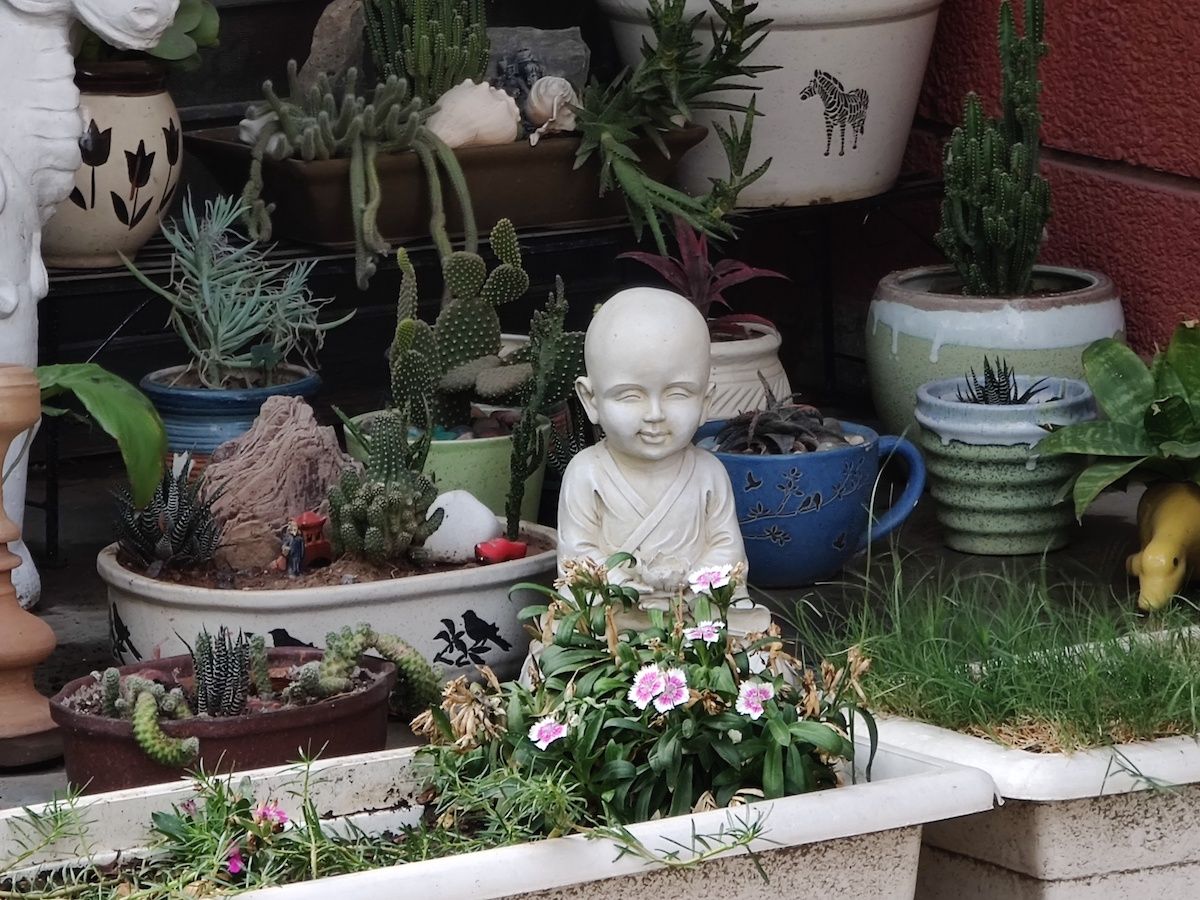 Low-light photography though the primary camera is good only if you use the dedicated night mode. The new Nightscape 4.0 includes a Pro mode and a Starry mode. The former lets you manually adjust the shutter speed, ISO and other settings to your liking, while Starry mode uses multi-frame image processing to give you a clear shot of the night sky. This mode is best used on a tripod or by keeping the phone still against an object as it takes over four minutes to capture an image. You can use Starry mode on both the main camera and wide-angle lens.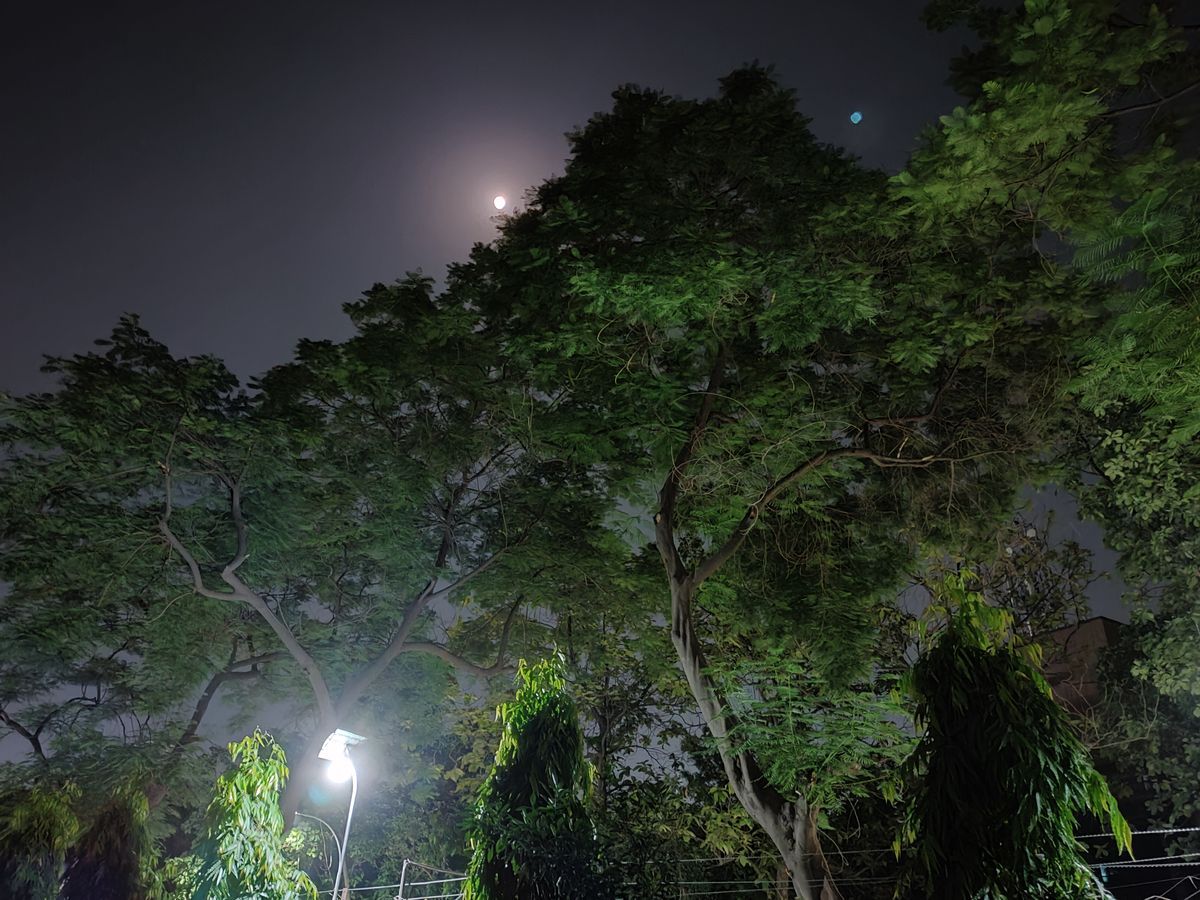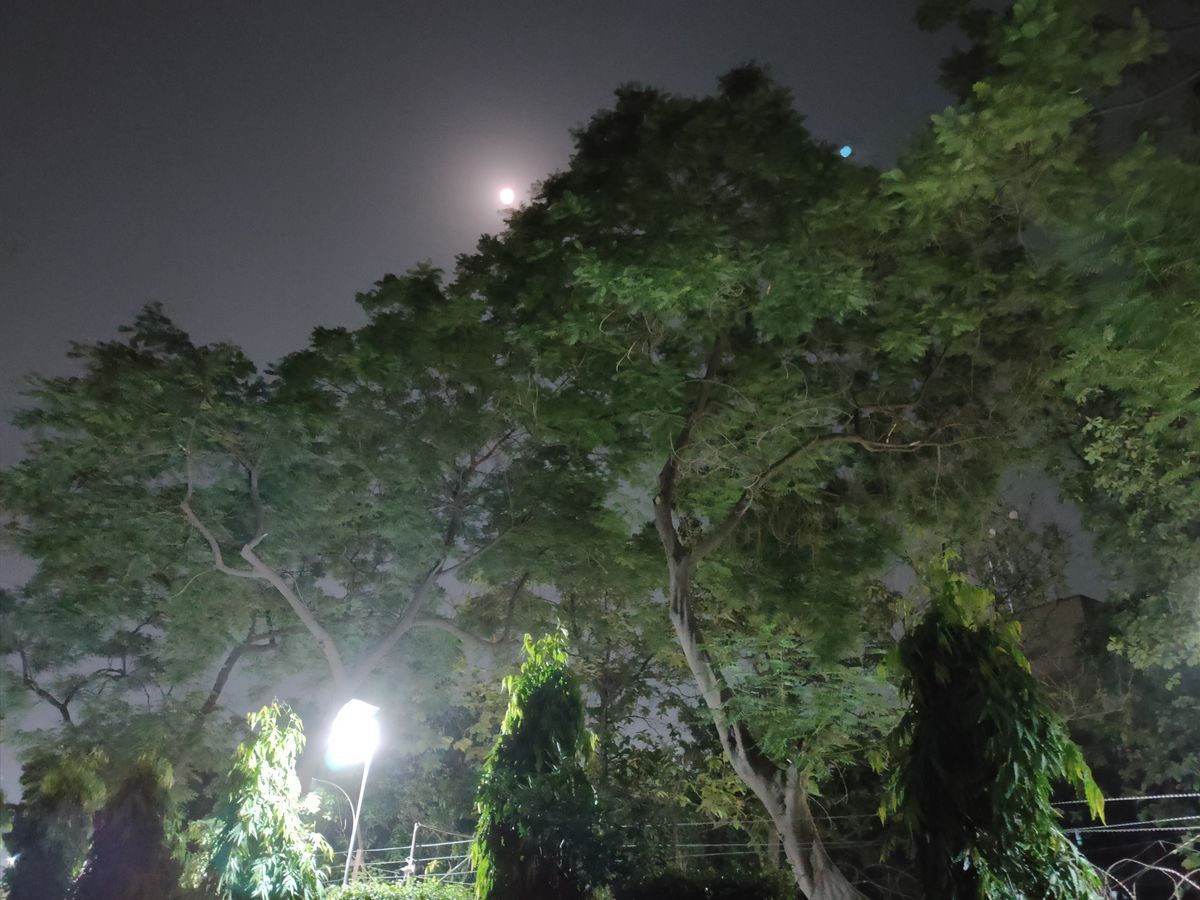 Night mode works best using the primary camera, and you can see an improvement in image clarity with better colours and reduced noise as compared to a photo taken without Night mode. Night mode using the ultra wide-angle lens won't get you the same results and we never really felt like taking night shots with this lens.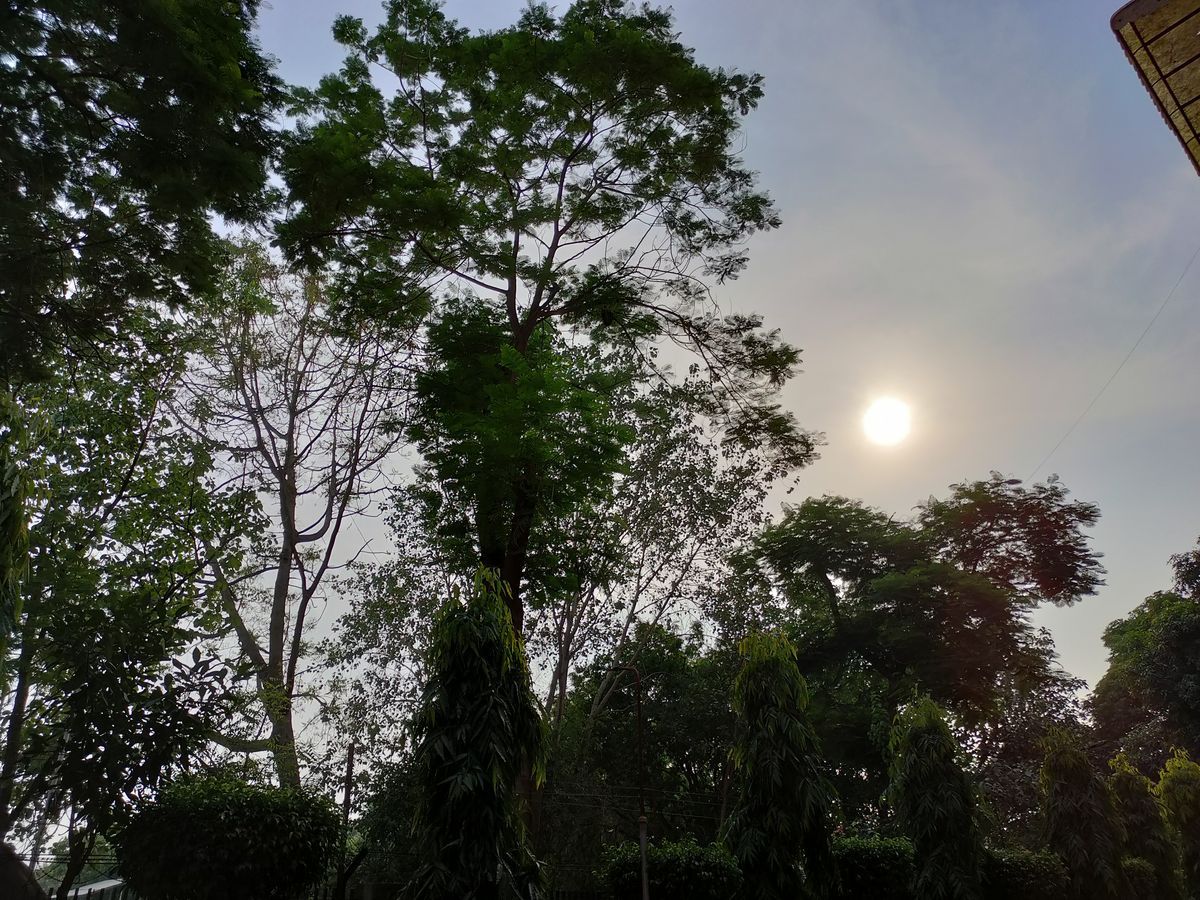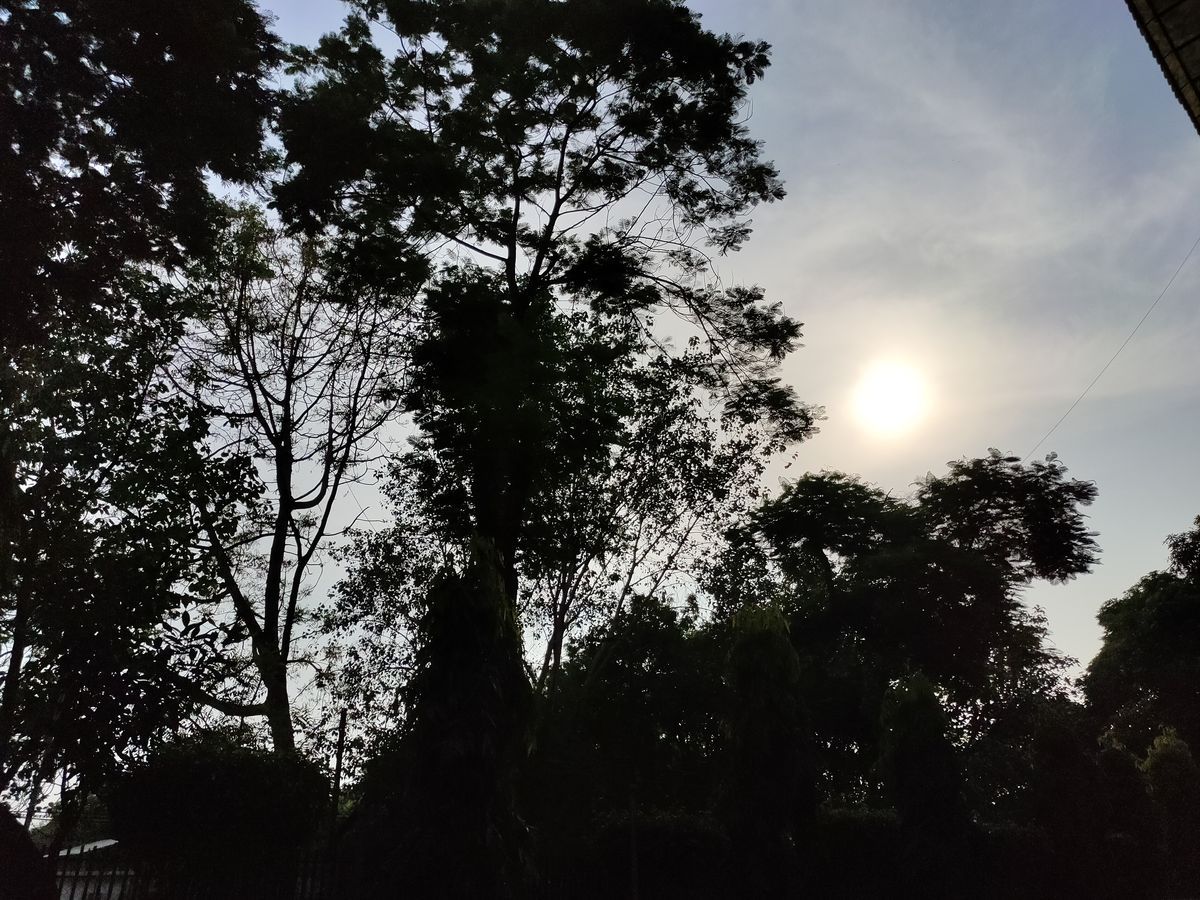 The 32MP main selfie camera captures good details in daylight with accurate colour reproduction. The accompanying 8MP wide-range lens can be used for group selfies, but won't offer you the same level of clarity. These cameras support night mode, so you can take average low-light selfies if needed. The Realme X3 SuperZoom can shoot up to 4K videos and 60fps, which is great to see. We were able to record stable handheld videos during daytime and were generally pleased with the exposure levels and colours.
Software and performance
Chipset: Snapdragon 855+
RAM: 8GB and 12GB
Storage: 128GB and 256GB
Software: Android 10 with Realme UI
The Realme X3 SuperZoom has enough power under the hood to handle pretty much anything you throw at it, from day-to-day tasks like messaging and social media browsing to playing graphically challenging games. The Snapdragon 855+ is a late 2019 flagship chipset that will deliver a performance that will be visually identical to the Snapdragon 865 chipset. The phone opens and closes apps swiftly, handles multitasking smoothly and runs games like PUBG on the highest graphics settings (HDR + Extreme).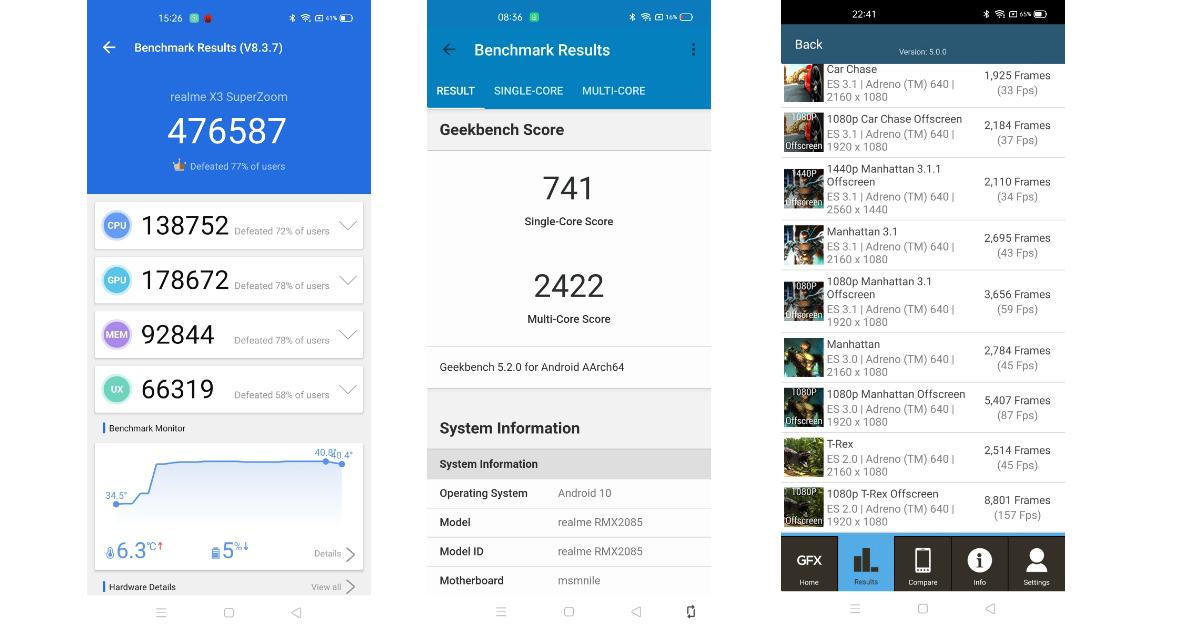 Speaking of gaming performance, we played PUBG at high graphics for about 30 minutes. Gameplay was largely smooth throughout with just one or two stutters while driving a car. Colours looked great on screen and the speaker delivered loud and clear sound as well. Within a few minutes, the phone started getting warmer by roughly 4-5 degrees than normal and by the end of the session the phone was 7 degrees warmer than usual. The Realme X3 SuperZoom will deliver fast and smooth gameplay experience for the current crop of graphics-intensive games, but may not hold up well after a year when more demanding games come out.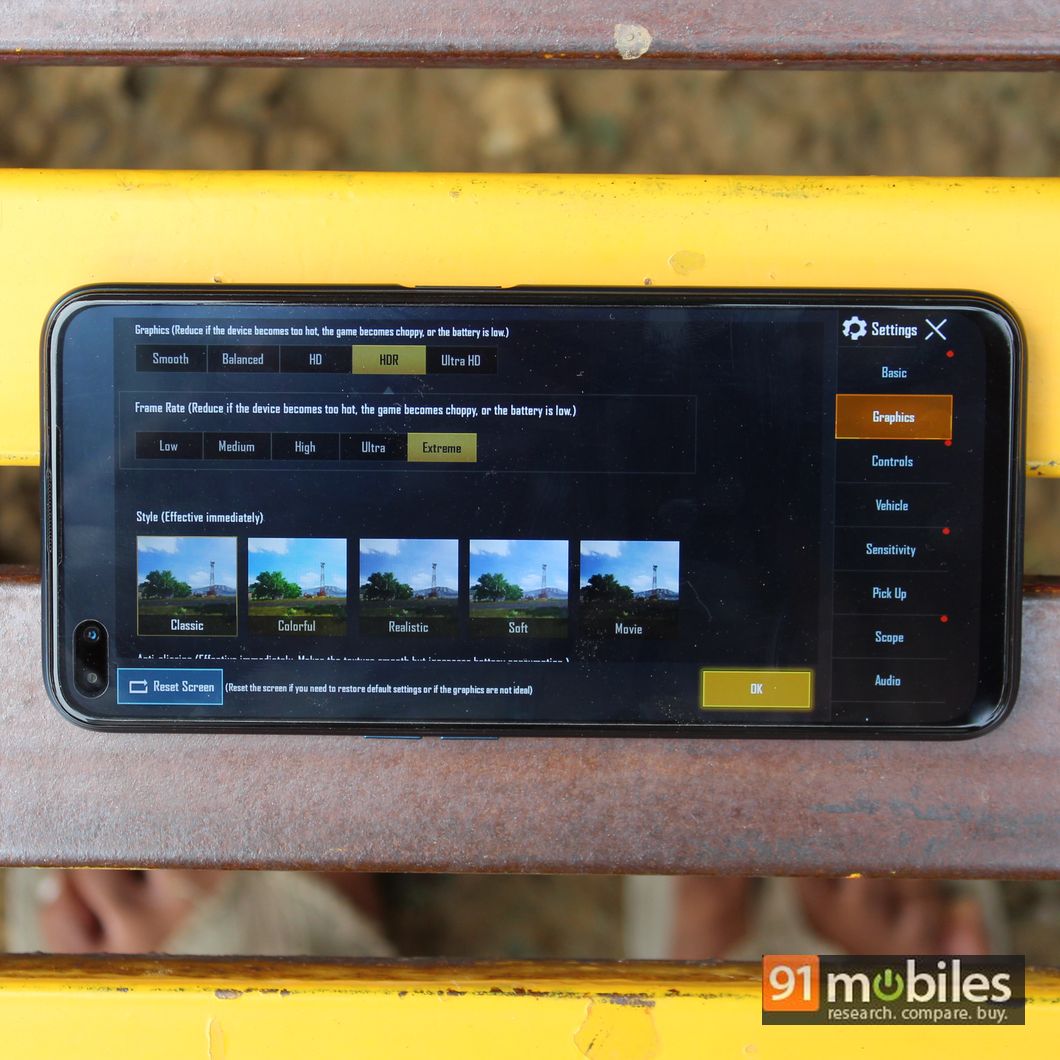 Day-to-day usage was a breeze on the Realme X3 SuperZoom. We were able to browse social media apps, message and perform other without any hiccups. Switching between apps was smooth and scrolling through them on a 120Hz refresh rate was largely satisfying.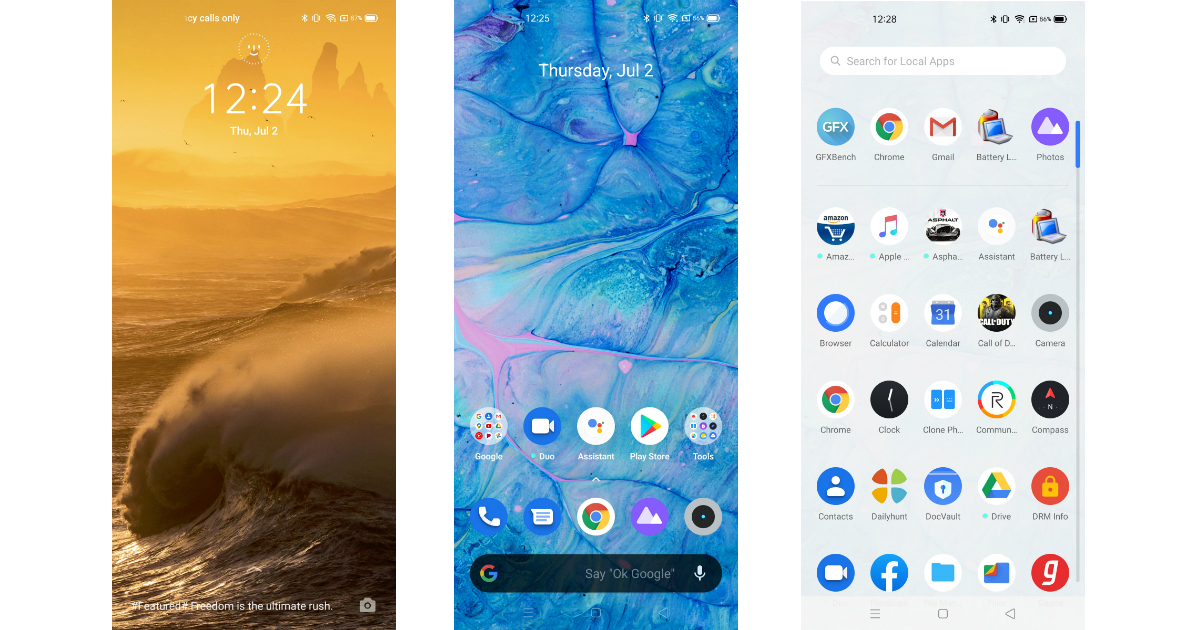 The Realme X3 SuperZoom runs Android 10-based Realme UI out of the box. The software is extremely responsive and is well optimised on the phone. It's a fairly clean UI, but you do get some preloaded apps like UC Browser and Helo. Since both of these apps are now banned in India, they won't come preloaded on future Realme devices. Before the ban, these apps would push spammy notifications, which one had to disable in Settings.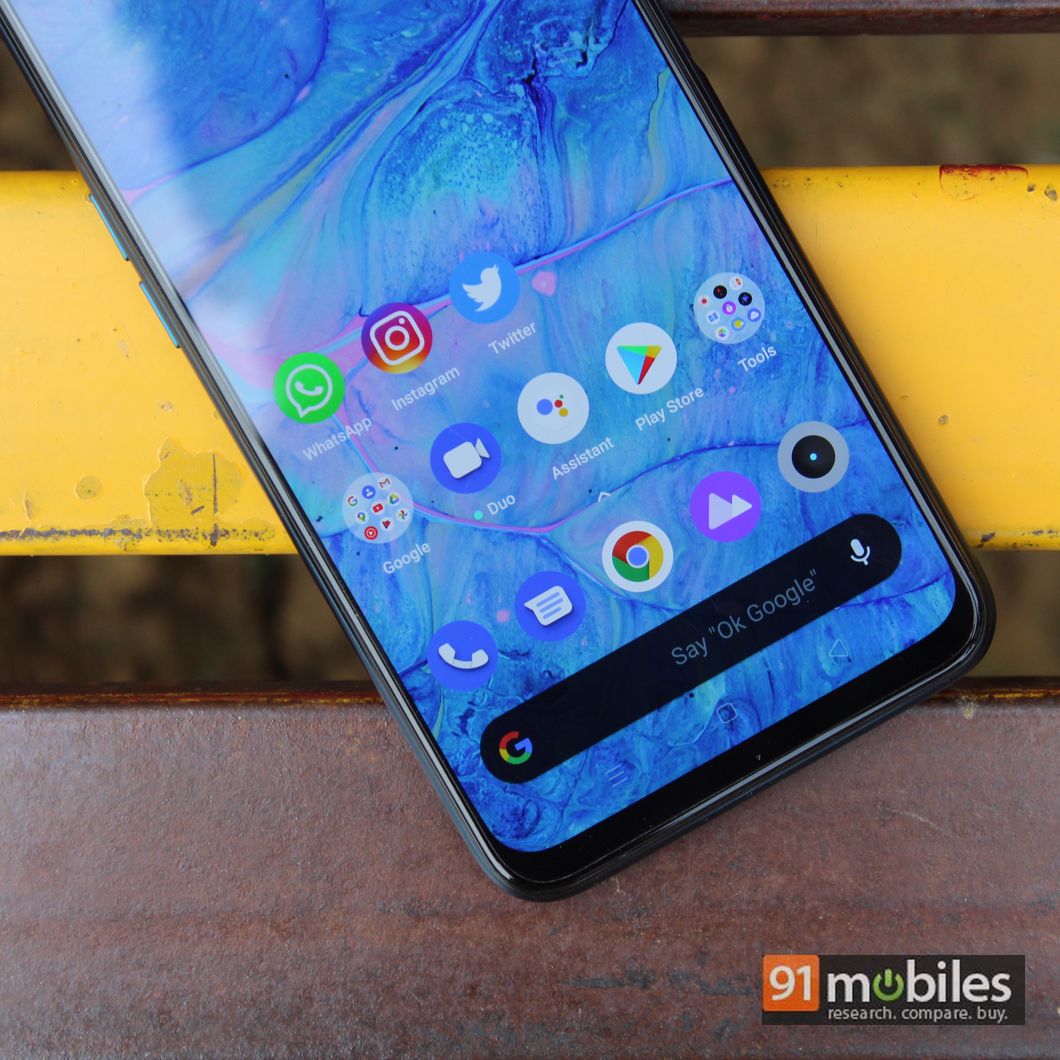 There are some useful features that come with Realme UI such as the ability to lock background apps. Since the phone comes with up to 12GB RAM, you can safely keep a few apps always running in the background so that you can pick up where you left off. Realme UI also brings some neat battery optimisations features, system-wide dark mode, lock screen magazine, and so on.
Coming to the performance of the mono speaker, we found no issues with loudness and the sound quality was mostly clear for watching movies and playing games. We would have loved to see stereo speakers for that surround effect, especially considering the phone's pricing. The side fingerprint sensor was snappy for the most part, although there were a few instances where the sensor refused to recognise my fingerprint.
Battery
Battery: 4,200mAh
Charger: 30W fast charging support
Screen on Time: Roughly 6 hours
The Realme X3 SuperZoom's 4,200mAh battery may not sound like much on paper, but don't let that fool you. The phone delivers exceptional battery life on constant 120Hz refresh rate and will easily last through a full day and a half on moderate to light usage. During the review period, we managed to get roughly 6 hours of Screen on Time (SoT) after a full day of social media browsing and watching an entire 2-hour-long movie on Prime Video. With an excellent standby life, the Realme X3 SuperZoom will make sure you won't have to reach for your charger too often.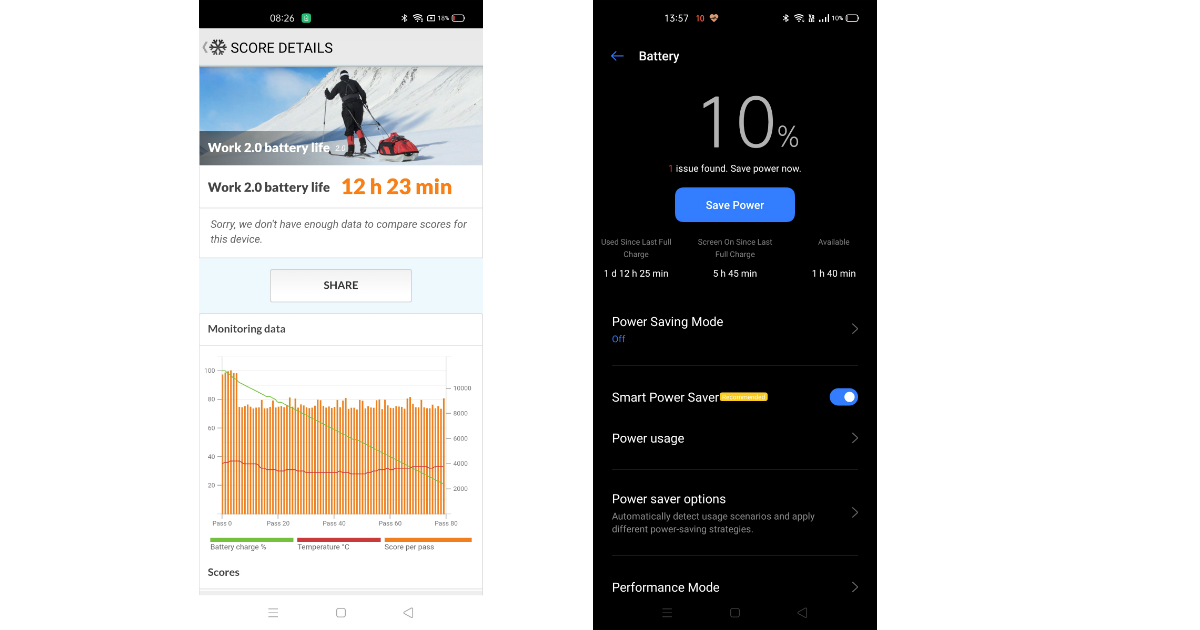 If you do have to reach for the charger, you won't have to keep it plugged for too long. The 30W fast charger that comes with the box can juice up the Realme X3 SuperZoom from 1 to 100 percent in just under 60 minutes. It takes 22 minutes to charge up to 50 percent, which is good enough to take you through a full day on light usage.
Final verdict
The Realme X3 SuperZoom is a solid addition to the X series in India with plenty of great features that make it one of the best phones to buy under Rs 30,000. The phone delivers as a powerful gaming smartphone with a good LCD display and a solid battery to back it up. The 30W fast charging makes the experience all the more better. The cameras are largely good for most cases, but we won't call them the best in its segment. Overall, the Realme X3 SuperZoom gives you little to complain about and is a stellar all-round affordable flagship phone.
The biggest challenge to the Realme X3 SuperZoom is the company's own Realme X2 Pro (review), which offers an AMOLED display and a faster 50W charging support. If these two features are important to you, then it might be worth spending a little extra to buy the X2 Pro over the X3 SuperZoom. Another worthy rival in this segment is the Redmi K20 Pro (review), which also offers an AMOLED display although it comes with a slightly older Snapdragon 855 chipset.
Editor's rating: 4 / 5
Pros
Capable 120Hz display
Excellent performance
Solid battery life
Cons
Average low-light photography
Iffy wide-angle camera
Lacks stereo speakers
realme X3 SuperZoom Edition Price
View All
Competitors for realme X3 SuperZoom Edition
| | | |
| --- | --- | --- |
| realme X3 SuperZoom Edition | vs | realme X2 Pro |
| | | |
| --- | --- | --- |
| realme X3 SuperZoom Edition | vs | Xiaomi Redmi K30 Pro |