Review Summary
Expert Rating
4/5
Any mention of a Note series smartphone from Samsung instantly invokes visions of the S Pen flowing smoothly across a lovely screen, drawing lines wherever it moves. The fact is that the S Pen's prowess, which is the mainstay of the Note range from Samsung, has pretty much remained unmatched over the years. Other brands have tried to come up with styli-toting smartphones, but in vain. The S Pen itself started its journey as a tool for drawing and writing, but has turned into a much more powerful implement now, having added new capabilities with each new generation. And its latest incarnation comes ensconced inside the new Samsung Galaxy Note20 Ultra 5G (first impressions). It's a mouthful of a name, matching this device's laundry list of specs and features. The question to note is, whether the latest and greatest from the house of Samsung deserves your moolah or not.
Design and display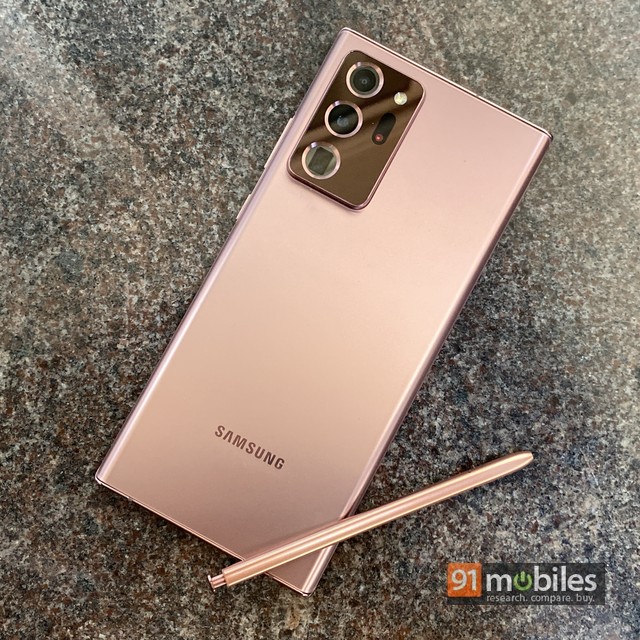 Let's get this clear right from the outset – the Note20 Ultra 5G is a nice-looking smartphone. Large, but sleek and elegant. The so-called Mystic Bronze colour that I hold in my hands is flamboyant without being loud… sort of like a savvy and chic business professional who wears colourful suits to the boardroom and heads straight to the club later. The matte finish looks great too. You're welcome to form your own opinion on this of course. The massive, 6.9-inch display dominates proceedings at the front, with hardly any visible bezels and gently sloping sides. The device looks and feels extremely premium, as expected of a device if its league. Bearing IP68 rating, the Note30 Ultra 5G comes clad in Gorilla Glass Victus on both front and back – the newest generation of protein glass from Corning that's said to be the strongest on a smartphone yet. I haven't really put it to the ultimate test yet, and I don't intend to either. It's a shame Samsung hasn't included the usual silicon case in the box, since the device does feel rather slippery… and its size and weight don't make it conducive for using with one hand either.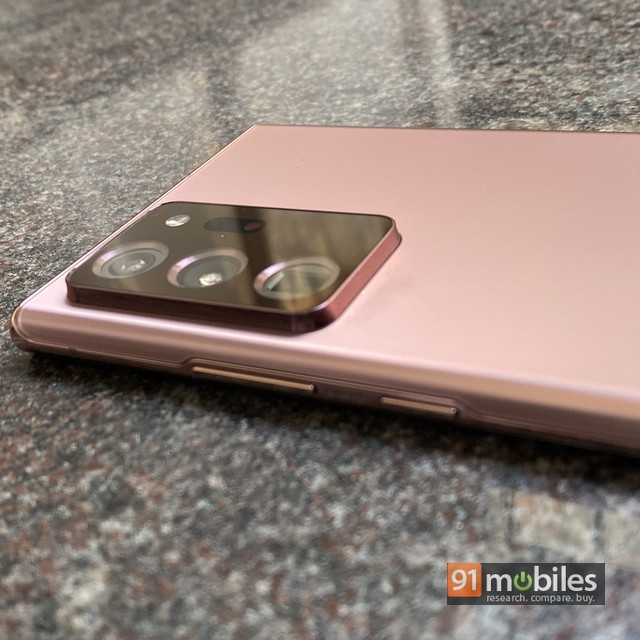 There are a few aspects where one simply has to stop and question Samsung's design choices too. One, the large camera bump at the back that looks like it had a fight with the phone and wants to get away. Which is to say that it protrudes quite a bit, making the phone wobble when kept on a flat surface and possibly being prone to scratches too.
The other radical design element is the placement of the S Pen silo, which has moved from the bottom right on the phone's predecessor to bottom left on the Note20 Ultra. Maybe I'm just being selfish because I'm right handed, but the previous placement seemed more natural to me. With the Note20 Ultra in my left hand, the silo is just too close to the base of my palm when I try to remove the S Pen from its resting place.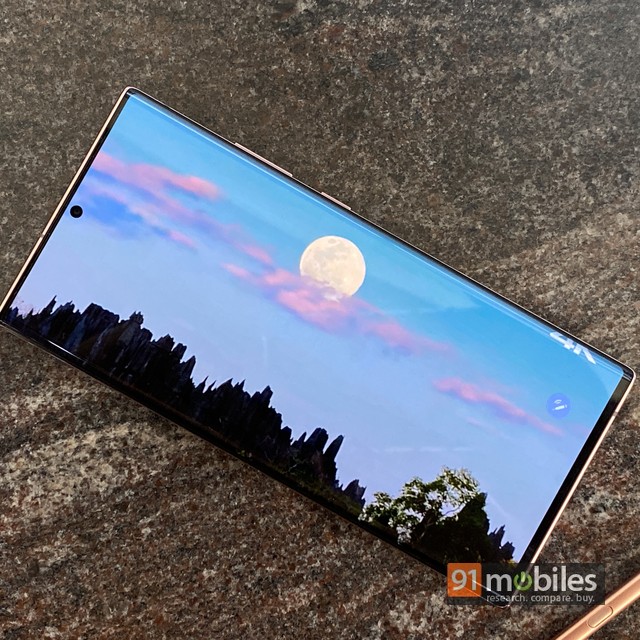 The 6.9-inch Dynamic AMOLED panel, with its vast expanse broken only by the small punch hole in the top centre for housing the selfie camera, is a visual treat as usual. Samsung's AMOLED panels are supposed to be top notch, and the one on the Note20 Ultra is superb. It outputs vibrant, punchy colours, razor-sharp text, superb touch response, wide viewing angles, and 1500 nits of brightness that makes for great sunlight legibility. The refresh rate goes up to 120Hz, while the resolution can be bumped up to QHD+. There's support for HDR10+ as well. Everything put together, the Note20 Ultra's display is gorgeous to look at and fun to use, making everything from gaming to media watching extremely immersive.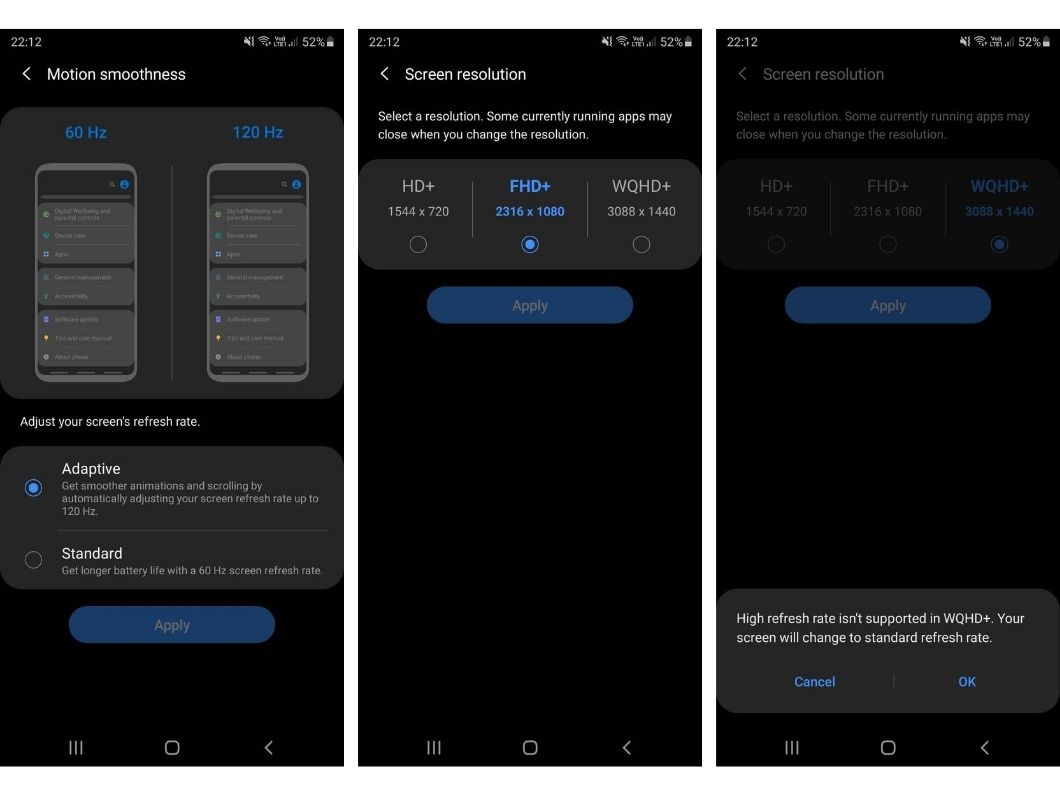 There are two caveats to note here. One, the screen refresh rate would be limited to 60Hz if you choose QHD+ resolution… the high screen refresh rate QHD+ resolution settings cannot be enabled together. Second, Samsung has changed the 120Hz refresh rate setting (as seen on the Galaxy S20 Ultra) to 'Adaptive' on the Note20 Ultra 5G. The Adaptive option automatically adjusts screen refresh rate, taking it up to a maximum of 120Hz as and when needed. Reducing battery consumption could be one of the reasons behind this change, especially considering the S20 Ultra has a bigger battery than the Note20 Ultra. And while on the subject of the screen, the ultrasonic fingerprint scanner embedded under it also deserves a mention. It can be a bit of a hit and miss I'm afraid in terms of recognising fingerprints, though thankfully, face unlock is blazing fast and works pretty well.
The Note-worthy stuff
As I mentioned earlier, the S Pen is now much more than just a simple drawing and writing tool. Over the years, it has picked up features like Bluetooth, remote controlling capabilities in the form of Air Actions, converting handwriting to editable text, translating text from one language to another, and many others. With the Note20 Ultra 5G though, Samsung seems to have gone back to the basics. One of the biggest S Pen updates this time is the reduction in latency, something which Samsung claims gives you the same feel as writing with a real pen on real paper. In fact, the latency has supposedly been reduced by as much as 80 percent as compared to its predecessor. I can definitely vouch for this, as the writing and drawing experience on the Note20 Ultra is smooth as butter, aided significantly by the high refresh rate of the Dynamic AMOLED panel.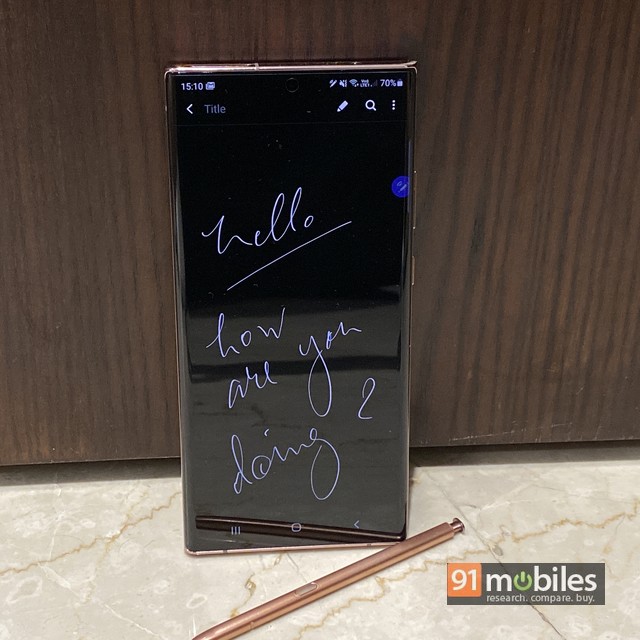 Apart from the reduced latency, Samsung has also added a bunch of new gestures to the Air Actions feature. Air Actions let you perform a few tasks by pressing the button on the S Pen and waving it in the air. Using specified actions, you can perform tasks like navigate pictures in the gallery, shoot photos, switch between the back and front cameras, and so on and so forth. The newly-added actions include those that let you navigate the phone interface and move back, jump to home, access recent apps, and write on a captured screenshot etc. These apart, the S Pen is useful for a ton of other stuff, including annotating images, signing PDFs, writing notes, using AR features like AR Doodle etc. It's a powerful tool that can boost productivity if you use it well. And if you're into drawing and doodling, or are a creative professional, the Note20 Ultra and its S Pen can work as the ideal combination to have handy on you for capturing spur-of-the-moment ideas when you're out and about.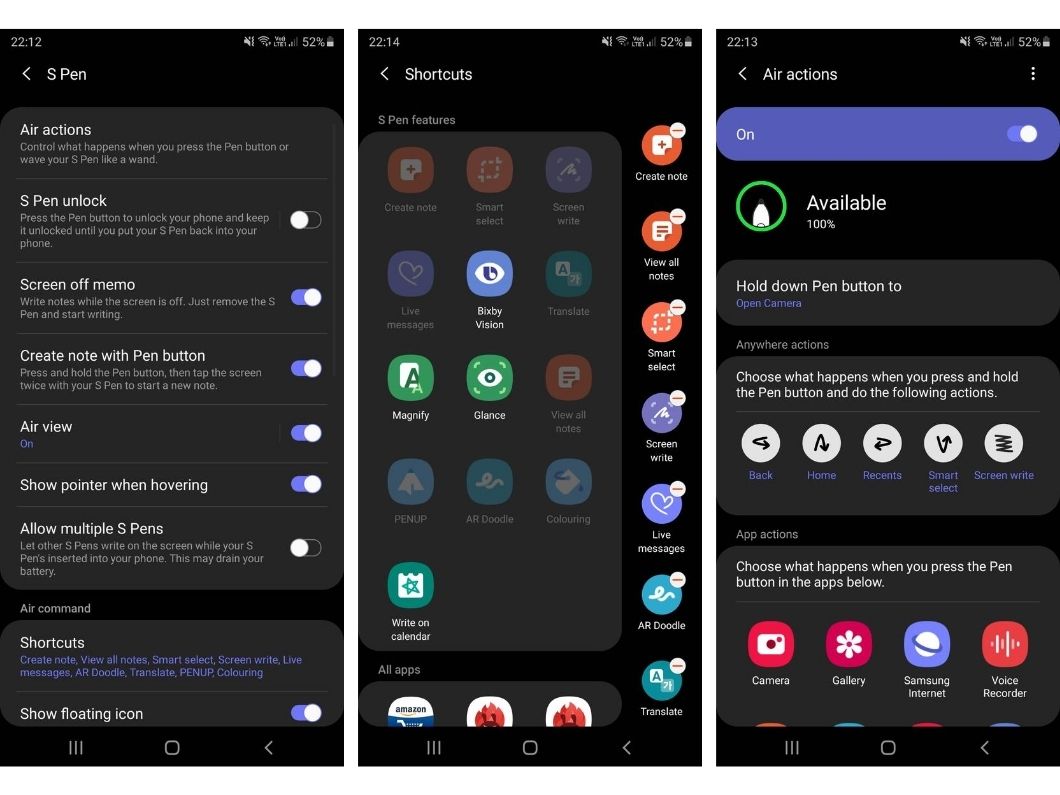 Some of the other features that would be handy for work and productivity are Link to Windows and DeX support. The former lets you use your phone along with a Windows PC or laptop and copy paste text and images between the two devices simultaneously. You can access photos on your phone, check messages and notifications, and even handle calls, straight from your laptop. The DeX feature lets you hook up your phone with an external display (like a monitor or a TV), and get a desktop-like environment on the large screen. And if you pair a Bluetooth keyboard and mouse along with your phone, you can actually use it almost as a full-fledged laptop. DeX can be used with the help of an HDMI to Type-C dongle, but with the Note20 Ultra 5G, Samsung has added Wireless DeX as a new feature. As long as you have a Miracast-enabled smart TV or display, your Note20 Ultra can provide wireless DeX capabilities, with both devices being on the same Wi-Fi network. I did give DeX a shot during my review, both with a dongle and wirelessly, and I can see how handy it can be useful for those who spend a lot of time on the move. Clearly, it'd be especially handy for working professionals. Using DeX via a dongle is quite smooth, though using it wirelessly did show some lag.
All in all, the Note20 Ultra is as loaded as gets when it comes to work-related and productivity-based usage.
Cameras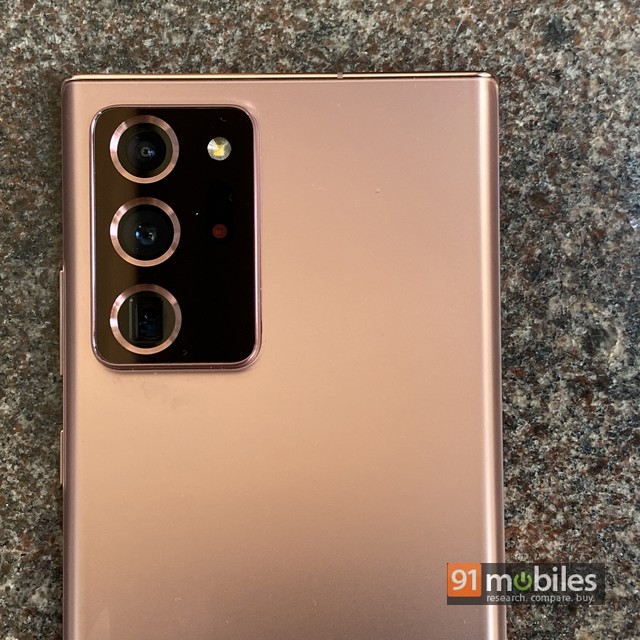 The Note20 Ultra 5G borrows the 108MP primary sensor from its sibling, the Galaxy S20 Ultra, and adds two more sensors to it, thereby offering a triple camera setup. The 108MP, f/1.8 sensor features OIS, and is mated to a 12MP f/3.0 periscope telephoto with OIS and a 12MP f/2.2 ultra-wide sensor. The front camera has a 10MP sensor. On a side note, the S20 Ultra offers a 40MP camera on the front, so it does seem like the Note20 Ultra lacks a little something in comparison. While that does seem to be the case on paper, the Note20 Ultra can actually deliver great shots, regardless of lighting conditions. The OneUI camera app, as usual, comes with a ton of options and trimmings for you to be able to make the most out of the hardware capabilities. Features on offer include AI-based scene optimisation, Shot Suggestions, Auto HDR, tracking autofocus, a dedicated Night mode, Live Focus (Samsung's name for portrait mode, which works both for stills as well as videos). Videos can be shot up to 8K resolution, and there's an option to shoot HDR10+ videos as well, apart from the usual Super slow-mo and regular slow motion. Worth noting is the fact that while the S20 ultra offered 100X Space Zoom, on the Note20 Ultra Samsung has dialled that down to 50X. You also get up to 5X optical zoom.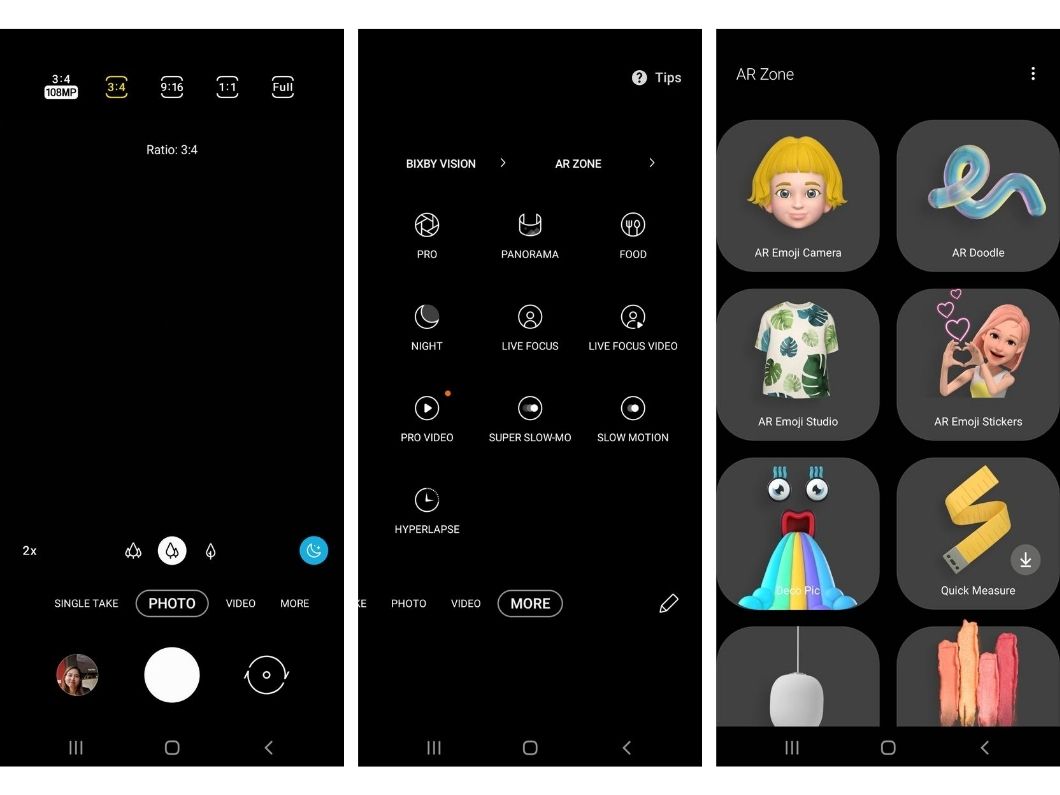 The shooting modes on the Note20 Ultra 5G include Single Take, the one-tap option that shoots multiple stills and short videos using different cameras for shooting action shots and scenarios like cake-cutting etc. There's a very extensive AR Zone that offers AR Emoji, AR Doodles, a measuring tool, fun AR Emoji stickers, an AR tool for home decor, and even one option that gives you a ton of virtual makeup options. It's quite extensive overall.
The real-life image quality is great, and while there are signs of Samsung's signature saturation in daylight shots, colours are closer to reality than before. By default, the Note20 Ultra captures 27MP pixel-binned images that preserve a lot of detail, keeping the focus sharp and the colours vivid. Shadows and darker areas are highlighted well too, especially with Auto HDR on. The wide-angle shots turn out well too, with some minor distortion on the edges. With the Live Focus mode, you can capture shots with dreamy bokeh, and you also get the option to control the level of blur and add some special effects to the background.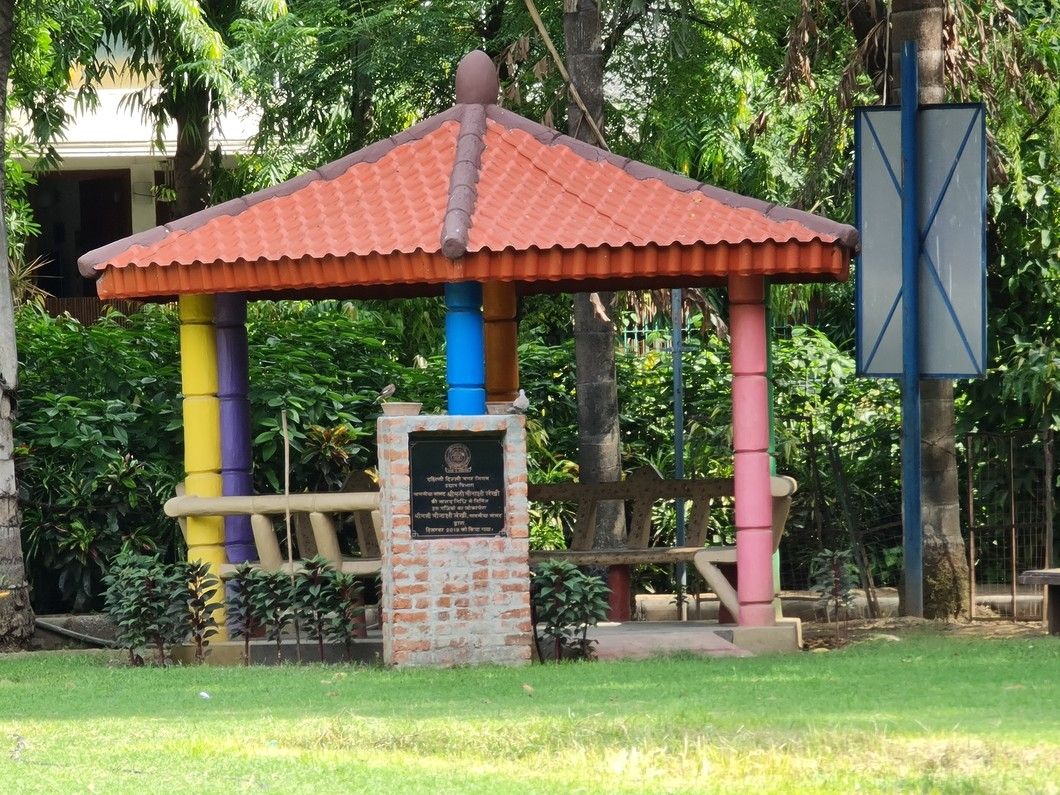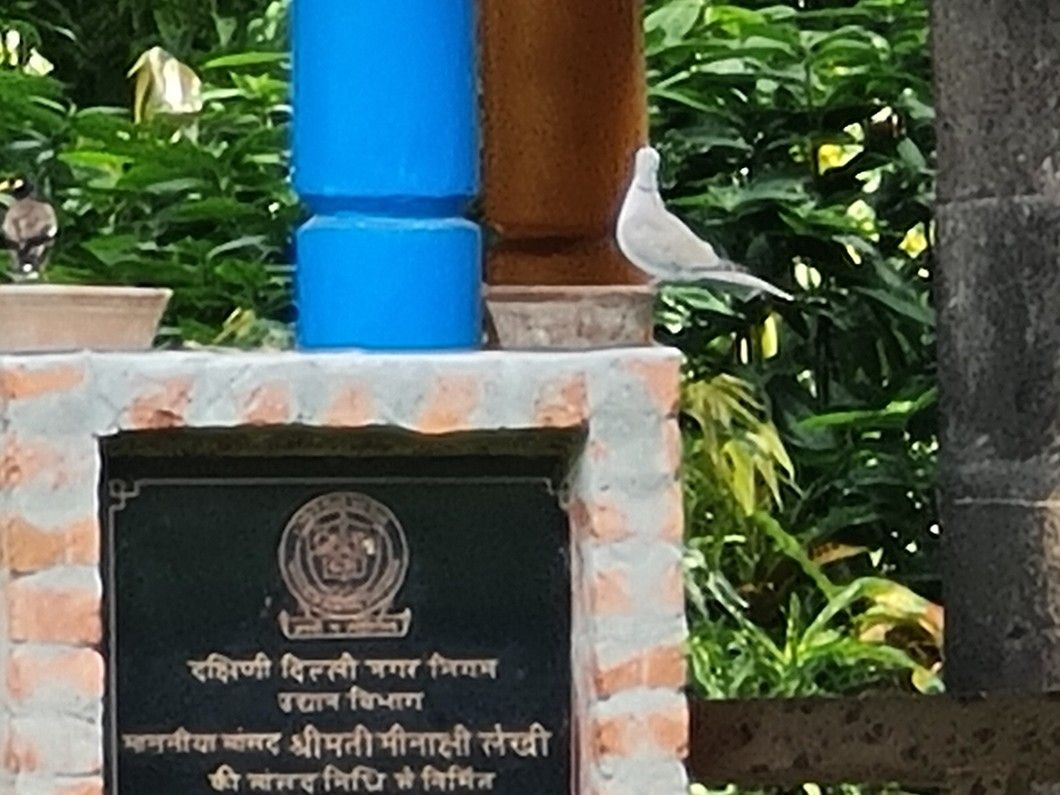 While I wasn't a big fan of the high levels of zoom on the Galaxy S20 Ultra, I'm glad to report that zoomed shots captured using the Note20 Ultra 5G look a tad better to me. Shots captured at up to 10x zoom levels look very good in terms of focus and detail, and while it gets difficult to control the shake as you zoom higher, I was able to get reasonably good shots even at up to 50x and by holding my hand really steady. The dedicated Night Mode also does an excellent job, using multi-frame processing to churn out nice-looking shots even when lighting is extremely low, though you again need to keep your hand really steady. For videos, the Note20 Ultra does a great job too, with 4K videos looking smooth, and the video stabilisation going a good job of controlling shake. The ability to shoot videos at 8K, at least as far as I'm concerned, is nice to have, but still a bit of overkill, given the amount of storage space these videos consume and that fact that one can't really view proper 8K footage unless they have an 8K television. The front 10MP shooter does a swell job for selfies too, offering most of the features as the primary camera.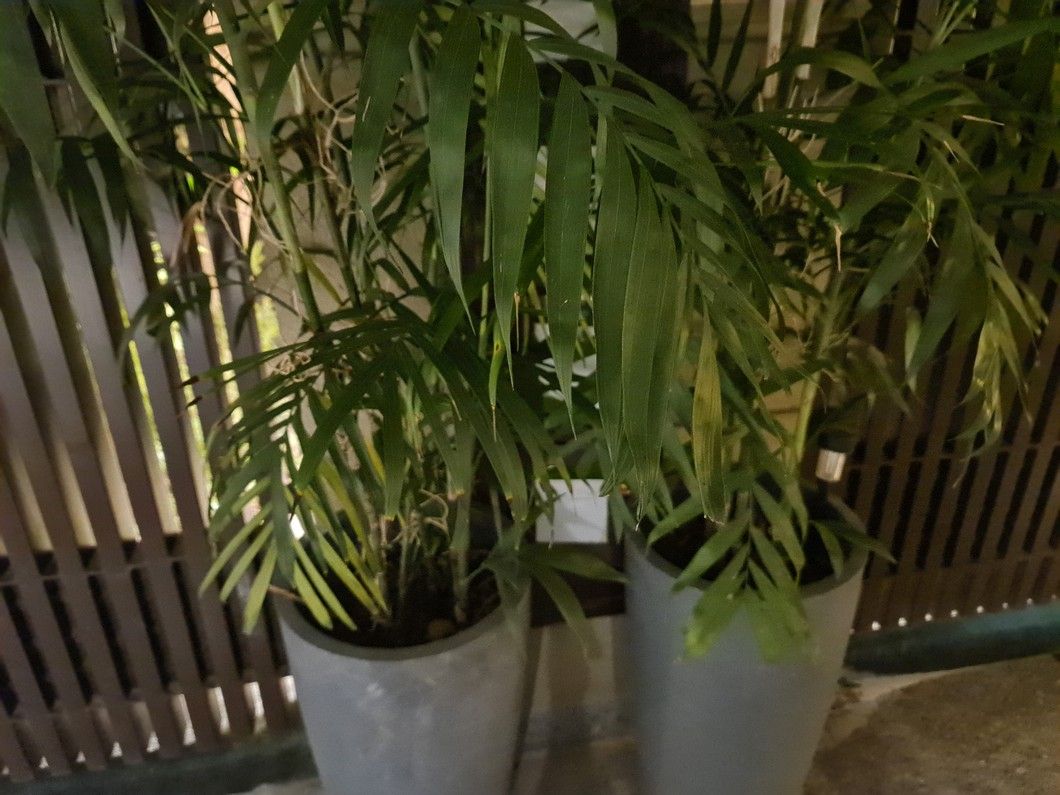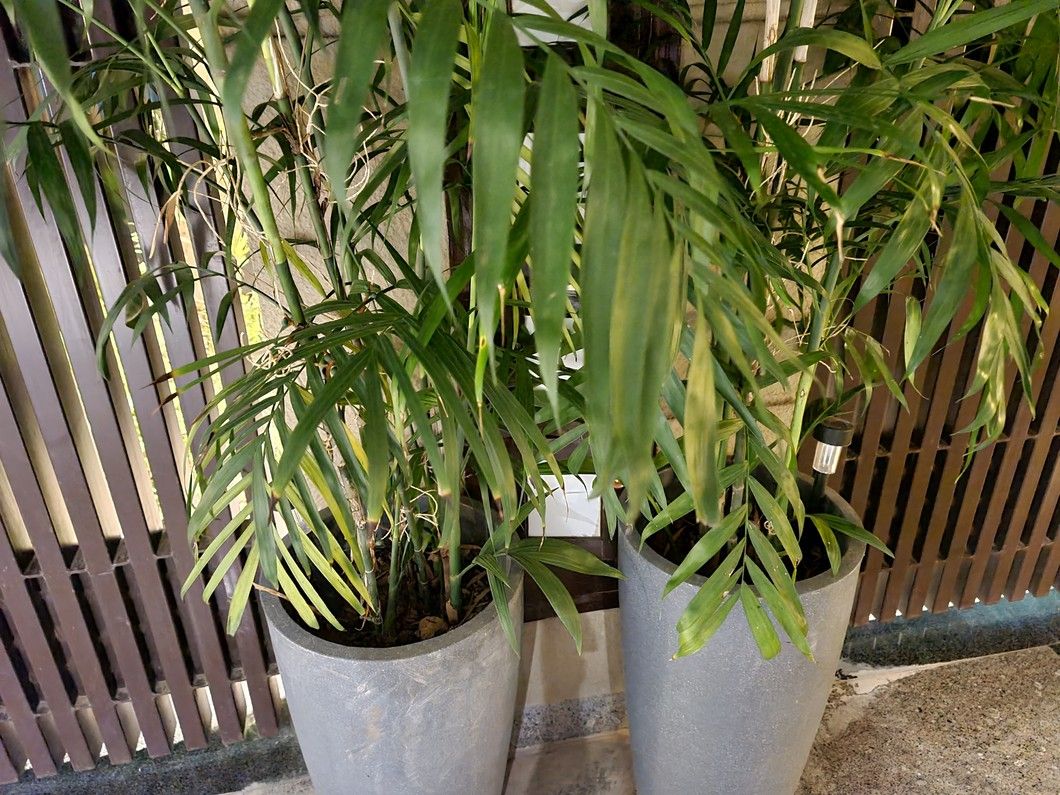 Overall, the Samsung Galaxy Note20 Ultra 5G is an excellent shooter, and I don't think users would be left wanting for more in the camera department.
Software, performance and battery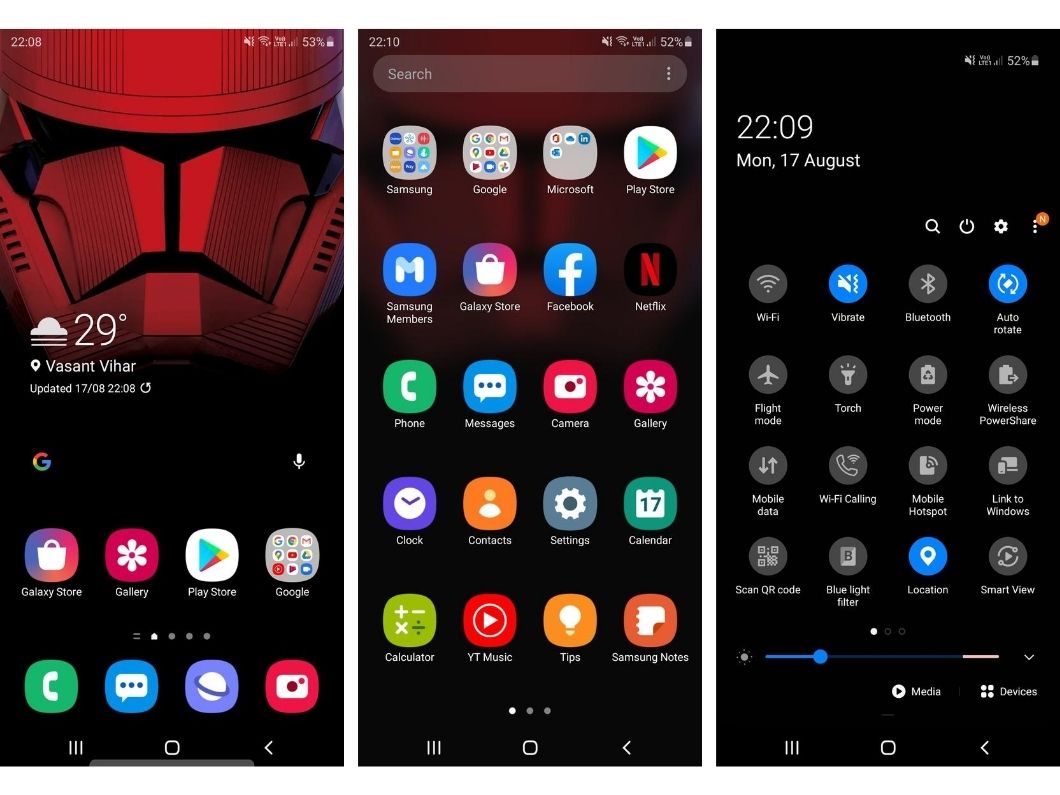 Apart from the features related to the S Pen, the Galaxy Note20 Ultra 5G offers the same comprehensive OneUI platform as the S20 Ultra, based on Android 10. There are a few redundant apps like browser and such, and some apps that could be considered as bloatware if you don't need them. A bunch of apps come preloaded, from the likes of Samsung and Microsoft. Those apart, the software interface is clean and easy to use, despite being loaded to the brim with features. There are quite a few customisation options, Bixby support, Knox security with Secure Folder, the option to clone messaging and social apps like Facebook and WhatsApp, and lots more. I've said it before and I'll say it again – the Samsung OneUI platform is extremely comprehensive in terms of the ecosystem it offers, and if you've invested in it (and used a Samsung phone previously), you can make use of cloud sync to move your data, and also back it up online for later use. Features like Secure Folder, Samsung Pay and others can come in especially handy if you need them and use them well. I won't go into more detail here, but suffice it to say that the Note20 Ultra shouldn't disappoint in this regard too.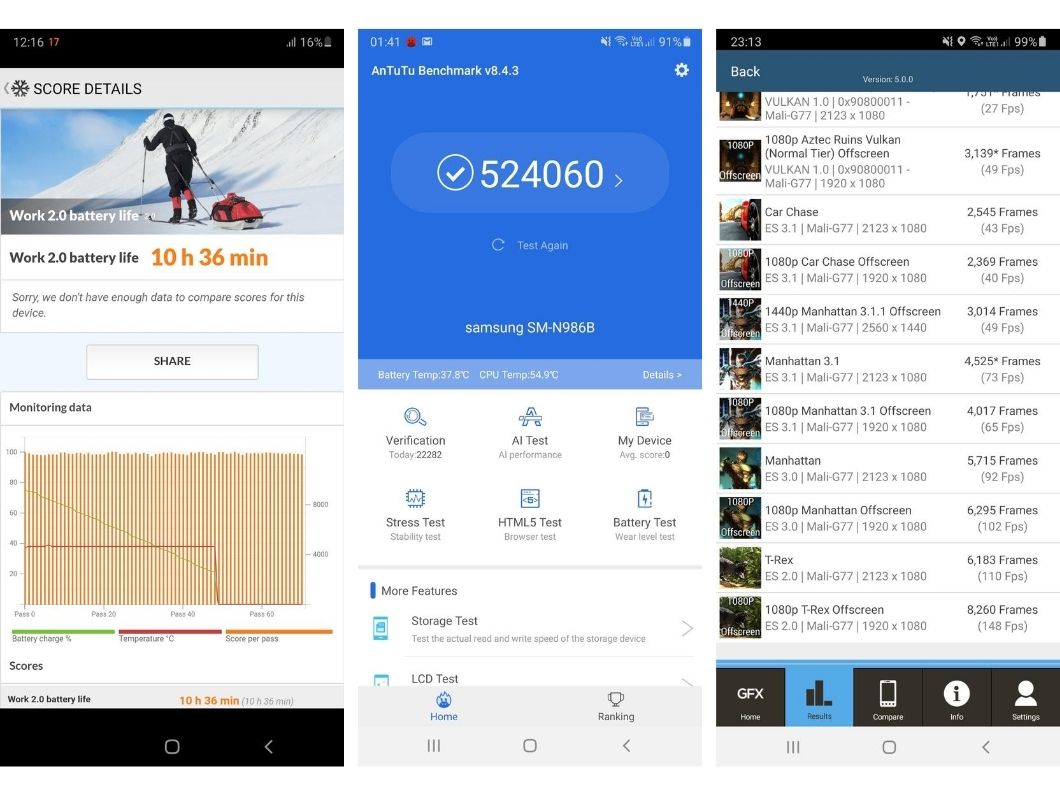 For number crunching, there's the tried-and-tested 7nm Exynos 990 SoC, the same chipset that powers the Samsung Galaxy S20 Ultra. On the Note20 Ultra 5G, it adds a 5G modem and is mated to 12GB RAM and 256GB UFS 3.0 storage. Samsung has received some flak lately for not bringing the Snapdragon-powered models of its flagships to India, but I don't think that's a big reason for concern, especially if you don't care about benchmark comparisons. The Note20 Ultra 5G doesn't really lack anything as far as performance is concerned. It handles everything from mundane tasks to heavy apps with ease, and that includes heavy games like Asphalt 8 and PUBG. Thermals are managed well too, but the phone does get warm after extensive gameplay. The oodles of RAM ensures smooth multitasking too. The storage is expandable, thanks to the hybrid SIM slot. Worth mentioning is the fact that the Note20 Ultra 5G also has a built-in eSIM, though it can only handle two SIM cards overall. This means that if you choose to enable the eSIM, you can actually use the device as a proper dual-SIM device (by adding a physical SIM), and also leaving the secondary slot in the hybrid tray vacant for a memory card.
There are ample connectivity options on board too, as fit for a premium flagship. Apart from 5G, you also get Wi-Fi 6, NFC, and the usual gamut of connectivity options. The AKG-tuned stereo speakers emit loud and rich sound, and there are no issues with call connectivity and audio either.
The Note20 Ultra 5G packs in a 4,500mAh battery, and supports 25W fast charging. With the screen on FHD resolution and Adaptive refresh rate, you can get a day's worth out of it, with medium usage. However, your mileage could vary quite a bit based on your usage and the settings you use, and it also remains to be seen how the device handles 5G networks when they're available. There are lots of battery saving options, and the option to switch to lower screen resolution and 60Hz refresh rate for even longer usage. With the screen set to FHD and Adaptive refresh rate, the PCMark battery test gave us a run time of 10 hours 36 minutes, while running the same test with the refresh rate set at 60Hz extended it by another couple of hours to 12 hours 26 minutes.
Thanks to support for 25W fast charging and a compatible charger offered in the box, the Note20 Ultra 5G can charge fully in about an hour and 12 minutes. There's support for fast wireless charging as usual, and reverse wireless charging (9W) is on offer as well.
Verdict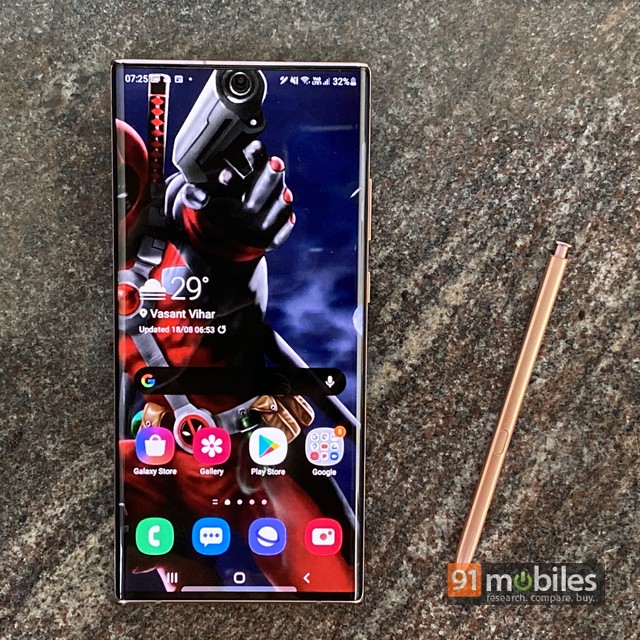 The Samsung Galaxy Note20 Ultra 5G will set you back by a cool Rs 1,04,999. I'll let that sink in for a moment. It's definitely not a small price to pay for a smartphone, not by any means. That said, the pricing doesn't come as a big surprise, especially since the brand's last flagship, the Galaxy S20 Ultra (review), was priced at Rs 97,999. It's clear that on the Android side of the fence at least, the Note20 Ultra 5G's closest rival is its own aforementioned sibling. And if you're spending that kind of money, you'll likely consider the Apple iPhone 11 Pro Max too. I'm not getting into the Android vs iPhone debate, but the fact remains that you'd need to make your choice depending upon the capabilities and features you need. On the Android side, the Galaxy S20 Ultra can be a good choice, especially if you don't see any use for the Note20 Ultra's S Pen. No other Android flagship can come close to the Note20 Ultra in terms of the overall feature set and capabilities. The S20 Ultra in fact, offers a better front camera, a marginally bigger battery and faster charging than the Note 20 Ultra too. On the other hand, the Note20 Ultra does boast of 5G capabilities, and if you want your purchase to be future proof, this might just tilt the balance in its favour. And if you're already a Galaxy Note user, and / or feel you can make good use of the S Pen's prowess to boost your work / creative abilities, there's really nothing that can match what the Galaxy Note20 Ultra 5G can offer.
Editor's rating: 4 / 5
Pros
Superb display
S Pen capabilities
Smooth performance
Capable cameras
Cons
Massive camera bump
S Pen silo placed on the left
In-display fingerprint scanner can be iffy
Pricey
Samsung Galaxy Note 20 Ultra 5G Price
View All
Competitors for Samsung Galaxy Note 20 Ultra 5G
| | | |
| --- | --- | --- |
| Samsung Galaxy Note 20 Ultra 5G | vs | Samsung Galaxy S20 Ultra |
| | | |
| --- | --- | --- |
| Samsung Galaxy Note 20 Ultra 5G | vs | Apple iPhone 11 Pro Max 256GB |