2023 is just around the corner, and at this point, the 3.5mm audio jack has become a thing of the past. What seemed unlikely until a couple of years back has now become a reality as brands have almost moved on from analog audio solutions. The best illustration of the same is that you can now pick up decent truly wireless earbuds even under Rs 2,000. While Apple is the de facto king of the hill, if you are looking for a pair of affordable TWS earphones, then you have a ton of options to choose from the likes of boAt, Noise, and Truke. In fact, you would get confused with the number of choices available. But don't worry as we have curated this list to top TWS earphones you can buy on Croma to help you out.
pTron Bassbuds Duo 140318113 TWS Earbuds with Passive Noise Cancellation
The pTron Bassbuds Duo is one of India's best value-for-money TWS earbuds, considering the pair is priced well under Rs 1,000. But don't think that you'll be compromising on the features. The earphones come with large 13mm dynamic drivers and support for stereo sound. Compatible with Android and iOS, these TWS earbuds feature 1-Step Pairing, Quick Connect, and Auto Re-connect for easy smartphone connectivity. The other features of the earbuds include a mic, voice assistance, an IPX4 rating, 15 hours of playback, and Bluetooth 5.1 support with up to 10m range.
boAt Airdopes 148 In-Ear Truly Wireless Earbuds with Mic
Popular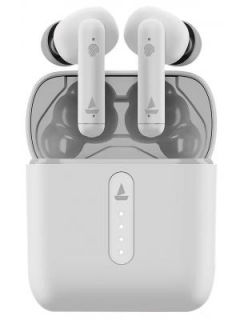 Another affordable TWS earbuds are from the homegrown brand boAt. The boAt Airdopes 148 come with Bluetooth 5.0 support with a range of up to 10m. They also feature a MIC for taking calls and one-touch voice assistant support. Additionally, Bluetooth 5.0 connectivity ensures seamless and uninterrupted playback. The IPX4-rated earbuds can last up to 42 hours, including 6 hours of non-stop playtime for earbuds. They can also provide 75 minutes of music playback within just 5 minutes of charging.
realme Buds Air 3 RMA2105 TWS Earbuds with Active Noise Cancellation
Realme has garnered a notable share of the TWS earbuds market with its impressive and well-priced offerings. The Realme Buds Air 3 is one of the most popular offerings from the brand with 42db Active Noise Cancellation. They feature 10mm Dynamic Bast Boost Drivers and on-device controls for controlling calls or music playback. The in-ear earbuds promise up to 30 hours of music playback and can also be juiced up quickly with fast charging support. Its other features include Google Assistant support, IPX5 water resistance, Bluetooth 5.2, and Dolby Audio support.
Boult Audio AirBass XPods BA-RD-XPods TWS Earbuds with Environmental Noise Cancellation
The indigenous brand has several value-for-money offerings for consumers. The Boult AirBass XPods is one of the best and most affordable options from the brand as it comes with Environmental Noise Cancellation, which filters out most of the environmental low-frequency noise. These earbuds support Google Assistant and Siri, with a superior MIC to pick up the voice. You also get large 13mm drivers, and an in-line remote to control calls or music playback without the need of reaching out to the connected smartphone. The earbuds promise up to 20 hours of battery life and support fast charging. In fact, you could get 100 mins playtime with just 15 minutes of charging.
Truke Fit 1+ B097 TWS Earbuds with Noise Isolation
Affordable
The Truke Fit 1+ come with a futuristic-looking case that defies their sub-Rs 1,000 price tag. The case of these earbuds has a digital LED display showing the remaining charge and battery level of individual buds, which is helpful. Speaking of that, the earbuds promise up to 12 hours of playback, and you can charge them at least thrice with the 300mAh charging case. For audio, the pair feature 10mm Real Copper Drivers and supports AAC, and SBC codecs. Apart from these, the earbuds offer IPX4 sweat and water resistance, dedicated gaming mode, noise isolation, and Bluetooth 5.1. These pair also support Google Assistant and Siri for voice commands.
Noise Buds Smart AUD-HDPHN-BUDSSMAR TWS Earbuds
Noise is another Indian brand known for offering affordable, value-for-money TWS earbuds. The noise Buds Smart is a compelling offering under Rs 1,000. They come with 1mm drivers and on-device controls. For connectivity, the pair offer Bluetooth 5.0 with a range of up to 10m. In terms of battery life, the earbuds promise up to 18 hours of music playback time. The pair also support Google Assistant and Siri for voice assistance.
LG Tone Free HBS-FN5U.ABILBK TWS Earbuds with Noise Isolation
LG Tone Free is an aesthetically good earbuds with a stylish circular charging case that will draw attention whenever you take them out. You also get a UV Nano Charging Cradle that kills 99.9% of bacteria while charging. The earbuds come with 6mm drivers and support Meridien Sound. Additionally, they feature noise isolation and ambient sound mode. They can last up to 6 hours on a single charge, and the case promises additional 12 hours of backup. The Tone Free also supports fast charging, which offers one hour of music playback in just 5 minutes. This one should be on top of your list if you are looking for feature-loaded earbuds within a reasonable budget.
Truke Buds Q1 E21 TWS Earbuds
Innovative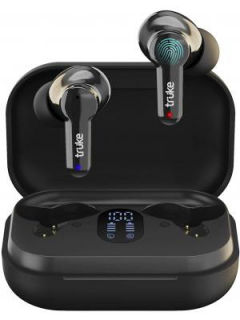 The Truke Buds Q1 E21 comes with a charging cradle that shows the battery level of both buds and the case, which is very handy. The earbuds also feature touch control and an IPX4 rating for sweat and water resistance. Despite being lightweight at 4g each, the earbuds offer 10mm dynamic drivers. They support Bluetooth 5.1, which ensures seamless connectivity with all supported devices. The earbuds and the 400mAh charging case offer 60 hours of music playback on a single charge, which is quite impressive. Lastly, they support voice assistants like Google Assistant and Siri.
Noise Buds Ace TWS Earbuds
Affordable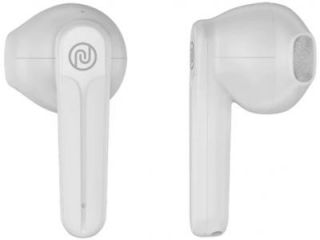 The Noise Buds Ace TWS earbuds come with large 13mm drivers to deliver punchy bass and crisp sound. For connectivity, they feature Bluetooth 5.3 for a seamless and stable connection with smartphones, tablets, or laptops. The earbuds also come with audio technology that cuts down the ambient noises in the surroundings so that you can listen to calls or music well. The in-ear earbuds support Insta Charge, which gives 150 minutes of music playback in just 10 minutes of charging. And, fully charged, you get six hours of non-stop music playback.
Boult Audio AirBass BA-CR-T1 In-Ear Truly Wireless Earbuds with Mic
If you are looking for stylish TWS earbuds with sturdy design and crisp sound, the Boult Audio AirBass is the one for you. These premium-looking earbuds feature HD audio for calls, a micro woofer, on-body touch controls, built-in MIC, and voice assistance. These are IPX5 rated, which means they are sweat-resistant and ideal for a workout. Lastly, the Bluetooth 5.1 earbuds offer an impressive 32 hours of playback on a full charge with the charging case.
So, there you have it; the complete list of the top 10 best TWS earphones you can buy right away on Croma. Do you use one of these, or are you planning to buy one of the options on this list? Let us know in the comment box below.