"Our two cents on ASUS' latest laptop, the VivoBook S406U"
Laptop manufacturers have been playing cat and mouse with portability and performance for quite some time now. Up until now, a laptop which offered immense portability lacked in terms of raw compute horsepower and vice-versa. However, with the introduction of Intel's latest 8th Gen CPU's, Laptop OEMs are finally able to offer low-voltage, quad-core processors inside a compact, lightweight chassis. That's where ASUS' latest VivoBook, the S406U comes into the picture, which offers a travel-friendly design and respectable performance at an affordable price point. I've been using the laptop for over two weeks, and here's why I think you should pick one up.
Design and display
For a laptop which doesn't cost an arm and a leg, the VivoBook S406U has been designed really well. The laptop's lid makes use of a brushed aluminum finish, similar to what you might find on the company's more pricier ZenBook offerings. However, this time around, the pattern on the lid makes use of vertical lines instead of concentric circles. Regardless, the laptop looks quite premium and professional, and you'll definitely get some looks when you whip it out during a meeting.
Open the lid up and you'll be greeted with an equally stylish keyboard, which at first glance appears to be a standard chicklet affair. However, upon closer inspection, you'll notice that the gaps between the keys sport a striated pattern which adds a bit of flair to the machine's design.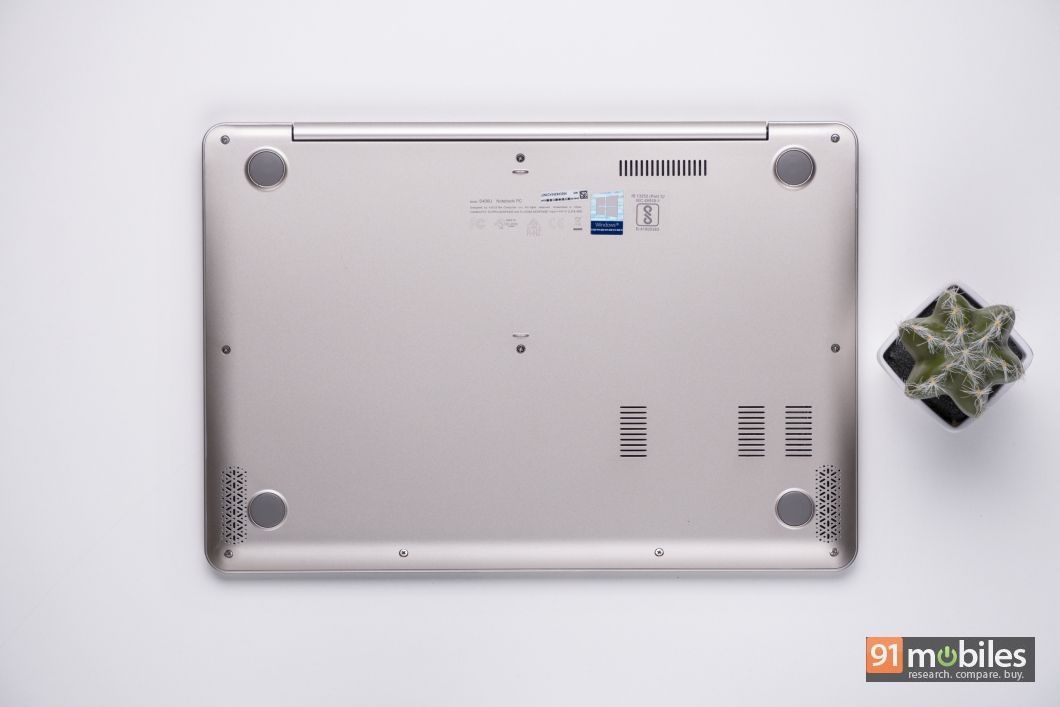 The VivoBook S406U makes use of plastic in its construction and for the most part, the laptop's chassis feels solid. There's no warping when you exert force on the lid and the sides of the keyboard don't flex much under pressure either. I would've preferred if the hinge mechanism was a bit sturdier, as the laptop's display wobbles quite a bit. But other than that, I have no qualms with the laptop's build quality.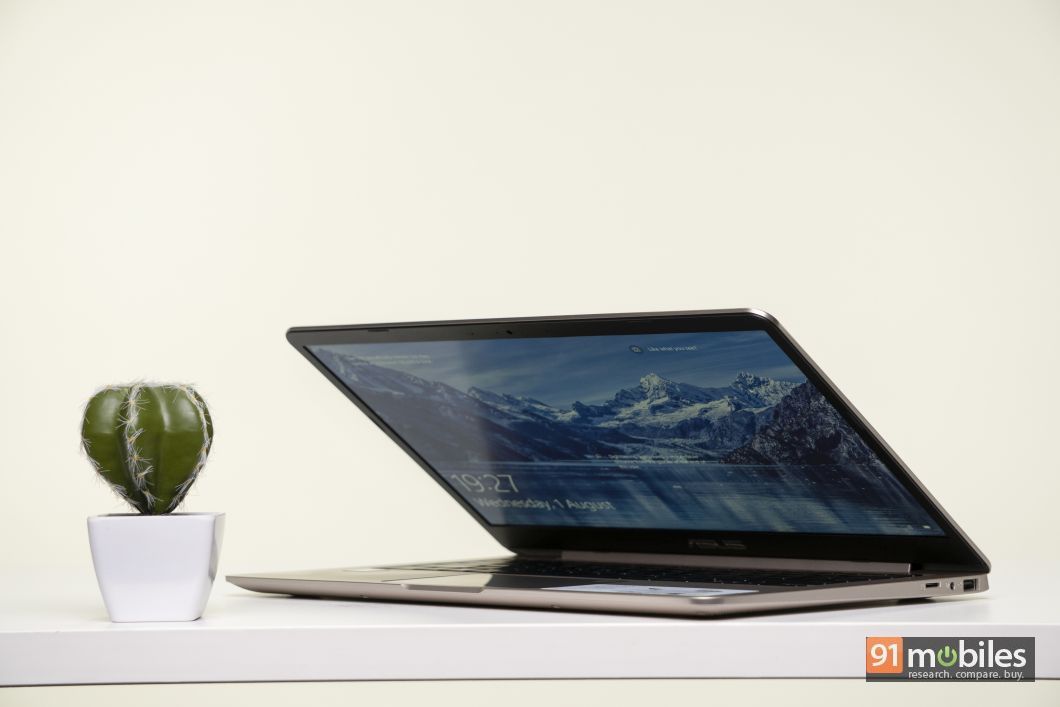 When I'm not reviewing laptops, I usually stick to my trusty MacBook Air, as it doesn't weigh my backpack down. Consequently, I was taken aback when I started carrying the VivoBook around as the machine weighs just 1.2 kilos – that's a couple hundred grams lighter than the Air too! In fact, on several occasions, I had to check if the laptop was even in my bag. Suffice it to say, if you hate lugging a heavy laptop around, then you should seriously think about upgrading to the S406U.
For ports and connectivity, the VivoBook comes equipped with a USB 3.0 Type-A port, a USB 2.0 port, a USB Type-C port, a mini-HDMI port, a microSD card slot and a 3.5mm headphone jack. Now, while I can make do without a full-sized SD card slot, I absolutely need a full-sized HDMI port since my workflow includes connecting a laptop to an external monitor. Therefore, having to resort to a connector every day didn't sit well with me.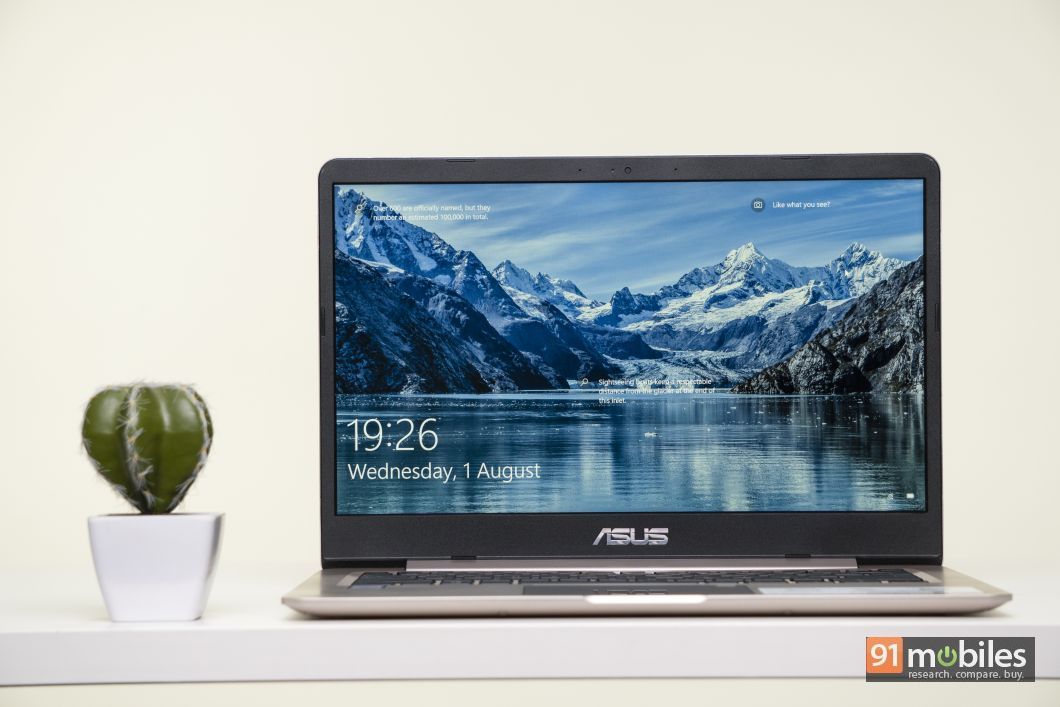 The VivoBook S406U offers a 14-inch display in the form factor of a traditional 13-inch machine. To do so, the laptop ships with what the company calls a 'nano-edge' display. Now, while the bezels are still quite pronounced, they are noticeably slimmer than what you might get with other laptops in this price segment. The display bears a full HD resolution and comes with a refresh rate of 60Hz, making it ideal for watching movies and videos. Moreover, the panel ships with an anti-reflective coating on top which cuts down on the reflections and glares. Unfortunately, the use of the coating takes its toll on the panel's peak brightness levels and during my testing, I struggled to use the laptop outdoors under direct sunlight.
Keyboard and trackpad
If you type a lot of E-mails or like me, write a lot of articles, then you'll love using the ASUS S406U's chicklet-style keyboard. For one, the keys on the keyboard are well spaced out and therefore, you'll find yourself making considerably fewer errors. Moreover, despite the laptop's sleek girth of just 14.8mm, the keys offer a satisfactory travel of 1.4mm and even come with three levels of backlighting. Lastly, the palm rest is quite comfortable to put your hands on and doesn't flex or squeak under pressure either.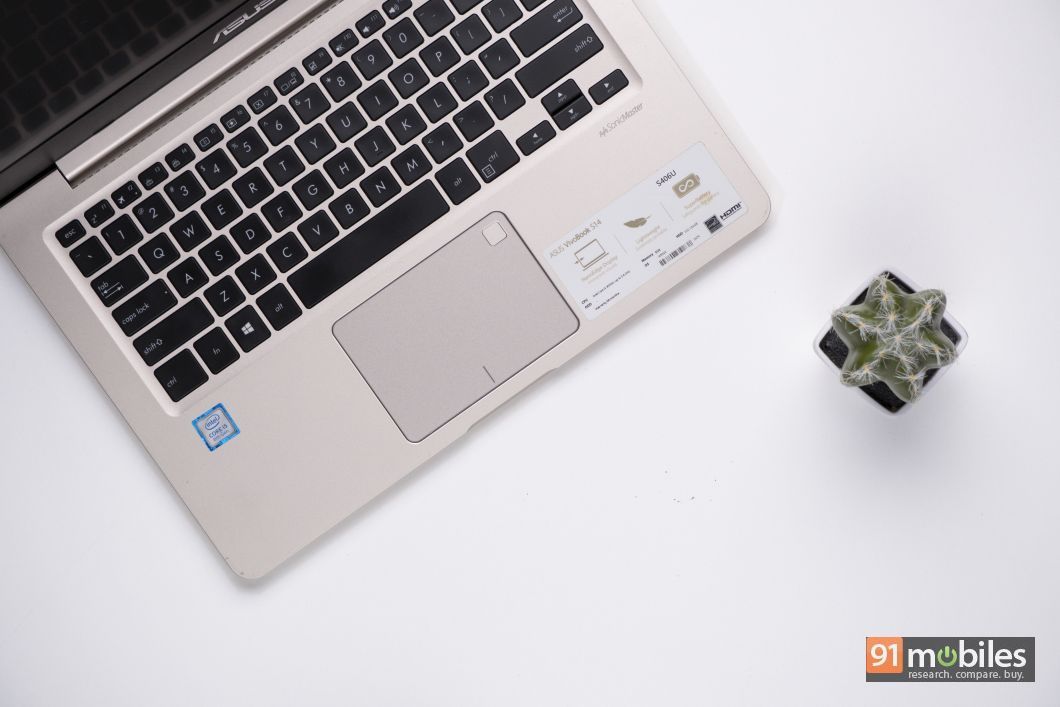 The trackpad on the ASUS S406U comes with Windows precision drivers and built-in palm rejection technology. Consequently, I didn't have any issues with the unit and was able to use all the Windows 10 gestures effortlessly. You'll also get a fingerprint sensor positioned towards the top-right corner of the trackpad, which worked flawlessly during my testing. The sensor is quite accurate and I seldom had to tap it again to unlock the machine.
Performance and battery life
The ASUS VivoBook S406U is rapid, thanks in no small part to the laptop's quad-core 8th gen Core i5-8250U processor which can turbo up to 3.4GHz. My review unit of the laptop shipped with 8GB of RAM and 256GB of solid-state SATA storage, however, you can opt for a model which comes with a built-in mechanical hard drive too if you are willing to compromise with the laptop's thickness.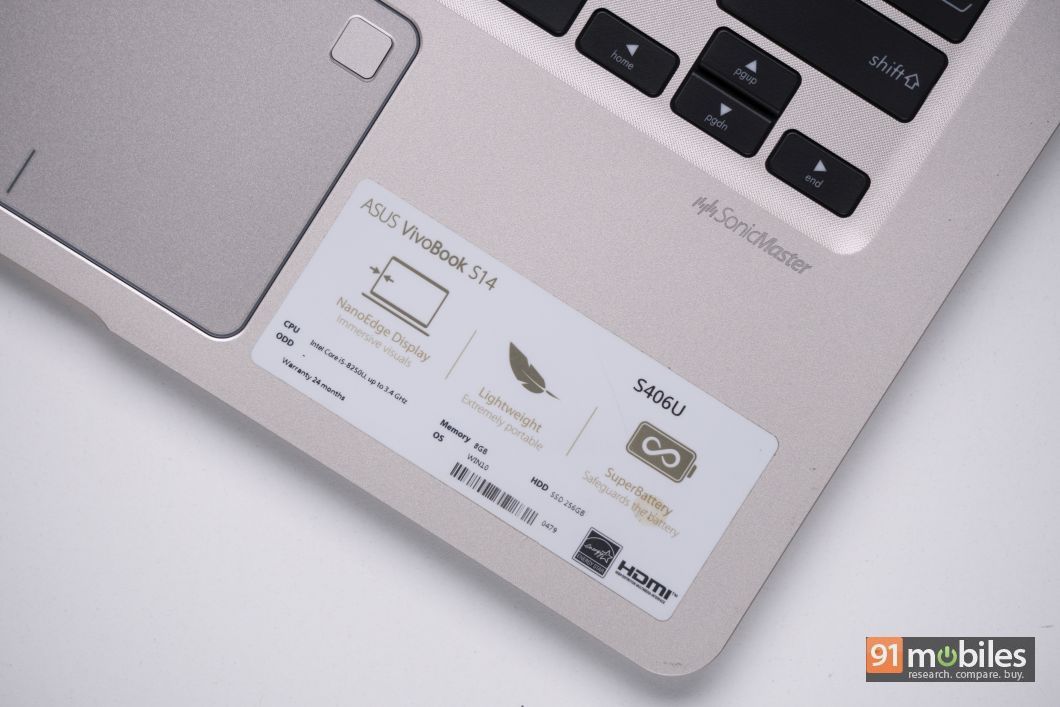 From a performance standpoint, the VivoBook offers excellent value for money and was able to handle my workflow with ease. You can comfortably have a dozen tabs open in Google Chrome, do some light editing on Photoshop and jot down notes on Microsoft Word, all at the same time. The laptop is just stupid fast when it comes to boot times too and you can get to the start-screen in less than five seconds. Thankfully, the laptop remained cool to the touch for the most part, even when I subjected the machine to long working hours. That said, the integrated Intel UHD Graphics 620 isn't ideal for gaming and while it ran casual games like Limbo and Asphalt 9 with ease, it struggled with almost all recent Triple-A titles. I also noticed that the temperatures spiked to uncomfortable levels when I was running casual games on the machine, making it impossible to place the S406U on the lap to use it.
I did run a slurry of benchmarks to give you a better gauge of the laptop's performance. In PCMark 10, the laptop netted a total score of 3,417, which is just a hair shy of the ThinkPad L380's (review) score of 3,465. Moreover, upon running CrystalDiskMark, the laptop scored an impressive 563.4 MB/s for sequential reads and 259.8 MB/s for sequential writes. Suffice it to say, the ASUS VivoBook S406U is an excellent every-day laptop which should be able to meet most buyers performance needs.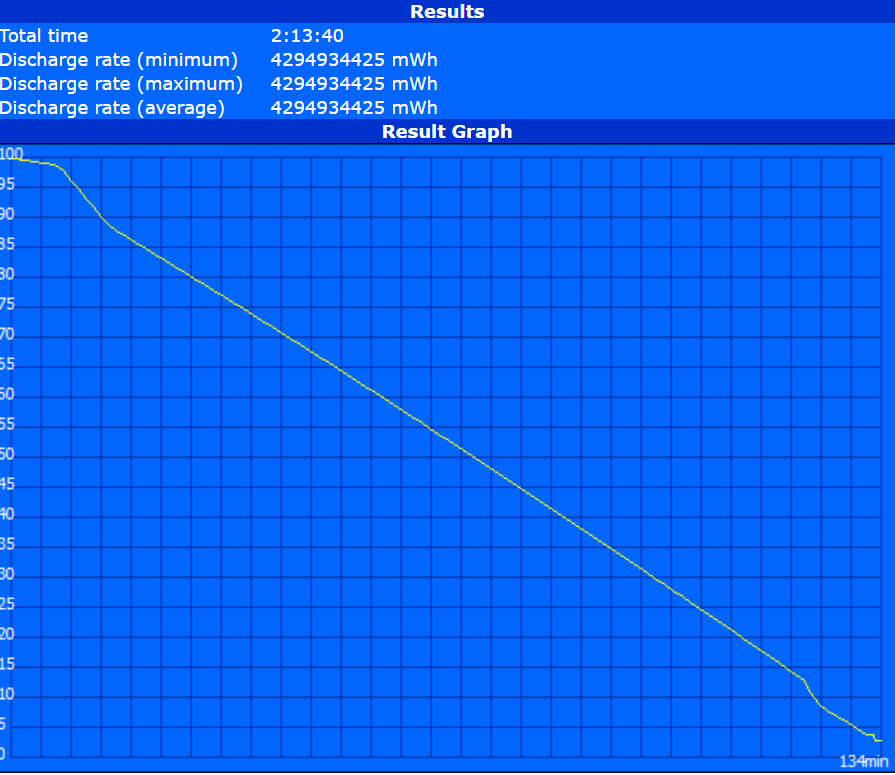 The ASUS VivoBook S406U doesn't offer a day-long battery life, but it gets close. I managed to get around six hours of battery life with the laptop on moderate usage which involved watching videos on YouTube, drafting articles on Chrome and using messaging services like Slack. If you want more numbers, then you should know that the laptop drained completely in a little over two hours in the battery eater pro test. I'd also like to point out that the unit's bottom-firing speakers are easily muffled when the laptop is placed on a bed or your laps. Moreover, they aren't very loud, to begin with, so I'd recommend you connect the machine to a Bluetooth speaker if you want to enjoy watching movies on it.
Verdict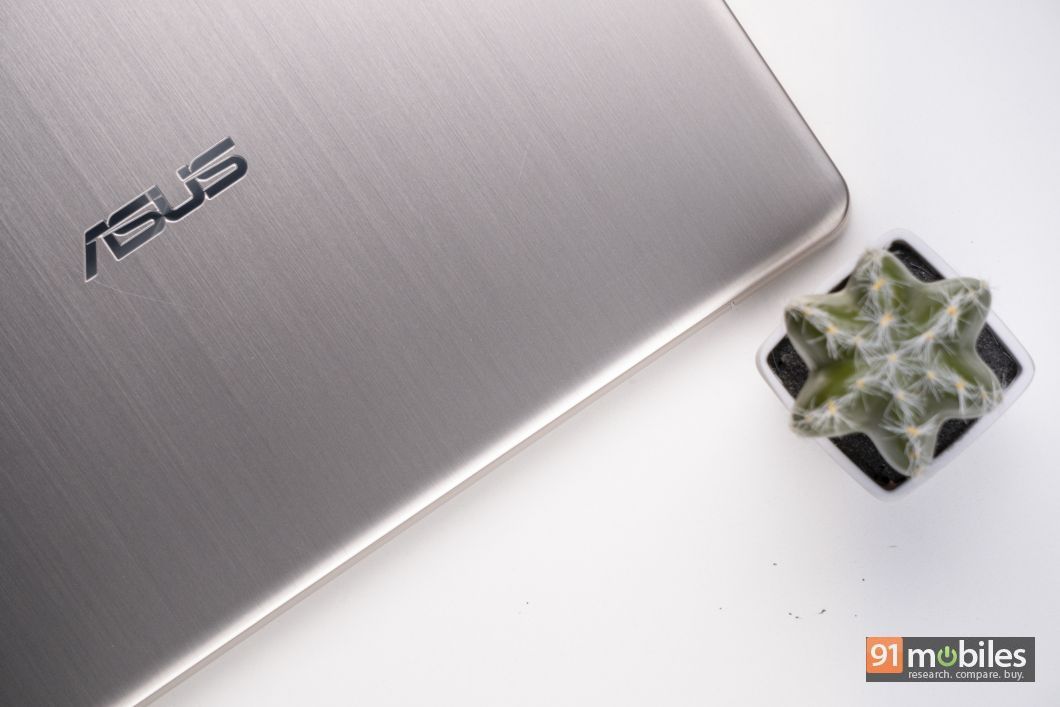 The ASUS VivoBook S406U retails for around Rs 55K on leading online stores. For the price, the laptop offers great performance, a good-quality FHD panel, a comfortable keyboard which supports backlit LEDs and ships in an extremely portable form factor. On the downside, the display's peak brightness levels could've been better and the battery life of the laptop is nothing to write home about either. Moreover, you'll have to compromise on the connectivity front and the laptop's audio quality too. That said, I still feel that the VivoBook S406U is a great Windows alternative for people looking to buy Apple's MacBook Air, which ships with dated specs and a slightly heavier body. Everything considered, I can wholeheartedly recommend the laptop to folks who're looking for a light and portable office machine.
Editor's Rating: 4 / 5
Pros
Portable form factor
Sharp display
Great performer
Excellent keyboard and trackpad
Cons
No full-sized HDMI port
Sub-par audio quality from built-in speakers
Average battery life
Photos by
Raj Rout