When Apple launched the MacBook Air back in 2008, it created a new category of laptops that offered a lightweight build and a good mix of specs for mainstream users. Across the bridge in the Windows segment, almost all major brands have launched offerings to counter the MacBook Air. So it's not a surprise to see Taiwanese giant ASUS launching sleek laptops in its ZenBook range. The latest in the lineup is the ZenBook UX331, which ships with the new 8th-gen Intel processor. But is it worth doling out your hard-earned cash?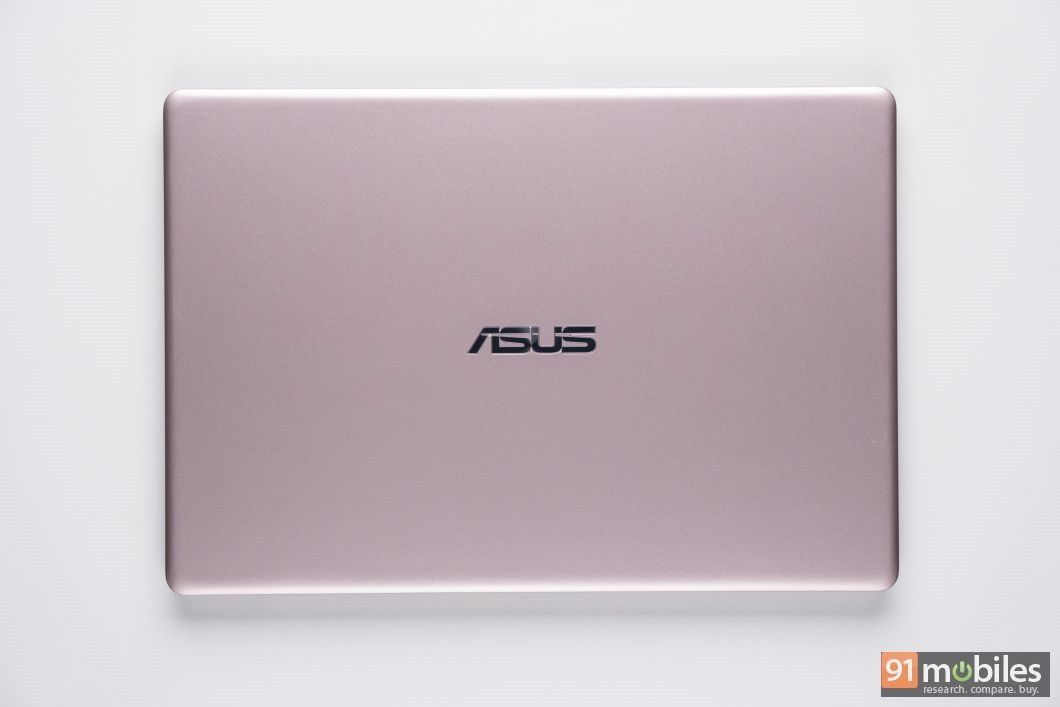 Specs at a glance
Measures 13.9mm
Weighs 985g
13.3-inch display, with resolution of 1,920 x 1,080 pixels
Intel Core i5-8250U processor
Intel Integrated UHD 620 graphics
8GB DDR3 RAM
256GB SSD
1 x Type-C USB 3.1 port, 2 x Type-A USB 3.0 ports
1 x HDMI port
1 x microSD card reader
Windows 10 Home
Three-cell battery
Design and display
The ASUS ZenBook 13 lives up to the "simplicity is the best policy" philosophy. Unlike premium laptops in the ZenBook range which come with a concentric circle design on the lid, the UX331 features minimal aesthetics from the outside. That's not to say that it doesn't warrant any attention. The laptop's rose gold finish is quite eye-catching (it's also available in a blue hue), and its sleek form factor also adds to the charm.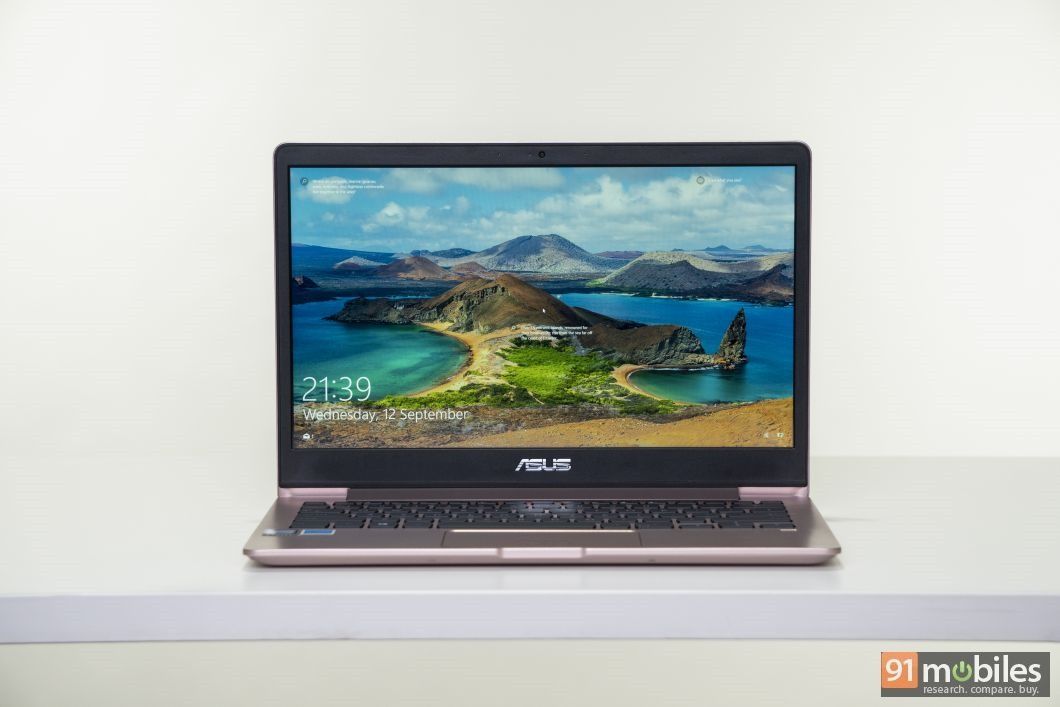 In fact, you won't even believe me when I say how slim and lightweight it is, until you hold it in your own hands. The device weighs less than a kilogram, and its frame measures 13.9mm, making it one of the lightest laptops I've ever used. Truth be told, there were times when I had to check my laptop bag just to be sure if I've kept the ASUS ZenBook 13 UX331 inside.
Having said that, the use of lightweight materials have one adverse effect… the build quality. There's a noticeable amount of flex in the screen, and it's not even stable if you place the laptop just below a ceiling fan. Thankfully though, the hinge is quite sturdy and lets you use the display with up to 270-degree rotation. The area around the trackpad is also relatively solid, and thanks to the use of magnesium-aluminium alloy, is comfortable for resting your palms. That's not all, the machine is also MIL-810G certified, ensuring that it can survive harsh conditions as well, though I didn't try to test this out.
In terms of ports, the ASUS ZenBook 13 UX331 doesn't skimp on anything. You'll find two high-speed USB Type-A ports on either side of the machine, with the HDMI port, proprietary charging socket and a Type-C port on the left edge. The right side features a 3.5mm audio socket and a microSD card slot. The left spine also has LED indicators for battery status and charging. Another interesting design decision is the use of the space between the hinge for cooling vents, which ensures that there's ample space for the heat to escape.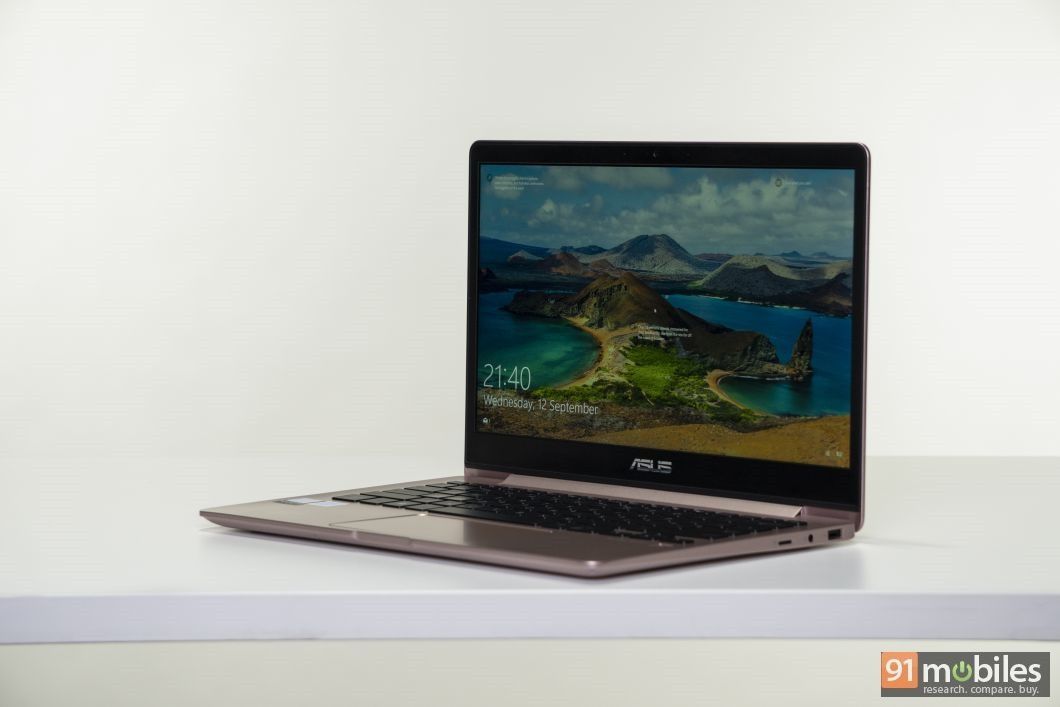 As the name indicates, the ASUS ZenBook 13 sports a 13.3-inch IPS panel. The screen bears a resolution of 1,920 x 1,080 pixels, ensuring sharp text and accurate colour reproduction. The viewing angles and quite impressive, and so are the brightness levels as I didn't find any issue in using the laptop under the direct sunlight. While the laptop isn't entirely bezel-less, it does come with the brand's NanoEdge display, resulting in a screen-to-body ratio of 80 percent.
Keyboard and touchpad
It's commendable that ASUS hasn't compromised on the keyboard aspect of the ZenBook 13 UX331, despite making it slim. The keys have enough travel, and there's ample space between keys too. What that means is that you can start typing on the laptop accurately and quickly in almost no time. I didn't find any issues in adjusting to the new layout either. What I really liked is the fact that the keyboard isn't just backlit, but also lets you control the intensity of the backlighting between three levels.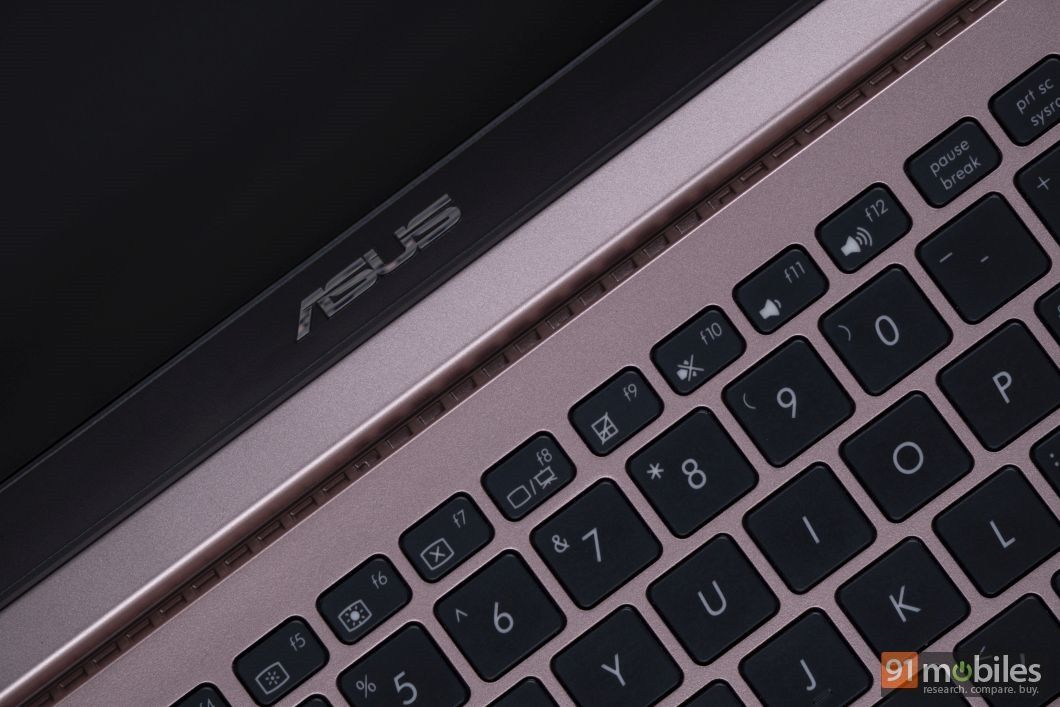 For its size, the touchpad on the laptop is sizeable as well. It works quite well, and is precise too. Sadly though, at times, it becomes unresponsive for no reason at all. I suspect that this is an issue with my unit though, as the device comes with Precision Touchpad.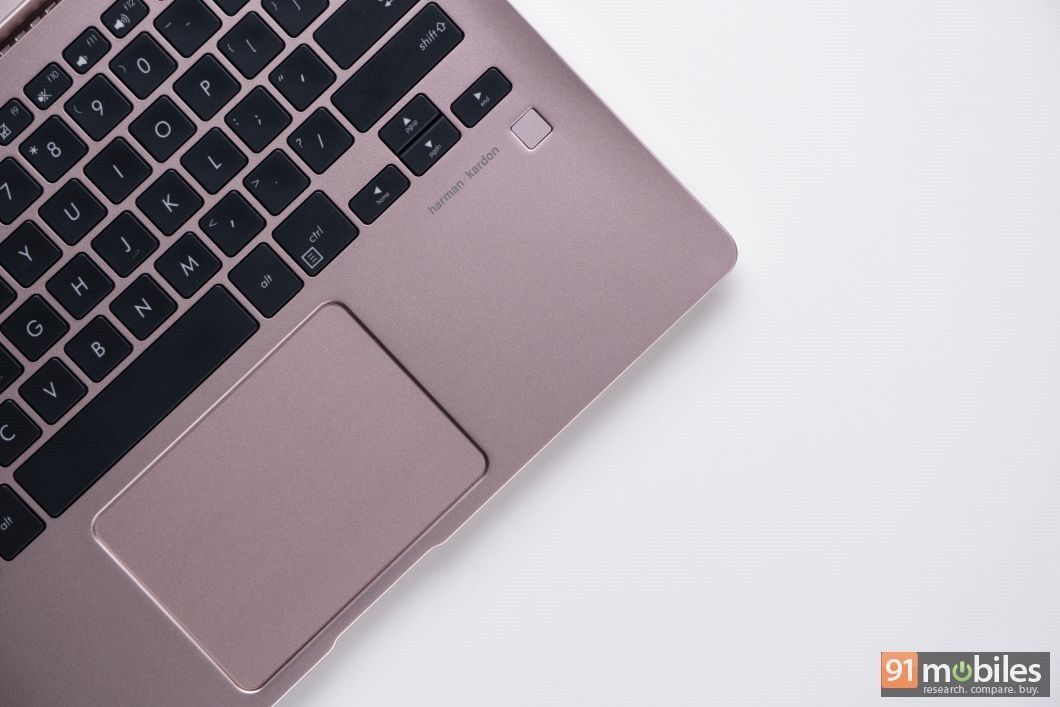 The ZenBook 13 also offers a fingerprint reader just below the keyboard area. Working in conjunction with Windows Hello, it's able to unlock the laptop quickly. The sensor is accurate too.
Performance and battery life
The ASUS Zenbook 13 UX331 comes powered by Intel's latest 8th-gen core i5 processor. The i5-8250U is a quad-core CPU tuned at 1.6GHz. Paired with 8GB DDR3 RAM, the ultraportable is able to handle routine tasks deftly. During my review period, there was nary an instance when the laptop showed any trace of lag while using two browsers (Chrome and Firefox) with more than 20 tabs in total, using Notepad, Franz – which acts as an aggregator for services like Slack, WhatsApp, Messenger, Hangouts and more, and running either Microsoft Word, PowerPoint or Excel along with streaming music off iTunes. Switching between apps was almost instantaneous as well. If this hardware doesn't seem powerful enough, you can also opt for a higher-end model of the laptop which offers a Core i7 chipset and 16GB of RAM.

The UX331 sports integrated graphics from Intel, which means that it's not necessarily meant for gaming. However, I played Asphalt 9: Legends, and the device offered a smooth experience with life-like graphics. Although the graphics became choppy in some cases, especially when I tried to take a screenshot or run another app alongside. I also tried my hands at playing the graphics-heavy Witcher 3 game, and the laptop barely managed to run it. In terms of benchmarks, the hardware combination achieved a score of 2,544 on PCMark 10, which strangely enough, is way less than the Vivobook S406, which is powered by a similar hardware.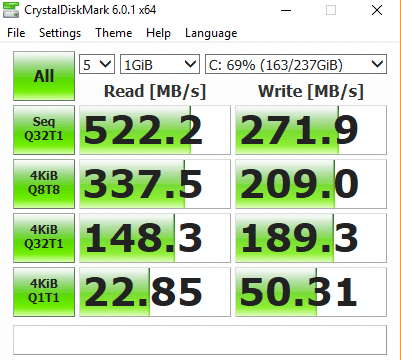 For storage, the notebook offers 256GB SSD for the base model, and 512GB SSD for the maxed-out variant. The solid-state disk means that the machine offers fast read and write speeds, which reflects in the CrystalDiskMark score as well. The UX331 has read and write speeds of 522.2MB/s and 271.9MB/s, respectively.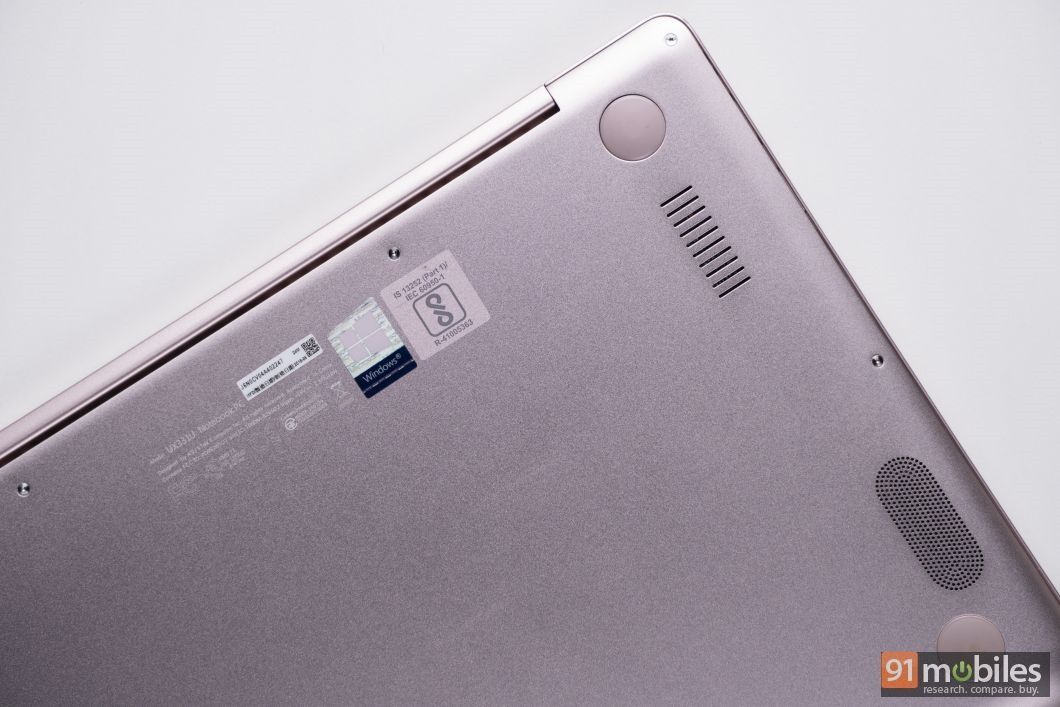 ASUS has offered Harman Kardon-certified speakers at the base of the laptop. The stereo speakers offer rich sound, but it's odd to find them placed at the bottom, as the sound is relatively muted, even though the laptop's base is slightly raised with the use of rubber feet.
On the software side of things, the ZenBook 13 runs Windows 10 Home, and is preloaded with a few apps from the Taiwanese brand. These include PowerDirector and PhotoDirector to edit videos and photos respectively, along with McAfee Security and ASUS GiftBox.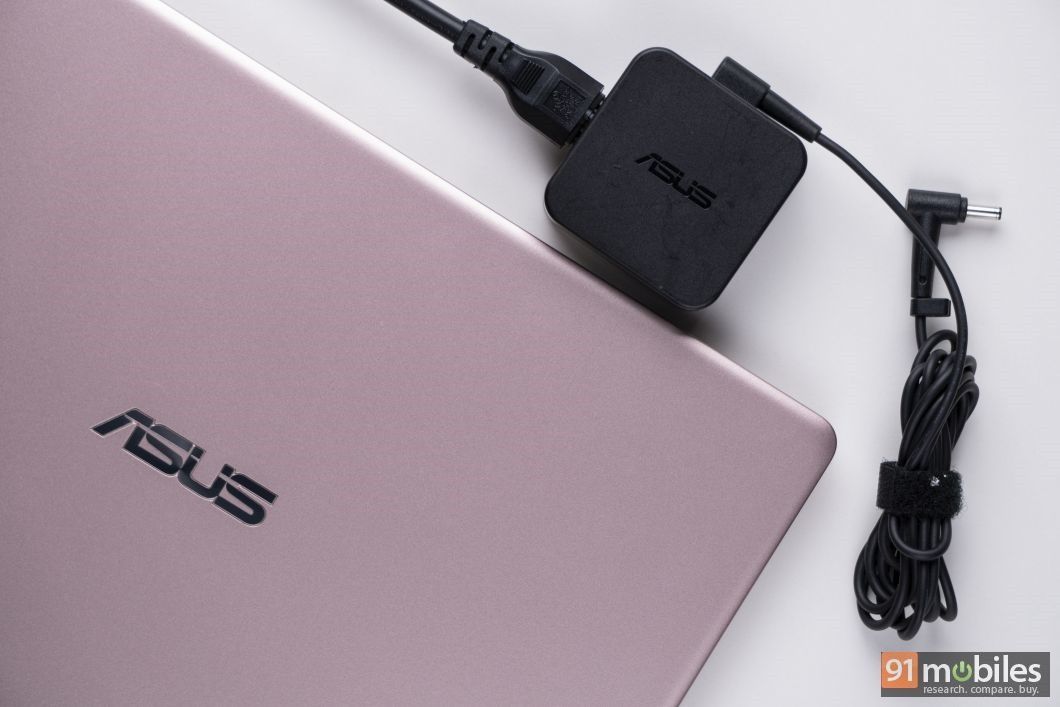 As far as the battery is concerned, ASUS' laptop won't disappoint you. I used the UX331 as my daily driver at IFA and its three-cell 50Wh battery was able to offer a runtime of around five hours with brightness levels maxed out and the laptop optimised for performance mode. To put things into perspective, the device was able to run three hours and 13 minutes on BatteryEater's test. It can also juice up quickly, going from 10 to 100 percent in about two hours. Although, I'd liked the laptop to come with a standard charger (ideally Type-C) instead of a proprietary one.
Verdict
The ASUS ZenBook 13 UX331 is a no-frills laptop for those who want a lightweight option that works for the boardroom or binge-watching TV shows. Granted, it doesn't have any fancy features like a touchscreen, 2-in-1 functionality or a dedicated GPU for that matter, but it's also priced relatively affordably at Rs 66,990. The i7 variant of the UX331 will set you back by Rs 84,990.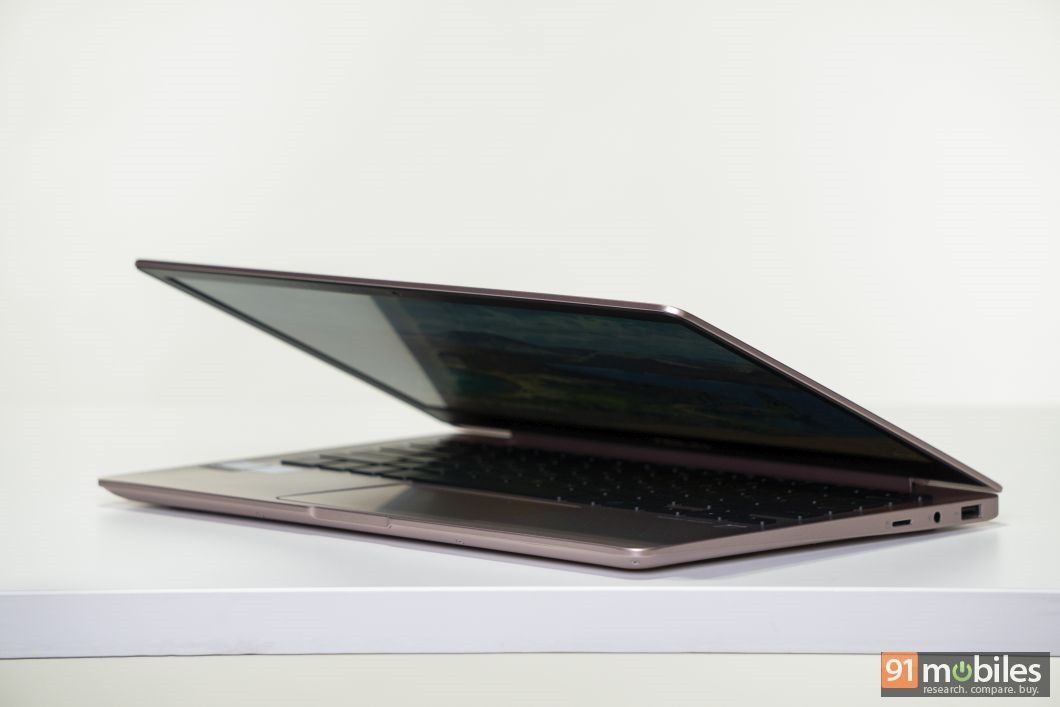 The laptop also manages to carve a niche for itself, as it's competitors include the MacBook Air, which is long overdue for an upgrade. There's the HP Envy and Dell Inspiron 13 5000 and too, which also comes with similar hardware, but tips the scales at 1.32kg and 1.4kg respectively. HP's laptop is also priced on the higher side.
In sum, the ASUS ZenBook 13 UX331 can be a great option for you if you're looking for a sleek-and-stylish machine that can handle day-to-day tasks well.
Editor's rating: 4 / 5
Pros
Lightweight design
Gorgeous display
Latest hardware
Great keyboard
Cons
Touchpad becomes unresponsive quite often
Speakers at the bottom offer muted sound
Lacks dedicated graphics card
Photos by Raj Rout