"The ZenBook Flip 13 UX362 is touted to be the slimmest and lightest 2-in-1s around"
While 2-in-1 laptops haven't taken the world by storm as many would have believed, they have their own charm. Usable as a regular laptop, as a tablet for enjoying multimedia, or for quickly draw something (if stylus support is provided), they do offer some neat functionality. ASUS also believes that its ZenBook Flip 13 UX362 can attract users who want more from their laptops. I have been using the rig for almost two weeks, which included traveling to IFA, ensuring that I put the machine under enough stressful conditions. And now it's time to take a closer look at how my experience went.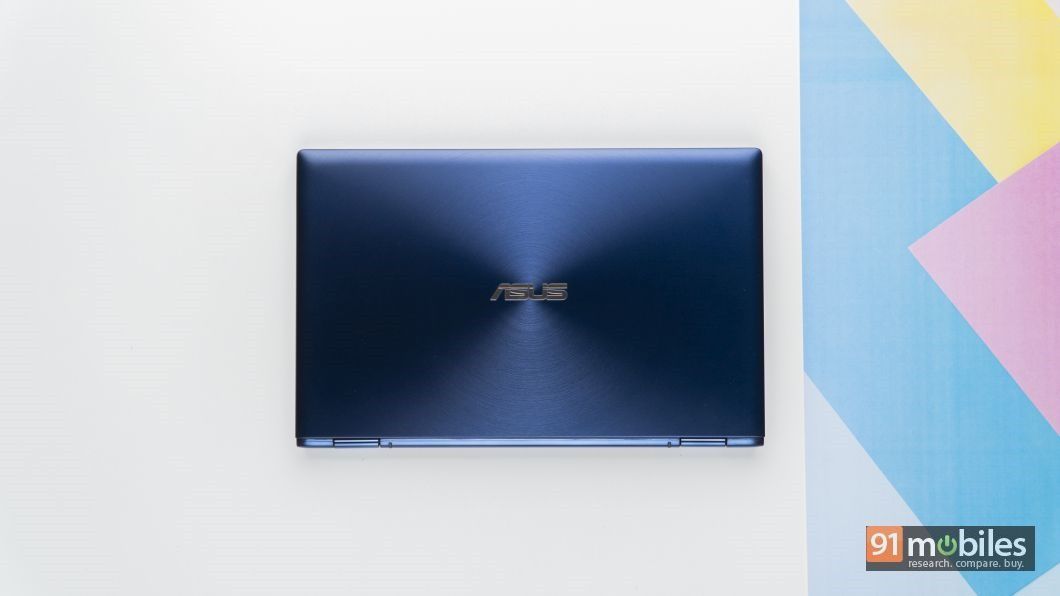 Specs at a glance
Measures 305 x 196 x 16.9mm
Weighs 1.3kg
13.3-inch display, FHD resolution
Intel Core i5-8265U processor
Intel HD Graphics 620
16GB DDR3 RAM
512GB SSD
2 x USB Type-C ports
50WHr battery
Runs Windows 10 Home
Design and display
Being promoted as the most compact convertible laptop, ASUS' ZenBook Flip 13 UX362 turns the notion that such devices are thick on its head. At 305mm and 196mm height and width, the laptop has a small footprint, and it's really sleek too at 16.9mm. In fact, these dimensions aren't matched by even regular laptops, so kudos to the Taiwanese giant's engineering team for achieving this with a 2-in-1 machine. Weighing 1.3kg, the ZenBook Flip 13 UX362 isn't bulky either and I was easily able to carry it in my backpack all day long during IFA.
The good thing is that ASUS hasn't made any compromises to achieve the svelte profile. The screen is really robust and doesn't bow down under pressure, and so is the palmrest region. In fact, unlike many 360-degree laptops, the hinge is fairly strong too and doesn't tilt even when you are using the device in a slanted position, though we'll need to see if the device is able to maintain this rigidity over time. However the fact that the device has received MIL ST810G certification does give one a lot of confidence about its build.
Attention has been given to the design as well, with the laptop covered in a blue paint job – which I like quite a bit – and accented with gold brand logo on the outside and golden trim around the edges. The lid sports concentric circles that add to the charm.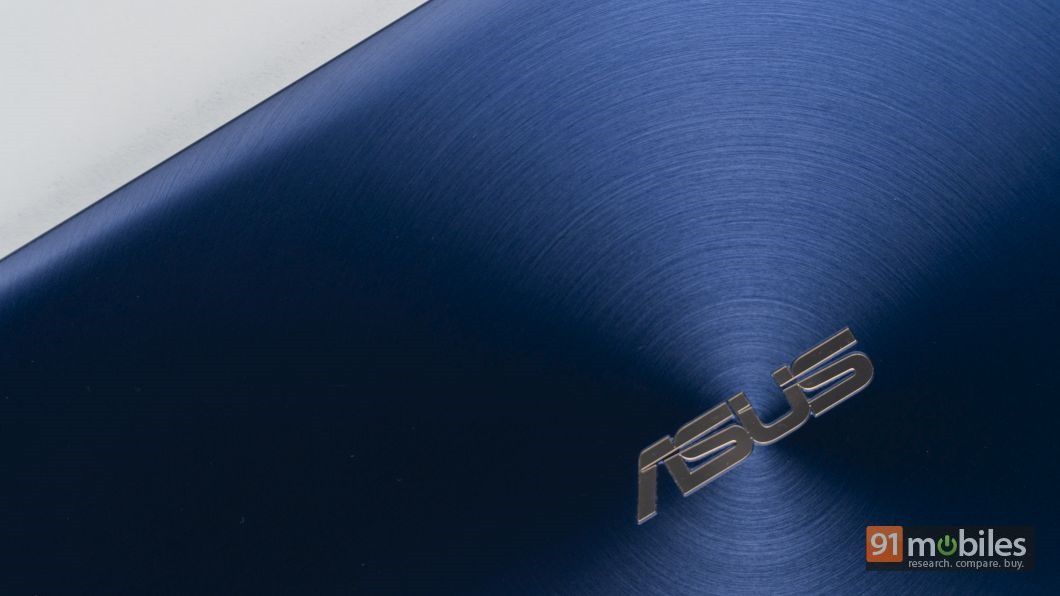 Coming to the display, the 13-inch IPS panel bears a resolution of 1,920 x 1,080 pixels. The touchscreen has minimal bezels around it, though the one at the bottom sports the ASUS logo, which I think could've been done away with. However, with a claimed screen-to-body ratio of ~90 percent, perhaps there's no reason to complain. In terms of the screen quality, the display is quite good and offers ample brightness levels to be used outdoors, though it's quite reflective.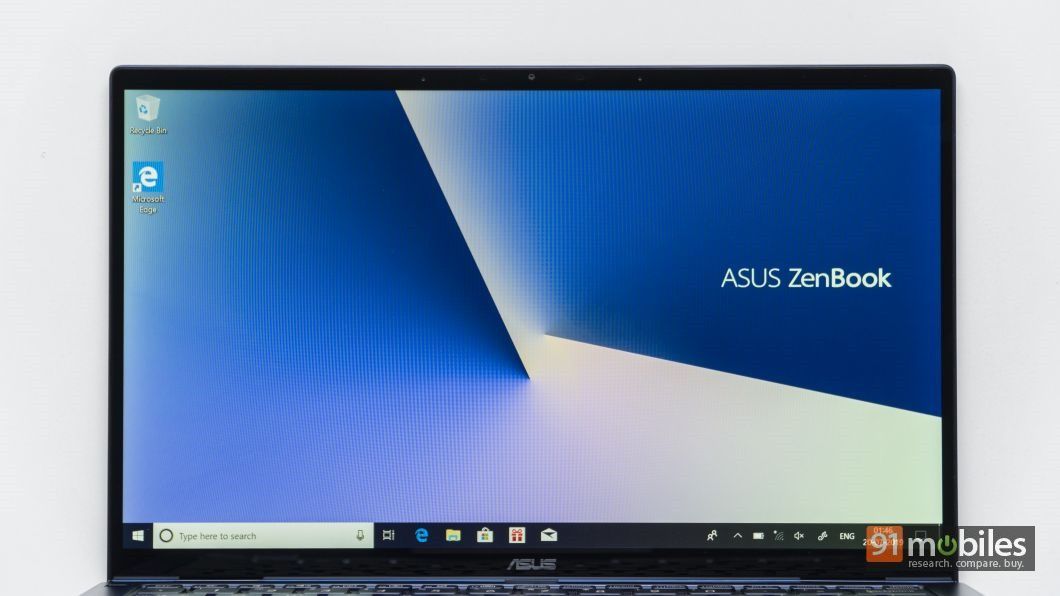 The screen responds to touches quite well and I didn't find any issues in using multi-touch gestures either… which brings us to the 360-degree capabilities of the ASUS ZenBook Flip UX362. Thanks to its solid construction, you could use it in any position, be it as a tablet or in the tent mode, which is quite handy for watching movies. Then there's the stylus which lets you quickly draw something, and it seems to work quite well, though its functionality is limited.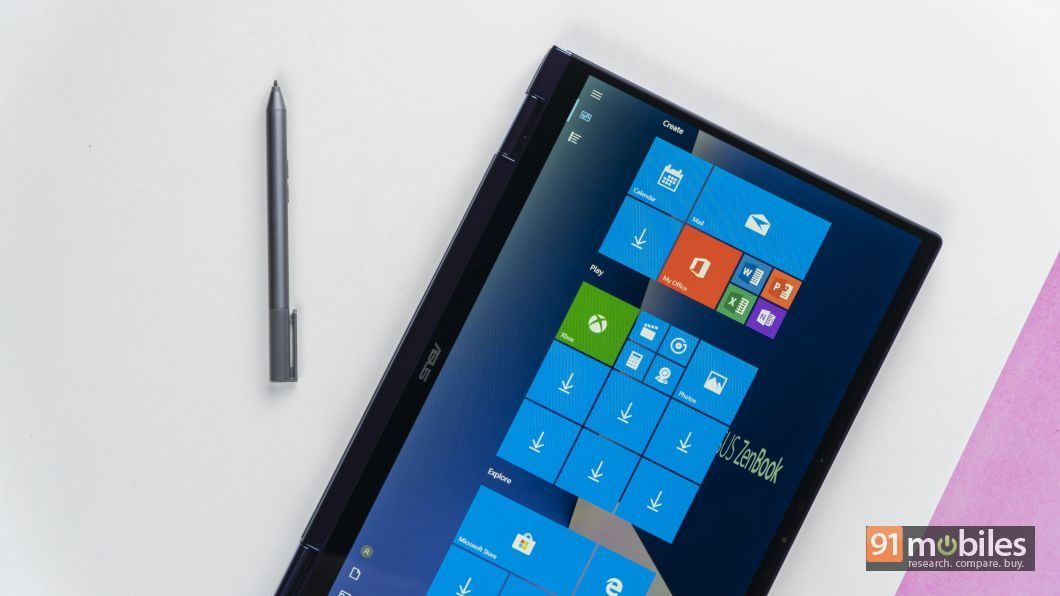 One thing that will catch your attention in the keyboard area is the web camera, considering there's already one above the screen. Dubbed as the World-Facing Camera, it's for enabling mixed reality applications, i.e. letting you use the device to place virtual objects in the real wold. Though I'm not sure if there'd be many people doing that as it's a large device to be used in this manner.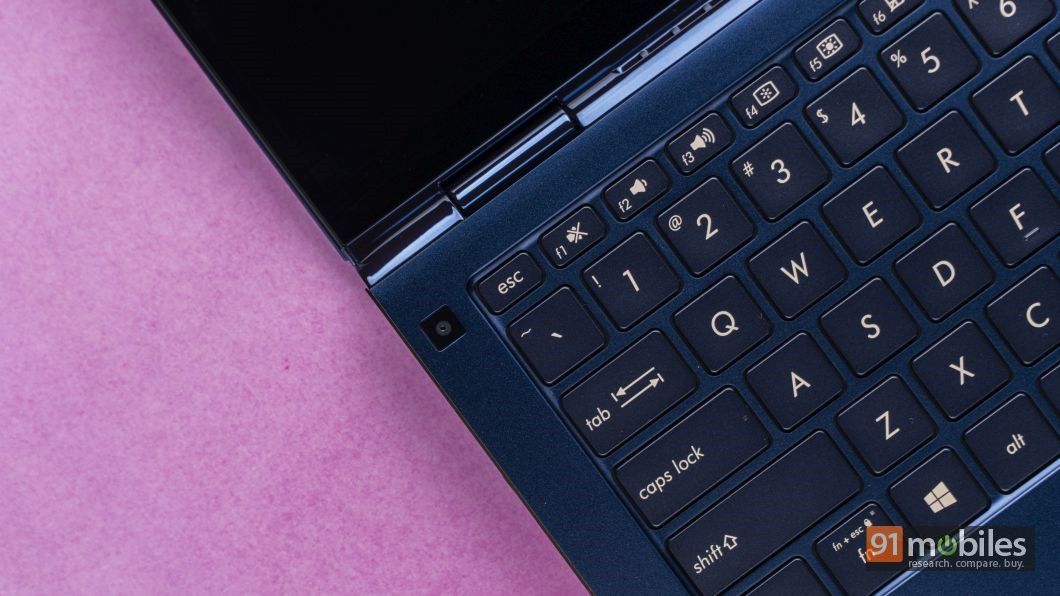 Speaking of the webcam, it features infrared and supports Windows Hello for letting you log in quickly. While the authentication is quite fast, at times, it takes a bit of time, and in such scenarios, it just seems more convenient to key in your password.
With two USB Type-C ports and a proprietary charging socket on the right, and a 3.5mm headphone interface on the left, the I/O options on the ZenBook Flip UX362 are nothing to write home about. It's also a bummer that the Type-C port doesn't support the Thunderbolt standard, and the company could've just used Type-C charging. I also think that ASUS could've bundled a dongle for offering HDMI port, regular Type-A socket and perhaps an SD / microSD card slot too.
Keyboard and trackpad
Despite its compact size, ASUS has packed in a well-spaced keyboard on the Flip 13 UX362. The keys have a good amount of travel as well, and I was able to quickly turn around my stories during IFA coverage – which means the keyboard gets a big thumbs up from me. You can also control the intensity of the backlighting. That said, the arrow keys could've been larger. The ergolift hinge that raises the palmrest area ever so slightly also enhances the typing experience.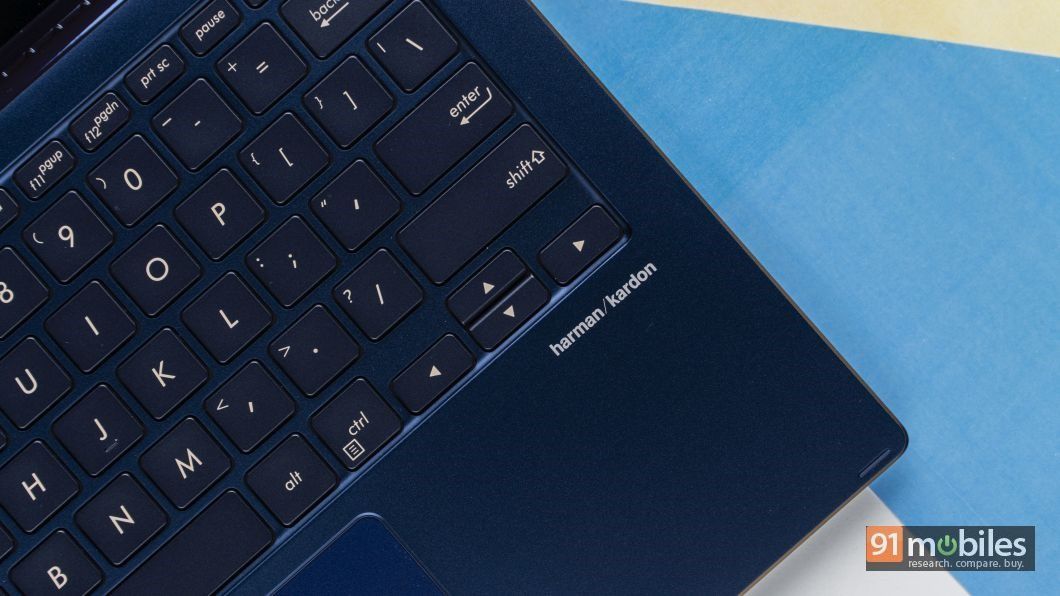 The ZenBook Flip 13 UX362 also features a capable trackpad. It has a decent area allowing you to use it for all actions along with multi-touch gestures for zooming in or out, among others.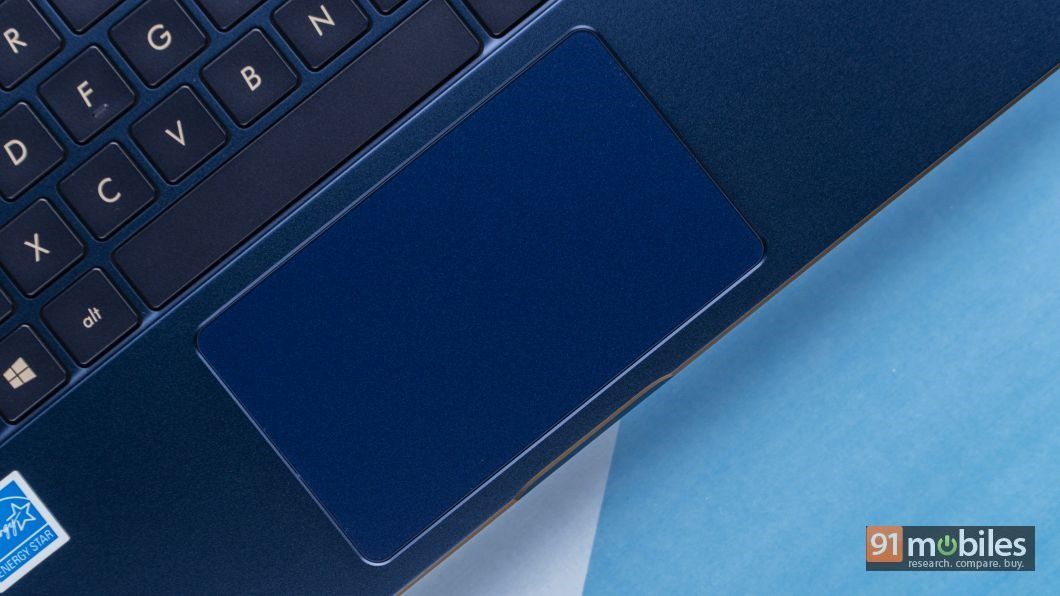 Hardware and software
Inside the 360-degree convertible machine sits Intel's 8th-gen Core i5 processor. The i5-8265U is a 1.8GHz quad-core processor which is paired with 8GB RAM, though you can also opt for the higher-end model of the ZenBook Flip 13 UX362 that comes with the i7 chipset (i7-8565U). While the combination isn't the fastest hardware around, it's quite capable of handling day-to-day tasks. During my usage period, there was nary an instance where I felt that the device was showing signs of a slowdown. This could be noticed with benchmarking apps as well, as the rig scored 3,271 on PCMark 10 and 966cb on Cinebench R20. To ensure that you don't run out of storage, the Flip 13 offers 512GB of SSD onboard.
ASUS ZenBook Flip 13 UX362 benchmarks
Sadly, if you're a gamer, then the Flip 13 UX362 isn't for you as it ships with an integrated GPU to ensure that it maintains its slim profile. The Intel UHD 620 graphics barely manages to handle titles like Asphalt 8: Airborne, and the device heat up within minutes of gaming. This is reflected by its Time Spy score as well as it got 336. At this point, it's also worth mentioning that the rig is quite noisy – with the ventilation grille placed at the back – and that's not when you're pushing it to the limits. Even while running general tasks, the ASUS laptop makes considerable noise sometimes.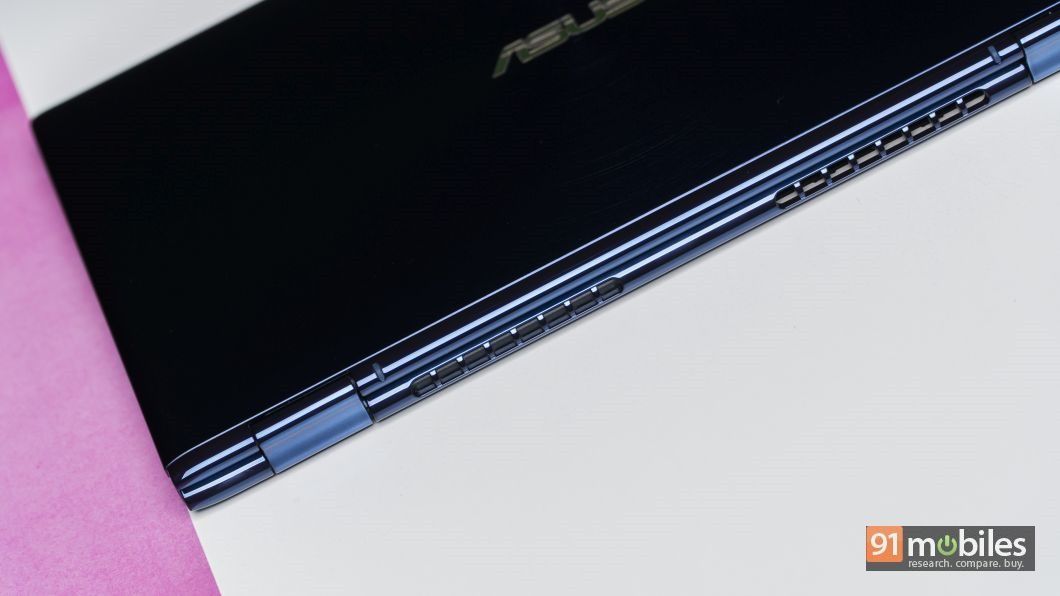 Along with an immersive display and the ability to keep the screen in the position that you want, the device also offers rich sound output, making the ASUS ZenBook Flip 13 UX362 an ideal machine for watching multimedia content. The Harman Kardon-tuned speakers are located on the underside, the audio isn't seem muffled and doesn't shrill at full volume either.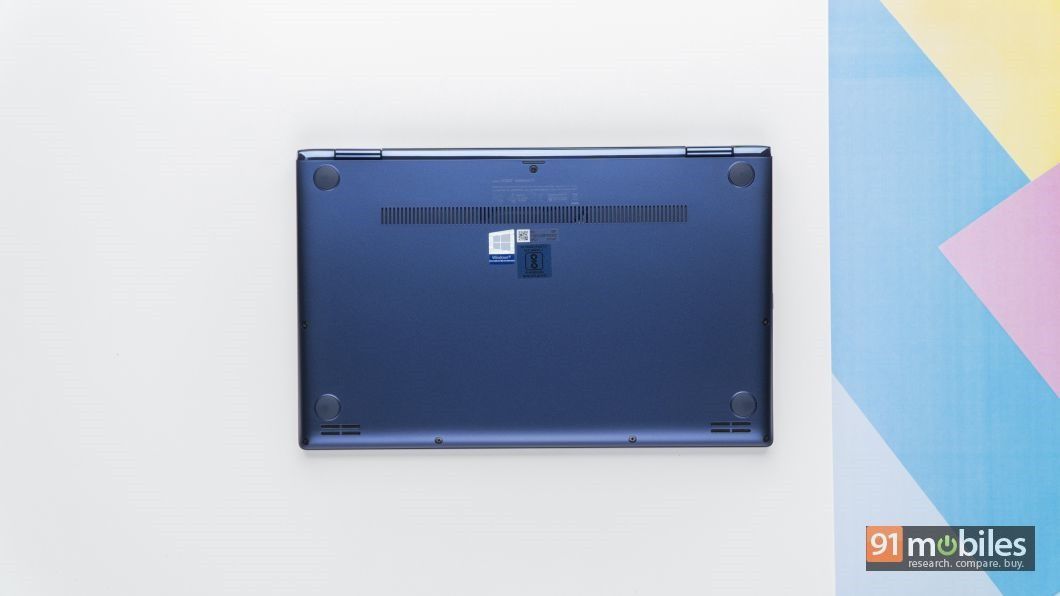 Juicing up the UX362 is a three-cell battery, which ensures that you can use it for a couple of hours with ease. With my usage comprising writing, web surfing, listening to music while the device is connected to an external monitor (by the means of a Type-C to HDMI adapter), the device was able to last around three to four hours. In BatteryEaterPro, the laptop managed to last for about three hours and 10 minutes before draining out completely. Charging from 10 to 100 percent with the bundled 65W adapter takes around 90 minutes.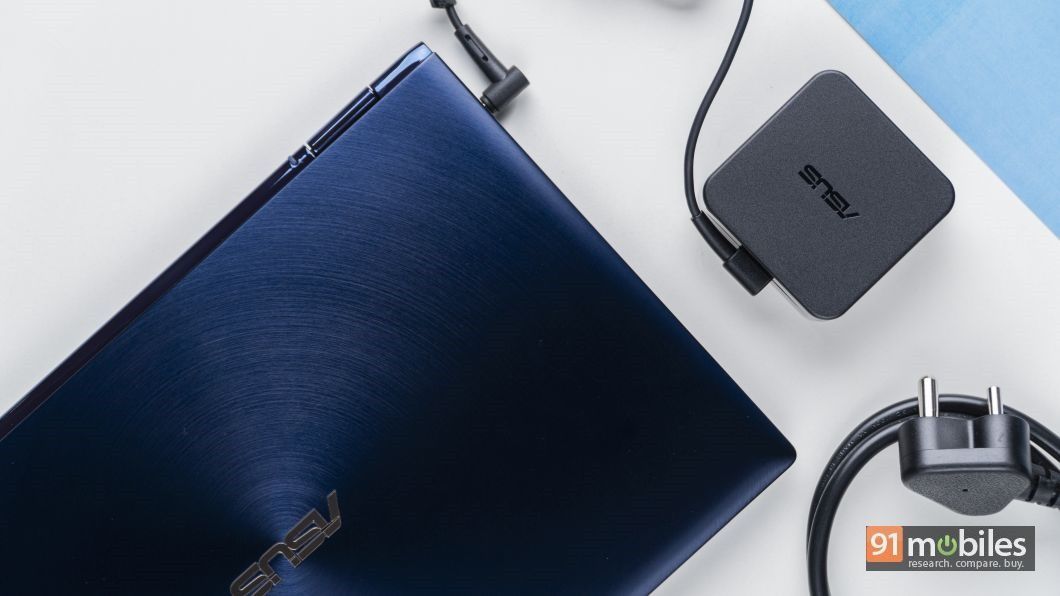 Verdict
As mentioned above, convertible laptops don't get as much attention as they deserve, and the Flip 13 UX362 tries hard – and succeeds to the most part – to change the status quo. Although its battery life isn't up to the mark and it's not meant for gaming, it has everything you might be looking from a productivity-oriented machine that can also offer good entertainment.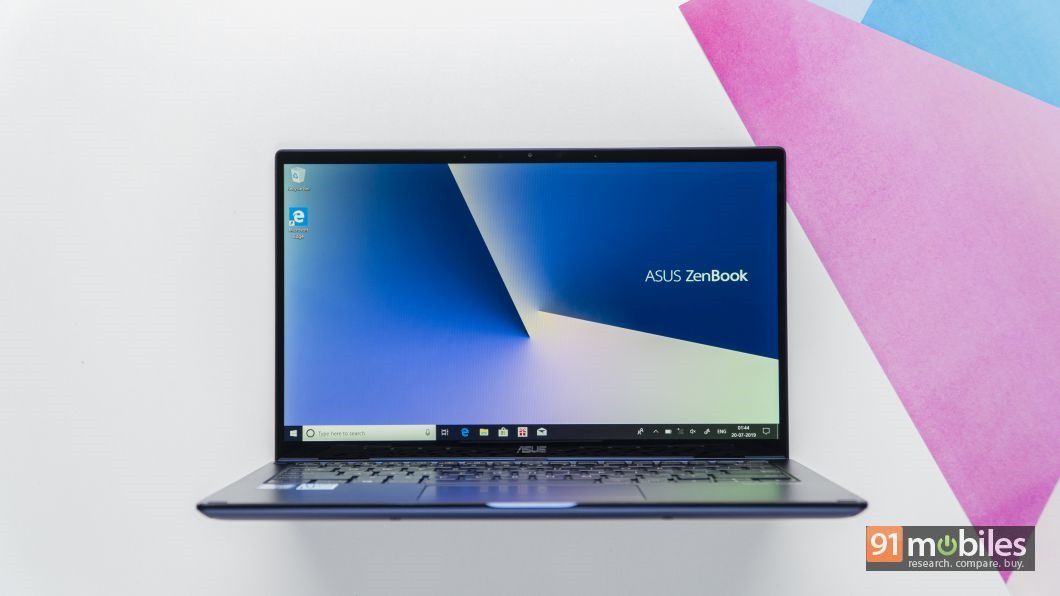 With a price tag starting at Rs 76,990, the ASUS ZenBook Flip 13 UX362 is priced well too. At a price where it's difficult to find a capable ultrabook, the company is offering you a well-built 2-in-1 laptop. That said, if you have this budget, then it's important to decide what you're looking for. In case you're a gamer, then you can check out Lenovo's Legion Y540 (review) or HP Pavilion Gaming 15, both of which feature 15.6-inch displays and come with dedicated graphics. If you're looking for an ultrabook, then there are devices such as the Dell Inspiron 5370 and LG Gram14Z, though since the cost and feature difference isn't much, you could very well go for the ASUS laptop as the 2-in-1 functionality does bring unique capabilities. That's not to say that there aren't other convertibles in this category. The Lenovo Ideapad C340 for instance, features a 14-inch FHD panel and has a standalone NVIDIA MX230 GPU.
All said and done, what makes the ZenBook Flip 13 UX362 so enticing is that it's a loaded-yet-lightweight laptop that has been priced attractively.
Editor's rating: 4 / 5
Pros
Thin and lightweight design
Great display
Reliable keyboard and trackpad
Smooth performance
Cons
Battery life could've been better
Heats up and noisy fans
Scores low on I/O aspects and misses out on Thunderbolt support too
Photos by Raj Rout