"Our take on Lenovo's latest gaming laptop – the Legion Y540"
A couple months ago, the folks at Lenovo sent me their Legion Y530 gaming laptop, which promised to offer stellar in-game frame rates without burning a hole in your wallet. After spending a couple of weeks with the machine, I concluded that the was a great segue for budding enthusiasts looking to get into gaming. Now, the brand has announced the successor to the machine in the form of the Legion Y540, which costs a hair more than its predecessor albeit ships with Nvidia's newer RTX GPU. Clearly, the latest entrant has some pretty big shoes to fill, so without any further ado, let's see if it's any good.
Design and Display
Folks, let's not beat around the bush, shall we? The Lenovo Legion Y540 is a carbon copy of its predecessor and the laptop features the same design language as the Y530. Therefore, if you'd like to know more about the laptop's aesthetics, head over to my review of the Legion Y530.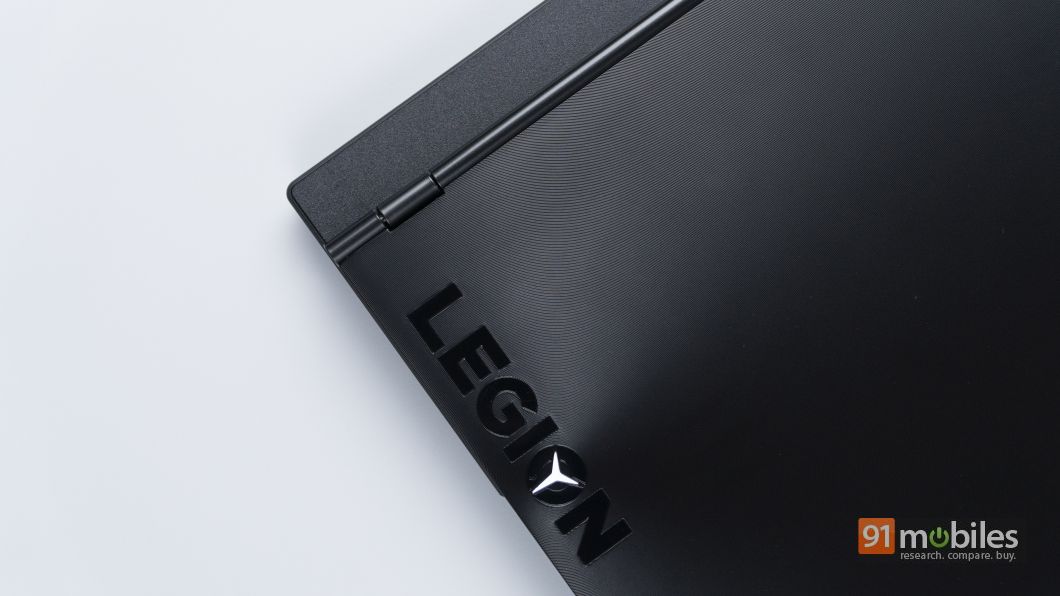 But, to sum up, the Legion Y540 is unlike most gaming laptops as it features a subtle design language, allowing it to camouflage well amidst a herd of business-centric notebooks. The laptop's design feels superbly premium, and there's not an inch of flex anywhere on the machine, be it on the display which stays firm and doesn't wobble at an angle or the base, which albeit uses plastic, is as stiff as a board.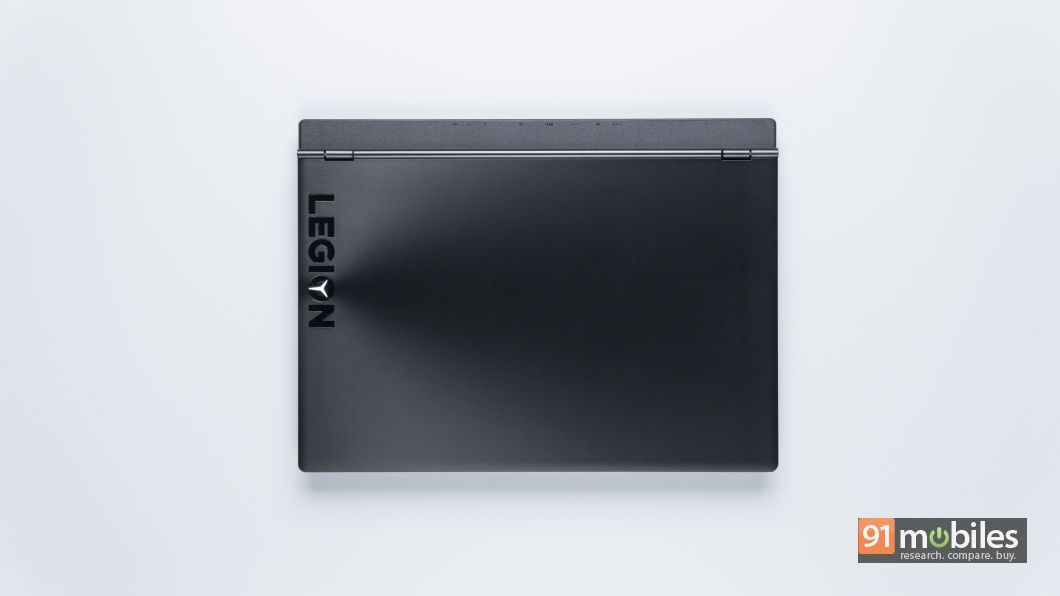 There's a good assortment of ports on the machine too, and with the laptop, you'll get a USB-C port, a mini DisplayPort, an HDMI 2.0 socket, an Ethernet slot along with three USB 3.1 Gen 1 ports. Now, the laptop is Windows Hello compliant, but doesn't come with support for facial unlock or a dedicated fingerprint sensor. Consequently, getting into the desktop isn't as seamless an experience as I would've hoped it to be. Regardless, you do get a webcam (or should I say, nose-cam) with the unit, which is located below the Legion logo on the bottom bezel of the display. While I'm thoroughly satisfied with the webcam's quality, it casts users at an unflattering angle and correspondingly, I didn't find much use for it during my time with the Y540.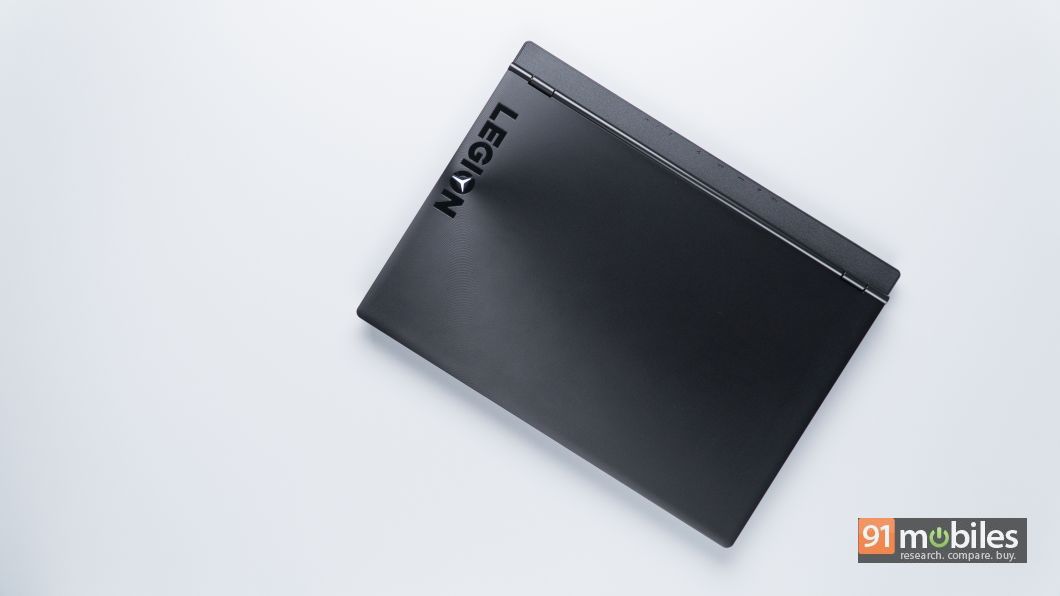 The display remains unchanged from the Y530 too and with the newer model, you'll get a 15.6-inch, full HD panel with a refresh rate of 144Hz. Now, back when I reviewed the Y530, I made an argument against outfitting an entry-tier gaming rig with a high refresh rate panel. However, the Y540 is loaded when it comes to core specifications and therefore, you should be able to enjoy buttery-smooth gameplay on some titles. What's more, the display is an absolute treat to use for everyday tasks too as the app animations feel fluid and scrolling through webpages on Chrome paved way for an enjoyable experience.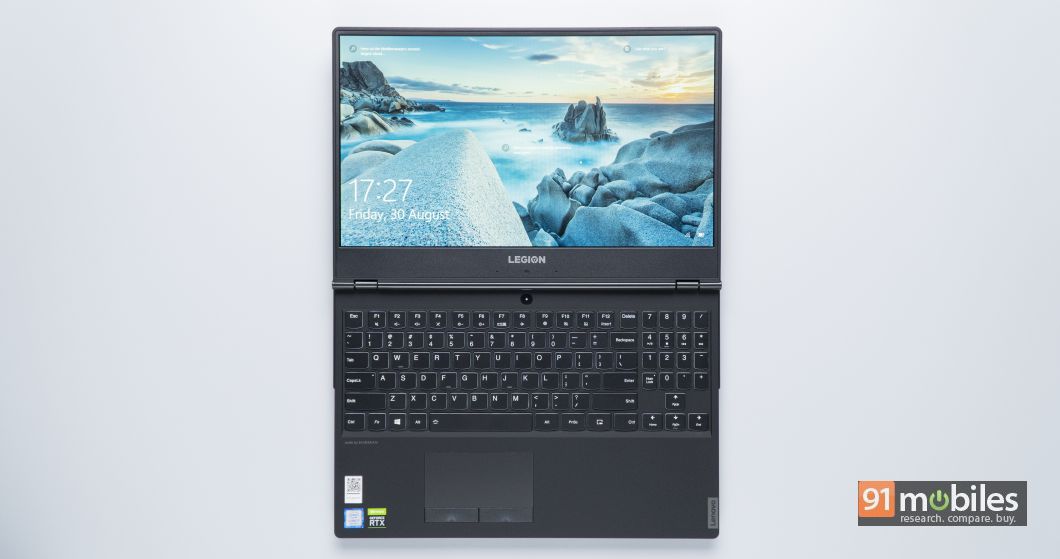 On the downside, the panel has a matte coating on top, which although cuts down on unnecessary glares and reflections, somewhat mutes the colours too. The display isn't too bright either, so if you'll have to crank the brightness to max if you're working in a well-lit environment.
Keyboard, Trackpad, and Audio
One of my biggest gripes with the Legion Y530 was its subpar keyboard. I write for a living and therefore, it's crucial that the laptop I'm carrying offers a satisfying typing experience. Thankfully, the Legion Y540's keyboard surpassed my expectations – the key travel is just right, the layout is spacious, and the keys felt adequately tactile as well.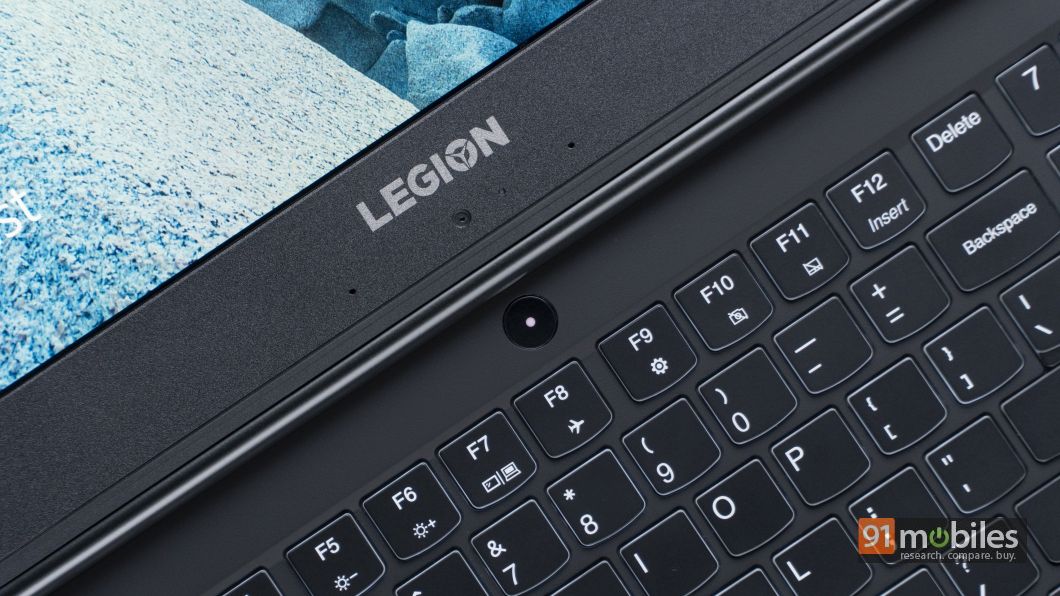 Now, I admit, typing on the Legion Y540 takes some time getting used to, as the alphabet keys have been shifted towards the left to make room for the dedicated numpad. That said, I was able to type perfectly well after using the machine for a day or two.
What's more, the keyboard is backlit too, albeit it doesn't ship with fancy RGB lighting. Regardless, you should have no problem sending last-minute E-mails late at night with the Legion Y540.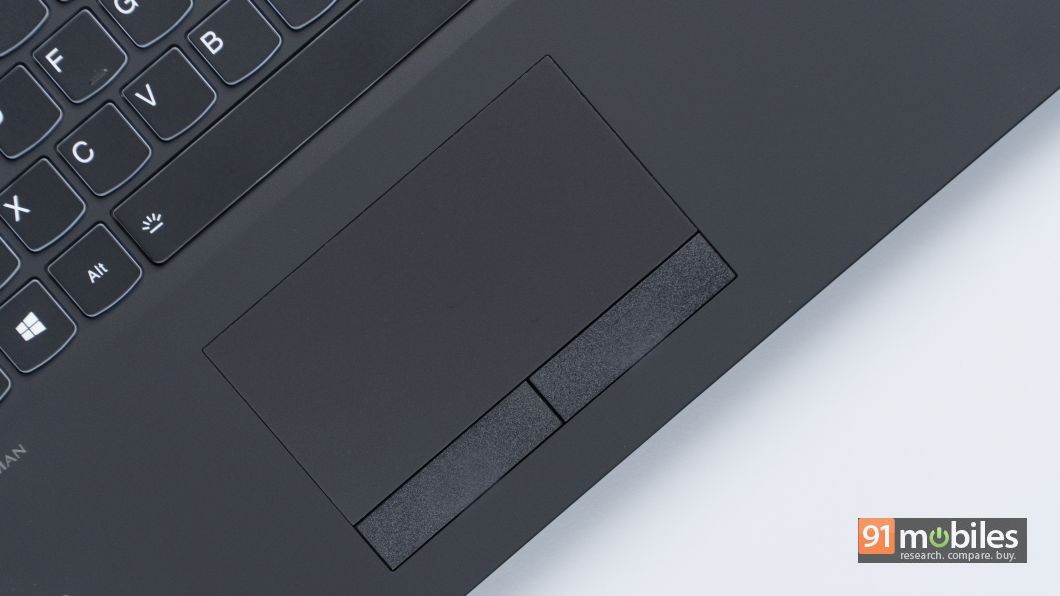 The trackpad is fantastic as well. The unit features a matte coating on top and ships with support for Windows Precision Drivers, allowing you to navigate through your workflow by swiping gestures comfortably. In terms of audio, the laptop features two front-firing speakers which have been tuned by audio giant Harman. Despite that, the sound output is okay at best, and hardcore gamers will still need to plug in a pair of headphones to enjoy gaming on the rig to the fullest.
Performance and Battery Life
While the Legion Y540 looks identical to its predecessor, it's a different beast altogether once you peek inside its chassis. The unit I was sent for review is backed by Intel's 9th gen Core i7-9750H hexa-core processor, which works alongside a six gig Nvidia RTX 2060 GPU and 16GB of dual-channel, DDR4 memory. Suffice it to say, the laptop breezed through every day tasks and could easily multitask between a dozen or so Chrome tabs, Word documents and lightweight software like IrfanView.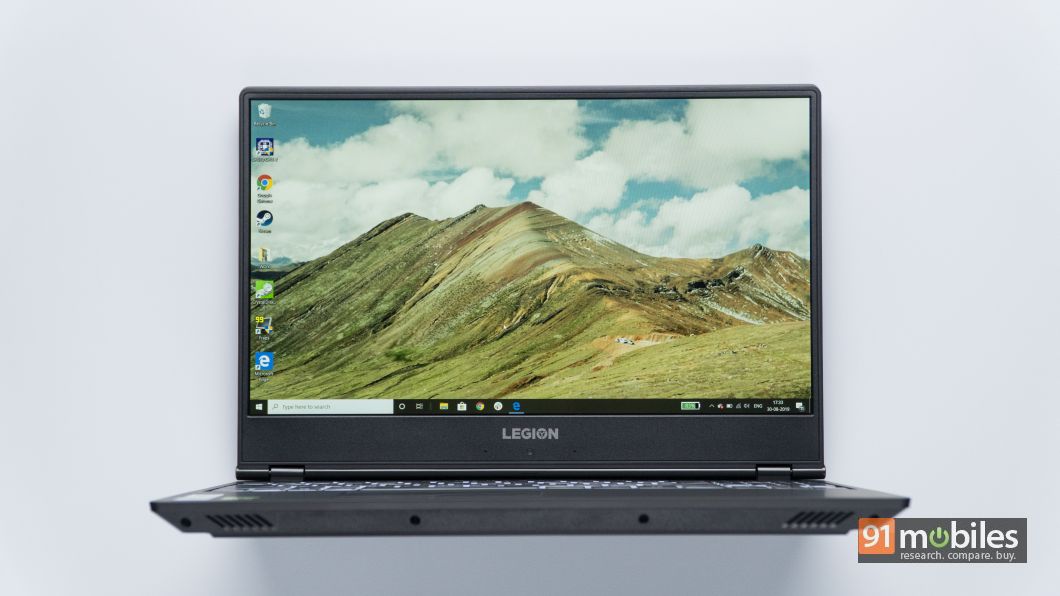 As for gaming, the machine put up impressive frame rates in e-sports titles like Counter Strike: Global Offensive, maxing out at well over a 200 fps during intense gun battles. In more pressing titles like Witcher 3, the laptop managed to hit the 60fps mark quite comfortably with the graphics set to ultra. That said, I did have to tone down Nvidia's HairWorks and Shadows a bit to achieve said framerates.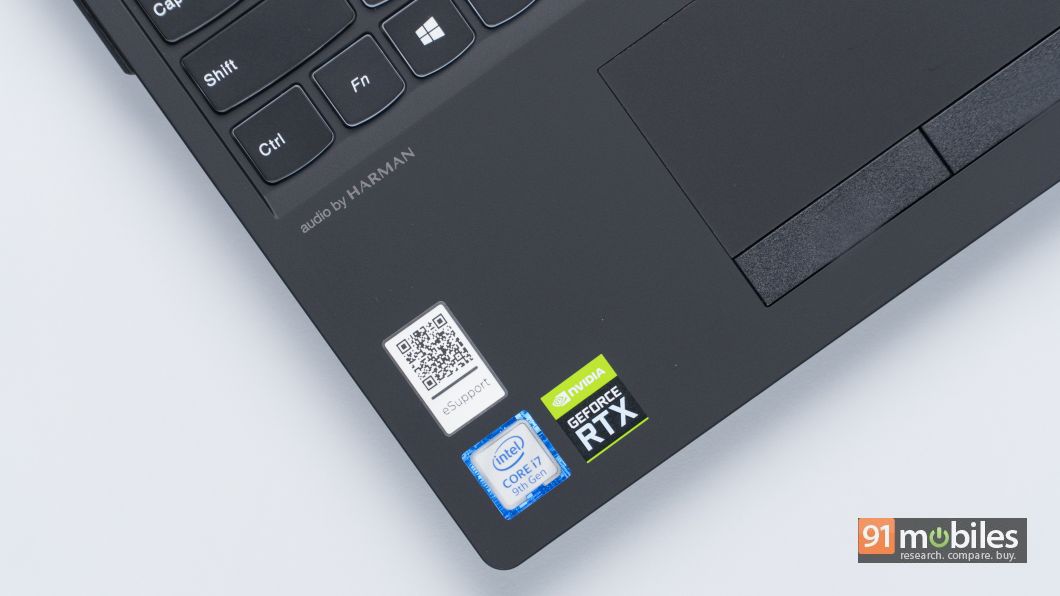 I did run a slurry of benchmarks for you to give you a better gauge on the laptop's performance. Starting with CrystalDiskMark, the Legion Y540's 1TB SSD managed to output sequential read and write speeds of 3,372.4MB/s and 2,997MB/s respectively. To gauge how well the machine handled multi-threaded workloads, I ran CineBench R20 on the Y540 wherein, the laptop once again put up a fantastic score of 2,570 points. Lastly, in PCMark 10, the laptop secured yet another impressive tally of 5,590 points.
Rest assured, you'll be able to run all sorts of applications and some of the latest AAA titles on the Legion Y540 with ease. On the flip side, you'll need to carry the laptop's power brick with you at all times, as the battery life of Lenovo's latest is, in a word, abysmal. The machine barely lasted me over two hours during day-to-day use, and when subjected to the Battery Eater Pro test, drained completely in just 64 minutes, which is a new low as far as gaming laptops are concerned.
Verdict
The Lenovo Legion Y540 starts at Rs 69,990, but the kitted-out unit sent me for review will set you back a cushy Rs 1,27,990. For the price, I honestly feel that the Legion Y540 is a great deal, especially when you factor in the machine's high-refresh rate display, its powerful specs, and its minimalistic design ethos. What's more, the laptop gravely undercuts the competition too, as ASUS' latest Scar III (review) with the same specs will run you upwards of Rs 1.5 Lacs. Consequently, the Legion Y540 makes for a great laptop for budding gamers looking for a reliable machine without burning a hole in their wallets.
Editor's rating: 4 / 5
Pros:
Good-looking design
Great performer
Fantastic keyboard and trackpad
Cons:
Below-average battery life
Webcam placement could've been better
Photos by
Raj Rout