"The Ionic is Fitbit's flagship fitness watch, and comes after the company's Pebble acquisition"
Remember Pebble, the smartwatch pioneer? Thinking about the brand makes me nostalgic, since I was one of its backers of its record-breaking crowdfunding campaign back in 2013, and still call myself a proud owner of a Kickstarter-edition Pebble. Despite how technology has progressed over the years, Pebble remains one of my favourite smartwatches… due to many reasons (here's my Pebble Time Round review). Between you and me, I was none too pleased when Fitbit acquired Pebble in 2016. Fitbit of course, is a name synonymous with fitness wearables. Fast forward to 2018, and sitting on my left wrist is the Ionic, Fitbit's first proper attempt at a smartwatch.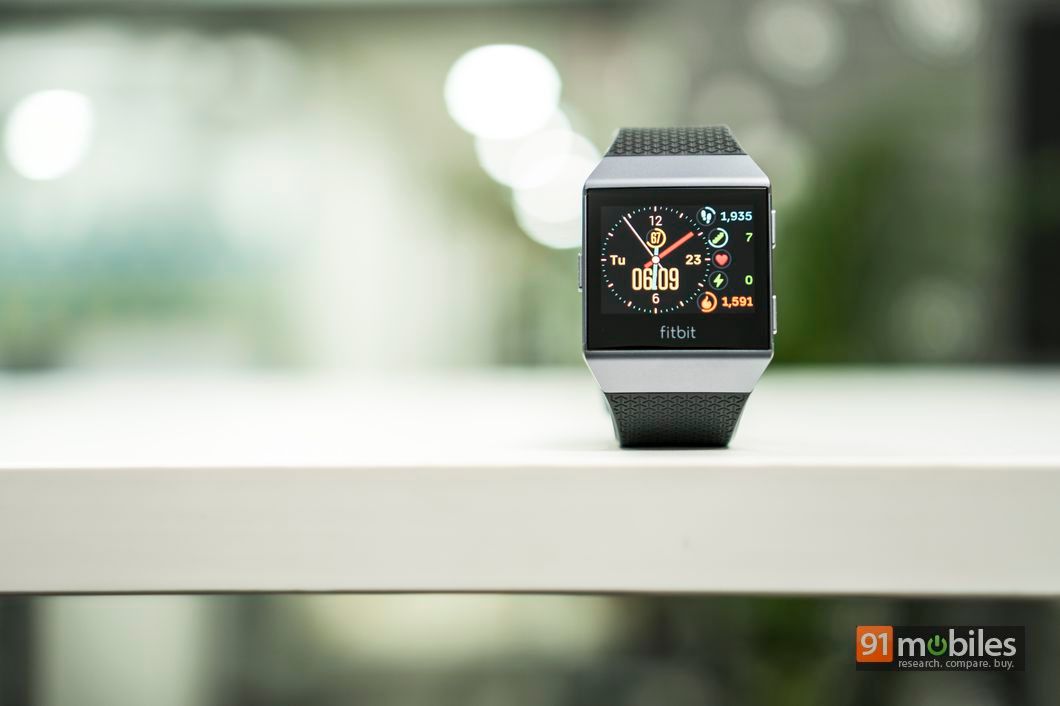 Fitness is at the core of the Ionic, as you'd imagine, but the fact that it comes after Fitbit's Pebble acquisition, and supposedly brings the best of both worlds together, makes it quite notable. How well does it fare though? Join me as I run through (pun intended) its hits and misses.
Design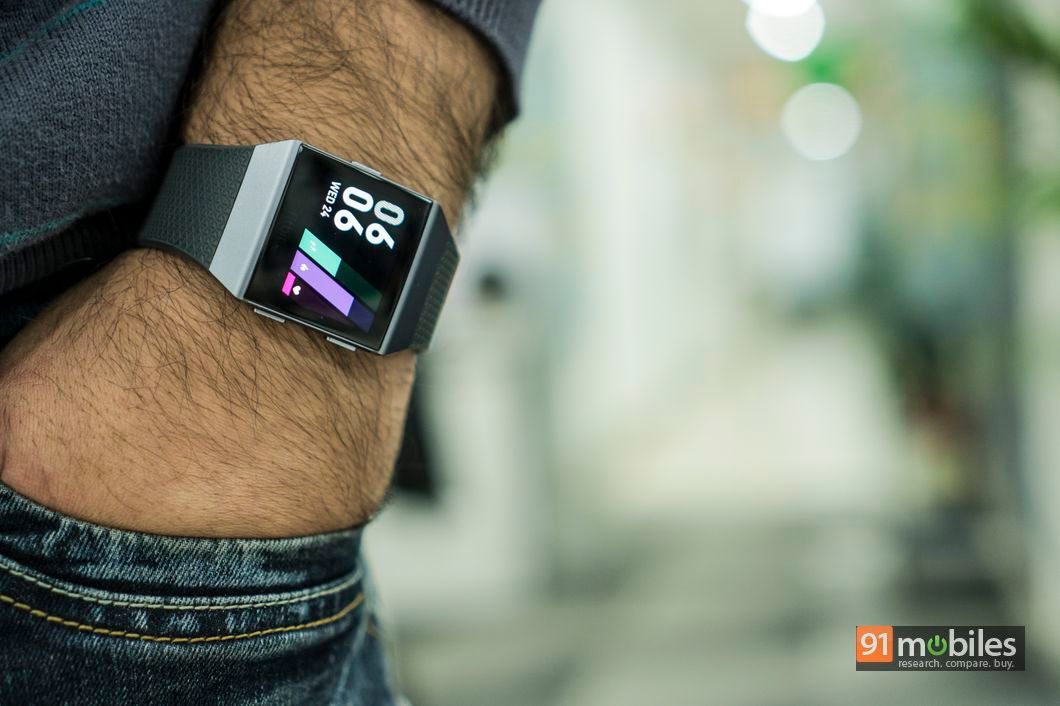 With its rectangular screen, slim profile and a minimalistic industrial design, the Ionic probably won't turn any heads. That said, it does look fairly sleek and elegant. The variant I have is charcoal/slate grey, but you also get a blue-grey combo and a more flamboyant slate blue that comes with a burnt orange case. With the case made out of series 6000 aerospace-grade aluminium and rubber straps, the watch is surprisingly lightweight. That bodes well for something you're supposed to wear 24 x 7. It's water resistant up to depths of 50 metres, so you can take it for a swim, or wear it in the shower, without worry of damaging it. The bands are removable, and the retail box includes two straps in different sizes so you can find one that fits you. Changing bands is a breeze, but unfortunately, the device isn't compatible with conventional watch straps. However, Fitbit does plan to offer additional bands you can buy, in different styles including horween leather and sport.
The fascia includes a 1.42-inch touchscreen LCD display (covered with a layer of Gorilla Glass 3) with a resolution of 348 x 250 pixels, and Fitbit branding. There's an ambient light sensor that can control screen brightness automatically, and I never faced any issue with legibility, even under direct sunlight. The case sports a single button on the left that doubles up as a power key and a back key, while the right has two buttons that control onscreen actions. Menu navigation and most usage can be accomplished using swipes and taps on the screen, once that's on. The screen comes on automatically when you raise your wrist, or can be done by pressing any of the three hardware buttons or by means of a double tap.
At the rear, there's the optical heart rate monitor, and a pogo pin connector to connect the charging cable. The latter attaches magnetically, and has a regular USB connector at the other end, so you can use a wall charger or a spare port on your laptop to juice up the device. Unsurprisingly, the cable is proprietary, so you could find yourself in a soup in case you misplace it. Smartwatches and fitness bands come in a variety of styles and form factors, so it's understandable that manufacturers tend to opt for proprietary charging solutions… though I really wish they could all sit together and come up with a universal solution (preferably wireless) that could potentially work with all such devices in the future. Someday, maybe.
Features
The Ionic is a premium smartwatch cum fitness tracker, and as you can expect, it comes with all the bells and whistles you can think of. The smartwatch features include alerts for calls, messages, and other notifications you get on your smartphone, support for installing apps, and support for digital payments thanks to built in NFC (doesn't work in India yet though). You also get the ability to store music locally on the Ionic's 2.5GB internal storage, and pair the device with a Bluetooth headset so you can leave your phone behind and still enjoy music while out for a run. Loading music on to the watch however, is cumbersome, as you can't do it using your phone. You need to install the Fitbit client app on your PC and Mac and use that to transfer music. Also, there's no built in mic or speaker to let you handle calls using the watch.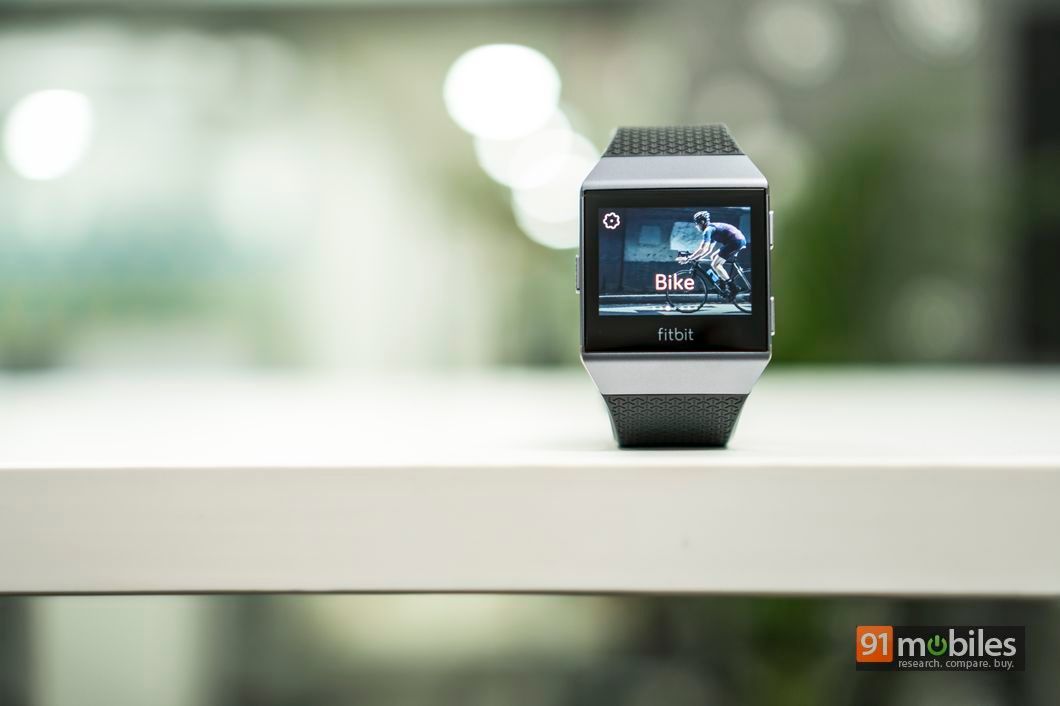 The fitness-related features however, are quite extensive. Apart from the optical heart rate monitor, the Ionic comes with a ton of sensors, including an altimeter, a 3-axis accelerometer, a 3-axis gyroscope, GPS, an ambient light sensor and a vibration motor. The device can automatically track steps, calories, floors climbed and sleep stages. There are a bunch of exercise modes that can you choose from before you begin working out, including Run, Bike, Treadmill, Stair Climber, Weights, Interval Timer, Martial Arts, Kickboxing, Hike, Tennis, Yoga, Golf, Pilates and Workout. And since the Ionic is water resistant and can be worn to the pool, there's a Swim mode you can use too. The Run Detect feature can automatically log your jogs in case you forget to switch the run mode on and just head out the door. There's an AI-based coaching feature as well, but for anything beyond a few set routines, you'd need to go premium to make full use of it.
Usage, software and customisability
The swipe-driven interface on the Ionic is quite intuitive. From the clock face, you can swipe down to launch the music player or swipe up to view notifications. Swipe right to view the battery level and access screen wake settings and toggle notifications delivery on or off. And to view apps, just swipe left.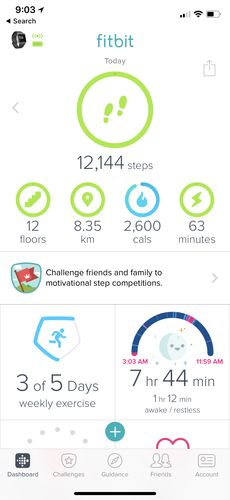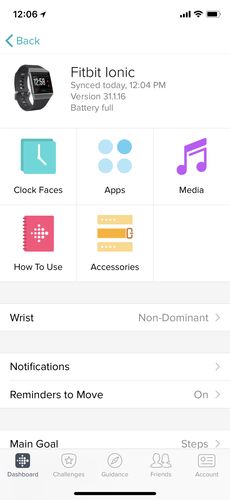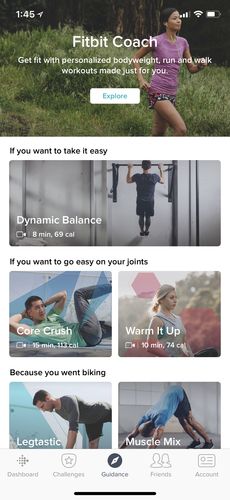 Fitbit's companion app though (available for iOS, Android and Windows Phone), is feature packed too. Pairing the Ionic with your phone is a breeze, and syncing happens quite fast. The companion apps and their usage experience matters quite a bit, especially in the case of wearables. And this is where Fitbit shines. The app is loaded with features, and offers a lot of details and insight into your physical routine, sleep patterns, heart rate etc. There are challenges you can take, and also connect with other Fitbit-toting friends. And thanks to the Ionic's smartwatch features, the Fitbit app has gotten the newfound ability to let you choose the watch face and install third-party apps as well.

The sheer range of watch faces for the Ionic is quite amazing, and you get tons of options to choose from, all available in the Fitbit app. From analogue to digital, minimalistic to stats heavy, elegant to funky – you basically have the full menu available. Unfortunately, it's slim pickings as far as watch apps are concerned, and I couldn't find too many that appealed to be. There are a bunch of utilities like calculator, calendar, stopwatch, photo album etc, while the news section lists watch apps from Flipboard, The New York Times etc. There are a few basic games as well. The fitness section includes Strava, Hydrate for water intake logging, Pill Tracker etc, while those of you who're using Philips Hue lights will appreciate the Hue Lights app that lets you control your lights directly from your Ionic. I think the lack of compelling apps for the Ionic is a missed opportunity, but hopefully, we'll get to see some useful ones in the near future.
Performance and battery life
While it's easy to get accustomed to, the UI does show signs of jitter sometimes. Also, the notifications you get on the Ionic can't be interacted with, which is a disappointment since even the Pebble offered the ability to send basic replies straight from the smartwatch. Fitness buffs however, will find little to complain about the Ionic, since the fitness features work quite well.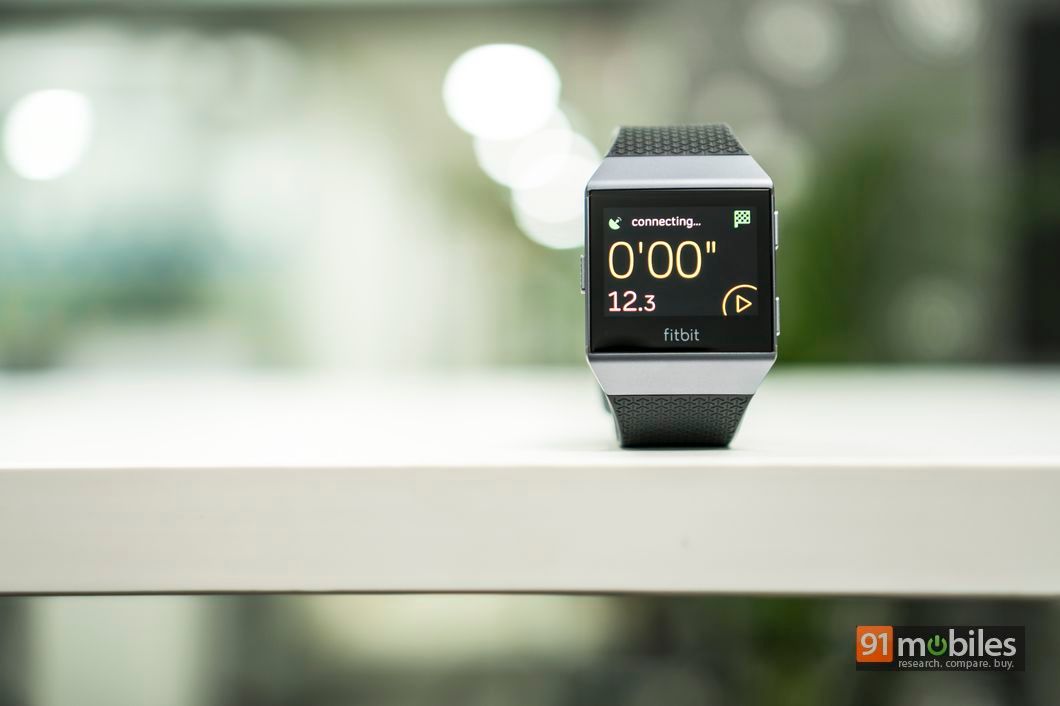 The wearable can get a GPS fix quickly, within just 30 to 40 seconds as long as you're outdoors. The Ionic logs physical activity quite accurately too, as far as I can make out. Also, as I mentioned earlier, the Fitbit app on the phone provides detailed info on your physical activity and sleep patterns. Info on the latter can be quite useful, especially for those who want to correlate quality of their sleep with their daily physical activity, and also for those suffering from sleep disorders. Yet another area where the Ionic shines is battery life. While Fitbit promises five days, I consistently got around four days easily with my usage. Of course, with GPS switched on, battery life drops drastically – rated for 10 hours of continuous GPS use. The solid battery life is a big plus in my books, since that's one of the features I loved about the original Pebble.
Verdict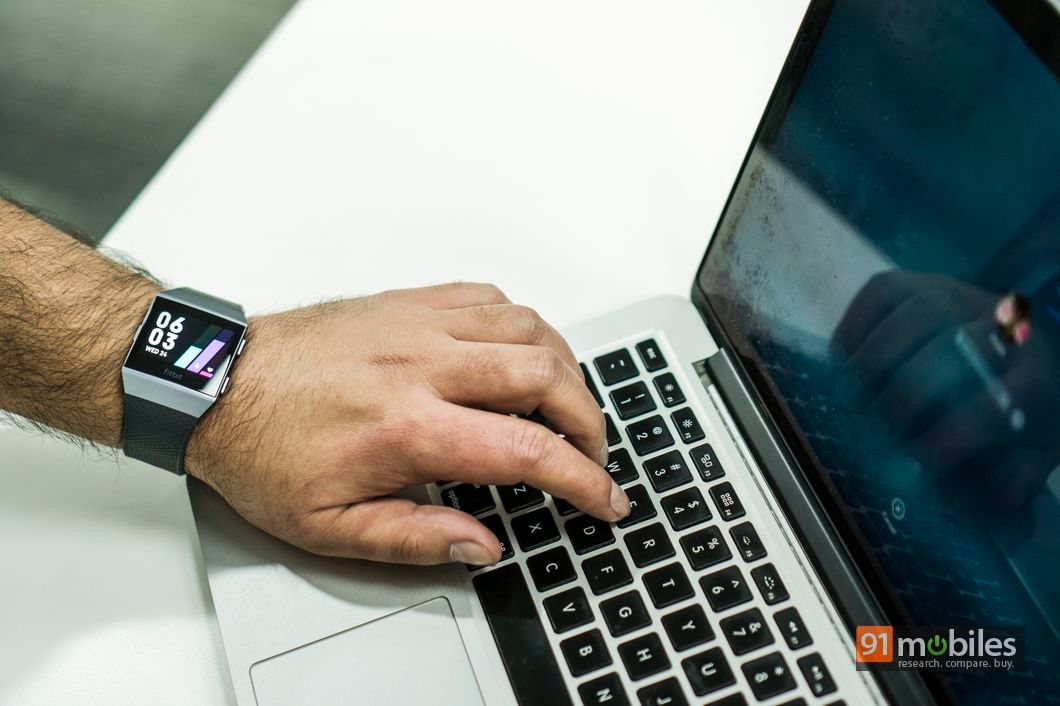 To sum it up, the Ionic seems to be a mixed bag as things stand currently. While its smartwatch features aren't too exciting, it shines in other aspects like the choice of clock faces available, fitness-tracking capabilities, and battery life. The kind of battery life offered by the Ionic is something no other fitness trackers with built-in GPS can match. At Rs 22,990, it doesn't come cheap though. Moreover, it competes with the likes of the Apple Watch, which boasts quite a few fitness features, works well as a smartwatch, and even lets you handle calls. Samsung's new Gear Sport also looks like a very capable option, and those looking for something a tad more affordable could consider the Samsung Gear Fit2 Pro. That said, I'm a firm believer in the power of software, and feel that the Ionic is an update or two away from being an extremely compelling option for those looking for a fitness-centric smartwatch. Give it the ability to interact with notifications, a healthier app ecosystem with loads of useful apps, and that should be enough to do the trick. As things stand currently, its solid battery life combined with the loaded set of features should make it appeal to fitness buffs looking for some smarts.
Editor's rating: 3.5 / 5
Pros
Works very well as a fitness tracker
Loaded with features
Tons of options for clock faces
Good battery life
Cons
Needs more third-party apps
Loading music is cumbersome
Notifications can't be interacted with
Photos by Raj Rout