HyperX is among the most sought-after gaming peripherals manufacturers, and for good reason – the company makes some of the best equipment to compliment a gamer's battle station and that too at accessible price points. Case in point, the company's all-new Pulsefire Haste gaming mouse, which isn't just light on your wallet, but also your wrist, thanks to its honeycomb design. I've been using the same for a week and here's what I make of it.
Design, durability, and ergonomics
Off late, there's been a surge in demand for ultra-light-weight gaming mice that offer greater maneuverability in fast-paced FPS shooters. Now, seeing how most peripherals already make use of light-weight materials for their construction (plastic), the only way to further trim down the fat is by – wait for it – poking holes in the chassis. The HyperX Pulsefire Haste embodies that philosophy and correspondingly features a honeycomb design with hexagonal holes etched across its chassis. What that entails is an ultra-lightweight and slender design that tips the scales at just 59g (80g with the cable). To give you some context, my Pulsefire Raid gaming mouse weighs in at 125g, whereas my Omen Vector mouse is even heavier at 145g. Suffice it to say, the Pulsefire Haste is the lightest gaming mouse in my arsenal and understandably, is also the most comfortable one I've used to date.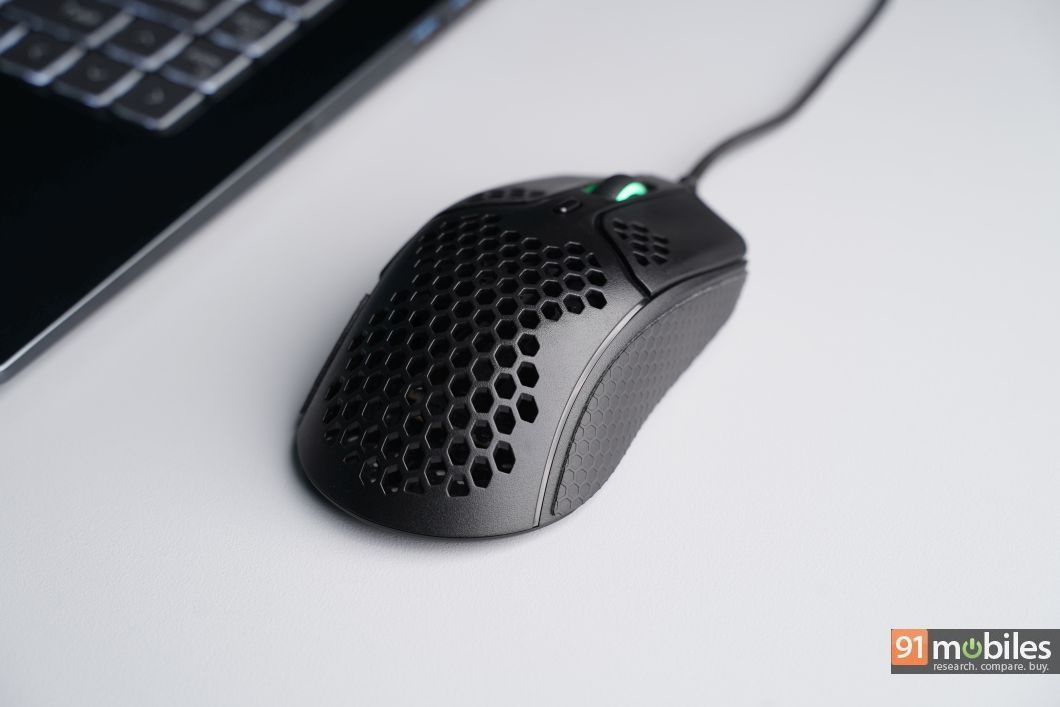 As for the rest of the design features, HyperX has kept things relatively straightforward and the Pulsefire Haste ships with six buttons including an RGB scroller, a button to switch between different DPI modes, and two customisable macro buttons on its left-hand spine. The mouse also ships with the company's HyperFlex cable which adheres to HyperX's claims and offers noticeably less friction as opposed to its thicker, more rigid counterparts. Pool everything together and the HyperX Pulsefire Haste should glide on your mousepad.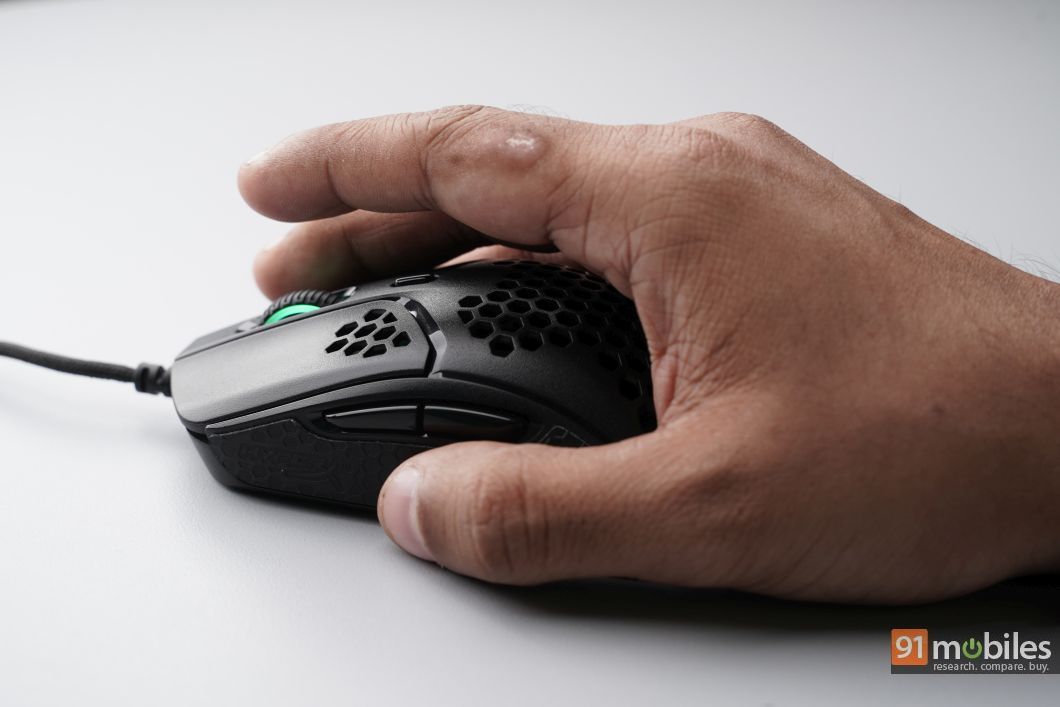 I'd also like to add that the mouse, albeit lightweight, doesn't feel cheap and offers a sturdy exterior that's void of any flex. The buttons offer the right amount of tactility too, and the PCB doesn't rattle when moving the mouse either. In fact, the buttons ship with an anti-dust coating of sorts, and are rated for up to 60 million clicks. Now, it goes without saying that I didn't come across any double-click issues as of yet – after all, I've been using the mouse for only a week. That said, I will update this article should something crop up down the line. On the whole, HyperX has pulled out all the stops in the design department and buyers opting for the Pulsefire Haste will find very little to complain here.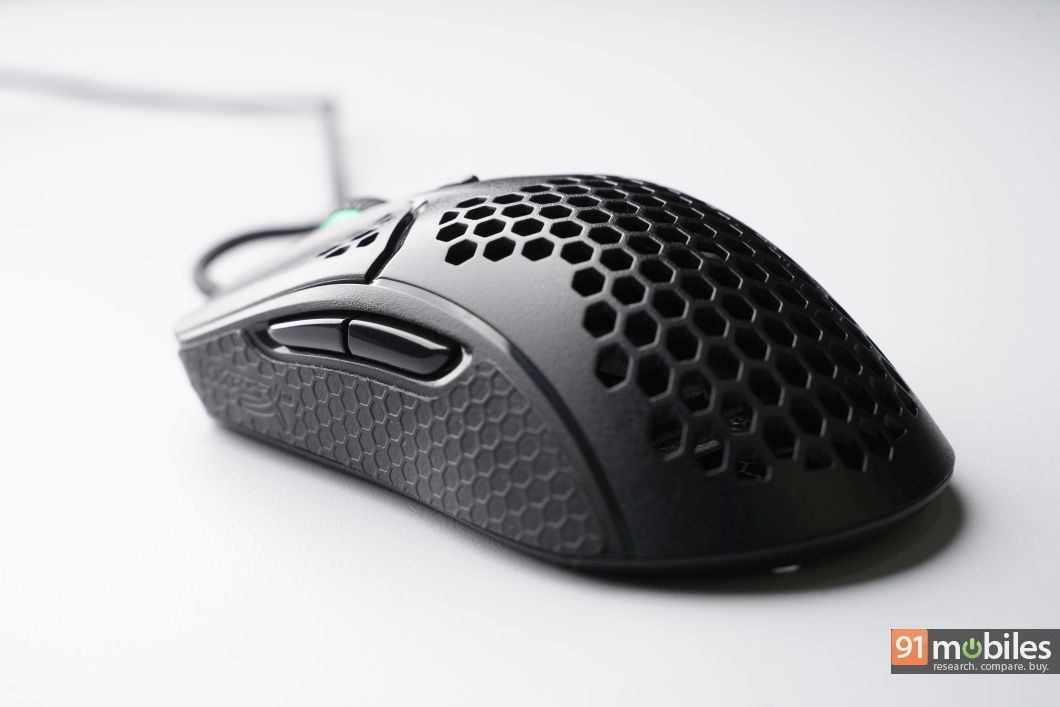 In terms of comfort, I will admit, HyperX' Pulsefire Haste does take some time to get used to, especially if you're coming from a mouse with a curvier back or middle hump. Correspondingly, if you fancy a claw grip over a palm grip, you might want to look elsewhere. That said, once I got acclimated to the grip, the mouse felt superbly comfortable to use over extended periods and I didn't notice any wrist fatigue set in after gaming for over three hours with it on a stretch. What's more, the company has also bundled rubberised grips which you can stick to the sides, as well as the left mouse button. Correspondingly, if you get sweaty palms during the heat of a battle, the grips will surely come in handy.
Performance and Software
So, how does the HyperX Pulsefire Haste perform? Quite admirably. But before I talk about that, let me get the specs out of the way first. First things first, the HyperX Pulsefire Haste makes use of Pixart's PAW3335 sensor and offers a polling rate of 1,000Hz. The mouse interfaces to computers via USB 2.0 and it offers a maximum resolution of 16,000 DPI, which is a tad overkill seeing how most gamers wouldn't require the cursor to move through as many pixels per inch. But, I digress.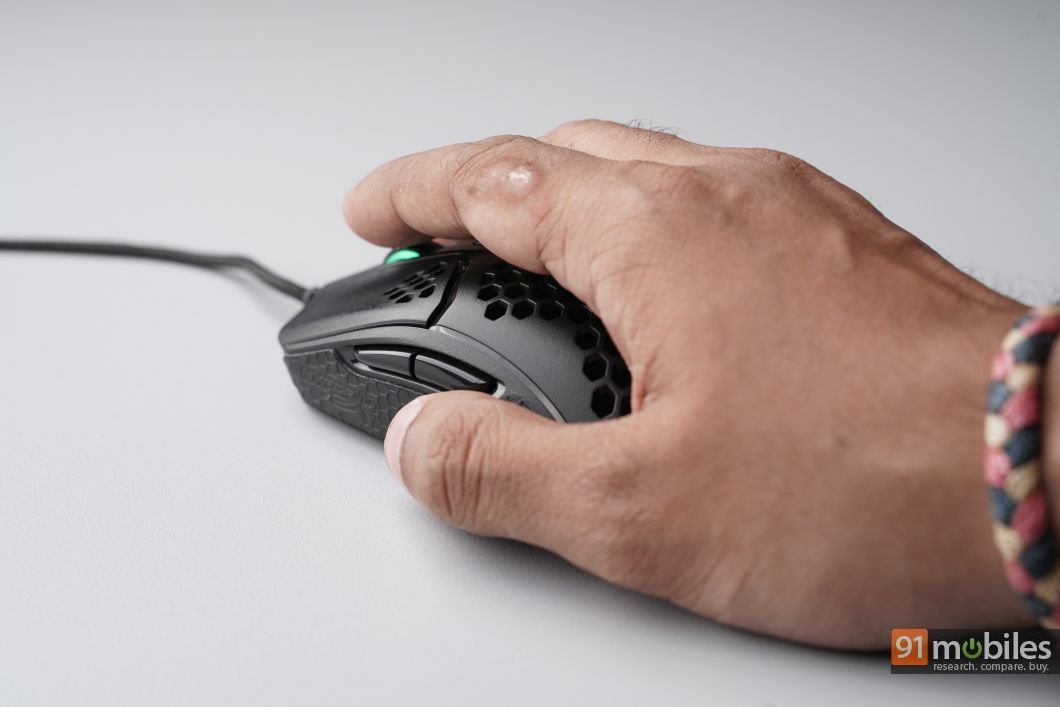 As for the performance, well, the HyperX Pulsefire Haste is a class apart. I've been playing a lot of Apex Legends, which requires one to track swift player movements and demands minimal button latency when drawing a weapon or aiming down the sights. Now, coming from heftier gaming mice, the Pulsefire Haste's light-weight chassis did throw me off initially and I found myself whiffing and overshooting quite a bit. However, after spending some time with the device, I felt much more comfortable tracking enemies on screen and keeping my recoil in check when I was aiming down the sights. The Pixart sensor responded well to my generic, run-of-the-mill mousepad too and I could move the crosshairs with minimal effort, which is great. The left and right mouse buttons felt adequately tactile as well, allowing me to hone in and rain bullets on my enemies swiftly too. That said, I wasn't the biggest fan of the scroller, which quite frankly, doesn't offer ample friction. In fact, on numerous occasions, I accidentally switched between my primary and secondary weapon as I was resting my pointer on the scroller.
As for software, the mouse comes with support for HyperX's NGENUITY app which allows users to change the RGB effect on the scroller, variate the presets for the DPI, and even assign keyboard shortcuts to the side-buttons. The utility offers a user-friendly interface, so you shouldn't have any issues making sense of the built-in settings either.
Verdict
The HyperX Pulsefire Haste retails for Rs 3,890 and for the price, makes for a compelling buy owing to its exceptionally light-weight chassis. What's more, the mouse feels sturdy and the sensor offers good tracking too, making the Pulsefire Haste an easy recommendation for gamers on the lookout for a mouse geared towards fast-paced titles.