"The Lenovo IdeaPad Gaming 3i may be a bulky laptop but it will fulfill the needs of a budget gamer quite well"
Lenovo is a brand synonymous with laptops. As a matter of fact, the Chinese electronics giant is the largest PC maker in terms of shipments with a 22.5 percent market share globally. The company has a wide spectrum of products in its portfolio of laptops with varying price points. For the gaming segment, its portfolio includes the mid-range Legion lineup, with the Legion Y540 (review) from last year being one of the options. However, the more affordable series for gamers on a budget is Lenovo's IdeaPad Gaming lineup. Recently the company announced a new addition called the IdeaPad Gaming 3i which comes with the latest 10th-gen Intel H-series processor and NVDIA's GTX 1650 graphics. In this review, I will try and explain if the laptop offers real worth for its starting price tag of Rs 71,990.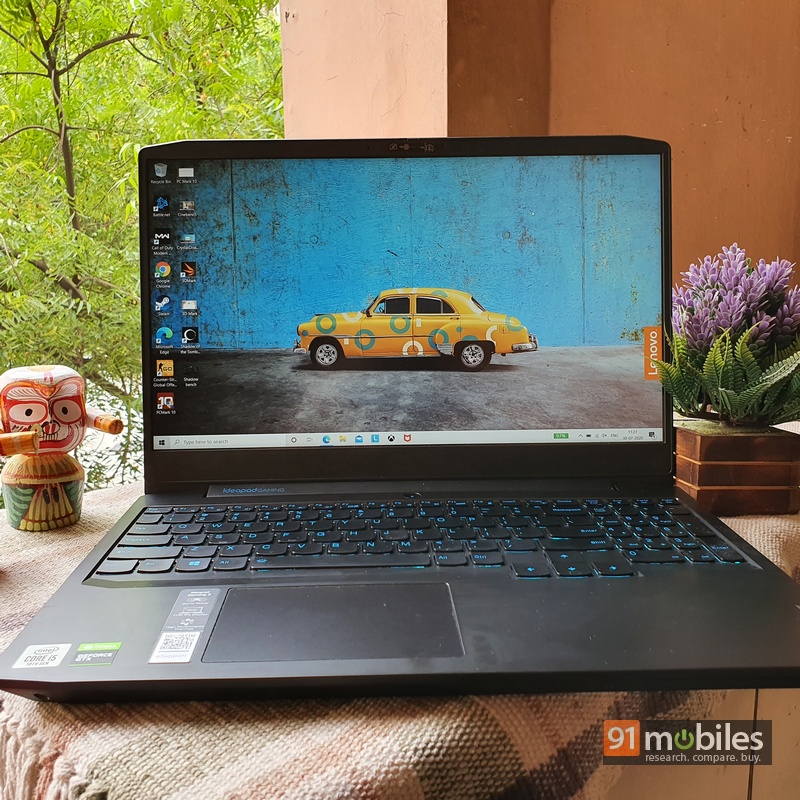 Verdict
There aren't many affordable laptops that offer you a 10th-gen Intel i5 H-series CPU along with a capable NVIDIA 1650ti graphics option and still keeping the price tag below Rs 1,00,000. While certainly a bit thick and weighty, for its price, the Lenovo IdeaPad 3i offers the ideal gaming performance that can be expected for the price.
Design and display
Display: 15.6-inch
Resolution: 1,920 x 1,080 FHD
Refresh rate: 120Hz
Weight: 2.2kgs
Ports: 2 x USB Type-A ports, 1 x USB Type-C port, 1 X ethernet port, 1 X HDMI port, and 1 X 3.5mm headphone jack
The Lenovo IdeaPad Gaming 3i does not exude what you would typically call a gamer vibe. You get a polished plain black finish on the lid, chassis, hinge, and trackpad. Lenovo is calling it the Onyx Black and it happens to be one of two colour variants for the device, the other being Chameleon Blue. While the IdeaPad Gaming 3i is certainly priced lower, several of its competing devices give an aesthetic that connects with gamers. Things such as a vinyl or textured finish on the lid or some kind of RGB lighting around the keyboard would've made the IdeaPad a more enticing option for gamers. However, it does have a unique design element wherein the lid curves ever so slightly on both sides. In general, the laptop is slightly on the thicker side but that part is offset by a multitude of vents for better thermal cooling. The thick chassis contributes to the weight of the laptop which stands slightly on the higher side at 2.2kg.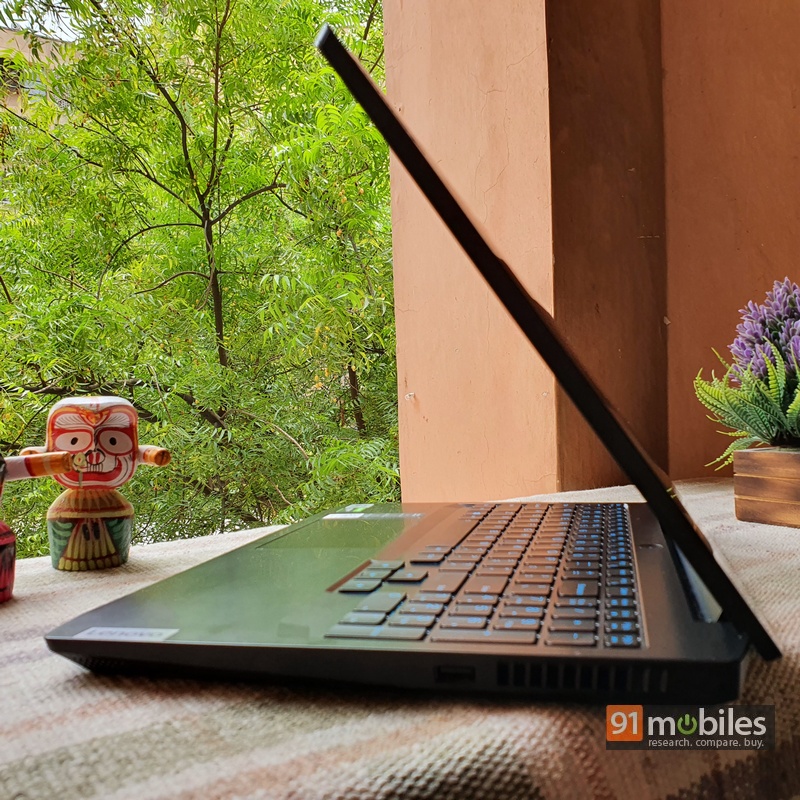 Opening the lid, a full-sized keyboard greets us with a number pad and arrow keys which are positioned slightly below. The keys have a light blue font to them which match the backlighting. The power butto is located at the top of the keyboard. I like the design of the hinge and the sturdy nature which lets me open the lid with just one hand. In terms of ports, you get 2 x USB Type-A ports, 1 x USB Type-C port, 1 X ethernet port, 1 X HDMI port, and 1 X 3.5mm headphone jack. There is no Thunderbolt 3.0 connectivity and neither is there a display port, but for a sub Rs 1 lakh laptop, that is not something that will be missed greatly. The webcam is present on the top of the display at the correct height, unlike the Legion Y540 where it is located below the display.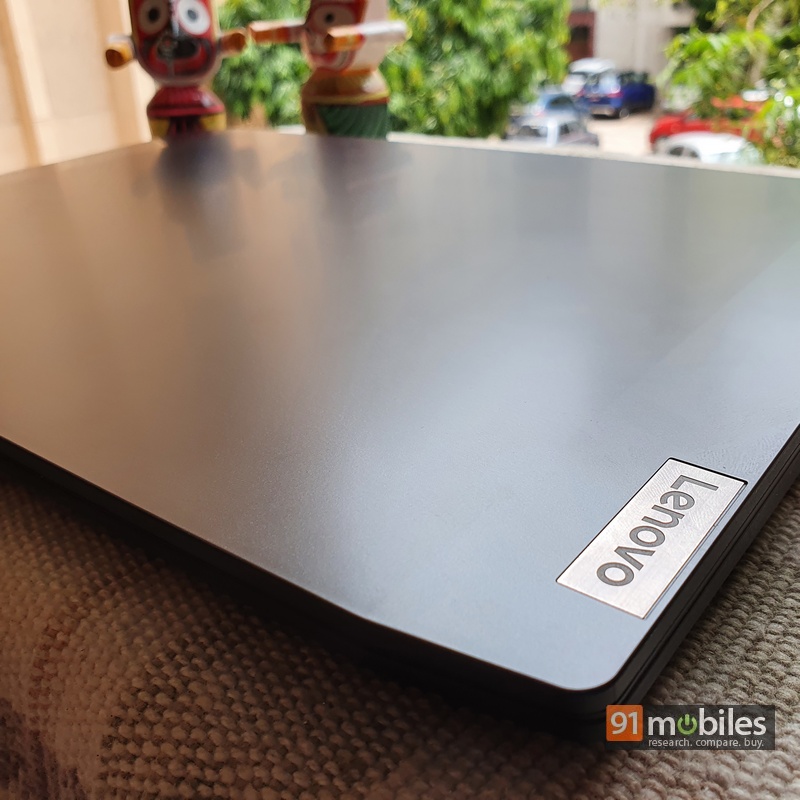 The Lenovo IdeaPad Gaming 3i sports a 15.6-inch IPS LCD display with a refresh rate of 120Hz and resolution of FHD (1,920 x 1,080). The good thing is that with powerful internals, the high refresh rate does come in play with several AAA games. However, quite a few games, like the Shadow of the Tomb Raider, which is extremely graphics-intensive, are not able to push out more frames. Colours are slightly dull but the average gamer is not going to nitpick when gaming. Brightness is up to the expected levels of an entry-level gaming laptop although at times it can become too bright.
Keyboard and touchpad
The IdeaPad 3i has a full keyboard, as mentioned earlier, with good tactile keys that are responsive and have medium travel. In general, the typing experience on the laptop was quite enjoyable although I would've preferred the backspace key to be a little bigger. The backlight on the keyboard has two levels of brightness which can be adjusted by pressing the function key and space bar. There is no RGB lighting with Lenovo opting in for the single blue light which matches the colour of the keys. The big palm rest below the keyboard meant that you can game or type for longer without the edges cutting into your wrist after a prolonged period. The device does not have a fingerprint sensor and Windows Hello does not support facial recognition.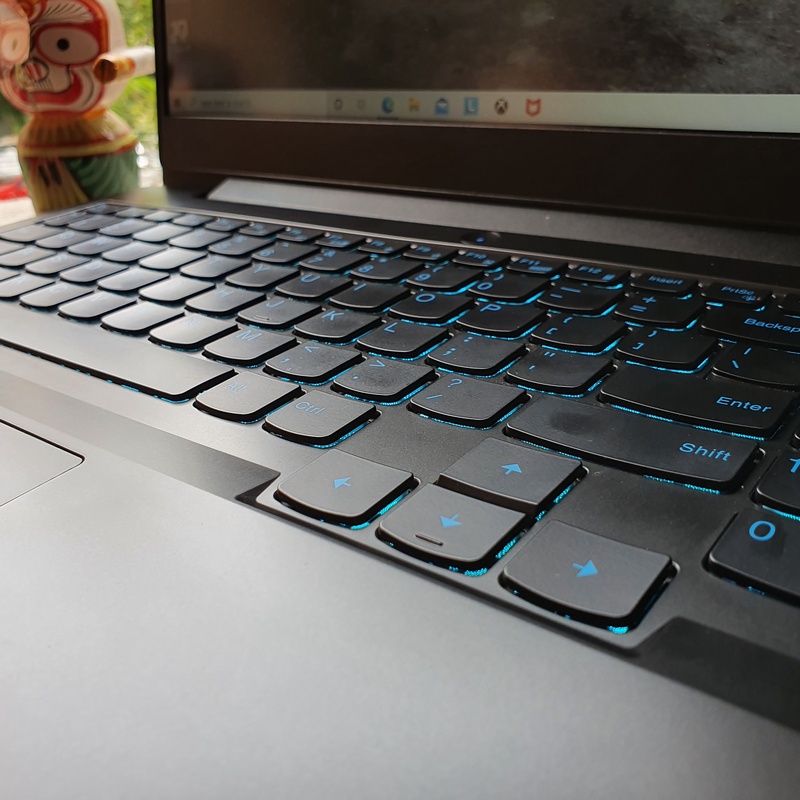 The trackpad is positioned slightly to the left side below the keyboard and has a relatively large area. This makes it easier for gesture-based navigation while the surface itself is quite smooth for ease of scrolling. The travel for the left and right buttons is also fairly less with good pressure detection, a feature lacking in laptops of the same price. It is, however, fair to say that most gaming on the device would be done using a mouse, but it is nice to see a smooth trackpad for general everyday usage.
Performance and battery life
Processor:

Up to 10th

Gen Intel

Core i7

Graphics: NVIDIA GeForce GTX 1650 and 1650ti
OS: Windows 10 Home
Storage: Up to 2TB HDD, 1TB PCIe SSD and 16GB Intel Optane
RAM: Up to 16GB DDR4
A gaming laptop is all about performance and its ability to handle the graphics load. The perfect balance of power and thermal output is key. We have the 10th-gen Intel i5-10300H processor that is part of Intel's 14nm-based Comet Lake lineup. It has a base clock speed of 2.5GHz and can be maxed out all the way to 4.2GHz with support for Hyper-Threading. There is also 8GB of DDR4 RAM along with a 1TB HDD and 256GB PCIe SSD. In terms of the graphics capabilities on the device, it packs in an NVIDIA GTX 1650Ti with 4GB of VRAM. There is also a lower model with the GTX 1650 which happens to be about Rs 5,000 cheaper. So how does gaming fair on the IdeaPad 3i? As it turns out, quite good.
For less graphical tasks I chose, Call of Duty: Warzone and Destiny 2, both free-to-play on Blizzard and Steam respectively. Both games managed to deliver smooth performance when I had maxed out the settings although anti-aliasing at 8X. I had a concurrent frame rate of 58fps on Warzone while Destiny 2 managed somewhere in the range of 65. More intensive games such as Far Cry 5 and Shadow of the Tomb Raider gave about 58fps and 54fps respectively at high settings which happens to be just about what you can expect from a GTX 1650ti powered device. NVIDIA's control panel also lets you make adjustments in Anisotropic filtering, Shader Cache, and OpenGL rendering amongst other settings for smoother gameplay experience.
Other performance metrics on the laptop were up to the mark for an affordable gaming laptop. CineBench R20, a metric for measuring how good the laptop worked under sustained load, returned a respectable score of 2,026. The read and write speed of SDD also saw acceptable scores of 1,928.58MB/s and 982MB/s for read and write respectively on CrystalDiskMark. For a 4K file the speeds 604MB/s and 563MB/s respectively. On PC Mark 10, a quantitative assessment of the multi-tasking capabilities of the laptop, the score was a solid 4,435 which is quite good for its price. The graphics capabilities of the laptop were put to test on 3DMark's Time Spy test which yielded a score of 3,730.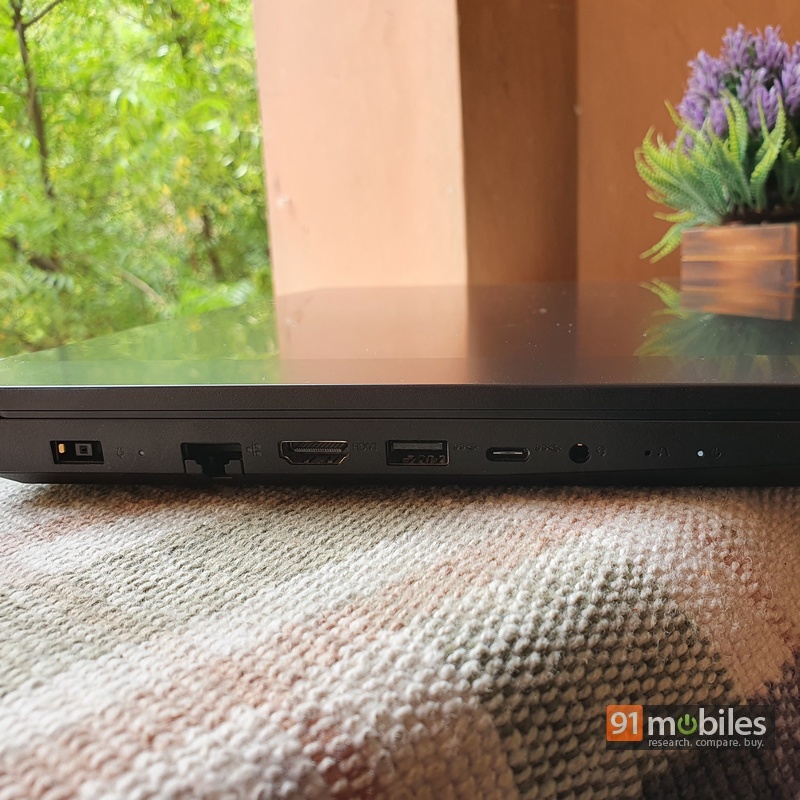 Audio on the laptop is powered by stereo speakers but they are tinny, to say the least. They don't get sufficiently loud and lack bass and depth to the sound. You would be better off using headphones on this one.
Battery life on the laptop is also one of its strong suits when you are not gaming. The device managed to give me about 5 hours of screen-on time which included keeping the brightness of the screen on 75 percent and browsing through Facebook and streaming some Netflix shows. While gaming, it would be necessary to keep the laptop hooked to a power source for maximum performance.
Final Verdict
There are several competing products to the IdeaPad Gaming 3i such as the Asus TUF FX705 or the Dell G3 3580 but none of them till now have packed in the processing capabilities of the new Intel 10th-gen CPUs. Granted we are seeing the Comet Lake lineup instead of the faster Ice Lake chipsets, but that is the best you will be getting for the price. The display and design are slightly dull, but the Lenovo IdeaPad Gaming 3i makes up for it with a sturdy keyboard and a responsive trackpad. If you are looking for great performance in a thin and light design and don't mind spending slightly more, then the MSI GF63 Thin 9SC is something you can consider.
Editor's rating: 4 / 5
Pros
Lot of thermal outputs
Performance is up to the mark
Keyboard and trackpad are quite good
Cons
Display can get a bit dull
Gamer aesthetics in the design are missing
No biometric authentication