Smartphone brands constantly strive to offer users the next 'big thing', whether it's better displays, more powerful processors, better battery life with increased power efficiency; the works. However, in 2021, every brand is focused on bringing 5G, which is the fifth-generation mobile network succeeding 4G LTE networks we're currently using, to the largest market of users ever.
For the uninitiated, 5G is currently being rolled out across the globe, and the cellular network promises lightning-fast download and upload speeds. The caveat here is that for users to benefit from these incredible internet speeds, their phones will require new chips with 5G modems that can handle the throughput offered by their network providers. This is where the latest MediaTek M80 comes in. This new 5G modem supports both Sub-6GHz – an extension of 4G LTE frequencies – and new mmWave frequencies on 5G networks. This provides peak speeds of up to an incredible 7.67Gbps. Suffice it to say, the new M80 piqued our curiosity so in this article, let's take a closer look.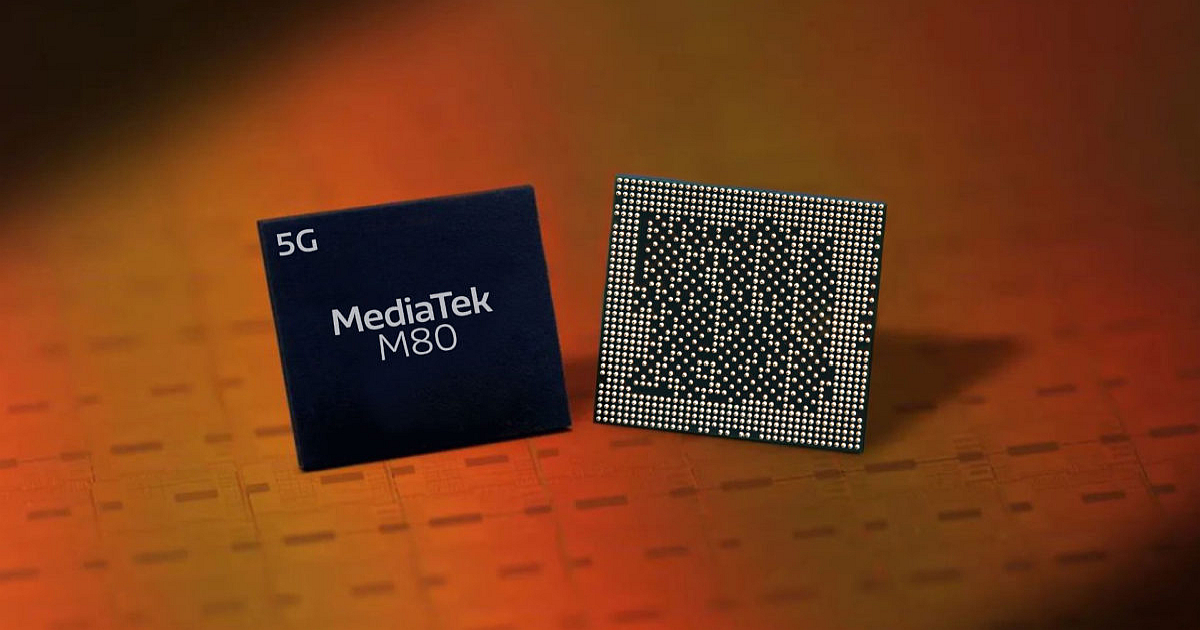 Different types of 5G
Before we address the benefits offered by the MediaTek M80 modem, or how it'll shape our future, it's important to understand the different types of 5G networks being deployed across the globe. In a nutshell, there are two major 5G spectrums – millimeter wave (shortened to "mmWave"), which uses frequencies within the 26GHz to 38GHz range, and sub-6GHz network, which uses frequencies within 600MHz to 6GHz. To be clear, both these networks offer faster internet speeds when compared to 4G LTE, but mmWave touts incredible, never-seen-before download and upload speeds due to its exceptionally high frequency and big bandwidth chunks, allowing users to download 4K movies and entire music catalogues in the blink of an eye.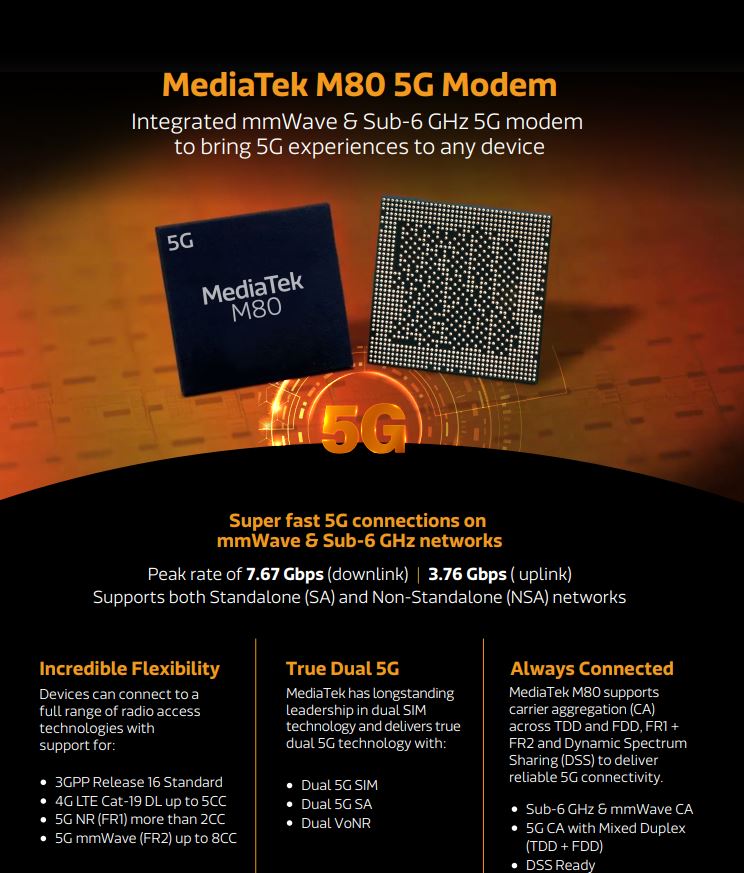 Unfortunately, mmWave networks need a direct line of sight and have a limited range since mmWave cannot penetrate through walls. mmWave 5G is generally regarded as ideal for deployment in areas that see lots of people traffic and network congestion; an ideal use case would be metro rails in and around Delhi.
On the flipside, 5G sub-6GHz networks offer the best of both worlds: better speeds than 4G LTE, but with much wider coverage and further operating distance than 5G mmWave networks.
A look into the MediaTek Helio M70 Modem
5G has been the talking point on every smartphone brands presentation since last year and now 5G smartphones are coming available, MediaTek Dimensity smartphone chips feature a fully integrated 5G modem based on the current generation M70 design. The M70 is still a fully featured 5G modem – it supports non-standalone (NSA) and standalone (SA) 5G sub-6GHz networks, as well as 5G carrier aggregation, dual 5G SIM and other essential connectivity features, plus industry-leading power-efficiency from 5G UltraSave technologies. Simply put, 5G NSA builds upon the current 4G network infrastructure, whereas SA deploys a completely independent 5G network infrastructure that doesn't rely on current 4G platforms.
As 5G services are being deployed in India, we'll witness both NSA as well as SA infrastructures that enable sub-6GHz 5G networks. As a result, phones which ship with MediaTek Dimensity 5G-integrated chips will be able to connect seamlessly to all sub-6GHz networks with great performance and power-efficiency.
What's new with the MediaTek M80 modem?
Clearly, MediaTek hit it out of the ballpark with its first-generation M70 modem, which begs the question – how does the new M80 modem improve upon it? First things first – the all-new MediaTek M80 modem supports both sub-6GHz and mmWave networks and can work on NSA as well as SA architectures, allowing users to leverage uber-fast internet speeds wherever they are.

To give you a better picture, the modem offers peak download speeds of 7.67Gbps – that's almost one GB of data downloaded every second! The modem also supports upload speeds of up to 3.76Gbps, meaning when connected to a 5G network, your smartphone could very well upload a video to YouTube quicker than your PC hooked to a home Wi-Fi network.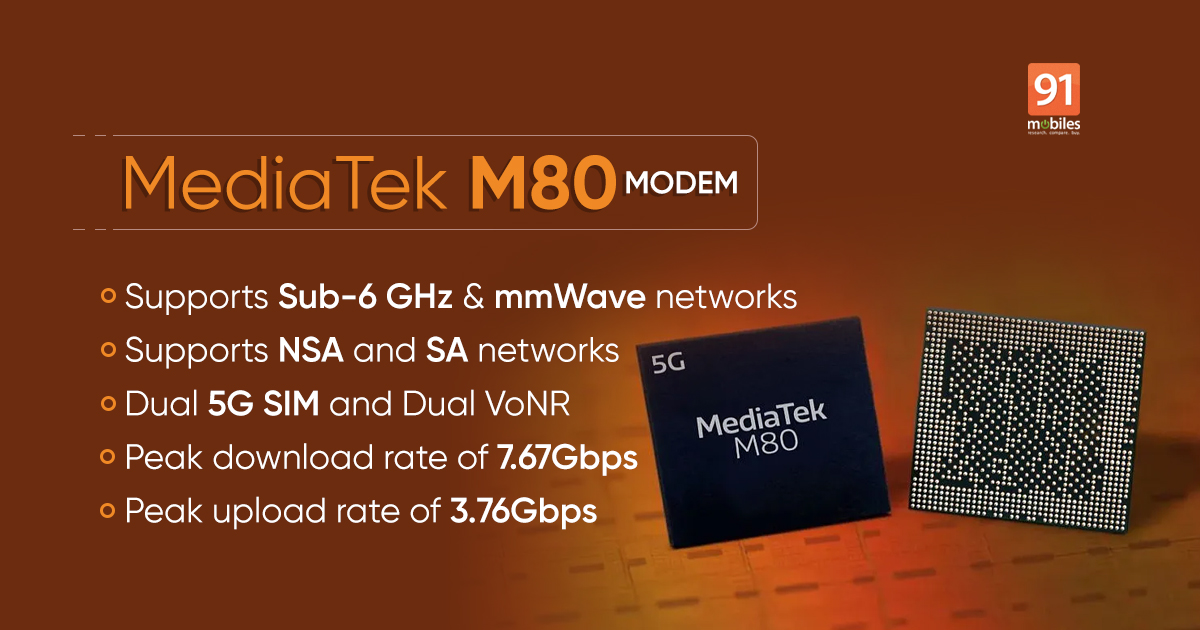 Furthermore, the modem also fully supports the new dual VoNR protocols (Voice over New Radio) and consequently, should offer an impeccable calling or video-conferencing experience with minimal latency and notably better picture and sound quality.
MediaTek has been ramping up its 5G product development and it goes without saying that the MediaTek M80 modem will greatly improve the 5G experience for users. The company has been at the forefront of DSDS (Dual-SIM, Dual standby) technologies that can also be found in the brand's latest modem. What's more, 5G-ready smartphones are but the tip of the iceberg, and MediaTek plans to deploy its powerful T700 modem on 5G-enabled PCs in the near future, as well as the T750 chipset for 5G-based Fixed Wireless Access routers and mobile hotspots. There's little doubt that MediaTek will have a big role to play in bringing 5G technologies to the masses.