"With zoom levels of 125x, the P1000 is a one-of-its-kind camera. But should you be buying it? Read on ahead to find out"
The interest around the camera being able to zoom in closer to the subject has accelerated with the launch of Huawei's P30 Pro (review). With the ability to digitally zoom up to 50x, the phone has certainly caught the interest of many. But what if I tell you that camera brands have been launching products that can offer such zoom capabilities even without resorting to huge lenses? Well, dubbed superzoom cameras, these devices fall between a point-and-shoot camera and a full-fledged DSLR (since you can't change the lens), and offer high zoom levels. I recently got a chance to check out one such camera in the form of the Nikon Coolpix P1000, which offers a crazy zoom of up to 125x. But is that enough to spend Rs 61,995 on the Coolpix P1000? Well, let's find out together, shall we?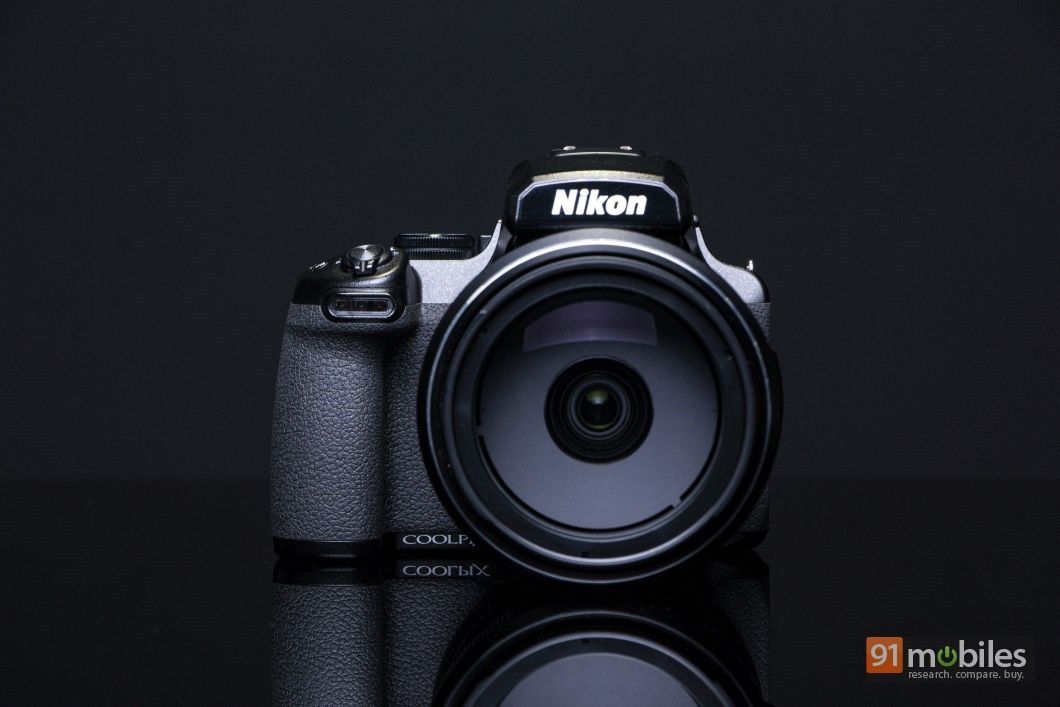 Specs at a glance
Measures 146.3 x 118.8 x 181.3 mm
Weighs 1,415g (including battery)
16MP sensor
Up to 125x optical zoom, a focal length equivalent to 24 to 3000mm
Aperture from f/2.8 to f/8
ISO – 100 to 6400
Contrast detection autofocus
3.2-inch display with 921-dots resolution
0.39-inch EVF with 2,359k-dots resolution
Records up to 4k videos @ 30fps
Supports ISO 100 – 40000
Bluetooth 4.1, Wi-Fi 802.11 b/g/n
Design and build quality
The Nikon Coolpix P1000 certainly acts as a great conversation starter. You see, while it might seem like a regular DSLR, it does have a sizeable footprint and with a wider-than-usual lens jutting out its body, you're bound to get quizzed about it by strangers. On my recent trip, quite a few people asked me about the camera and what makes it different.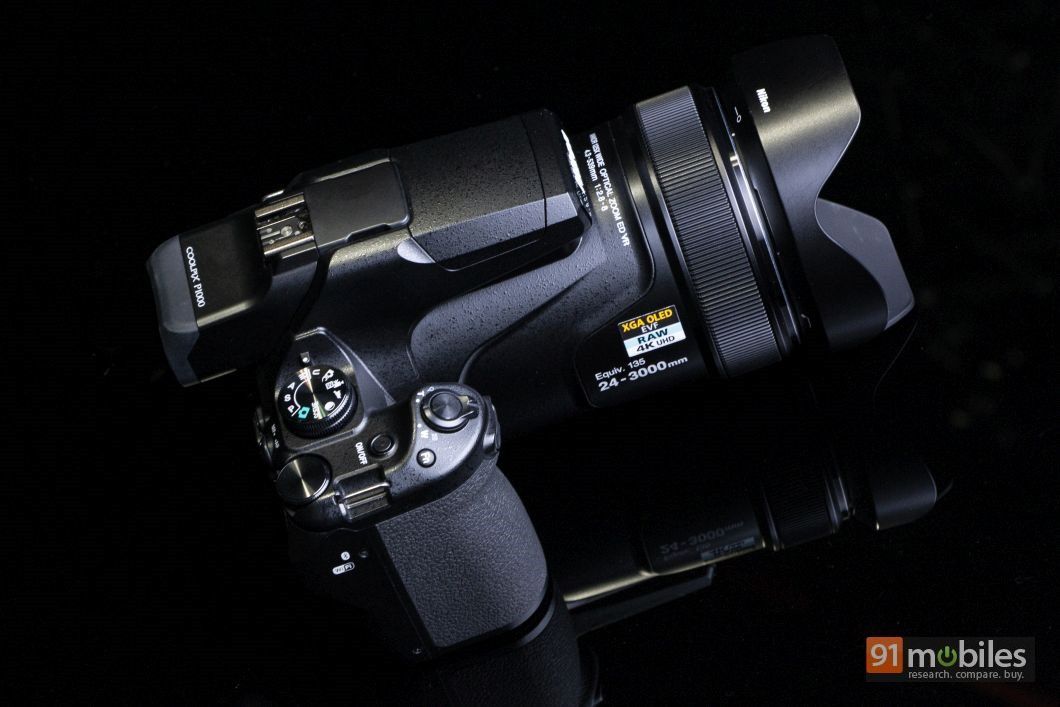 While the P1000 might draw attention with its looks, it certainly doesn't score well on the build quality aspect. The camera seems quite heavy as it tips the scales at 1.4kg – which is almost double of DSLRs with conventional lenses. Although if you consider its zoom lens, then the weight of the P1000 doesn't seem to be that bad. Having said that, the brand has made use of plastic to keep the weight in check, which doesn't arouse much confidence about its durability. Furthermore, the device tilts forward as you start zooming in, so you need to ensure good grip to ensure blur-free results, and that means you'll need to operate it with both hands.
As far as design elements are concerned, the Coolpix P1000 shouldn't take too long to adjust to if you have used a DSLR before. The good thing is that the dial around the lens can be configured to adjust the ISO, shutter speed or exposure. For zooming in as well, you get two options – one on the right, and the other one towards the left on the lens area. Depending upon your preference, you could choose to use either of them, though you'd appreciate the snap-back zoom button on the left, which lets you quickly go back to the previous zoom level and come back again to the selected one. Now, this is quite thoughtful as you might not be able to spot the object when you have zoomed in too much, so this allows you to find it again and thus set the frame properly.
Other controls on the right include the dial to switch between modes, on / off button, another dial to control the shutter speed and a function key. Beside the screen, you'll get buttons for autofocusing, switching between the display and viewfinder, video recording, preview, changing display options on the screen, menu, and delete along with a D-pad with a dial that can switch the aperture. Up top, along with the hot-shoe mount, you'll get a toggle for the flash module, with the latter being one of the most powerful ones I've seen on a camera. The bottom portion houses the battery compartment and an SD card slot.
For ports, you'll find that all of them are laid out nicely on the left side and secured by rubber flaps. There's a 3.5mm mic interface, HDMI Type-D socket, micro-USB port, and an accessory port.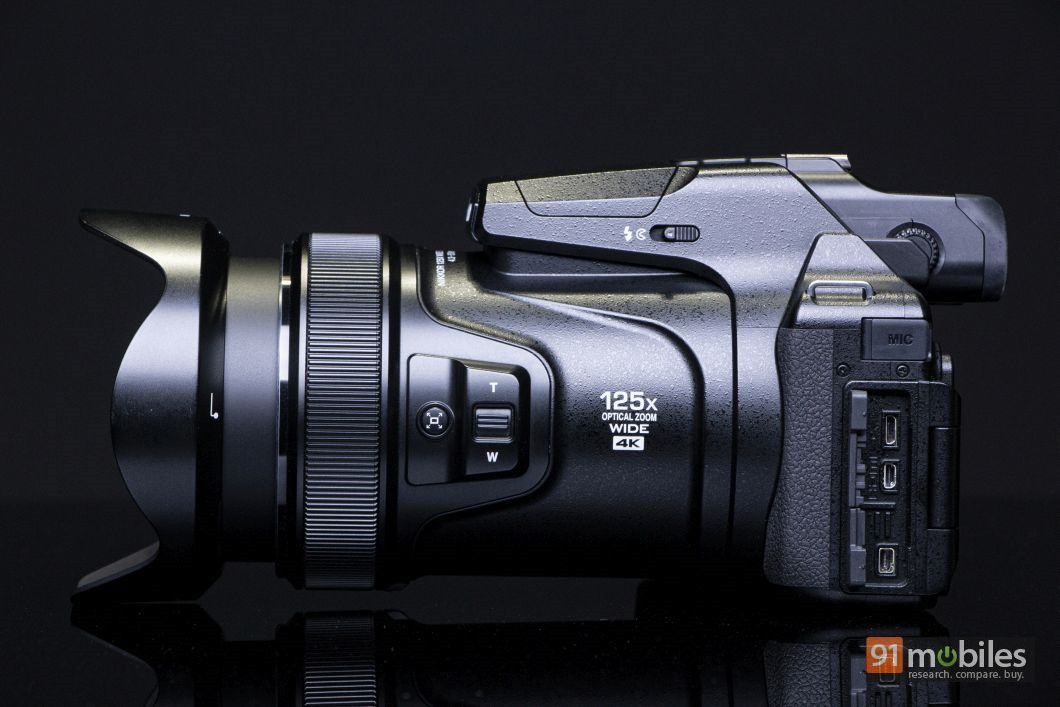 Just like a mid-range DSLR, the Coolpix P1000 offers a flip-out screen, letting you get some creative shots. The 3.2-inch screen bears 921k-dot resolution. Sadly, the screen isn't touch-capable and you'll need to use buttons to initiate various actions. You can, of course, use the EVF to frame your shot as well, which comes with a resolution of 2,359k dots. There's the diopter adjustment dial on the left to calibrate the viewfinder.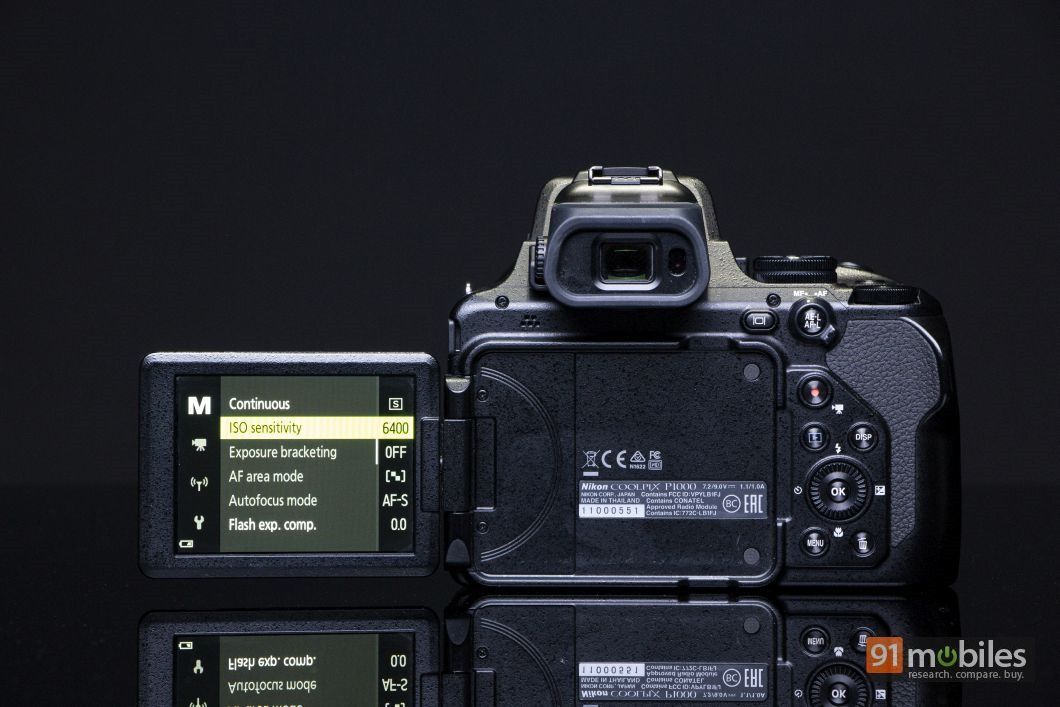 Camera performance
The successor to the Coolpix P900, the P1000 takes the concept of superzoom several notches above. For imaging, the Nikon Coolpix P1000 comes with a 16-megapixel CMOS sensor having 17 elements. The NIKKOR lens allows you to get up to 125x closer to the subject with the optical zoom, which translates to 3000mm for a 35mm-equivalent camera. And if that's not enough, then the device lets you digitally zoom even further up to 6000mm, with the feature dubbed as Dynamic Fine Zoom. For autofocusing, Nikon has opted for contrast detection autofocus mechanism.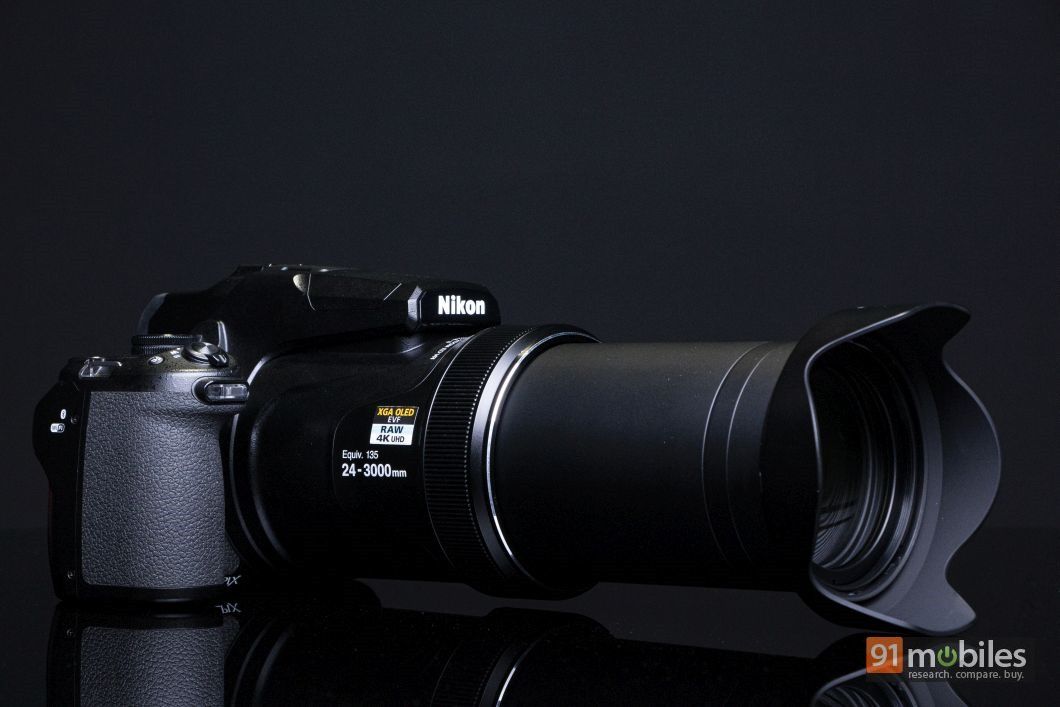 What about the image quality? Well, the Coolpix P1000 can get some good shots in daylight conditions. The images offer good colour reproduction and have decent sharpness levels. But as soon as you see the picture in its full resolution, you'll notice that the noise does creep in. Since Nikon has opted for accurate colours, some images lack the punchiness that you'd find on other cameras. That said, the close-ups are quite impressive with the faux-bokeh effect making them all the more pleasing. Of course, you can use Lightroom or Photoshop for post-processing as you can capture them in Nikon's proprietary NRW format for RAW pictures.
There's no doubt that the 125x zoom lets you get some really incredible images even from a distance. And the camera – even in handheld mode – does a good job of bringing the subject really closer to you. However, as mentioned above, you've to hold it with stable hands as you start zooming in. Plus, even a slight shift in such scenarios means that you've lost the subject that you were trying to capture. I'd also advise you to not go beyond 1000mm levels, unless absolutely necessary, as the sharpness takes a massive hit. Now what can you do with such insane zoom levels? Capture the moon, of course. Perhaps that's why Nikon has offered this mode in the mode dial itself, and I've to say that it does work quite well. While there's no option to get the RAW image in this mode, you'll be able to get some good Instagram-worthy shots after doing minor editing. There's a bird mode as well on the P1000.
As far as ISO levels are concerned, the Nikon Coolpix P1000 can go from 100 to 6400. However, you'll see a significant amount of noise from ISO 3200 and above.
The camera can record videos at 4k resolution, which is a plus. However, it struggles in focusing, which means that the resulting footage appears quite blurry if there's a lot of movement.
As mentioned above, the Nikon Coolpix P1000 comes with a micro-USB port, which is great as you can juice up the device with regular chargers. And that's quite important as the EN-EL20 battery would only last you about 250 stills and about an hour of video recording, which isn't much. Sadly, that also means that the shooter doesn't come bundled with an external charger for the battery, and instead comes with a wall adapter along with a micro-USB cable.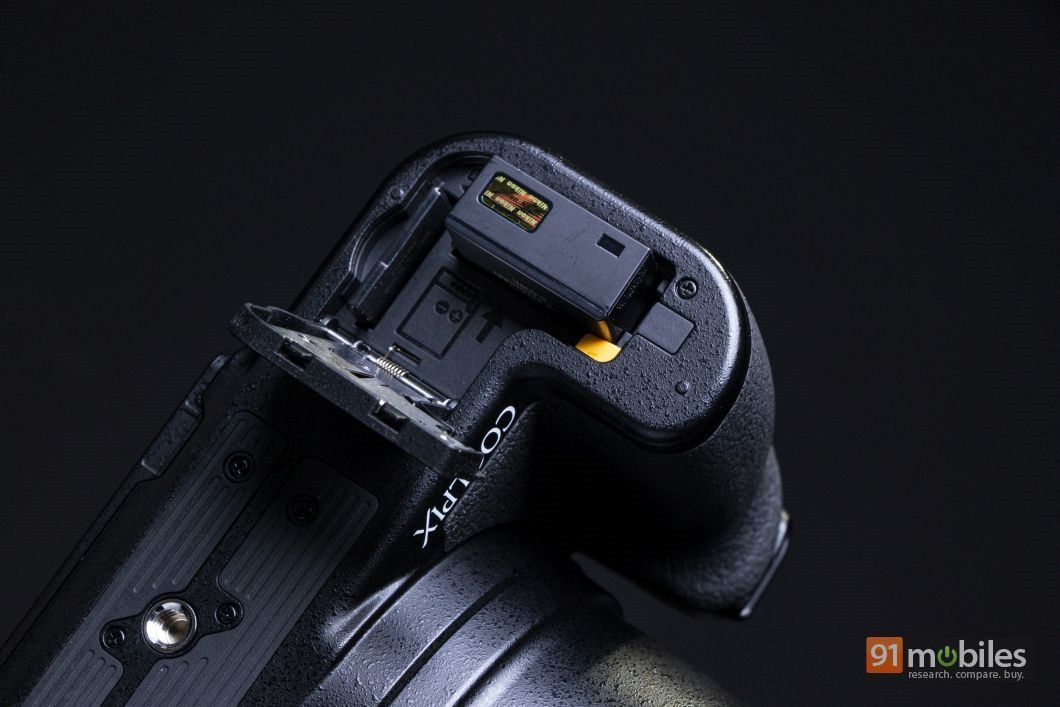 Verdict
As the review suggests, the Nikon Coolpix P1000 isn't a regular camera. And that means it would be wrong to look at it from the same lens (pun intended) as a DSLR or mirrorless shooter. The device solves a particular need, and does that really well. The Coolpix P1000 is an easy-to-use camera that offers good image quality along with features like 4K video recording, which are the need of the hour. Not to mention, you can get crazy close to your subjects without needing to go through the hassle of swapping lenses or carrying a tripod to ensure that you get a stable shot.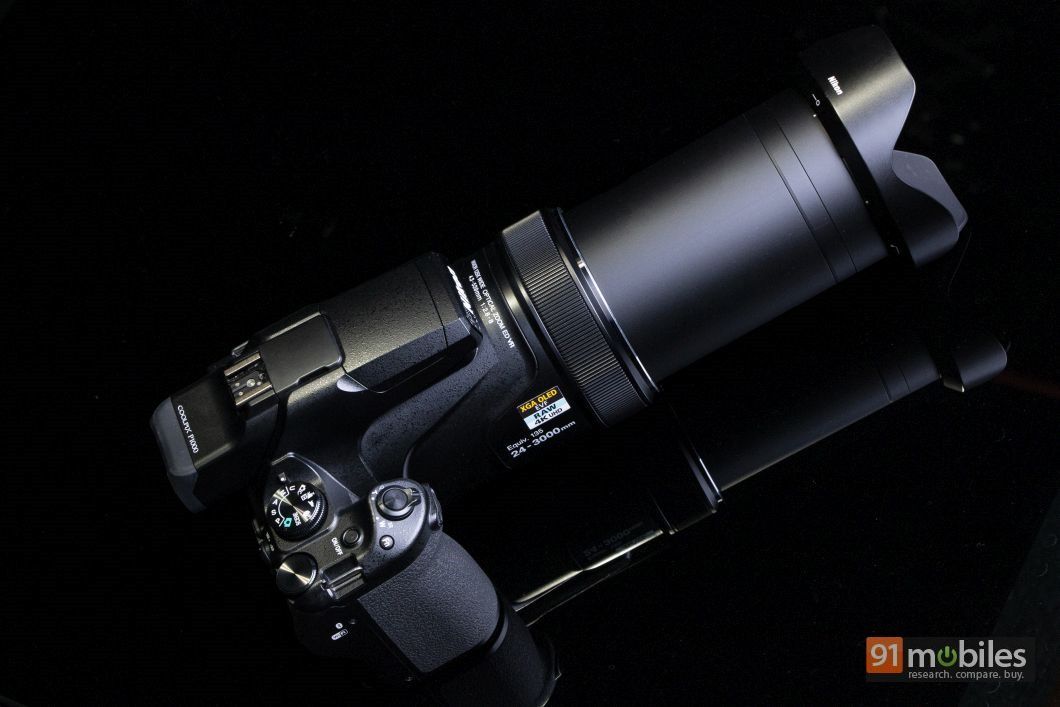 While you could easily get better image quality with the likes of the Nikon D5600 and Sony Alpha 6300, it all boils down to what you need a camera for. If you're a wildlife shooter or love capturingthe moon, then the Nikon Coolpix P1000 might just be a perfect choice for you considering competing options like the Panasonic LUMIX FZ80 don't offer such zoom capabilities.
Editor's rating: 3.5 / 5
Pros
Easy-to-use controls
Powerful zoom capabilities
Good stabilisation
4K video recording capabilities
Cons
Quite heavy and not really ergonomic
Average battery life
Product photos by Raj Rout