Let me make a confession. Ever since the launch of the Google Pixel 3 XL (review), the smartphone has been my constant companion, either my primary phone or a secondary one. Put simply, the smartphone offers impressive imaging capabilities across all conditions, including challenging scenarios. While I've never been content with it as I don't think it's an all-rounder, I haven't been able to find its replacement as far as photography is concerned. Until now that is. It's a tall statement, but that's what I've realised after using Huawei's latest and greatest – the P30 Pro (first impressions) – over the last 10 days or so. Wondering why's that? Let's unravel what makes Huawei's P30 Pro a proposition that's hard to match.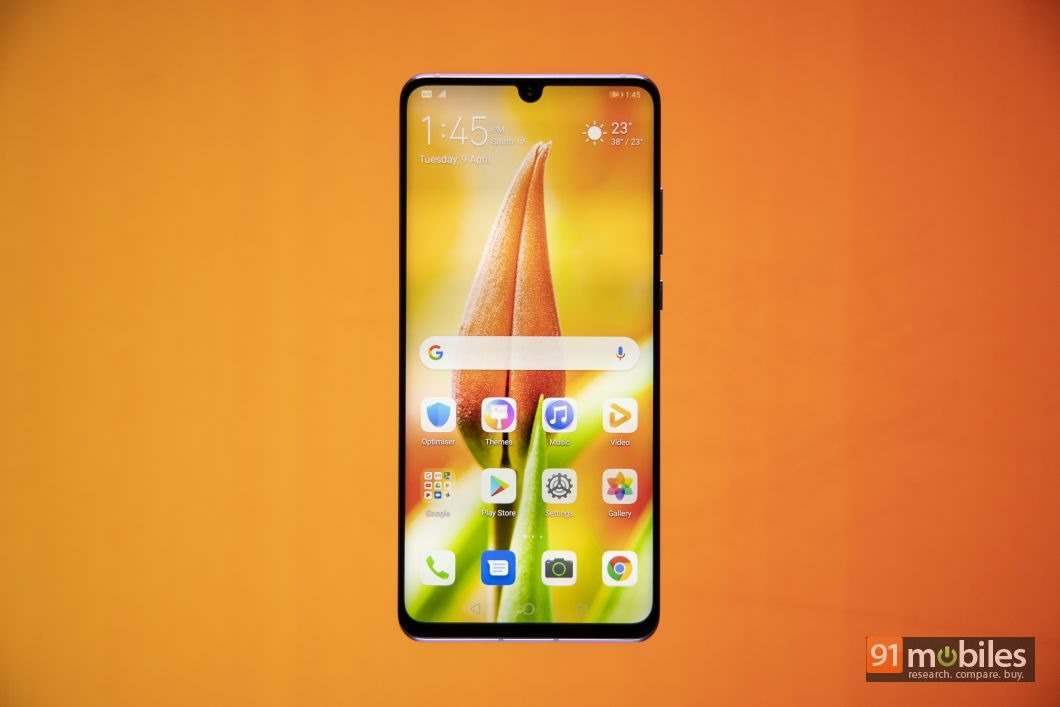 Specs at a glance
Display
Size
6.47 Inch
Resolution
1080 x 2340 pixels
Performance
CPU
Dual core, 2.6 GHz + Dual core, 1.92 GHz, HiSilicon Kirin
RAM
8 GB
Storage
Internal memory
256 GB
External memory
Up to 256 GB
Battery
Capacity
4200 mAH, Li-Polymer, Non removable
Camera
Primary camera
40 MP
Secondary camera
32 MP
Connectivity
Network support
Dual SIM 4G
Other options
Wi-Fi, Bluetooth 5.0, GPS
Others
Battery Capacity
4200
Operating system
Android 9.0 Pie
Imaging: more than the sum of its cameras
Flash
: Dual-color LED Flash
Without a doubt, the calling card of the Huawei P30 Pro is its quad-camera setup on the back. While one can easily write an entire article on the specifications and features of the imaging module, I'd like to mention that these four Leica-certified cameras combine to offer a versatile shooter that works really well in varied situations. Specs-wise, the phone gets a 40MP sensor, just like its predecessor, but instead of a conventional RGB Colour Filter Array , the company has opted for a RYB CFA. Considering that the colour yellow is a combination of red and green, this helps the sensor get up to 40 percent more light and reach ISO sensitivity of 4,09,600 (though in manual mode, you can only go up to ISO 6400). The SuperSpectrum sensor features an aperture of f/1.6. The wide-angle 20MP sensor features an aperture of f/2.2, while the 8-megapixel f/3.4 sensor with 125mm equivalent lens featuring a periscope-style arrangement is the main attraction as it enables an optical zoom of up to 5x. While the camera comes with OIS to enable smoother pictures and videos, Huawei has also coupled it with AIS (AI Image Stabilisation) to offer a hybrid zoom of 10x and an astounding digital zoom of – wait for it – 50x. Along with these vertically-aligned shooters, you'll also find a ToF sensor sitting just below the flash module. That's not all, for selfies, you get a high-res 32-meg f/2.0 sensor up front.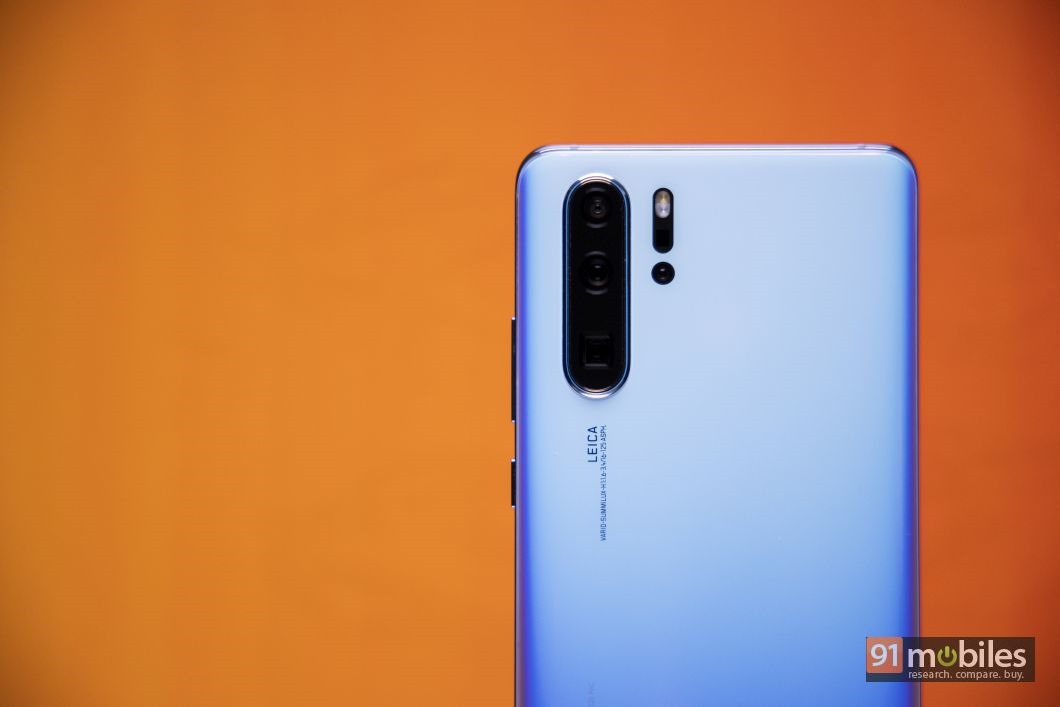 As far as the camera interface is concerned, you would find yourself right at home if you've used a Huawei smartphone before. The P30 Pro features neatly laid-out options, letting you harness its capabilities well. I also liked the fact that the AI toggle is now present up front, instead of being present inside the settings menu. You'll find various shooting modes like photo, video, portrait, and pro among other things, above the shutter button, preview gallery and the ability to switch to the front shooter. On top, there's Huawei HiVision (similar to Google Lens), flash toggle, ability to switch between normal and vivid modes and settings menu. For switching between the wide-angle, normal and zoom modes, the device has a one-tap option in the middle right, which also doubles up as a slider that lets you control zoom level (you can of course, use the good ol' pinch-to-zoom method to perform this task). I really loved the fact that the wide-angle mode also lets you choose the exact level rather than letting you capture a fixed frame, not to mention that this shooter also has an autofocus mechanism. Sadly however, this implementation means that you'll need to shoot with both your hands to change the zoom levels, and in this case, Samsung's option on its latest S10 lineup seems to be better as you can control the zoom levels single-handedly. I wish Huawei would've given a few options between 1x and 5x as well as 10x and 50x. Similarly, while the AI mode is present up front, the HDR mode is hidden among more modes.
To be completely honest, summarising Huawei P30 Pro's camera prowess in just a single para would be an injustice to its capabilities. That's why I'd urge you to read the camera comparison between the P30 Pro, Samsung Galaxy S10+ and Google Pixel 3 XL. Simply put, you'll love shooting with the latest smartphone from Huawei in all situations, be it in daylight, shooting close-ups and especially in low light, thanks to its impressive night mode. The wide-angle and zoom functionality are impressive indeed, with the latter actually working quite well and not being just a gimmick. The fact that the wide-angle snapper also lets you capture from tight quarters with the super macro mode is also quite intriguing. Lastly, the ToF sensor is quite capable as well for letting you capture portrait images with well-defined edges. Having said that, I'd still refrain from saying that the depth-of-field effect is perfect, though I can give you a tip that you can also use the aperture mode that lets you adjust the aperture for getting some good bokeh shots. One thing to keep in mind is that in all the scenarios I've mentioned, I used the P30 Pro in the 10MP mode, as the 40MP resolution only offers slightly better details, but you miss out on all the flexibility offered by the multi-camera setup.
Take a dekko at the variety of pictures captured by Huawei P30 Pro's quad-camera module.
Comparing the P30 Pro to the Mate 20 Pro (review), the newer device certainly offers better shooting capabilities. But perhaps more important is the improvement in selfies considering that was one of the biggest drawbacks of the Mate 20 Pro. The P30 Pro's 32MP shooter offers good sharpness levels, keeps exposure in check and captures good colours too in the HDR mode. Although in some cases, the selfies tend to lean towards warmer tones. In terms of videos, you'd love the options presented by the cameras on the P30 Pro, and the footage is quite smooth as well, though I won't say that it's the best phone for video recording out there. That said, I'm looking forward to the Dual-View mode, which will let you shoot the same scenarios in the normal mode and wide-angle mode.
Design and display: a stunner from every angle
Dimensions
: 158 x 73.4 x 8.4 mm
At first glance, the P30 Pro may not look very different from last year's Huawei Mate 20 Pro. That's because you get the same dual-curved display panel on the front, and glass finish on the rear featuring gradient colours. But look closely, and you'll find enough differences.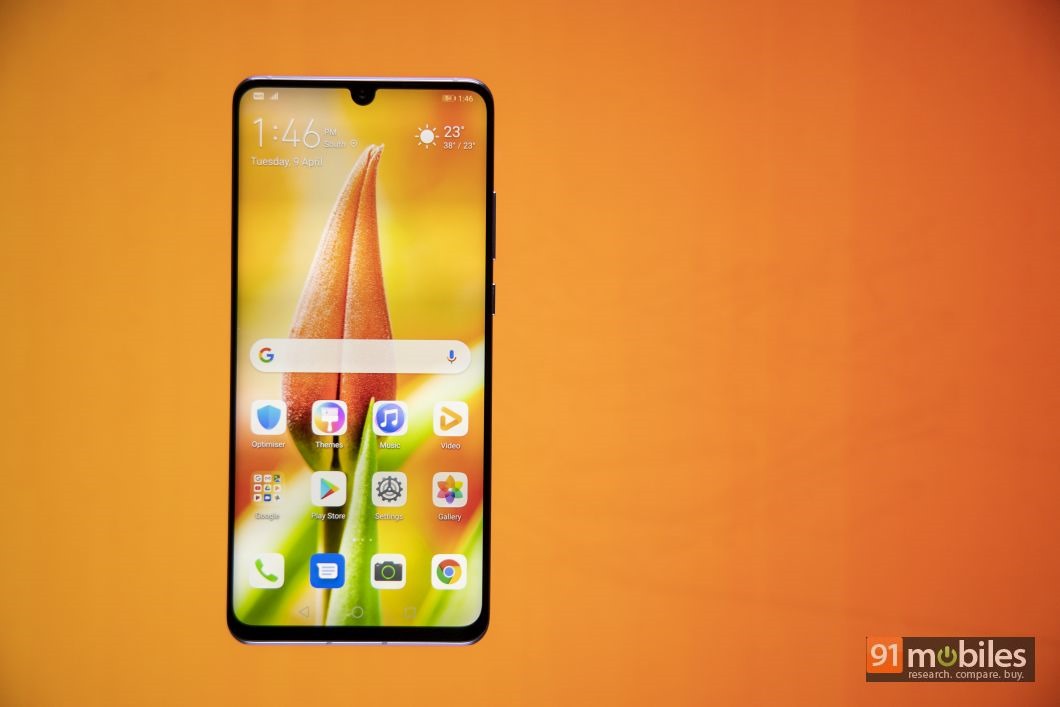 First and foremost, the Huawei P30 Pro has opted for a dewdrop-shaped notch instead of the conventional rectangular cut-out. In fact, the notch is smaller than usual for the simple reason that the phone doesn't have a physical earpiece. Similar to the Vivo NEX (review), the device uses the display to produce vibrations and generate sound – referred to as electromagnetic levitations. The brand is calling this feature Acoustic Display. Unlike Vivo's offering however, the tech works quite well and I was able to hear the other party clearly. This also means that Huawei's latest features extremely slim bezels on three sides, with small bezels on the bottom letting the phone offer an impressive screen-to-body ratio.
While the button and port placement is nothing new, this design decision means that the P30 Pro only offers a mono speaker at the base. While the sound quality is quite good, it's not as loud as other flagships that offer stereo speakers. Moreover, it can easily get muffled when the P30 Pro is used in landscape orientation.
Huawei P30 Pro design gallery
Flip to the back of the P30 Pro, and you'll be greeted by a protruding camera module sporting a trio of sensors arranged vertically. Sadly, the protrusion also means that the phone doesn't sit flat on a surface. And since the array is towards the top-left corner, the phone wobbles significantly when kept on a table. And since the phone is quite slippery, I'd recommend you use the bundled transparent cover. Apart from that however, the rear panel doesn't have anything else as the fingerprint sensor is available beneath the display. At this point, it's worth mentioning that the gradient patterns on the P30 Pro have been inspired by salt flats, which is quite thoughtful. Produced using the inkjet micron-grade printing process, the colours look quite stunning. And while the Amber Sunrise colour will attract your attention the most (sadly though, it's not available in India), my vote would go to the Breathing Crystal version. It's rather subdued as compared to the Aurora finish, but the device looks quite attractive with its hues moving from silver to blue depending upon how light bounces off its surface.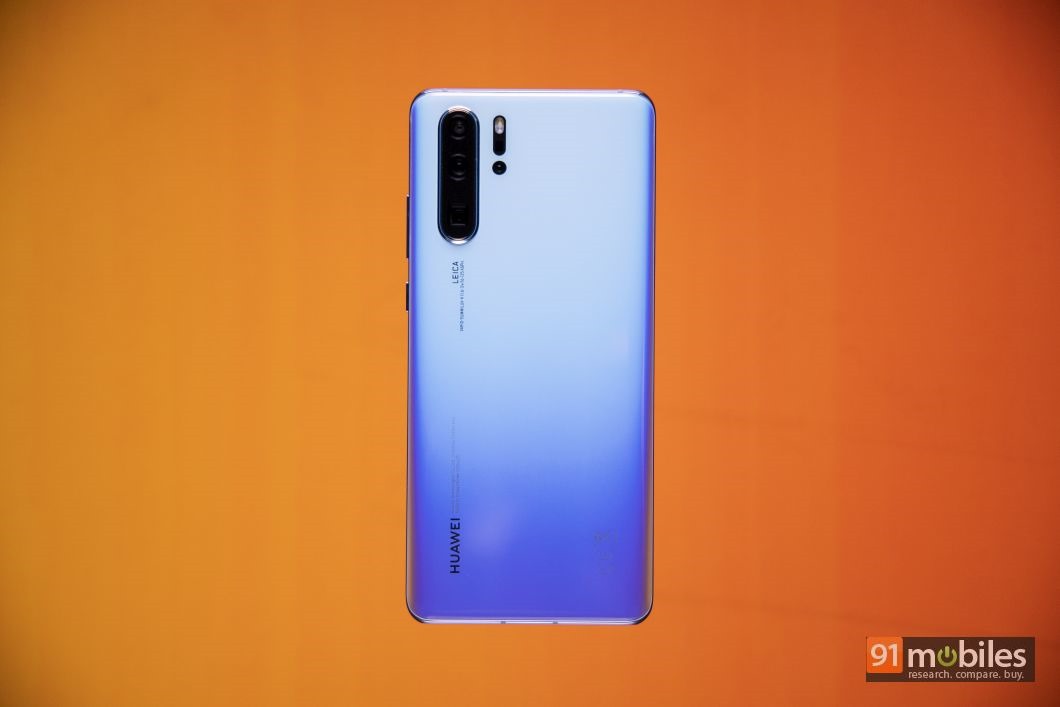 The optical fingerprint scanner works well and unlocks the Huawei P30 Pro relatively quickly. As per the company, the scanner is 30 percent faster than the one on the Mate 20 Pro, and my experience indicates the same, although there were times when it failed to read my prints even after a couple of attempts. Of course, you can use the face unlock in such scenarios, which is plenty fast. It also works in most situations, except in poorly-lit conditions. That's because unlike the Mate 20 Pro, which has 3D face unlock, the P30 Pro only utilises the front shooter for authentication.
You'll be interacting with the Huawei P30 Pro via its 6.47-inch full HD+ OLED panel. The display gets adequately bright and offers crisp text with vibrant colours. The viewing angles are quite good too, and watching movies or reading long webpages are a delight on the handset. The waterdrop notch doesn't seem distracting either, and you can choose to disable it if you wish. The HDR 10-compliant panel offers impressive contrast and saturation while watching compatible content, and you can also choose to change the colour temperature in the settings. Thanks to the OLED tech, you can also enable the Always-on Display, although it's not as customisable as Samsung smartphones. To enjoy a larger screen real estate, you can disable the on-screen navigation buttons and use gestures. They work similar to the Pixel 3 XL, i.e., swipe upwards to return to the homescreen and swipe upwards and hold to access the recently-opened apps. One thing that's strange however is the fact that while the Mate 20 Pro featured QHD+ resolution, the P30 Pro continues with an FHD+ screen.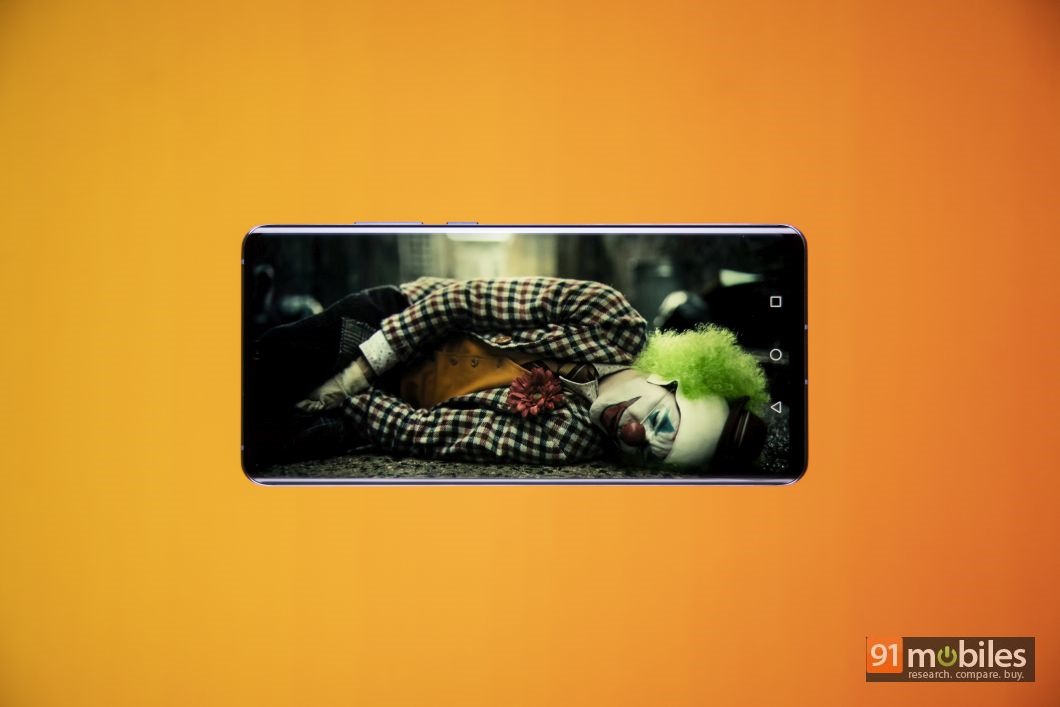 Hardware and software: speed is its middle name
CPU
: Dual core, 2.6 GHz + Dual core, 1.92 GHz, HiSilicon Kirin
Memory
: 256 GB + Up to 256 GB
SIM Slots
: Dual SIM , GSM+GSM
Now, this is an area where there aren't any surprises as such. Having already reviewed the Mate 20 Pro and Honor View 20, I've no doubts in the P30 Pro's mettle in the hardware department. The 7nm Kirin 980 chipset ticks under its hood, which offers the benefit of a 2.6GHz dual-core processor for high-end apps, a 1.92GHz dual-core processor for mid-tier tasks and a 1.8GHz quad-core processor while running power-efficient tasks. One difference however is the fact that the P30 Pro launched in India features 8GB of RAM, which ensures that the multitasking experience remains incredibly smooth as well. Even with multiple apps open, switching between them was near instantaneous.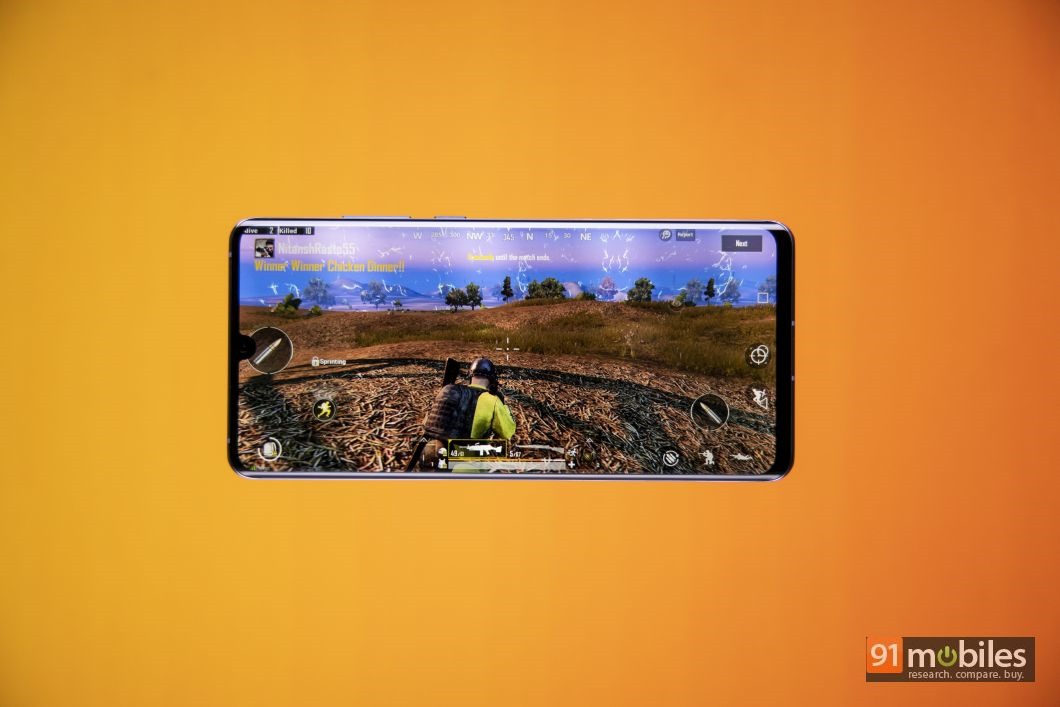 For software, the P30 Pro ships with EMUI 9.1 which is based on Android 9.0 Pie. While Huawei's platform still leaves many users divided as it's not as minimalistic as stock Android, nor as refined as say, the all-new One UI on Samsung phones, I feel that Huawei is going in the right direction with its custom skin. The company has tried to minimise bloatware, and the only apps you'll find upon first boot are Facebook, Booking.com, etc. Furthermore, the newest iteration of EMUI also comes with a new file system dubbed EROFS (Extendable Read-Only File System). The file system converts the system partition into read-only files, which helps in improving the read speeds by up to 20 percent on an average as well as enhancing app launch times. While it's difficult to tell the difference in real life, I did find frequently-used apps to open quicker on the smartphone. The new iteration also comes with GPU Turbo 3.0, which promises to enhance the gaming experience although the list of supported games is quite sparse at the moment.
Speaking of gaming, thanks to its Mali-G76 MP10 GPU, the P30 Pro is a gamer's delight as well, and playing titles like PUBG and Asphalt 8: Airborne on the phone is great fun. Thanks to Huawei's SuperCool Vapour chamber and graphene film, the smartphone also keeps a tab on its thermal efficiency.
The P30 Pro variant available in India comes with 256GB of memory, which should be more than enough for installation of apps and storing multimedia files. But if you do need to expand the storage further, then you have that option by using the proprietary nano-memory card (if you forgo the dual-SIM functionality). While the new format of SD cards is yet to start selling in the country, I'm told that the phonemaker will be launching them soon.
Unsurprisingly, the Huawei P30 Pro doesn't come with a 3.5mm audio interface. But the good thing is that the company has bundled Type-C earphones in the box. Sadly, they follow Apple Earpods design language, which makes them uncomfortable to wear for long durations. That said, the sound quality is relatively good and support for ATMOS also means that you can enjoy rich and immersive output.
Battery: bests other flagships
Capacity
: 4200 mAH, Li-Polymer, Non removable
Similar to the Mate 20 Pro, the new P30 Pro ships with a beefy 4,200mAh battery. What's interesting however, is that the smartphone seems to be bettering the Mate 20 Pro in terms of battery life even with a similar battery capacity. This is apparent from our HD video loop test where the handset was able to play back a video for almost 22 hours as compared to 17:45 hours delivered by the brand's previous flagship. In day-to-day usage as well, I never had any battery anxiety even towards the end of the day. Even with the usage including battery-draining tasks like Wi-Fi hotspot, GPS and gaming, the device was easily able to go on till the next day. On most occasions, I achieved a screen-on time of around seven to eight hours, which is heads and shoulders above most other flagships out there.
And when you do need to juice up the smartphone, then you can do so quickly with the bundled 40W Super Charger. In fact, I was quite astonished to see the device go up to 50 percent levels from 10 percent within 20 minutes. Charging it fully from 10 percent took less than an hour. You can also charge the phone wirelessly with 15W chargers.
Verdict
As I mentioned in the beginning, you'd be compelled to consider the Huawei P30 Pro for its imaging prowess, but the handset is much more than that. It's a near-perfect flagship that doesn't falter on any aspect, be it design, display, performance or battery. While its software might evoke mixed reactions, you can overcome that by installing a custom launcher like Nova Launcher. What's even more interesting is the fact that the P30 Pro is priced at Rs 71,990 – just Rs 2,000 more than the initial sticker price of the Mate 20 Pro.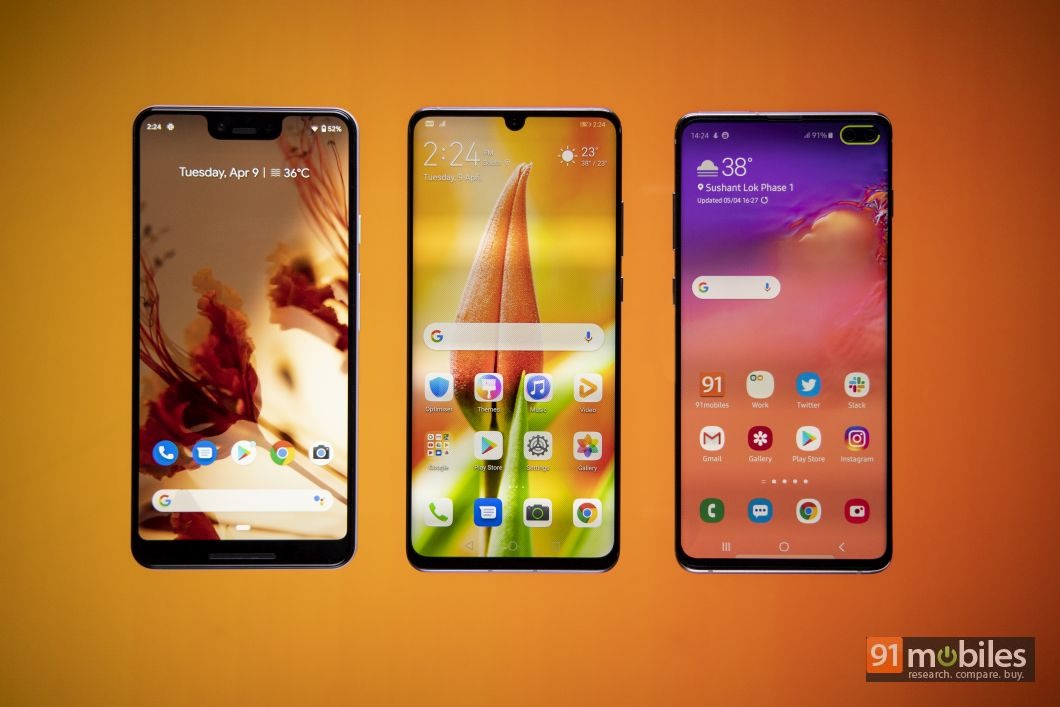 Of course, you must be thinking whether a smartphone from Huawei's stables deserves such a high asking price considering there are offerings from the likes of Apple, Samsung and Google in the premium flagship space. Well, if you ask me, the P30 Pro comes as a better proposition than its competitors. Samsung's Galaxy S10+ (review) for instance, costs slightly more at Rs 73,900 and while it's a great all-round smartphone, it doesn't have too many features that stand out. I've already established that the Pixel 3 XL is a great camera phone, but fails to be a good all rounder. Then there's the iPhone XS (review) and XS Max (review), both of which are capable options for those who are invested in the Apple ecosystem, but aren't enticing enough for anyone else, especially considering their price tags. That leaves us with Huawei's own Mate 20 Pro, which is now available for around Rs 64,990 and considering it shares its hardware with the P30 Pro, I guess the question you need to ask yourself is whether the difference in their prices is worth the camera capabilities offered by the brand's latest, though I certainly think so.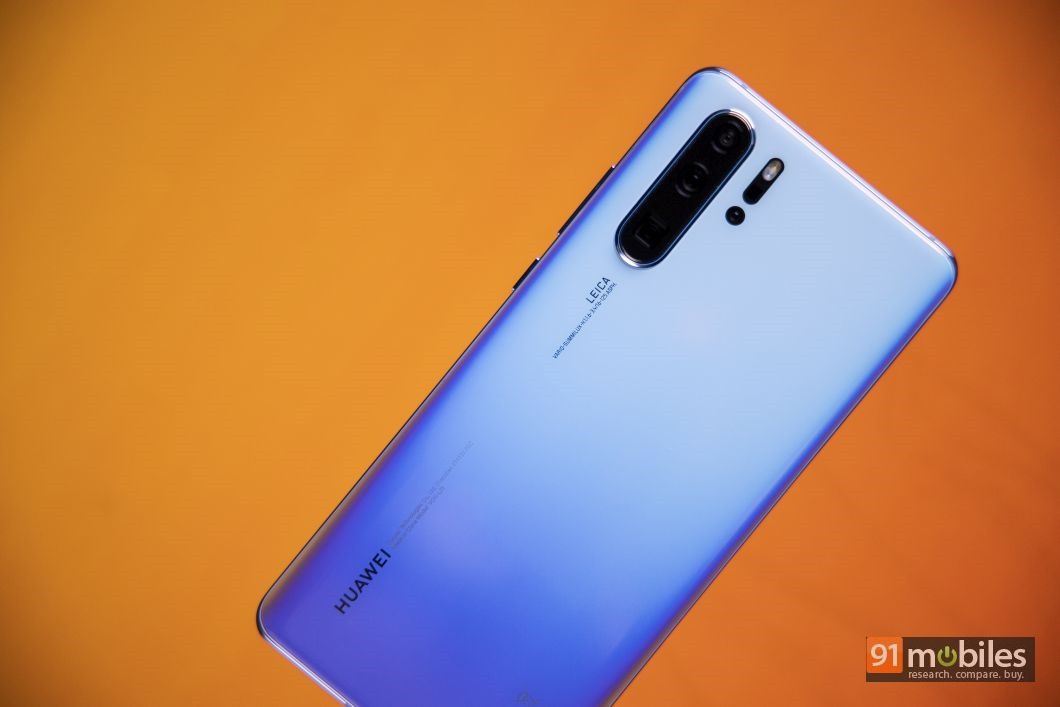 All said and done, the Huawei P30 Pro is a near-perfect flagship, which is usually a rarity, and won't leave you asking for more. And to make the deal even sweeter, the company is letting you buy the Huawei Watch GT (first impressions) along with the new phone for just an additional Rs 2,000, instead of its actual price of Rs 15,990.
Editor's rating: 4.5 / 5
Pros
An attractive, IP68-certified build
Impressive and versatile cameras
Best-in-class zoom capabilities and low-light imaging
Powerful hardware
Strong battery life with fast-charging capabilities
Cons
Display resolution limited to full HD
NanoSD cards aren't available in India
Face unlock isn't fast or extremely secure
Photos by Raj Rout
Competitors for Huawei P30 Pro
| | | |
| --- | --- | --- |
| Huawei P30 Pro | vs | Samsung Galaxy S10 Plus |
| | | |
| --- | --- | --- |
| Huawei P30 Pro | vs | Google Pixel 3 XL |