"Is the Oppo N1 just about 13-megapixel selfies, or is there more to this premium phablet?"
Before Gionee entered the Indian smartphone arena, the word 'premium' was never mentioned in the same breath as 'Chinese phone'. Through its stylish and loaded offerings like the
Elife E6
and
E7
, Gionee has succeeded to some extent in breaking the myths usually associated with products from China, but maybe there's still some more work to be done. Its rival Oppo has just landed on Indian shores and while both vendors will be competing fiercely in vying for the attentions of the smartphone buyers in India, maybe together they can works towards eliminating some of those myths. Oppo, in case you didn't know, is an electronics major based in China and is quite strong in the smartphone segment. Its last year's flagship, the
Find 5
, proved to be a big success, and the brand is hoping to find (no puns intended) the same success with the
N1
. Just today, Oppo has made its latest flagship,
the Find 7 official
at an event in Beijing, though we aren't sure when it's likely to arrive on our shores.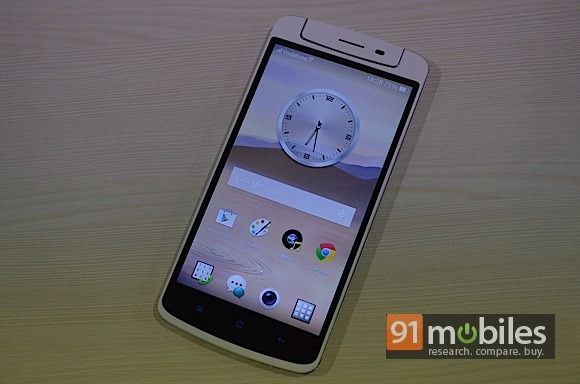 The N1 is the vehicle Oppo has chosen to mark its entry in India, and right from the get-go, the company's approach has been fairly aggressive. Not only is the N1 a high-end and premium phablet that's loaded with innovations, top-notch specs and tons of software features, it was
unveiled at a glitzy function
in the presence of A-grade Bollywood celebs. Rather than judging the book by its cover, we'd like to judge it on the merits of the brand's offerings though, and what better way than taking the N1 through our review gauntlet to find out what it's really made of? Figuratively speaking, of course.
Fab phablet, intelligent innovations
We usually begin our reviews by describing the design and build of the devices in hand, but in the case of the N1, it's important to know first what you're dealing with. You see, the Oppo N1 boasts quite a few firsts and is loaded with some special features… notable enough for us to deviate from the norm and dwell first upon its highlights. The first on the list is the 13-megapixel camera which swivels 206 degrees to double up as both a primary shooter as well as a front camera for selfies and video calls.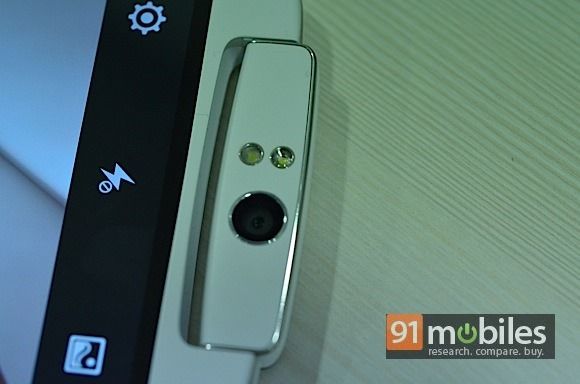 The Oppo N1 is the world's first smartphone that can boast of this trick, and in case you haven't figured it out yet, this also means that it's also the first device that lets you shoot 13-meg selfies. Another trick up its sleeve is a touch-sensitive panel on the rear that aids one-handed usage by letting you scroll pages, navigate images in the gallery, and even launch an app of your choice by double tapping. That's not all – the N1 also comes packed with a smorgasbord of software features, supports tons of gestures and special actions, and as the icing on the cake, even includes a nifty Bluetooth accessory that helps you locate your misplaced phone and lets you shoot from a distance. Needless to say, we were quite excited at the chance to take the N1 for a spin and couldn't wait to find out what it can do.
Premium is its middle name
We may not believe in judging a book by its cover, but Oppo insists on leaving a lasting first impression. And first impressions start from the packaging. The N1 comes inside a lovely plastic box, with contents packed neatly inside.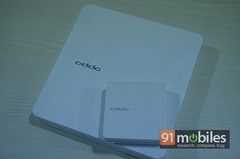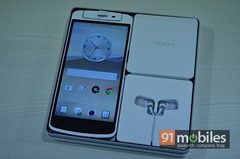 And as far the handset itself is concerned, it's a massive device that looks good in matte white, sporting a solid, sturdy build that screams premium. At 9mm, it's quite svelte, but thanks to the large 5.9-inch display and the camera swivel mechanism on top, the overall size of the device is gargantuan, putting it mildly. Despite the rear touch panel, you won't be able to use it comfortably with a single hand. Carrying it around is an issue too – it just looks absurd sticking out of your shirt pocket, and while you could possibly accommodate it into your trouser pocket, you'll find it restricting movement quite a bit… while climbing stairs for example.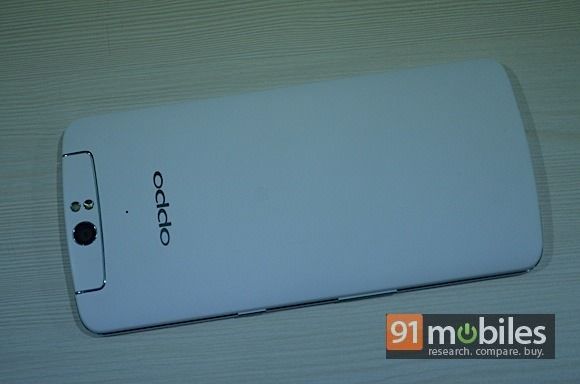 While we'd urge you to take a gander at
our detailed hands-on
for getting an idea of the N1's design, build and port placement, it's worth noting that the camera's rotating circus trick is possibly the first thing you'll notice about it at first glance, after its large dimensions of course. Also, we aren't sure how well the said mechanism will hold up in case of drops, even though the company does say that it's been subjected to extensive testing to make sure it lasts long.
Large, breathtaking display
The big-screen experience was a phrase usually reserved for the cinema, but courtesy the busy lives we lead these days, it'd be a dream come true if we could just carry our own personal cinemas with us wherever we go. The N1 helps. Its 5.9-inch display puts it firmly into phablet territory, and to its credit, does a good enough job to make sure you don't miss the cinema much.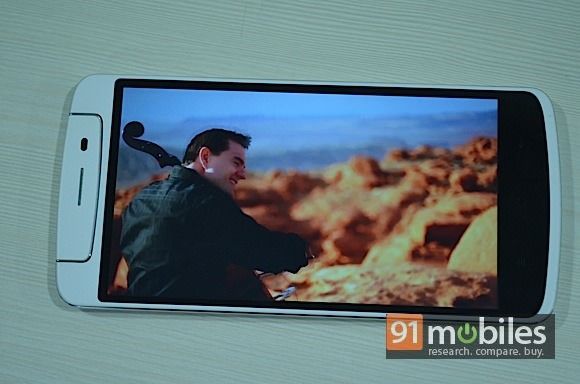 We won't accept anything less than full HD resolution on a premium mobile device, and that's exactly what the N1's screen sports. It's a tad reflective and due to that, leaves a little something to be desired in terms of sunlight legibility, but otherwise its great in all other aspects. The colours pop, the icons look as if they're floating, images and videos appear sharp, and as far as the cinema is concerned, you can safely boast that you carry your own.
Great selfies, good cam
Oxford Dictionaries conferred the 'word of the year 2013' title to 'selfie', and while capturing and sharing selfies has taken off in a big way, one recent event brought them into the limelight like never before. You guessed it, we're referring to Ellen DeGeneres'
record-breaking shot at the Oscars
. Now that one was taken with a
Samsung Galaxy Note 3
, but we reckon the Oppo N1 would've been a better choice (if she had a say in the matter that is). In the past, front shooters used to be utilitarian contraptions that were there for the primary purpose of enabling video calls, but thanks to the selfie phenomenon, manufacturers have started giving them more attention. Indian brands like Micromax and Spice have been leading the way in this regard, but a couple that recently caught our attention were the
Karbonn Titanium X
that sported an LED flash for its front shooter, and the
Gionee Elife E7
with its 8-megapixel front cam that boasts autofocus. The Oppo N1 trumps all of them because effectively, it offers a 13-megapixel snapper complete with autofocus and a dual-LED flash. Needless to say, if you're a selfie fanatic, there's nothing better than the N1 right now. Moreover, the smartphone also has a nifty photo editing feature that automatically detects faces and lets you apply various makeup effects – think of this as the beauty shot feature taken to a whole new level. Talking about selfies, it's also worth noting that you can enable a setting that launches into the camera mode straight from standby as soon as you rotate the shooter from its default position to face the front.
The N1 also offers a host of other ways to launch the camera. For example, you can draw a circle on the screen whilst its switched off to get the device straight into shooting mode. You can also make use of a drop-down gesture panel for similar gestures (or define your own) when the screen is on. The O-Touch panel on the rear can be used for shooting as well, while the bundled O-Click Bluetooth accessory works as a remote shutter release as well.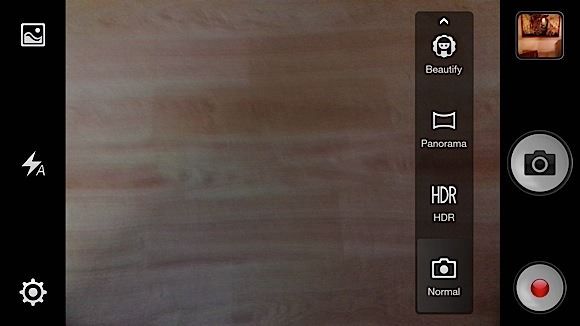 The camera app isn't as loaded as we've seen on other flagships, and doesn't offer much creative control. There's no way to set ISO or white balance manually for example. That apart, it does offer most common features like burst shot, HDR, panorama, beauty shot, and even a slow shutter mode that can be used for light trails.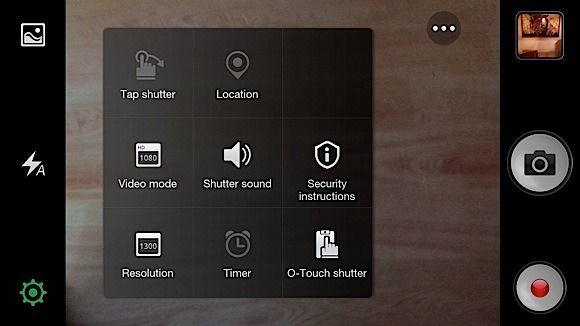 When used as the primary camera for shooting, the N1's offering can't really be called its strongest point. While the images are good for the most part (especially the ones shot in daylight), it has a tendency to throw up results that are a tad inconsistent on occasion, especially with regards to colour saturation. That said, the HDR mode is great, and lends an artistic, painting-like feel to captured shots. 1080p video are pretty good too. Do check out some of the sample images from the N1's camera. Click to view in a larger size.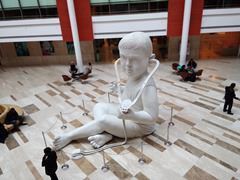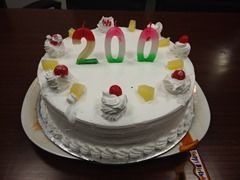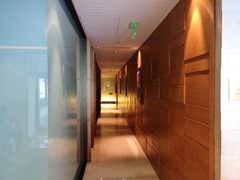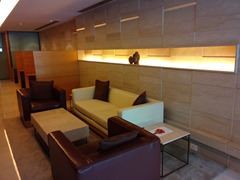 Here are a couple of shots comparing the non-HDR (left) and HDR modes (right), side by side.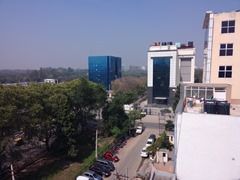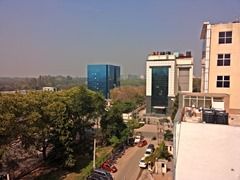 Softer side of things hit hard
The software department is where things get quite interesting. We've spoken about feature spam
when we reviewed
the
Lenovo Vibe Z
, and the Oppo N1 also has a fair share, placing heavy emphasis on gestures and special actions – all of which can be customised by the user as per his or her own whims.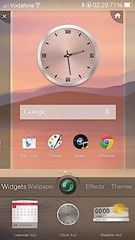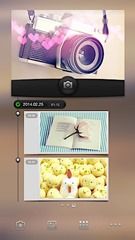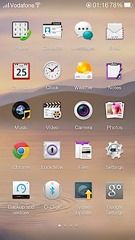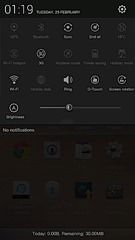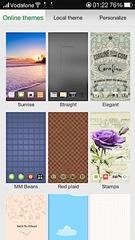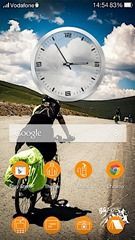 First up, the N1 runs Android 4.2.2, but you probably won't realise it. The culprit is ColorOS, Oppo's custom skin that sits atop the OS. What it offers are a slew of themes, transition effects, and nifty home screens that get their own 'exclusive spaces' for the camera and music. The camera space for example, is a neat fullscreen widget that gives you a small viewfinder to shoot with, and also displays captured shots as an album underneath. Similarly, the music space provides a lovely interface to play tracks using an interface designed like a record player.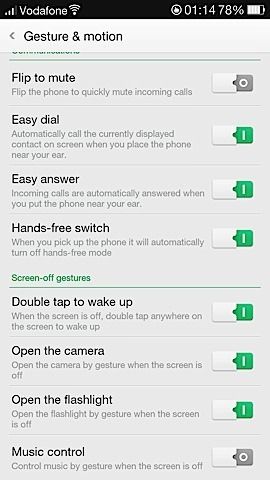 Dive into the "Gesture & motion" head under device settings, and you'll see what the device offers. The double-tap-to-wake option is especially handy for a device of this size, and you'll also find a barrage of other features based on proximity, motion or gestures. Flip to mute, Easy dial (Oppo's version of Samsung's Direct call feature that lets you dial the currently-displayed contact when you bring the device to your ear), and Easy answer that lets you accept incoming calls using that last action are some others. In addition, you can choose to activate the camera using a pinch action, capture a screenshot by swiping up or down using three fingers, and control volume by swiping using two fingers. A nifty gesture panel that drops down from the top left can be used to define custom gestures for calling, texting, launching a website, turning on the camera, playing music, turn on voice recording, launch the flashlight or open any app of your choosing.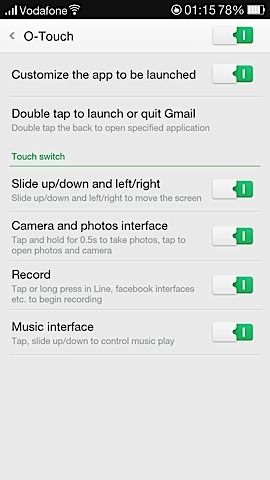 Head to the O-Touch settings to define what you'd like the rear touch panel to do – open and close a specific app using a double tap, scroll up and down or left and right, tap and hold to shoot, tap to open the shooter or to record voice depending upon which app you're in, and even control music. The O-Touch feature's usability is a tad questionable though, and while the idea is to aid in one-handed usage, the placement of the touch panel of the rear doesn't feel very apt. It could've been placed a tad further up to be more useful – currently it doesn't feel too comfortable while accessing, requiring you to bend your index finger to reach it. It also results in quite a few false touches, so we ended up disabling it after a point. The N1 also comes with quite a few apps and tools preinstalled. Apart from the usual suite of Google apps, you'll find a backup and restore utility, a power manager, a data monitor, and an app similar to
Standby Touch Advanced
that lets you
put the device to sleep with a single tap
. For security, the device offers app encryption and a permission monitor that lets you control permissions requested by each app. There's a
Guest Mode
that can hide private data such as contacts, SMSes, call logs, images, videos and even apps of your choosing, while a
Holiday Mode
mutes incoming calls and messages that aren't from contacts specified in a predefined white list. The software on the Oppo N1 isn't without its share of bugs. For example, while it supports USB OTG, there doesn't seem to be a way of removing USB storage safely. For some strange reason, it would also broadcast black audio messages while interacting with
WhatsApp
groups.
Fast is its last name
The N1's chariot is pulled along by four horses (read cores), offered by Snapdragon's 600 SoC. They run at 1.7GHz and are helped along by 2GB of RAM. The Snapdragon 600 is an odd choice for this device considering that the more compelling Snapdragon 800 chip has been out there for quite a bit, and we'd definitely have preferred the latter. That said, the N1 works quite smoothly, and doesn't display any signs of lag despite the heavy UI customisations and range of software tricks on offer. Multitasking is a breeze and even heavy games run without the device breaking into a sweat.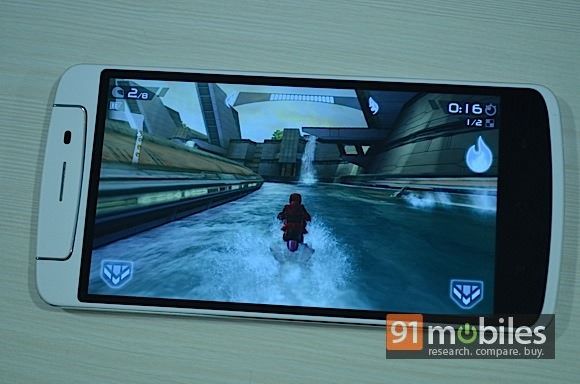 There's no microSD card slot, but you do get 16GB of internal storage, about 12GB of which is available for you to use in total. Then there's the USB OTG support, and the device is also fairly loaded in terms of other connectivity options, boasting pretty much everything you'd expect, including NFC.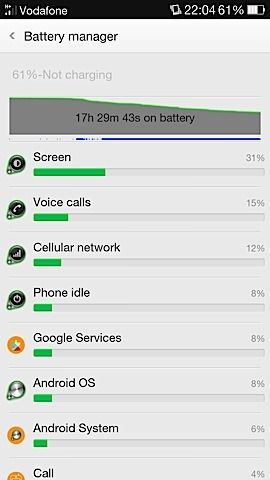 The icing on the cake is the sealed 3,610mAh battery, which keeps the smartphone going for more than a day with medium to heavy usage. Our video loop test ran for about 12 hours before it put up its legs and died, and this is quite impressive.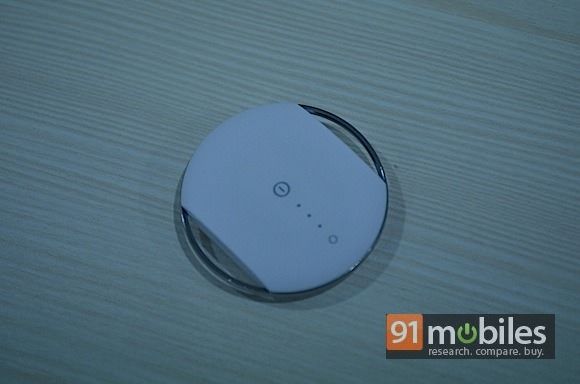 Another handy addition is the tiny fob that comes with the handset in a separate box. This is the O-Click accessory that pairs wirelessly over Bluetooth using a preloaded companion app, and works as a remote shutter for the camera, It also enables phone finder features and makes the phone ring when it's pressed twice (it's entire face is one large button you see), or when it goes out of range, even if the phone is on silent mode.
Verdict
Oppo's first offering in India definitely has a lot going for it. It looks swanky, is one of the largest phablets around (with the exception of the
Sony Xperia Z Ultra
, and joining the likes of the
HTC One Max
and the
Nokia Lumia 1520
), offers standout and innovative features with respect to its rotating camera, the O-Touch panel, and gesture support. The camera is pretty good, the performance is smooth and the battery life is stupendous. Even the O-Click accessory is a nice addition to the package.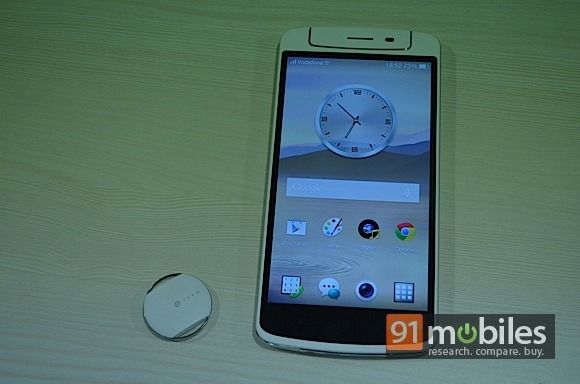 Where it does appear on shaky ground is the pricing. At close to Rs 40,000, we think it's priced a tad higher than what it should have been. At that price, where potential buyers aren't affected significantly if they see compelling options priced a tad higher than what they'd be normally willing to shell out, the N1 competes with most of the phablets we mentioned above, and then some more. Its biggest nemesis is however, the Samsung Galaxy Note 3. Though the Note 3 is slightly older, it offers a great mix of performance, battery life, specs and features, along with a versatile shooter and a handy stylus. And this is exactly the N1's undoing. Oppo's phablet is difficult to recommend at that price over and above the Note 3, but it'd certainly be an option to consider if it receives a price cut. As it stands now, it's still a great choice for anyone looking for a unique and loaded daily driver that's, well, different from the rest in more ways than one.
Price:
Rs 39,999 (16GB)
Editor's rating:
8 / 10
Pros
Good screen
Smooth performance
Sturdy build and standout design
Tons of innovations and party tricks
Gesture support and custom shortcuts
Cons
Massive size
Non-expandable storage
Camera can be inconsistent on occasion
Pricey
| | | |
| --- | --- | --- |
| Oppo N1 | vs | Oppo R1 |
| | | |
| --- | --- | --- |
| Oppo N1 | vs | Oppo Find 7 |