Review Summary
Expert Rating
3.5/5
Before Realme made flagship phones like the Realme X50 Pro, the company made a name for itself by launching disruptive affordable phones like the Realme C2, Realme 3 Pro, among others. The brand has done extremely well between the Rs 5,000 to Rs 15,000 range, and up until April, budget Realme phones made competition like Xiaomi sweat profusely. After April and with the hike in the GST rates, things have become different. Phones are no longer as affordable as they used to be, and affordable phones are no longer as disruptive as they used to be. This is more or less encapsulated in the Realme C11.
Realme C11 is the company's entry-level smartphone that is supposed to be a successor to the Realme C3 (review). It comes with a new finish on the back to break through the mundanity of Realme phone design. It gets a large battery and waterdrop display, which are staple features for a budget phone these days. Interestingly, the phone is powered by the new MediaTek Helio G35 chipset and comes with 2GB of RAM at a price of Rs 7,499.
Verdict
The Realme C11 comes with a refreshing new design that gives it a unique stand among other budget phones in the segment. It also gets an A+ battery life and decent cameras. However, the MediaTek Helio G35 SoC paired with 2GB of RAM feels like the company has taken several steps back and the Realme C11 might leave you wanting more in terms of performance.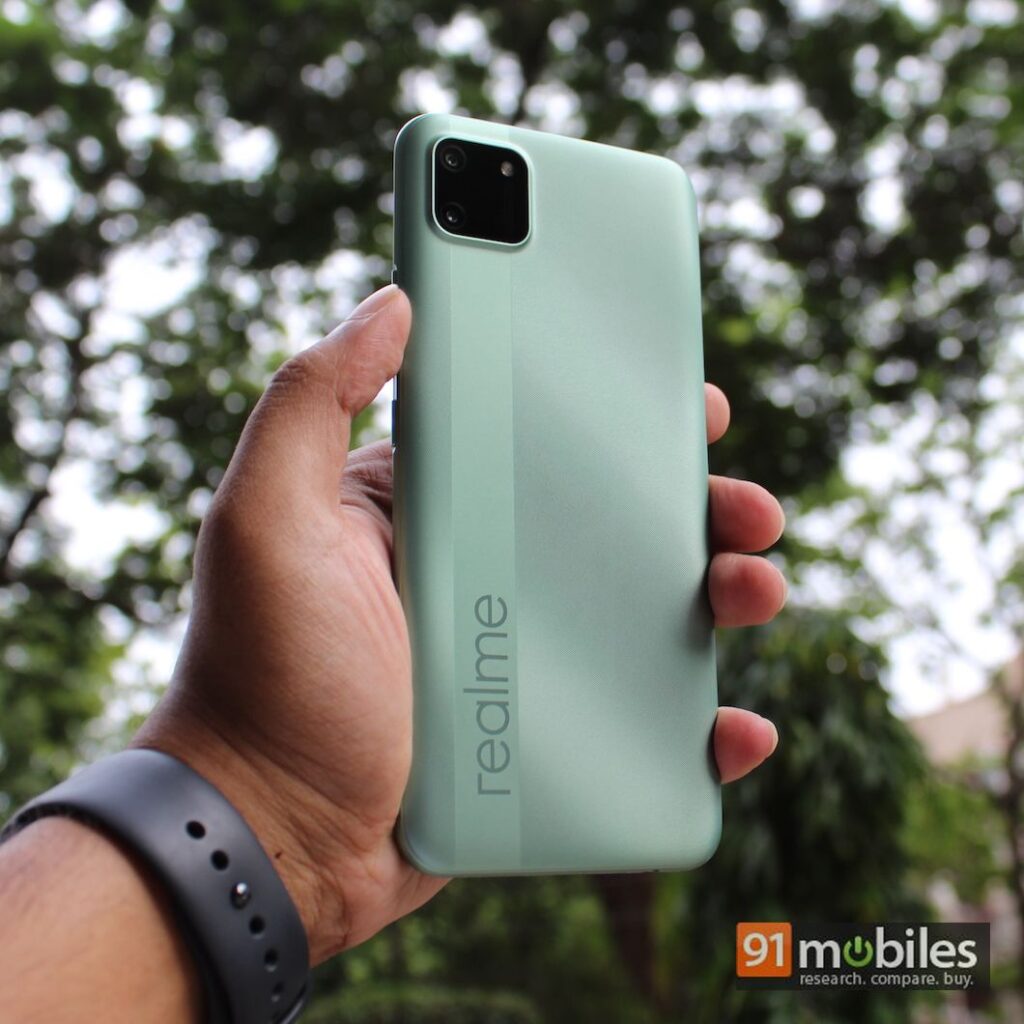 Design and display
Budget and mid-range Realme phones have looked quite similar in recent times, and fans have called the company out on this. With the Realme C11, the brand has actually made some noticeable visual changes, at least on the back. Primarily, the shape of the camera module has been changed from a vertical pill to a square. The square houses two camera sensors and an LED flash.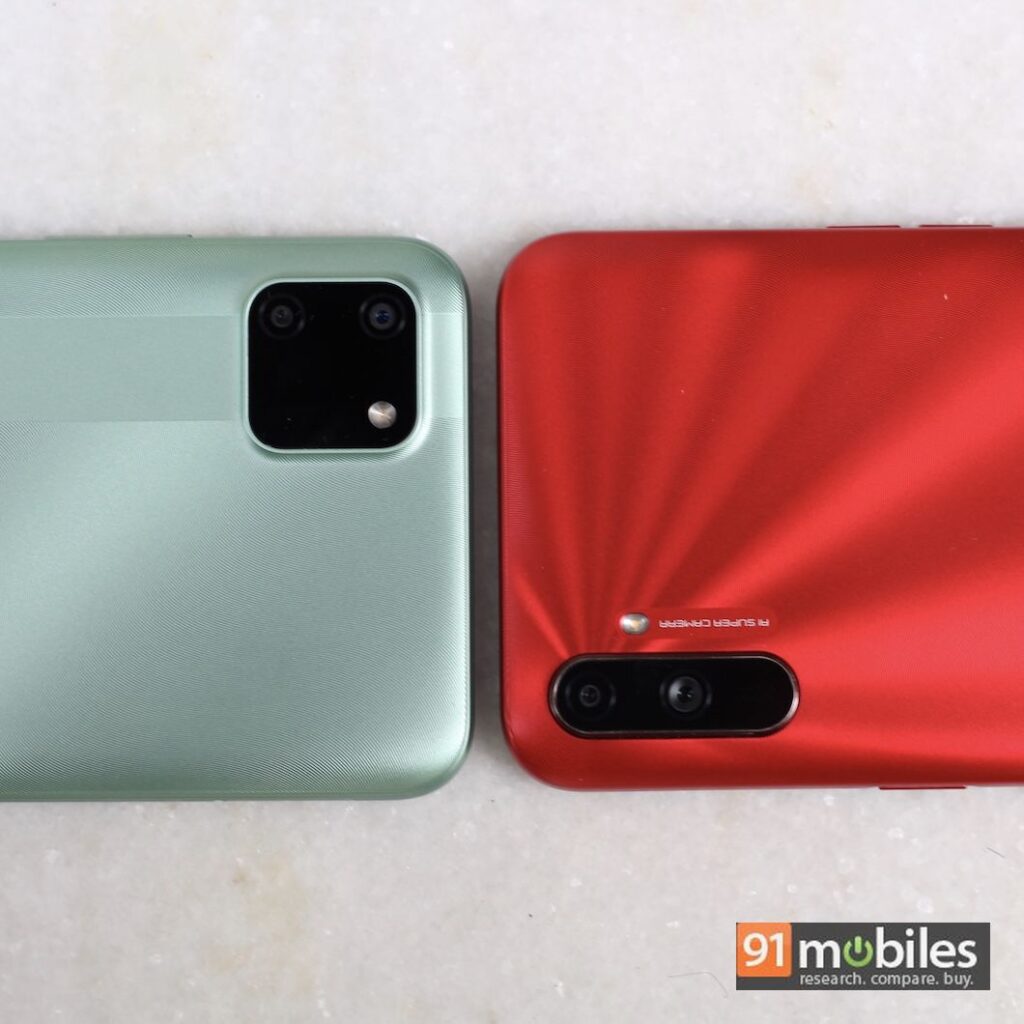 The plastic rear panel has a textured finish for the most part. There's a strip of plain matte finish that runs down the camera module. This gives the back a dual-tone finish. The strip has the 'Realme' branding, which is subtle. The Rich Green colour option that we received is kind of an olive green colour, so it's not too bright and looks quite mellow. While the rear finish looks new, we still feel the Realme C3's Sunrise design looks more appealing in comparison.
There's no fingerprint sensor on the Realme C11, so you'll have to make do with face unlock. The side of the phone has a power button and volume controls, while the bottom sports a headphone jack, micro-USB port and a speaker grille. The left side has a triple card slot for two nano SIM cards and a microSD card.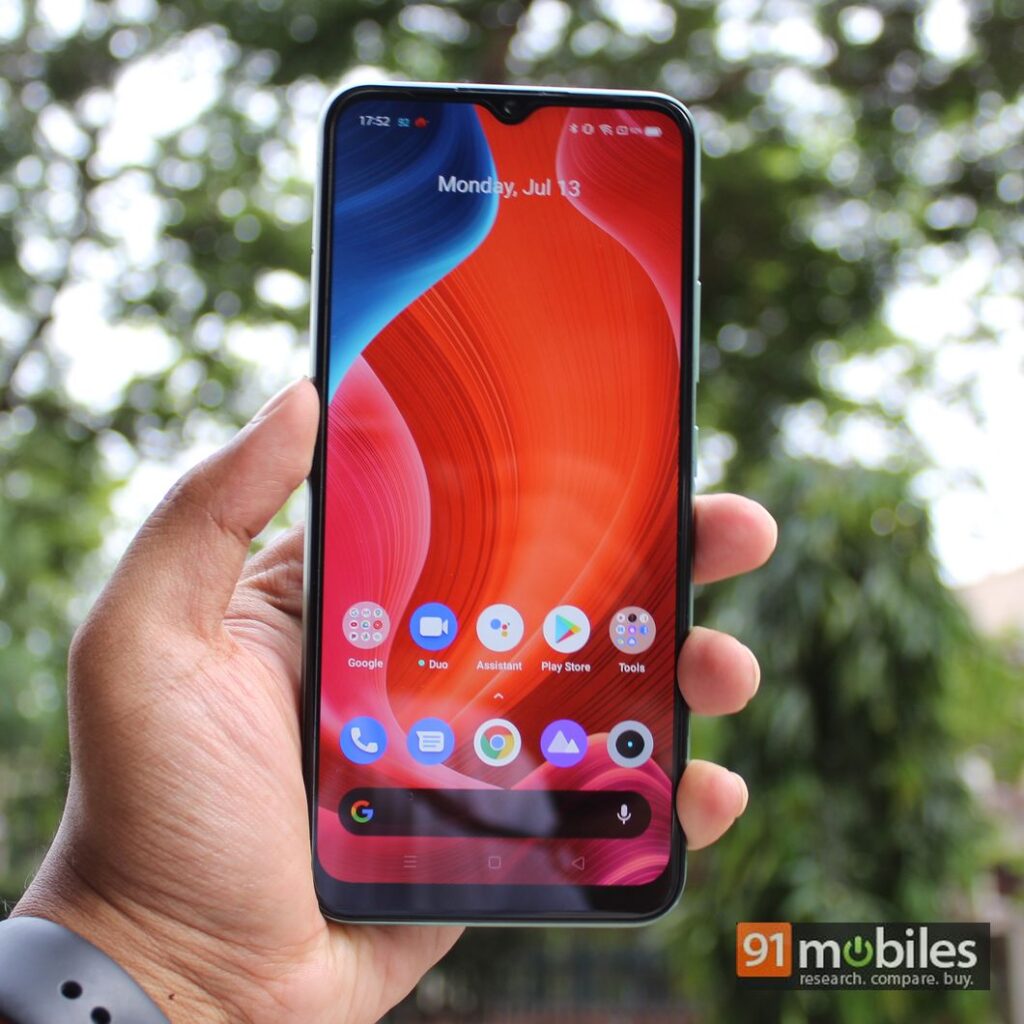 Up front, the Realme C11 sports a 6.5-inch Mini-drop display with HD+ resolution. It's a pretty standard screen, one we've seen several times on Realme phones in this segment in the past. The display offers adequate brightness levels indoors. The display quality is decent for its price and we cannot complain about it too much. With a standard 720p resolution, picture quality is about average. The phone does not support Widevine L1, so content on Netflix and Prime Video will be in standard definition.
Cameras
The Realme C11 gets a 13MP primary camera accompanied by a 2MP depth sensor, which is a pretty standard setup for a budget smartphone. It's only marginally better on paper compared to the Realme C3's 12MP dual camera setup. For an entry-level smartphone, the Realme C11 does well in capturing attractive daylight photos. Colours look rich and vibrant and there's a good amount of detail and contrast as well.
We noticed that the camera does struggle with autofocus, especially when capturing flowers, and the slow shutter speed can lead to shaky photos. That being said, we were able to capture some good-looking close-up shots after a few attempts, which made the effort worth it.

Notably, the camera supports Nightscape mode, which was missing on the Realme C3. Nightscape allows you to capture brighter and clearer photos in low light. On the Realme C11, regular night shots look blurry and noisy. The Nightscape mode does improve colours and contrast, but photos will still look hazy. Sometimes, Nightscape tends to aggressively tweak the image, which can look unnatural. There aren't many phones in this segment that can tout a dedicated night mode, so we're happy that the Realme C11 gives us the option even though it's a hit or miss.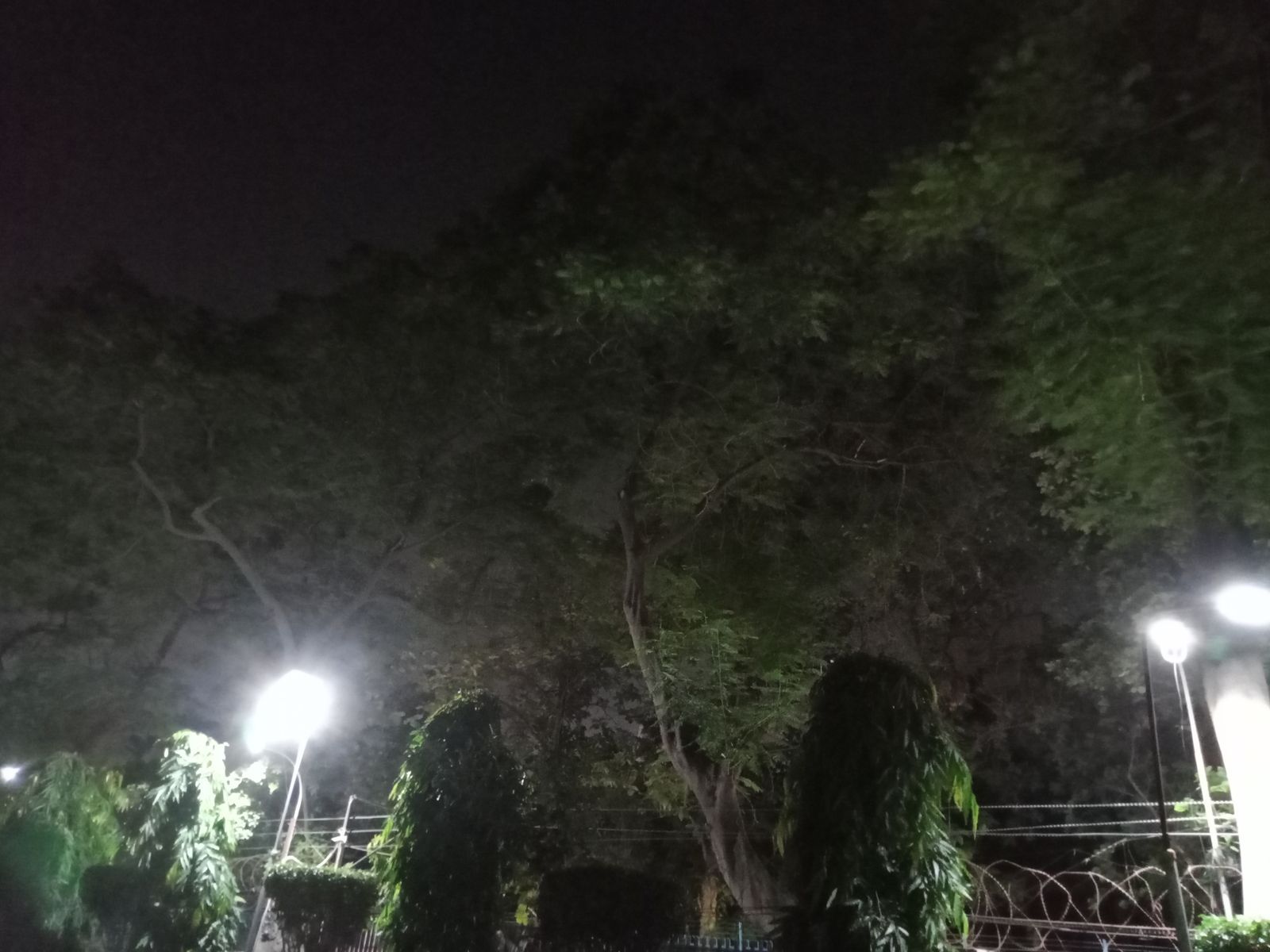 The 5MP front camera manages decent selfies in daylight, or at least as decent as you can expect from an entry-level smartphone. Colour look good, but selfies will not look sharp. The front camera portrait mode does a half-baked job at separating the subject from the background. The selfie camera is not worth using during night time as it does not support Nightscape.
Software and performance
Realme seems to have taken a few steps back by using the MediaTek Helio G35 chipset on the C11. While it is a brand new processor, the MediaTek Helio G35 SoC is not nearly as powerful as the Helio G70 chipset that powered the Realme C3. In fact, even the company is comparing the Helio G35 with the Helio P22 rather than the Helio G70. For a phone that is seemingly a successor to the Realme C3, the Realme C11 doesn't really match up in terms of performance.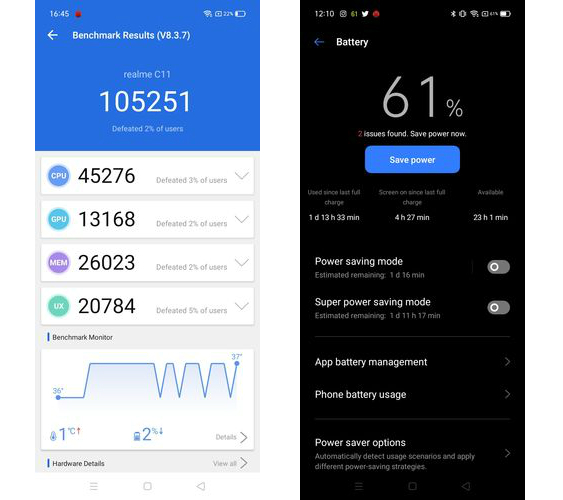 The MediaTek Helio scored 105,251 in AnTuTu, but we couldn't run Geekbench 5 on the phone since the app kept crashing. In comparison, the Realme C3 was miles ahead with a score of 191,814 on AnTuTu. On the bright side, the Realme C11 does outscore the Snapdragon 439-powered Redmi 8A, which managed a measly 85,700 on AnTuTu.
In terms of real-world performance, the Realme C11 was slightly sluggish to work with. Apps like Twitter, Instagram, WhatsApp, Messages, and Call took a good few seconds to open while gaming apps like PUBG took ages to load. Touch response was also slow and with 2GB of RAM on board, you can't expect to multitask on the Realme C11. The phone can barely keep a couple of apps open in the background and we would advise against opening too many apps at once. You also get 32GB of internal storage out of which you get about 20GB to work with.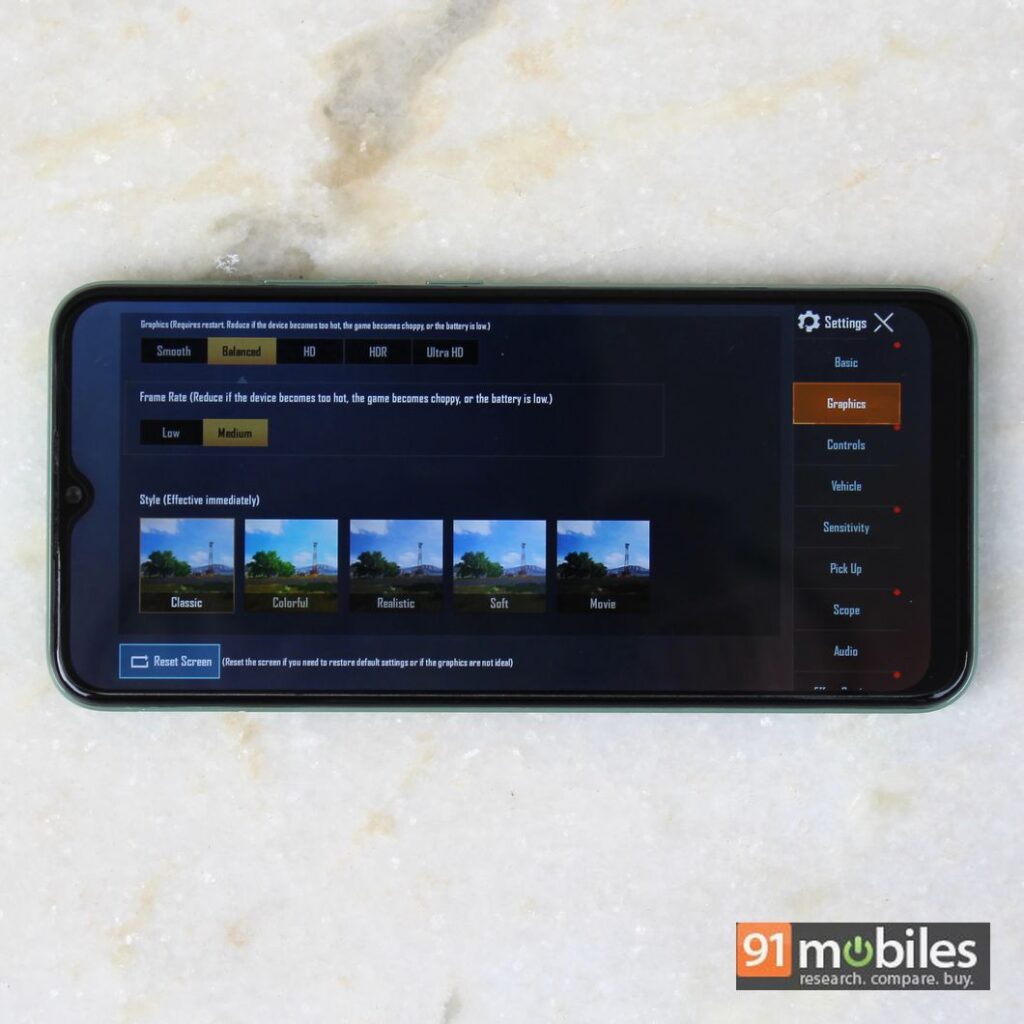 While the Helio G35 is part of MediaTek's gaming series, it's not the best processor in the lineup for gaming. The highest graphics settings on PUBG, for example, is Balanced + Medium whereas the Realme C3 can go as high as HD + High. This means visuals will be pretty basic on Realme C11 and won't give you much in terms of details. We encountered some lag and stutter throughout a 30-minute session on PUBG, which made it pretty difficult to win a game.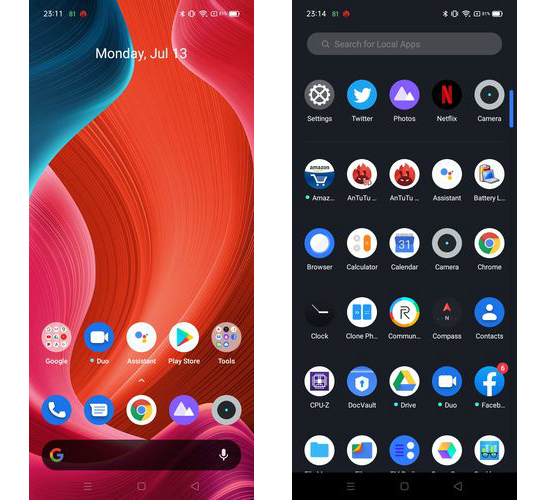 Coming to the software, the Realme C11 runs Android 10 with Realme UI on top. It's a fairly clean UI although we noticed a few preloaded apps including the banned Helo app. These apps can be removed to free up some storage, which is quite needed on the Realme C11. Realme UI provides clean circular app icons and features like system-wide dark mode that are appreciated.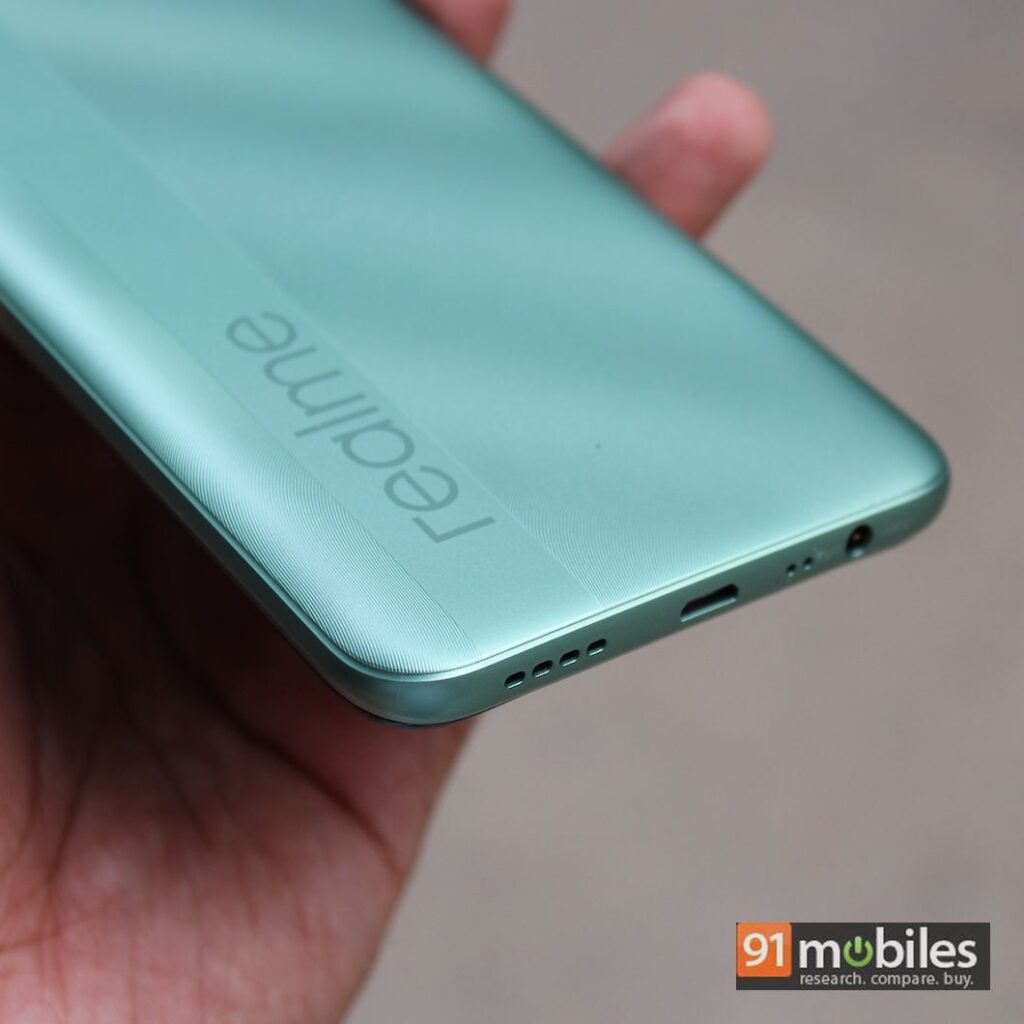 Since there's no fingerprint sensor, face unlock is the only biometric option there is to unlock the phone. With ample light around, it takes a couple of seconds for the feature to recognise your face and unlock the device. It will not work well in low light and will fail in absolute darkness. The bottom-firing speaker is average and typical for this price segment.
Battery
The Realme C11 comes with a 5,000mAh battery that promises a two-day battery life and it more or less delivers on this promise. This isn't surprising considering the hardware is hardly demanding. With normal day-to-day usage that involves messages, social media browsing and occasional videos on YouTube, the phone will easily take you through a day and a half. Even on days where you find yourself gaming and consuming a lot of media content, the phone won't give up on you easily. 1 hour of content on Netflix or YouTube drains the battery only by around 5 percent. We were able to average 7-8 hours of screen on time, which is pretty great. You get a 10W charger in the box that can fully charge the Realme C11 in about three hours.
Final verdict
The Realme C11 leaves us wanting for more in the performance department. The phone is sluggish and will struggle to handle day-to-day tasks. Due to higher taxes, phones are not going to be as affordable as they used to be. Another way to look at this would be that phones under a certain budget might not be able to offer the same levels of performance one has come to expect, which is what we're seeing with the Realme C11.
At Rs 6,999, Realme was able to launch a compelling budget phone in the form of the Realme C3 just a few months ago, although the company had to hike the price later on. By spending Rs 1,500 more, you can get yourself the Realme Narzo 10A, which offers a fingerprint sensor, a faster Helio G70 chipset, and triple cameras, among other things. When comparing it to the Redmi 8A Dual, the Realme C11 offers a better chipset and cleaner software. But the Redmi phone offers an 18W fast charging support over a Type-C port that might attract budget buyers.
Sub-par performance aside, the Realme C11 impresses us with its solid battery life and new design language. The back of the phone looks fresh and breaks the monotony in this segment. The phone also delivers a decent display and cameras for its price. So if your usage doesn't involve gaming and heavy multitasking, the Realme C11 is definitely worth a look.
Editor's rating: 3.5 / 5
Pros
Solid battery life
Clean software
Decent display
Cons
Poor performance
Slow charging
Low on RAM and storage
Competitors for Realme C11
| | | |
| --- | --- | --- |
| Realme C11 | vs | Realme C3 64GB |
| | | |
| --- | --- | --- |
| Realme C11 | vs | Xiaomi Redmi 8A |