Review Summary
Expert Rating
3.5/5
It's been a flurry of smartphone launches from Realme over the past year and it seems a global pandemic has not deterred the company from flooding the budget and mid-range segments with new offerings. The Narzo series was announced earlier this year to keep Realme's budget-oriented roots intact, since the latest in its signature series, Realme 7 (review) and 7 Pro (review), have moved upwards in cost. With the Narzo 10 (review) series Realme pretty much had smartphones in every price category ranging from Rs 5,000 to Rs 20,000. The question now is how to launch new products in each series so that there is minimal overlapping of prices. With the new Realme Narzo 20 series, I think that this job is becoming more difficult.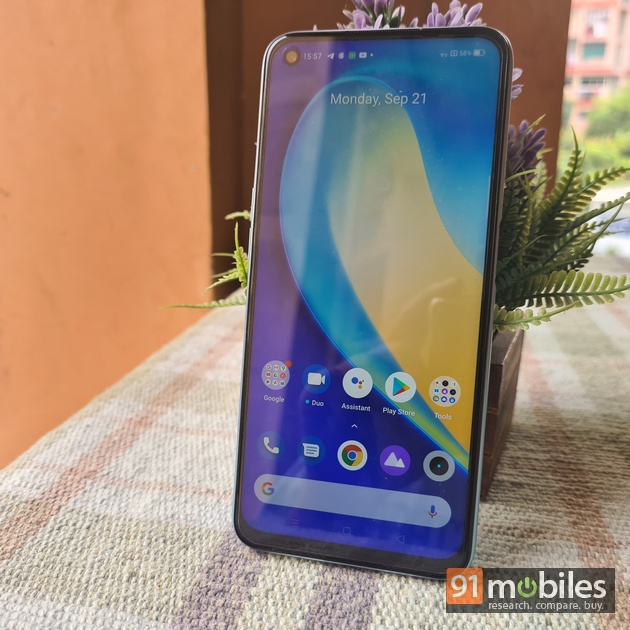 The Realme Narzo 20 Pro has been launched for a starting price of Rs 14,999 which makes it the same as the Realme 7 in terms of cost. However, in terms of specs, there is little difference between the Narzo 20 Pro and the Realme 7. On its own, the Narzo 20 Pro packs in respectable specs but when placed alongside other Realme phones, the picture gets a bit blurry. It appears to me that Realme phones are no longer in competition with Xiaomi but with themselves. Let's find out more in this detailed review of the Realme Narzo 20 Pro.
Verdict
The Realme Narzo 20 Pro packs in internals that are below par when compared to the Realme 7 but still manages to keep the same price tag. Barring the 65W charging support, the latest smartphone does not offer any compelling argument to choose over the Realme 7, and that's the single biggest factor in favour of the Narzo 20 Pro.
Design and display
Display: 6.5-inch FHD+
Refresh rate: 90Hz
Panel: IPS LCD
Connectivity: USB Type-C
After witnessing a work of art from Realme on the 7 series, the Narzo 20 Pro comes back to the de facto dual-tone colour shifting, polycarbonate unibody design. Now don't get me wrong, there is nothing wrong with it, but I think the brand needs to implement a new way of making Narzo phones so that they stand apart from other Realme phones. A small element I noticed in my White Ninja colour variant is that there are V-shaped patterns running down the back when looked at from different angles. The phone is light and easy to grip and has a narrow frame for better one-handed usage.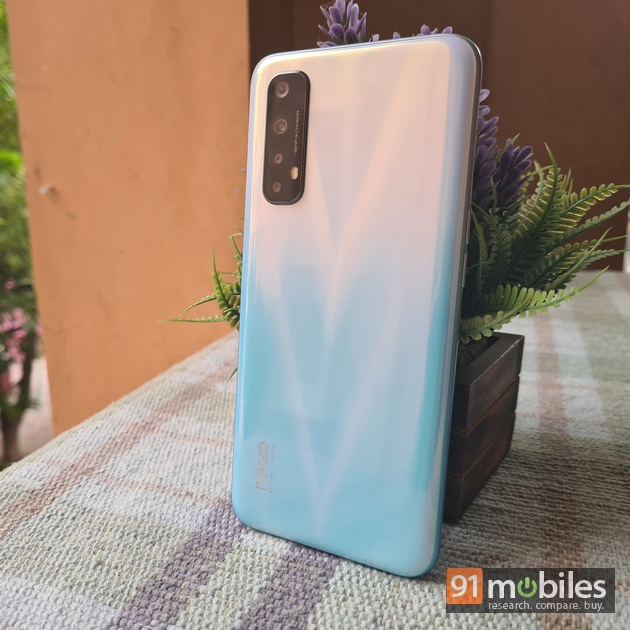 The familiar quad-camera array placed vertically is seen on the device with the flash now present inside the housing instead of outside. The plastic back is very easy to scratch but the pearlescent colour makes it easy to hide smudges. Realme does provide a clear, plastic case for its smartphones which is always nice to see. The Narzo branding is present on the bottom left where you would usually find Realme written in most phones. Apart from this, you get your standard USB Type-C port, 3.5mm headphone jack and speaker grille. Realme has integrated a fingerprint sensor with the power button, something I have seen a lot of OEMs doing as of late. On the other side are the volume rocker buttons and a dual-SIM plus microSD slot.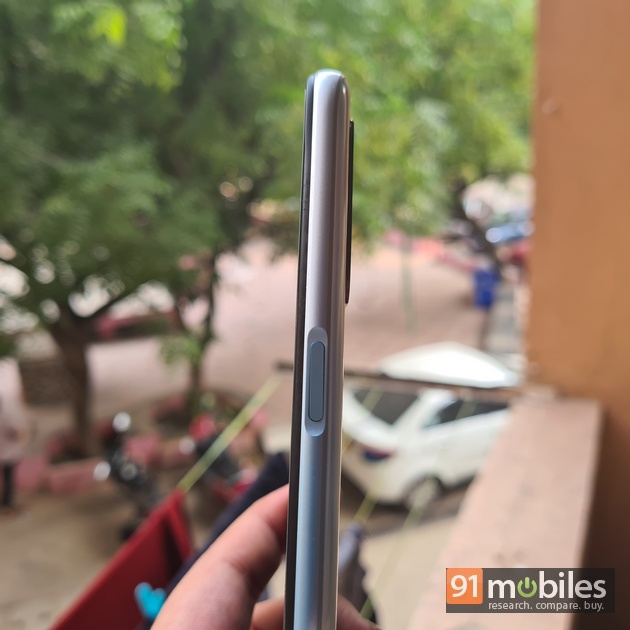 Turning the phone over reveals a punch-hole cutout, a big display and relatively large chin at the bottom. The screen measures 6.5-inch diagonally and there is a bit of backlight bleeding around the edges of the punch-hole and at the sides due to the panel being of the LCD variety. The 20 Pro introduces a 90Hz refresh rate for the first time on a Narzo device and packs in FHD+ (2,400 x 1,080) resolution along with a 120Hz touch sampling rate. Again Realme has claimed a 90.5 percent screen-to-body ratio, like with the Realme 7, but I would beg to differ seeing those sizeable bezels around the screen. The phone also can hit a peak brightness of 480 nits.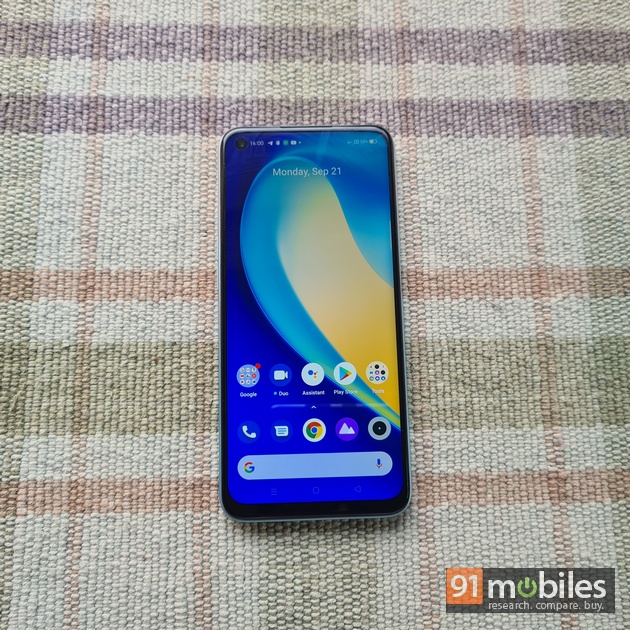 As for the viewing experience, it does not differ at all from previous 90Hz Realme phones. You will get a contrasty and slightly saturated panel with viewing angles being a minor problem. Apart from that, the display gets sufficiently bright in sunny conditions and also, quite dim during the night. Colours are reflected according to the temperature profile selected in the settings menu. There are also other options such as the OSIE visual effect toggle to enrich the colours in a video and toggles for Dark mode and Blue light filter as well. Lastly, you can change the refresh rate of the display from a fixed 90Hz to 60Hz and also an option to automatically adjust the refresh rate according to the apps which support it. This is more-or-less the same feature set and viewing quality seen on the Realme 7 launched earlier this year. Except for the slight bleeding of light around the punch hole, you are going to get a nice display for consuming content.
Cameras
Rear cameras:

48MP primary, 8MP ultra-wide, 2MP macro sensor and 2MP B&W sensor

Front camera: 16MP
The trend for quad cameras is not going to die anytime soon. If anything, OEMs will just be looking to increase the camera count overtime irrespective of whether these extra lenses serve any useful purpose or not. The Narzo 20 Pro brings the trusty 48MP Sony IMX586 sensor to do most of the heavy lifting. Apart from that, you will get your run-of-the-mill 8MP ultra-wide sensor seen on countless phones before, Realme and otherwise. Lastly, are the macro and B&W sensors crammed in to give an illusion of varied capabilities of the camera system. The Narzo excels at any normal photography challenge thrown its way but its experience is not different from many of the Realme phones launched earlier.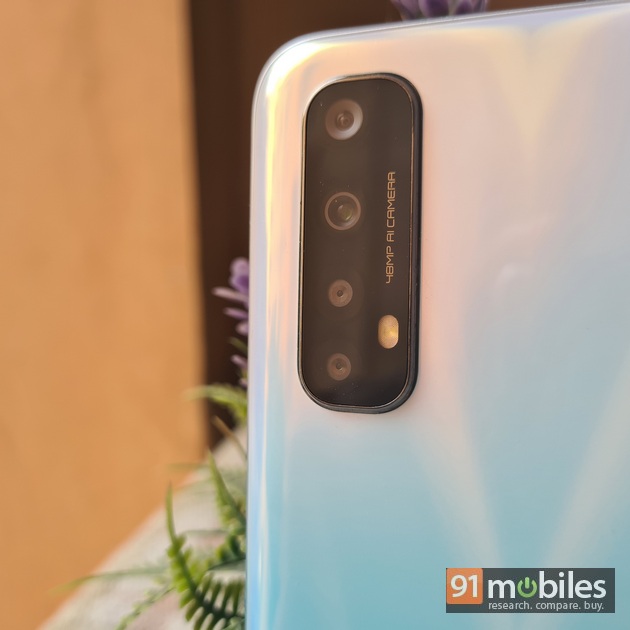 Daylight scenarios tend not to test the capabilities of smartphone cameras as there is very little work the device has to put in. Colour science is an art that needs software perfection with each passing iteration but Realme has been one to stick to its guns. You will get the same range of slightly oversaturated and oversharpened photos with balanced dynamic range. The sensor will struggle with HDR when pointed directly at a bright sky but at its price I will not fault it for that. A 48MP UHD mode exists as well which will allow you to get highly detailed shots although on a phone it is hard to tell the difference between a standard shot and a 48MP shot.
I have seen some improvements to the night photography department and it happens to be one area that budget phones usually lack. While the Narzo 20 Pro is not astronomically better than its competitors, I did like what I saw with the device in low light. The phone manages to pull out a lot of details without needing the dedicated Night Mode. It brings out the shadows more prominently and handles exposure quite well. With the Night Mode on, you are looking at a much clearer picture with slightly better colours and detailing. This is true even for the front-facing 16MP lens. In daylight, the selfie shooter performs its tasks amicably with a hint of pumped-up skin tones but still keeping a significant amount of oversharpening.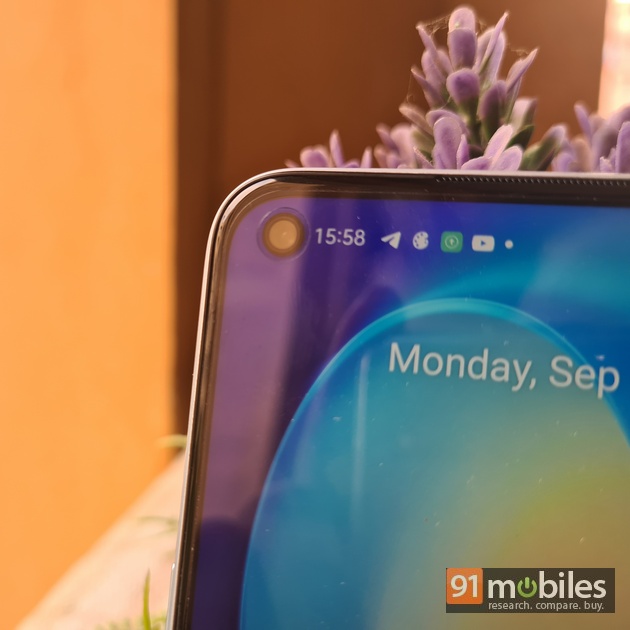 Of course, I had no real hope from the macro sensor with its 2MP resolution and 4cm focal length. The subject needs to be extremely still and needs to be drowned in a ton of light to make any sense for using this lens. Even then you are likely to get a shaky or blurred photo and in most cases, colours are quite skewed. Apart from that, the B&W lens has a single functionality of providing a monochrome shot in portrait mode. The execution is good but the use case isn't too strong for me. To that end, the 8MP ultra-wide does have its uses, namely getting so much more in the viewfinder than the primary lens. It works well in bright conditions but not so much at night.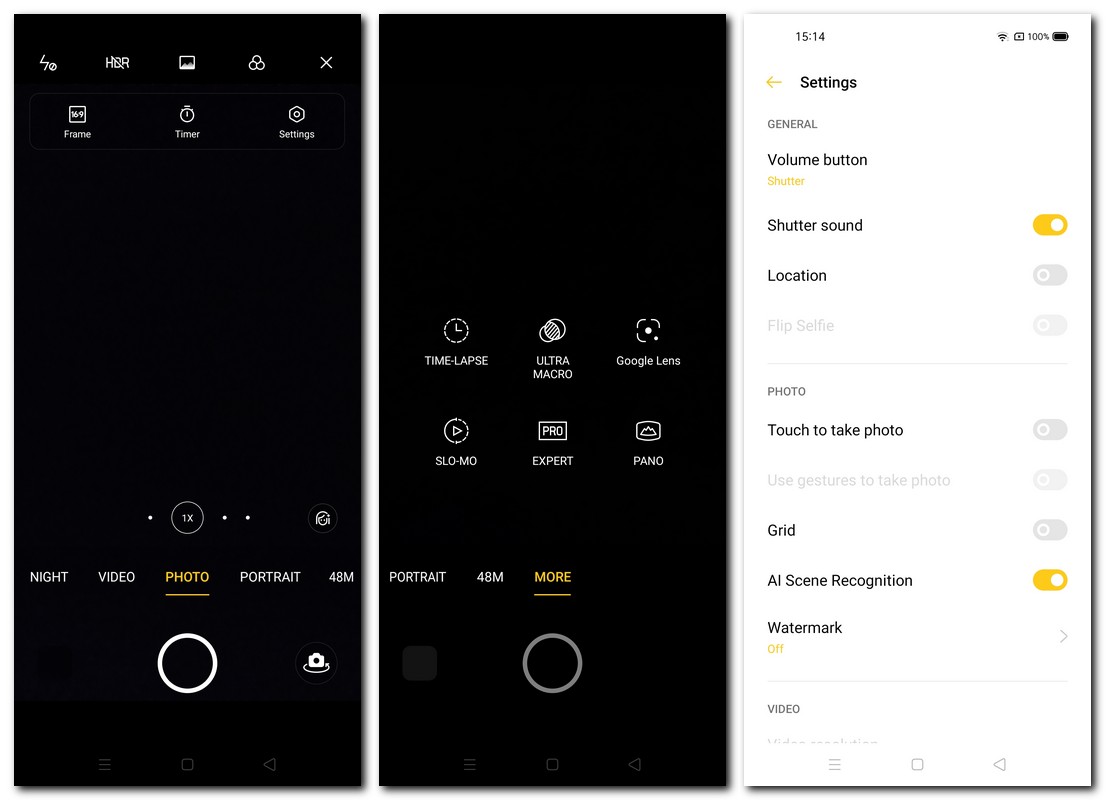 Performance and software
Chipset: MediaTek Helio G95
RAM: 6GB and 8GB LPDDR4
Storage: 128GB, expandable to 256GB
Software: Android 10 with RealmeUI
Realme has put in the MediaTek Helio G95 SoC inside the Narzo 20 Pro which is also what powers the Realme 7. It is a brand new chipset made using a 12nm manufacturing process and is focused on graphical prowess in the budget to mid-range segment. I have mentioned in my review of the Realme 7 that gaming is quite good on the device and the same is true for the Narzo 20 Pro. There is also a carbon fibre cooling system in the Narzo which keeps the device running cool even under stressful conditions. While PUBG Mobile is banned, there is still Call Of Duty Mobile which tests the resilience of smartphones during intensive 3D gaming. In my tests, the Narzo 20 Pro fared extremely well. I was able to set the device at Very High frame rate option while graphics were set at low and even after about 1 hour and 30 minutes, there was very little lag or frame drop. Big thumbs up to the device.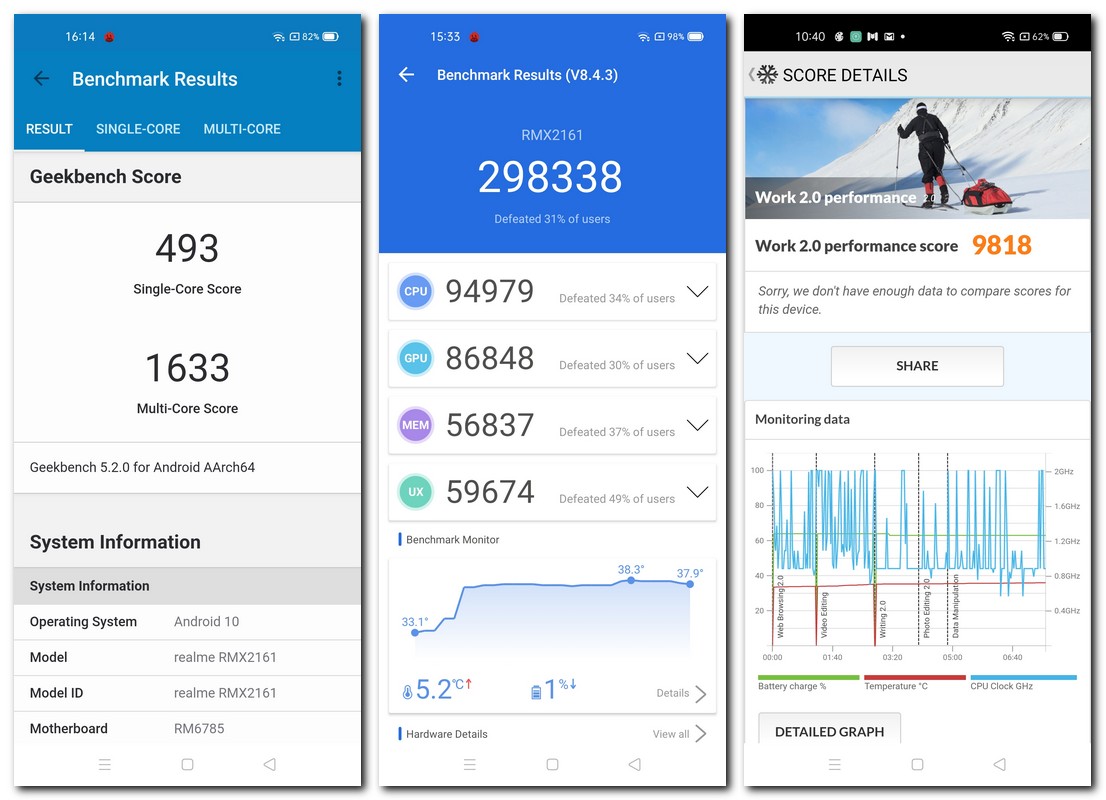 Apart from gaming, other smartphone functionalities such as multitasking, app switching, and running heavy apps in the background are not an issue at all. I have the 8GB RAM + 128GB storage version of the device but I believe that the 6GB version should suffice with 64GB storage as you have the option of expanding it by up to 256GB. The interface runs smoothly with minimal lag between actions and I can easily rack up multiple tabs of Google Chrome while also running Spotify and other apps in the background. It is the kind of smartphone performance that is to be expected at this price thanks to advancements in mobile computing. Running benchmarks on the device returned the same results as the Realme 7.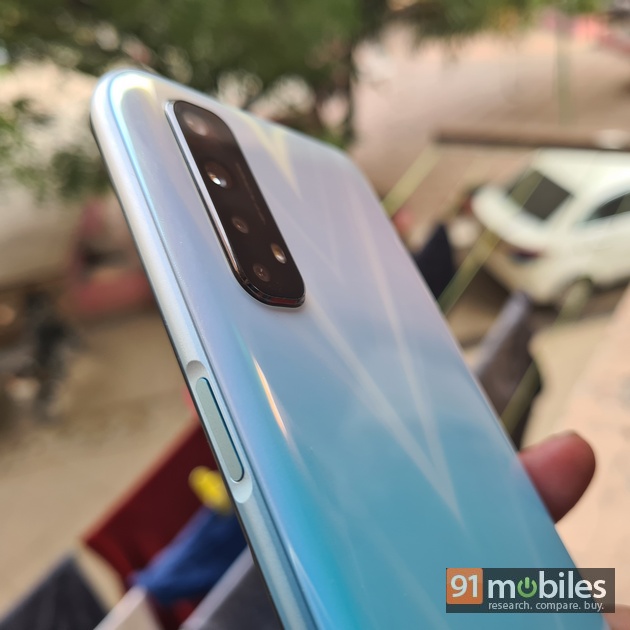 On the authentication front, the Narzo 20 Pro has a capacitive fingerprint sensor positioned on the side and integrated with the power button. As expected, it was lightning fast, at times opening the screen before I had completely pressed the button. The registration process was also quite quick and most of the times the sensor was quite accurate. Also, there is the less secure 2D face authentication method which makes use of the selfie shooter. In daylight, it does work flawlessly but not so much at night. The single bottom-firing speaker works just fine as do the microphone and earpiece.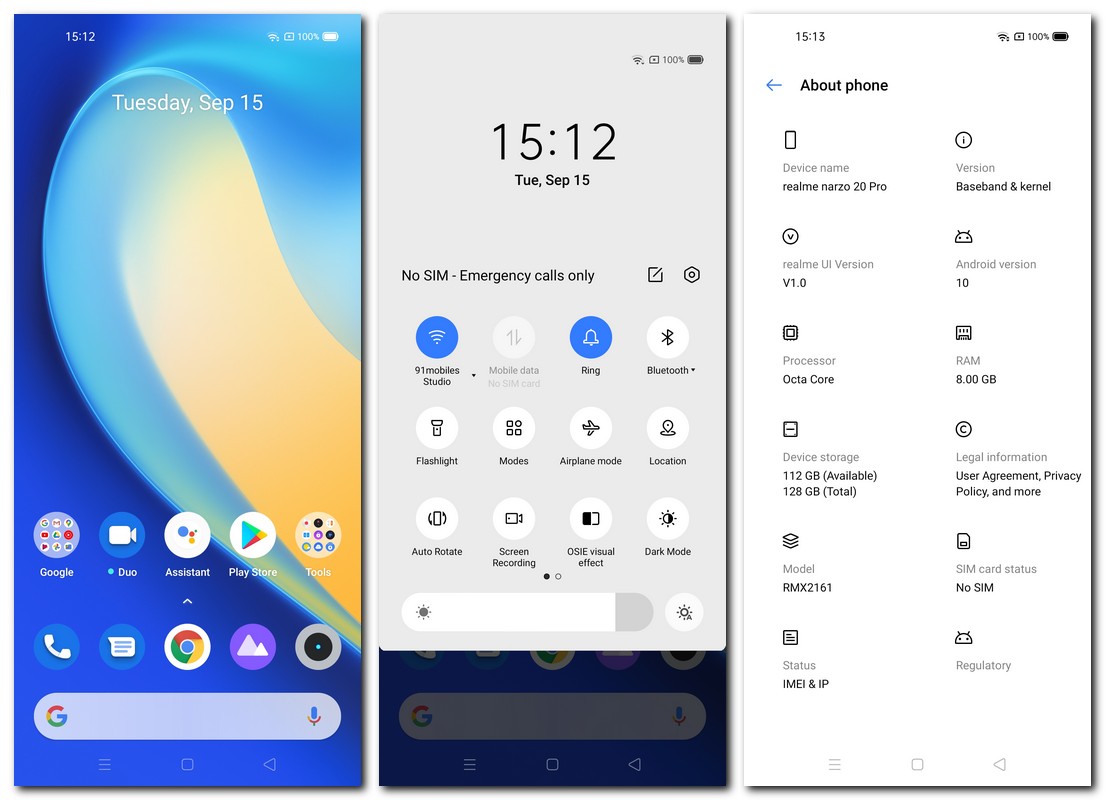 Software-wise, Android 10-based Realme UI is running on the Narzo 20-series and it is one of the more polished skins out there. Our reviews of previous Realme phones have explained in detail about how Realme UI experience is and you can read it here. What you can gather right now is that Realme UI has reduced bloatware considerably to give a more polished interface. Photos and videos are categorised based on AI-detection to make it easier to sort through them. You have a DocVault which will help to digitally store your important documents such as PAN Card, Drivers License, Registration of Vehicle and more. Even so, Realme has not provided any timeline for a possible update to Android 11.
Battery
Capacity: 4,500mAh
Charging speeds: 65W fast charge
0-50 percent: 18 minutes
The Narzo 20 Pro has a 4,500mAh cell powering which is good enough but it is backed up by the insanely fast 65W SuperDart charging solution. Previously only the Realme X50 Pro (review) was privy to this technology but now it has trickled down to Realme's budget and mid-range series. The Realme 7 Pro got it and now Narzo 20 Pro is getting it as well. Talking about charging speeds, the Narzo 20 Pro juices up from a 0 to 100 percent in under 40 minutes out of which 50 percent is done within the first 15 minutes.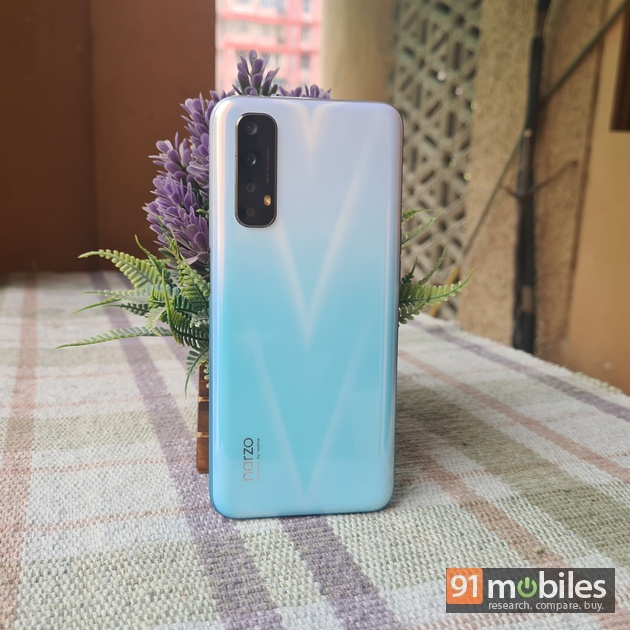 Realme has said that it has various barriers in place to prevent overheating while charging and claims a 98 percent efficiency in conversion of electrical energy. The battery itself lasts the whole day quite easily and can push to a day and a half on moderate usage. My time with the phone included about an hour of Call of Duty Mobile, a couple of hours of Spotify, and about two hours of Netflix while all my social media accounts were running in the background. I still managed about 5 hours and 40 minutes of screen on time with 90Hz on and this is quite impressive.
Final Verdict
As I had mentioned in the starting, Realme products are now competing amongst themselves rather than other OEMs such as Xiaomi or Samsung. The Narzo 20 Pro would have been a great choice for a phone under Rs 15,000, if the Realme 7 didn't exist. Consequently, the Narzo 20 Pro is now appealing to those who care for the kind of superfast charging technology that can completely charge up your phone in less than 40 minutes. Otherwise, everything on the Narzo 20 Pro can be found on the Realme 7 for the same price. This includes the MediaTek G95 SoC, the 90Hz display, an 8GB RAM variant and the punch-hole design. You also get a higher resolution 64MP primary camera, a bigger 5,000mAh battery, and a matte-like finish on the back which is quite easy on the eye.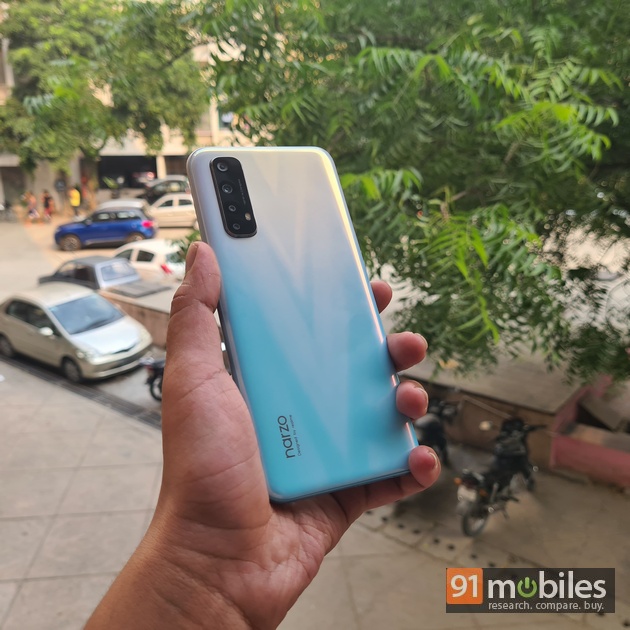 Of course, you may also want to take into consideration a couple of Xiaomi and POCO phones as well. These include the Redmi Note 9 Pro (review) and POCO M2 Pro (review), packing in the rather power-efficient Snapdragon 720G SoC along with 5,000mAh of battery and the same 48MP primary quad-camera array with a higher resolution macro camera. In any case, I think there are both merits and disadvantages of purchasing the Narzo 20 Pro. You just need to see what floats your boat.
Editor's rating: 3.5 / 5
Pros
65W SuperDart Charging insanity
Performance is great
Good battery life
Instant fingerprint recognition
Cons
Macro and B&W sensors aren't very useful
Repetitive design
Competitors for Realme Narzo 20 Pro
| | | |
| --- | --- | --- |
| Realme Narzo 20 Pro | vs | Realme 7 |
| | | |
| --- | --- | --- |
| Realme Narzo 20 Pro | vs | Realme Narzo |