Remember tablets? Yes, those flat slabs of glass, metal / plastic that were all the rage at one time and were touted to be the next big thing in mobile computing. Things might not have panned out that well for this particular segment, but the fact is, tablets are can still be quite useful for some use cases. In fact, thanks to the pandemic, tablets seem to be in resurgence mode, with so many people working from home and kids getting their daily dose of education via online classes. The Galaxy Tab S6 Lite from Samsung should definitely appeal to this audience, especially considering the fact that the pricing isn't in the premium league and the slate comes with an S Pen bundled. The latter, is a useful tool that comes into its own when given a large playground (read: large screen) to run around on. Worth noting that the Tab S6 Lite, as the moniker suggests, is a toned-down sibling of the Galaxy Tab S6 we reviewed late last year. Let's see how the S6 Lite fares in regular usage.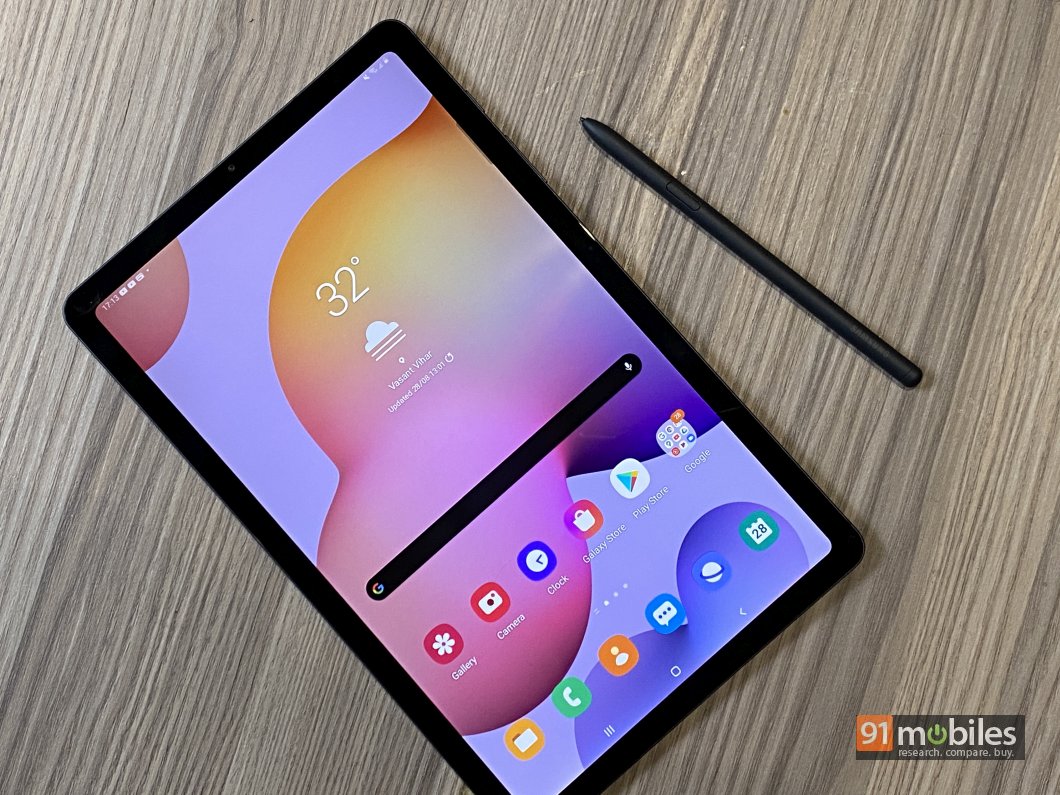 The lowdown
The Galaxy Tab S6 Lite is slim slate that feels quite premium due to its sleek profile and metal build. The rear sports a matte finish, but is still a bit of a smudge magnet… at least the dark grey review unit that I got to try out. They call it Oxford Gray actually, but you can go for Angora Blue or Chiffon Pink too. I haven't seen the latter two in real life, but in pictures, they do look good. Up front and centre is the 10.4-inch LCD screen – no AMOLED goodness here, unlike the more premium Tab S6. Some bezels can be seen around the display, with the top edge (holding the device vertically), holding the 5MP front camera. The 2,000 x 1,200 screen itself is good in terms of colour output, and touch response, though it can't really match the goodness of an AMOLED panel in terms of the punchy colours, the razor-sharp text and the deep blacks the latter can produce. I also found it a tad bit too reflective for outdoor use. That said, the screen on the Tab S6 Lite is fine otherwise for daily use, both in terms of work and entertainment-related usage. There's no fingerprint scanner, but you do get face unlock functionality. I found the latter to be slightly inconsistent, and having to use the PIN to unlock the tablet in case it failed to recognise my face.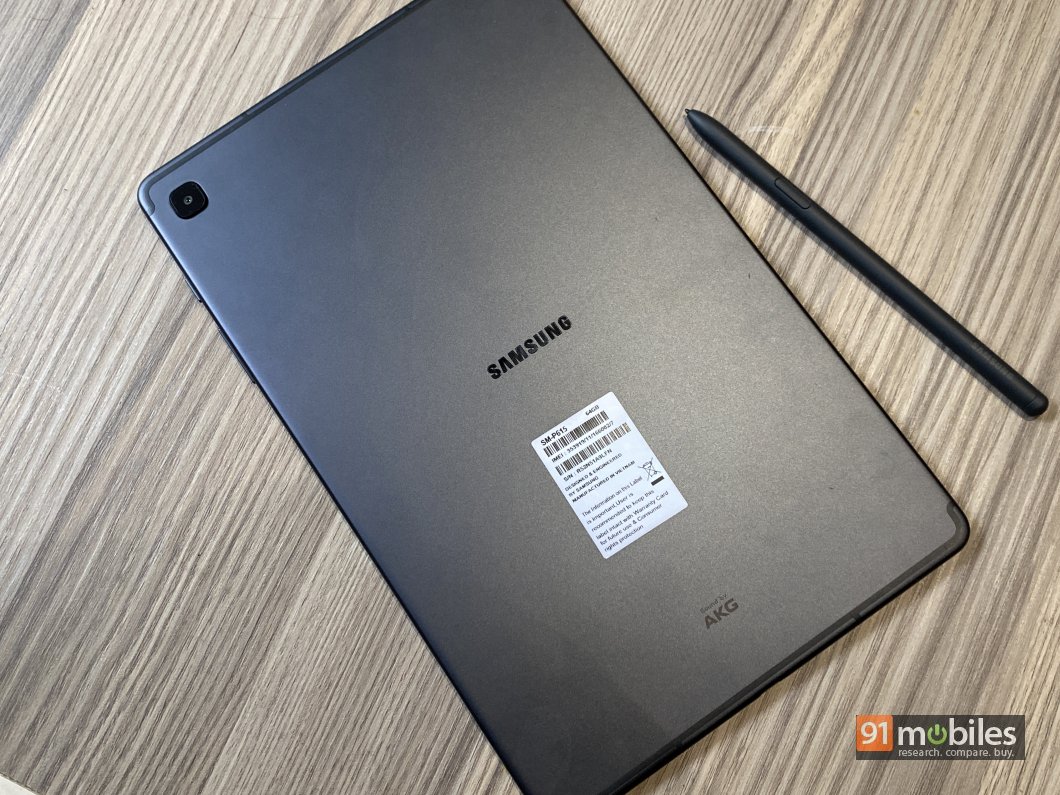 Holding the slate in the same position, you'll find a power key and a volume rocker on the right, and since this variant supports LTE as well, a SIM tray too. At the bottom, there's a USB Type-C port, and a speaker, while the top edge has a 3.5mm headset socket. There's another speaker on the top in fact, which means you get stereo sound. On the back, there's a squircle camera bump with the 8MP rear snapper. Samsung branding can be seen in the middle.




The bundled S Pen is an all-plastic affair that has a button, and can be attached magnetically on the right spine. The left side also has magnets, useful for attaching the book cover that Samsung sells separately. However, there's no keyboard cover available for the tablet as far as I know. You can of course, pair any Bluetooth keyboard with it if your usage requires extensive typing.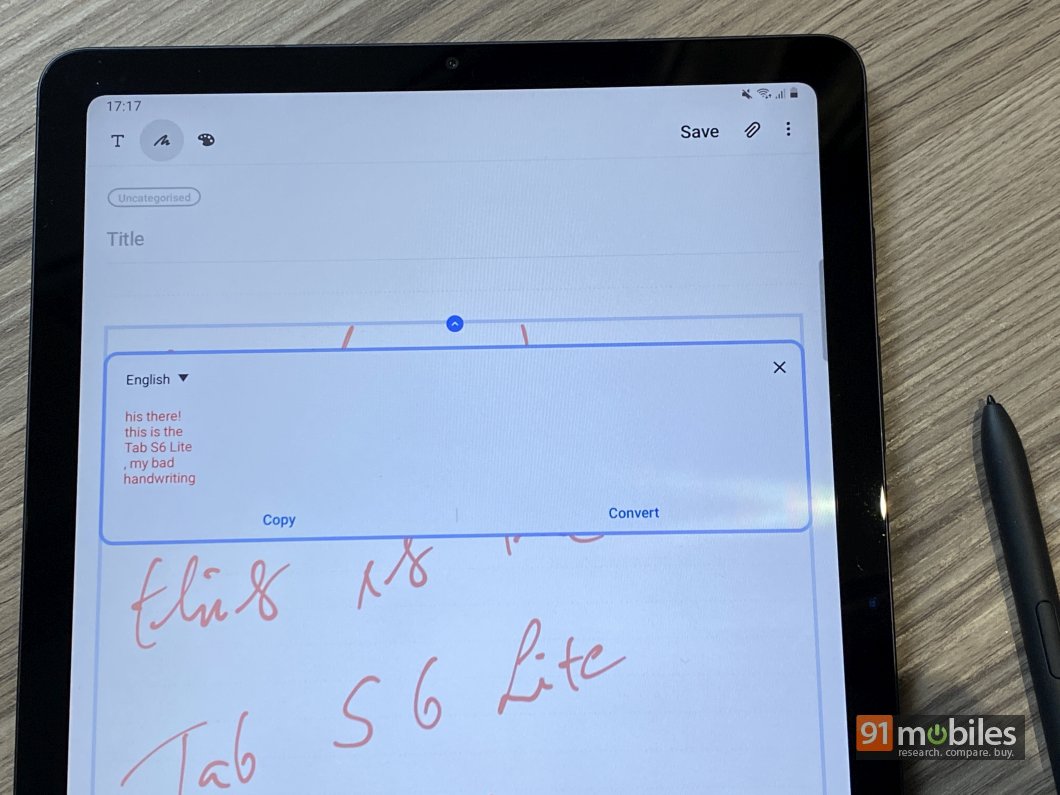 The S Pen is one of the key highlights of this slate, as the bundled stylus comes in handy for a variety of tasks. It's not as loaded with features as the one that comes along with the Galaxy Note series smartphones, and can't be used as a remote, since it doesn't have Bluetooth. That said, it's pressure sensitive, works smoothly across the large screen and offers a slew of useful features. The main S Pen features like Air Command, Screen Write, Live Messages, AR Doodle, are all there, with the Air View menu popping up as soon as you bring the S Pen close to the screen and press its button. You can use it to jot down notes in your own handwriting, and if you want, that can be converted to editable text too. Apart from notes, it can be used for drawing and doodling, marking up documents and the like, so it should be useful for students, creative people and even working professionals.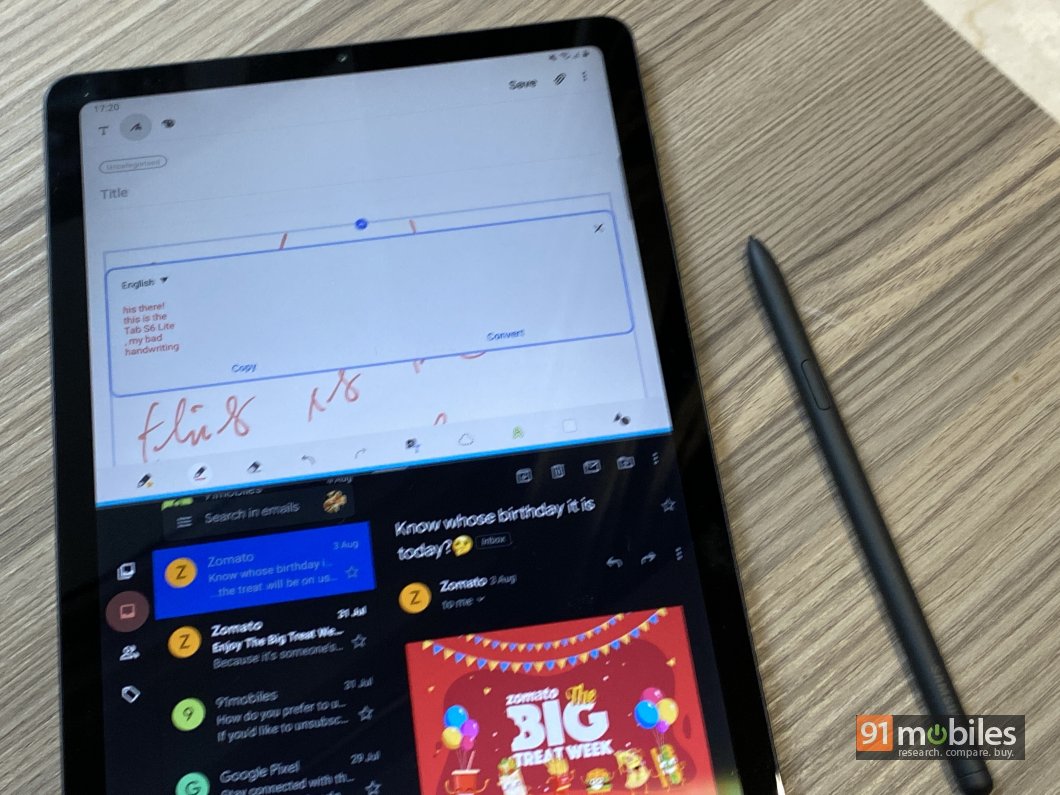 In terms of software, you get Samsung's OneUI 2.0, running atop Android 10. Largely, it's similar to what you get on Samsung's phones, though some features like Samsung Pay etc aren't available, and understandably so. And since this the Lite model we're talking about, you also don't get the DeX mode that gives you a desktop-like computing environment. You do get the usual assortment of apps from Google, Samsung and Microsoft. Many of Samsung's signature features and ecosystem services such as Samsung Cloud, Secure Folder etc, are available as well. You can even run two apps side by side, or choose to open up to five apps as pop-up windows.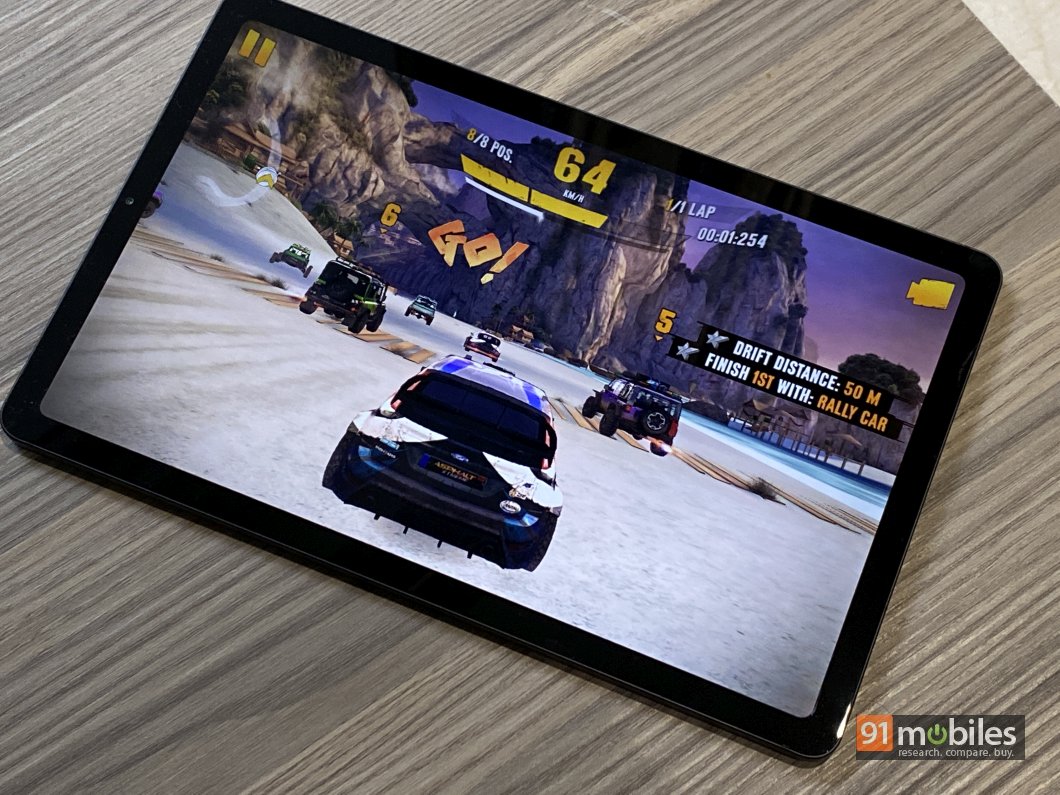 The Exynos 9611 SoC powers the slate, with 4 gigs of RAM and 64GB storage, expandable via microSD. It's not the fastest of chipsets really, and can be found in a few budget phones from Samsung as well. However, given the use cases for a tablet like this, it may not matter much. I played Asphalt Xtreme on the tablet and noticed a few frame drops, but the device works smoothly for most day-to-day usage. This includes multitasking and running multiple apps together as pop-ups. I won't get into too many details on camera quality, since using a large slate like this for photography isn't something most people are likely to do. The 8MP rear shooter works reasonably well in daylight, but churns out noisy shots at night. As far as I'm concerned, the 5MP front shooter is more useful – not for selfies but for video calls, and for that, it does the job.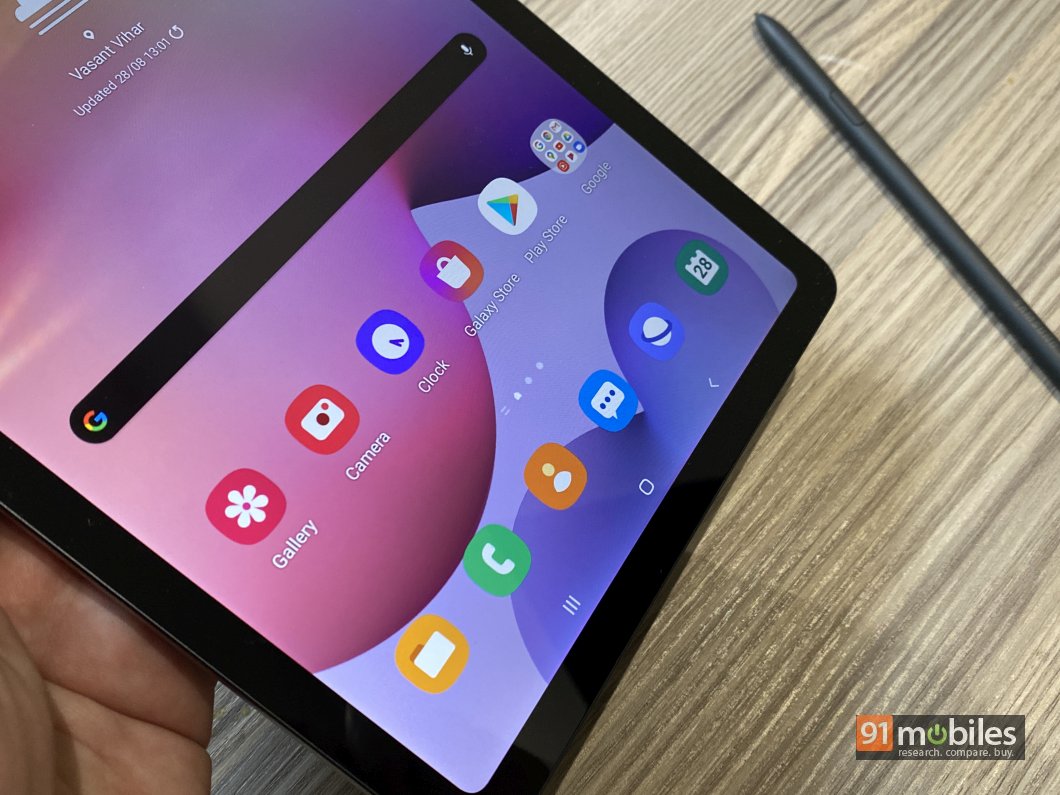 The 7,040mAh battery is one of the strongest aspects of the device, and with my intermittent usage, easily lasts a couple of days. Your mileage could vary depending on usage of course, but I'd say it should take you through a full day without needing a top-up charge by evening even with heavy usage. The supplied charger takes more than 3 hours to juice up the battery fully.
Verdict
For its price of Rs 27,999 for the Wi-Fi only model and Rs 31,999 for the LTE variant, the Galaxy Tab S6 Lite does come across as slightly underpowered for what it offers in terms of pure performance. The 7th-gen Apple iPad is an alternative, though that doesn't let you add more storage. Furthermore, you need to spend extra on an Apple Pencil if you want similar benefits. Still, the Apple ecosystem and software platform does have its own benefits, so if you're invested into that, you'd definitely need to consider an iPad. On the Android side, there aren't many capable options as far as tablets are concerned. All said and done, the Samsung Galaxy Tab S6 Lite makes a strong case for itself as a tablet that can multitask as a device for productivity, creativity and entertainment, with the bundled S Pen being one of the key aspects of the package.
Editor's rating: 3.5 / 5
Pros
Bundled S Pen
Premium look and feel
Good battery life
Cons
Performance could be better
No keyboard accessory
Face unlock is iffy