"A detailed look at the Samsung's lightning-fast X5 SSD"
Over the years, laptops have grown thinner in size and consequently, manufacturers are finding it more and more difficult to outfit a machine with traditional analogue ports. That being said, thanks to technological innovations, most machines nowadays feature a USB Type-C port, which doesn't just contribute to their slender profile, but improves the data transfer speeds drastically too. In fact, the Type-C port is so relevant nowadays that tech giant Intel decided to launch its latest Thunderbolt 3 interface in compliance with the Type-C standard.
For the uninitiated, a device with a Thunderbolt 3 port offers 40GBps throughput data, which is four times as fast as the data transfer speeds offered by USB 3.1 Type-C. Unfortunately, there aren't many drives which could benefit from the interface's blazingly fast speeds.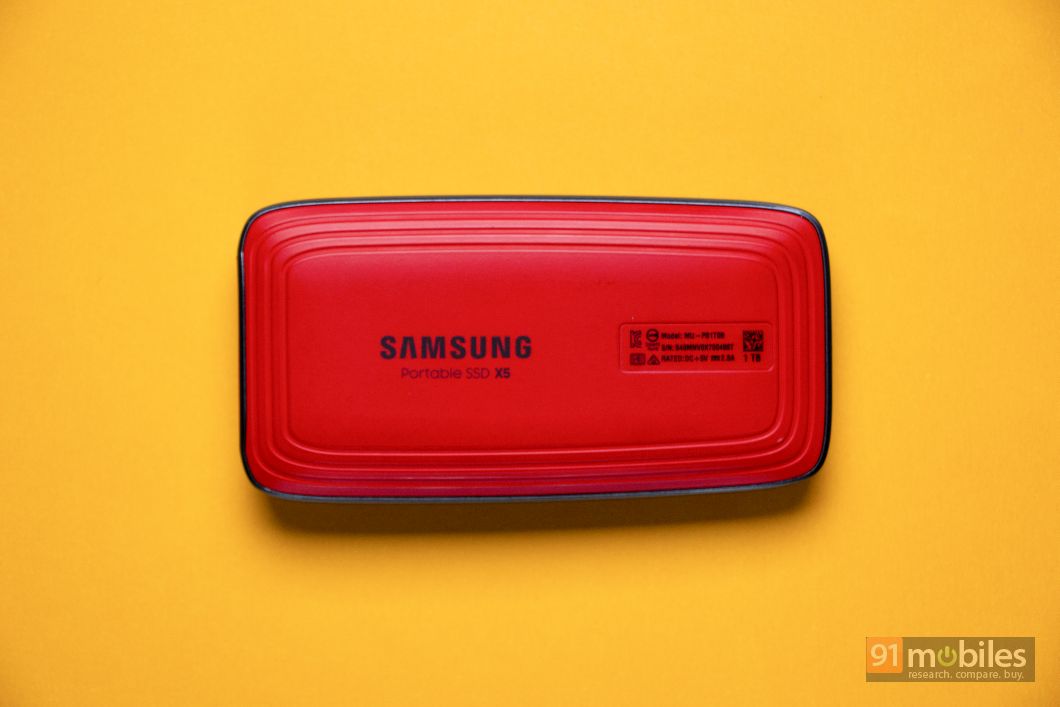 Enter the Samsung X5, the world's first NVMe-based external SSD which connects to compatible devices over a Thunderbolt 3 controller to offer lightning-fast read and write speeds. I managed to get my hands on a unit and here's a quick look at the drive's capabilities.
Design
Close your eyes, and picture something that's really fast. I'm willing to bet that most of you thought of a sports car, amirite? Well, I guess folks at Samsung thought so too which is why they've modelled the X5 SSD to resemble one. And it shows. The unit features indentations on the top panel, which looks similar to the bonnet of most supercars. Moreover, unlike the company's T series of SSDs, the X5 features a two-tone finish, which reminded me of racing stripes on a high-end automobile. I'd also like to point out that unlike the boxy appearance of most competing external storage solutions, the X5 SSD features an abundance of curves too. In short, the X5 looks like a Lamborghini in a sea of Mustang GTs.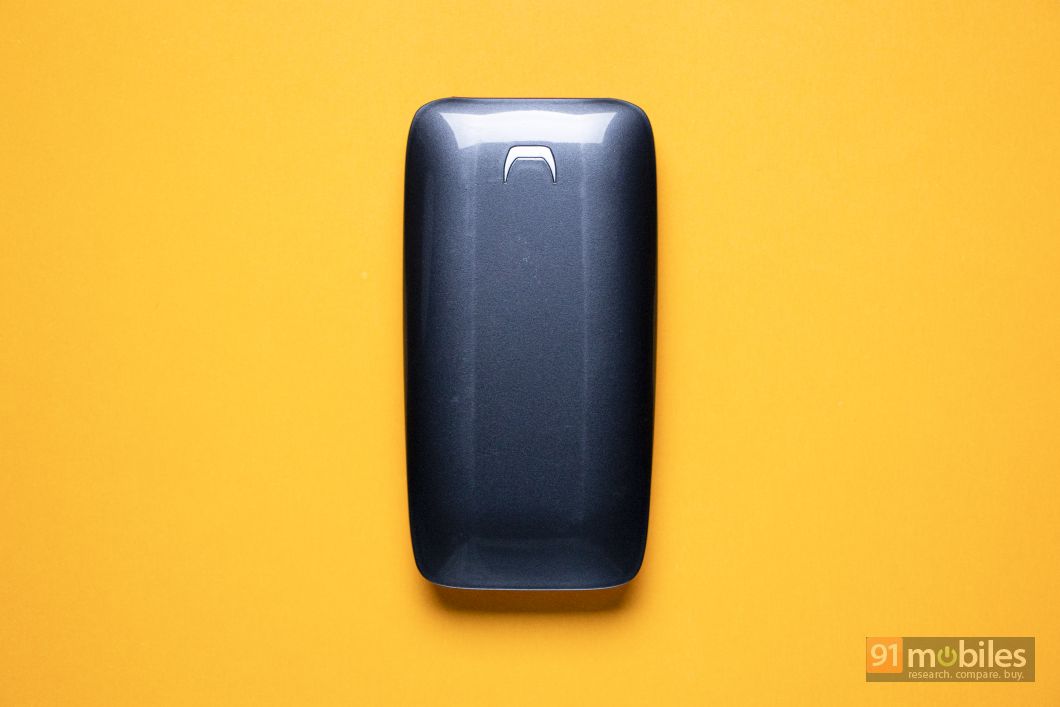 What's more, the X5 ships with Dynamic Thermal Guard technology which, coupled with the drive's internal heat sink, ensures that the temperatures don't spike above 45-degrees. The company also claims that the SSD's reinforced magnesium chassis protects it from drops of up to two meters. I didn't have the heart to test the company's claims, but if you have Rs 50K lying around, then do let me know if your drive survived the drop or not.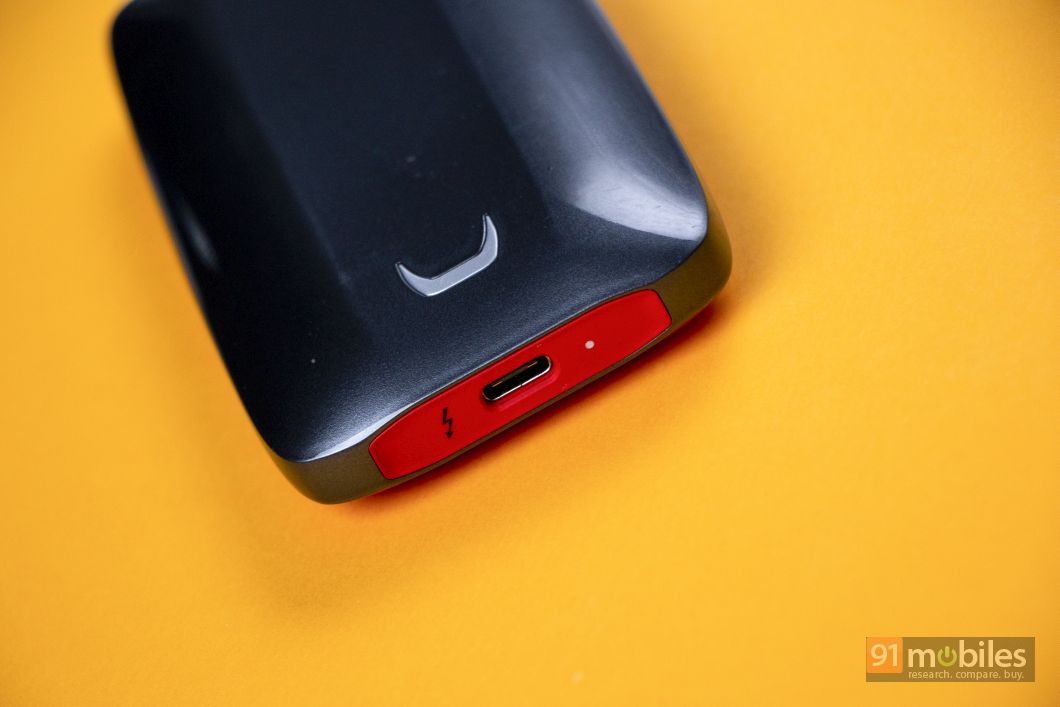 Performance
Before I dive into the drive's performance, you should know that the X5 is only compatible with laptops which ship with a Thunderbolt 3 port. Therefore, so long as you have the latest MacBook (2017 models would suffice as well), or a Windows machine such as the Lenovo Yoga C930 (review), you'll be good to go. If you're wondering whether your laptop ships with a Thunderbolt 3 port, just look at the USB Type-C port on your laptop. If it has a lightning bolt alongside it, then your laptop will support the Samsung X5 SSD.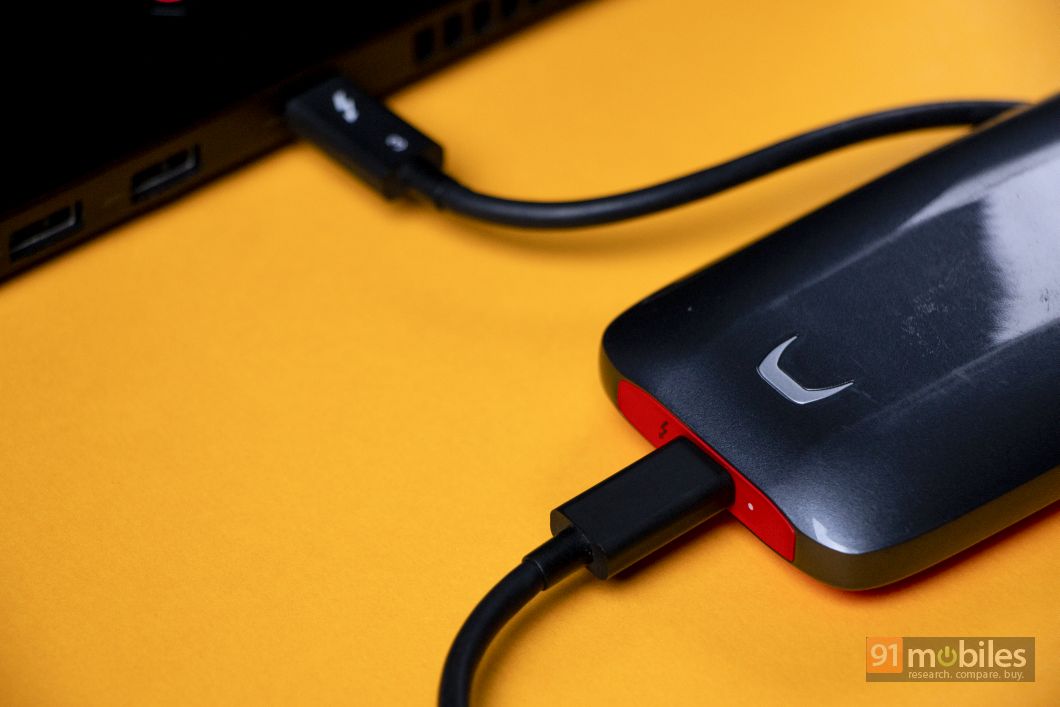 I'd also like to point out that you'll need to manually kickstart the Samsung X5 SSD, as it'll not show up when you connect it to your PC. On Windows, you'll need to hover your mouse on the 'uptick arrow' which reads 'show hidden icons'. There, you'll find the Thunderbolt icon, clicking which will bring up the option to open Samsung's X5 SSD. Bear in mind that this is a one-time setup and you won't have to repeat these steps every time you connect the drive to your system.
Now that you're up to speed (pun intended) with the drive's setup, let's take a look at some benchmarks. Samsung claims that its X5 SSD offers sequential read and write speeds of up to 2,800MB/s respectively. During my testing, the drive performed just as advertised. In CrystalDiskMark, the X5 SSD comfortably achieved read speeds of 2,819.6MB/s and managed to churn out an impressive 2,150.3MB/s write speed.
In ATTO Disk Benchmark, the drive performed just as admirably, peaking at 2.28GB/s read speeds and 1.76GB/s write speeds. As far as the real-world usage is concerned, I was able to transfer a folder with a 38-gig worth of content from the SSD to my laptop at a speed of over 800MB/s. To give you a better picture, an older Western Digital external HDD transferred the same file to my laptop at almost an eighth of the SSD's speed (~133MB/s).
Verdict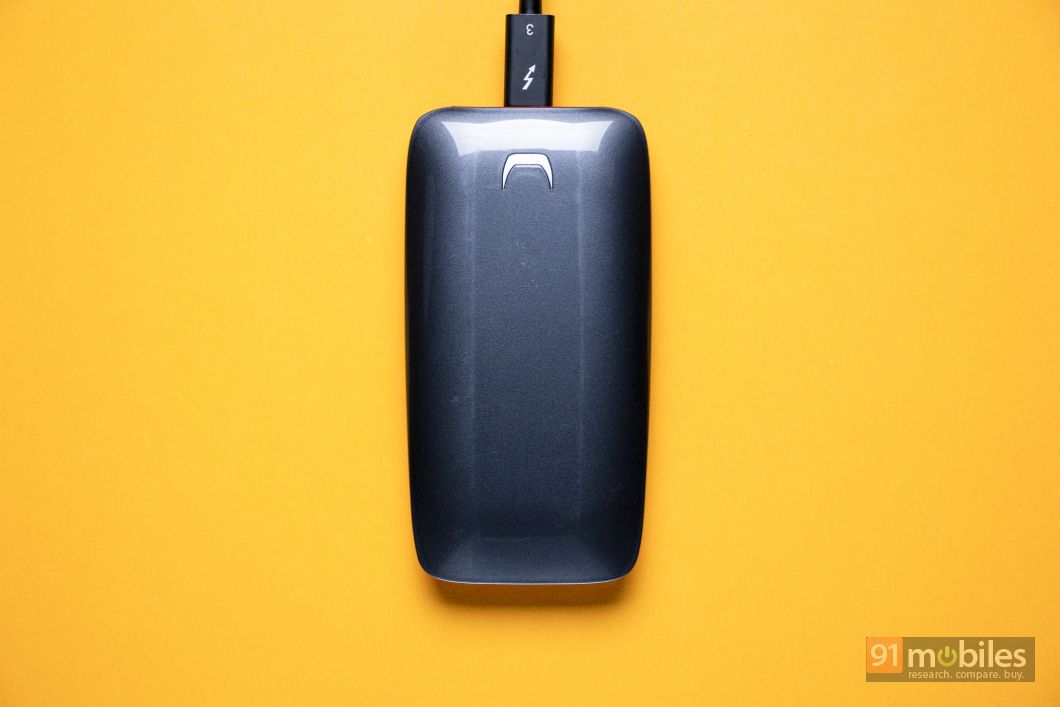 The 1TB variant of the Samsung X5 SSD costs Rs 48,999, making it one of the (if not the most) priciest external drives in the market. It goes without saying that for most prospective SSD buyers, the X5 would be overkill. It's clearly not meant to sit in a drawer and hold your Marvel movie catalogue. But, if you're a creator who's on the lookout for a speedy drive to backup ginormous video clips or to use as a scratch disk, then the X5 might be worth a shout.
Photos by Raj Rout