"Acer is changing the affordable laptop game with its latest Nitro 5 AN517 laptop"
The segment of affordable gaming laptops has expanded a lot over the past few years for casual gamers with not very deep pockets. ASUS has been a pioneer in this field with its FX505GT series of laptops which were packed with specs and came at a compelling price. I'd like to think that the average gamer, such as myself, will not look to splurge on an RTX 2060 and get the overblown ray tracing experience when a GTX 1650 will do the job just fine.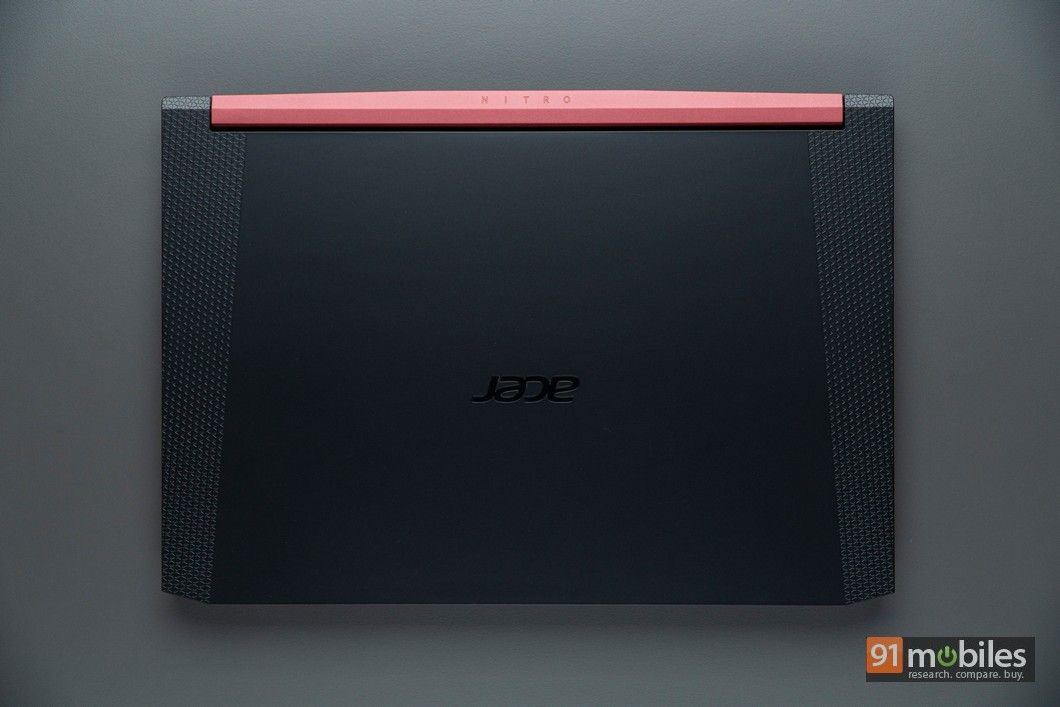 Affordable gaming laptops have a lot of potential and companies such as Lenovo with its Legion Y540 (review) are exploiting it. Acer is no slouch when it comes to gaming, with its Predator lineup regarded as one of the golden standards. However, Acer is also grabbing eyeballs with its Nitro series, which essentially offers a respectable gaming experience under Rs 1 lakh. Armed now with the new 9th-gen Intel processors and the GTX 1650 GPU, the Acer Nitro (2019) series has the potential to pose strong competition to Lenovo's Legion and Asus' TUF and Strix lineups. I had the Acer Nitro 5 for review, and it is currently selling at prices starting from Rs 79,999. Here's why I think you should buy it.
Design and Display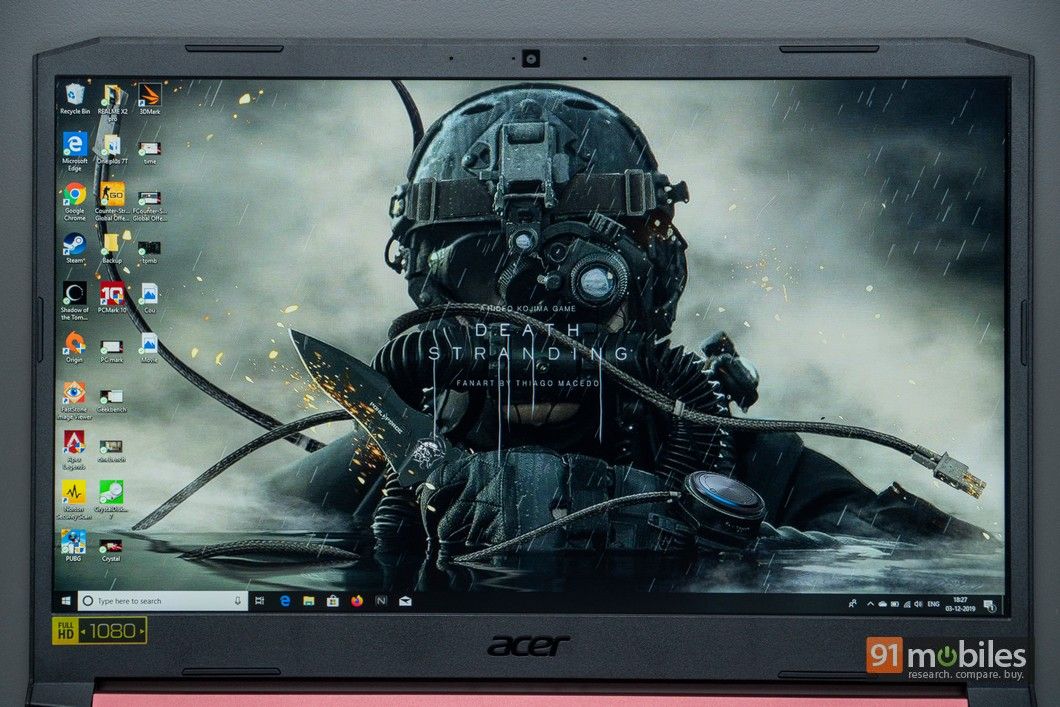 Right off the bat, when you open the Nitro 5 you can see that it is not going to win any style points. But then again this, not a device that is being marketed to hardcore gamers. Aesthetics wise, you see a matte-black finish on the plastic unibody of the device, with red accents surrounding the keys and the trackpad. If looks are what you crave for in this segment of laptops, you would do well to consider the ROG Strix G which comes with a textured finish on the palm rest along with a U-shaped LED bar that lights up the bottom of the laptop.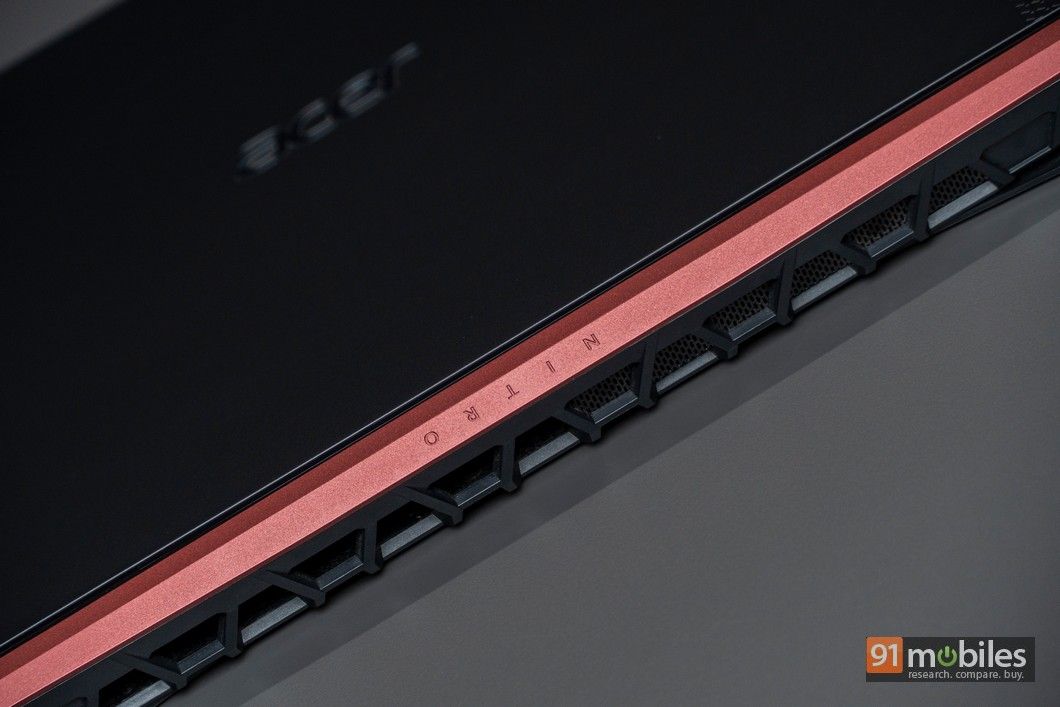 The hinge on the Nitor 5 is quite ergonomic and easy to lift with just two fingers instead of using two hands, like with quite a few other laptops. The honeycomb textures on both sides of the lid and the bottom of the laptop along with the ventilation slots at the back provide for the only visually differentiating element over an otherwise bland design.

The device is not quite bulky or thick as I had imagined it to be although the massive 17-inch display does not help when trying to adjust the laptop inside my backpack. As far as budget gaming laptops go, the MSI GL 63 is currently the lightest of the lot and it also includes an optical disk drive which the Nitro 5 has opted out of.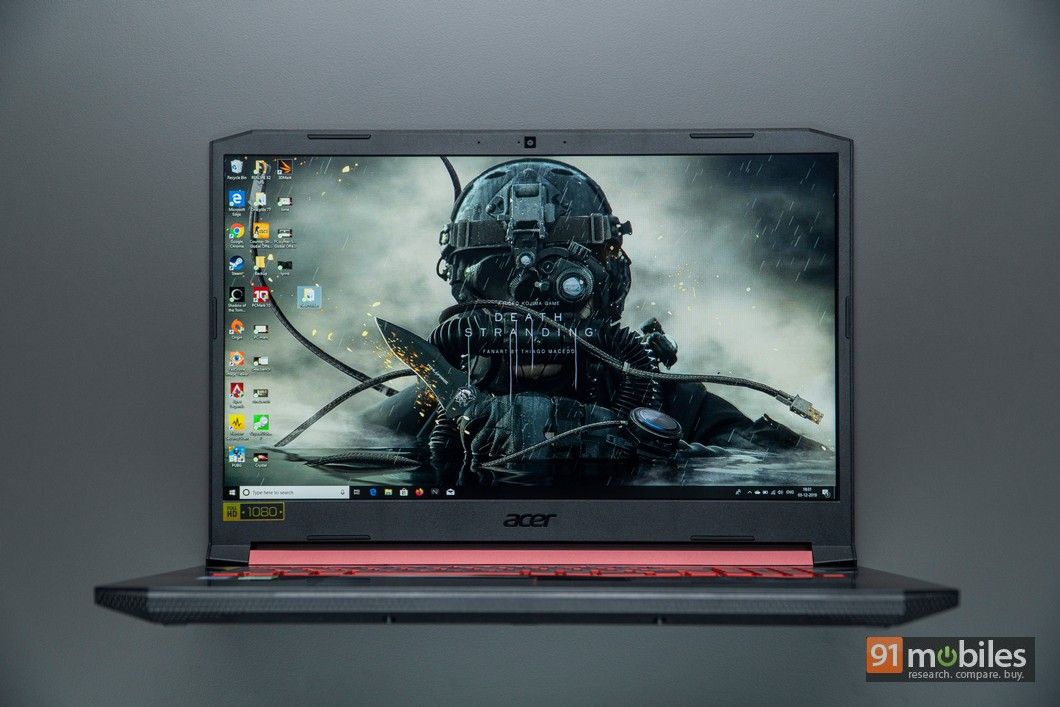 The Nitro 5 does not have a MIL-STD-810G certification for durabilities like the Asus TUF-lineup which means that the former is not resistant against solar radiation exposure, high altitude, and temperature extremes. That's all right since you are most likely to use it in your home and not on the moon.

Display-wise, you get a 1,920 x 1,080 panel with 127 ppi and it's surrounded with narrow bezels giving you a higher screen-to-body ratio as compared to the previous Nitro 5. While generally, that laptop has a bright display, the Nitro 5 did give me slight trouble outdoors with the screen appearing a jarring black when sunlight hit the screen directly. Colours appeared to be quite good at first, although comparing the same video with my Asus Vivobook 15, I noticed slightly muted reds and yellows on the Nitro 5. However, this was not a deterrent to my gaming experience. I would've preferred a higher refresh rate display than the standard 60Hz screen you're offered, but I guess at this price point you can't have everything.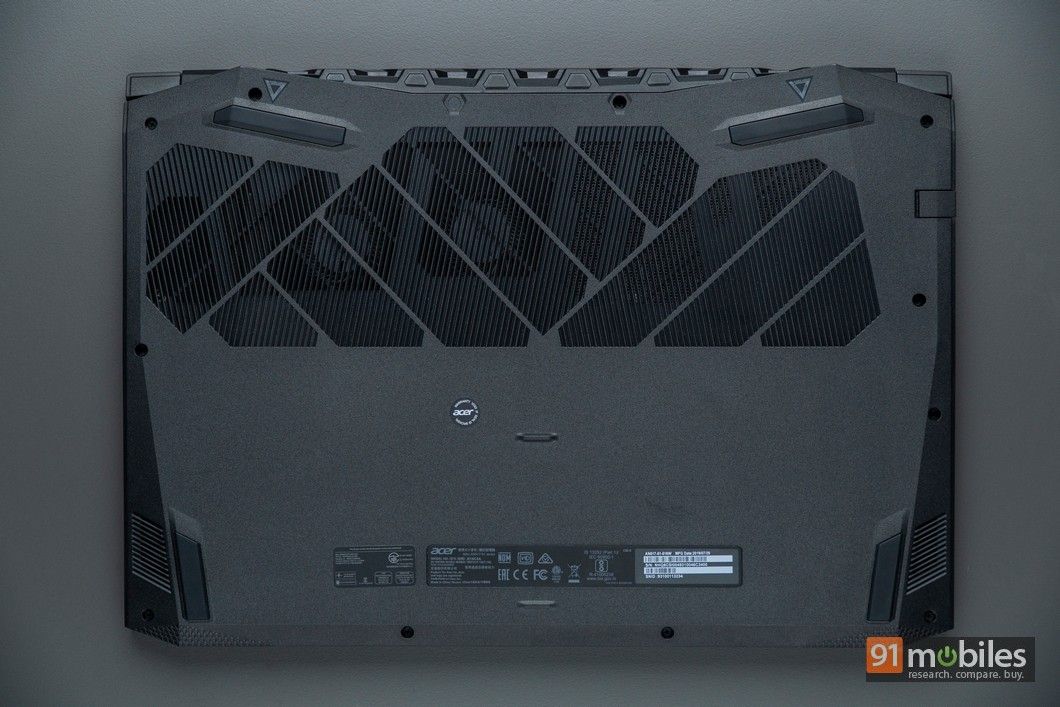 Connectivity options on the Nitro 5 include 3 x USB A, 1 x HDMI, 1 x Type-C, an Ethernet port, and a 3.5 mm headphone jack. There is no DisplayPort on the Nitro 5 and even the Type-C port does not support that standard. Speaking of which, some of the ports, in general, are too close to each other and an uneven distribution on either side would mean that the occasional clashing of cables would be inevitable. An example of this would be how close HDMI, Type-c and USB ports, while the Ethernet and HDMI ports are quite far apart.
Keyboard and trackpad
The Nitro 5 is retaining the same chiclet-style keyboards that the previous Nitro laptops have been privy to. The keys are 4-stage backlit and all the letters, numbers and symbols are red coloured along with the gamer-centric WASD and arrow keys which have an extra red outline. The backlight comes in handy as the red letters are hard to make out in ambient light. Unfortunately, there is only a single colour available for the backlight, unlike the Strix G which has an RGB option. The travel on the keyboard is quite low, with the input almost instantaneous as soon as I touch the keys. As a matter of fact, I'm writing this review on the Nitro 5 and the typing experience has been a breeze. The same can be said for gaming as well.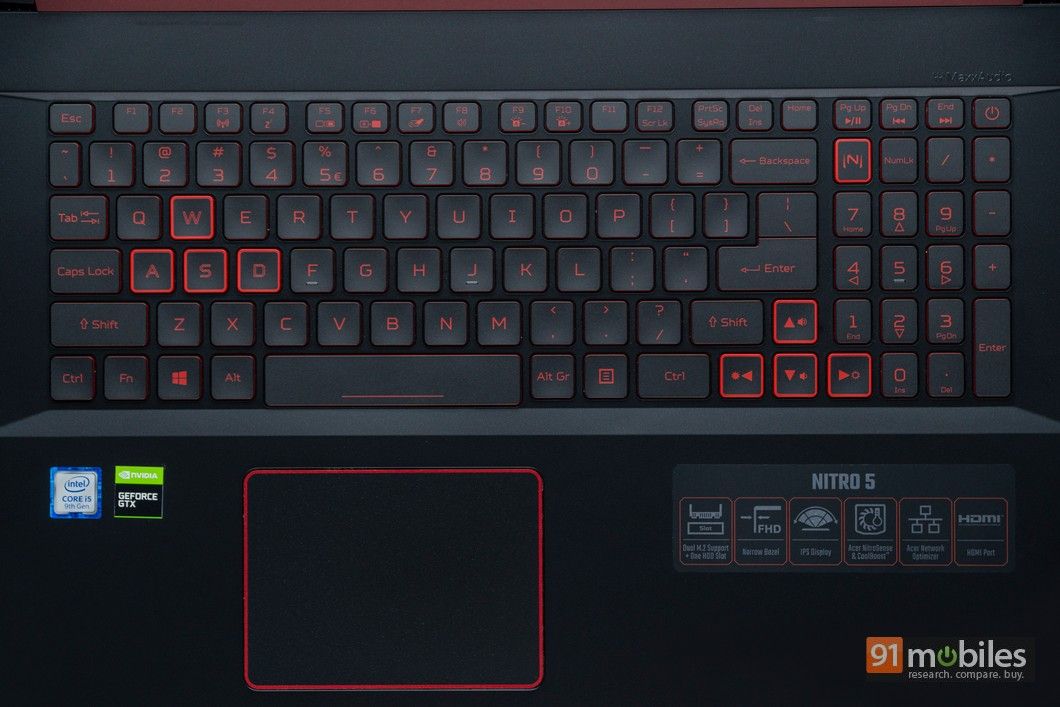 The trackpad sits flush with the rest of the laptop's body and has red accents all around it. In general, the response on the trackpad is good and it is also has a decent enough area. There were hardly any accidental touches during my usage and the finish on it was quite smooth, which made tasks like dragging items quite easy. This is, however, a gaming laptop which means that you will quite likely be using an external mouse with it anyway, but for the times you are not, the trackpad will function as per expectations.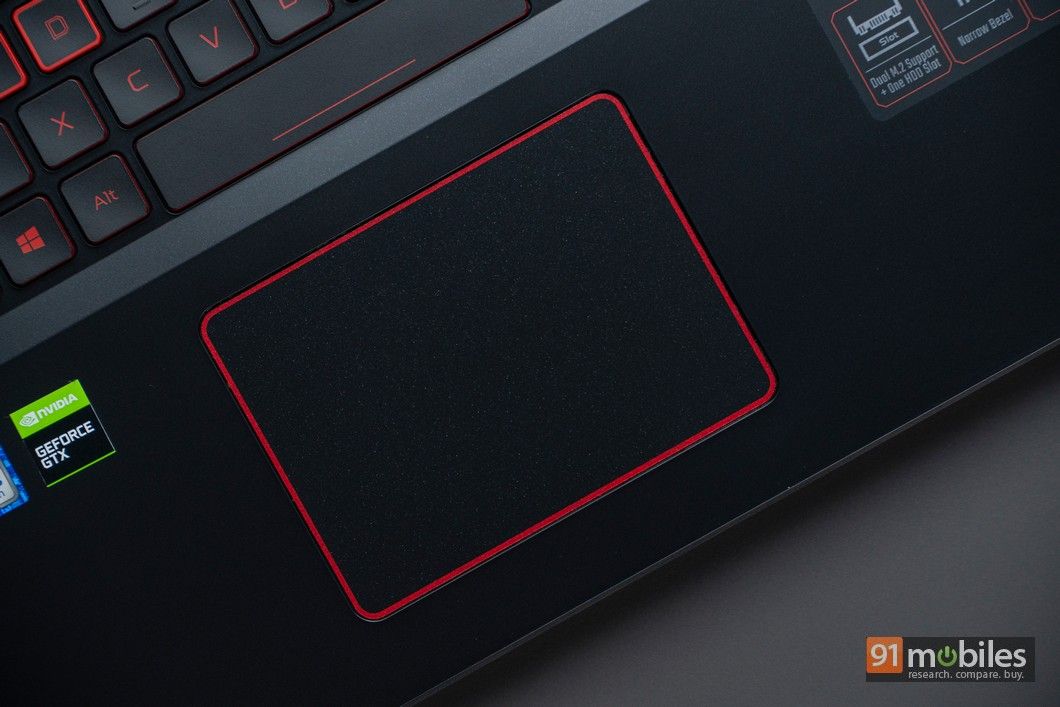 Performance
The Acer Nitro 5 packs in the 9th-gen Intel H-series chipset which has translated to a considerable performance bump over the 8th-gen Intel processors housed last year in the Nitro 5. The variant which I have has the i5 quad-core chipset with eight threads, a base frequency of 2.4GHz which can be boosted to 4.10GHz under load. However, with such a large chassis, you could do with an i7 9th-gen version of the laptop as it has six cores, more threads and a higher Max Turbo Frequency at not such a significant increase in price.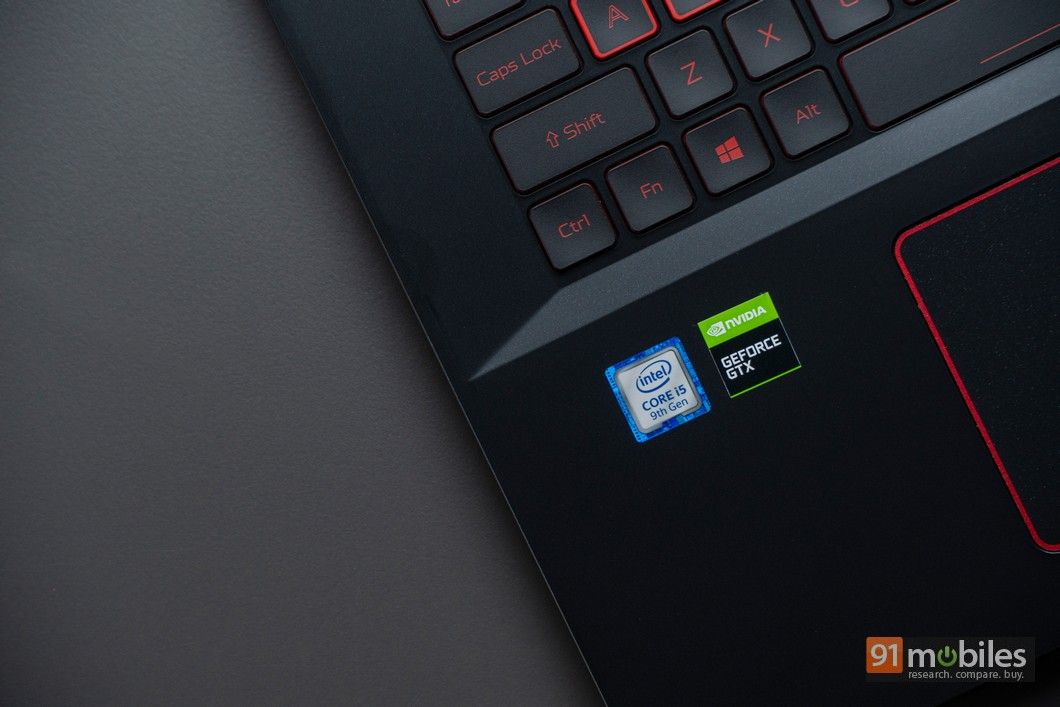 The Nitro 5 is also not shy in the graphics department as well, with an NVIDIA GTX 1650 GPU which is a substantial improvement over the GTX 1050 on the previous Nitro 5. Again the i7 variant also has the added advantage of having the GTX 1060ti, which is comparatively better than the GTX 1650.
In our benchmarking tests, the Nitro 5 holds up its own quite brilliantly. PCMark 10 saw a score of 4,813, which is impressive considering the Legion Y540 with its Intel's 9th gen Core i7-9750H processor had a tally of 5,590 points. Being a gaming laptop, some 3D Mark tests were also due and the laptop again came off pretty high as we see scores of 3,493 and 7,997 on Time Spy and Fire Strike respectively. Geekbench 5 also showed respectable scores of 1,087 for single-core and 3,748 for multi-core.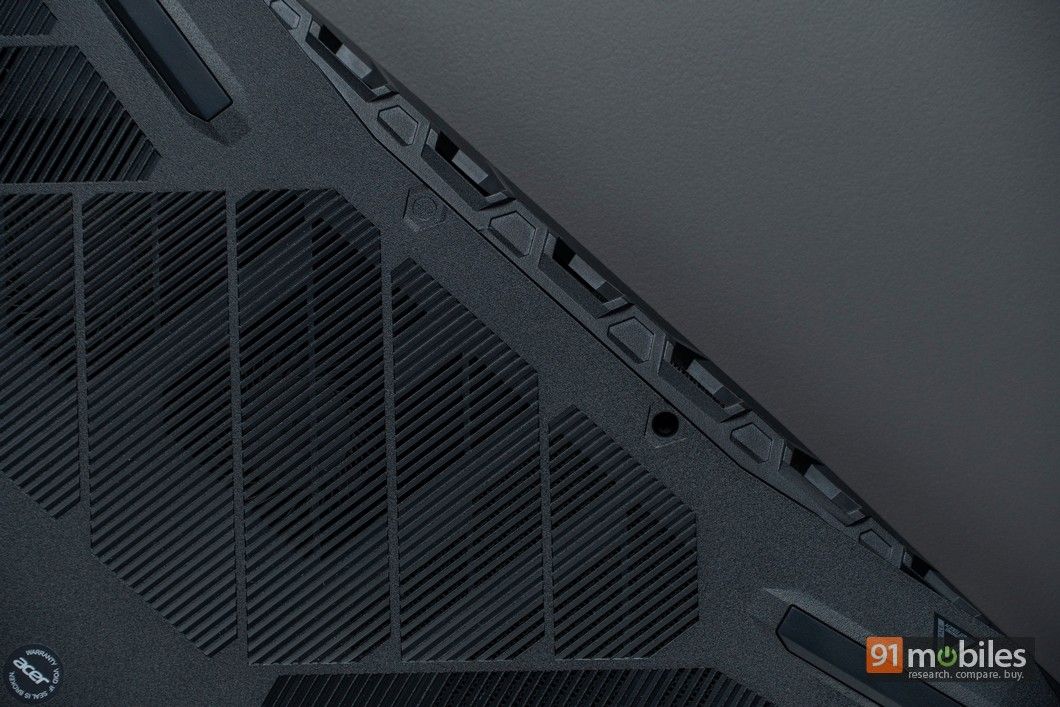 The Nitro 5 comes with the 256GB of fast PCIe SSD storage and a 1TB HDD, along with 16GB dual-channel RAM which can be expanded to 32GB. The Crystaldiskmark 7 test showed the sequential read and write speeds of 1,643 MB/s and 611 MB/s and this dropped to 384 MB/s and 340 MB/s respectively for 4K. Not too bad but not too good either.

But let's be real for a moment. Benchmarks are only a measure of how good the performance of a laptop is and quite a few times they don't tell the whole story. What you really want to know is how good the laptop is for gaming. Short answer, quite good. I threw a number of popular titles at the Nitro 5, a couple of them quite graphics-intensive, and came away with very favourable results. Low-key games like Counter-Strike Global Offensive, which don't strain the GPU much, ran buttery smooth at nearly 120 fps. More intensive titles like APEX Legends and PUBG ran smoothly at high graphics with anti-aliasing set at 8X. However, at Extreme settings, the shadows, higher anti-aliasing, and increased motion blur, the laptop, under increased load, started throttling the performance in just 15-20 minutes, resulting in a lot of frame drops. To that effect, the Nitro 5 does come with 'Nitrosense' which is a customised hub to adjust the fan speeds on the laptop. While usually under sustained load the fans on the Nitro 5 will rev up, you can speed them up even more with the max settings on Nitrosense. Mind you this is bound to disturb those sitting around you, as the laptop does produce quite a din. Complimented by CoolBoost technology, and customisable fan speeds on both the GPU and CPU, Apex and PUBG ran at the highest settings for more than 2 hours straight before the CPU started throttling the performance due to increased temperature. Talking about even more graphic intensive-games such as Shadow of the Tomb Raider, the benchmarks showed an average FPS of 49 which is reasonable to expect from GTX 1650 chipset.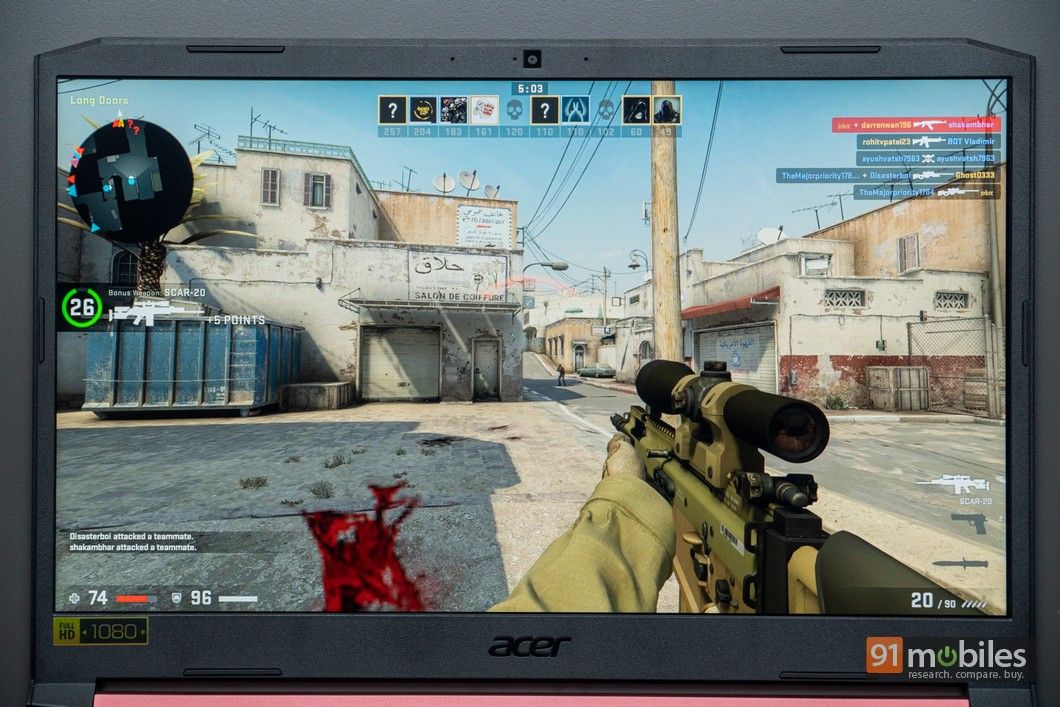 The Nitro 5 packs in a 57 Wh battery and I have to say that the laptop's battery management is quite good. Although chances are quite low that your device will not be plugged in during usage, in my test of letting the laptop sit idle, with no background processes running, we get a figure of 12 hours and 32 minutes. Our standard Battery Eater test saw the laptop last a respectable 98 minutes before being shut down.
Verdict
The Acer Nitro 5 AN517 is an intelligent purchase for the average gamer, as it offers respectable performance and good battery life. The thermal management seems to be at par with the competition, although one can make a point of MSI's slim profile in the GL63 9SC which makes it easier to carry around. However, at this price point the laptop delivers on almost all aspects. The Nitro 5 will be running all modern triple-A games thrown at it but understandably some of the latest titles will have to run on lower graphics settings. Can it be recommended over its true competition which is the Asus TUF FX505GT or the MSI GL 63? If you prefer Intel over AMD (in my opinion you should) and don't care about military-grade certification, then the Nitro 5 is a no brainer. The MSI offers a more portable package but sacrifices on storage by giving only 128GB option. An alternative to the Nitro 5 would be the Nitro 7 with the i7 9th-gen processors which would translate most likely to a 10-15 percent boost in performance with an asking price of Rs 10,000 more. The Nitro 5 is an affordable investment if you are into casual gaming under the Rs 1 lakh threshold but hardcore gamers will need to look elsewhere.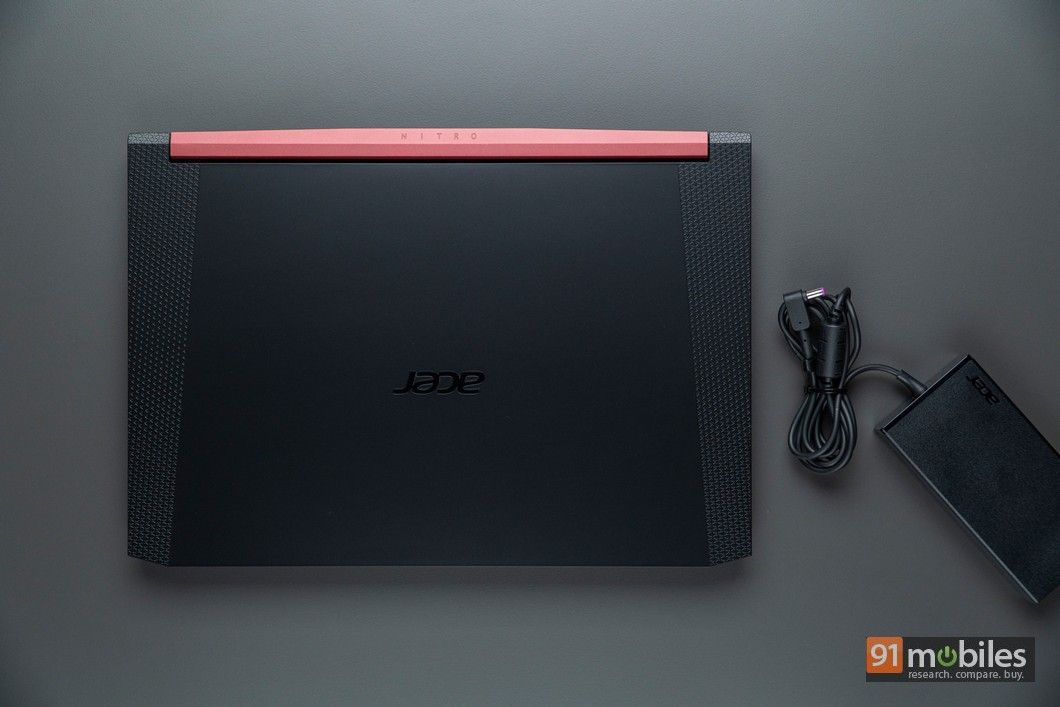 Editor's rating: 4 / 5
Pros:
Great performance
Commendable typing experience
Good battery life
Cons:
Bland design
Thermal management could have been better
Port placement is not great