"Bose has nailed the active noise cancellation game with its latest offering"
Bose is a brand that has always been associated with premium audio quality and in recent years, noise cancellation (NC). Even as a child, I was left in awe over how good Bose's QuietComfort (QC) 15 headphones were over my dad's Sennheiser HD 518 both in terms of comfort and sound quality. Over the years my interest in audio products had waned considerably until I came across Sony's WH-1000-series. The Japanese technology giant has been giving strong competition to Bose in terms of noise cancellation technology and supported by the company's legendary audio processing, many Bose loyalists seem to be gravitating towards Sony. The WH-1000XM3 released last year have been widely recognised as the best premium NC headphones money can buy. And thus Bose has decided to up its game from the QC series with the Bose Noise Cancelling Headphones 700.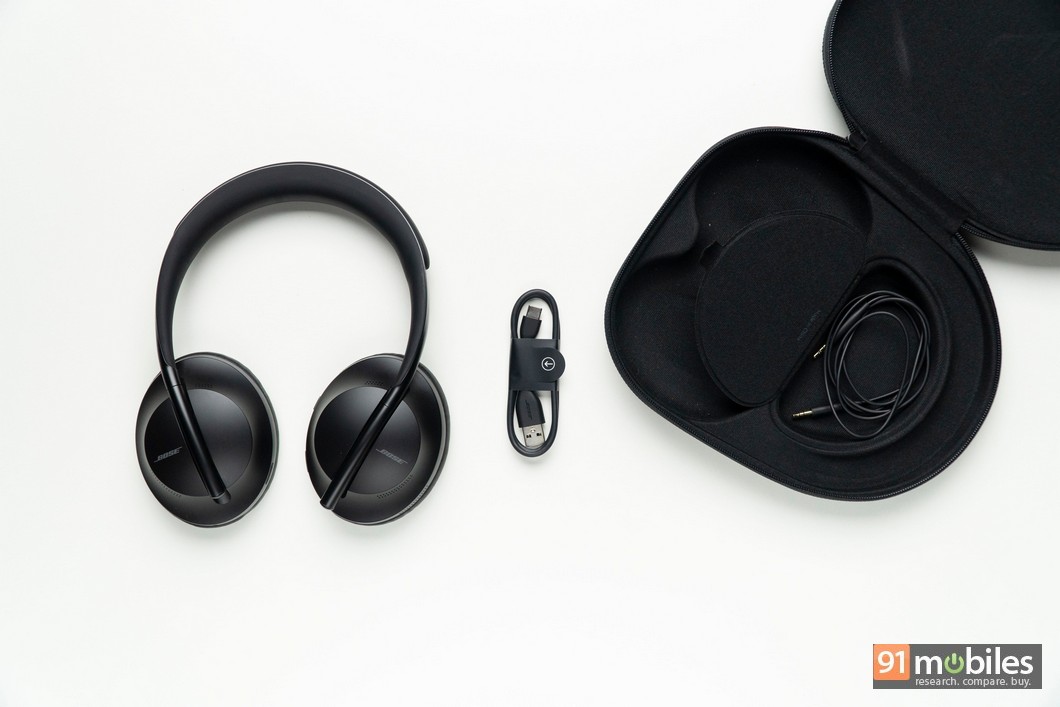 With the target audience being audiophiles who are constantly on the go, the NC 700 priced at Rs 34,999 are anything but cheap. However, that is a premium that you will be expected to pay for some of the best noise cancellation in the industry paired with perhaps the best voice quality that headphones have to offer. I got to spend a week with these headphones and here is what I feel about them.

Design and Comfort
The NC700 channels in the new design language Bose is implementing to make its headphones sturdier and also provide a good seal over the years to amplify its NC qualities. The headphones feature a stainless steel headband covered with a healthy amount of cushioning foam giving immense comfort when placed over your head. The headband does not enter any of the earcups as seen on previous Bose headphones, but is attached via a steel pole embedded inside a cavity on each of the earcups. Rest assured, the headband is attached securely and you can adjust the fit by moving the earcups up and down this pole. There is a cleaner aesthetic to Bose's NC700 design as compared to the WH-1000XM3 giving them a stylish and minimalistic look at the same time. The polished plastic surface of the earcups has the Bose branding and part of the right earcup has touch controls which can be used to quickly play/pause/skip songs, answer/decline calls and call upon your choice of voice assistant.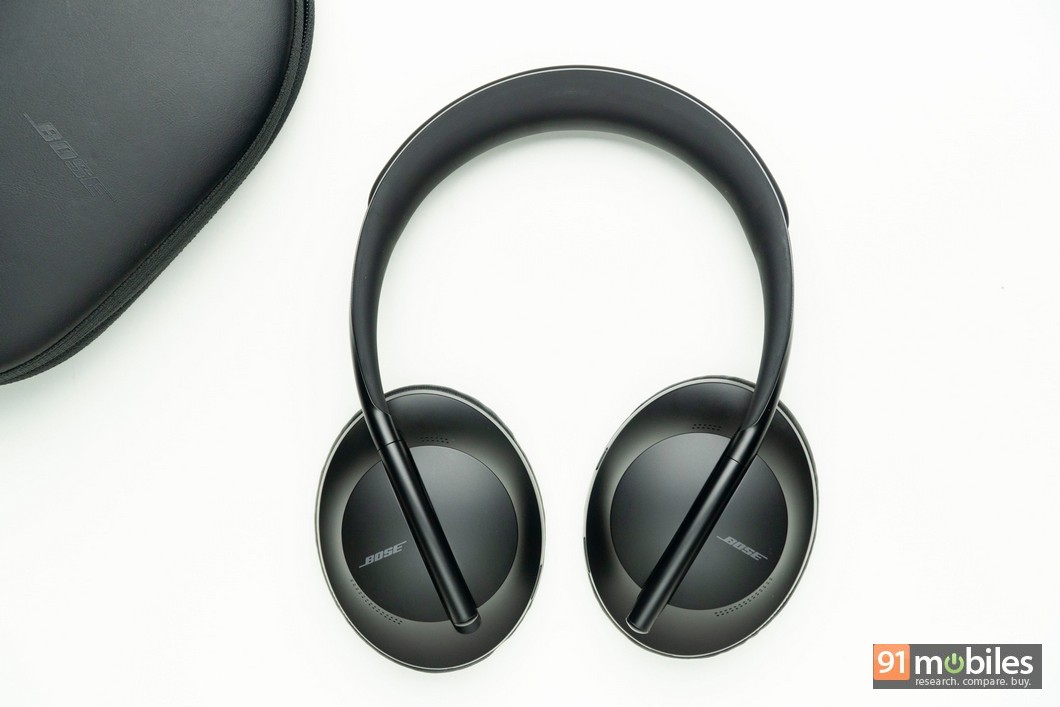 Each earcup has synthetic leather ear cushions with copious amounts of foam giving you great seal, along but don't expect them to be extremely light on your ears like the previous QC30 series by Bose. However, I did not feel even the slightest discomfort around my ears after wearing them for about 2 hours continuously. While you won't go amiss with comfort even on the WH-1000XM3, the NC700's clean and sleek look has just won me over. However, there is an added caveat that the NC 700 are not foldable like their Sony counterparts, which makes it difficult to place them inside your bag unless you have the leather case that comes with the headphones. This case though is quite portable and placing the headphones inside this case is also quite easy, something which I cannot say about the 1000XM3s. There is also a small compartment inside the Bose case which can be used to house the 2.5 to 3.5 mm cable and also a Type-C cable. Speaking of which, Bose has finally shifted to a Type-C port for charging, which is something the industry had already started to do over the last year including the 1000XM3.
Touch Controls, Connectivity and Noise Cancellation
Following the cues of Sony, Bose has included touch controls on the right ear cup and dispensed off with most of the physical buttons save for a few. The controls are fairly easy to remember and have worked perfectly ever since I've started using them. Only part of the right ear cup has touch sensitivity, and initially, it took me a while to figure out which part responded to my taps. As it turns out the part where the Bose logo is emblazoned is where all the touch functionality is located. The controls are pretty standard. Double-tap to Play/Pause, right swipe and left swipe to go to the next track and previous track respectively. There is also the ability to increase and decrease your volume by swiping your finger up and down.
There are a few physical buttons also on the Bose NC 700 that will definitely come in handy. The foremost being the Bluetooth pairing button on the right ear cup which also functions as a power button. Long pressing this button will put the device into pairing mode and if you have already paired the headphone with a compatible audio source, a single tap will connect the NC 700 in seconds. Another button is there to trigger the assistant. By default, the Bose NC 700 feature Alexa integration, which works surprisingly well even in noisy environments. Siri and Google Assistant can only be triggered using the assistant button on the right earcup. The third and final button is for adjusting the noise cancellation level and there are options for 0, 5 and 10. A long press on this button will pause the music and bring up ambient noise around you so that you can hear if someone is speaking to you.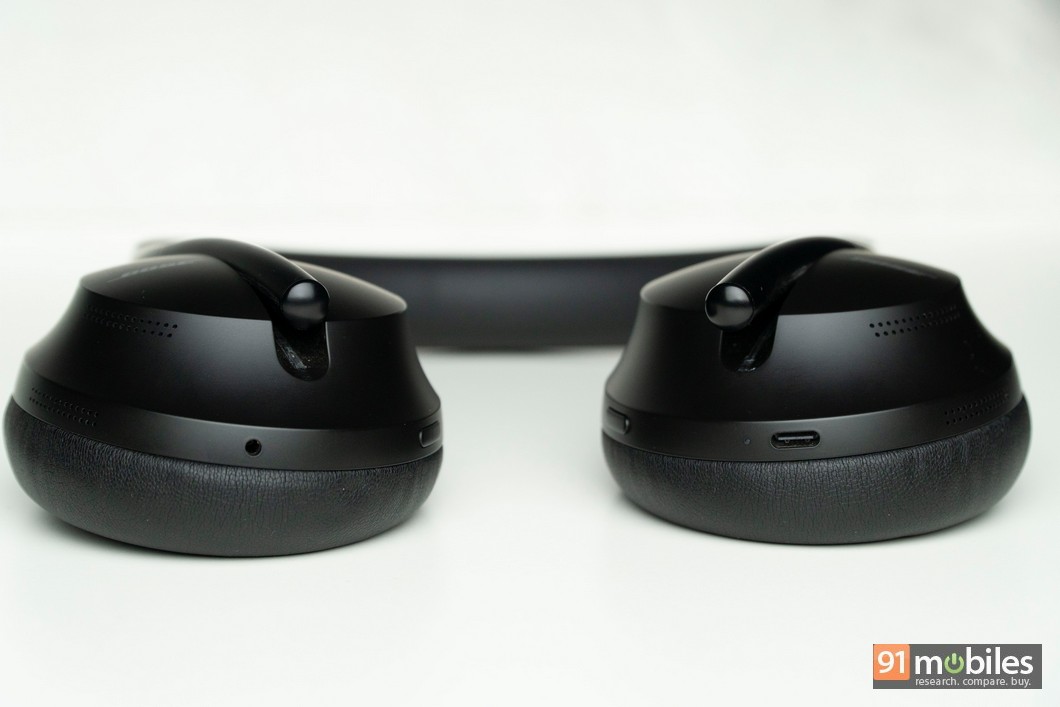 If you're spending about as much as a OnePlus 7T would cost on a pair of headphones, you'd better be using them with multiple devices and here Bose has nailed it to my satisfaction. While you can connect only two devices, the seamless integration between both is really impressive to see. I usually have my laptop and phone at my workstation and often I have a need to connect my headphones to either of them at different times during the day. While several other headphones, including the 1000XM3, will ask you to unpair one device to connect to the other, Bose NC700 will connect to both the devices simultaneously. If I play music on one device, the other device is paused and vice-versa. If I'm getting a call on my phone and there's music playing out of the laptop, the NC 700 intelligently switch to my phone and mute the laptop. It is things like these that add up to the cost of the headphones, but for its part, Bose has done a stellar job in the hardware department.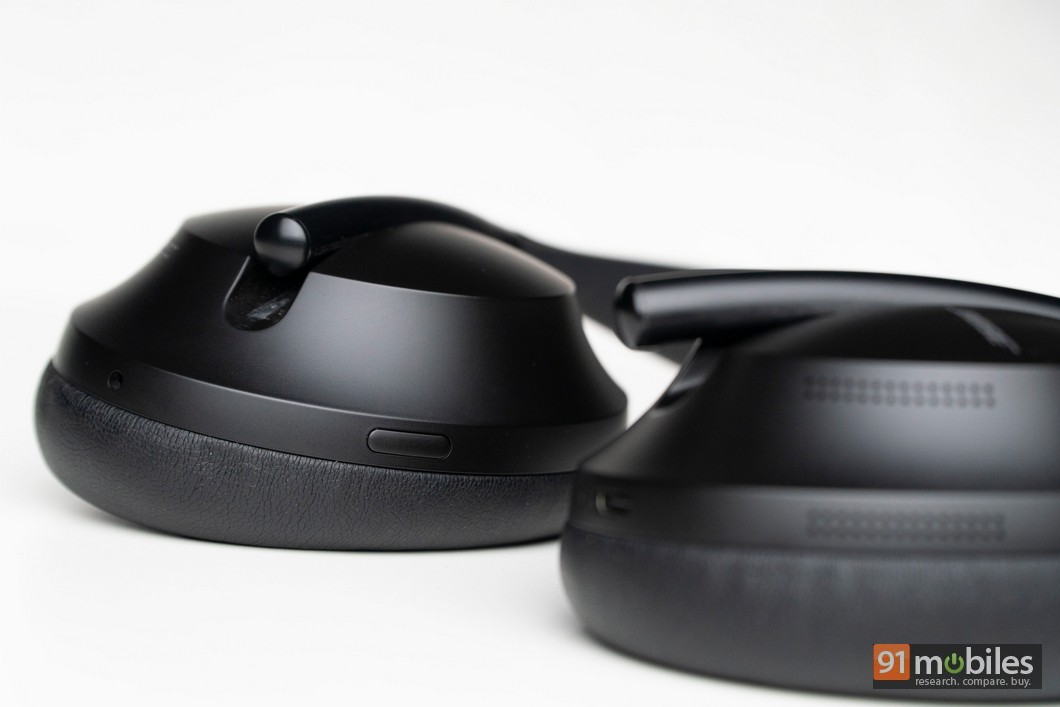 Noise cancellation has just gotten better over the years and it was initially pioneered by Bose as a way for frequent flyers to muffle the din of the airplane's engine. While Sony had perfected the NC game over the past few years, Bose has come out swinging with its latest offering. There is something magical when I turn up NC to level 10 and hear the world drown into silence with a slight 'hmm' which is a kind of sound effect that Bose has added to signal a change in the level of NC.

On my very first day wearing the NC700, I was walking past a crowded street with music at about 60 percent volume and NC at 10. Just in front of me was a wedding procession and I was quite surprised as to why people aren't making a din with the drums as is quite usual with Indian weddings. At that moment I realised about the headphones I had been wearing and as soon as I removed them, a blast of noise hit me and I nearly lost my balance. That is how good the Bose NC 700 had muffled outside sound so that a full procession beating drums, which is surely going to burst your eardrums, seemed non-existent. You can obviously change the isolation level with the dedicated button but if it is true, unadulterated audio experience you seek, then keep NC at 10.

Of course, Bose has also made sure that you are aware of your surroundings such as when you are walking on a heavy traffic road. At NC 0, the headphones will pump up the ambient sound on the outside to simulate an experience wherein it does not even feel that the headphones are on. However, it would still be wise not to wear your headphones while crossing a street.
You can use the Bose Music app to pair your headphones and fiddle around with things like naming your device, saving noise cancellation settings, change the in-built assistant's language, decide auto-off timings and more. However, it is by no means as extensive as Sony's Headphone Connect app for the 1000XM3 which has things like Atmospheric pressure optimising, spatial sound positioning control, ambient sound control and much more. Apart from that, connecting your headphones with the Bose Music app is hit-or-miss at most times. Bose seriously needs to improve its app if it wants users to make the most of the features offered by the device.
Sound quality, Voice calls, and Battery
Forgive me for rambling on so far without even mentioning how the Bose NC 700 sound, and that is because there are so many features that really need to be put forward first before we can discuss sound quality. Many of the features mentioned before play a significant role in giving you the magical audio experience that Bose is famed for.

To begin with, the NC 700 only support SBC and AAC audio codecs whereas the Sony 1000XM3, in addition to these, also includes Qualcomm's aptX H and Sony's high-bitrate LDAC. While Apple users will not mind this since AAC is the highest codec format that iPhones/iPads can support, non-Apple users will feel the pinch.

Putting the codec aside, the Bose NC 700 sound incredible to the average listener. Putting on some old classics from Pink Floyd took my ears on a musical journey that they have rarely been privy to over the past couple of years. David Gilmour's acoustic solo at the end of High Hopes revealed new instruments playing in the background which I hadn't even heard before. This was a trend for quite a few Rock songs and also in several Jazz songs I threw at the headphones. My personal favourite was FKJ's Tadow wherein the lows on the headphones have been amplified and mixed with the Bose sound signature giving me an aural ecstasy, to say the least. This remains a general theme with the Bose NC 700 and it appears the sound engineers have given special emphasis to lows and instruments.

One of my favourite tracks to test audio mids and instrument separation is Arctic Monkey's Do I Wanna Know. The strum of the guitar during the chorus reverberates around my head while the vocals are clear as day. Even so, bass-immersive songs like Pull Me Under by Dream Theater were slightly muffled while the other instruments played in tandem with the vocals, which leads me to believe that Bose has not designed these headphones for the current generation of raging bass-heads. Even while turning up the volume to max the instruments maintain their distinctive crispness and there is no distortion of bass.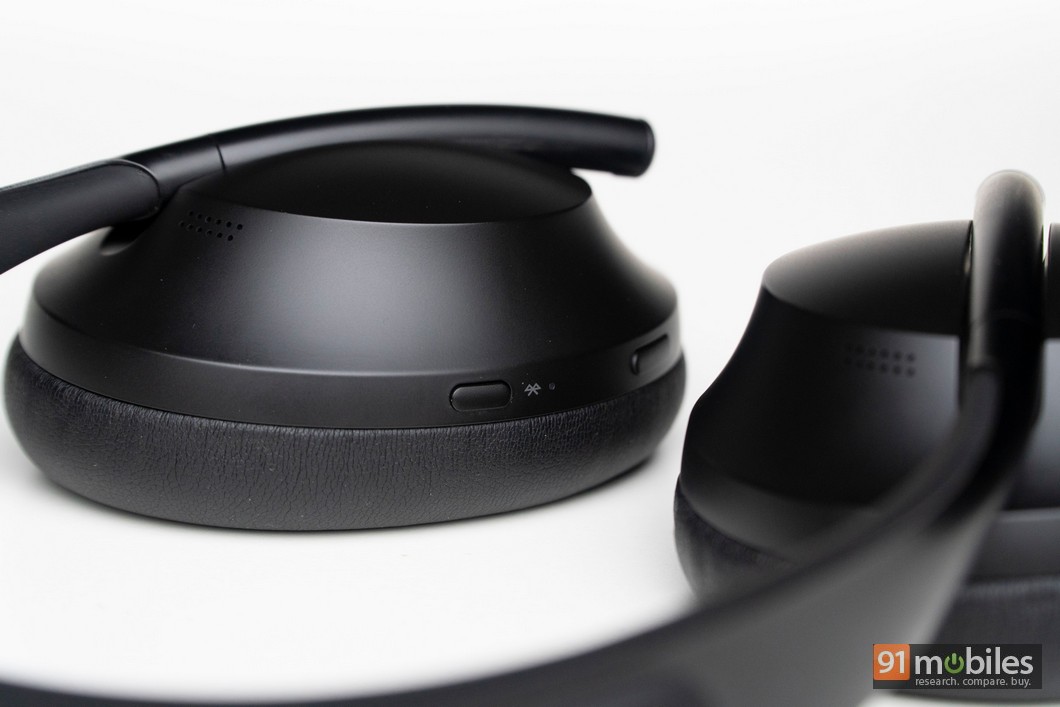 One thing which can definitely win brownie points for the Bose is the call quality, which in my opinion is quite unmatched in the space. Bose has built a new mic system from scratch which isolates your voice even in a noisy environment. My daily commute involves taking the metro and you can imagine the commotion that ensues when you enter the station. Even with thousands of people shouting and talking around me, whoever was at the other end of the call, could make out what I was saying without any disturbance. Bose has achieved this by using two of its mics used for NC and pairing it with two more mics to capture crystal clear audio while also allowing me to hear my own voice when I'm speaking.
However, one area where the Bose needs some catching up to do is battery life. While Bose touts a 20-hour battery life on the NC 700, I have managed to get about 15-16 hours with NC set at 10. The 1000XM3 to its credit, are said to pack in 30 hours of battery life, which in our review lasted the whole week even after being used for about 3 hours every day. I managed to drain the NC 700 in about 4 days with 3-4 hours of music playback per day.
Verdict
From a neutral perspective, the Bose NC 700 sound phenomenal. However, an audiophile might find Sony's offering a tad better due to support for more codecs and in general better audio quality. NC on both headphones is quite phenomenal, but Sony is still marginally ahead in terms of battery life. The NC 700 has perhaps the best voice clarity amongst headphones but Sony's sound customisation options and calibrations really take the cake. There is no denying that the Bose NC 700 is the more stylish option of the two and in any case, the 1000XM3 is due for a refresh any time now on account of it being more than a year old. Buy the Bose if you fly a lot, want to drown out the noise of the plane's engine, receive a lot of calls on the go and in general are a fan of Bose's acclaimed sound signature.
Editor's rating: 4 / 5
Pros:
Soft and comfortable design
Great noise cancelation
Touch controls are easy to use
Best in class

voice clarity
Cons:
Bose Music app is iffy
Could have more music adjustment features
Battery could have been better