As far back as we can remember, Bose has been a name to reckon with in the audio segment. The brand has a range of speakers, headphones and sound systems that are priced at a premium, but offer a powerful sound experience. And while it doesn't have many offerings in the sub-Rs 10k segment, it's aiming to change that with the launch of the SoundLink Micro – a compact Bluetooth speaker. Let's find out in our review if it deserves a place in your shopping cart.
Design
The Bose SoundLink Micro stays true to its name and fits in the palm of your hand. It's lightweight too, as it tips the scales at less than 300g. The speaker has a rubberised cover which gives it a rugged look and makes it apt for outdoor usage as well. Add to it the fact that it's IPx7 rated, and you've got yourself a speaker that can work even underwater (depth of up to 1m) for 30 minutes. The cover has four feet at the rear, so that the sound output isn't muffled.
An interesting aspect is a tear-resistant strap at the back, which lets you attach the SoundLink Micro to your bag or bicycle and enjoy the music. While our review unit comes in black, you can also purchase the speaker in bright orange or midnight blue colours.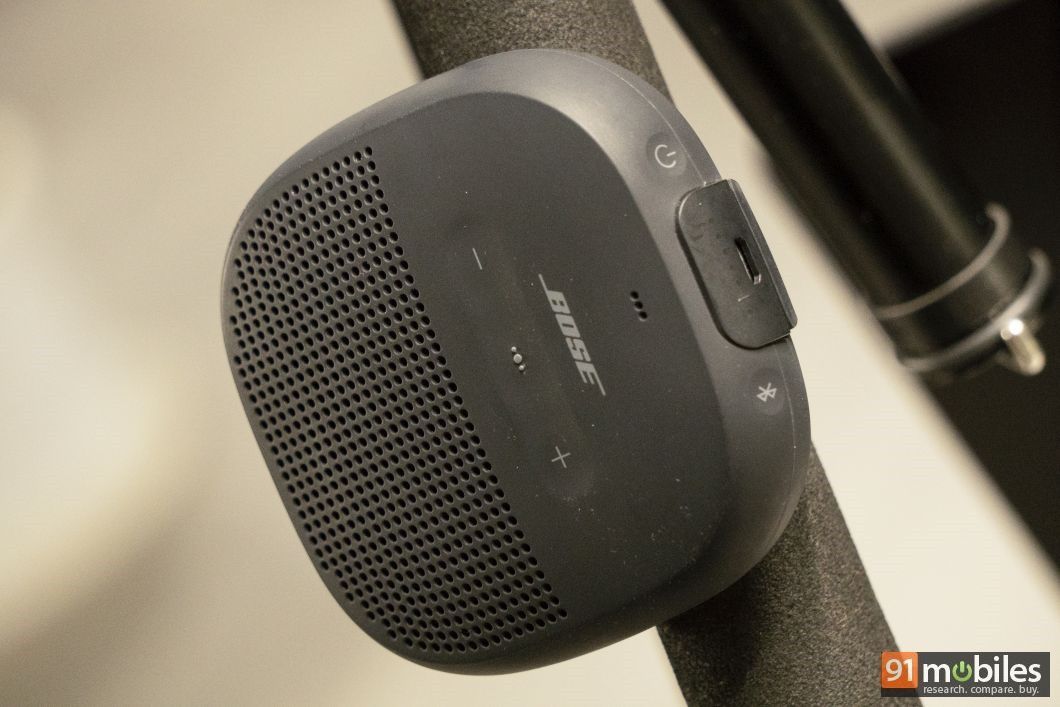 Coming to the controls, the top of the speaker has buttons that let you increase and decrease the volume, while the multi-function button in the middle dons various hats. Pressing it once pauses the music, while a double press switches to the next song. And if you want to go back to the previous song, then you can press it thrice. It can also trigger Google Now / Siri and even accept calls. On the side, you'll find the power and Bluetooth toggle, along with the micro-USB port. The speaker also has five LED indicators for the battery as well as Bluetooth status.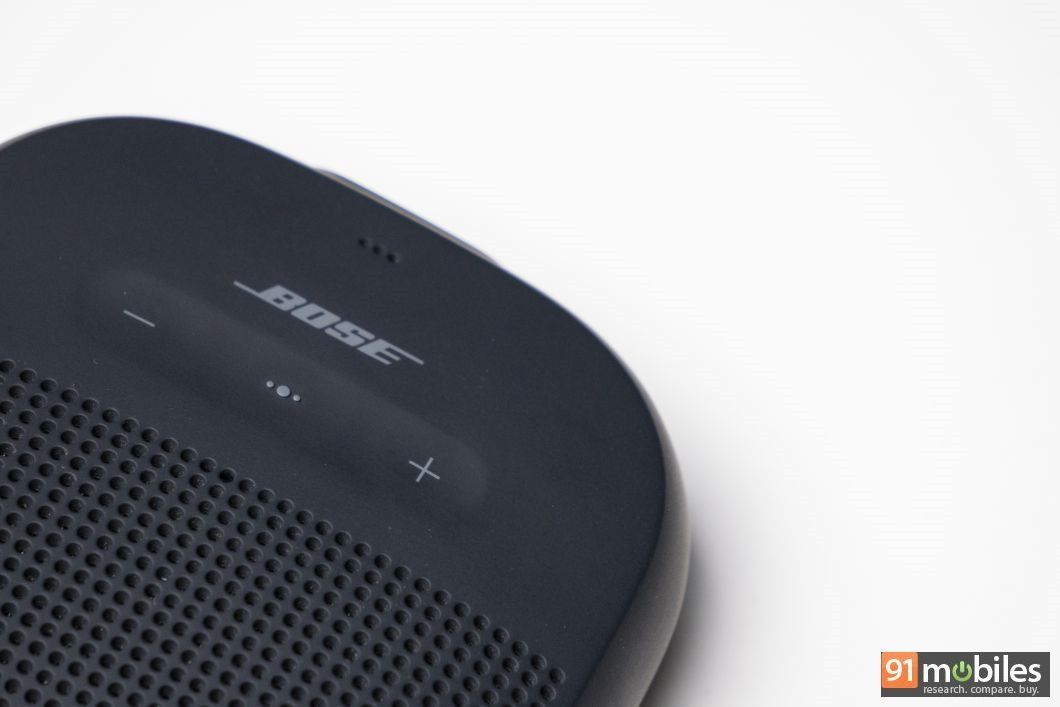 Overall, the Bose SoundLink Micro is easily among the most compact and rugged Bluetooth speakers we've come across. But the real question is – how does it sound?
Performance
The SoundLink Micro uses passive radiators to offer a louder sound output – and it works. Despite being compact, the device is able to fill a normal room with sound. Sure, it's not ideal for parties, but it does come in handy for enjoying music between a couple of friends or while going on an adventure trek. The best part is that the sound doesn't distort even at full volume.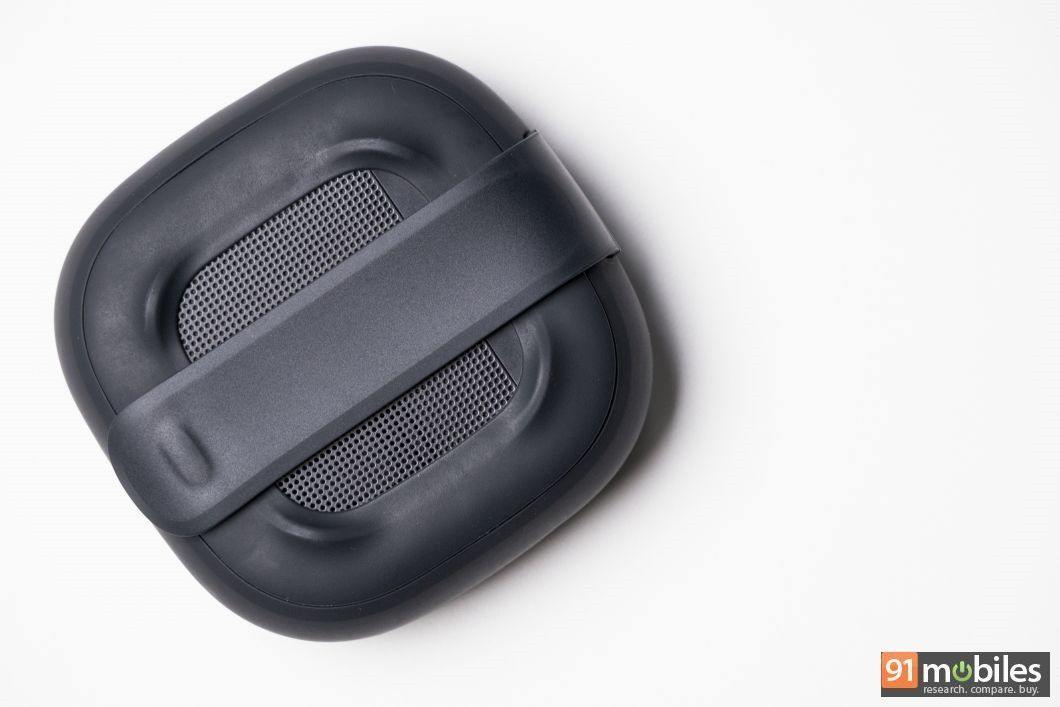 Usually, small speakers struggle with the bass response, and while Bose SoundLink Micro is no exception to this, it still manages to play EDM songs quite well. You can feel the thump while listening to DJ Snake's Get Low. The speaker does an equally good job – if not better – while playing instrumental music or songs in other genres.
The Micro can also be used as a speaker for voice calls, and it works quite well too.
Connectivity and battery life
The speaker connects via Bluetooth, and pairing is almost instant. You just need to press the Bluetooth button and then connect it with a smartphone or laptop. We've been using the Bose SoundLink Micro with our laptop as well as with the OnePlus 6 (review), and never faced any connectivity issues. The Bluetooth range is also decent. You can even daisy chain two SoundLink Micros in party mode for stereo sound, but sadly we couldn't test this.
The accessory can also be controlled via the Bose Connect app, which lets you update its firmware and control some more aspects such as scheduling power off.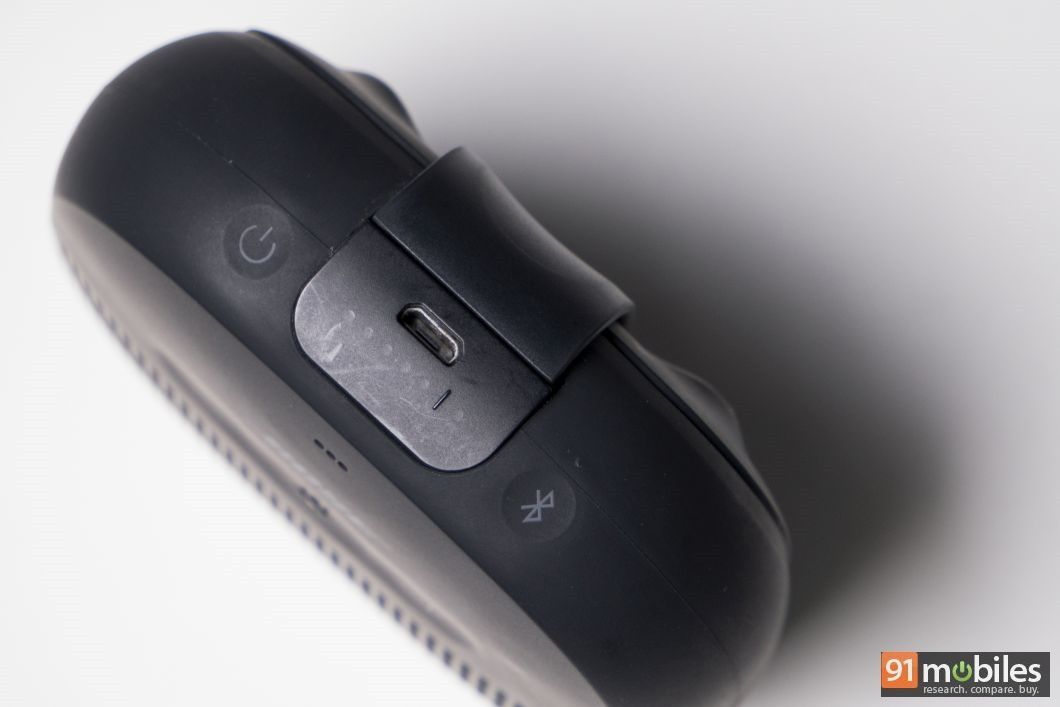 Bose claims that the SoundLink Micro can last up to six hours, and if our experience is anything to go by, then the company is underselling itself. The speaker easily lasted us about eight hours, playing music at 60 to 70 percent volume levels. We also love the fact that speaker offers voice prompts to indicate its battery levels. The accessory can be charged up fully within two hours with a 2A adapter, though it'll take longer with a 1A charger.
On the negative side, we do miss an auxiliary port on the speaker.
Verdict
The SoundLink Micro is an interesting device, for more than one reason. It marks Bose' foray in the compact speaker segment, which is dominated by quite a few no-name players and some popular brands too. But the Micro is also among the priciest in its category… and carries a price tag of Rs 8,990. For the price, you get powerful audio output which doesn't compromise on sound quality and a good battery life – all packed in the compact-yet-rugged exterior.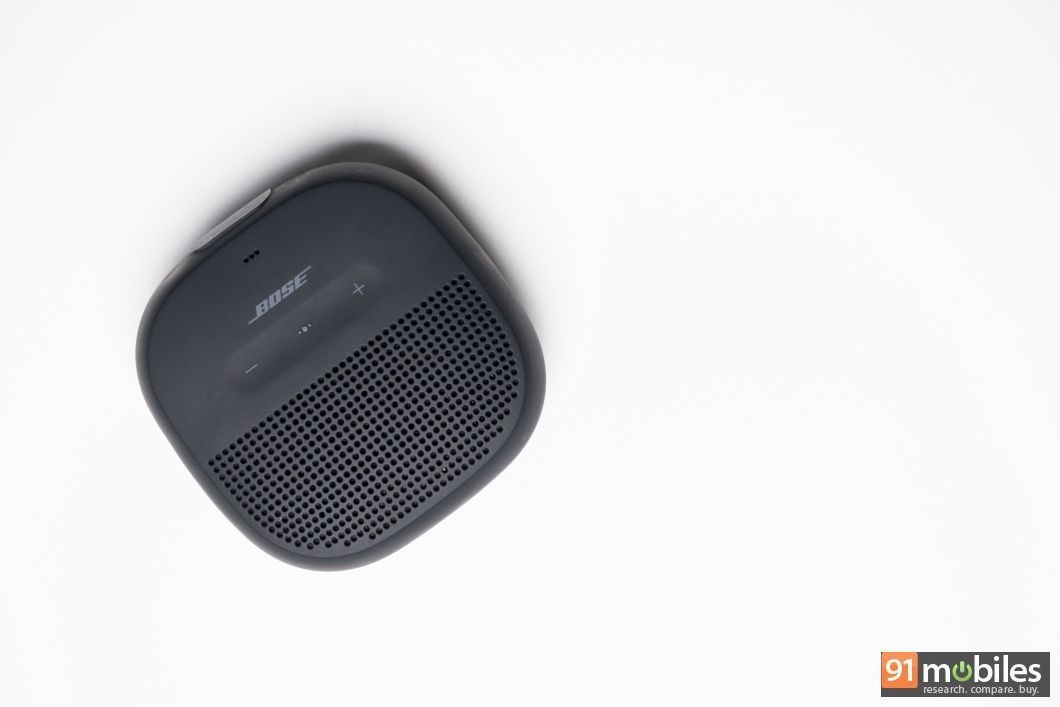 However, it'll face tough competition from the JBL Flip 4, which is also IPx7 rated and offers more impactful bass and a richer sound overall. And if you're looking for a compact option, then you can also go for the Ultimate Ears Wonderboom or the JBL Clip 2, which are priced lower and are equally capable.
That said, if money is no bar, and you're looking for a small-sized speaker that can accompany you to all your adventure trips, then the Bose SoundLink Micro won't disappoint you.
Editor's rating: 4 / 5
Photos by Raj Rout