WFH life has its advantages, and its own set of challenges. The global pandemic has changed a lot of things for many people, and I'm sure I'm not the only one who is trying to adjust to the so-called new normal. Working from home does require the right approach and mindset, but without house help being available, one needs to also manage other stuff that needs attention at home. In such a scenario, devices that can help take care of daily tasks can be a lot of help. I realised this early on in the lockdown when I found myself fighting a losing battle. The war was against dust, debris and the like, and in the absence of the usual warrior (read: the maid), I knew I needed a formidable weapon, and fast. Enter the Dyson V11 Absolute Pro.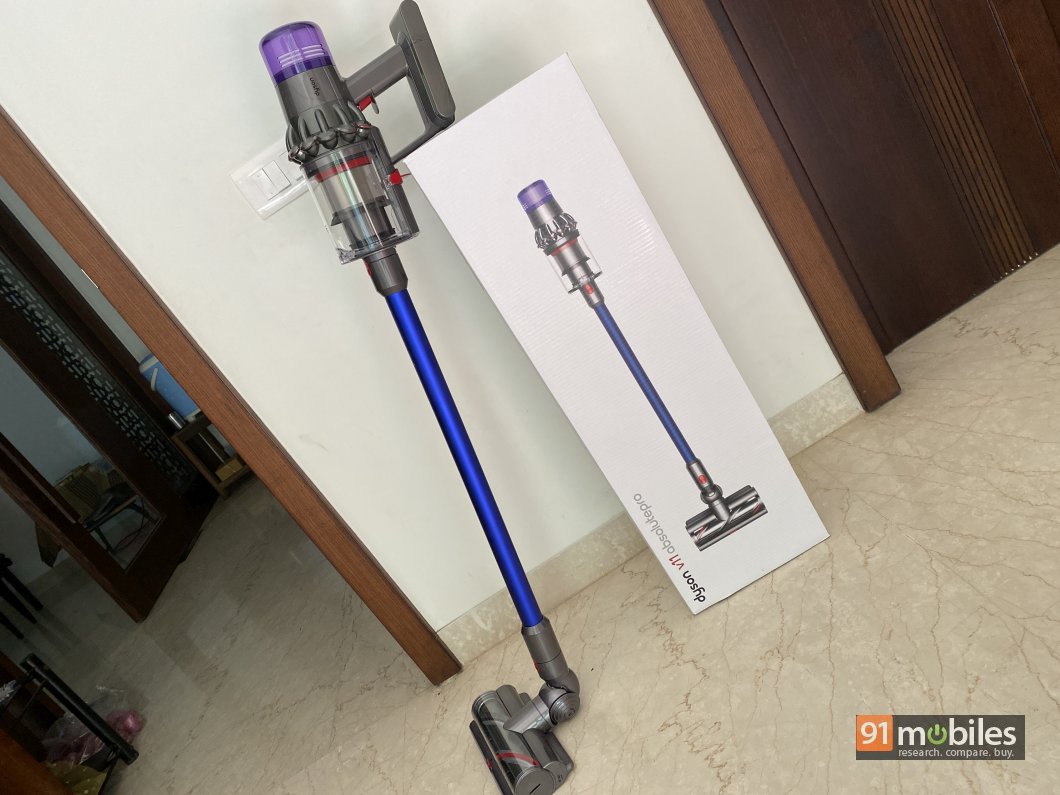 Dyson, as you might be aware, is a British brand that sells premium appliances. I had heard good things about the V11 Absolute Pro, which is a cord-free vacuum packing enough tech and power to destroy not just the enemies that can be seen, but those that can hide in plain sight. As soon as the large box arrived, I rubbed my hands with glee and gave the thick layer of accumulated dust my evil laugh… something of a warning shot if you will.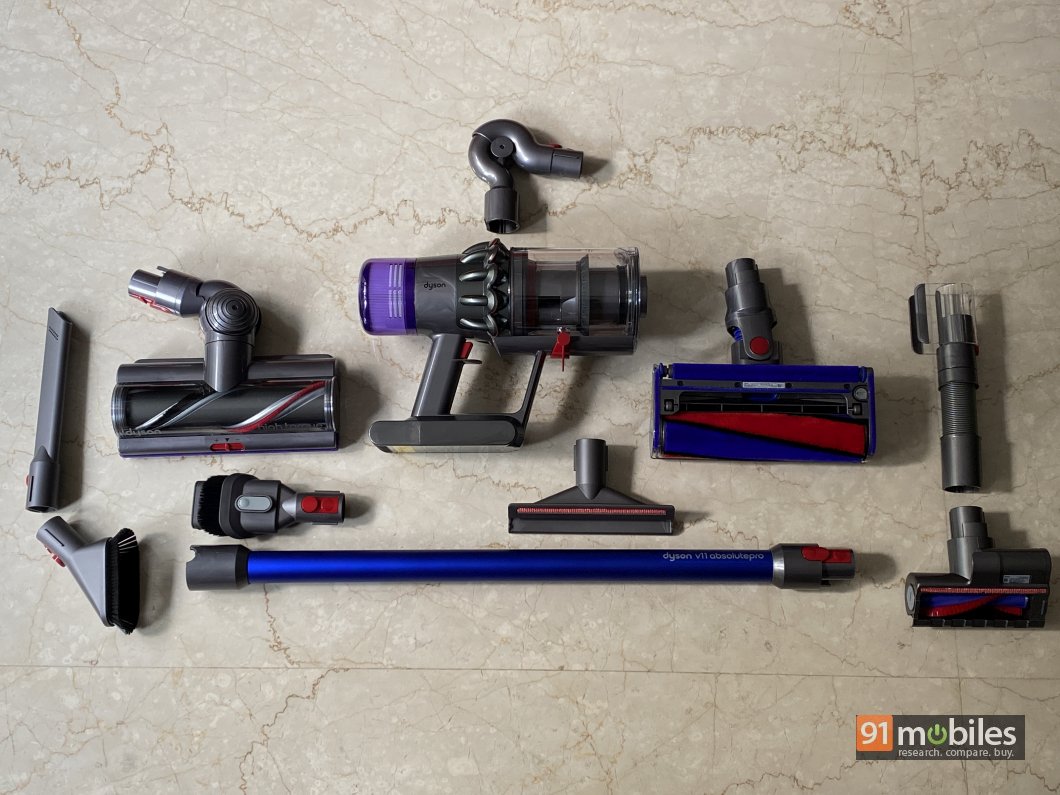 The box is a veritable ammunitions depot, including a whole slew of attachments that provide you with the arsenal you need. Aptly, the main unit resembles a futuristic gun that could potentially fire lasers. This baby is your main weapon, containing the motor that creates powerful suction, holds the battery system, and the clear bin to collect the dust and debris. The vacuum cleaner is cord-free and devoid of any messy wires. Cables not only tend to get tangled up, they can even restrict your vacuum cleaner usage depending on how long the wire is and the location of the power socket. No such problem with the V11. Since it utilises rechargeable batteries, you can take it just about anywhere – around the house, or outside for cleaning your car. Heck, don't be surprised if a friend or neighbour wants to borrow it for a weekend – it actually looks very cool. I have the Nickel Blue option, but there's a more flamboyant gold version too.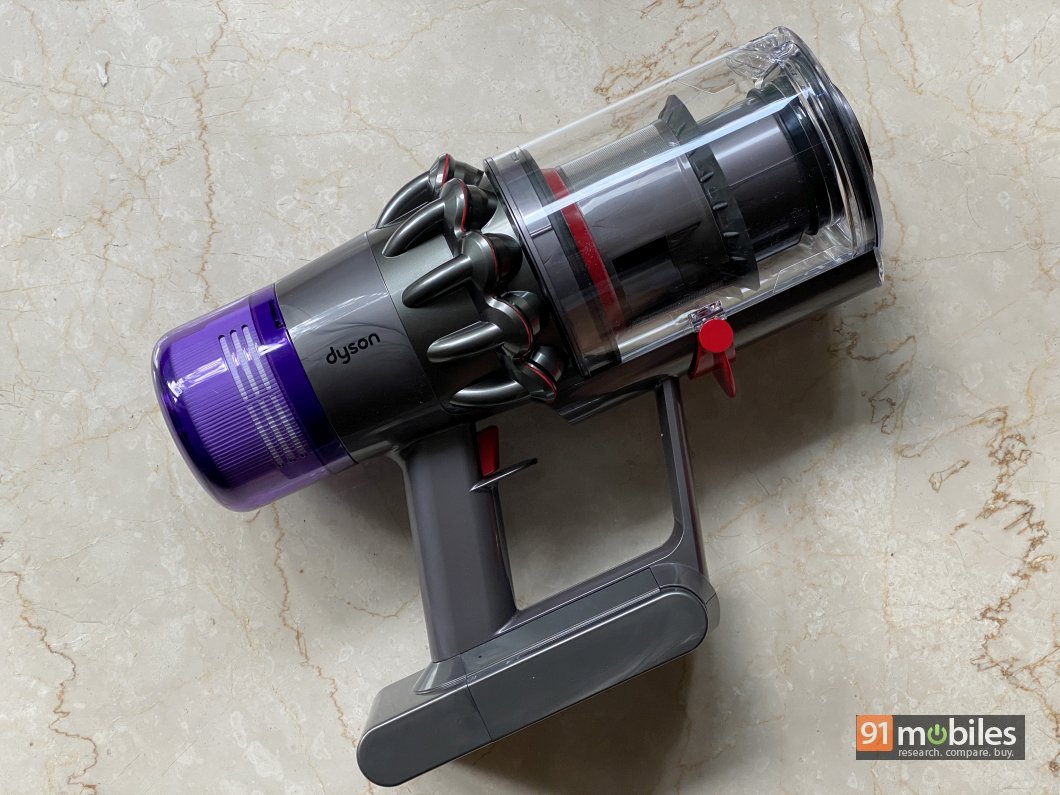 All the attachments are designed such that they can be hooked up directly to the main unit (useful when you are cleaning the interiors of your car, for example), or via the provided quick-release extension pipe (for cleaning floors etc). Also included in the box is a charging adapter, and a docking station that can be mounted on a wall. The dock facilitates grab-and-go usage, so you can quickly pull it out your Dyson when needed, and providing a charging station when not in use. I think of the docking station as sort of a holster for the weapon, but just in case you don't want to use it, the battery can also be charged by connecting the adapter to the main unit without the dock.
Before I get to the capabilities of attachments that comes with the vacuum, let me run you through some of the key features of the Dyson V11 Absolute Pro.
125,000 RPM motor

185 Air Watts of suction

Six-stage filtration for capturing dust, pollen and allergens

Three cleaning modes: eco, medium and boost

LCD screen that displays selected power mode, remaining run time and maintenance alerts in real time

Fade-free power: the seven-cell nickel-cobalt-aluminium battery promises a run time of up to 60 minutes of use on a single charge, and doesn't lose power even when battery levels are low
Let's move on to the attachments now.
High Torque Cleaner Head: The main weapon in your arsenal. This is a motorised tool designed to clean both hard floors and carpets, with carbon fibre filaments to capture dust on the former and stiff nylon bristles for the latter. It features a technology called Dynamic Load Sensor, which detects brush bar resistance 360 times a second and automatically adjusts the motor speed for carpets and floors. Thanks to this feature, this attachment offers the Auto cleaning mode.
Soft Roller Cleaner Head: cleans floors and picks up fine dust, with soft brushes that don't scratch the floor.
Mini motorised tool: a smaller version of the above, ideal for cleaning smaller areas like car seats and more. Best used attached directly to the main unit, without the extension pipe.
Crevice tool: designed for sucking up dust and debris from tight places, like the sides of car seats, railings of sliding doors and windows etc.
Combination tool: a compact, stiff nylon brush for cleaning stubborn dirt.
Mini soft dusting brush: has soft bristles to clean delicate objects like lamp shades, laptop keyboards, fragile art and decorative items etc.
Mattress tool: designed for cleaning mattresses, sofas, cushions and upholstery
Up-top adapter: an accessory that can be attached to the extension pipe, enabling you to clean high areas, like the tops of cupboards and shelves . Can be twisted into different angles
Extension hose: a flexible hose that can be stretched and extended to access hard to reach areas
To continue with my story…. the battle zone was ready, and armed to the teeth with the Dyson V11 Absolute Pro and the High Torque Cleaner Head attached via the extension hose, I went about fighting the enemy in my house. The High Torque Cleaner tool, as I found out, is extremely versatile for tackling all sorts of surfaces. While it cleans floors quite well, it's especially useful for cleaning mats and carpets. Thanks to the powerful suction, you don't need to clean the same area twice, and I was surprised seeing the amount of dust that got accumulated in the bin after just a few minutes of using the V11 Absolute Pro. It even picked up a lot of dust from the floor that looked visibly clean even before I sent the High Torque Head rolling on top of it. Clearly, one needs to be more careful about the dust that can't be seen. It keeps getting accumulated on furniture, mattresses, upholstery and the like over time. It's the enemy that hides in pain sight, and could very well be more dangerous than the enemy that can be seen… at least you know the latter is there and needs to be taken care of. Hidden dust could contain allergens, mites and other bad stuff that could prove to be seriously detrimental to health in the long run, and I think the Dyson V11 Absolute Pro does a great job of eliminating that.
Not just the Torque Cleaner head, every attachment that comes along with the V11 Absolute Pro is quite handy, with each serving a separate purpose. While I found the most use for the High Torque Cleaner Head, the Combination tool and the Mattress tool for regular cleaning, your choice of weapon could vary depending upon your specific requirements.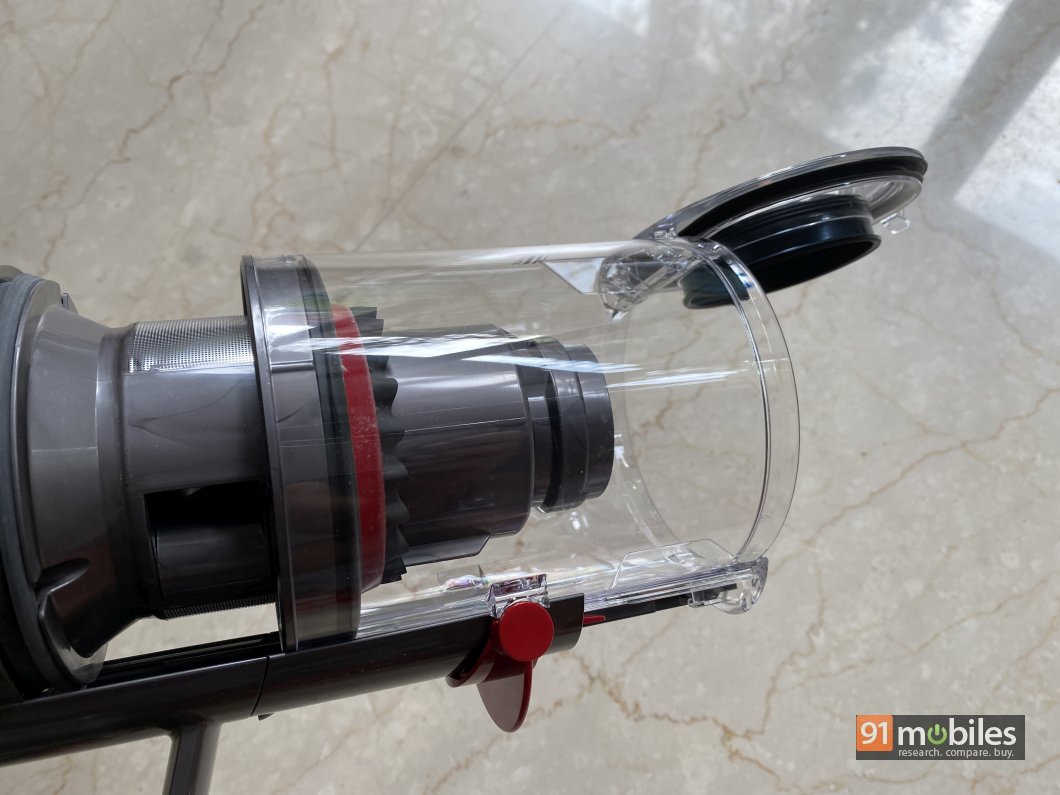 The main unit weighs around 3kg, so your arms and wrists do get a bit of a workout while cleaning. That said, the results can be rewarding, looking at the amount of dust and debris that gets collected in the bin. Speaking of, the clear bin is actually quite easy to empty, using a 'point and shoot' mechanism (again very apt for my weapon analogy) to push its contents out, without you having to get your hands dirty. The bin can even be detached for proper cleaning, and rinsed under water, though you'd need to make sure it's completely dry before using it again. Similarly, the other attachments, especially the ones you use the most, will require cleaning at regular intervals to make sure they keep operating at optimum levels. Cleaning the smaller attachments is straightforward, while the two special cleaner heads – the Torque head and the mini motorised tool, can be opened up using a coin. The roller heads can be pulled out and cleaned, and you can clear any blockages in a similar fashion. Again, you need to make sure that the attachments are completely dry before you use them. And as far as noise levels are concerned, I didn't find them to be high enough to be an annoyance.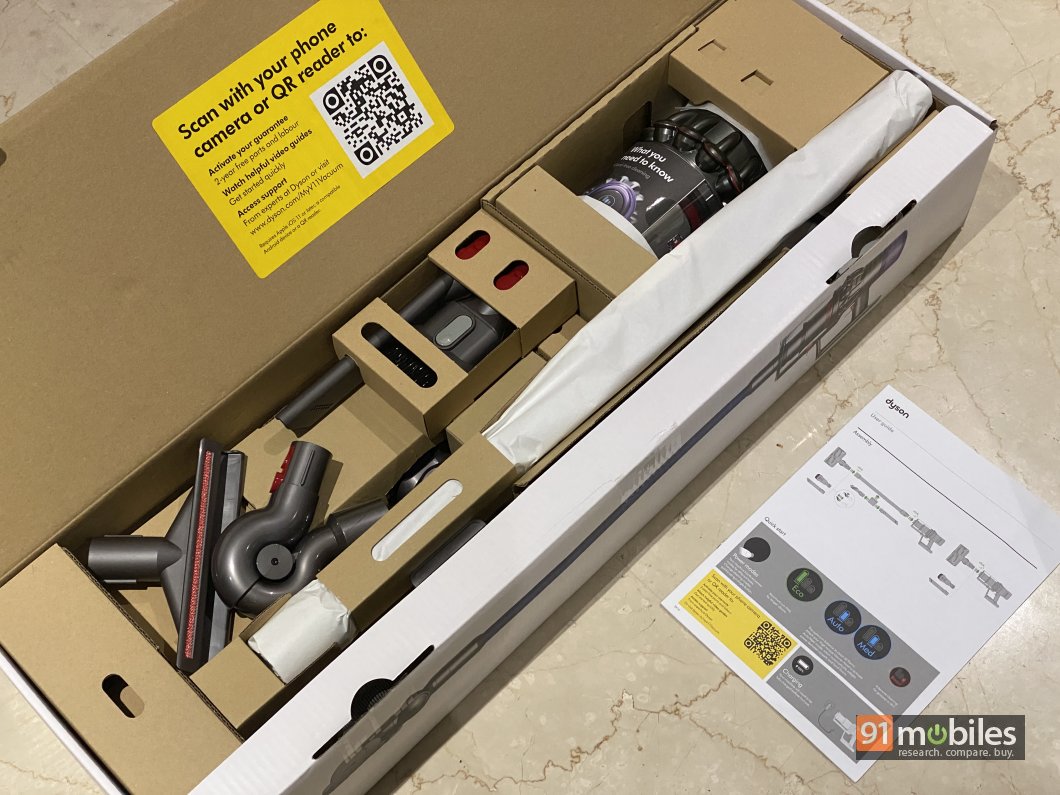 Let's talk a bit now about run times and battery performance. A fully-charged battery will last you about 35-40 minutes in medium mode and up to an hour in eco mode. The Boost mode drains the battery pretty quickly, and will last just about 15-20 minutes or so. It's meant for intensive cleaning, so use it sparingly. Charging the battery takes about 3 to 4 hours. The run times seem on the lower side and I wish they were longer. That said, if you clean your house regularly, you'll find that the battery life is enough to sweep the floor of the entire house. Your mileage could vary if you deep clean other stuff in the room, like curtains, sofas, mattresses, rugs etc. However, since those items don't usually require daily cleaning, you could set aside some time, maybe on weekends, to tackle each room one by one. In this case, you'd probably end up needing to charge the Dyson V11 Absolute Pro after cleaning each room.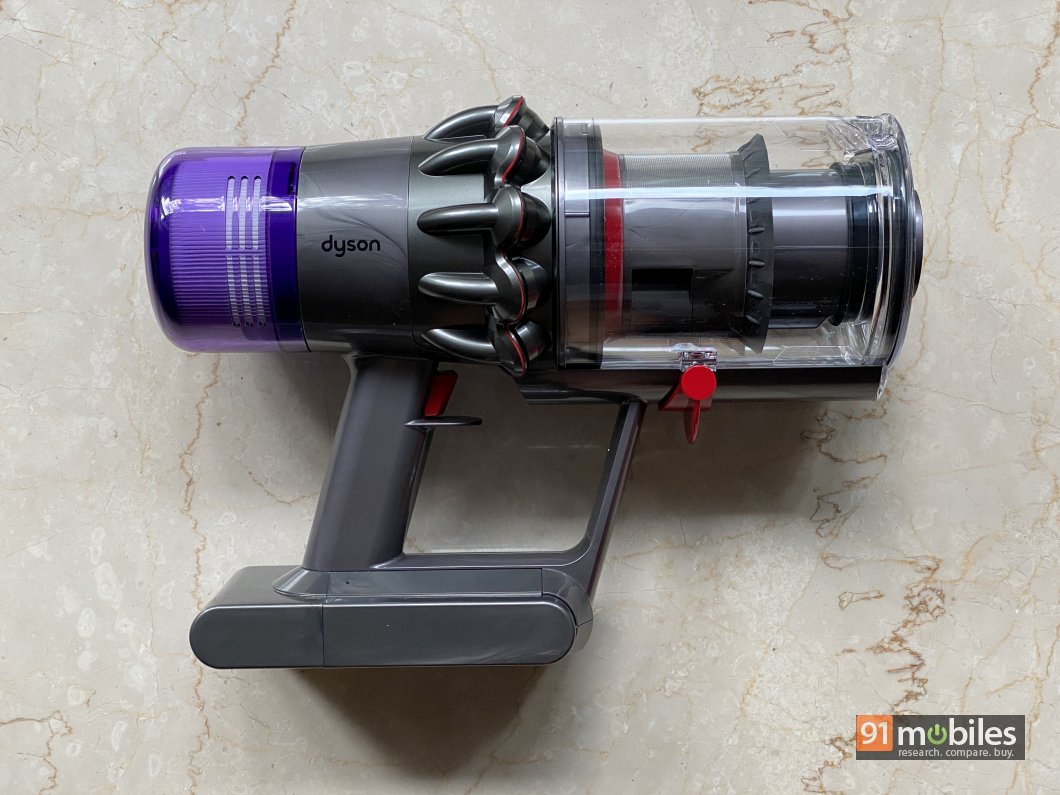 Thanks to the Dyson V11 Absolute Pro, I emerged victorious from the battle, leaving a squeaky clean battleground behind… ready for the next day's skirmish. The machine will set you back by Rs 52,900. It's a lot of money to spend on a vacuum cleaner, but not surprisingly so… given that it's a Dyson. In my experience, the upfront cost should get offset over time, just because the V11 Absolute Pro is so effective as a cleaning tool. I've also heard great things about Dyson's customer service, so you should be covered in case you need some assistance. All in all, I'm convinced the Dyson V11 Absolute Pro is a potent weapon for fighting the cleaning battle, and deserves a long, hard look.
Editor's rating: 4 / 5
Pros
Effective cleaning

Cord free

Assortment of useful attachments

Bin can be emptied easily
Cons
Battery run times could be better

Pricey