"Presenting the smartphone that does full justice to this tag"
Unless you've been living in a cave thus far, you'd know that the X-Men are a bunch of mutant superheroes that boast special powers. We've seen our share of smartphones that have used the 'X' label before, but the
Moto X
is really the one we feel has the powers that make it special, making it a good fit in our X-Men analogy.
Its sibling, the
Moto G
is an all-rounder of a device, and holds the potential to change the game for its rivals due to the powerful specs it offers at an affordable price. And this is exactly the reason why we've conferred the title of the best value-for-money device in its class upon it. We've always maintained that India is more of a VFM market than a country of price-conscious buyers, but the thing is… even value-for-money could hold different meanings for different individuals. The traditional definition of VFM for most may involve the promise of high-end specs at mid-end prices, but for others, it could be more about the value a device may be able to deliver in terms of features or capabilities that others can't, regardless of price or other specs. For someone who can't live without an iPhone for example… that device could be the best value for money, notwithstanding the fact that it can't match up to specs of other flagships or is pricey in comparison to most others. The iconic logo it sports, the fluidity and ease of use offered by iOS, the vast ecosystem of apps and games the platform enjoys, not to mention the flaunt-worthiness of the device and its perception as a status symbol could be just the value for money quite a few users could be looking for. And we'd like to think that the Moto X is similar, though its core ideology is a wee bit different. Pitted spec-for-spec against rivals priced similarly, the Moto X may just want to go and commit suicide, if it were really ashamed of what it offers that is. Instead, it stands tall and challenges Goliaths because it has something the others don't. From its
launch
,
unboxing and first impressions
, tackling
common queries
, taking you through a
demo of its amazing touchless control
feature and a
quick review in pictures
, there's very little we haven't covered about the Moto X. This however, is the whole deal.
Bomb-proof build and great handling
It looks like Motorola, just like Apple, didn't get the memo. Phablets may be a huge deal, both literally as well as figuratively, but both these brands seem obsessed with one-handed usage. The Moto G has a 4.5-inch screen, and it's sibling, the Moto X sports a marginally larger 4.7-inch display. Build quality is top-notch too, but the curvy rear adds a lot to the ergonomics.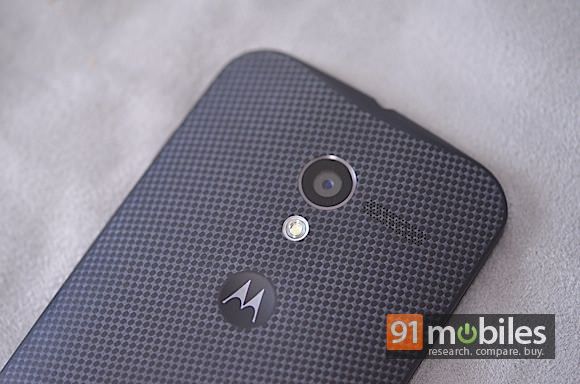 A chequered pattern on the rear (on our black review unit), along with a rubbery finish aids in grip and helps avoid smudges, though you can't really avoid them completely if you suffer from sweaty palms.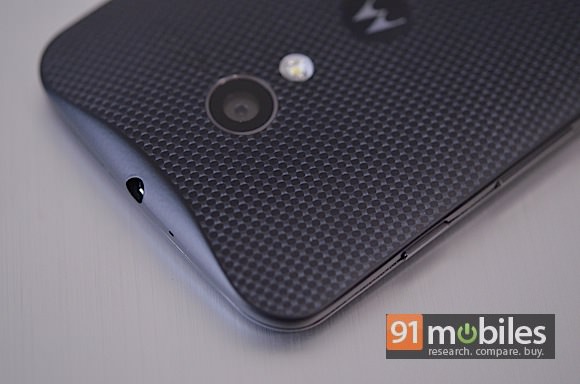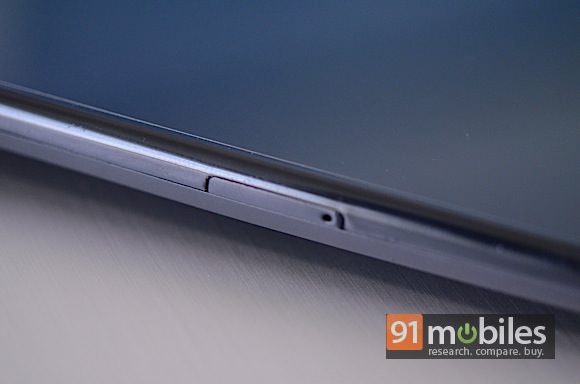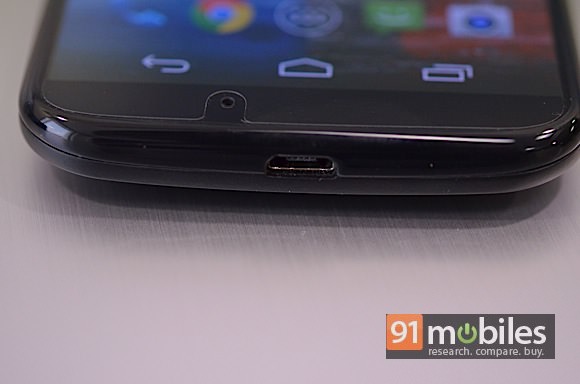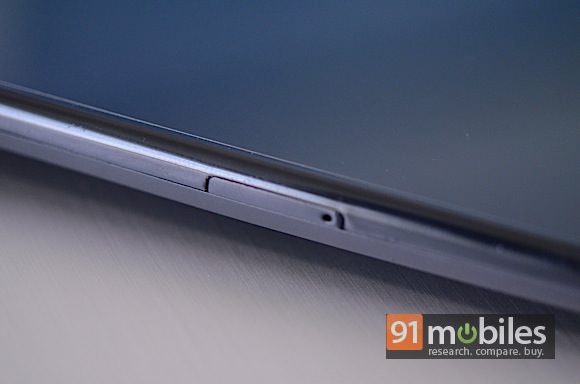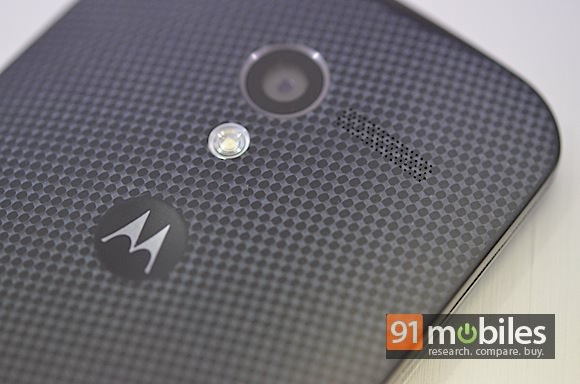 Unlike the Moto G, this baby doesn't feature a removable back panel, and offers a sealed unibody design instead. Placement of ports and controls is exactly the same though, except for the nano-SIM tray placed on the left. Black may not be the ideal choice if you're looking for flamboyance, but the device is also available in white, red, royal blue, turquoise, and if you're willing to shell our Rs 2,000 extra, walnut or teak too.
Scrumptious visuals are a treat for the eyes
The Moto G offers a 4.5-inch 720p screen, and the one on the Moto X is just slightly larger at 4.7-inches, and sticks to the same resolution. However, it uses an AMOLED display, as against the LCD variety used by its more affordable sibling. We loved the visuals on the earlier device, and the X is a shade better.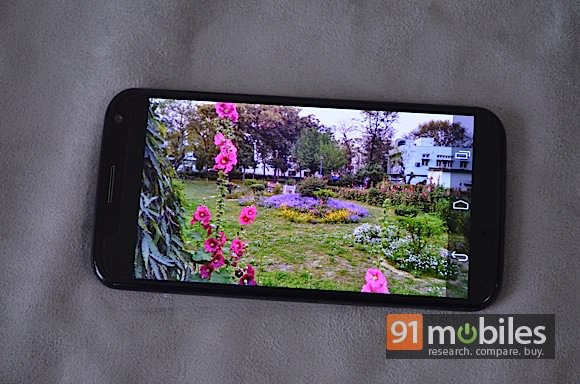 The text renders beautifully, the icons look as if they float, and pictures and videos pop. The colours are crisp and vivid, while brightness and contrast levels are vey good. Suffice to say that you won't find the display lacking in terms of quality.
Clicks yummy shots
10-megapixels is a strange resolution, since most smartphone tote snappers with eight or 13, but that's exactly what the Moto X's camera offers. That said, we all know that resolution isn't the true indicator of a camera's worthiness – it's the quality of images that matters.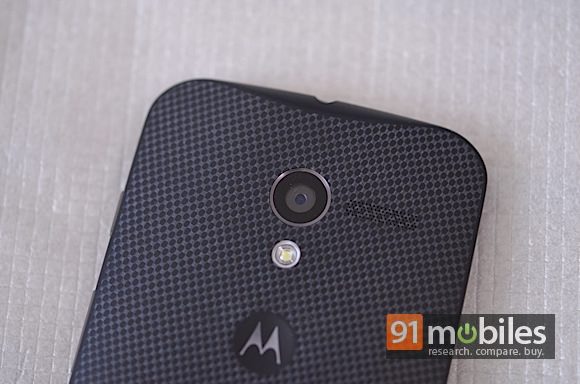 First up, the camera on the Moto X boasts a quick access feature called
Quick Capture
that allows you to launch the camera directly from standby using two quick twists of your wrist. In our experience, it worked pretty well. Also, the action it requires isn't likely to be triggered by accident whist the phone is ensconced in your pocket or handbag.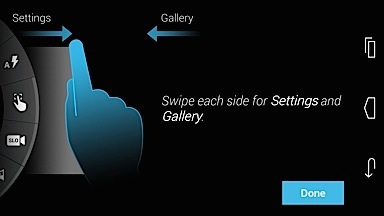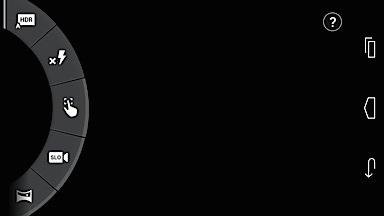 The camera app is pretty basic, and similar in UI to the one we saw on the Moto G. There's no dedicated capture key, and all you need to do is tap the screen to shoot, or tap and hold to shoot in burst mode. Swiping towards the left gives you access to the gallery, while swiping towards the right pops up a half wheel on the side with other modes and options. There isn't a lot of creative control here, but you do get slow-mo video recording, Auto HDR and panorama. When it comes to the all-important image quality, the Moto X doesn't disappoint. Images taken in daylight are extremely good in terms of clarity and colour reproduction, and that vivid AMOLED screen makes them look even better when viewed on the device itself. Low-light shots are understandably a tad grainy, but are still quite usable at least as far as social shenanigans are concerned. Full HD videos follow a similar path, but are quite smooth. It may not be the absolute best we've seen, but the Moto X's camera still manages to impress with what it can do. Check out a few samples from your own eyes, and you'll see what we mean. Clicking on a thumbnail below will open a new tab with the full resolution image.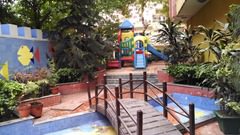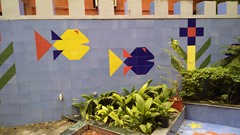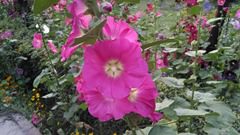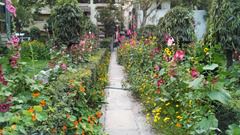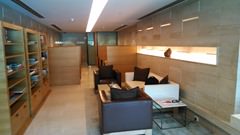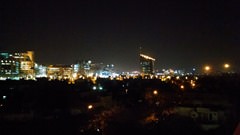 All the sweetness of KitKat, plus useful Moto goodies
We had to update our Moto G review unit to KitKat as soon as we got it, but the X ships with the latest build of Android out of the box. It follows in its sibling's footsteps by sticking to stock Android, with nary a customisation or tweak.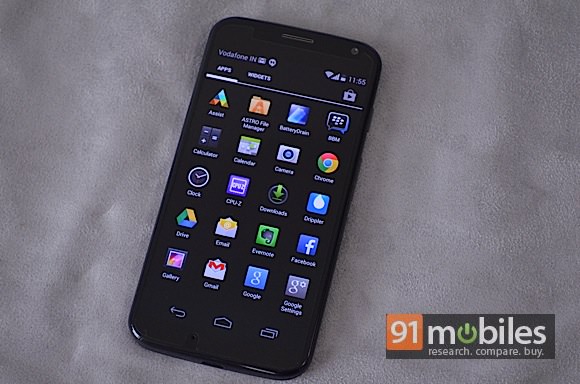 Custom skins such as Samsung's TouchWiz and HTC's Sense offer quite a few features along with visual tweaks, but it's not too difficult to see why many prefer their Android without any extra flavouring – there's a general perception of it being zippier. Motorola also deserves credit for making sure its offerings don't lag behind when it comes to providing the very latest Google's mobile OS has to offer.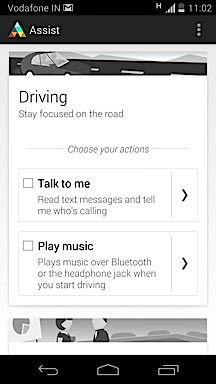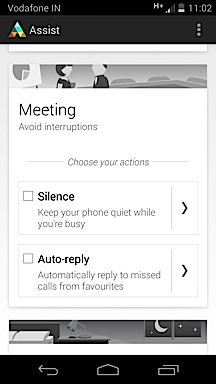 Motorola also isn't the one to cram bloatware, and you won't find the X loaded with tons of apps you may never use. Instead, it includes a couple of extremely useful apps.
Motorola Migrate
lets you transfer your personal data from another device when you switch over to the Moto X, while
Assist
is an automation app we've seen before too. It's received an update since the time we experienced it last on the Moto G, and now is even more feature rich. You can set it to detect when you're driving, and it will read out text messages and let you know who's calling, or start playing music automatically. It also switch your phone to silent when you're in a meeting (based on entries in your calendar), and also silence notifications when you're in Slumberland, depending upon timings you set.
Starts mutating, and shows its real colours
What it doesn't offer in terms of specs, the Moto X more than makes up in terms of usability and functionality. We've covered these features before when we talked about the device's key highlights, but putting it briefly, these make the X a true smartphone.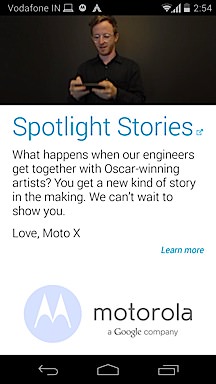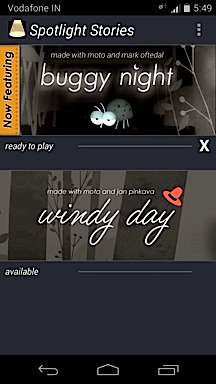 Let's start with the fun aspect first. After you start using the Moto X, you may be surprised by an animated red hat that pops up and dances around on the home screen. Tap on the hat and Motorola's
Spotlight Player
launches, taking you through an interactive, animated story.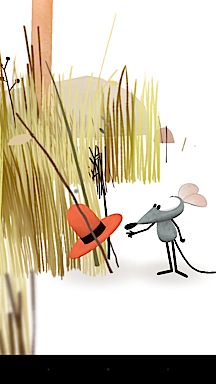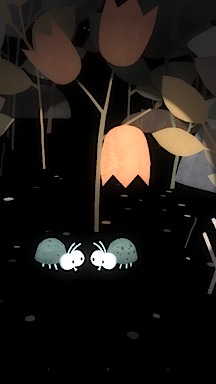 The first story available is called
Windy Day
, and has been created by Jan Pinkava, the co-director of Pixar's
Ratatouille
. Motorola has recently updated the app with a new story labeled
Buggy Night
. Both of these are short, fun animations, that can be controlled as you turn around physically, changing the direction the phone is pointing in. This isn't an extremely productive feature of course, but just adds to the fun.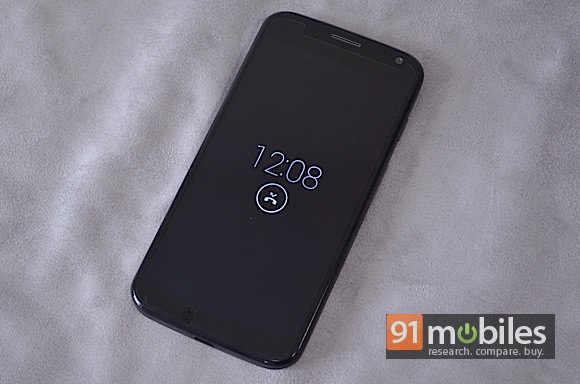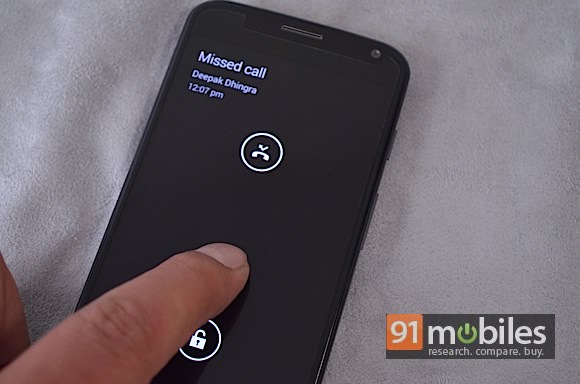 Motorola Connect
is another useful feature, throwing up texts and calls right on your desktop using a Chrome browser extension. However,
Active Display
and
Touchless Control
are the two features that really take things to the next level in terms of usability.
Active Display
makes use of the Moto X's AMOLED screen to show notification icons when the device is on standby. A tad similar to the
Glance
feature available on Nokia Lumia devices, these notifications fade in and out on the screen, coming on when you remove the device from your pocket or handbag, or lift it up from a table. You can touch an icon on the screen to view more details about a particular notification, and can also jump to the event directly by swiping your finger upwards.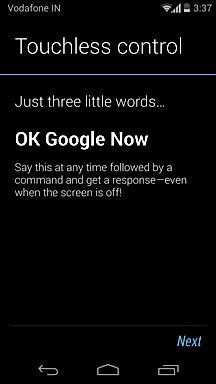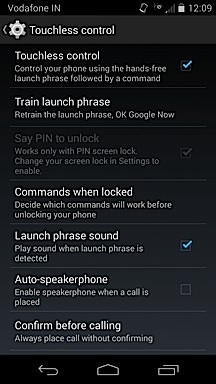 Touchless Control
is the feature that defines the Moto X for us. Enabled by an always-on co-processor that's part of the X8 silicon Motorola's employed inside the device, this feature lets you control the smartphone using nothing but speech. To set it up for the first time, you need to jump into settings and record the activation hotword '
okay Google Now
' thrice in your own voice. After you've done that and enabled
touchless control
, the smartphone is ready to do your bidding at the drop of a hat, without the need to even touch it. Saying '
okay Google Now
' wakes up the device from standby and activates voice search, after which you can make it do anything that's possible using Google's voice search. You can ask 'what's new' to make the device read out the current time and missed events, you can call saved contacts (with an option to set speakerphone on automatically), check weather, set alarms and reminders, send text and email messages, launch navigation and much more. In our testing, this worked brilliantly most of the time, only failing a few times when it had trouble recognising some spoken words or in noisy surroundings. Also,
touchless control
only works with the voice of the user it was set up with, so others can't trigger it by uttering the same phrase. However, during our 10-day tryst with the Moto X, we were able to find at least one instance where another user was able to trigger
touchless control
.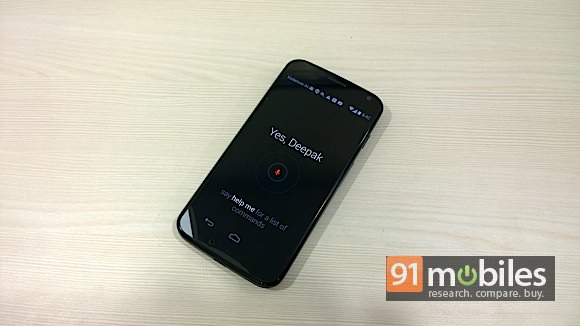 Minor gripes aside, we feel that this one feature alone makes the Moto X a worthy buy, because the possibilities and the use-case scenarios of this are endless. You could be spending a leisurely Sunday morning in bed, but you can still check if you've missed something important without getting up by querying your Moto X lying on the bedside table. Similarly, you could ask it to guide you and launch navigation using
Google Maps
when you're driving and aren't sure of the way to your destination. Or text your better half saying you'll be late using voice commands. This is not only immensely convenient, it's much safer than fiddling with your phone while driving. Imagine tucking into a burger or butter chicken when you suddenly remember it's the last day to pay your mobile bill. You could immediately set the device to remind you to make the payment an hour later – no need to touch the device with hands soiled with mayonnaise or curry.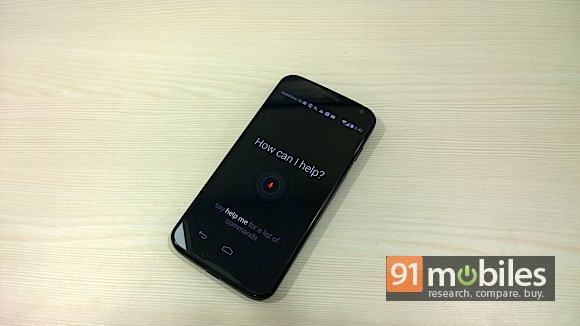 Now you know why we think the Moto X is special – its
touchless control
feature and the fact that it works so well can change the way you use your phone, and enhances usability by leaps and bounds. Unlike gimmicky features we've seen on other devices, a feature like this isn't likely to lose its sheen over time, since it can blend into your daily smartphone usage seamlessly. Sure, it involves making a small change in your usage patterns (how many of us are used to controlling our phones using speech?), but once you get used it, you'll wonder how you ever survived without it. Here's a video of the touchless control capabilities of the Moto X in action.
May not win the race, but stands defiantly on the podium
Sure, 2GB of RAM is healthy, but a 1.7GHz dual-core processor at this cost? There's 16GB of non-expandable storage on offer, almost 11GB out of which is actually available to use. Not too exciting, right? Connectivity options are fairly loaded, with dual-band Wi-Fi ac, Bluetooth 4.0, NFC and USB OTG making up slightly for that fixed storage, but again, nothing that really catches the eye.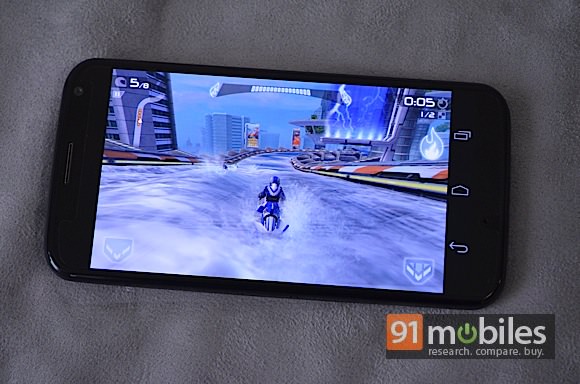 However, the proof of the pudding is in the eating, as they say. And the Moto X doesn't disappoint. Sure, it probably won't match up the quad-cores and the octa-cores available out there (some at a similar and even lower price points, we may add), especially if you were to go by the benchmarks. Real-world usage is the real indicator though, and suffice to say the Moto X passes with flying colours. Routine tasks run well, multitasking is a breeze, and most intensive games we threw at it played smoothly, with barely a slowdown. Lag does creep in on occasion, but those instances are few and far between – hardly a deal breaker we'd say.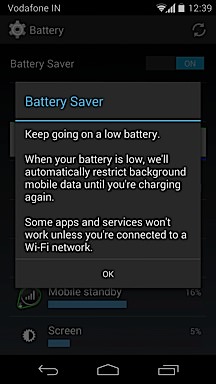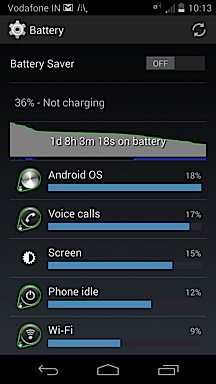 When it comes to the battery life, the sealed 2,200mAh pack does a fairly good job. We're sure that
Active Display
notifications and the always-on voice recognition do sip some power, but certainly not enough to make it a problem. Our video loop test ran for 10 hours, and in day-to-day usage, the Moto X lasted us a full working day without facing any separation anxiety for the power socket. You mileage could vary of course, depending upon how heavy your usage is, but we don't have any red flags to raise.
Verdict
When we
reviewed the Moto G
, we tagged it a smartphone that won't change your life, but could change the game. Little did we know then that we'd soon be encountering another device that'd turn out to be exactly the opposite, and that too, the G's own sibling. With its specs, the Moto X may not be able to change the game, at least in terms of sales numbers. Let's face it – it'd be tough to justify its dual-core processor and 720p screen, especially when devices such as the
Gionee Elife E7
and the
Micromax Canvas Knight
can offer more compelling specs at similar price points. However, with the unique features it boasts, especially
touchless control
, the Moto X packs in enough to change your life. And that, in a way, is a game-changer, isn't it?
If you were to take a step back and put specs aside while considering the Moto X, it hardly disappoints. It may not be the best at that price point, but when it comes to critical parameters like build, display quality, camera performance, battery life and daily usage – it's pretty much a jack of all trades. It may not be for everyone – we're sure there'd be many who'll be swayed by the lure of more processor cores, more camera megapixels and higher screen resolutions, but that said, we'd admire those who can sidestep that attraction and opt for the Moto X instead. Sometimes, less is more, and the Moto X is without a doubt, a smart buy.
Price:
Rs 23,999 onwards
Editor's rating:
9 / 10
Pros
Solid build
Scrumptious screen
Capable camera
Smooth performance
Active Display and Touchless Control take usage to the next level
Cons
Non-expandable storage
Can't match up to specs offered by similarly-priced rivals
Competitors for Motorola Moto X
| | | |
| --- | --- | --- |
| Motorola Moto X | vs | Motorola Moto G |
| | | |
| --- | --- | --- |
| Motorola Moto X | vs | Google Mobile Nexus 5 |