Even though Nokia has been toppled by Samsung from its leadership position, Nokia is still expanding its range of devices. At the upper end of the spectrum, it has Lumia range, which has quietly emerged as capable third front with Windows Phone OS against the duopoly of Android and iOS. But, Nokia's strength always lay in its basic phones available at an attractive price and easy to use features for masses. And, Nokia is still betting on them for its growth with Asha series. Its Asha series brings high-end features like touch screens and QWERTY keypads to entry-level phones. Latest in this range is Asha 501, which was
unveiled amidst much fanfare in May
. The device's popularity can be gauged from the simple factor that it rose to our
Top 20 Mobile Phones in July 2013
list within first month of its launch itself. But, the main question still looms for Asha 501 as a feature phone has to compete against lower end Android smartphones at similar price point. Let's find out in the in-depth review-
Positioning
The phone is available in two variants of single SIM and dual SIM with retail price of Rs. 5199, and can be bought at around Rs. 4700. At the price-point, it will be up against several low-end Android devices both from global manufacturers as well as Indian manufacturers. Some of the notable smartphones being
Samsung Galaxy Star
,
Karbonn A9 Plus
, etc. (Find more
Top Android smartphones under Rs. 5000
) What's more interesting is that almost all these devices offer more or less same specifications.
Inside The Box
The phones comes in a very sleek and compact package and comprises of following items-
Nokia Asha 501
BL-4C Battery
Charger
Earphones
User Manual and Warranty Card
Here' the unboxing video of Asha 501-
Specifications- A Quick Glance
| | |
| --- | --- |
| Screen Size | 3.0 inches |
| Processor | 1 GHz single-core processor |
| RAM | 64 MB |
| Internal Memory | 128 MB |
| External Memory | support for up to 32 GB (4 GB included with the device) |
| Camera | 3.15 MP |
| Operating System | Nokia Asha 1.0 (based on Symbian S40) |
| Network Support | Dual-SIM, 2G |
| Connectivity | Wi-Fi, Bluetooth 3.0 with Bluetooth Slam feature |
| Battery | 1200 mAh |
Design and Build Quality
While the Asha 501 may not win any design awards, it's certainly brings a different design to the market filled with similar looking devices (read boring). Available in vibrant colors of Red, Yellow, and 4 more colors, the phone really looks great. However, my device is in Black color only. The device feels great in hands as well and comes across as a solid handset reminiscing the legacy of Nokia's strong and sturdy phones. It has very handy dimensions of 99.2 x 58 mm, although it's not very sleek having the thickness of 12.1 mm. It's also very light-weight at just 98.2 g.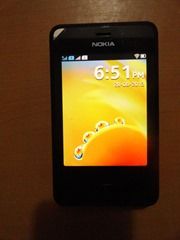 Coming to the front of the device, it's prominently covered by the touchscreen, with an earpiece above it and a single button below.
Controls and Ports
The phone's right side has all the buttons viz. volume up and down as well as power button. The top houses standard headphone jack, charging port and a microUSB port for data transfer. The left and bottom sides of the device are completely free of any elements.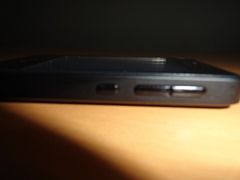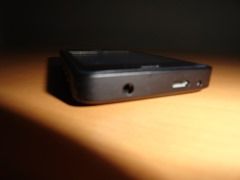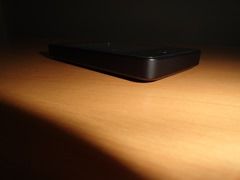 The back of the device has features a camera and Nokia logo. Phone has a very nice and different way of removing the back cover as user has to push the button and remove the whole back. It might be difficult and confusing for some at first, but it does adds to the robustness of the device.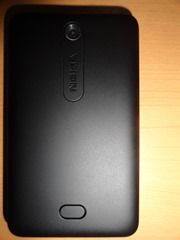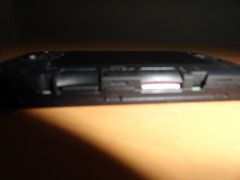 Display
The display of the phone is 3.0 inches with the QVGA resolution of 240 x 320 pixels. It results in pixel density of 133 ppi and color depth of 256 k colors. The display is brilliant and color reproduction is pretty good. The phone doesn't have automatic brightness option, but it gives users the ability to adjust the brightness. The display offers nice viewing angles as well. Even under direct sunlight, one can read the text and view the images easily.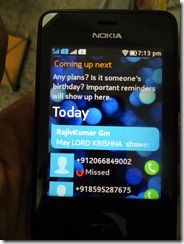 Hardware and Performance
The phone has a 1 GHz processor along with 64 MB RAM. It may sound low configuration, but the phone is blazingly fast, there is no lag absolutely whatsoever in the device. In terms of memory, it has 128 MB in-built storage which can be used for storing apps and few files. The storage can be further expanded through the microSD card and the phone already bundles a 4 GB microSD card. Another important thing to note that the device never hangs, unlike Android smartphones which are prone to frequent hanging issues when any incompatible app is installed or too many apps are running on them.
Software
Asha 501 runs on Nokia's proprietary Asha platform which traces its roots back to the Symbian S40 OS. But, this OS is specifically designed for the modern age with touch centric and intuitive interface. The phone works on simple one interaction only- Swipe. Swipe left and right to see the applications menu or the Fastlane, where Swiping up will take you to the above, while swiping down below. Swiping down will also bring notification pane for toggling dual SIM (to set calling from one of them by default), Wi-Fi, Bluetooth, Data, etc. as well as checking unread messages, missed calls. In any app, Swiping up brings additional options like sharing, deleting, and more relevant options. Phone supports two-finger multi-touch which is useful for zooming the images. One thing, I disliked was the inability to pan and zoom the websites in the browser. Fastlane is a nifty feature which brings all the information at one place. Users will find their calendar appointments at the top followed by activities they've performed on the phone neatly categorized as Today and Yesterday. It also doubles up as a notification center, where users gets quick glance to all the updates (Facebook, Twitter, etc.) or see if they might've missed a message or a call. The Xpress browser bundled with the phone is also optimized for low data usage, i.e., it can compress data up to 90%. The front page shows a speed dial interface similar to Opera browser with several categories, clicking on any of them will show the websites for that category. Another useful feature of the browser is Xpress Now, which brings all the latest news and updates at one place. User can read the news they like and over the time, it will understand user's reading habits and bring that kind of news only. However, it would've been better if users were able to add their own sites. I really loved the precision of the touchscreen and the optimized software with it. The keyboard might seem small, but it's really efficient and allows for accurate and fast typing.
Applications
This is perhaps the make or break factor for this device. Of course if users will be able to find the apps in the Asha 501, which they are accustomed to see and use in Android, then they'll surely go for it. Sadly, that is not the case, it doesn't enjoy the huge app library of Android, but still offers most of the useful apps. For starters, Social networking apps like Facebook, Twitter are already installed and LinkedIn can be installed from App Store. There are several preinstalled games as well, though many of them are demo version only. For messaging, it doesn't have WhatsApp, but both Nokia and WhatsApp have confirmed that it will be coming soon. Till then, users can use its alternatives like WeChat and Line, which offers same or even better functionality.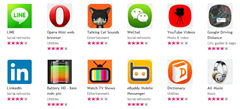 The App Store has a good amount of apps ranging from basic apps like dictionary to popular apps like Opera Mini browser, Truecaller, HERE Maps, etc.
Connectivity
Our device was a dual SIM variant and both of them are active at the same time. It also has a microUSB port, Wi-Fi and Bluetooth 4.0. Though, it doesn't comes with microUSB cable, it works flawlessly with any cable and can be used for data transfer or as a modem. Wi-Fi worked well for browsing websites, using apps such as LinkedIn, Twitter, etc. Nokia has implemented a very useful feature with Bluetooth called as Bluetooth Slam, essentially it's a different implementation of Bluetooth technology only. Whenever, users want to share any file, contact, etc. from Asha 501, they simply need to select Slam to Share option and bring the other device (where the content is to be sent) in its vicinity or even tap the devices together to enable sharing. This is very nifty feature and fun to use as it's very visual. The quality of calls was top notch as one would expect from Nokia devices. We could easily hear the other person's voice and vice-versa.
Camera
Nokia has packed Asha 501 with a 3.2 MP camera at its back. The device doesn't offer any additional capabilities like flash, autofocus, etc., but does offer basic software features like zoom, white balance, effects, etc. It offers average quality when it comes to images, which are good enough for casual needs. In daylight conditions, the images are just fine, but it turns shoddy in poor lightning.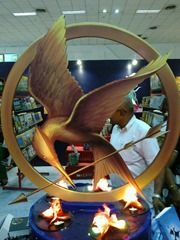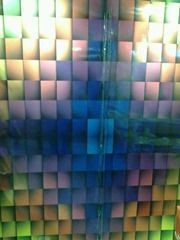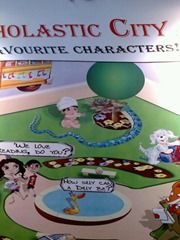 The camera can also record videos at QVGA resolution at 15 fps.
Multimedia
The phone is capable of playing most of music formats and mp4 format for video. The default music player and video player present in the device offer most of the features. It can play mp3 formats for music and mp4 format for video respectively. Although, the videos can only be watched in 320 x 240 resolution, which means you've to convert the video before transferring them to the device. The speaker of the phone are hidden nicely beneath the battery cover and are loud enough for most of the occasions. The earphones also have appreciable quality, however since they are not in ear earphones, using them for long duration becomes very uncomfortable.
Battery Life
To say that I'm impressed by Asha 501's battery life would be an understatement. Unlike today's smartphones which hardly last a single day of usage, the phone lasted 3 days for me with the basic usage of calling, messaging, internet surfing and listening to music. Even in extreme usage, the phone will certainly be able to provide a battery life of 2 days or more.
Verdict
Before giving the verdict, I must retract my statement of comparing the Nokia Asha 501 with Android smartphones available at the same price range. The reason is that the phone is not for those who are looking for a smartphone, but it's for those who want to upgrade from a basic phone with useful features and yet is looking for easy to use interface. It's also for those who are looking for something different and reliable than Android smartphones. Also the device makes sure that you don't miss out the features of smartphone as it offers those capabilities as well as popular apps.
The Good:
Solid Build Quality, Vibrant Design, Smooth Performance, Impressive Battery Life
The Bad:
No 3G, No GPS, Lackluster Camera