"The ThinBook is among the most affordable laptops featuring full-fledged Windows 10"
Unlike smartphones which are available across price segments, the laptop category is present in fewer price bands with an even lower number of choices in comparison. But there are a few Indian brands like iBall and Micromax who want to change this equation, as they continue to launch affordable laptops. The fact that the software giant Microsoft is licensing Windows for free for smaller screen sizes is also helping such brands. Amidst these companies is a new name – RDP, a Hyderabad-based manufacturer which recently released its first laptop in the Indian market dubbed as ThinBook.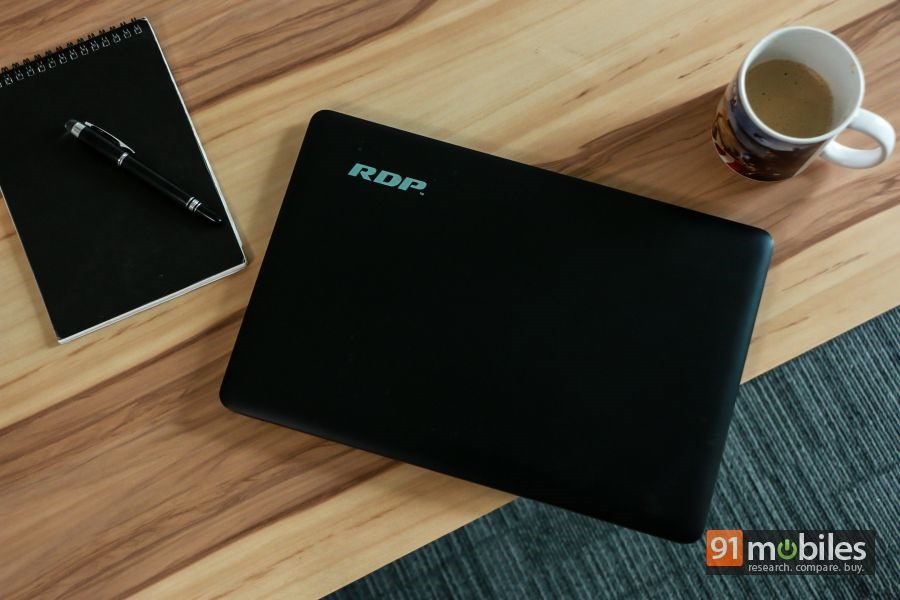 With prices starting at Rs 9,999, the laptop seems too good to be true, especially if you take a look at its design or the spec sheet. But the RDP ThinBook certainly lives up to it, read on to find out why we think so.
Specs at a glance
Measures 351 x 233 x 20mm
Weighs 1.5kg
14.1-inch display, 1,366 x 768 pixels resolution
1.84GHz Intel Atom processor
Intel HD graphics
2GB RAM
32GB flash memory
VGA camera
2 x USB ports, and a microSD card slot
Wi-Fi and Bluetooth 4.0
DOS / Windows 10 Home / Windows 10 Professional
10,000mAh Li-ion battery
Design: defies its budget roots
If you look at the RDP ThinBook from a small distance, then it might come across as a premium offering. That's because it has an extremely thin ultrabook-like profile, justifying its name. In fact, even up close, the laptop looks well-built, and totally defies its pricing.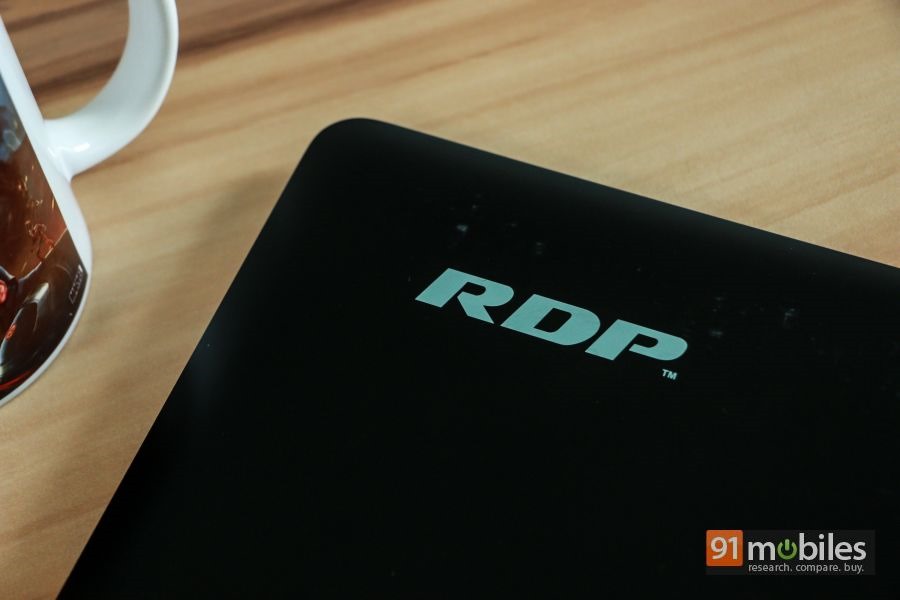 With its all-black exterior, the RDP ThinBook means business. The fascia features a smooth finish, and remains minimal with only the company's branding towards the side. The baseof the laptop also remains simple with rubber feet and screws for opening the panel.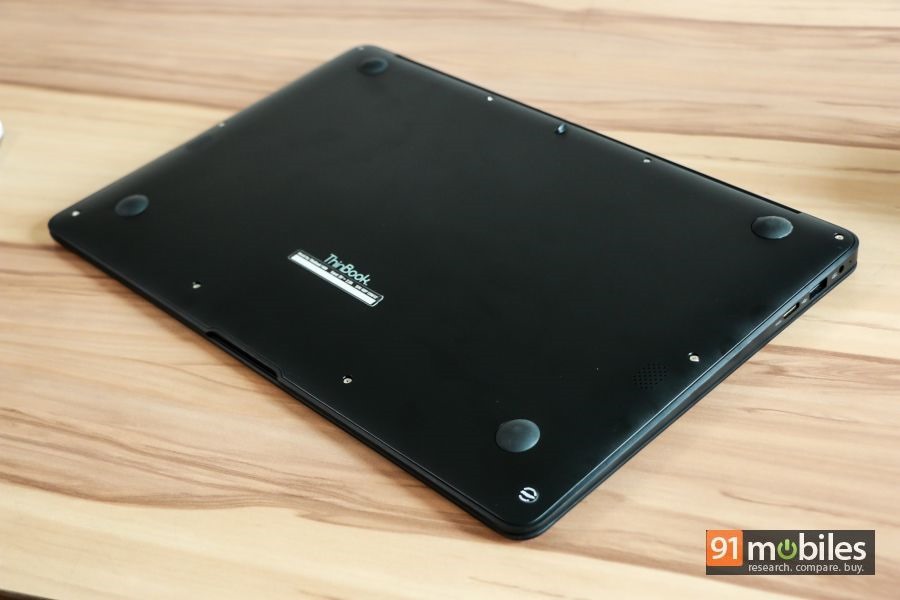 However, the pull factor of the RDP ThinkBook remains its sleek profile. It's just 20mm thich, and tips the scales at 1.4kg… putting it in the premium territory of ultrabooks.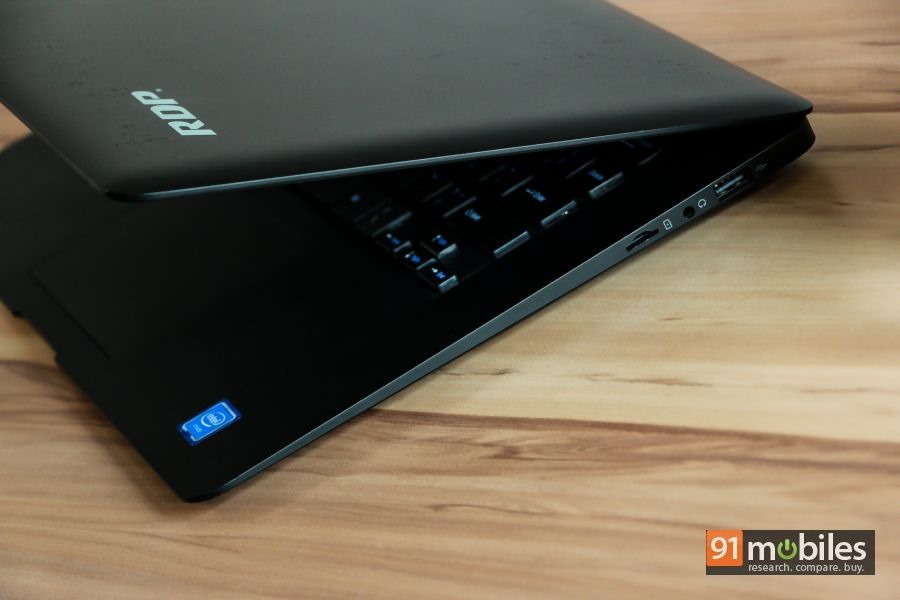 Once you open the lid– which can be done comfortably with a single hand – the display gets your attention instantly. In comparison to the competition, which offers screen sizes in the range of 11-12 inches, it sports a display panel measuring 14.1-inches. Sadly though, there are wide bezels surrounding it, and only a webcam is available at the top.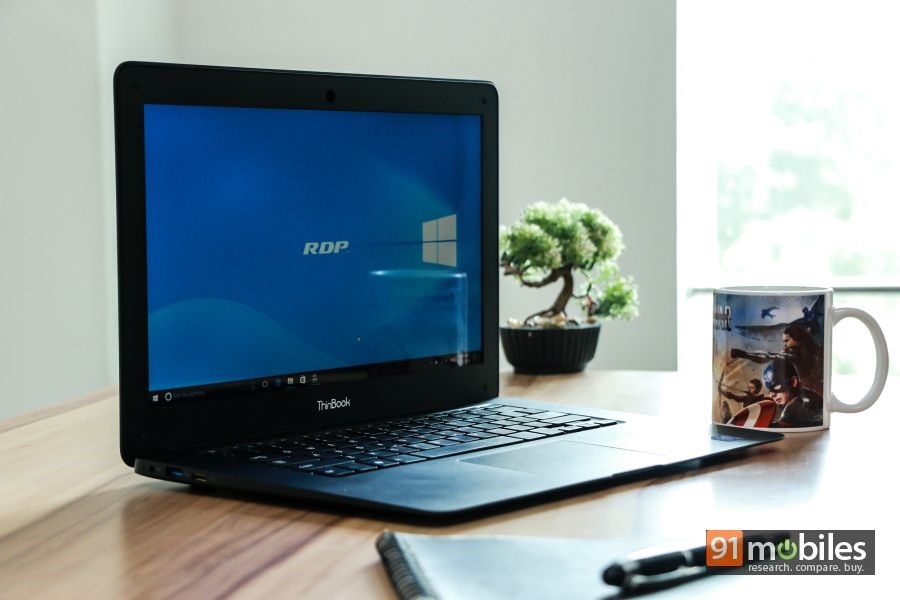 The RDP ThinBook's hinge mechanism is also worth highlighting as unlike other laptops, it's quite flexible and seems durable enough too. You can open the screen all the way to lay it flat on a surface. That said, the hinge is quite wobbly, and doesn't remain steady when used in a moving vehicle, for instance.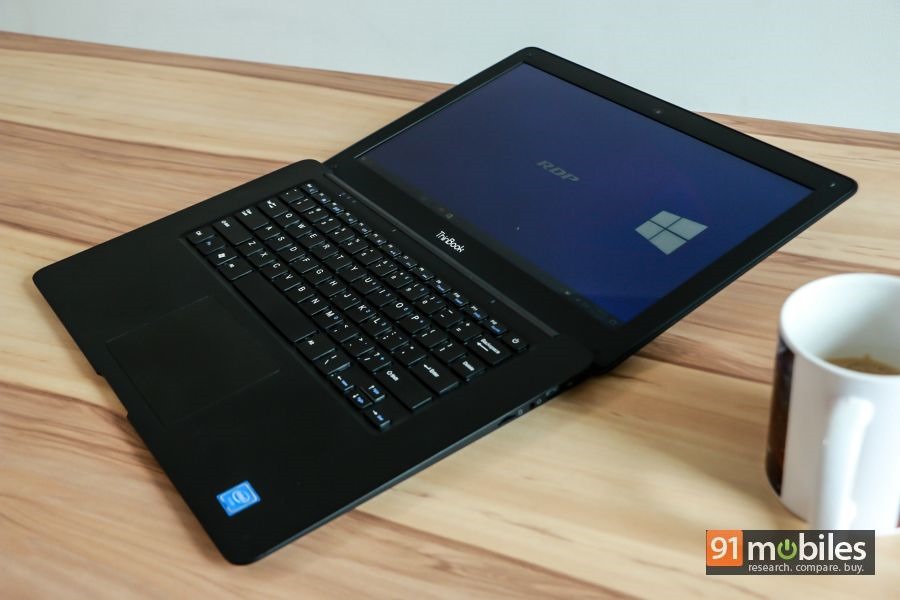 Thanks to the larger size, the ThinkBook's keyboard doesn't seem cramped. In fact, it's a full-sized island-style keyboard that can be seen in most laptops. The keys are well spaced, and offer good tactile feedback when pressed. The power button of the laptop is also available as a key, and most other functions can be enabled by pressing them in combination with the Fn key. While we didn't find any issues while typing on the RDP ThinBook (this review has been typed on it), the spacebar is quite iffy, and more often than not, doesn't register a key press. Having said that, the travel of the keys can't be compared with normal laptops, and you might require getting used to its keys for typing.
Using the touchpad for normal operations is good. Along with offering the ability of left and right clicks, it also supports some gestures such as scrolling webpages by moving two fingers up or down. Sadly, it's overly-sensitive, which means that the cursor tends to get a mind of its own even with a slight touch, which is frustrating, especially while typing (Tip: you can disable the touchpad with Fn + F2 if you need to type a lot).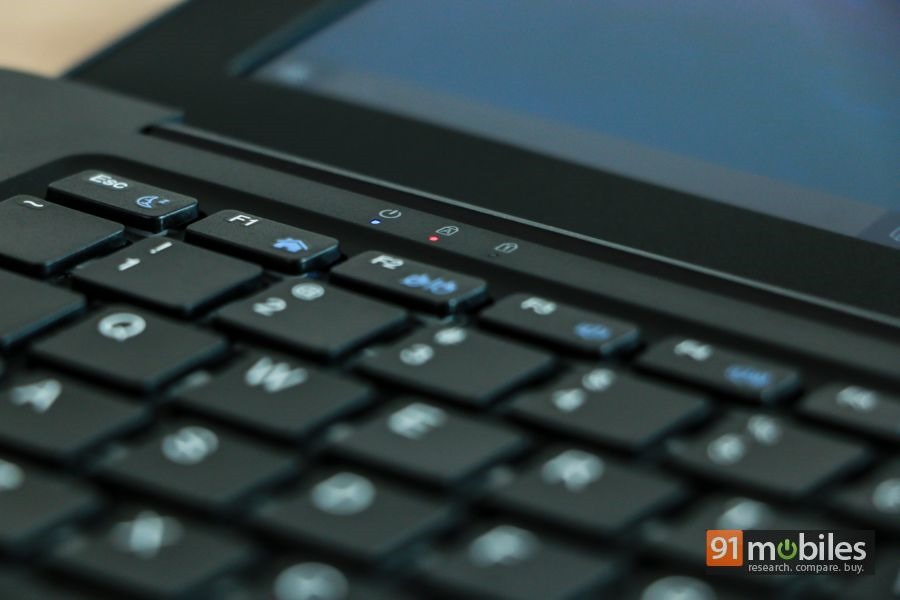 Overall, the RDP ThinkBook's design language is quite appealing, and it's quite robust as well.
Display: good for the price
As mentioned before, the ThinBook doesn't seem like a budget offering, and one of the key reasons for the same is its decent screen size of 14.1-inches. The display size is quite good for all sorts of tasks, be it working on documents or excel sheets, or watching multimedia content.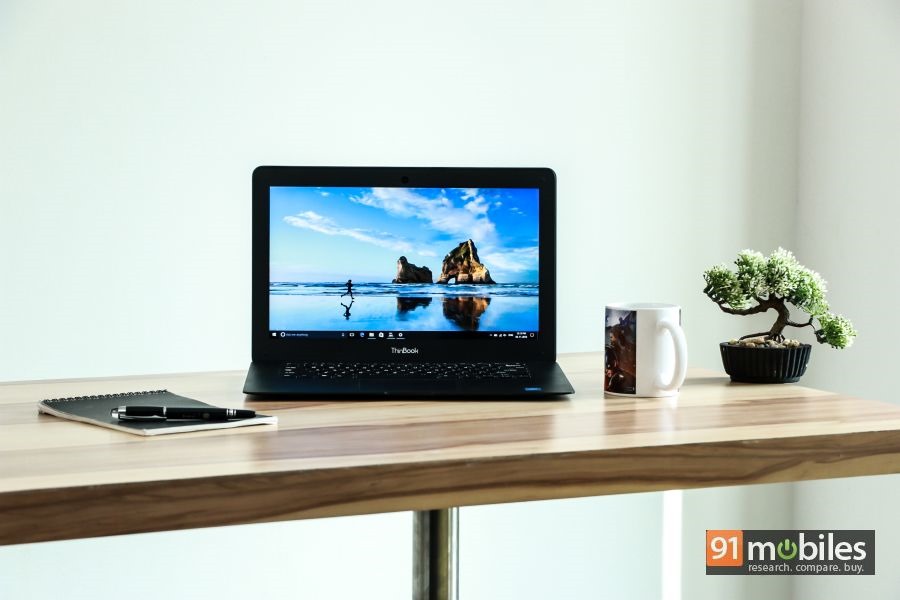 The 14.1-inch display bears a resolution of 1,366 x 768 pixels, which can be found on laptops even thrice its price. The screen is quite crisp, and while colour reproduction might not be the best, it's seems to be fine. Unfortunately, the viewing angles aren't up to the mark, as apart from one or two angles, the colours seem weird. Same is the case with the brightness levels, which are fine for working indoors, but you won't be able to make out what's on the screen outdoors.
Performance: an average performer
Like most laptops in this segment, the RDP ThinBook comes powered by Intel's Atom processor. The CPU features a dual-core Intel Atom x5-Z8300 chipset running at 1.8GHz, which is combined with 2GB of RAM. In our usage, the laptop works like a charm for basic tasks. We opened quite a few apps, along with multiple tabs on the browser, and it was able to hold on its own.

We also ran the PCMark 8 benchmark on the laptop, and the results clearly suggest that it's an entry-level device. Its score was 1,111, 882, and 1,383, in Home, Creative, and Work tests respectively.
While a laptop with this price tag isn't necessarily meant for gaming, we played casual titles such as Super Mario. The ThinBook was able to handle them quite well. Although games like Need for Speed Most Wanted stressed the device, and there were noticeable jerks while playing.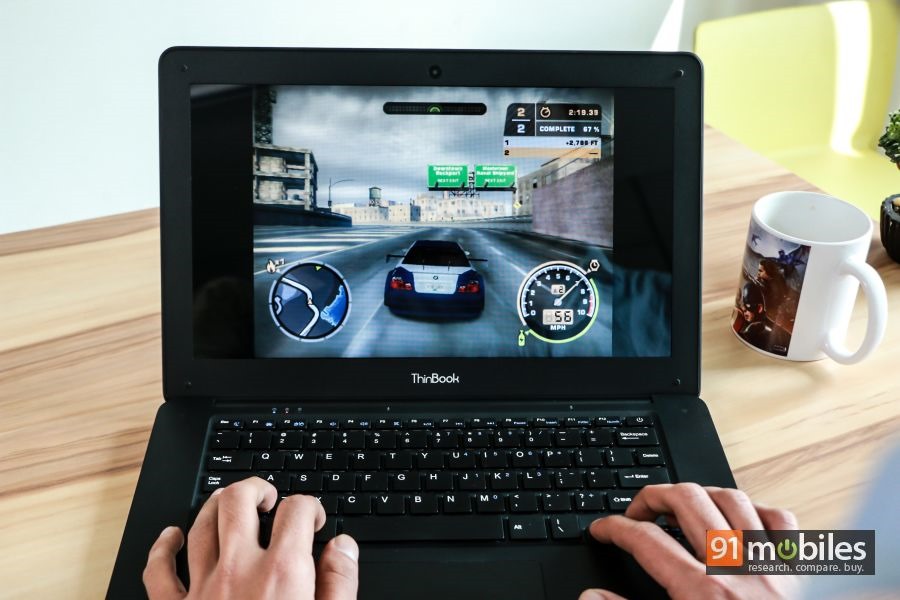 For storage, the laptop ships with 32GB of flash memory on board. After accounting for the OS, users would be left with roughly around 20.2GB for their use. Of course,this is quite low, but then, you can't really complain because of RDP ThinBook's asking price.
Even though the device is extremely thin, its battery life is impressive. It easily lasts more than six hours with web browsing along with listening to music in the background or watching some videos, that too with screen brightness kept at max. On the flip side, the ThinBook also takes a long time to charge fully.
The sound output offered by the RDP ThinBook is decent. It's quite loud, and remains clear even at the full volume levels.
When it comes to software, the RDP ThinBook comes in three options – preloaded with DOS, with Windows 10 Home, or with Windows 10 Pro, priced between Rs 9,999 to 11,999. We got the one with Windows 10 Home preinstalled, and it's quite surprising that the laptop comes with full-fledged Windows, an OS which if purchased separately, might cost more than the ThinBook itself. There aren't any apps installed by default, which is quite good, since the storage is barebones anyway.
Connectivity and more
It's worth applauding that RDP has tried to pack the ThinBook with everything, without skimping on features. The same ideology continues in the connectivity section as well. Unlike ultrabooks which might sport single USB ports, the RDP ThinBook features two USB ports, and one of them support the faster USB 3.0 standard. Towards the right, the device also has a 3.5mm audio port and a microSD card slot.
In terms of wireless options, the laptop supports both Wi-Fi and Bluetooth 4.0. However, the Wi-Fi connectivity is quite iffy, as we were unable to connect to our network every now and then.
Verdict
We have to admit that when we saw the pricing of the RDP ThinBook, we were quite sure that the laptop would come with a lot of compromises. However, after using it for the past few weeks, all our doubts have been quashed. This affordable laptops can serve you well for basic needs, be it web browsing, some typing, or consuming other forms of content.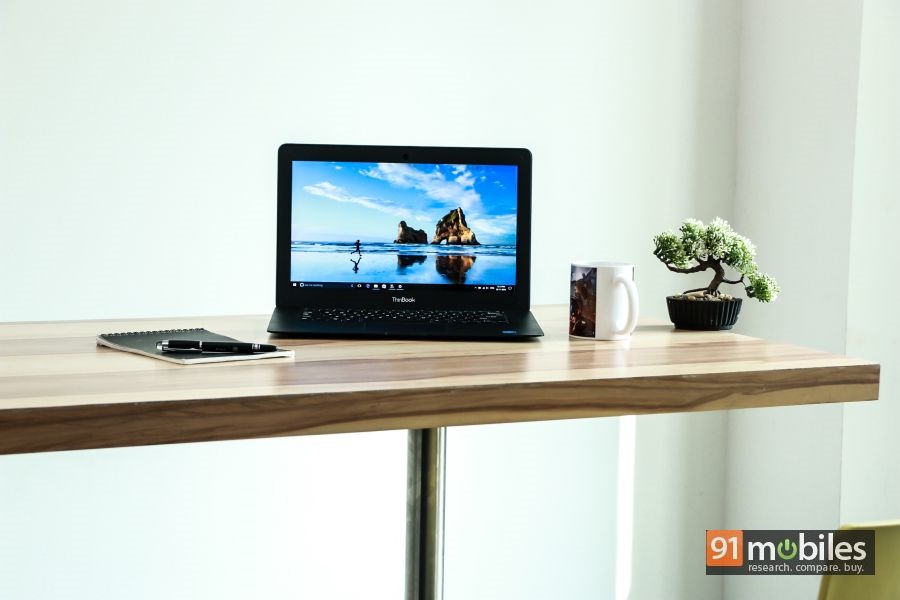 Since the RDP ThinBook has been priced affordably, it doesn't face much competition. Priced under Rs 10,000, the iBall Compbook Excellance, competes with it directly, but loses out because of a smaller display. If you can extend your budget till Rs 15,000, then there are slightly better options in the form of the iBall CompBook Exemplaire and Micromax Laptab II LT777.
Overall, the RDP ThinBook could be a good choice as a backup device, which can be used while travelling, or when you just need to get something done quickly. But if you are thinking of buying it for first-time use, then there are some aspects where it lacks, such as limited storage and iffy wireless connectivity, among others.
Editor's rating: 3.5 / 5
Pros
Good build quality
Large display panel
Two USB ports, with one of them supporting USB 3.0 standard
Cons
Average performance
Overly-sensitive trackpad
Photos by Raj Rout