The Samsung Galaxy A71 and the OPPO Reno4 Pro are two mid-range smartphones that are priced similarly and go head to head in a segment that is increasingly gaining popularity with consumers. That's why we've decided to give you a thorough comparison of how they stack up against each other. While the Galaxy A71 is priced at Rs 29,499, the OPPO Reno4 Pro has its price set at Rs 34,990. So right off the bat, the Samsung handset takes the lead as the price department is concerned, but there's still a lot to cover. Without further ado then, let's get going with the comparison.
Design and display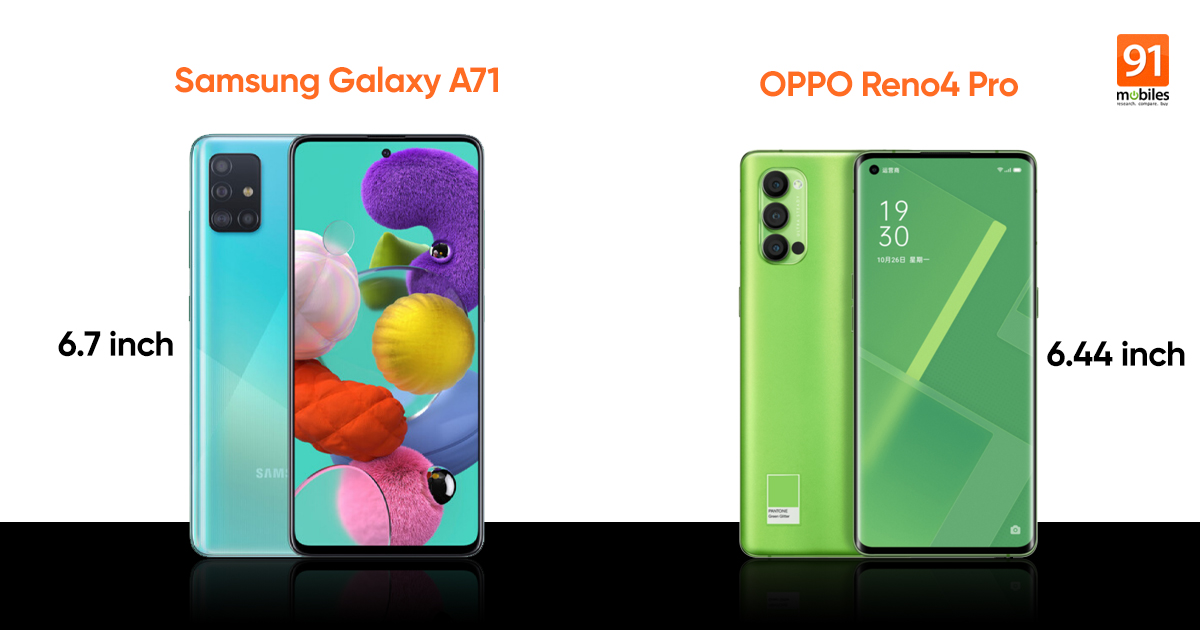 The back panels of both these smartphones feature a glossy finish. The Galaxy A71 boasts of a rhythmical pattern on its back that gives it a unique look, while the OPPO handset goes for the regular gradient look. On the front, both the devices have slim bezels and hole-punch cutouts for housing their selfie cameras. While the punch-hole on the Galaxy A71 is centre-aligned, the one on the Reno4 Pro is placed towards the top left.
The Samsung phone sports a 6.7-inch Super AMOLED Plus Infinity-O display with FHD+ resolution. As for the Reno4 Pro, it has gone for a 6.5-inch AMOLED panel with the same resolution and 90Hz refresh rate. Although the higher refresh rate gives the OPPO handset a slight edge, not many games support it even a year after its debut, so the change will only be visible when you scroll through the menu. However, you should know that a high screen refresh rate takes a toll on battery life, so from that perspective, the Galaxy A71 would work out to be better, especially since it offers fluid usage as well. Moreover, the display on the Galaxy A71 is larger and uses a Super AMOLED Plus panel, which means it can offer a more immersive experience with more vibrant colours and deeper blacks while streaming movies and shows on your favourite OTT platforms. Additionally, the Super AMOLED Plus panel makes the Galaxy A71 quite slim, with thickness of just 7.7mm.
Cameras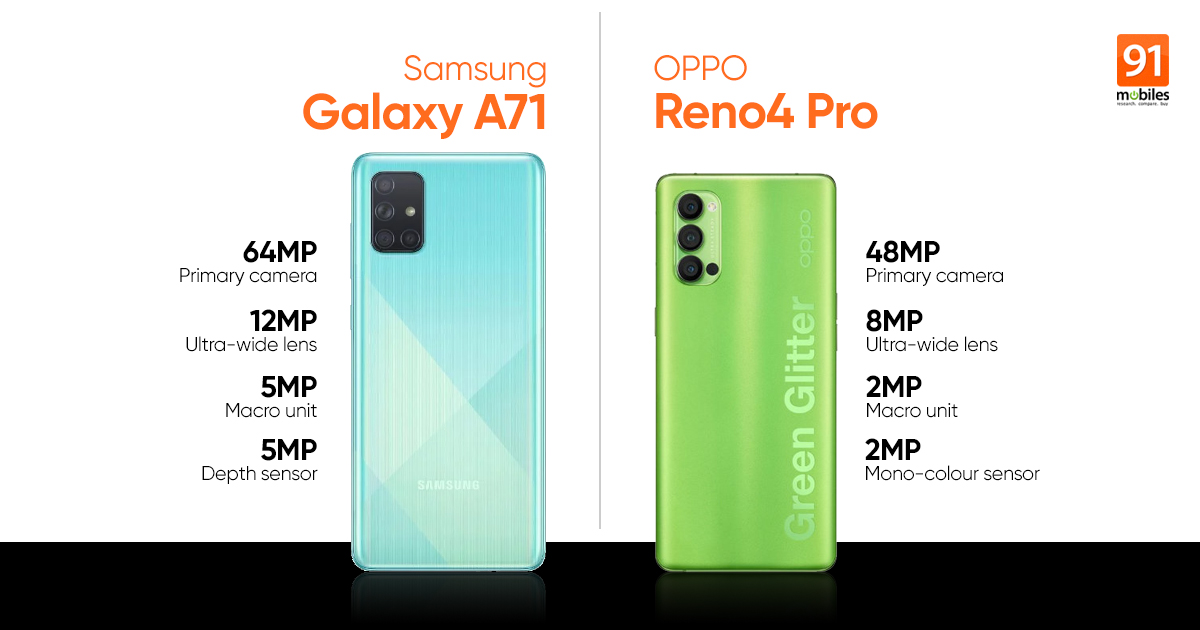 Both the phones come with quad-camera setups, but the Galaxy A71 edges out the Reno4 Pro with its higher resolution sensors. The cameras on the Samsung Galaxy A71 include a 64MP primary camera, a 12MP ultra-wide lens, a 5MP macro unit, and a 5MP depth sensor for portrait shots. The famed Live Focus and Super Steady features also make their way into the cameras of this Samsung phone. The OPPO Reno4 Pro, on the other hand, ships with a 48MP primary camera, an 8MP ultra-wide lens, a 2MP macro unit, and a 2MP depth sensor. Basically, this would mean that Galaxy A71 should be able to capture better detail across different types of shooting scenarios, and in varying degrees of light.
The Samsung Galaxy A71 Camera comes with flagship features too. Take for instance the Single Take feature, which captures a single scene in up to 7 photos & 3 videos. There's also the Smart Selfie Angle feature, which detects when there are two or more faces in the frame and instantly switches to a wider shot. Another brilliant feature is Night Hyperlapse, which can create gorgeous timelapse videos even in low light. With the Galaxy A71, you also get Custom Filters that you can craft according to your liking and use on any photo you click.
When it comes to their front cameras, both the phones adopt 32MP sensors. However, the one on the Samsung phone has a wider f/2.2 aperture, compared to the f/2.4 opening on the OPPO phone. This gives the Galaxy A71 a slight edge in capturing selfies in low light. Additionally, the Samsung phone comes with Slow-Mo Selfie feature that you can use to capture stunning slow-motion selfie videos for your Instagram profile.
Performance and battery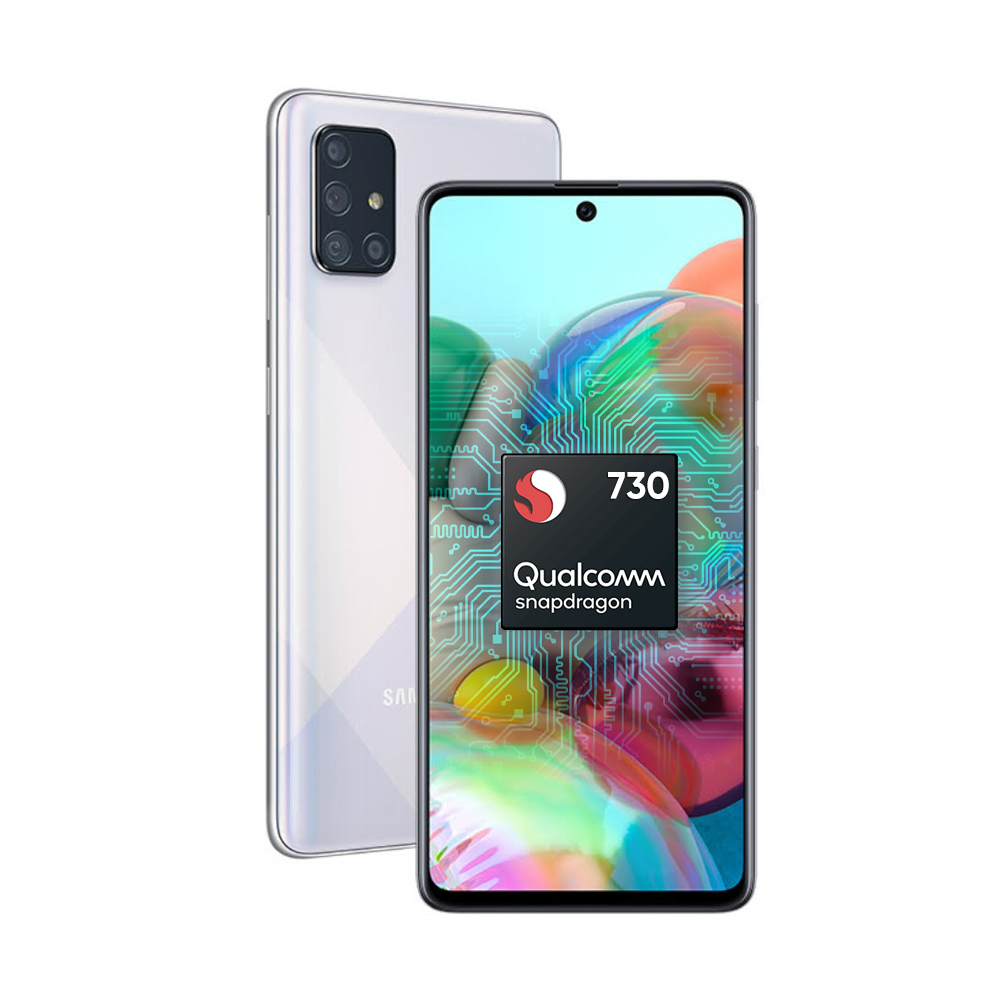 Both the smartphones come equipped with 8nm Qualcomm chipsets. The Galaxy A71 is powered by the Snapdragon 730, while the Snapdragon 720G handles processing on the Reno4 Pro. There's negligible difference in the benchmark performances of both these chipsets. Both feature octa-core CPUs and Adreno 618 GPUs and deliver smooth performance, whether it's high-end games you're playing or doing some heavy multitasking. The two phones also come with 8GB of RAM and 128GB of expandable storage. However, the Samsung phone pips the OPPO device with its maximum expandable storage of 512GB as opposed to the Reno4 Pro's 256GB.
Speaking about the battery, the Galaxy A71 is equipped with a 4,500mAh battery that offers support for 25W fast charging. The battery on the OPPO Reno 4 Pro is a smaller 4,000mAh unit with 65W fast charging support. The 65W fast charging onboard the OPPO phone is definitely useful, but one cannot ignore the fact that the Samsung phone still has a larger battery that will last longer without needing a charge.
Bottom line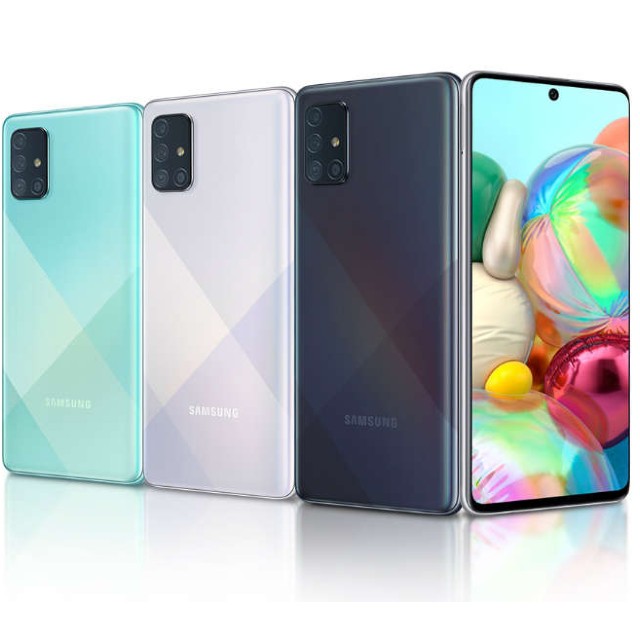 It's no surprise that the Samsung Galaxy A71 has emerged victorious in most departments of this comparison. And this comes despite the fact that it's priced more affordably compared to the OPPO Reno4 Pro by almost Rs 5,500. Moreover, Samsung has equipped its device with a host of useful software features as well, adding even more value to the proposition. Apart from signature features like Samsung Pay, which lets you make digital payments at most POS machines, you also get handy privacy features. There's Quick Switch, that protects private conversations and pictures by switching to public instances of the app with a double-tap of the side button. Another privacy feature onboard is Content Suggestions, which uses on-device AI to suggest which pictures you should secure. In fact, the OneUI platform on the Samsung Galaxy A71 offers a whole host of customisation options and various settings that aren't just going to be appreciated by power users but should come in useful for pretty much all users. You also get Samsung Knox – a security suite not only encrypts your data but also silently protects your device from security threats – with this phone to ensure all the files, financial details, and messages on your phone are protected.
Samsung is sweetening the deal this festive season under its #RewardYourself proposition by offering a special cashback of 10 percent on the Galaxy A71. Also on offer as part of the brand's #RewardYourself program is one-year worth of accidental and liquid damage protection at half price, along with 50 percent off on its UV Sterilizer. Just in case you didn't know, the UV Sterilizer is a device that helps you sanitise your smartphone and other personal items using UV rays and is a must-have gadget these days. These offers, along with the excellent features on offer, make sure Samsung Galaxy A71 scores well above OPPO Reno4 Pro and comes across as the mid-ranger you should be considering!
So go ahead and #RewardYourself with Samsung Galaxy A71 this festive season.