The Korean giant Samsung has been one of the longest-standing players in the wearable segment. From the first Galaxy Gear, back in 2013, the Chaebol has come a long way. But the year 2019 marks a pivotal point for the company, as it's now going mass market with its products. It recently introduced a trio of fitness bands in India, with the Galaxy Fit e being the most affordable model. Priced at Rs 2,490, it's evident that the device has set its sights on the Xiaomi Mi Band, GoQii and countless other sub-Rs 3k fitness-oriented bands. So is the Samsung Galaxy Fit e worthy of a place on your wrist? Well, that's what I intend to find out.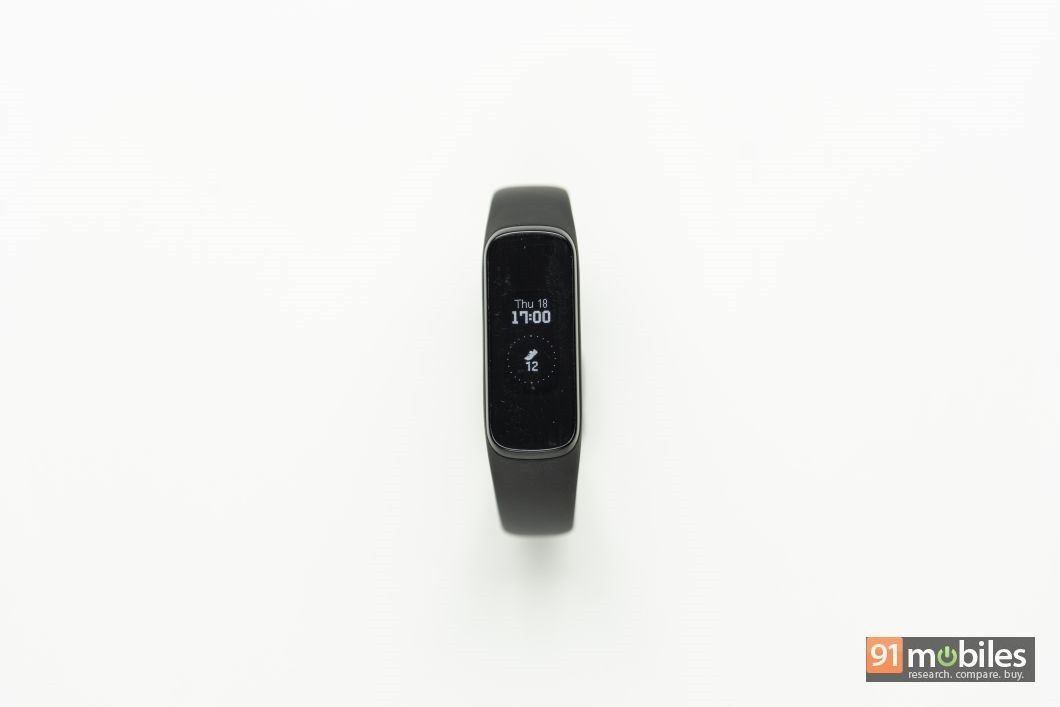 Specs at a glance
Measures 40.2 x 16.0 mm
Weighs 15g
0.74-inch PMOLED display
96mHz Cortex M33F MCU
128KB RAM
4MB storage
Bluetooth 5.0
70mAh battery
5ATM water resistance
MIL-STD 810G
Design and build quality
The Galaxy Fit e features a design language that's not much different from other fitness trackers in this segment. It has a relatively compact form factor with a vertical display upfront, and a rubberised band.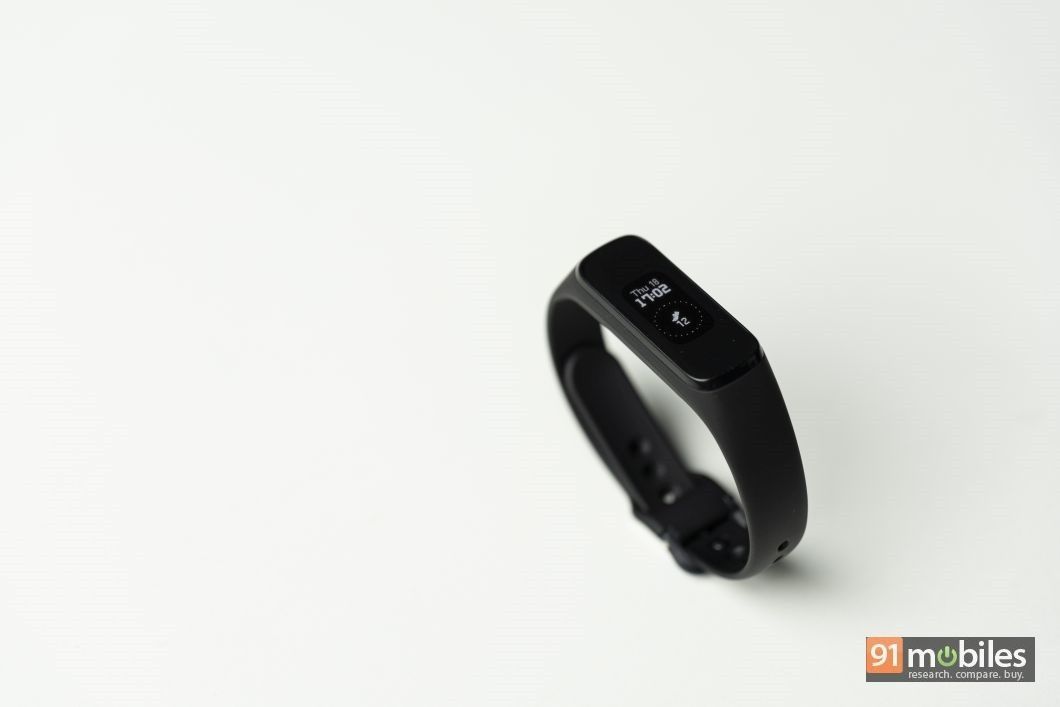 However, there are key differences as well, which are noticeable once you start wearing the Samsung Galaxy Fit e. First and foremost, there are no buttons on the device, which means that you'll be using it only with gestures. The band also has a unique clasp mechanism, which in my opinion is actually better than the one on other trackers. This mechanism also ensures that the device stays in its place, can be adjusted or detached quickly and doesn't leave any marks on your wrists.
On the underside of the Fit e, you'll find the sensors for tracking your heart rate along with proprietary pins for magnetic charging support.
Like many other fitness-centric devices, you can remove the Galaxy Fit e's module, and replace the band. However, at this point, Samsung isn't selling bands in any other colours, though we have learnt that it plans to do that soon. While I prefer the understated look offered by the black band, you could also opt for bright yellow hue or classy white colourway.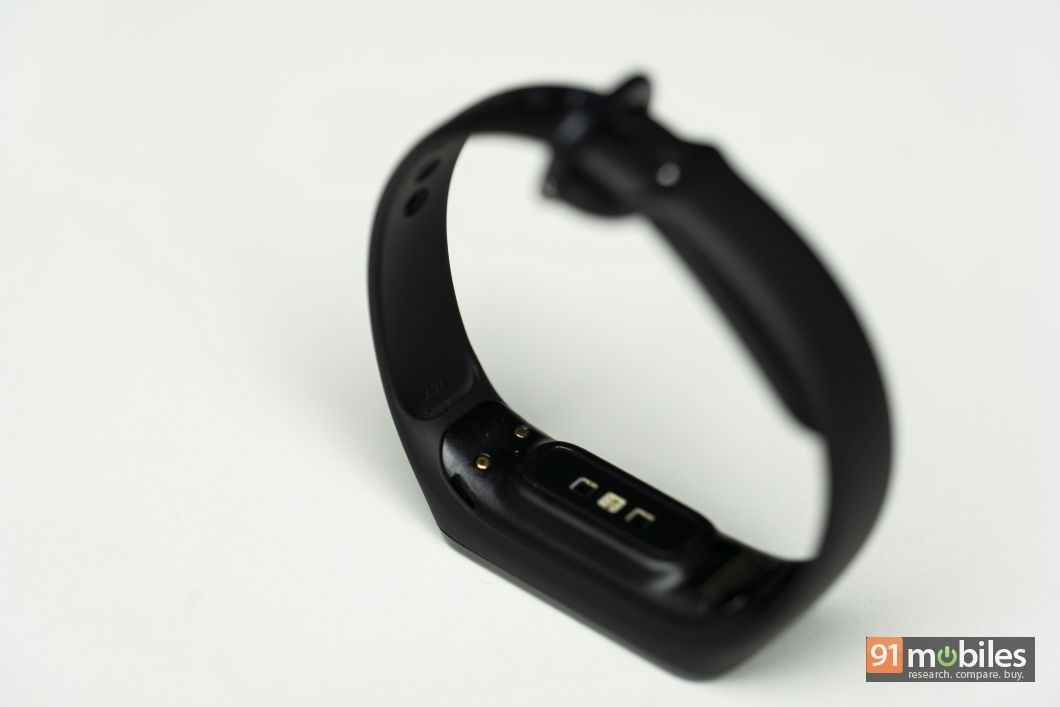 The Galaxy Fit e also ranks high on the durability aspect. It comes with support for MIL-STD 810G standard, and also features 5ATM water resistance. That means, it can survive in up to 50m deep water for up to 10 minutes.
Features and more
Setting up the Galaxy Fit e is fairly straightforward. You simply need to install the Galaxy Fit app on your smartphone. The device is compatible with both Android and iOS, and I tried both of them during the review process. However, for health tracking, you'll need to download an additional app in the form of Samsung Health. It's strange that the latter requires a SIM in your device and since my iPhone had an eSIM, which it wasn't able to detect, I wasn't able to get the app to work with the iPhone. However, fitness tracking on the band and the Galaxy Fit app worked just fine. On Android however, if you aren't using a Samsung phone, the setup is even more complicated as apart from these apps, you also need to install the Galaxy Fit Plugin and Samsung Accessory Service from the Play Store.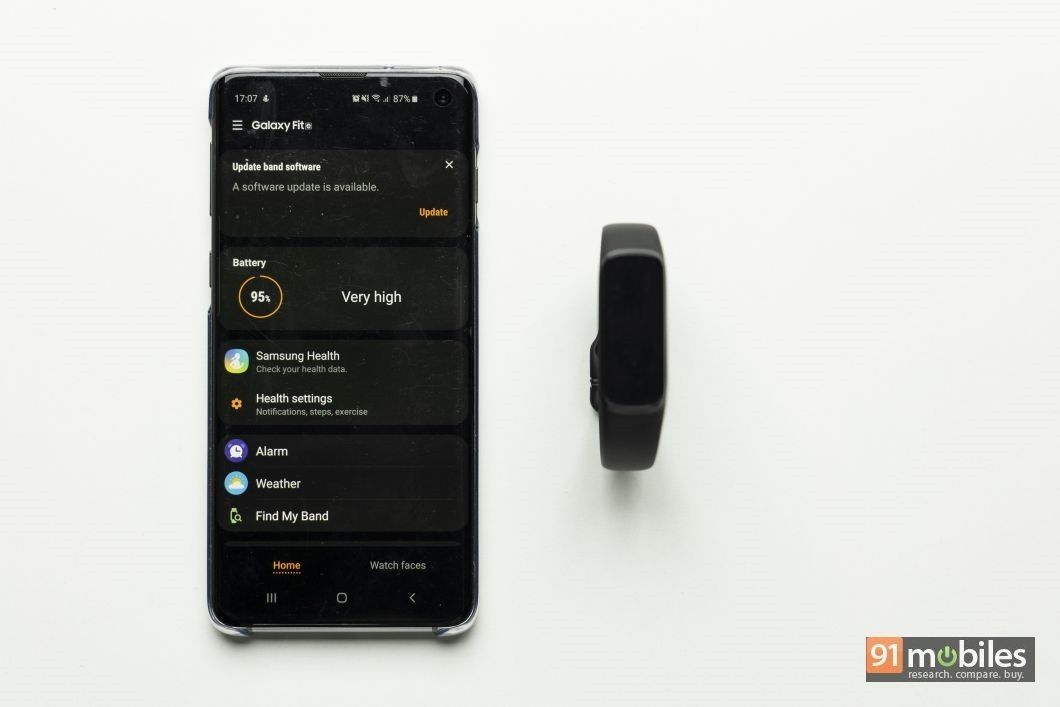 The device pairs with smartphones via Bluetooth. While the connection is strong, the Fit e gets disconnected (and doesn't connect again automatically) rather frequently every time it went out of the range from my iPhone XR (review).
In terms of tracking, the device features steps tracking, calorie counter, heart-rate monitoring, and sleep tracking. All of these stats are visible on the band itself and you can cycle through them one by one by tapping on the screen. In fact, the brand claims that it can track as many as 96 workouts, which are accessible through the Health app.
As far as accuracy is concerned, I walked around 1,000 steps (counted manually), which were detected as 1,257 steps on the Samsung Galaxy Fit e, which is certainly on the higher side. As a reference, I used the Fitbit Inspire HR (review) on the other hand, which tracked 1,080 steps. Calorie tracker also worked well, and showed that I usually burned anywhere between 200 to 300 calories after a boxing session. I also liked the sleep tracking feature, and it seemed to be quite accurate.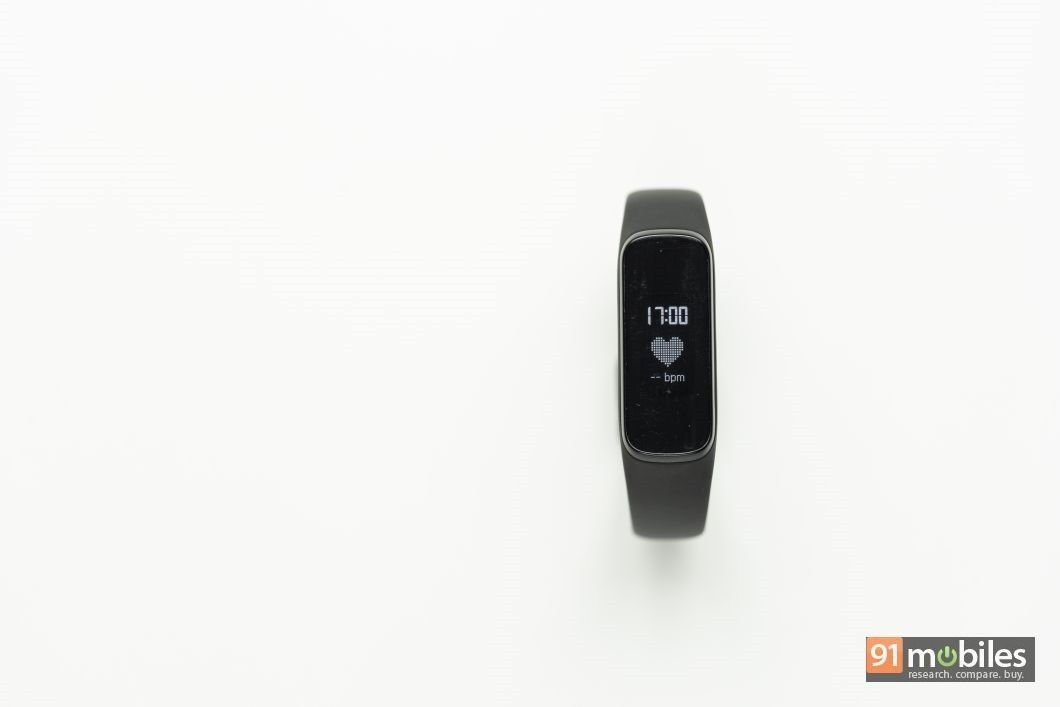 Samsung's mobile app for the Fit e is quite feature-rich too, allowing you to change clock faces, set up alarms, add or remove widgets (shortcuts for features like heart rate, sleep weather, etc.), and manage notifications, among other things.
Speaking of notifications, it's worth noting that the Fit e's screen is quite small to even be able to see an SMS. That means, the device only shows you the icon of the app, though thankfully, you can see the name of the person calling you. You can't see any notification history either.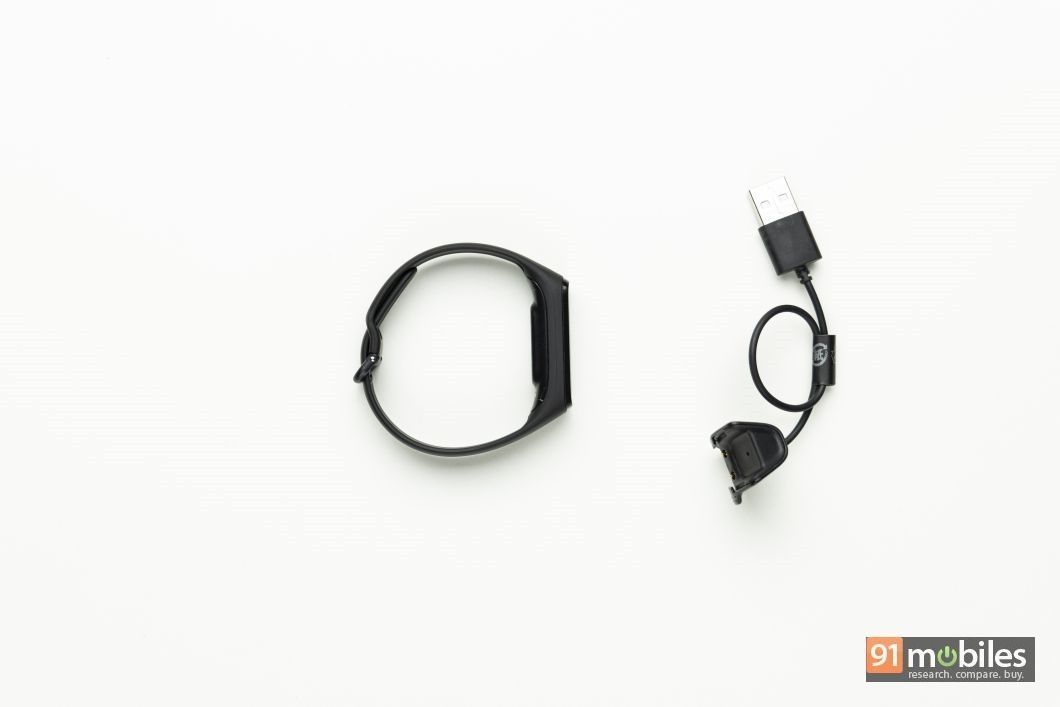 The battery on the Galaxy Fit e is rated at 70mAh, and promises to last up to a week. In my experience, the fitness tracker was able to provide a battery life of a little less than three days. That's with the heart-rate monitor constantly turned on and notifications enabled from all the apps. If you disable either or both of these options, then you could expect it to last a couple of days more. What probably irked me more is the fact that there's no battery status indicator on the fitness band, and you'll need to use the mobile app to determine the same. Sadly, like most fitness bands, Samsung's offering has a proprietary charger with a USB connector. Using it with a 1A adapter, it was able to juice up the device in about one hour and a half.
Verdict
Thanks to its aggressive stance in the smartphone segment, we've already highlighted how Samsung in 2019 is different than the one in previous years. And the Galaxy Fit e is yet another example of the same. For a company, who's always played it safe, the behemoth is now taking the fight straight to its rivals. The Galaxy Fit e is a powerful fitness band, which wouldn't rob you of your bank balance either to provide such features.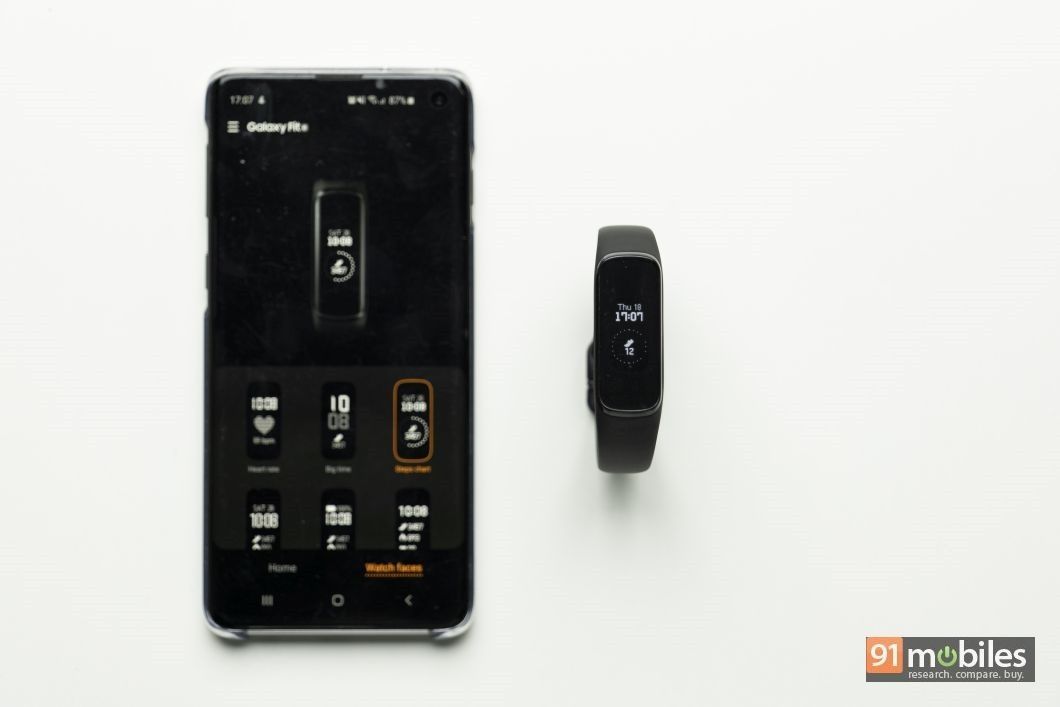 Despite that, if you are doing a spec-by-spec comparison, then Xiaomi's Mi Band 3 provides more bang for your buck, while being priced almost Rs 500 lower. You could also choose to wait for the Mi Band 4, which brings a coloured OLED display, something that's a rarity in this price bracket. All in all, the Galaxy Fit e scores highly as the fitness band, but its smart capabilities take a backseat, and hence for all its capabilities, it's difficult for us to recommend it wholeheartedly.
Editor's rating: 3.5 / 5
Pros
Comfortable to wear
Packs almost all fitness-tracking capabilities
Features heart-rate sensor
Cons
Complicated setup process
The display has an extremely small viewing area
No option to view previous notifications
Photos by Raj Rout