"The Inspire HR is an affordably-priced no-nonsense device for anyone who wants to get serious about their fitness. Here's our review"
Raise your hands if you've ever owned a fitness tracker or a smartwatch, and tried to follow the 10,000-step goal every day.
But do you know the theory behind this specific number for the recommended daily step count? Well, as per a report, the number hasn't come from any scientific study and is only used because in Japan, back in 1964, a pedometer was promoted with a word which roughly translated to 10,000-steps meter.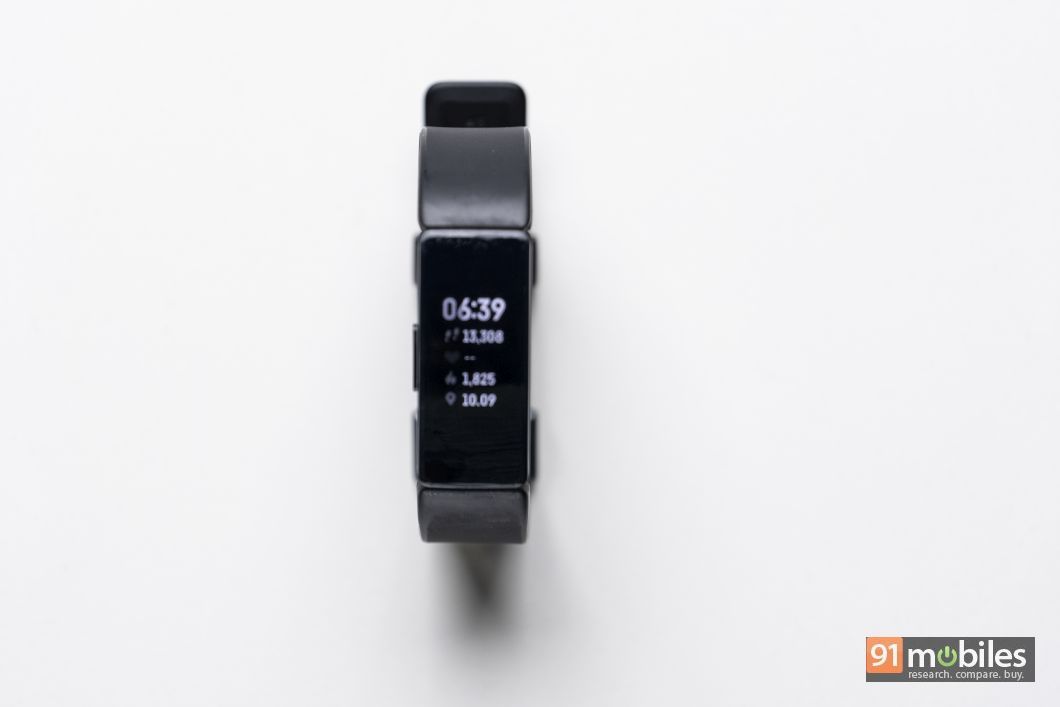 That's an interesting nugget of information, but it doesn't take away from the fact that the whatever fitness-related goal you may have, your daily step count is an important metric. And that brings us to the review of the Fitbit Inspire HR – a solid option for those who want to upgrade from a basic fitness band or are looking for a smart, capable fitness tracker. And I'm saying that despite knowing that the Inspire HR's pricing of Rs 8,999 brings it close to smartwatch territory. To know why I think so, read on till the end.
Design and build quality
A dedicated fitness band could be used comfortably by those who like watches as well as those who don't. That's because it's sleek and lightweight and thus can be worn on either wrist, depending upon one's preference. The Fitbit Inspire HR is no different, and I never felt it weighing my wrist down, which is quite important as I was wearing it on my dominant (right) hand.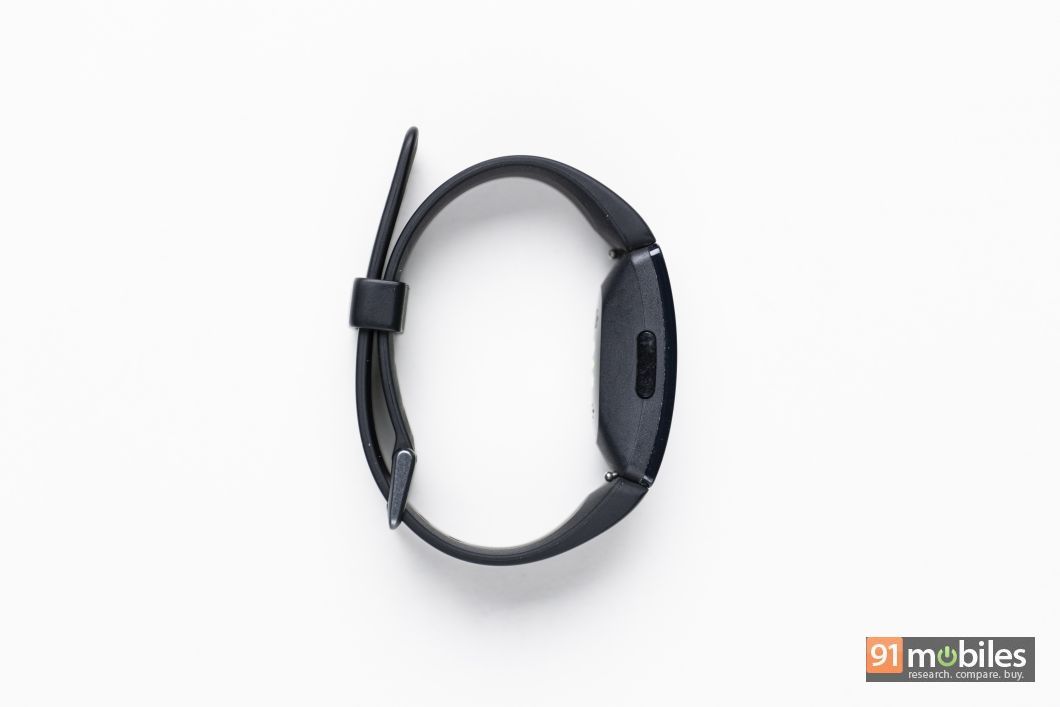 The Inspire HR comes with a vertical display up front placed above a robust plastic construction, held together by a silicone strap. With a watchband style strap, the device can be worn comfortably on wrists of any size, and the good thing is that the strap doesn't cause any sort of irritation. While I had the classic black hue, you could also opt for white or lilac colours. As with other offerings from Fitbit, you can replace the straps if you wish.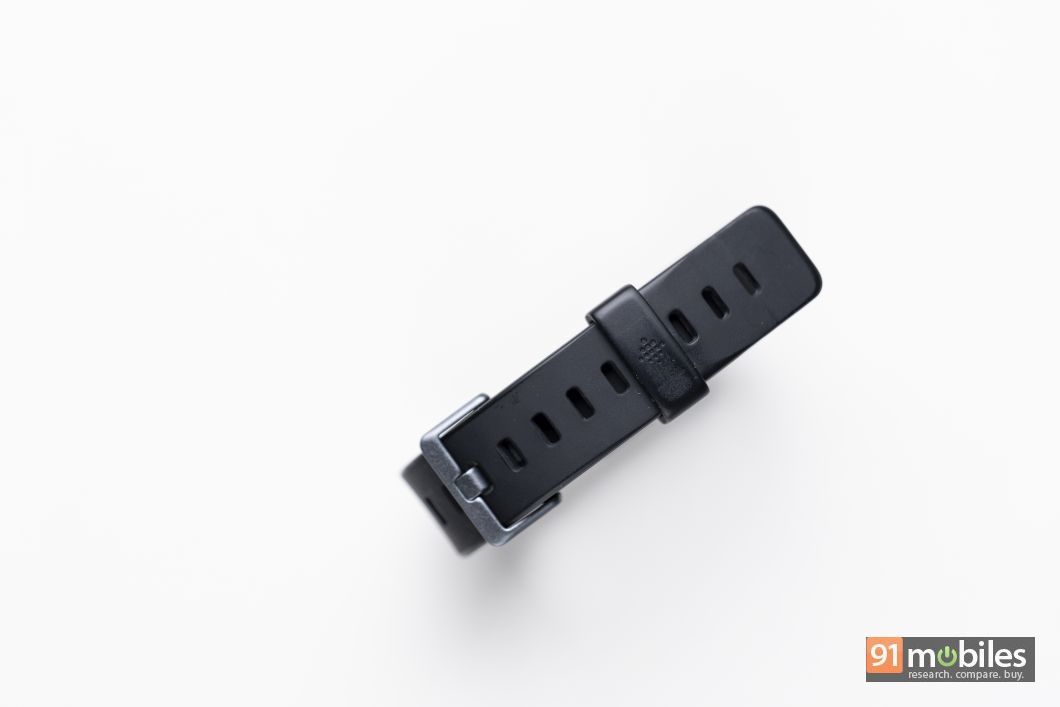 Interestingly, the OLED screen on Fitbit's Inspire HR displays the text as per the strap colour variant you buy, i.e. white in case of my unit, and purple in case of the purple one. Thanks to the touchscreen, interacting with the band is quite easy as you just have to tap, or swipe up or down. While there's not much to talk about the screen quality, I'd have certainly preferred more brightness, as it's difficult to view it outdoors. The screen also gets scratched rather easily, so I'd advise you to take utmost care while wearing it, or perhaps even apply a screen guard if you find one.
As far as the other design elements are concerned, you'll find a button on the left-hand side which offers tactile feedback. It brings the screen to life and can also take you to the previous screen. Upon long press, it shows key information such as battery level, a screen wake toggle to keep the screen on all the time, and a notification toggle.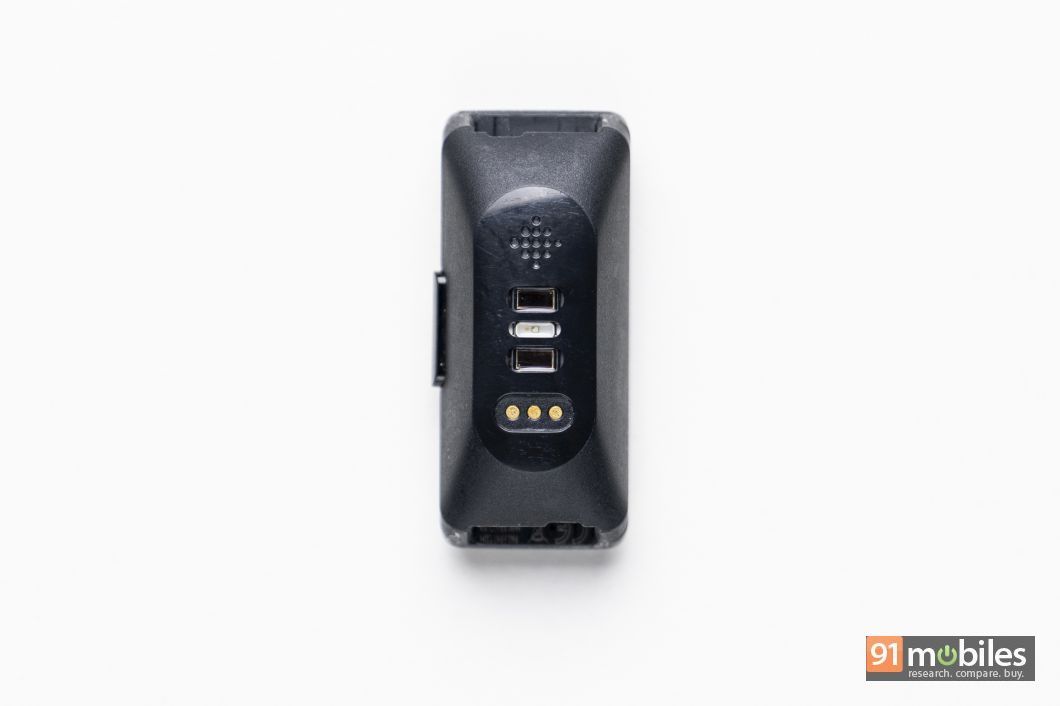 At the back, the device features magnetic pins that act as a charging port. Of course, as the name suggests, the Inspire HR comes with a heart rate monitor. And that's one of the key differences between this tracker, and its affordable sibling, the Fitbit Inspire. The lower-priced offering also misses out on other features as a result of lacking the heart-rate sensor, such as the ability to track different sleep levels, guided breathing, and cardio fitness. Furthermore, unlike the Inspire, the Fitbit Inspire HR is swim-proof, allowing you to use it in up to 50m depth. Last but not least, the pricier model can track as many as 15 exercises, which brings us to…
Features, connectivity and more
The Fitbit Inspire HR comes with a simple-to-use interface, which doesn't take much getting used to. In the main screen, you can get a lot of information as the watch face that I used enabled me to see the time, step count, heart rate, calories burned and distance travelled. Of course, you could use the Fitbit app to change the watch face (more on that in a bit). Upon swiping up, you'll get more details of each of these metrics and more such as sleep, and things like water intake (if you input this manually). Swiping downwards lets you navigate to exercises, relax (for taking deep breaths and calming down yourself), and timers.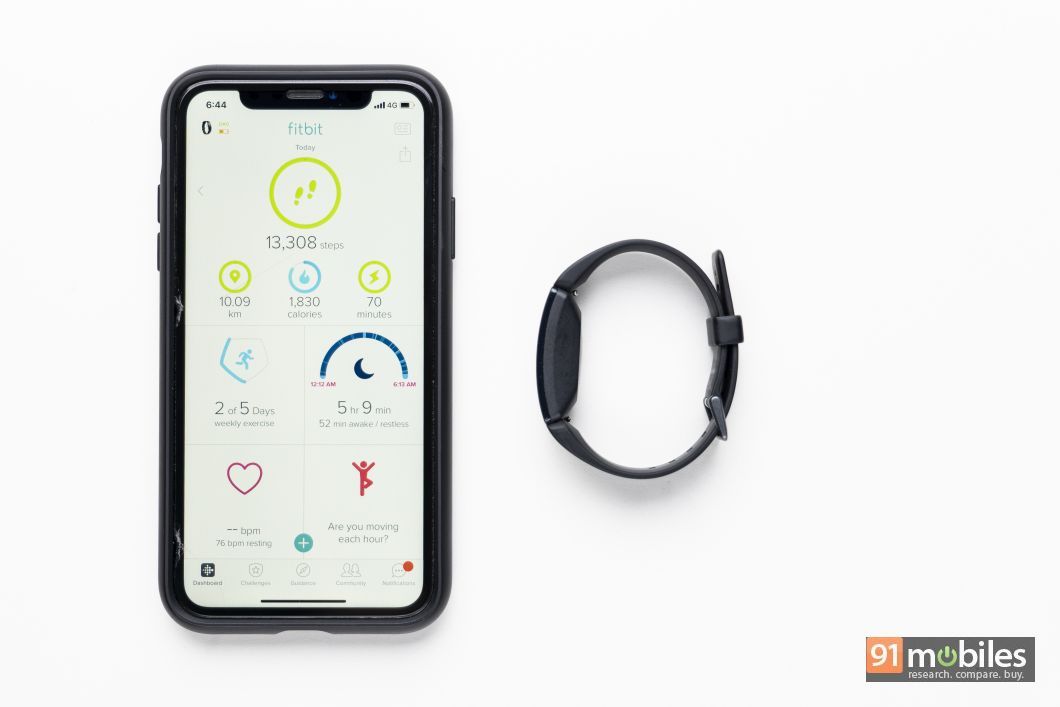 Similar to most fitness trackers out there, Fitbit's offering can track the usual sort of exercises. From running and biking to swimming and weights, it lets you go inside each of them and then either just start the timer or input your time / distance (wherever applicable) / calorie goal. I also liked the sleep tracking feature, which seemed to work quite well.
The best way to gauge a fitness band's quality is its accuracy in counting steps among other things, and Fitbit has made a name for itself in that department. The Inspire HR measures actual steps and tries to avoid inadvertent hand movements or when you're in a moving vehicle – though I wouldn't say it's perfect.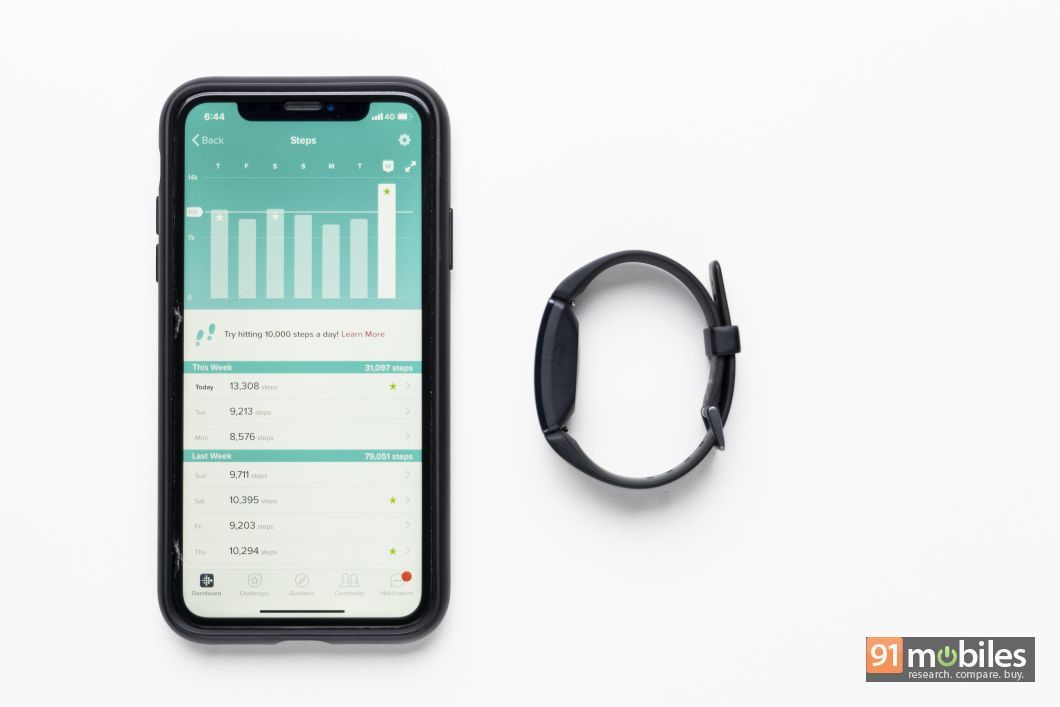 From a connectivity standpoint, the Fitbit Inspire HR tethers to Android or iOS smartphones via Bluetooth. However, the device doesn't come with built-in GPS, which means you won't be able to leave your phone at home and go out for running or cycling.
Along with fitness tracking, the Inspire HR also lets you see the calls and messages. Sadly however, you can only view them passively and can't take any action like rejecting the call or replying to an SMS. The message functionality does come in handy for entering OTPs, though you can't read beyond 200 characters. There's no way to access previous notifications either. You can also get app notifications, though I kept them off as they served more as a distraction than anything.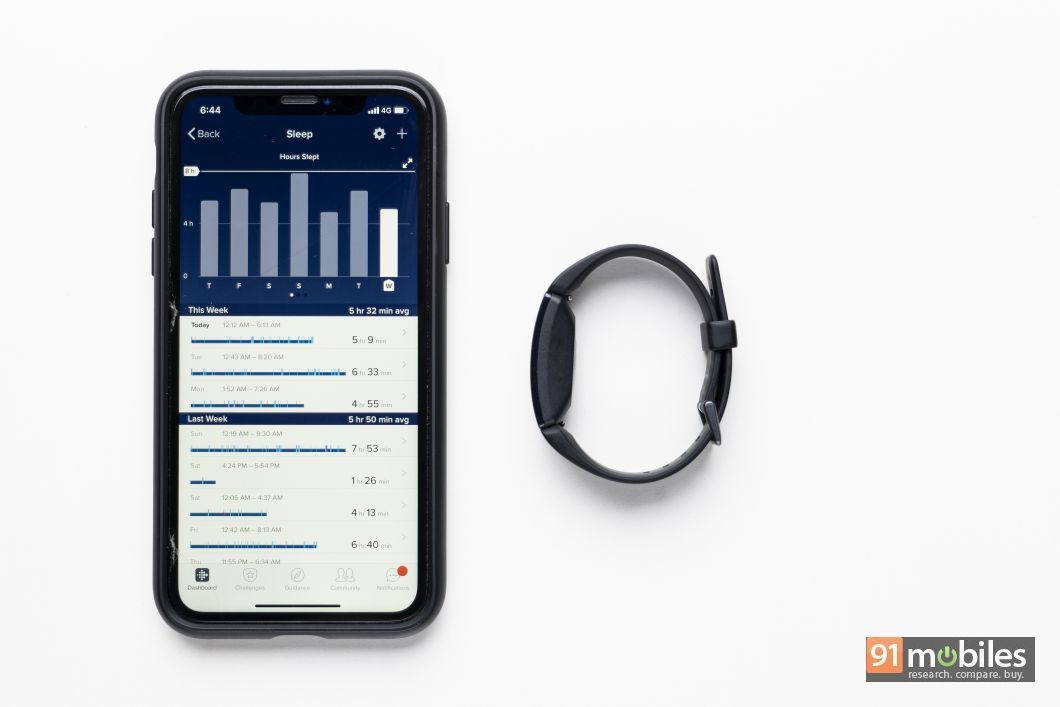 The mobile app is user friendly and lets you control watch faces, app notifications, and more. In fact, you might get more insights from the app than the Inspire HR. And since it lets you connect with your friends, you can participate in various challenges to keep yourself motivated to reach the step-count goal. Similarly, the tracker itself nudges you to walk 250 steps every hour and so on.
Battery life
In terms of the battery life, Fitbit claims that the Inspire HR can last up to five days. My usage wasn't in the same range, as I was usually able to use the device for ~3.5 days on a single charge. While that's not bad, longer battery life would have been great to have. Worth mentioning that the device has a proprietary charger, and there were times when I forgot the adapter at home and couldn't juice up the tracker when I needed to.
That said, the device doesn't take too long to charge with a 1A adapter juicing it up in about two hours.
Verdict
As mentioned in my review of the Fitbit Versa (also holds true for other smartwatches), they may or may not be preferred by everyone depending on whether the user prefers wearing watches or not, or whether they need notifications on their wrist or not. In comparison, a fitness tracker serves a very particular need, and as you can see in case of the Fitbit Inspire HR, it does so really well. The wearable offers all sorts of tracking with the mobile app offering an at-a-glance view of your weekly / monthly activities, features a lightweight build and is simple to operate. However, if you're looking for a more feature-rich device to wear on your wrist, then you can't ignore Amazfit Pace (review). Of course, if you're just starting with your fitness goals, then you could perhaps opt for one of the more affordable options, though their accuracy won't be at par and they won't offer as many features as the Fitbit.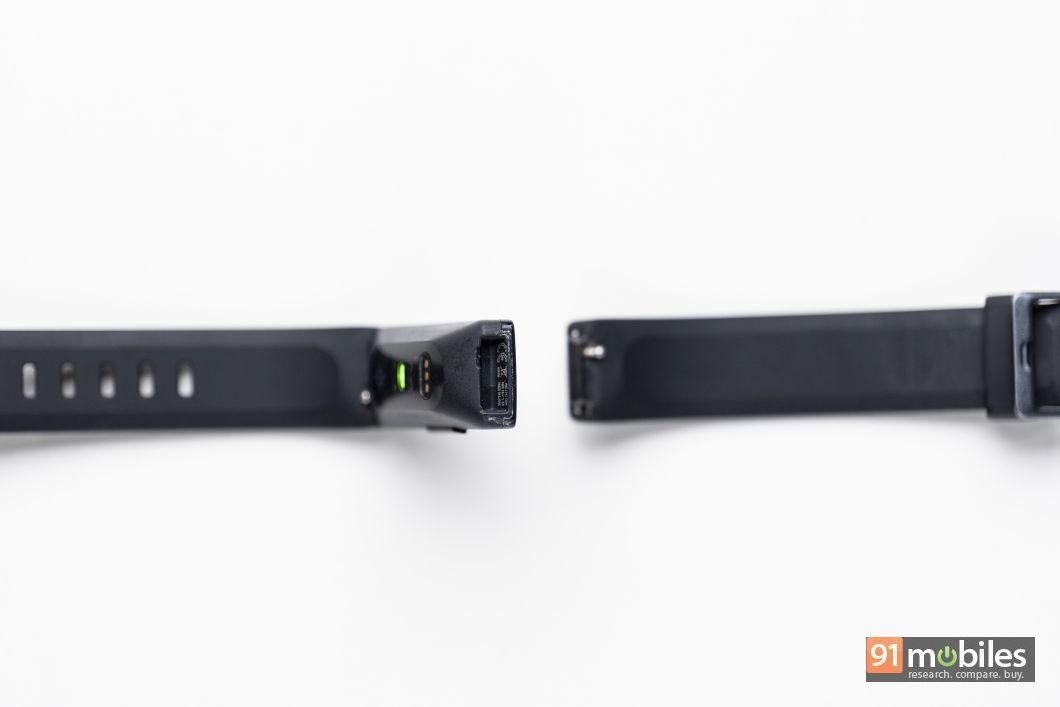 In a nutshell, if you're looking for a no-nonsense fitness band with water resistance and heart-rate monitoring, then the Fitbit Inspire HR is among the best options priced south of Rs 10k. You could also opt for the Fitbit Inspire if you're just starting with your fitness journey and aren't really looking for detailed insights about various exercises or heart-rate sensing.
Editor's rating: 4 / 5
Pros
Comfortable to wear
Swim-proof design
An all-round fitness band
Cons
An average battery life
Mobile notifications offer limited functionality
Misses out on native GPS
Photos by Raj Rout