"Samsung's latest mid-ranger scores well on the important aspects"
The Galaxy S6 duo, launched earlier this year, marked a huge shift in Samsung's strategy, as detailed in our review of the S6 edge. However, the brand knows that the only way to make an actual difference in India's price-sensitive market is by targeting the voluminous affordable segment. For this task, Samsung recently introduced the Galaxy J5 and J7 (first impressions), both packing a decent configuration to take on the competition posed by Chinese brands.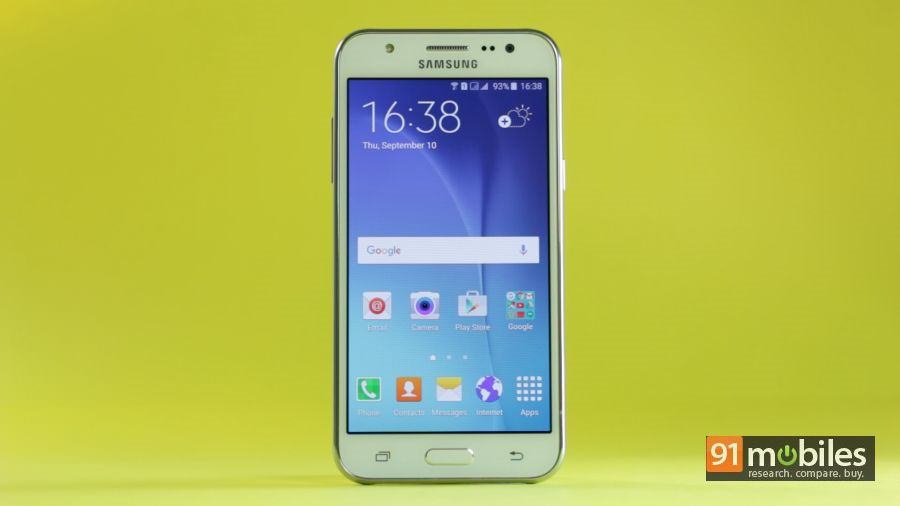 Based on our usage of the J5, Samsung's been able to pull this off quite well with the device scoring high on many fronts. Read on to find out why we think so.
Specs at a glance
Measures 142.1 x 71.8 x 7.9mm
Weighs 146g
5-inch display, a resolution of 1,280 x 720 pixels
Qualcomm Snapdragon 410 processor
1.5GB RAM
13MP rear camera with LED flash
5MP secondary camera with LED flash
Dual-SIM, 4G, Wi-Fi, Bluetooth and GPS
2,600mAh battery
Android 5.1.1 Lollipop

A compact body with traditional Samsung-esque design
Dimensions
: 142.1 x 71.8 x 7.9 mm
At a time when 5.5-inch smartphones have become the norm and the word 'phablet' doesn't sound as ridiculous as it did a couple of years ago, the Galaxy J5 comes across as a breath of fresh air. Thanks to its 5-inch display, the smartphone is compact and nestles into a single hand comfortably.
At the front, the space above the display is occupied by an earpiece, with an LED flash towards the left, a couple of sensors and a secondary shooter on the right, and Samsung branding underneath. Below the screen, you'll find the familiar placement of a physical home button flanked by two capacitive buttons for navigation purposes.
The Samsung Galaxy J5 is constructed out of plastic, but features a chrome rim running along its edges. The right edge sports the power button, while the volume keys are available on the left. The top is devoid of any elements, whereas at the base, you'll find the microphone, a micro-USB port and an earphone socket.
The rear panel features a smooth finish, which we don't like much as it makes the Galaxy J5 slippery. Here you'll find the primary camera module that protrudes slightly, accompanied by an LED flash, along with a speaker grille on its right. There's also Samsung's logo and the imprint highlighting 4G capabilities as well as dual-SIM support in the phone. While our review unit was white, the handset can also be purchased in black or gold options.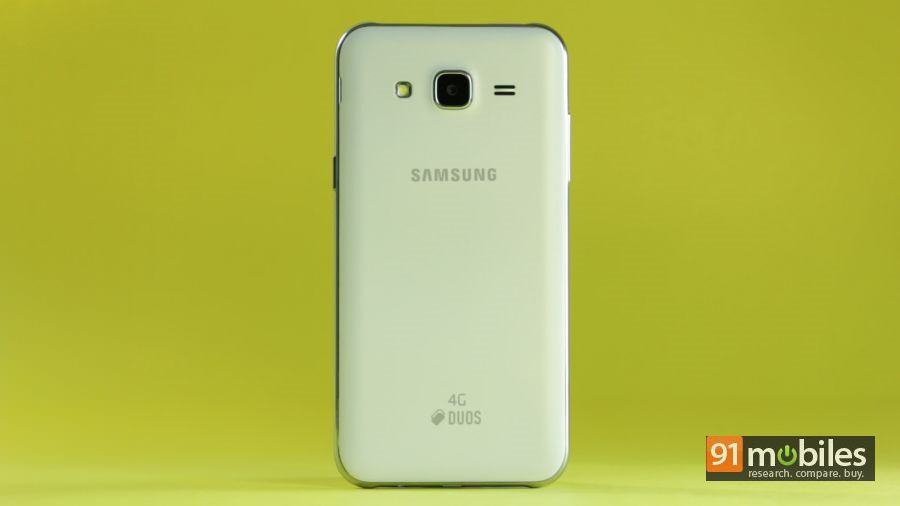 Prying open the back plate of the Samsung Galaxy J5 will bring up the battery compartment along with slots for pair of micro-SIM cards as well as a microSD card.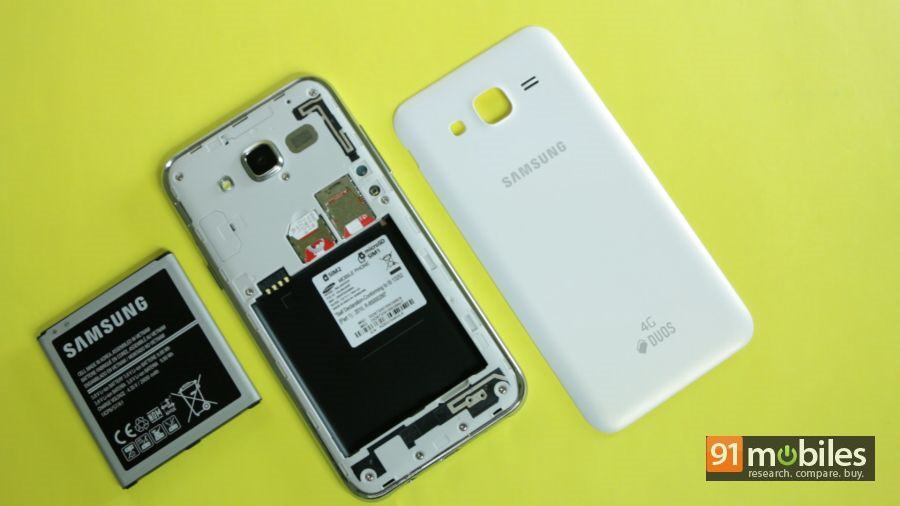 The Galaxy J5 isn't just compact, it's also quite lightweight as it tips the scale at 146g. It might not be extremely thin, but is fairly slim with its frame measuring 7.9mm. While we appreciate the handling factor of the smartphone, what we didn't like was its design language which is a throwback to Samsung devices from three years ago.
High-def entertainment


Resolution
: HD (720 x 1280 pixels)
Display Type
: Super AMOLED
The Samsung Galaxy J5 sports a 5-inch Super AMOLED display panel, which offers impressive colours and is quite sharp with a screen resolution of 1,280 x 720 pixels. AMOLED displays are also known for their high contrast levels, and hence the phone is able to display really 'black' blacks. We didn't find any issues with the brightness or the viewing angles of the handset either.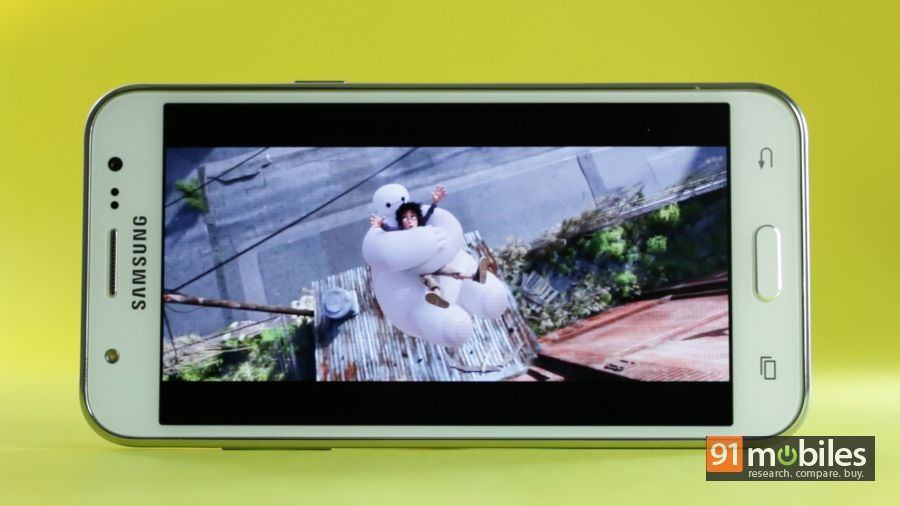 As much as we liked the AMOLED display, we missed the automatic brightness setting as the device lacks an ambient light sensor. The display is slightly reflective, but is readable under direct sunlight, thanks to a special outdoor mode offered by the handset.
A cleaner, simpler Touchwiz


Operating System
: Android
OS Version
: 5.1, Lollipop
The changes in Samsung's ideology aren't just external, but also apply to its slimmed-down custom interface, which was earlier slammed for its feature spam. The custom layer on the Galaxy J5 is based on Android Lollipop 5.1 and bodes well with Google's Material Design. The UI is extremely smooth, and there are hardly any over-the-top features.
The lock screen, homescreen and app launcher feature the familiar TouchWiz interface, while Samsung has tweaked Lollipop's notification panel with its own take. Instead of the notification bar that presents quick toggles when swiped across, the notification shade displays quick settings right on top.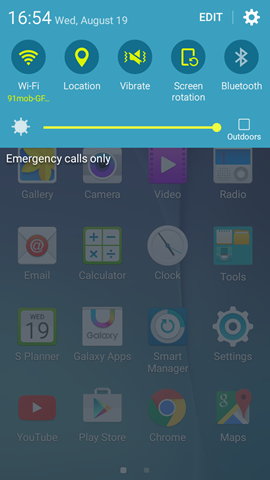 Coming to the special features, you can simplify the interface of the Samsung Galaxy J5 with the Easy mode. You can also change the look-and-feel with the Themes app that offers pre-built themes. The Smart Manager gives you the ability to check the phone's battery, storage, RAM and security in once place.
The device is loaded when it comes to pre-installed content as it comes with Microsoft apps like Office, OneDrive, and Skype, along with demo version of games like Bubble Bash 3, Prince of Persia, etc. Samsung has also partnered with Gameloft to offer users game credits worth Rs 3,200 on popular titles such as Asphalt 8: Airborne and Modern Combat 5: Blackout.
Shooters that do the job well


The Galaxy J5 features a 13-megapixel snapper at the back, which has a wide aperture of f/1.9, the same as Samsung's flagship offerings this year. At the front, the smartphone has a 5MP snapper. Interestingly enough, the device not only sports an LED flash at the back, but gets one at the front too. The custom camera app on the smartphone is quite feature-packed, with two strips at the right and left offering all the options (when the device is held horizontally). You can capture the scene, choose to switch to video or the front-facing camera, see previous images or change the mode. The phone offers modes ranging from Pro (ability to change ISO sensitivity, exposure and white balance), Panorama, and Sound & Shot, among others. There are also some effects that you can apply in real-time such as Grayscale and sepia. The settings menu has the options to change picture or video size, turn on grid lines, etc.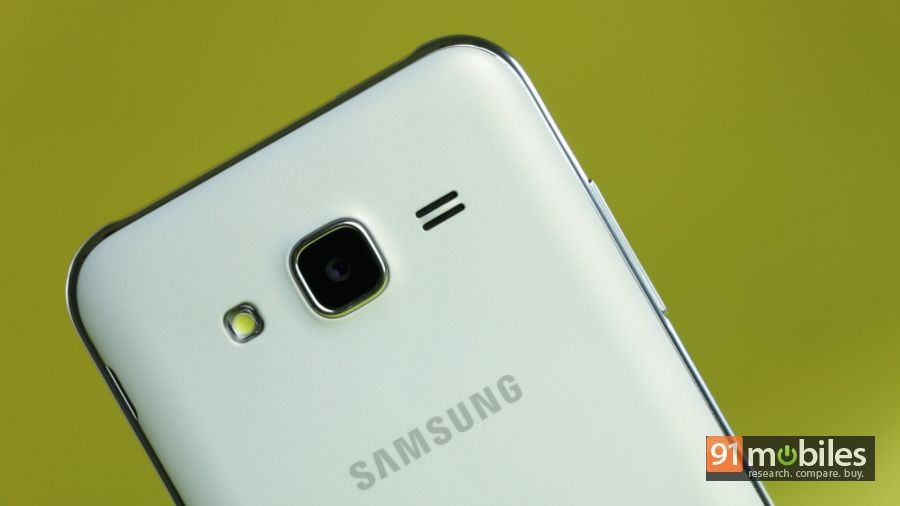 One special feature that's worth mentioning is the ability to access the camera app almost anywhere, irrespective of whether you're currently using another app or the screen is asleep, by simply double-pressing the home button twice. Samsung claims that the app can open within 0.7 seconds and our experience suggests the same.
Quality-wise, the smartphone is able to capture a good level of detail along with vivid colours. We found the sharpness to be fine for most scenarios. The LED flash is also very effective for illuminating dimly-lit environments. However, what felt odd was that the Galaxy J5 doesn't offer an HDR mode, which has become really popular of late. For selfies, we didn't find the LED flash to be useful since it's in always-on mode and there's no option to change that setting. In terms of video recording, both the snappers can capture videos in full HD resolution.
Take a dekko at the images shot with the Samsung Galaxy J5. For a more detailed analysis of its shooters' performance, you can read our camera review.
Works like a charm


CPU
: Quad core, 1.2 GHz, Snapdragon 410
Memory
: 8 GB + Up to 128 GB
SIM Slots
: Dual SIM , GSM+GSM
Our praise for the Galaxy J5 continues in the performance section as well, as even though it's a budget offering, the Chaebol has provided it with a decent amount of horsepower. It comes powered by a Qualcomm Snapdragon 410 CPU, which offers four 64-bit capable Cortex-A53 cores humming at 1.2GHz. The brand is also promoting the device as a gaming-centric offering, and hence it's equipped with the Adreno 306 GPU. The combination ensures smooth working, be it while running basic apps, running heavy websites or even playing 3D games such as Badland. For multitasking, the device features 1.5GB of RAM, which is able to handle multiple apps with ease.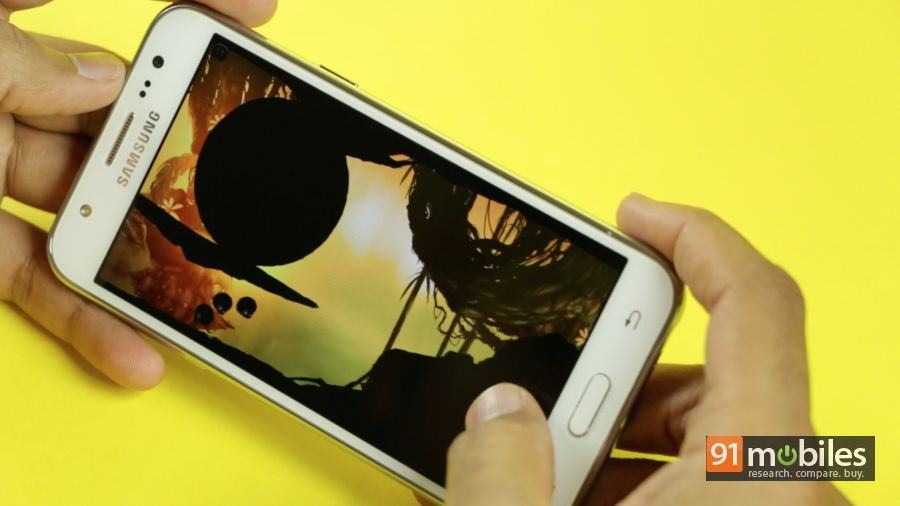 Thermal efficiency of a smartphone has become an important criteria for choosing a device nowadays, and the Galaxy J5 does a good job in this case. During our usage, it rarely heated up and even when it did, the performance wasn't affected.
Handling your storage needs is 8GB of memory, out of which around 4.2GB is available to the end user. The space is just enough to install basic apps and a few games. For storing any multimedia files, you'd need to resort to a microSD card – with the handset supporting capacities up to 32GB. We'd have appreciated at least 16GB of storage though, since we ran into low storage issue quite often. Additionally, we aren't sure why the device forgoes USB On-the-Go capabilities which would have been of great help to plug in a flash drive whenever needed.
Like most offerings these days, the Samsung Galaxy J5 offers support for 4G connectivity (compatible with both Band 3 and 40), along with the standard set of options – Bluetooth 4.0, Wi-Fi and GPS. While we didn't find any network issues or call quality problems with the mobile, we had trouble with call volumes on more than one instance.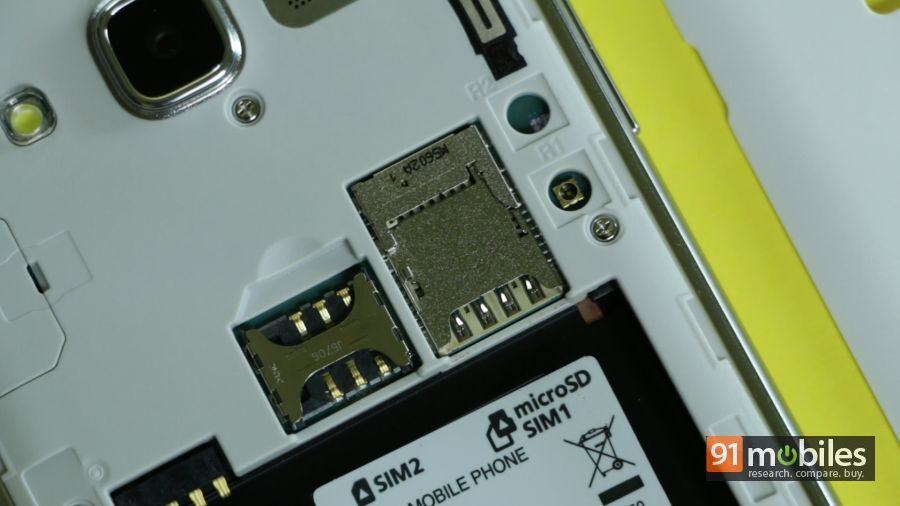 Juicing up the Samsung Galaxy J5 is a 2,600mAh Li-ion battery, which is extremely competent. It easily lasts for more than a day of use, even when the usage is heavy, comprising of 4G, Wi-Fi hotspot, navigation, etc., apart from making / receiving calls or sending messages. It's standby time is also good, and with moderate usage, it can even go on for one and a half days easily. In our battery test, where we play a 720p video on loop while keeping the brightness and volume at 50 percent and turn off all other things except cellular network, the J5 fared impressively with a runtime of slightly more than 12 hours.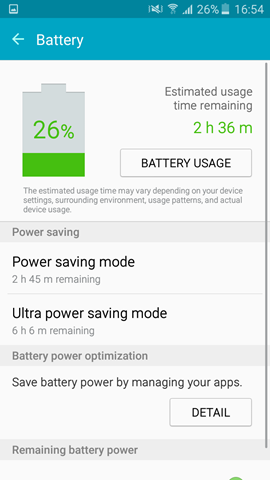 In a crunch, you can choose to extend the battery life of the Galaxy J5 even further by enabling the Ultra Power Saving Mode. The brand introduced this feature last year with the Galaxy S5, and it can ensure that the phone lasts further even with 5 percent battery as it shuts down all the functionality except calling and messaging.
Verdict

The Galaxy S6 duo strengthened Samsung's stronghold in the flagship market, but it's the Galaxy J5 and J7 that mark a bigger shift in Samsung's strategy. While the company has multiple offerings across various price points, including the affordable segment, none of of them piqued our interest, especially when pitted against the competition. The Galaxy J5 changes this with its compact build, powerful performance, good snappers and long battery life.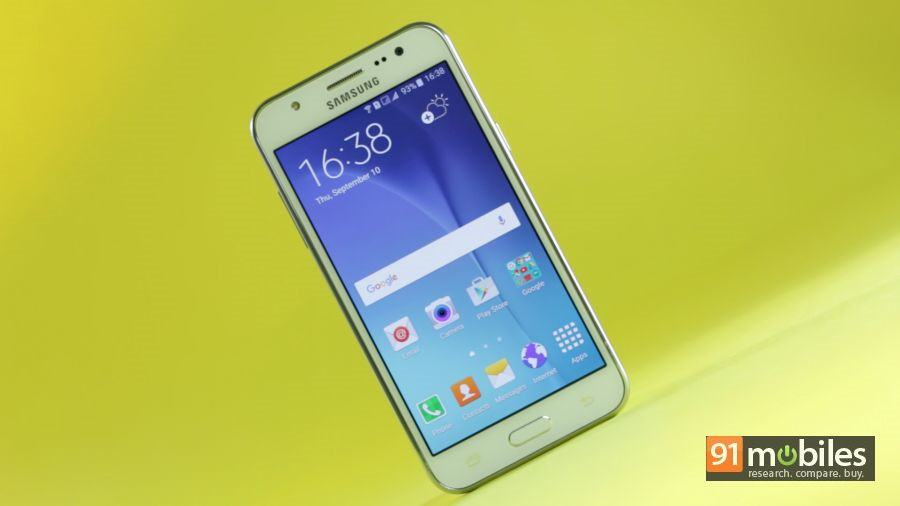 As much as the Samsung Galaxy J5 is loaded, with its price of Rs 11,999, it'll be up against some formidable options. If you're looking for compact 5-inchers, there are some good options such as the third-gen Moto G (review) and Xiaomi Mi 4i (review | FAQs). If you're comfortable using large-screen devices, you could consider the Lenovo K3 Note (review | FAQs), YU Yureka Plus (review) and MEIZU m2 note (review), which are all priced below Rs 10,000.
However, if you're looking for a capable, yet budget-friendly option from a tier-one brand like Samsung, the Galaxy J5 is definitely worth checking out.

Price: Rs 11,999

Editor's rating: 8 / 10

Pros
Compact build
Decent hardware
Strong battery backup

Cons
Lacks an ambient light sensor and support for USB OTG
8GB internal storage is barely enough
Photos by Raj Rout
Competitors for Samsung Galaxy J5
| | | |
| --- | --- | --- |
| Samsung Galaxy J5 | vs | Xiaomi Mi4i |
| | | |
| --- | --- | --- |
| Samsung Galaxy J5 | vs | Motorola Moto G (3rd Gen) |