"The latest iteration of the Moto G rocks our boat and comes across as a practical choice"
Raise your hands if you remember the Moto RAZR V3 – a slim clamshell that originally came out in 2004. It went on to become a bestseller around the globe, and achieved cult status. Motorola's also credited with inventing the cellphone, if you didn't know. But despite these and many other distinctions the brand holds to its name, we were still sceptical when Motorola announced its comeback into the Indian market early last year, and introduced the Moto G (review) in the country eventually in February 2014. All our apprehensions were laid to rest when we reviewed the smartphone, and actually called it a game-changer considering the immense value for money it offered. This device pioneered the trend of exclusive online sales in India, and it was only later when Xiaomi came in and introduced us Indians to flash sales. The Moto G has been another success story for Motorola, both globally as well as in India. By the time the second-generation Moto G came out (in September 2014), the likes of Xiaomi and ASUS had managed to change the Indian smartphone arena drastically. In such a scenario, the Moto G 2nd-gen (review) didn't really excite us too much, but was still a very compelling device. Now the brand is back with the third iteration, and the smartphone dives in even rougher waters considering the state of the industry now.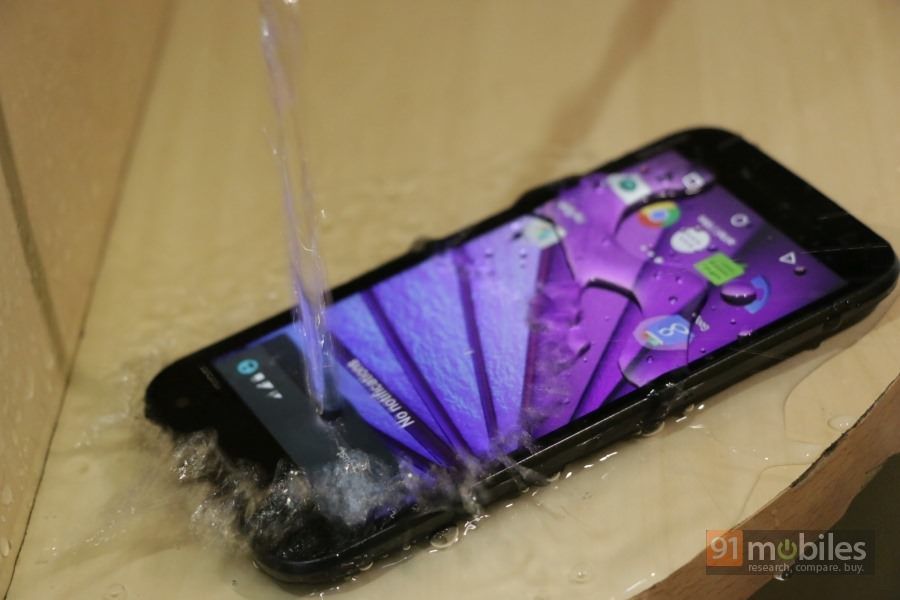 Speaking of rough waters, the one new feature in the Moto G 3rd-gen (unboxing | first impressions) that stands out significantly has to be its water-resistant capabilities. The latest Moto G boasts IPX7 rating, which means it can withstand immersion in up to 3 feet of fresh water for up to 30 minutes (provided the back panel is properly closed of course). It's not dustproof, or designed to be used while swimming or in the shower, but we think that resistance to water adds significantly to its pull factor. Raise your hands if you've ever gotten stuck in a drizzle and your first impulse is to protect your smartphone. Or if you've ever knocked over a glass at meal time spilling water all over your precious smartphone lying next to it. The addition of this one feature alone, especially at this price point, makes the Moto G 3rd-gen quite compelling in our eyes. The smartphone also brings in 4G support, which is another feature that was missing on the predecessor. If you were to ask us, launching a smartphone that doesn't support 4G these days isn't too different from committing hara kiri. Most prospective smartphone buyers are looking for this keeping in mind the expected mass rollout of 4G LTE across the country in the coming months, and we think all new smartphones (barring maybe the entry-level and budget ones) should have it.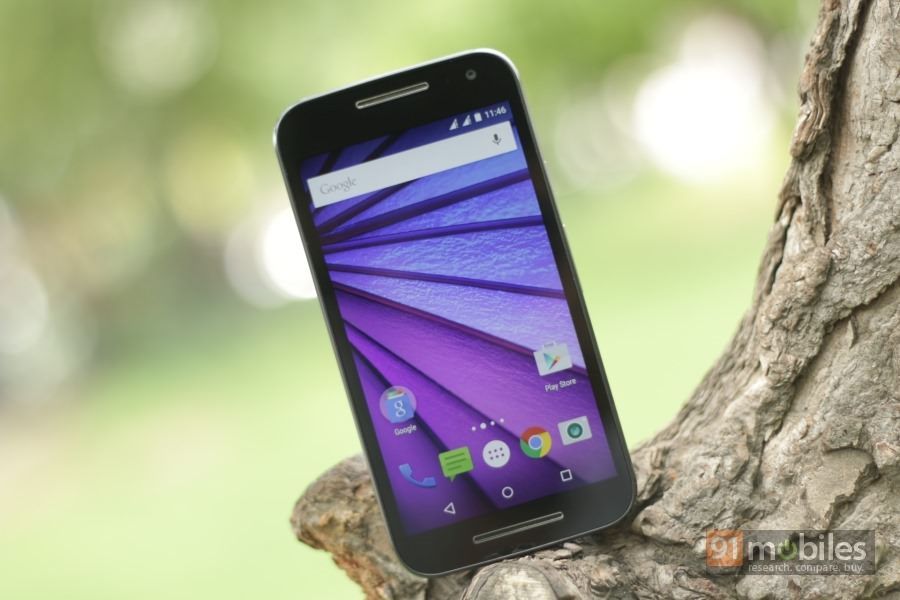 Otherwise, the Moto G 3rd-gen won't make you jump up in ecstasy if you were to just consider its specs, nor will it make your jaw drop with its looks. While that may sound like a strange start to this review, we'd urge you to read on… as we're hoping you might be a tad surprised by the way it ends. The Moto G 3rd-gen comes in two variants – one with a gig of RAM and 8GB storage, and another with 2GB RAM and 16GB internal storage. Both models comes with microSD card slots for adding more storage, and we'll be reviewing the latter.
Specs at a glance


5-inch, 1,280 x 720 pixel display (294ppi)
1.4GHz quad-core Qualcomm Snapdragon 410 (MSM8916) processor
2GB RAM
13-megapixel primary camera, 5MP front
16GB storage (expandable by 32GB)
Dual-SIM, 4G, Wi-Fi 802.11, Bluetooth 4.0, micro-USB 2.0, A-GPS, Wi-Fi Direct
Android 5.1.1 Lollipop
2,470mAh battery
IPX7 rating for resistance to water
A solid, business-like design


The Moto G hasn't really been a looker across the two generations that came out before the latest model, and even now, you're not likely to turn heads with it. That said, the design is much better than before, and we can safely use the word elegant to describe it, if not stylish.
The front is the usual.. with the screen dominating the proceedings. There are no dedicated hardware navigation screen, but there's a chrome-accented earpiece on top, along with the sensors and the front camera. No need to search for a notification LED – it isn't there. The front-firing speaker below the screen is a nice touch, and since it sports the same look and chrome accent as the earpiece on top, the phone looks nicely balanced in terms of the fascia.
The metallic chassis visible on the sides makes its presence felt and adds to the build. The top slopes gently towards the rear, and this is where you'll find the headset socket and the secondary microphone, with the micro-USB port placed at the bottom.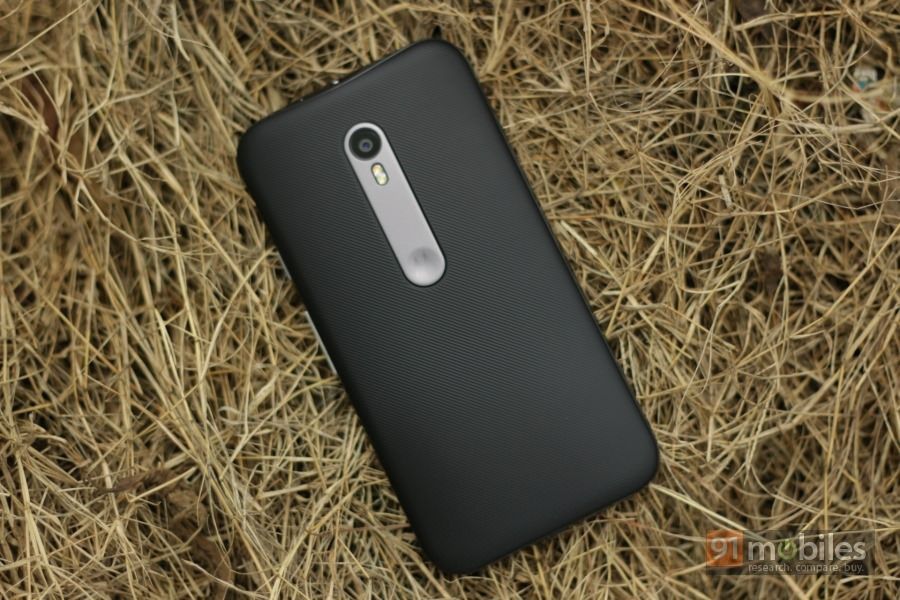 The rear is the highlight when it comes to design. It feels great in the hand thanks in part due to the curves on both sides, and also because of the rubbery finish and the striped pattern on the back panel. The main design element that stands out at the rear is the vertical metal strip that holds the camera lens with the true-tone LED flash below, and the dimpled Motorola logo.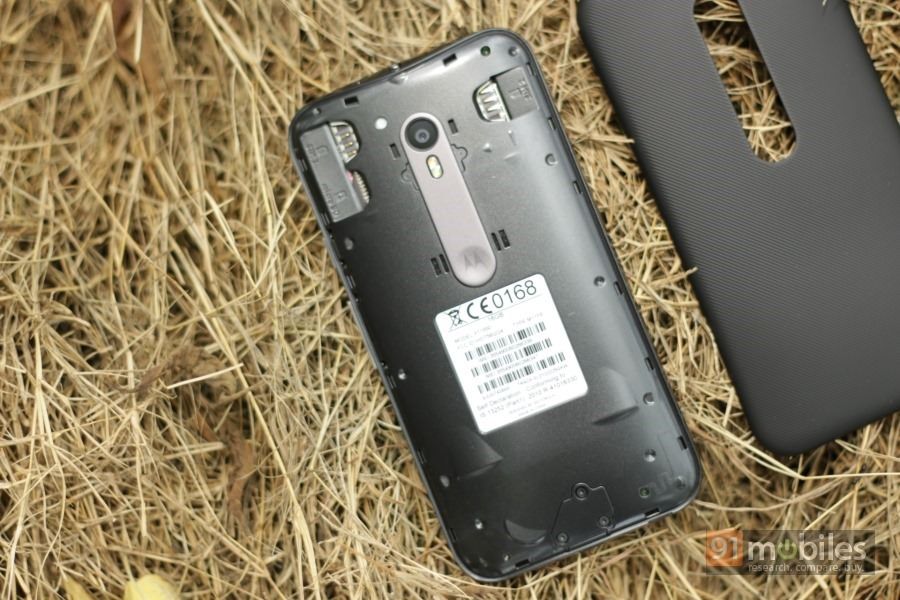 The rear panel can be pried open, and though you can't pull out the battery, you can get access to the pair of micro-SIM slots and the microSD card slot. The right spine is home to the power key and the volume rocker. Both keys are finished in metal, but the former is textured, so it's easier to find by feel alone.
Our review model comes in black, but the white one looks a tad more stylish we'd say. You can also choose to add a dash of colour to your device by opting for one of the brightly-hued shell covers and flip cases that Motorola has made available.
No full HD display at this price? Seriously?


Yeah, seriously. The Moto G 3rd-gen comes with a 5-inch screen bearing a resolution of 1,280 x 720 pixels, translating into a pixel density of 297ppi. There's a layer of Corning Gorilla Glass 3 on top for protection.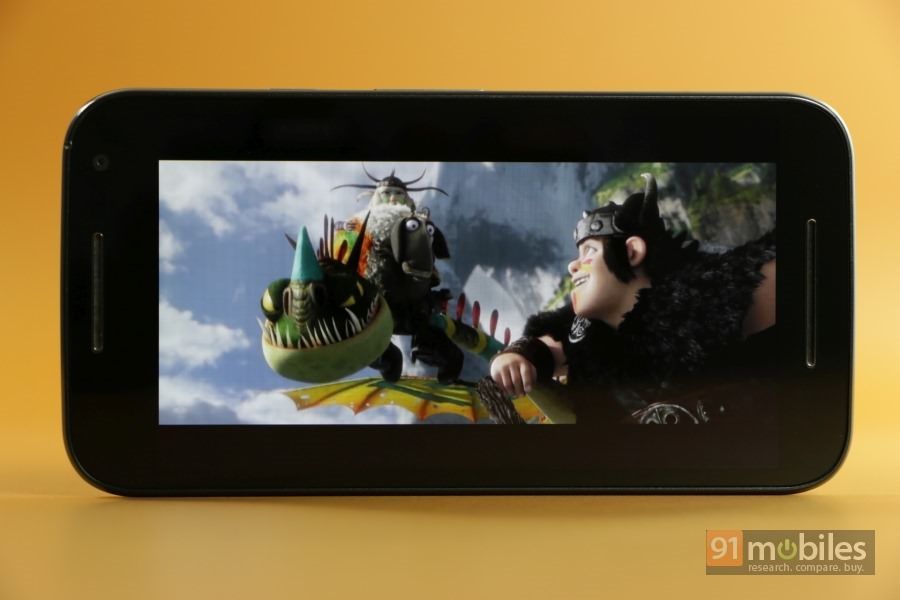 While a 720p screen may sound like a sour deal considering that smartphones with full HD displays can be found at similar, or even lower price points, we found no complaints with the Moto G 3rd-gen's screen. It's sharp and vibrant, the viewing angles are good, and it's very responsive to touch. You might feel it slightly lacking in comparison if you place a smartphone with full HD display next to it, but then, there's really no need to do that considering the new Moto G's display is quite capable on its own.
Lollipop without a wrapper


The mainstay of pretty much all Motorola smartphone offerings in the recent past has been stock Android – with no custom skins or feature spam.
The latest model takes the legacy forward, and runs Android Lollipop 5.1.1 in all its naked glory. Apart from the usual suite of Google apps, Flipkart's mobile app and Motorola's Migrate app that helps with transferring date from your old phone, there's nothing pre-installed as well. That isn't to say that the brand hasn't added its own goodies to the mix. Some of the features that were hitherto available on pricier Motorola phones have not trickled down to the new Moto G, and add quite a bit to the overall usability.
One of our favourites is Moto Display, a feature that uses the phone's sensors to detect when it's pulled out of the pocket or lifted up from a table, and lights up the screen with interactive icons indicating waiting notifications. Tapping one of the icons displays the notification content on top portion of the screen, and you can drag the icon upwards to jump straight into the corresponding app. Dragging the icon downwards will just unlock the device. You can even set it not to display notification content if you have any privacy-related-concerns, and choose which apps get to display notifications. Moto Display is turned on be default, but using the Moto app, you can turn it off in favour of Android Lollipop's Ambient Display, or choose not to wake the screen for notifications at all. To some extent, the Moto Display feature makes sure we don't miss a notification LED on the smartphone.
The Moto app is also the hub that integrates other features like Assist. This allows you to automate phone behaviour based on activity, time or location… switching your phone to silent when you're in a meeting or sleeping for example, or allowing only priority notifications when you're in the office. The Moto app also brings another feature called Actions, which allows you to launch the camera straight from standby using a quick double twist of your wrist, and toggle the flashlight using a double karate chop action. Do note that these features are on by default, and work quite well. It's a breeze to quickly turn on the flash when you're fumbling for keys in the dark, while the Quick Launch feature for the camera ensures you don't end up missing special moments. Repeating the same double twist of the wrist action that launches the camera again switches the viewfinder from the rear to the front shooter, just in case you need a quick selfie fix.
A sharp shooter


The previous generation Moto G rocked an 8MP camera, but this time, Motorola has upped the ante when it comes to shooting capabilities by cramming in a 13-megapixel primary camera. 13MP sensors are pretty much standard is most smartphones these days, barring the budget ones and premium flagships, so the move isn't surprising. The front 5MP snapper is also par for the course.
The app isn't too different from earlier… featuring the same minimalistic interface, tap-to-shoot capabilities and a slide-out menu that pops out from the left. The latter slides out in the form of a spinning wheel and bears the modes and the settings. From here, you can enable modes like HDR, panorama, or night, set video modes or aspect ratio for stills, and control the flash. There's also an option to switch on focus and exposure control, and this displays a reticule on the screen along with a dial to tweak exposure.
When it comes to overall image quality, we were pleased with the results. The Moto G 3rd-gen can capture good-looking stills provided there's enough ambient lighting. The close-ups look nice too, and though the HDR mode is a tad overpowering, it could give you some nice results. The low-light shots are slightly grainy, but aren't too bad. The shooter isn't the best we've seen, but should suffice for casual photogs. Do check out our review of the Moto G 3rd-gen's camera for more details, and here are some samples for a quick glance at the image quality.
A dependable workhorse


The Moto G 3rd-gen comes powered by a 1.4GHz quad-core Snapdragon 410 processor, which is a small step above from the Snapdragon 400 that powered the previous iteration. The Snapdragon 410 chipset is a value / mid-range offering from Qualcomm, and can also be found in lower-priced phones like the YU Yuphoria (review) and even Motorola's own budget Moto E 2nd-gen 4G, though these devices have it running at a max speed of 1.2GHz. The processor is mated to 2GB of RAM (we're reviewing the variant with 2GB RAM, remember?), which is a spec that has also trickled down to budget phones by now. However, if you dismiss the Moto G 3rd-gen based on these core specs alone, you'll be judging the book by its cover.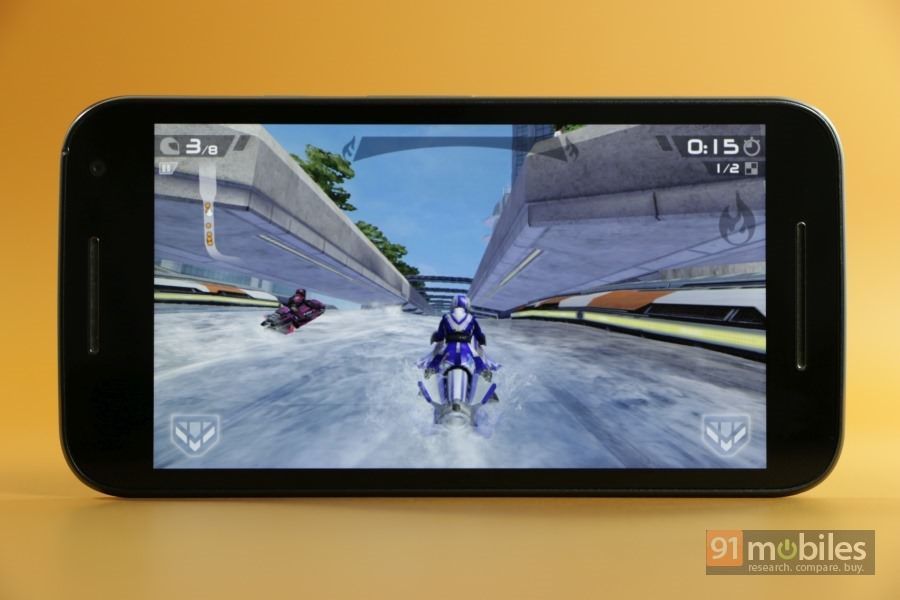 The Moto G 3rd-gen defies its specs and puts in a strong performance, without showing any signs of lag. We didn't face any hiccups during our usage, and the phone handled even intensive games with aplomb. Sure, it may not be a rocket, but it's no wimp either, and won't leave you wanting for more in the performance department as far as regular day-to-day usage is concerned.
Out of the 16GB of storage on board, you're left with about 11GB to use after accounting for the OS and other stuff. Up to 32GB more can be added via the microSD slot, and you can also make use of USB OTG capabilities for quick access to content loaded on USB flash drives or hook ok with other compatible peripherals. The other connectivity options include dual-SIM 4G (with support for both Indian LTE bands, and on both SIM slots, though only one SIM can work on 4G at a time), Wi-Fi, Bluetooth 4.0, A-GPS, GLONASS, BeiDou, Wi-Fi Direct, screen mirroring over Miracast and micro-USB.
The sealed 2,470mAh battery should be able to last you a full working day with moderate usage with ease. In fact, there were some days during our review period when we returned home with about 40 percent battery remaining, but that was with light usage. If your usage is heavy or involves battery-consuming activities like gaming, GPS navigation or extensive 3G/4G data usage, you might need a top-up charge by evening. There's a built-in battery saver feature that can help extend battery life. Our video loop test ran for almost 11 hours, which matches our real-life usage to indicate that the Moto G 3rd-gen won't disappoint when it comes to battery life as well.
Verdict


The Moto G 3rd-gen variant with 2GB of RAM and 16GB storage is priced at Rs 12,999, while the other variant with half the RAM and half the storage is priced just Rs 1,000 cheaper at Rs 11,999… so picking the pricier model over the other one is really a no-brainer. In fact, we wonder why Motorola even bothered with the 1GB/8GB model at all. Our verdict therefore, is just centred around the model with 2GB RAM.. the one we've reviewed here. By now, you must've figured out where this is headed – the Moto G 3rd-gen comes across as a great all rounder. Despite that, it's not really an easy choice to make considering the other options available in the same price segment, especially if you keep the specs in mind. The Xiaomi Mi 4i (review) is its closest rival, and comes with a full HD screen and an octa-core Snapdragon 615 chipset. Even the Xiaomi Mi 4 (review) isn't too far off in terms of pricing, and though it lacks 4G and dual-SIM support, it's a great deal for its asking price as it offers 3 gigs of RAM and uses the powerful Snapdragon 801 for horsepower. Both these Xiaomi devices are very good too, in our opinion. Then there are quite a few phablet options, covering the likes of the Lenovo K3 Note (review), YU Yureka Plus, MEIZU m2 note (review), and the 2GB RAM model of the ASUS ZenFone 2, along with many others currently available in the same price range. Now you know why we said that choosing the Moto G 3rd-gen over one of these options isn't an easy choice to make, given that almost all of them offer better core specs and full HD displays… and many cost lower too.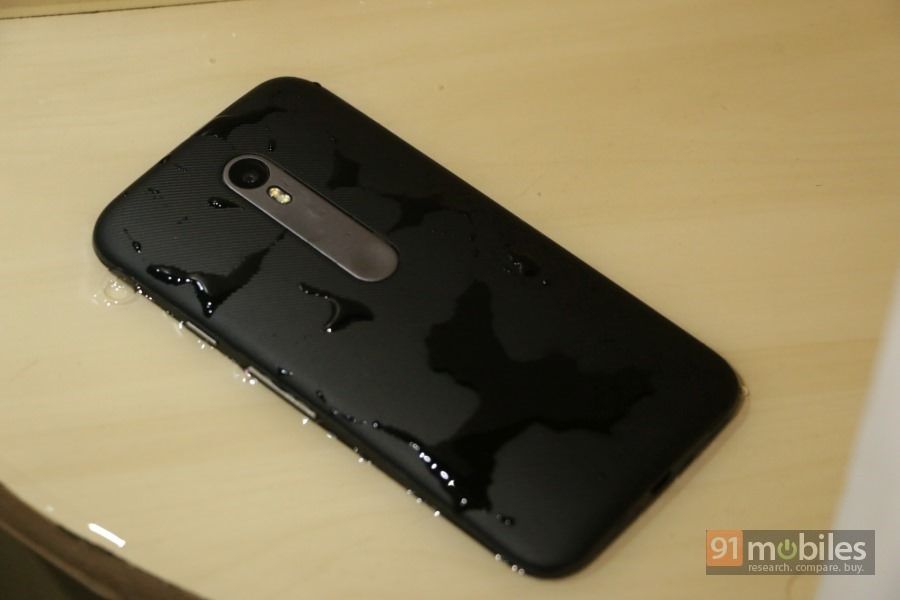 If there's one aspect that makes the Moto G 3rd-gen rise over and above all of these rivals, it's the fact that it doesn't shy away from getting drenched. By bringing this immensely useful feature in this price segment, Motorola has successfully managed to differentiate the Moto G 3rd-gen and make it extremely compelling. That said, let's put aside the IPX7 rating for a bit and take a look at the other goodies it brings to the table – a solid build, compact dimensions thanks to the 5-inch screen, a reasonably capable camera, smooth performance, and good battery life. And we haven't even mentioned the provision of stock Android, spiced up with a few useful features such as the Moto Display, Assist and Quick Launch for the camera. Choosing the Moto G 3rd-gen over one of its flashier, seemingly better endowed rivals is akin to choosing to wear a black suit to a formal event – which is a safe, practical choice. You aren't likely to stand out from the crowd, but you won't end up making a faux pas either. So if you're willing to avoid the spec-comparison route, the Moto G 3rd-gen comes highly recommended.
Price: Rs 12,999


Editor's rating: 9 / 10


Pros
Solid build quality

Water resistant

Smooth performance

Good battery life

Stock Lollipop spiced up with a few useful features
Cons
No notification LED

Low-light camera performance could have been better
Photos by Raj Rout
Competitors for Motorola Moto G (3rd Gen)
| | | |
| --- | --- | --- |
| Motorola Moto G (3rd Gen) | vs | Motorola Moto G Turbo Edition |
| | | |
| --- | --- | --- |
| Motorola Moto G (3rd Gen) | vs | Moto G4 Play |