"Taking Samsung's largest (and costliest) tablet through its paces"
Nobody knows product extensions better than the Korean behemoth Samsung. Within just five years of the inception of its Android-toting Galaxy devices, the number of products in the range have literally spawned a galaxy spread across different screen sizes and price points. The brand can also be credited with single-handedly starting the phablet revolution with the Galaxy Note launched back in 2011. Along with a large screen, the device also featured a stylus allowing users to unleash their creativity. Since then the Note series has grown to include a few tablets such as the Note 8 and Note 10.1 with stylus functionalities. Now, the brand has outdone itself again with the launch of NotePRO – the largest tablet in its portfolio flaunting a 12.2-inch display (Samsung's TabPRO 12.2 also bears the display of same size). As can be understood from its moniker, with the addition of the 'Pro' suffix, the vendor hopes to cater to business users. It's a huge challenge as business users are used to working on their computers and laptops, plus have demanding needs as compared to general users. So, has the company been successful in its pursuit or is the device just an enlarged Note? Let's find the answer to that question in this review.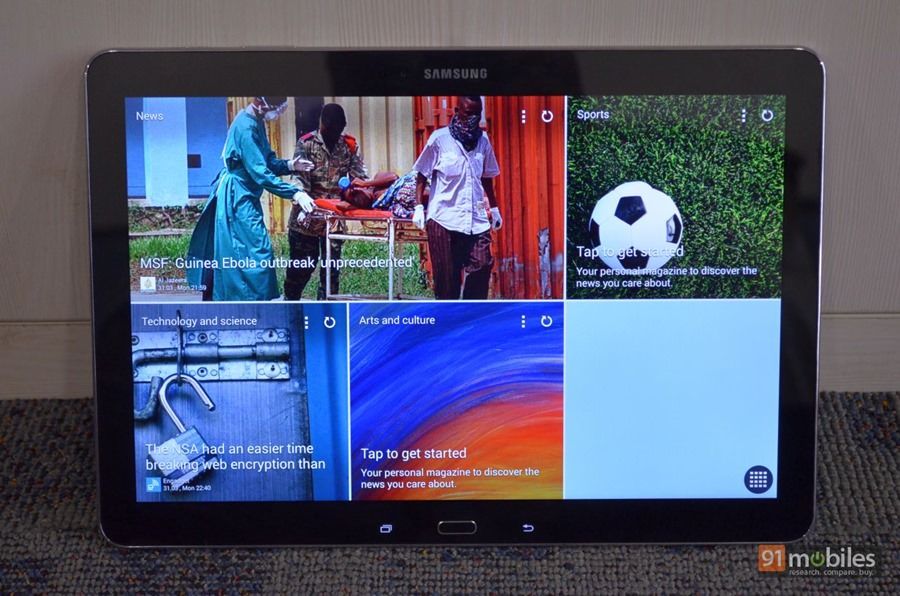 Supersized Galaxy Note 10.1
At the outset, the slate looks just like a bigger Galaxy Note 10.1, which in turn shares similarities with the
Note 3
. Right from the placement of the controls and ports on the sides to the pleather back, you won't notice many differences between the NotePRO and
Note 10.1 (2014 edition)
. However, the Galaxy NotePRO features the latest micro-USB 3.0 port just like the Galaxy Note 3, in place of the micro-USB 2.0 port found on the Note 10.1. Thanks to backward compatibility, the tablet can also be charged from a regular USB 2.0 cable apart from the microUSB 3.0 cable available in the package, though data transfer speeds will vary accordingly depending on the type of USB port on the computer it's mated to. Another difference between these devices is that Samsung has chosen to tweak the Galaxy NotePRO's standard layout of physical home button flanked by two capacitive buttons. In this case, the option key is replaced by a recent apps button. We aren't getting into the finer details about the design, since they have been discussed in our
Galaxy Note 10.1 review
.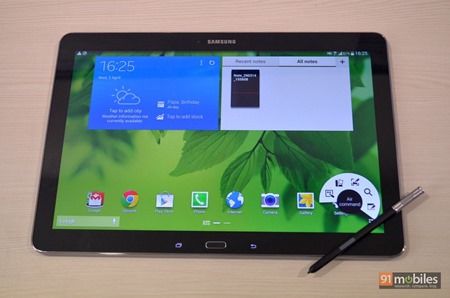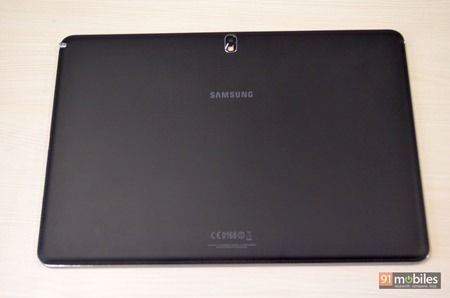 Coming to the handling aspect of the slate, we can bet that it'll take more than some getting used to. You have to either hold it with two hands all the time when consuming content (and it's not easy to type or perform an action) or keep it on a surface because of its large size. Its considerable weight of 753 grams makes the matters even worse. However, the use of faux-leather makes the device less prone to slipping. Additionally, if the slate is kept on a surface, then the rear doesn't get scratched easily.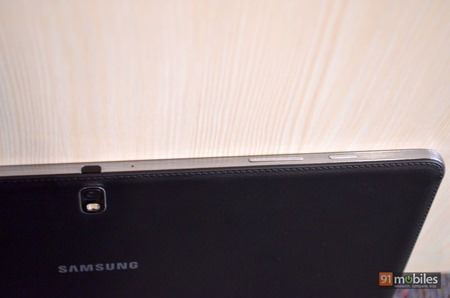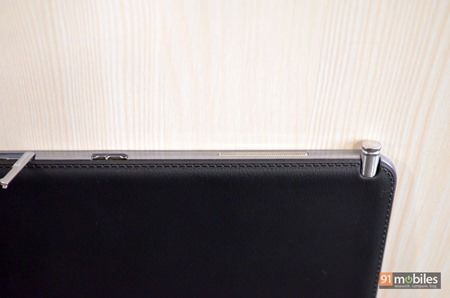 The enormous display delivers high-resolution visuals
Hailed as one of the largest tablets till date, the Samsung Galaxy NotePRO flaunts a 12.2-inch display. At this size, it's almost similar to laptops with 13-inch displays. The screen offers WXGA resolution (2,560 x 1,600 pixels), equaling a pixel density of 247 pixel-per-inch. In one word, the display is gorgeous. We really loved using the slate for watching movies, reading text and emails and also browsing the web. It has adequate brightness along with good viewing angles. Sunlight legibility is also quite good.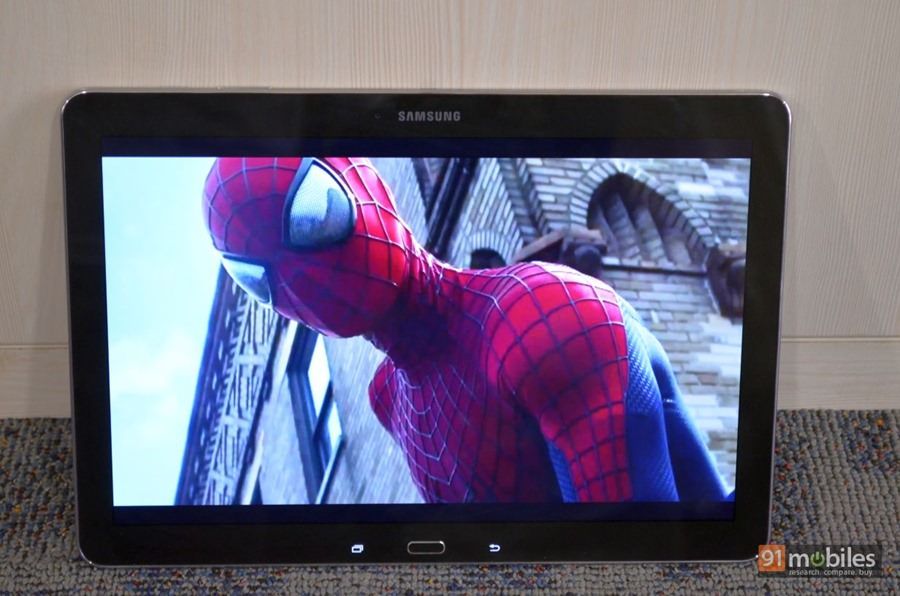 During reading, we really appreciated the
Reading Mode
feature provided by the device as this option dims the brightness and reduces colour tones on the display. This makes for distraction-free reading as well, and also causes less eye strain. Users also get the option to select the apps in which they want to utilise the feature.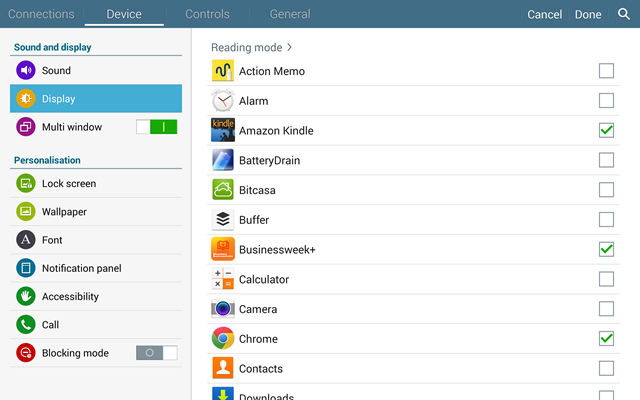 Software harnesses the hardware capabilities
Samsung has fully loaded the Galaxy NotePRO when it comes to apps and software features. Running Android 4.4.2 KitKat with the heavily-customised TouchWiz layer, the tablet has some useful (along with some gimmicky) enhancements. First up, the home screen offers two standard screens with different widgets and app icons. But swipe to the left, and you'll be greeted with a tile-based layout of news, which the company calls the
Magazine UX,
powered by popular news-reading app
Flipboard
. By default, There are two screens with this layout and give access to news categorised under technology, business, sports, etc. as well as updates from
Facebook
and office documents. In simple words, it's Samsung answer to
BlinkFeed
found on HTC smartphones, though not as refined as we'd have preferred. It displays news in each category, but instead of taking you directly to the news when you click upon it, the interface takes you to
Flipboard,
and you have to click on specific headline again to view it. Even if you don't like the UX, sadly, you can't remove it completely as it'll always remain on at least one of the home screens.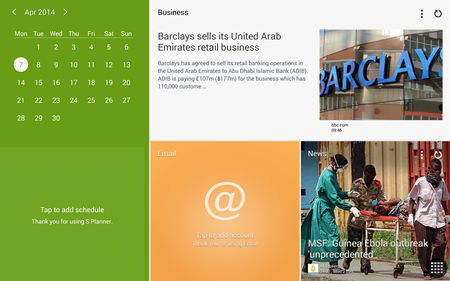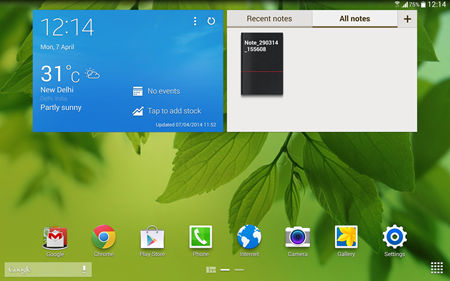 Most of the times, the stock keyboard on devices doesn't offer good accuracy, but with the NotePRO, Samsung has made good use of the large screen. The keys are well spaced-out, along with a row of numeric keys at the top. The keyboard is fully customisable, giving you the option to use it in a floating mode that can be dragged to anywhere on the screen, or a split mode allowing you to make proper use of thumbs on the large screen. The keyboard also supports
swipe-to-type gestures
making it easier to type fast and accurately.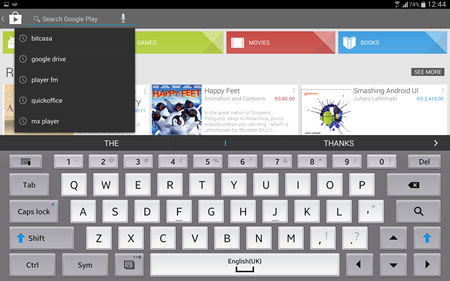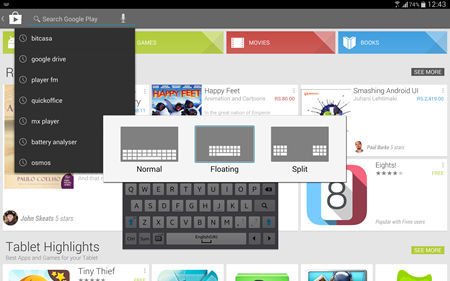 The highlight of the device ought to be the
Multi Window
mode. The feature is available on many Samsung devices, but it becomes incredibly useful in the case of the Galaxy NotePRO thanks to the availability of more screen real estate. In fact, the
Multi Window
mode offers complete flexibility by allowing you to open apps in floating mode or in a fixed split mode. The mode can be enabled by a long press of the back key, which pops up a sidebar. If you simply tap on an app icon on the sidebar, it'll be opened in a floating window which can be resized or dragged anywhere. At any point of time, you can open five of such applications. To open these apps in split mode, you have to long-press the app icon on the sidebar and then drag it on to the screen. The device is capable of running four apps in this mode. However, only the default apps can enjoy this feature along with a handful of other apps. Another good use of this feature is that the apps are minimised and always remain on the screen so that you can open any of them while you are using another app. The split mode also comes into play when you open a link through apps like
Facebook
,
Twitter
,
Evernote
or view a file or video through the file manager.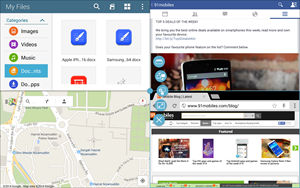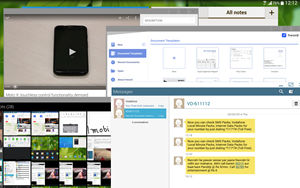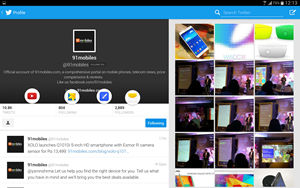 To make the tablet even more lucrative to professionals, Samsung has preinstalled multiple apps with premium subscriptions.
The
New York Times
app offers free subscription for the first 12 weeks, while
Bloomberg Businessweek+
magazine offers one year membership. Users also get 50GB of Dropbox storage for a period of two years, as well as 12-month premium account on popular productivity software
Evernote
. For office usage, it comes with free
Hancom Office
allowing you to open and edit documents, six-month worth usage of
Cisco WebEx Meetings
for tele-conferencing with up to eight users,
e-Meeting
allowing to share notes during a meeting, and two years worth of
Remote PC App
so that you can access your computer from anywhere. Creative people will like the inclusion of
Autodesk Sketchbook
giving them the ability to truly exploit the capabilities of the S Pen. Enterprise users can also make use of
KNOX
mode to password-protect their stuff and keep it segregated from personal data.
Hancom Office
with its suite of
Hword
(for opening word documents),
Hshow
(for opening presentations) and
Hcell
(for opening spreadsheets) is one of the best office apps available on mobile devices, giving users a remarkably similar interface as Microsoft Office.
Peel Smart Remote
app allows you to control your TV (in conjunction with the IR blaster on top) along with providing a program guide.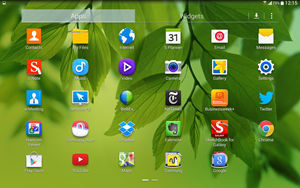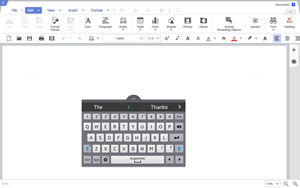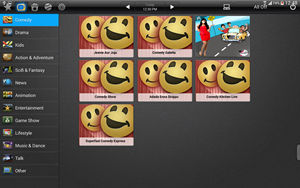 Identical to Samsung's flagship mobile phones, the tablet features some useful motion capabilities such as the option to take a screenshot by swiping your palm on the screen. Functionalities like
Smart Stay
to keep the screen awake as long as it can detect your eyes and
Smart Pause
to automatically pause videos when your eyes are looking in other directions are also available.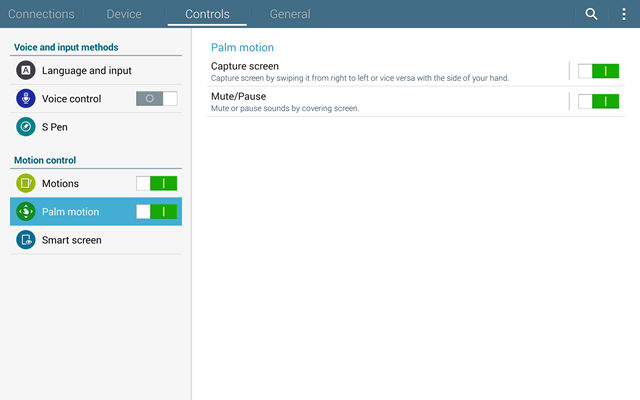 Top-class performance
In terms of the internals, the device is exactly the same as its smaller slate sibling and the Galaxy Note 3. The performance is handled by an octa-core Exynos chipset with a combination of a cluster of four Cortex A15 cores operating at a frequency of 1.9GHz and four Cortex A7 cores with a clock speed of 1.3GHz. Technically, it's an octa-core processor, but only one of the two quad-core clusters is used, depending upon the task. However, Samsung claims that with the use of HMP (Heterogeneous multi-processing), intensive tasks can utilise all eight cores simultaneously, but only if the app developer has optimised their app for the same. The application processor is supplemented by a Mali GPU to render high-quality images and videos. With a generous 3GB RAM, the slate ensures there's no trace of slowing down even when multiple apps are running. That said, Samsung's own software features like
Multi Window
can take a toll even on such a powerful hardware when three to four apps are run at the same time.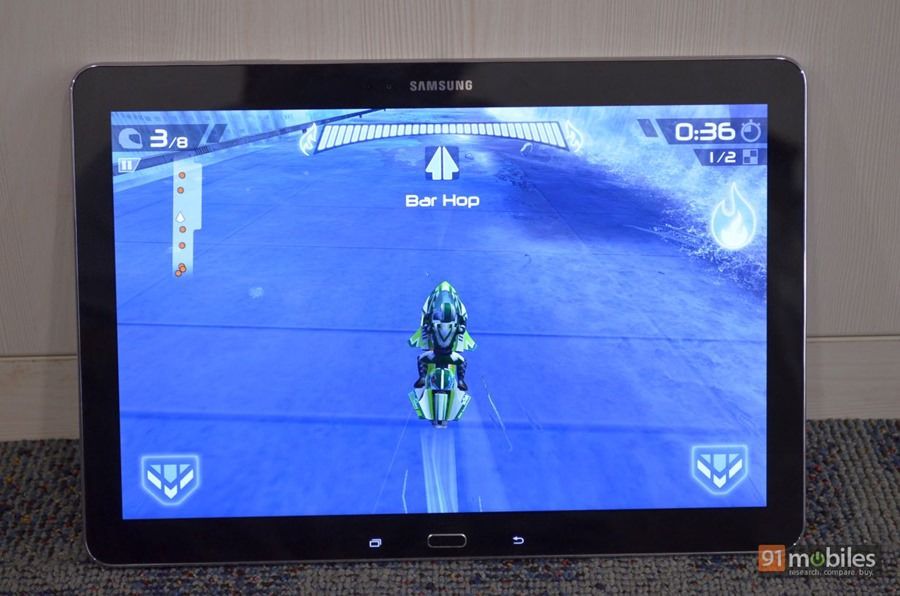 For memory, the slate is equipped with a 32GB of built-in storage out of which around 25.6GB is available to the user. If it feels less for your needs, then a microSD card of up to 64GB can further supplement the internal storage. The Galaxy NotePRO also has support for USB OTG, allowing you to plug in your flash drives.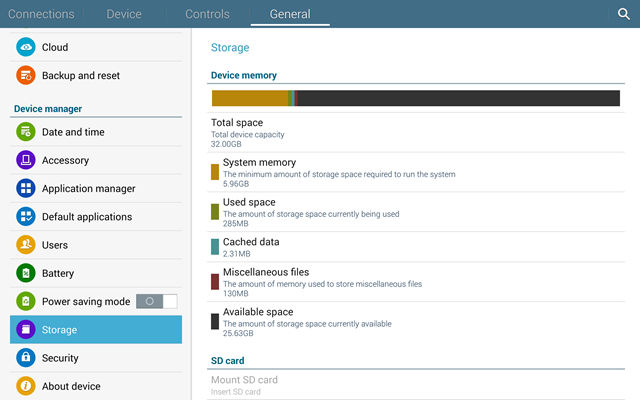 On the connectivity front, the tablet offers all the latest options including 2G/3G, Wi-Fi, Bluetooth, Infrared and GPS. Oh, did we tell you that you can also make calls from the Samsung Galaxy NotePRO? Regardless of how awkward it may seem, the device can also serve the purpose of a mobile phone by means of the speakerphone or wired / wireless headset since thankfully, there's no earpiece (we can't imagine anyone holding a tablet of this size against their ears). The IR emitter is used in conjunction with
Peel
Smart Remote
app to control TV, as we mentioned earlier. Another useful feature is the
Network Booster
option combing both the Wi-Fi and 3G speeds to download your content faster. You can also set the minimum download limit for the feature to start automatically.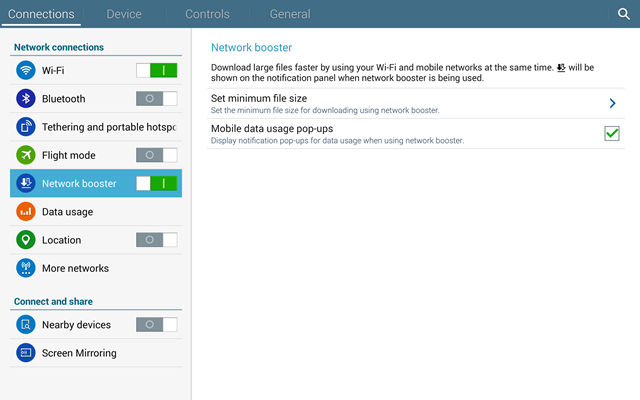 The similarities with a regular smartphone don't end here, as the slate offers an 8MP rear camera. There aren't much instances where you'd like to use the device to shoot something because not only it's very difficult to hold steady, the image quality is also average. For Skyping, there's a 2MP camera at the front.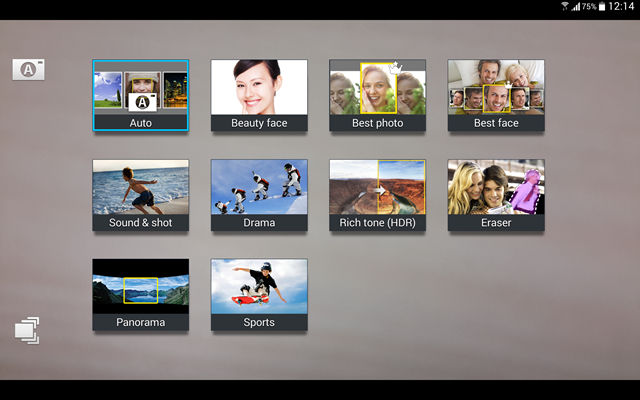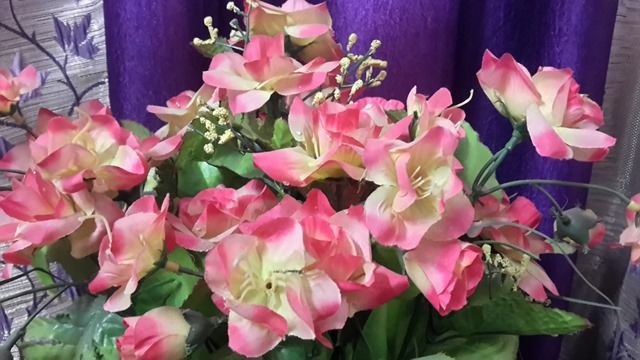 The top-notch specs of the tablet continue with its battery as well. The NotePRO sips power from a 9,500mAh battery. However, the high rating may not result in substantially better battery life since it powers a large high-res display. If you're using the tablet continuously for reading eBooks, watching movies, etc., then it can last around a day or so. For normal tasks, it can certainly give you a run time of around one and a half day to two days. When we ran our standard battery life test that involves playing an HD video on the tablet, the battery drained in about nine hours. Also, it's important to note that the huge capacity of battery requires a long charging time. The device also comes with
Power saving mode
that limits the CPU performance and reduces screen brightness to enhance the battery output.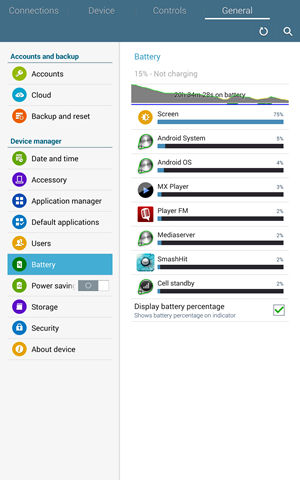 Serves multiple purposes, but with a few riders attached
One of the biggest selling points for tablets in general has been portability, allowing users to carry them anytime, anywhere. Be it while travelling or at work during a meeting or the comfort of your bed, you can use tablets comfortably everywhere. In case of the Samsung Galaxy NotePRO, the case is the exact opposite, since the USP of its large screen becomes one of its biggest negative points as well. You have to keep the tablet on a surface at all the time if you want to do something meaningful. Holding it in both hands may be fine for content viewing (and that too for short periods, considering its weight), but will not be very convenient to interact with the screen. But once you get over this limitation, then the tablet is a delight to use. Slates have always been great options to consume content such as viewing videos and reading eBooks. The Galaxy NotePRO changes that with its capable hardware complemented by useful software functionalities. Using multi window allows you to work on multiple things at the same time, which is especially useful for productivity-related tasks. The S Pen makes the use of the device even more fun and is tremendously helpful when you want to quickly jot down some ideas or want to doodle. Apart from such features, the S Pen also offers the
Air View
menu which provides quick access to useful features like
Action Memo
, screenshot annotation and scrapbook among others. Even simple tasks like watching videos becomes a great experience on such a large screen.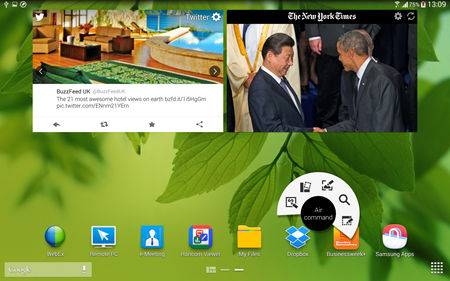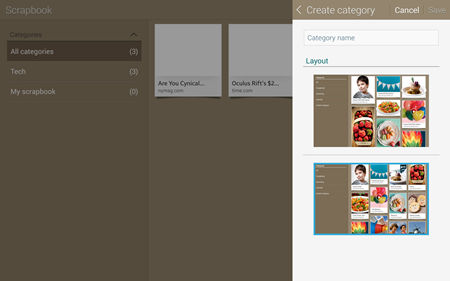 We even connected a keyboard via USB OTG with the tablet and it worked brilliantly. Most of the keyboard shortcuts are supported by the device and this solution makes it a handy replacement to a full-fledged laptop. Sadly, as much as Samsung has focused on productivity features of the slate, it overlooked one important factor. There's no way to keep the tablet upright. Had there been a kickstand or a cover allowing users to position the tablet, then it would have been easier to use on any surface. Even better, Samsung should have thought of a cover with a integrated keyboard, making it a full-blown laptop.
Verdict
At the asking price of Rs 64,900, the Galaxy NotePRO isn't cheap by any means. But when you put it against run-of-the-mill tablets, then the capabilities offered by the slate aren't available in most of them. Samsung has left no stones unturned in making the device an ideal companion for business users, right from its hardware to well-optimised software.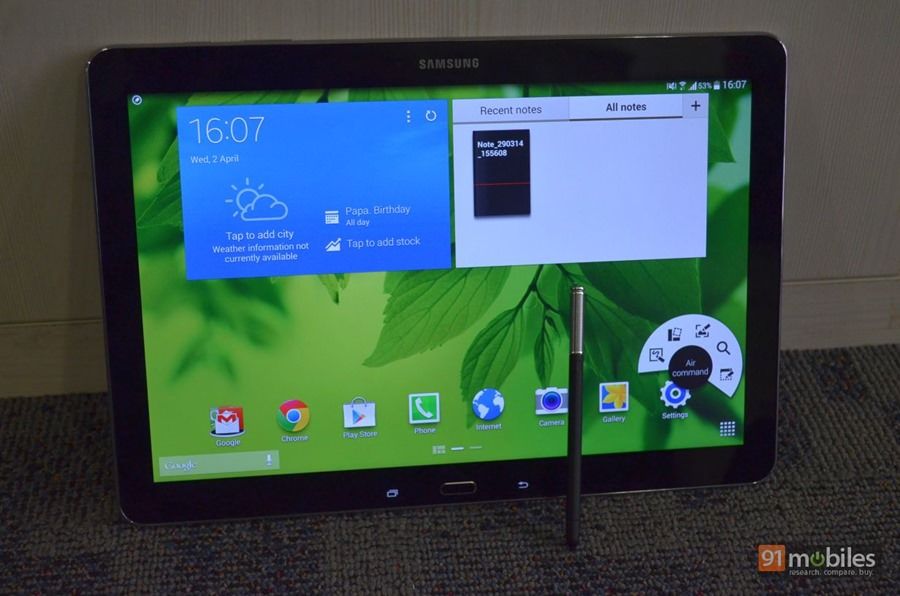 However, when it's compared to a normal laptop, then there are some obvious and not-so-obvious compromises. The biggest problem is that using a tablet would involve several workarounds even for basic tasks, so you must be receptive to change your habits when you're using it. Sure, Samsung has provided a means of multitasking, but it's still not in the same league as proper multitasking available on desktop platforms. It also can't stand against hybrid devices which can be used both as a tablet or laptop since it's easier to use them anywhere. In case of the Samsung Galaxy NotePRO, as mentioned earlier, there's no provision of keeping it in an upright position. But the device hits the sweet spot in terms of its weight, which is far lower than a laptop and is more convenient to use and can be taken out whenever the need arises. In contrast to ultrabooks or hybrids, it offers a powerful configuration against entry-level hardware plus a refined touchscreeen performance since Windows is a tad iffy when it comes to touch. Moreover, these Windows-based devices don't enjoy huge third-party app support as Android, especially when it comes to touch-optimised apps. Lastly, the S Pen which is also a mainstay of the Note series, is a great accessory for designers, making it easier to doodle sketches quickly. Even if you aren't a designer or creative person, the S Pen can be used for annotating on screenshots, notes and more. The Korean giant has also tried to bundle some premium apps to give the complete work-like experience. In the end, the Samsung Galaxy NotePRO is certainly the closest thing to an Android workhorse one can find in the market, though it fits the requirement of a niche set of users only.
Editor's rating:
7 / 10
Pros
Large, high-resolution screen
Powerful hardware
S Pen functionality
Premium software
Cons
Unwieldy to use as compared to smaller tablets
No kickstand
Average camera quality
Pricey
Specs at a glance
| | |
| --- | --- |
| Dimensions | 295.5 x 204 x 8mm |
| Weight | 753g |
| Display | 12.1-inch |
| Display resolution | 2,560 x 1,600 pixels |
| Processor | 1.9GHz quad-core + 1.3GHz quad-core Exynos chipset |
| RAM | 3GB |
| Internal memory | 32GB |
| External memory | up to 64GB |
| Primary camera | 8-megapixel with LED flash |
| Secondary camera | 2MP |
| Network support | 2G/3G (micro-SIM) |
| Connectivity | Bluetooth 4.0, Wi-Fi, IR and GPS |
| Battery | 9,500mAh |
| Operating system | Android 4.4.2 Jelly Bean with TouchWiz interface |