"Samsung's premium offering in the Android tablet space is well worth a look"
The tablet segment in India has
seen a fair bit of growth last year
, though most of that can be attributed to smaller slates with 7- to 8-inch screens. When it comes to full-sized tablets in the premium segment, the choice is quite limited, and the segment is dominated quite understandably by a certain Cupertino-based brand. Samsung's newest offering in this category is the
Galaxy Note 10.1 2014 edition
– a label we think is quite forward-looking since the tablet was
actually launched in late 2013
. In keeping with what Samsung is typically known to do, the Note series spans a slew of variants and screen sizes, with the
Note 3
being the flag-bearer of the range. In addition, you'll also find the
Note 8.0
, along with the
newly-unveiled
Note 3 Neo
. The mainstay of the Note range has always been the S Pen that opens up a world of doodling, sketching, annotating and note-taking for its users, and the latest Note 10.1 is no different. Before we get ahead of ourselves though, let's run the slate through its paces and figure out how it fares.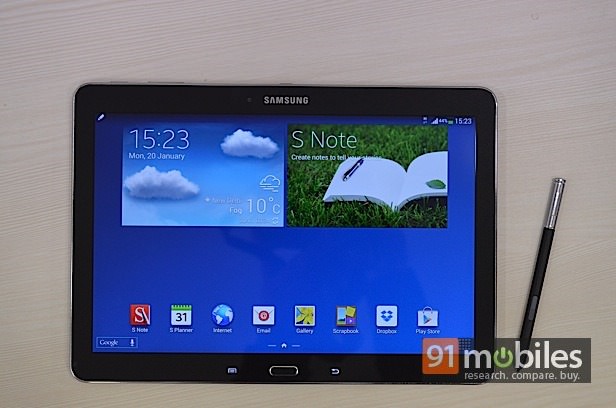 Supersized Note, and the world's largest smartphone
Samsung's Galaxy range has been universally criticised for its plasticky build, and it was with the Note 3 that the company took a step in the positive direction – using a faux leather rear panel to add to the looks and the build. The Note 10.1 2014 edition follows in its sibling's footsteps and sports the same back, complete with the faux leather and the faux stitching that runs around. A faux metal band covers the sides, and if you haven't noticed a pattern here, we'll just go ahead and put it in black and white – the word 'faux' appears too many times in the tablet's description. If we get our say, a premium device shouldn't have any faux materials in its construction. That said, the build doesn't seem too bad at all, though as you may have gathered from our rants, we'd certainly have preferred real metal and real leather considering the outlay involved.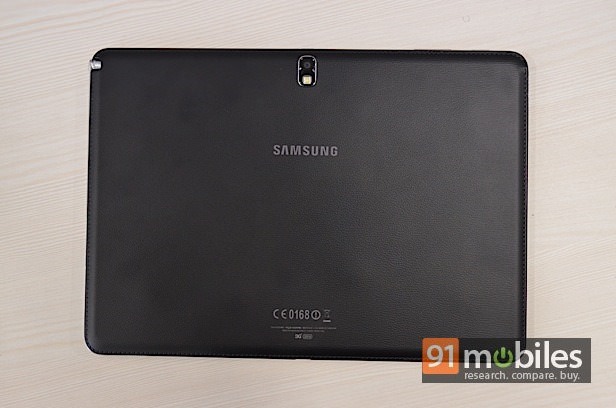 Crudely put, the tablet looks and feels like a supersized version of the Note 3, complete with a micro-SIM slot that not only serves up 3G data, but also voice call capabilities. A phone with a 10-inch screen? Thankfully, Samsung doesn't expect you to put it to your ears as there's no earpiece, but you can still use a wired or wireless headset, or the speakerphone to make and receive voice calls.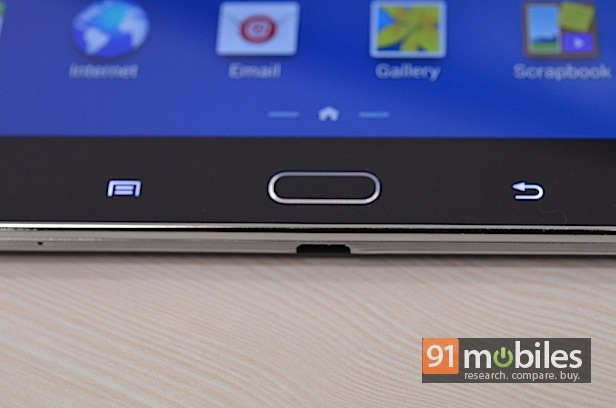 When held in landscape mode, you'll find the power button and the volume rocker on top, along with the IR port. The 3.5mm audio socket is placed on the left spine, and you'll also find the left speaker there. On the right, there's the silo for the S Pen near the top, and if you move further down, you'll come across the second speaker and two tab-covered slots for the micro-SIM and the microSD cards. The tablet skips the Note 3's microUSB 3.0 port and settles for a conventional v2.0 socket, which is located at the bottom.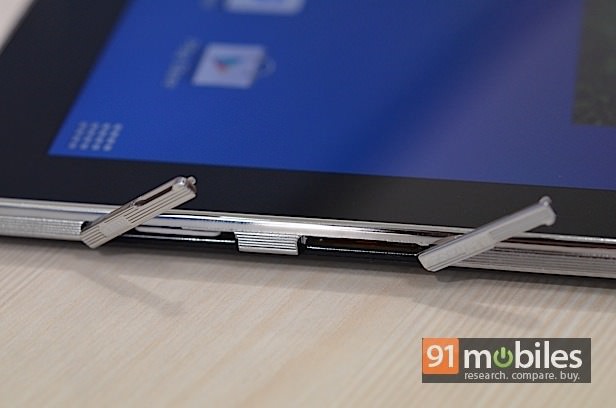 Gorgeous high-res screen delivers mouth-watering visuals
The slate's window to the world is a 10.1-inch Super Clear LCD that bears an eye-scorching resolution of 2,560 x 1,600 pixels with a very respectable pixel density of 299ppi. This puts it pretty much at par with the Apple iPad Air, and we won't be exaggerating when we say that it's really as good as it gets for a mainstream tablet these days. The results are great – something you'll notice immediately when you start using the Note 10.1. Everything from graphics-intensive games to high-def videos look scrumptious, while consumption-based activities like reading and magazine-style apps get a boost. The colours pop out and sunlight legibility is very good, though the downside is that apps or games with poor graphics and low-resolutions videos tend to look even worse.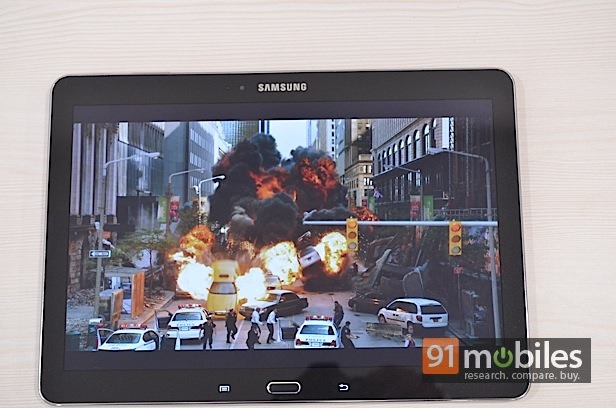 Massive viewfinder for a not-so compelling shooter
Did we mention that the slate features an 8-megapixel autofocus shooter at the rear? It's joined by a 2MP affair in the front that handles video-calling responsibilities. The camera comes with a full-featured app, similar to the Note 3, that gives you a fair bit of creative control and a slew of filters and modes, including auto, panorama, HDR, and Beauty shot. You can even set up voice control. We'd like to point out that a tablet can't serve as a primary shooter in our opinion, especially a slate of this size. Therefore, the camera usage then mainly centres around casual use for social sharing and the like. That said, we still think that if you're spending your hard-earned dough on a premium device, you should get your money's worth, and sadly, we can't say whole-heartedly if that's the case with the Note 10.1. The camera can certainly throw up usable results provided the lighting is good, but its performance goes down sharply along with the sun. Low light shots turn out grainy, and ditto for captured videos too. Then again, not too much of a deal breaker now, is it?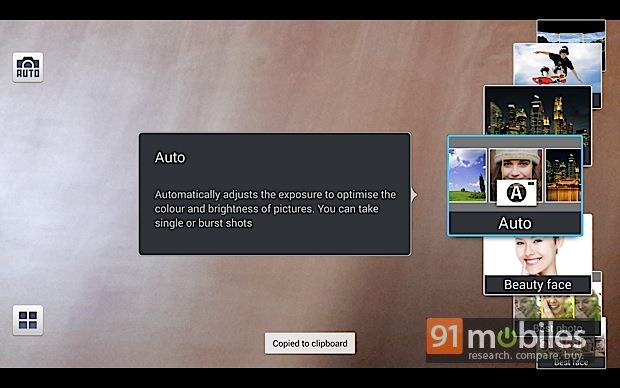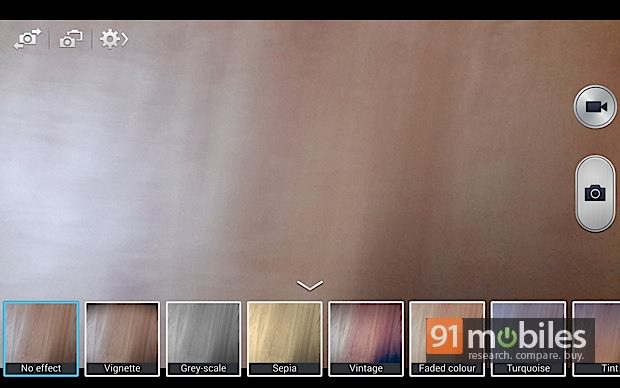 Crammed with software tricks, enhanced by the S Pen
The Galaxy Note 10.1 2014 edition ships with Android 4.3 out of the box, but that's all you'll get as far as the Android experience goes. As Samsung Galaxy owners worldwide would testify, the pure Android experience is heavily overshadowed by Samsung's TouchWiz UI that sits on top. The software side of the Note 10.1 is hardly any different from what we've seen on the Note 3, but thanks to the large screen real estate, the usability is much better. Apart from the smorgasbord of Samsung's apps such as
ChatON
,
S Voice
, the content hubs such as the Samsung App storefront and the Samsung Hub, there are the S Pen-specific apps that make it a real Note. A slew of gestures and special features such as Smart Stay, Smart Rotate, Smart Scroll and Smart Pause are included, using motion, the proximity sensor and the front camera to enable functionality. Samsung's note-taking app,
S Note
,
S Translator
,
Group Play
, and the
KNOX
security suit are included too, and so is
My Magazine
, a feature that's accessed by swiping up from the bottom of the home screen and displays news and social updates in a magazine-styled layout similar to
Flipboard
. Not too surprising since the feature is in fact, powered by Flipboard.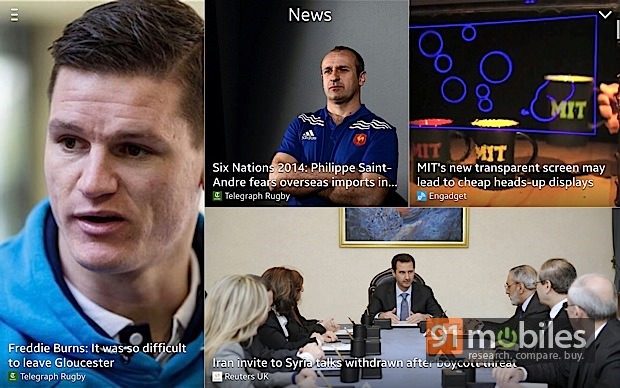 Multi Window is covered as well, and thanks to the large area at your disposal, becomes even more useful. The large screen gives you a reasonable amount of space to run two apps simultaneously, and even two instances of the same app. As compared to a phone, even one as large as the Note 3, the tablet presents a more realistic use case scenario if you're browsing the web on one side, and participating in a chat conversation on the other. Oh, and since this is also a phone, you can even install and use
WhatsApp
on it, if you're so inclined. Other third-party apps that are preloaded include
TripAdvisor
,
Evernote
,
Dropbox
,
BusinessWeek+
and
Polaris Office
. The
WatchOn
feature works in conjunction with the preloaded app and the IR blaster on top to convert the slate into a universal remote for controlling other devices like televisions and set-top boxes, though in this case we think a smartphone such as the Note 3 or the
Galaxy S4
(or the
HTC One
or
LG G2
for that matter) is handier than a tablet.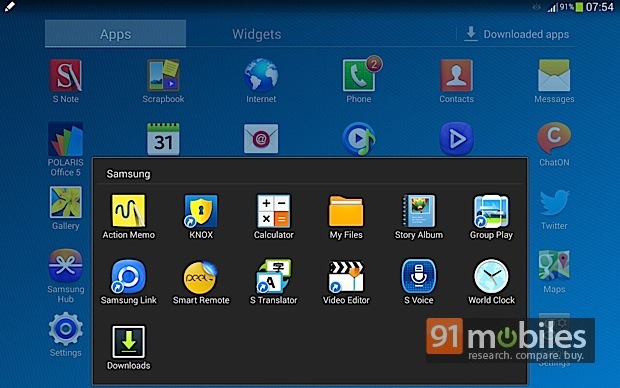 Pull out the S Pen and a fan-shaped carousel dubbed
Air Command
pops up, giving you quick access to
Action Memo
,
Scrap Booker
,
Screen Write
,
S Finder
and
Pen Window
. Using
Action Memo
, you can write a note and use the scribble to initiate an action – jot down a phone number and then make a call, note an email ID and send an email, and so on.
Scrap Booker
lets you capture tit bits of info from the screen and add them to your digital scrapbook, while you can use
Screen Write
to write on the display directly for quick memos or doodles.
S Finder
is search tool, while
Pen Window
allows you to draw a random window on the screen and run a floating mini app within it.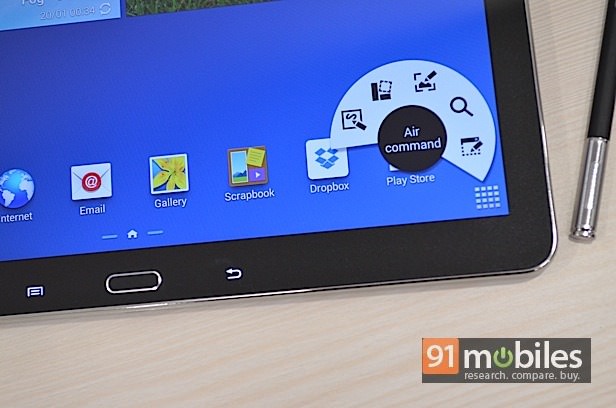 All compelling and highly-useful features, enhanced because of the screen size. The pressure-sensitive S Pen is a handy tool for drawing and doodling, and should turn out to be quite useful even if you aren't the creative sort. If you are, you'll appreciate the preloaded Autodesk's
SketchBook
app that lets you draw to your heart's content.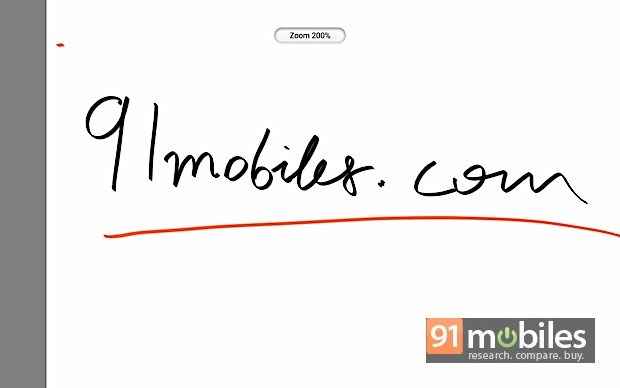 Has to be said that the device is crammed with so many software features that it may become a tad confusing, even overwhelming, for first-timers. Though you may not end up using all of them, you can get up to speed with the key ones in some time. And when you do, you can use them to your advantage after taking the time to figure out which ones are most beneficial for you.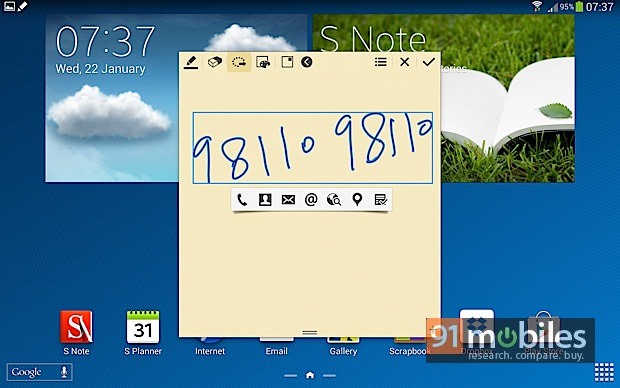 Zippy in use, helped by good battery life
Inside sits an Exynos 5420 octa-core SoC that integrates two quad-core clusters clocked at 1.9GHz and 1.3GHz respectively, that get 3GB of RAM to play with. With core specs like these, performance is almost effortless, with smooth operation, fluid gaming and comfortable multitasking. Most usage scenarios from day-to-day tasks and processor-intensive apps barely show any slowdowns, though there's a tiny, almost negligible hint of stutter on occasion. Thankfully, the device doesn't heat up when stressed. The sealed 8,220mAh battery is capable enough to make sure you don't visit the power socket too often, especially if your usage is intermittent… as is typical with a tablet. You should be able to eke out a day's use easily, though stretching it to a couple of days is also possible in case your usage isn't so heavy. That said, your mileage could vary depending upon the features you use and whether you use it heavily for intensive gaming or movie watching.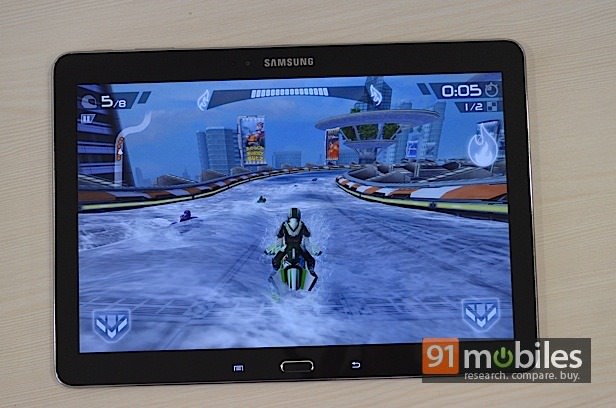 Other specs include 32GB of storage, augmentable via the aforementioned tab-covered microSD card slot on the side. Connectivity options are wide and varied, and cover the likes of 3G, dual-band Wi-Fi with 802.11 ac support, Wi-Fi Direct, USB On-the-Go, A-GPS and Bluetooth 4.0, though NFC is missing in action.
Verdict
By now, you must have figured out in which general direction this verdict is headed. Suffice to say we were fairly impressed with what the Note 10.1 2014 edition can do. Despite the faux bits, the build quality is pretty reasonable, and we don't think the so-so snapper is a deal killer given this is a large-screened tablet. The high-resolution screen, smooth performance, and a decent battery life make this a very compelling choice when looked upon in isolation. That said, if you're ready to spend its asking price of
Rs 49,990 (MRP)
, it'd be silly not to consider the
Apple iPad Air
. The range of tablet-optimised apps on iOS is far wider than on Android, and the platform's fluidity and ease-of-use is well-known. However, there are quite a few who'd prefer the flexibility offered by Android, along with its plug-and-play capabilities to transfer media and other data.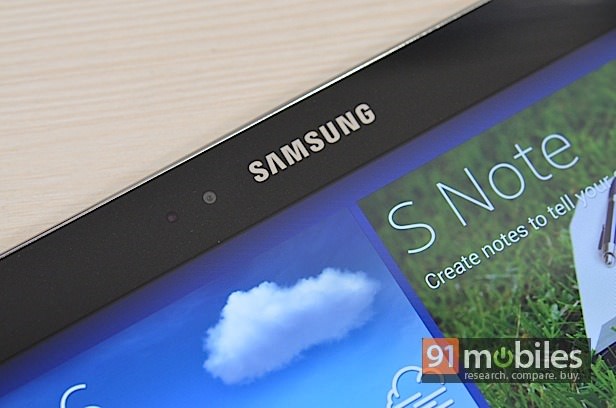 The fact that the Galaxy Note 10.1 lets you add more storage, offers voice calling as a bonus, plus a highly-useful S Pen, makes it a compelling choice in the Android segment, and one that we can definitely recommend. Make no mistake about this – the Samsung Galaxy Note 10.1 2014 edition is possibly the best Android slate currently available, and deserves more than a second look if you're out in the market for a premium, full-sized slate for work and play.
Editor's rating:
8 / 10
Pros
Gorgeous high-res screen
Smooth performance, coupled with a decent battery life
S Pen features
Expandable memory
Voice calling features are a bonus
Cons
So-so camera
Build quality leaves something to be desired, despite the faux leather rear