"We review Xiaomi's ultra-affordable fitness tracker, the Mi Band"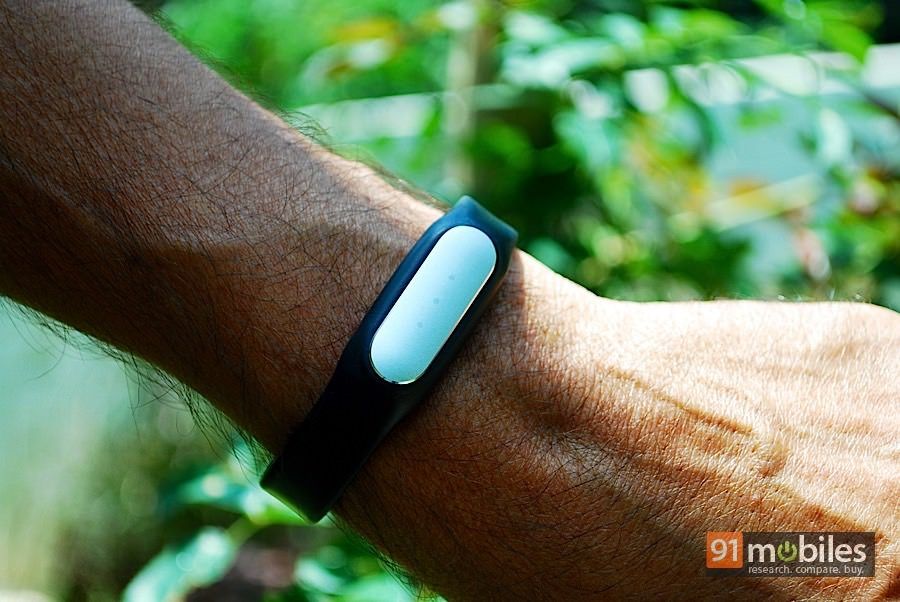 Over the last couple of years, Xiaomi has evolved into so much more than just a smartphone brand. It's expanded to tablets, smart TVs, power banks, headphones, power strips, and even air purifiers. The company's entire product range isn't available in India yet, but it's getting there. Its most recent launch in the country was the highly anticipated
Mi Band
, its maiden wearable that's been making waves owing to its super affordable price tag. At Rs 999, the Mi Band has put the fitness band into the hands of the masses, and that's evident from how it's been selling out like hot cakes in its weekly flash sales. Wearables have traditionally stuck to the premium domain, so it's hard to imagine something that affordable actually delivering on function and quality. We wondered the same, and after a few weeks of extensive use, here's our verdict.

An eye for detail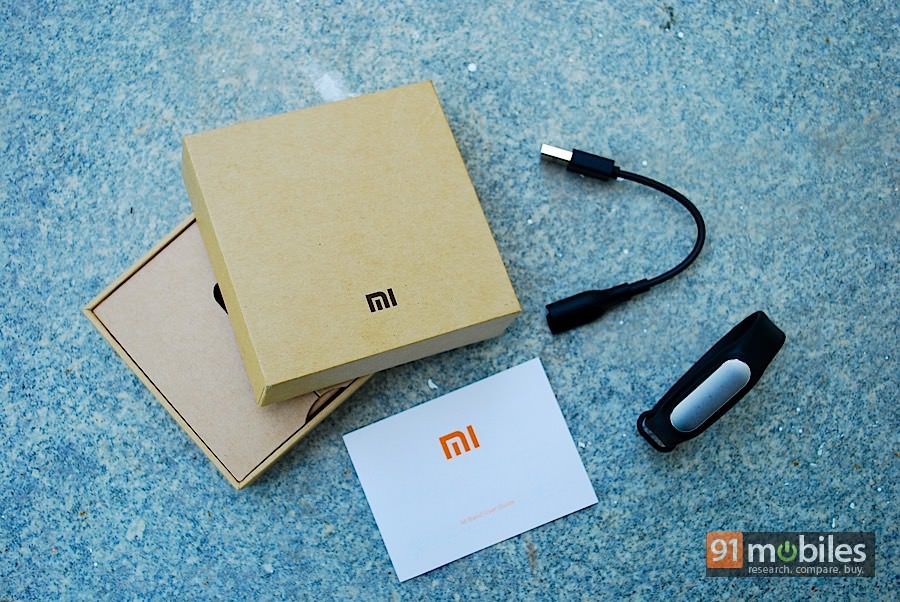 If there's one thing we've come to expect from Xiaomi, it's the attention to detail. For the Mi Band, this is evident both in the quality of the product, as well as the packaging. It comes wrapped in the company's classic brown box, in this case a neat square package. The lid opens up to reveal the core sitting on top. The inner lid of the box is lined with a layer of black foam to protect the core – a nice touch for such an affordable product. Inside, you'll find the rubber wrist strap, the proprietary charger and a user guide.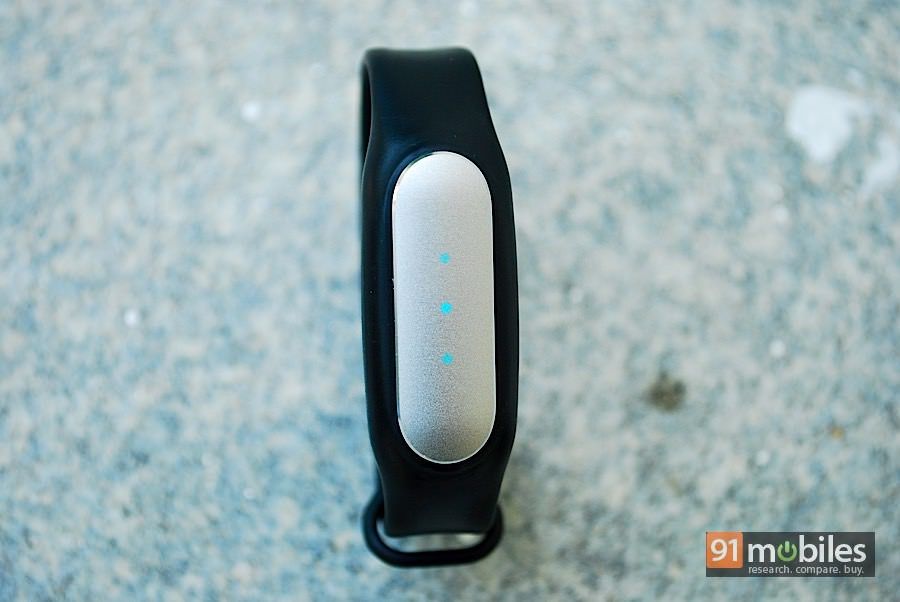 The surface of the core is made of aluminium alloy, and features a smooth, matte finish that's seemingly resistant to daily wear and tear. On the surface, you'll find three circular LEDs that light up to indicate various functions, which we'll come to in a bit. The core is embedded into a polycarbonate case, and you'll find two gold connectors on one end that fit into the charger. It's IP67-certified for water resistance – an essential feature as far as fitness trackers are concerned. Xiaomi says you can wear the Mi Band in the shower or the rain, but doesn't recommend it for swimming. But we think it might survive a dip, providing you wipe down the connectors after you're done to prevent tarnishing from chlorine or salt water. The main sensor inside the Mi Band is an accelerometer, and a military grade one at that. This lets the Mi Band measure steps walked and track your sleep by monitoring the level of movement.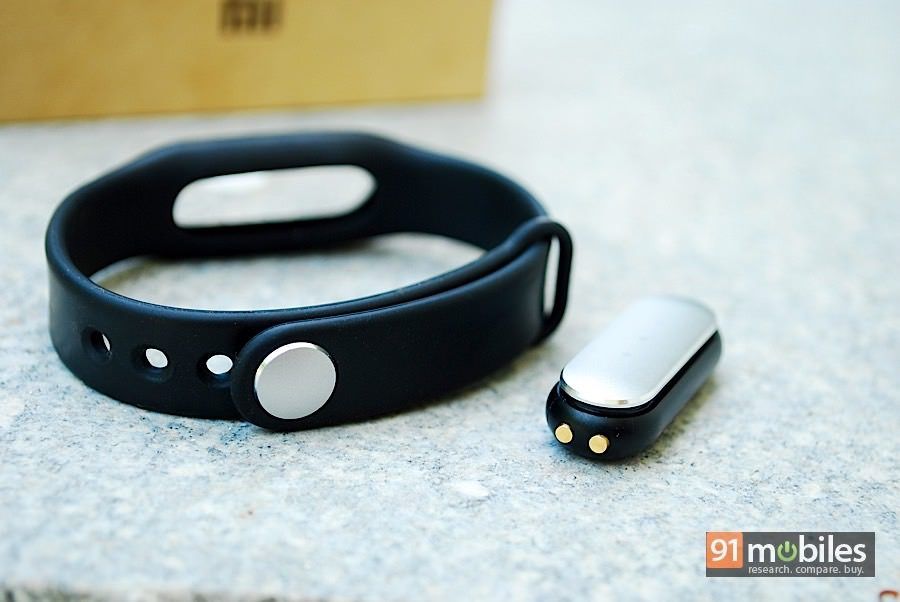 The wrist strap is made of TPSiV, a material that's a blend of thermoplastics and silicon rubber. The band is flexible, smooth and comfortable, and Xiaomi says it's anti-microbial and anti-allergic too. During our usage, we didn't get any skin irritation or rashes (we're looking at you, Fitbit), and this was from wearing it nearly 24/7. The strap is well made, and wraps snugly around the core, without any visible gaps. There's a loop on one end, so you can slide the other end through it and then fix the buckle for a firm clasp around your wrist.
The band you get in the box is black, but you can get it in different colours like blue, green, orange, pink and turquoise. There are also two leather straps, which come in brown and black. These interchangeable straps aren't available currently, but will go on sale next month via mi.com.
Glitchy software
The Mi Band is compatible with Android smartphones running 4.4.4 KitKat and above, and iPhones running iOS 7 and above. It pairs with smartphones via Bluetooth, through the Mi Fit app which you'll need to download on either platform. To start using the band, you'll need to login to the app using your Mi account, after which the band pairs easily. You'll also need to input some basic information like your height, weight and date of birth.
Both the apps need a bit of work, but the Android app is definitely the more polished of the two. The first thing you see when you open the app is the 'Today' view, which displays your activity level for the day, showing you steps walked, distance covered and calories burned. Swiping to the right displays your sleep data, and here you'll see how many hours of shut-eye you got the previous night, broken down into light and deep sleep.
A tiny graph icon on the top left gives you an overview of your workout and sleep history by day, week or month. The Today view breaks down your day's activity or previous night's sleep into even finer detail, but unfortunately this doesn't reflect in the history.
When syncing the Mi Band with two smartphones, we noticed there were gaps in the data. For example, when we synced the Mi Band with an iPhone, and then with an Android phone a few days later, some data appeared either incomplete or unrecorded. Since you're required to sign in with your Mi account, all this history should ideally be stored in the cloud, so that you don't lose it when switching phones. We also wish Xiaomi would make this data accessible via a browser at some point, ideally letting users login to their Mi account and view it on a dashboard.
Useful extras
The Mi Band's main functions might be activity and sleep tracking, but Xiaomi has packed in several useful little features under the hood. By tapping the menu button on the top right of the app, you'll see some other options.
There's a 'Find Band' option, which when tapped makes the band vibrate and its LEDs flash, helping you to locate it. You can also customise the colour of the LEDs. It's set to blue by default, but you can change it to orange, green or red. When paired to your phone via Bluetooth, the Mi Band can alert you of incoming calls by vibrating on your wrist. You can tweak it to start vibrating between three to 30 seconds after your phone starts ringing.
In the Mi Fit app, you can set a daily goal for yourself, choosing the number of steps you want to aim per day. You can always check your progress in the app, but there's a neater way to do it by looking at the band. You do this by mimicking a 'checking the time' action. Basically, you need to have your hand by your side, and lift it up with the band turned towards your face, just like you'd do with a regular watch. This will cause the LEDs to start blinking. Each LED represents a third of your daily goal, and when you've achieved it, the band will gently vibrate on its own to notify you. If for some reason this gesture doesn't work for you, make sure that 'Band Location' has been set to the correct hand in settings. This solved the problem for us.

The Mi Band also has a neat alarm feature. It wakes you up by vibrating, and stops automatically when you get out of bed. To disable the alarm manually, you just need to tap on the core. There's also a feature called 'Early Bird Alarm', which begins waking you up 30 minutes before your alarm time with gentle vibrations.
If you're wearing your Mi Band and it's connected over Bluetooth, you can also unlock your smartphone without entering any preset passcodes. Anyone else who tries to use your smartphone will be prompted to enter the passcode. This feature is only available on smartphones running MIUI or Android Lollipop and above.
The results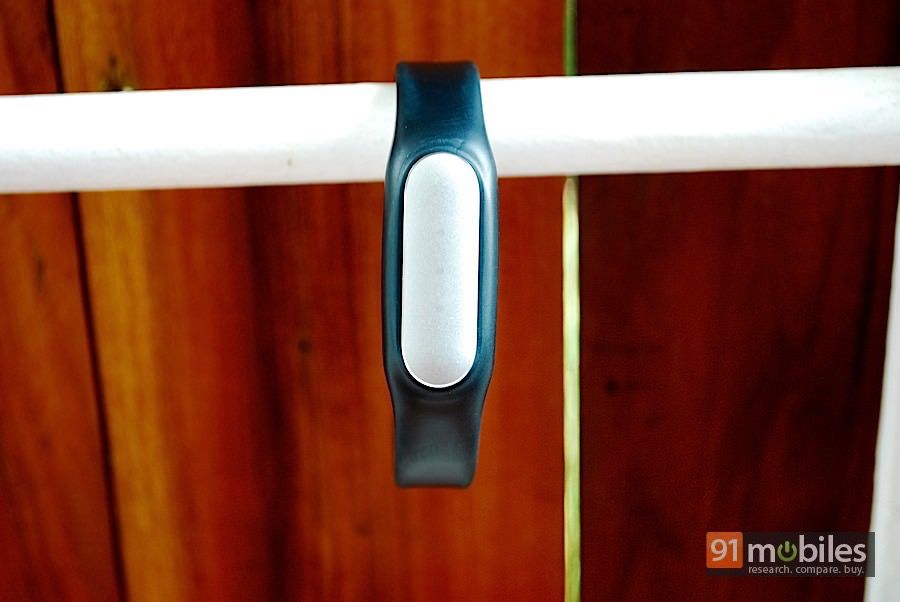 Most pedometers we've used aren't completely accurate, and the Mi Band isn't perfect either. For instance, we often racked up a few steps on a bumpy car ride. And when we sync the band in the morning, it's usually logged 200-300 steps overnight. These are still minor deviations though, and won't concern most users who are just looking for a ballpark estimate of their activity.
We found the sleep data to be surprisingly accurate though. There were often times when we got into bed, but didn't fall asleep until much later, and this almost always reflected in the data the next day. What we really liked about the Mi Band is that it tracks your sleep passively. Most other activity trackers require you to manually turn on a sleep mode, which can result in all sorts of inaccuracies. The Mi Band automatically detects when you're in bed or asleep, so you get a much more realistic idea of your sleeping patterns.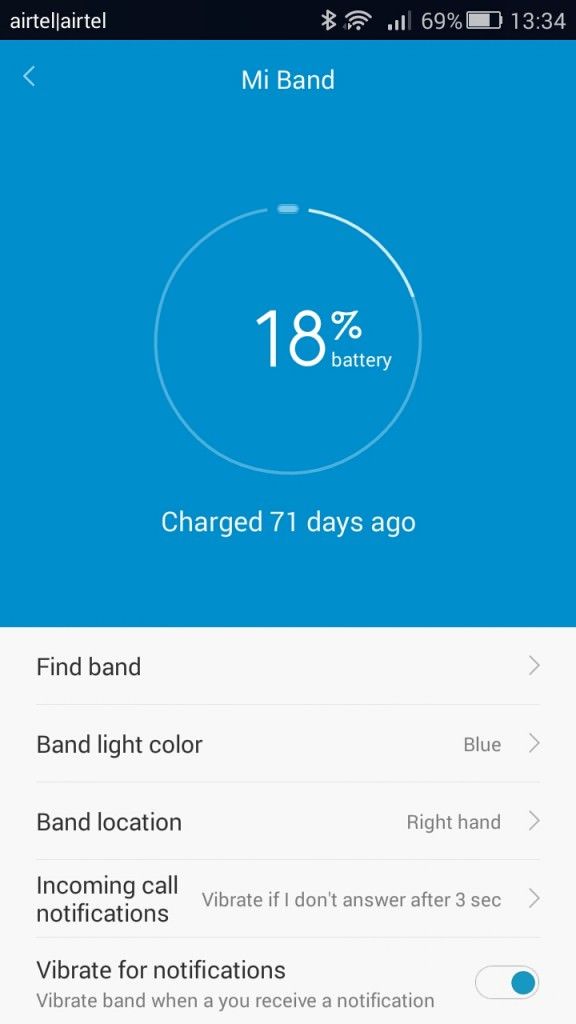 If there's one feature of the Mi Band that we had to pick as our favourite, it would be the battery life. It's tiny 41mAh battery dropped barely 30 percent in the two weeks that we've been wearing the band. Xiaomi estimates a month of battery life, but we think you might be able to stretch it to five or even six weeks, depending on your usage. Most activity trackers require a recharge every few days, and for smartwatches it can be less than a day, so the Mi Band's performance in this respect is really outstanding.
Verdict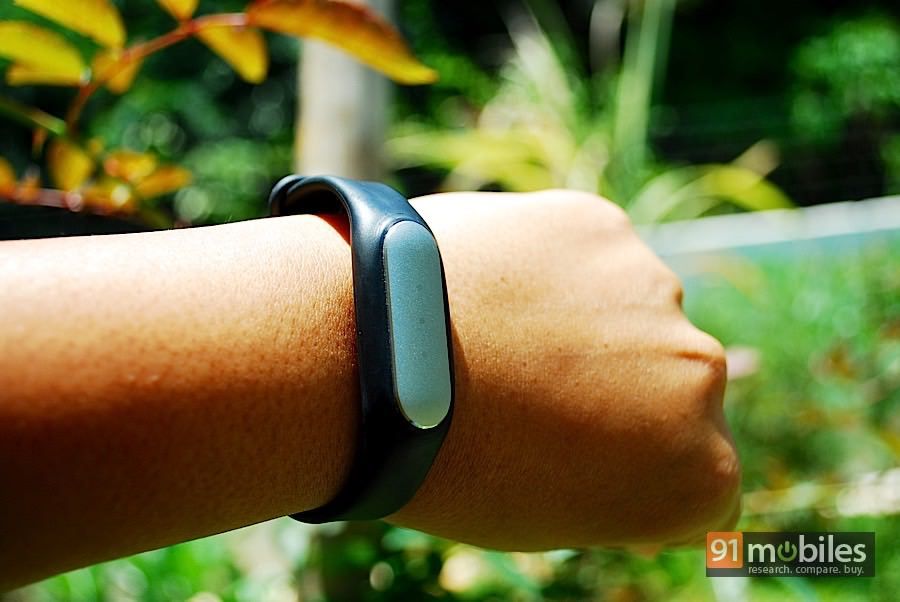 We've got plenty of reasons to recommend the Mi Band, from its price to its cross-platform compatibility to its battery life, but for us, what really works in its favour is its unassuming nature. Most wearables require constant attention, whether it's swiping through endless menus, reading notifications on a tiny screen, or worrying about running out of juice. The Mi Band, by comparison, just fades into the background. After strapping it on, we've barely even noticed it's there, even while sleeping.

There a few issues Xiaomi needs to iron out, like the buggy Mi Fit app, and the gesture to check daily progress. The ability to vibrate for notifications apart from just incoming calls would also be a welcome addition. But when you take its price into consideration, all flaws are forgiven. At Rs 999, the Mi Band is not only a very affordable wearable, but a very competent one too, and that's saying something. The recently announced YUFit might give it some competition, but that remains to be seen. For now, whether you're on the hunt for a good activity tracker, or just want to indulge in an impulse buy, the Mi Band is as good a bargain as you'll ever get.
Price: Rs 999

Editor's Rating: 9 / 10

Pros:
Great build quality
Compatible with Android and iOS
Excellent battery life
Affordable

Cons:
Glitchy Mi Fit app
Limited availability